Living in a wireless world has its benefits. We can get in touch with anyone we want, whenever we want. Any information we require in our day to day lives is accessible with the touch of a button. And all of this is possible without being tethered to a cord. But this doesn't mean that our access to information is unlimited. In more ways than one, we're limited by our battery.
Of course, the most obvious example is the fact that once our mobile devices run out of battery, we can no longer use them. But software developers are also forced to restrict the capabilities of their software in order to preserve battery life. If you've ever used a late model smartphone, you've probably realized that the battery life isn't quite as good as it used to be. While this can be due to the age of your phone, it's often because the apps you're running were designed with a more powerful phone in mind. In order to keep up, your phones CPU has to run much harder than it's used to, and all this extra power puts additional strain on your battery.
For some, the solution is simply to buy a new phone. But whether you're planning to be away from an electrical outlet for an extended period of time, or you just want to breathe a little extra life into an older device, a power bank is the solution.
These devices, in their simplest form, are just portable external batteries. They come loaded with a number of lithium ion cells that can be recharged on the wall, and used to charge up any USB powered device. There are a lot of different power banks on the market, each of which are rated by a certain capacity. In our eyes, 20,000 mAh is the best value on the market. An iPhone 7 battery has a capacity of just under 2,000 mAh. This means that a 20,000 mAh battery bank can charge it up to 10 times. For some, this can keep you going for days. Others might use it to recharge their phone, their tablet, and all of their friend's devices as well.
Despite the incredible capacity, these battery banks aren't quite as expensive as you may think. But it's still important to make sure you choose the right one. Some models use poor quality lithium batteries, while others self-discharge when not in use. We've gone through all of the different models available to find what we believe to be the three best power banks on the market. We'll help you understand the differences between them, and find the model that's right for you.
Anker PowerCore II 20000
We weren't surprised at all to find that the PowerCore II performed so well. Anker is one of the leading brands in portable USB chargers, and they have a proven track record of creating high quality battery backs that don't break the bank. Reliability is one of the key things we expect from their batteries, as they use only the highest quality lithium ion cells that have been shown to last a long time, even under heavy load.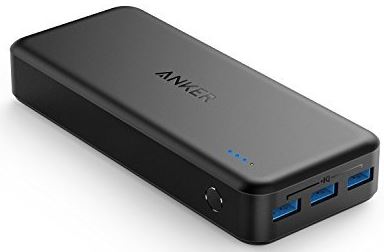 What You Get
The Anker PowerCore II is sold as an all-inclusive device, meaning that you won't need to purchase any additional accessories in order to use it. Although it's a simple gesture, we really appreciate how two micro USB cables were included. Most of these chargers require a micro USB cable in order to give it the initial charge, and they fact that they're both included means that you won't have to rob one off your phone, or buy another if you use Apple devices.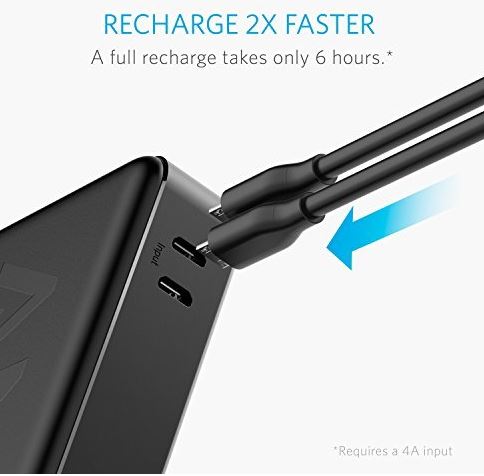 This allowed us to leave our standard Micro USB cables at home, keeping the included ones for on-the-go use. This reduces the chance that you'll lose a cable, saving you money in the long run.
Aside from the cables and the device itself, the packaging was minimalist. Thanks to a smart design, you've still got everything you need.
Capacity & Charging Time
Although every charger on our list has 20,000 mAh of capacity, there is always some loss when power is converted from the internal voltage of the battery bank to the 5 or 9V supply that USB devices use. This particular battery is rated to charge the latest iPhone 7 times, or the Galaxy S7 4 times. For very high consumption devices like the latest iPad Pro, you can get two separate charges with the battery before it will need to be plugged in.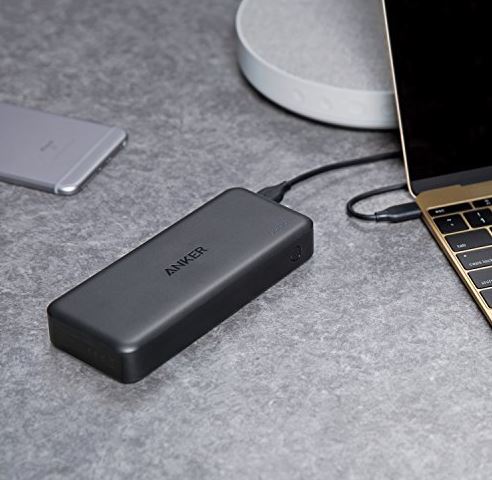 Design
The PowerCore isn't a flashy or 'in your face' looking battery back, but it certainly isn't ugly. The matte black exterior has a smooth finish that feels good in the hand. If it wasn't for small accents like the sleek edges and the blue accents on the top and in the USB ports, we'd almost think of it as minimalist.
The few parts that do capture your attention aren't just there to look good, they also serve a purpose. The four blue LEDs on the bottom right corner are your power indicators. When 100% full, the battery has a complete charge. Each light represents 25% of the capacity, and it is turned off as the battery is discharged. On the side of the battery, right next to the power indicators, is a power button. It's a tiny little round button that is easy to press with your thumb. If it wasn't for the slim LED right around it, you might not even notice it was there.
The battery is easy to slip into a pocket or a backpack, making it one of our top choices.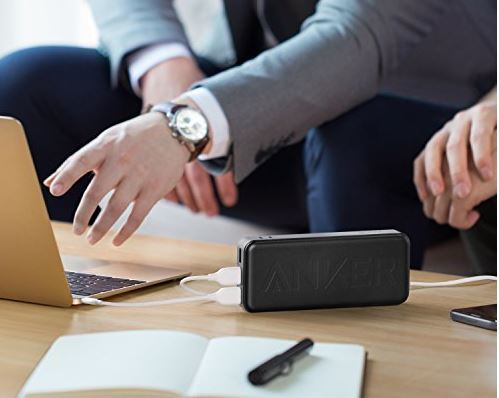 Connectivity
There are a total of five USB ports on the Anker PowerCore II. The three full-size USB 3.0 ports on the front are used or charging. They all support both standard charging (5V 1.0A) and fast charging (5V 2.1A). This makes it compatible with virtually all portable USB devices on the market.
The two micro USB ports on the side are used for charging the battery pack itself. If you plug them into 2.1A chargers, the battery can fast charge allowing it to go from 0% to 100% full in as little as 6 hours. In a pinch, you can also connect them to standard USB ports (ideally on your computer or other AC supplied device) to charge it.
RAVPower Battery Pack
RAVPower is still a bit of an underdog in the external battery marketplace, but they seem committed to making waves in the industry. Their 20,000 mAh battery pack has the same form factor as competing models, but they've managed to outspec the competition in almost every area for only a few dollars more.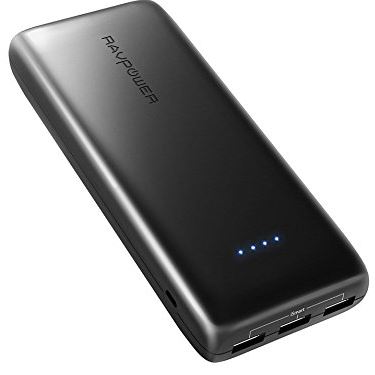 What You Get
The RAVPower Portable Charger comes in a simple, but stylish box. Upon opening, you'll find the battery pack resting on the top. Below are two cutouts that hold the USB cable and charger. The Micro USB isn't your standard cable, it's got a flat design that makes it easy to wrap, while still remaining much more durable than most of the cables we've used.
The large AC adapter is designed similarly to the ones that come with apples Macbook Pro line. It's a large rectangular box that, at first, seemed to be a little large. But once we realized how much more power it could handle, we could justify the size.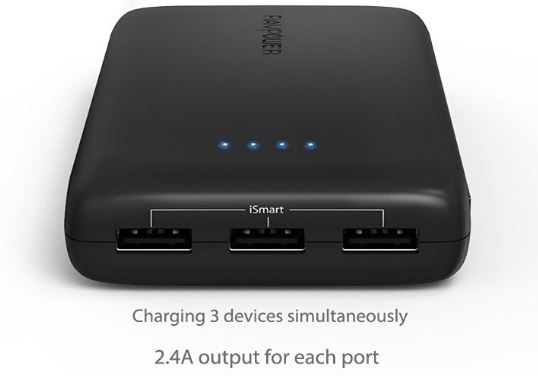 Design
Although it's not the most stylish battery pack on our list, we found that the design was highly functional. By replacing the dim LEDs commonly used on power indicators with bright ones, it's easier to get a quick idea of the battery life with nothing more than a short glance.
We're generally a huge fan of sharp lines and modern design, but the softly rounded edges of this battery are great if you're going to be storing it in a pocket. It doesn't feel as obtrusive, and it's easy to forget it's there.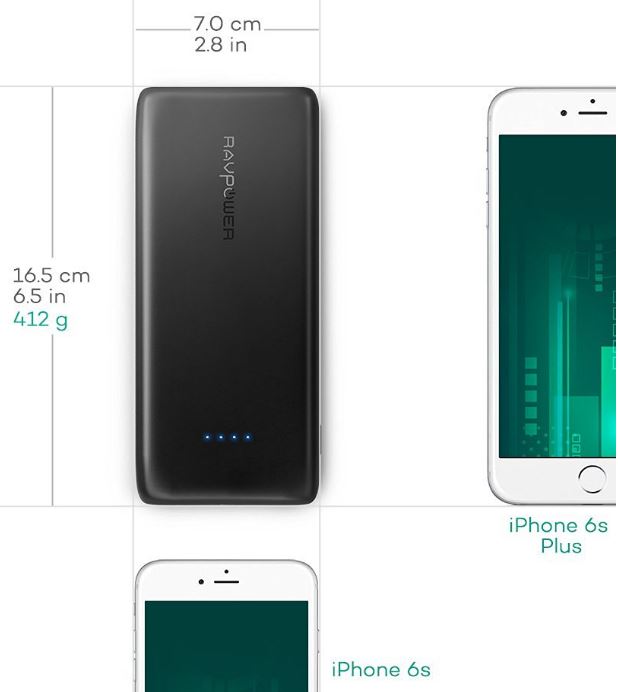 Capacity & Charging Time
This is the highest capacity charger we've come across. At 22000 mAh, it's prismatic Li-Polymer batteries are certainly showing us how advanced they are. But one of the nicest features of this pack is how efficient it is. Despite only having 10% more capacity than competing models, it tends to allow for 20% additional charging time. It can charge an iPhone 7 eight times and still have a little juice left over. Even the ultra-high capacity battery in the S7 can be charged five times.
Since it holds so much more power, it does take a little longer to charge. If it's completely dead, you'll need to dedicate 10 hours of time to get it fully recharged. That being said, due to the nature of these batteries it's the final 20% that takes the longest to charge. Even if you only leave it on the charger for 5 hours, you'll still have upwards of 75% battery to work with.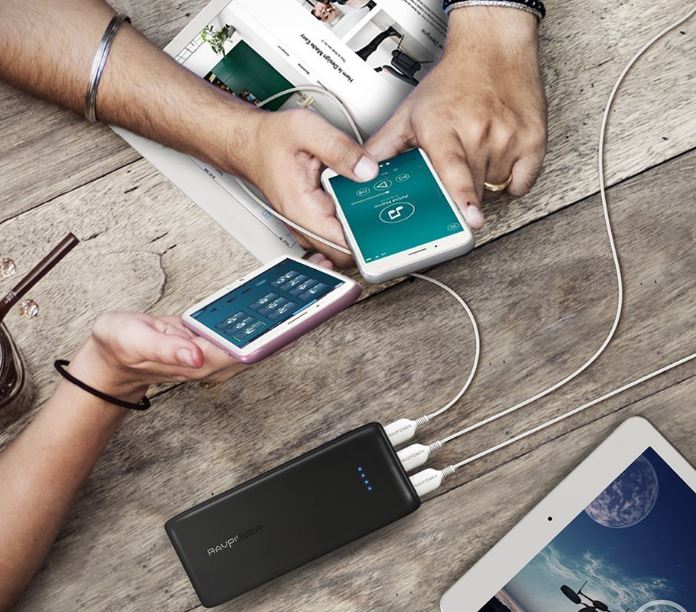 Connectivity
Like the Anker model, this one comes with three USB ports for charging. What's unique about these ports is that they are capable of charging at a rate of 2.4 mA. Older phones might not support this feature, but tablets and newer devices most likely will. Although it's a minor improvement in charging speed, when you're running low on battery it's a welcome addition.
The battery pack itself only needs a single USB port to charge, and you can use both the included charger or any other charger you have laying around.
EasyAcc Monster
When we first started hunting for high capacity battery packs, we knew the Monster would be making our list. It's got an extremely attractive design, and a few little bonus features that make this one handy device to have around.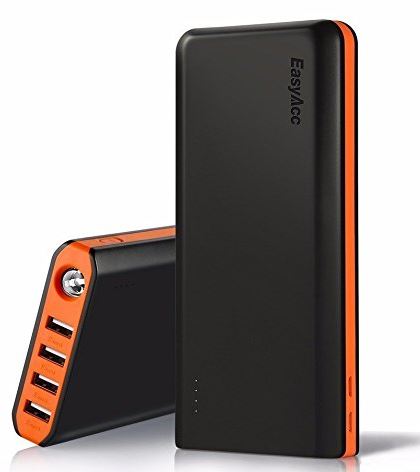 What You Get
The easy to open packaging was rather plain, but the contents were anything but sparse. You're given two Micro USB cables which can be used for both charging the battery itself, and charging your devices. The EasyACC PowerBank, of course, is included. But there is also a helpful guide that explains some of the specifications and usage scenarios.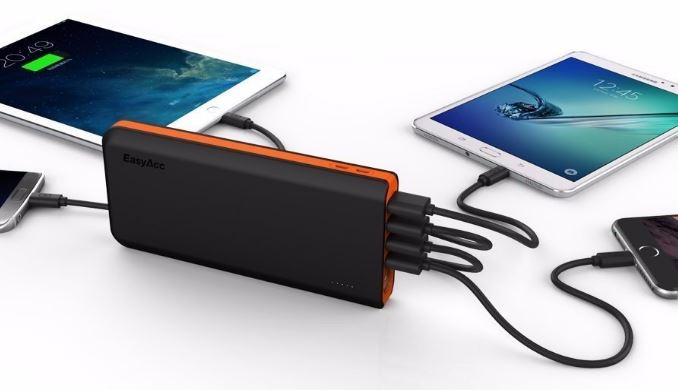 Design
The EasyAcc Monster is, without a doubt, the most attractive battery pack we've come across. The smooth matte black finish on the top and bottom are completely flat in the center, but gently taper toward the sides. Meanwhile, the flat edges are highlighted by the bright orange band that wraps around the side. Next to the USB charging ports is a single high-power LED that can be used as a flashlight. We were surprised at how handy this was to have around. Using the LED flashlight in your phone tends to use a lot of battery power, so if this is something you use all the time it should extend the capacity of your phone.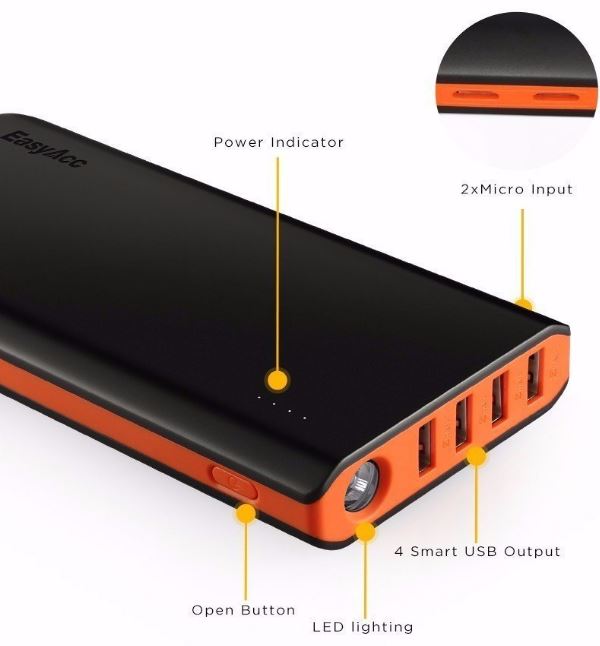 Capacity & Charging Time
With a total capacity of 20,000 mAh, this is still one of the top battery packs you can buy. It's reasonably efficient, with a single charge capable of fully charging an iPhone 7 times or Samsung S7 5 times. It uses two micro-USB charging ports, allowing it to be fully recharged in 7 hours.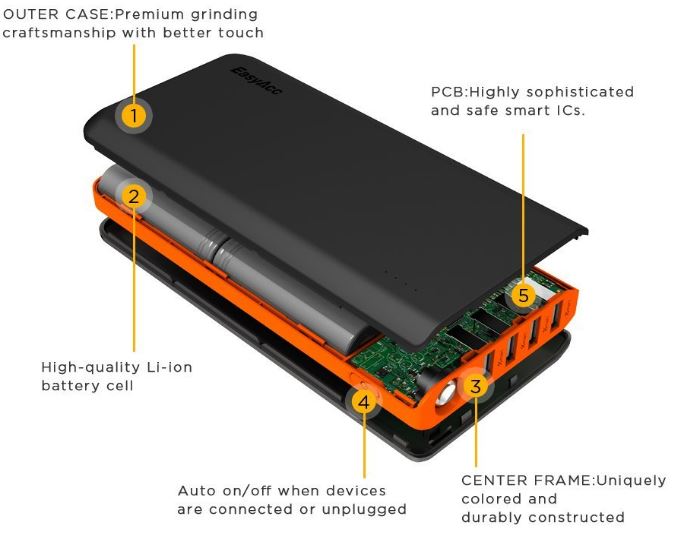 Connectivity
This battery has the most USB ports of any device we've looked at. There are four in total, although they need to be used in a specific manner. It supports 4.8A of total output. You can plug in two devices and charge at the highest possible rate of 2.4A. Or, you can plug in all four and each of them will charge at 1.2A, which is just a little higher than your typical USB charger. This battery does operate intelligently, so the capacity isn't divided equally. If you plug in two standard USB devices, each of which draw a maximum current of 1A, you'll still be able to use a third port at the maximum charging rate of 2.4A.
Which 20,000 mAh Power Bank is Right for Me?
If you're charging simple devices that have a maximum rate of 1A, any of these batteries would work well. But there are a few differences that can make a world of difference to some users. If capacity is your main concern, you should consider the RAVPower Portable Charger. This model has the highest capacity of all, but most importantly it uses this power efficiently. This allows you to get up to 20% more charge before draining the battery.
The Anker PowerCore II provides the best value of any charger on our list. It's built to a very high standard, and can be used with up to three devices, each of which can charge at a 2A rate.
The EasyAcc Monster is great for anyone who's looking for a stylish battery that provides additional features beyond what most offer. It's got the most USB ports of any on our list, and the additional flashlight is sure to come in handy.