If you want to travel freely with your electronics, there's no replacement for a good portable power bank. We've reviewed several of them in the past, and there are plenty of good options on the market. But most power banks are designed to be used with cell phones. This only makes sense, since cell phones are the electronic devices we use the most.
But in recent years, more and more laptop manufacturers have started using USB Type-C for charging. This development hasn't come in a vacuum. It's come about due to the development of power delivery (PD) technology. Whereas standard USB can deliver 5 volts of power, PD ports can deliver as much as 18 volts. The wattage can also be considerably increased, as much as 60 watts. This means you can charge much more powerful devices quickly and efficiently. Keep in mind, though, that this requires a PD-compatible cable. A standard USB Type-C cable simply isn't up to the task.
Today, we'll be looking at one of the most powerful PD-capable power banks on the market. The Crave PowerPack 2 (Model CRVPP102) has a capacity of 50,000mAh, more than just about any other power bank. This incredible capacity allows you to charge just about any device. Just to use a single example, the MacBook Pro 16 has a capacity of 8,818mAh. A smaller power bank, even a very powerful one, won't be able to charge it more than once or twice. But how well does the Crave PowerPack 2 actually perform compared to other power banks? Let's take a closer look, and see what it has to offer.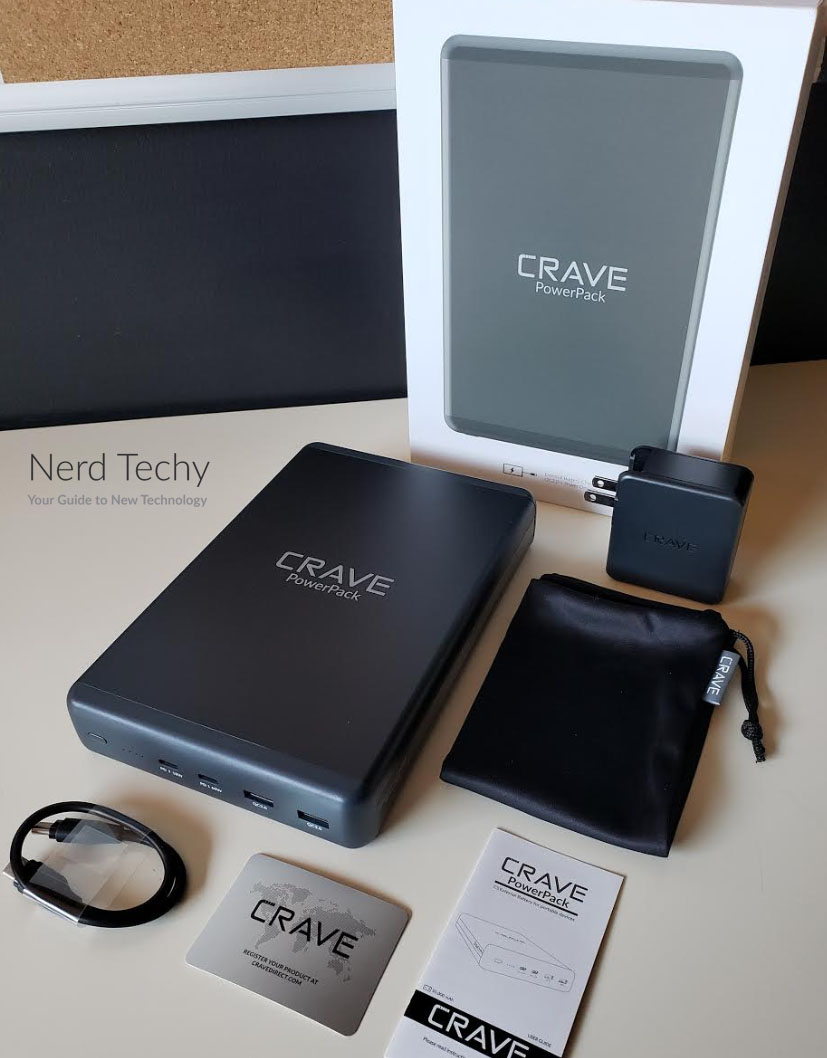 Overall Design
The Crave PowerPack 2 is a bit beefier than most power banks. This is only to be expected, given the capacity. It measures 8.2 inches long, 5.4 inches wide, and 1.3 inches thick. It's also a bit heavy, tipping the scales at just over 4 pounds. Needless to say, this is not a pocket-sized unit. That said, if you're already carrying a laptop bag, you shouldn't have any issues with the added weight. It's not that heavy.
The case is constructed from a rugged anodized aluminum. It has a black satin finish, which looks professional in just about any setting. On the top, the words "Crave PowerPack" are printed in white. You'll find the same writing on the side, along with the model number. Both ends of the unit have rubberized plastic padding, rather than aluminum. While the PowerPack 2 does not have a shock-resistance rating, these pads should absorb some damage. We haven't seen any reports of failure do to everyday bumps and bangs. One thing you should be aware of is that the PowerPack 2 is not water resistant. This is generally the case for larger power banks. Treat it the same way you would your laptop or your smartphone, and keep it dry.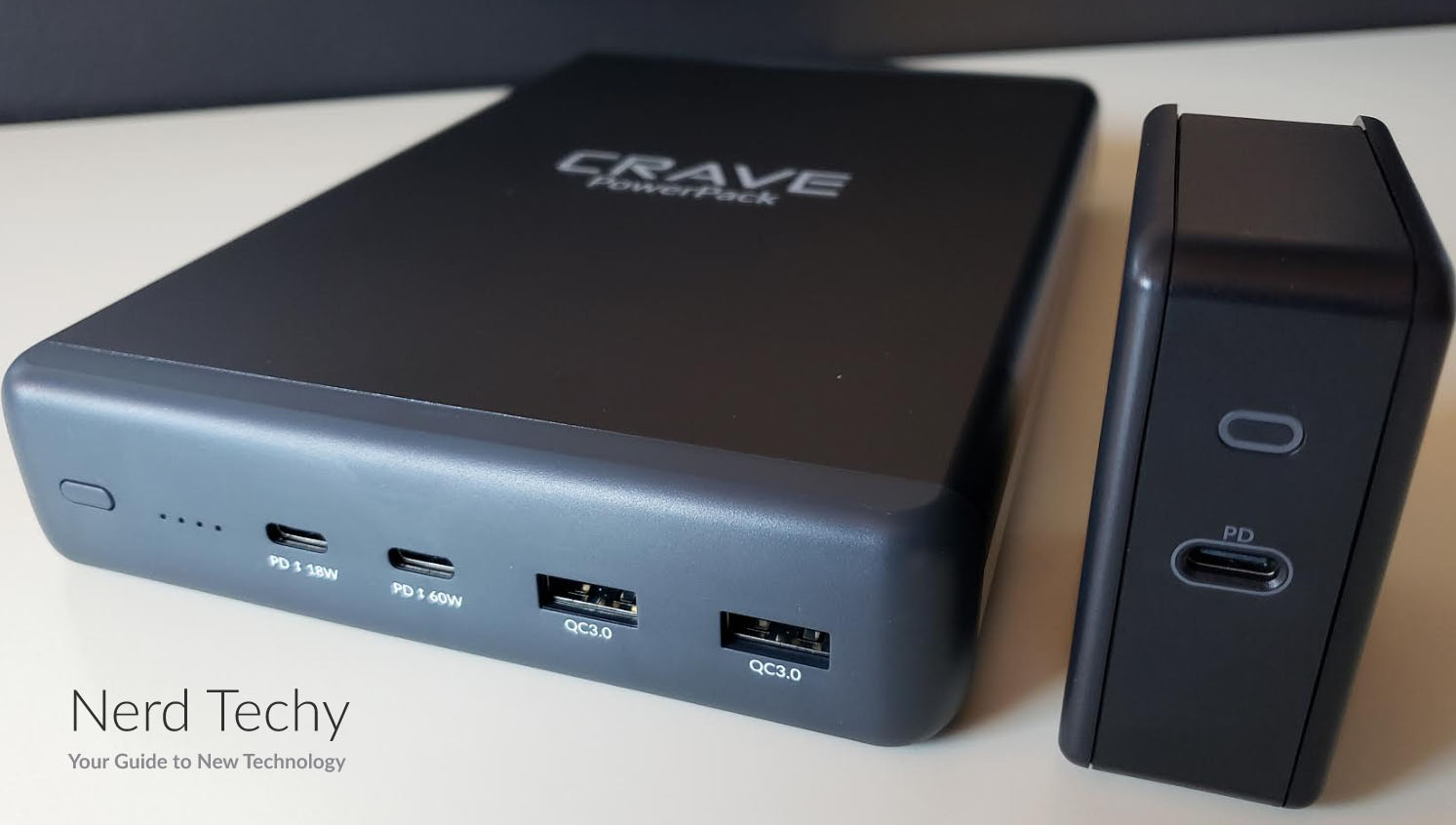 All of the power ports are located on a single end of the case. This makes it easy to connect all your devices, without any tangled cables. On the far right, you'll see two USB Type-A ports. The tabs inside the ports are bright blue, which makes it easy to know which way to orient the plug. Next to those, you'll find a pair of USB Type-C ports. The ports are plain black, but this shouldn't be an issue since USB Type-C cables are reversible. Each port has a different capacity, which we'll talk about in a minute. However, they're all clearly labeled in fine white print. Next to the power ports, there's a row of four tiny white LED lights. These indicate the current status of the battery. Finally, on the left, you'll see a simple power button. Tapping the button will activate the LED lights and enable charging.
In addition to the PowerPack 2 itself, you also get a few accessories. First off, you get an 18-inch PD-capable USB Type-C cable. This can be used for charging your devices, as well as the PowerPack 2 itself. There's also a PD-capable DC adapter. This ensures that you can charge the PowerPack 2 as quickly as possible. Finally, you get a simple drawstring carrying pouch. The pouch isn't terribly protective, but it's enough to prevent scratching while you're in transit.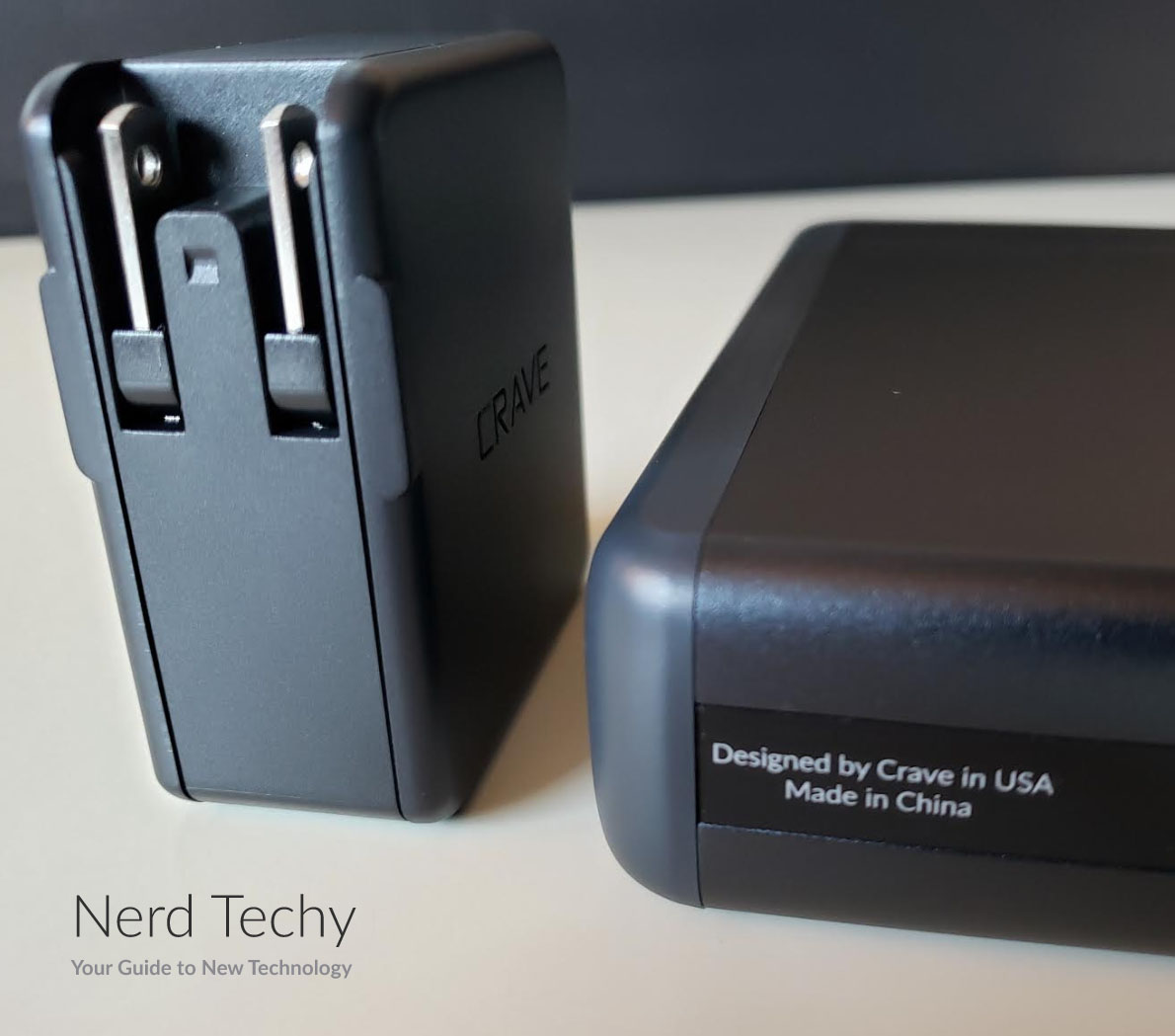 Battery Performance & Capacity
Now that we know how the PowerPack 2 (Model CRVPP102) is built, it's time to talk about its best feature: the battery. As we already mentioned, it has an impressive capacity of 50,000mAh. This is more than enough to meet just about any need. That said, there is one downside to this capacity. The TSA limits the capacity of batteries on airplanes to 100 watt-hours. By comparison, the PowerPack 2 has a capacity of 185 watt-hours. If you want to fly with your power bank, you have two options. First, you could apply for a waiver. This is, frankly, a pain in the neck. Unless you absolutely, positively need to fly with a power bank this size, you'll want a smaller alternative. In that case, consider the Jackery Supercharge 26800 PD Power Bank. This is a smaller power bank that meets TSA standards, and still offers PD capability. On the downside, it will only charge a single laptop.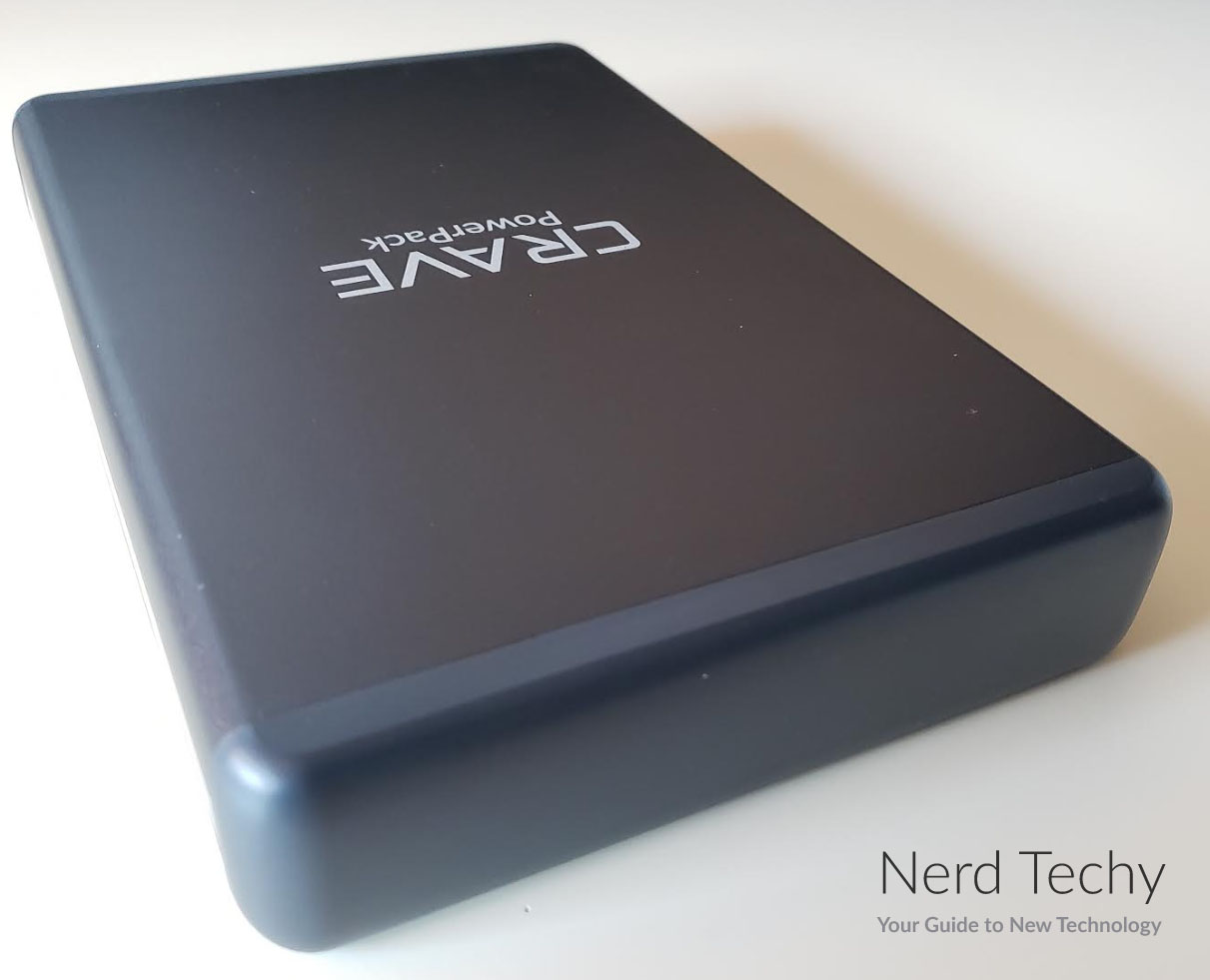 By contrast, the PowerPack 2 can charge up to four devices simultaneously, including two laptops. Let's run through our four power ports. The far left port is an 18-watt port. This will power most smaller laptops while you're using them, and will recharge any USB Type-C laptop. The next port provides a whopping 60 watts of power. This is sufficient for charging any laptop on the market, even while it's in use. Next, there are a pair of USB Type-A ports. These won't be capable of charging most laptops, at least not while they're in use. However, they're perfect for smartphones. They use Quick Charge 3.0 technology for blazing-fast charge speeds. You can charge an iPhone X or Samsung Galaxy S8 in less than an hour. And you can charge them to 80 percent in about 40 minutes.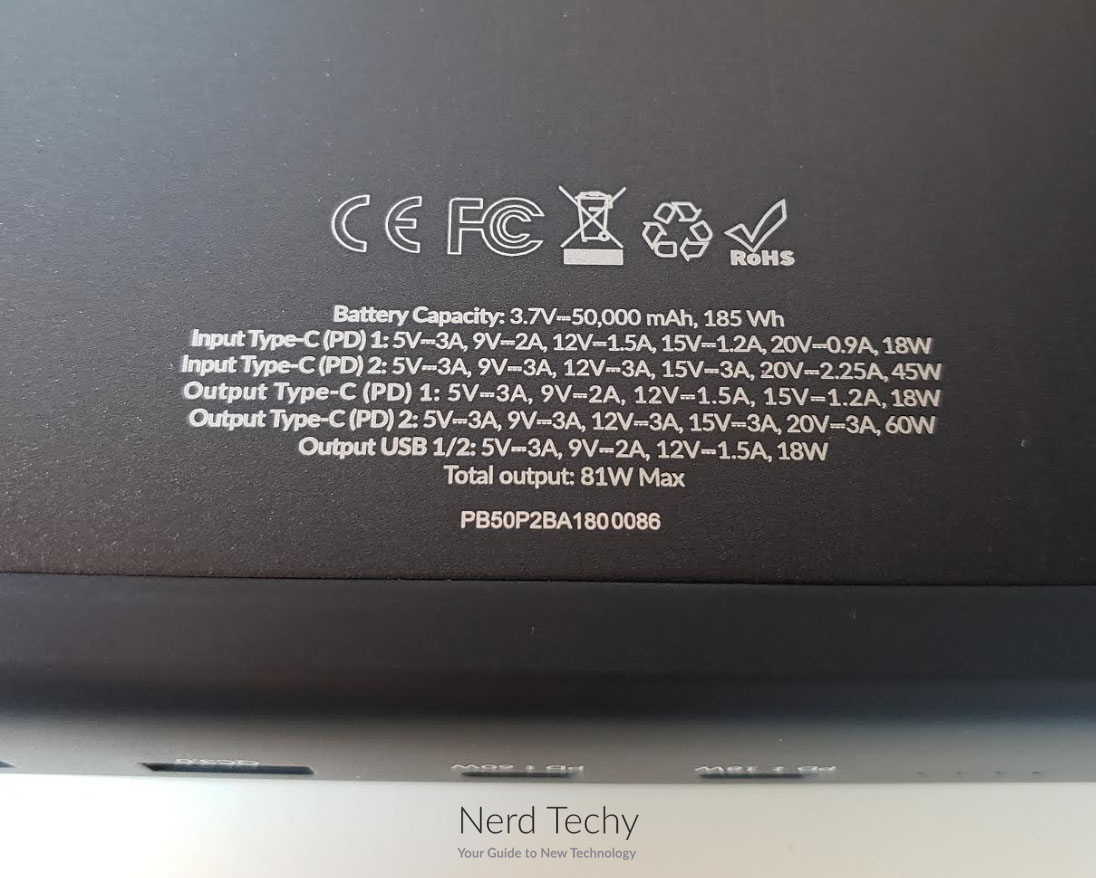 One thing the PowerPack 2 doesn't offer is wireless charging. With this many features and options, who can blame it? If you need a Qi charger, check out our review of the iWALK Qi Wireless Portable Charger Power Bank. It's a small, portable Qi charger that attaches directly to the back of your smartphone.
For charging the Crave PowerPack 2, you have a couple of options. First, you can use the 60-watt port, which will charge the battery fully in about 4 ½ hours. Alternatively, you could also use the 18-watt port, but it's not a good idea. Using this port, the battery will take as long as 15 hours to charge. Make sure you're using the faster port, and you shouldn't have any issues. Keep in mind that the PowerPack 2 doesn't allow for pass-through charging. This means you can't charge the power bank at the same time as you charge your devices. But with as much capacity as the PowerPack 2 offers, this isn't a major concern for most people.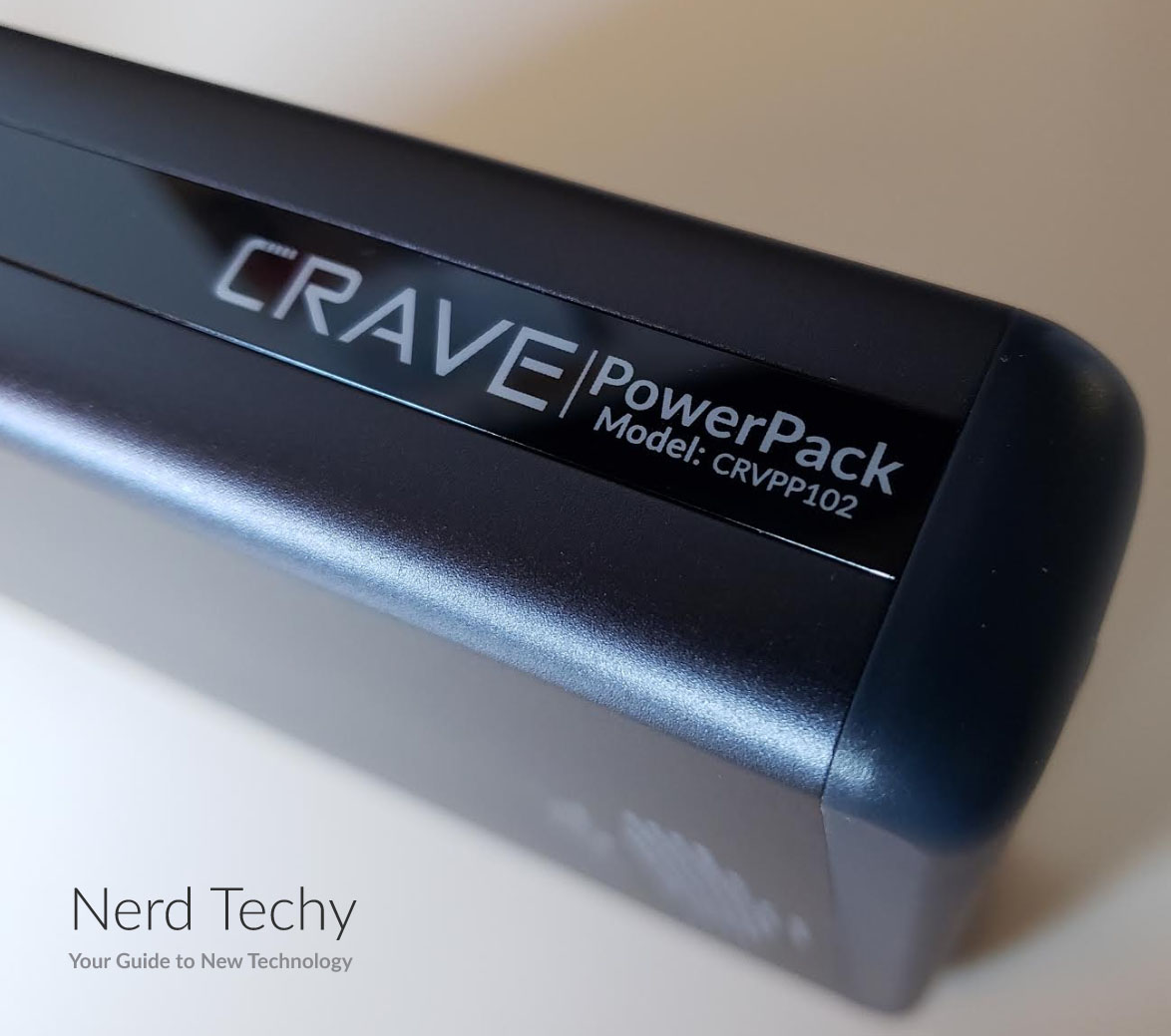 Compatibility
As we mentioned, the PowerPack 2 is primarily designed for charging laptops. It's compatible with just about any laptop on the market. Make sure your laptop takes a USB Type-C cable, though. Otherwise, you're going to run into some issues. With that being said, Crave does offer an adapter kit for older, barrel-style laptop charger connections. In total, you can charge up to 4 devices simultaneously. For laptop purposes, this is generally limited to 2. However, some smaller laptops accept Quick Charge 3.0 charging. Check your manufacturer's specs to see what yours can handle.
In addition to charging laptops, you can also charge your smartphone or tablet with the PowerPack 2. For this purpose, it offers excellent performance. With Quick Charge 3.0 technology, you won't have to worry about charging speed. And with the 50,000mAh capacity, you get more than enough power for multiple charges. For example, the battery in the iPhone X has a capacity of 2,716mAh. This means you can charge your iPhone more than 18 times. Similarly, the Samsung Galaxy S8 has a capacity of 3,500mAh. This works out to just over 14 charges with the PowerPack 2.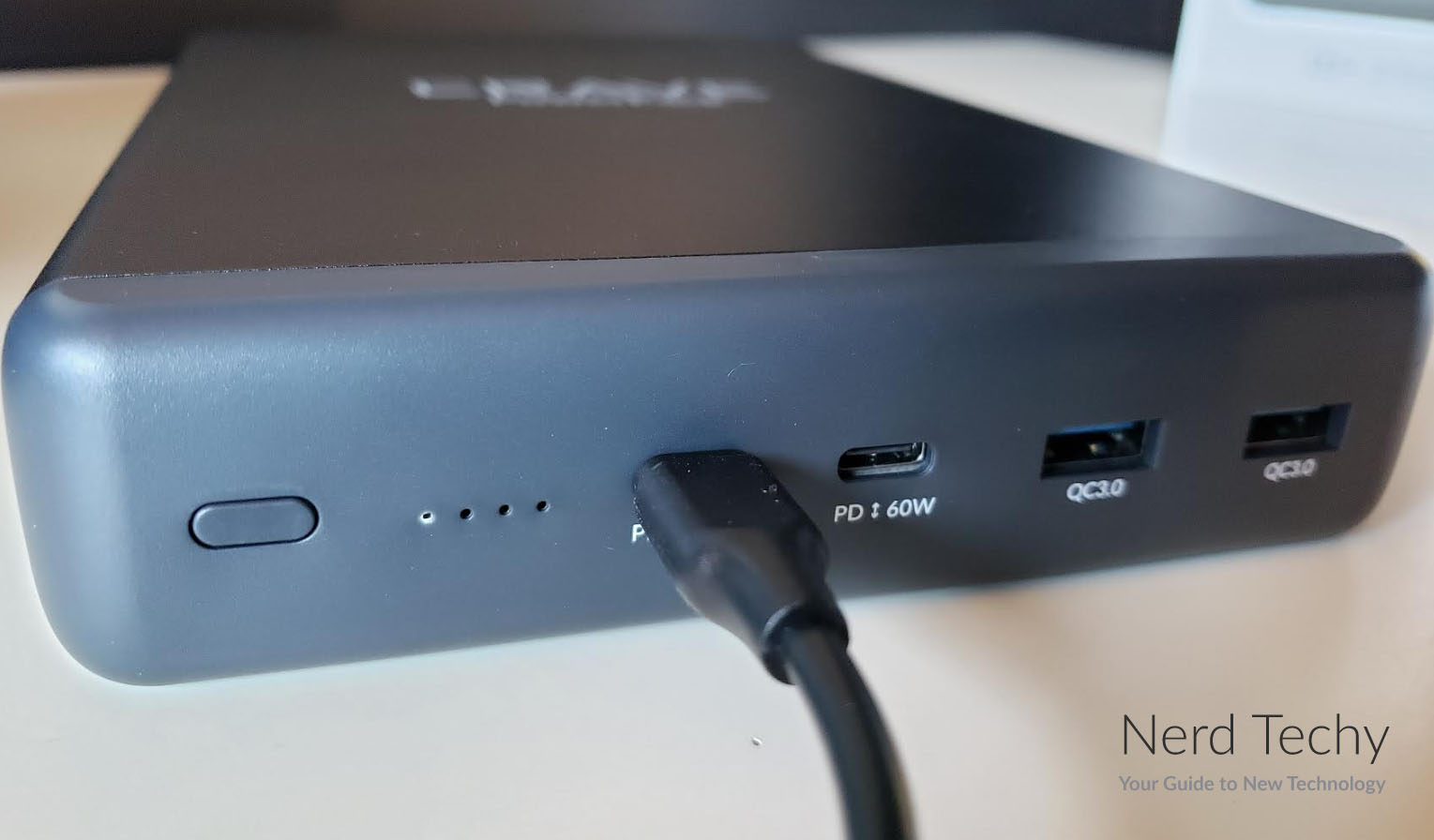 The Crave PowerPack 2 is big and bulky, as you'd expect from a power bank with this capacity. But what if you need a smaller, more portable power bank, you're going to need to accept less capacity. One excellent option is the iWALK Link Me 4 . It's a USB Type-C charger that attaches directly to the bottom of your phone. But with only 4,500mAh of capacity, it's only good for a little more than one charge.
Final Verdict
At the end of the day, how does the Crave PowerPack 2 (Model CRVPP102) stack up to other power banks on the market? To begin with, the total capacity is just about unparalleled. With 50,000mAh, you're not going to have to worry about running out of juice. But it also has a whole lot more to offer. To begin with, the 60-watt port is as powerful as a PD port comes. It provides enough power to run any laptop on the market, even the biggest monsters. And the 18-watt port is relatively powerful, too, sufficient for charging smaller laptops while they're in use. Throw in a pair of USB Type-A Quick Charge ports, and you can power just about any device imaginable.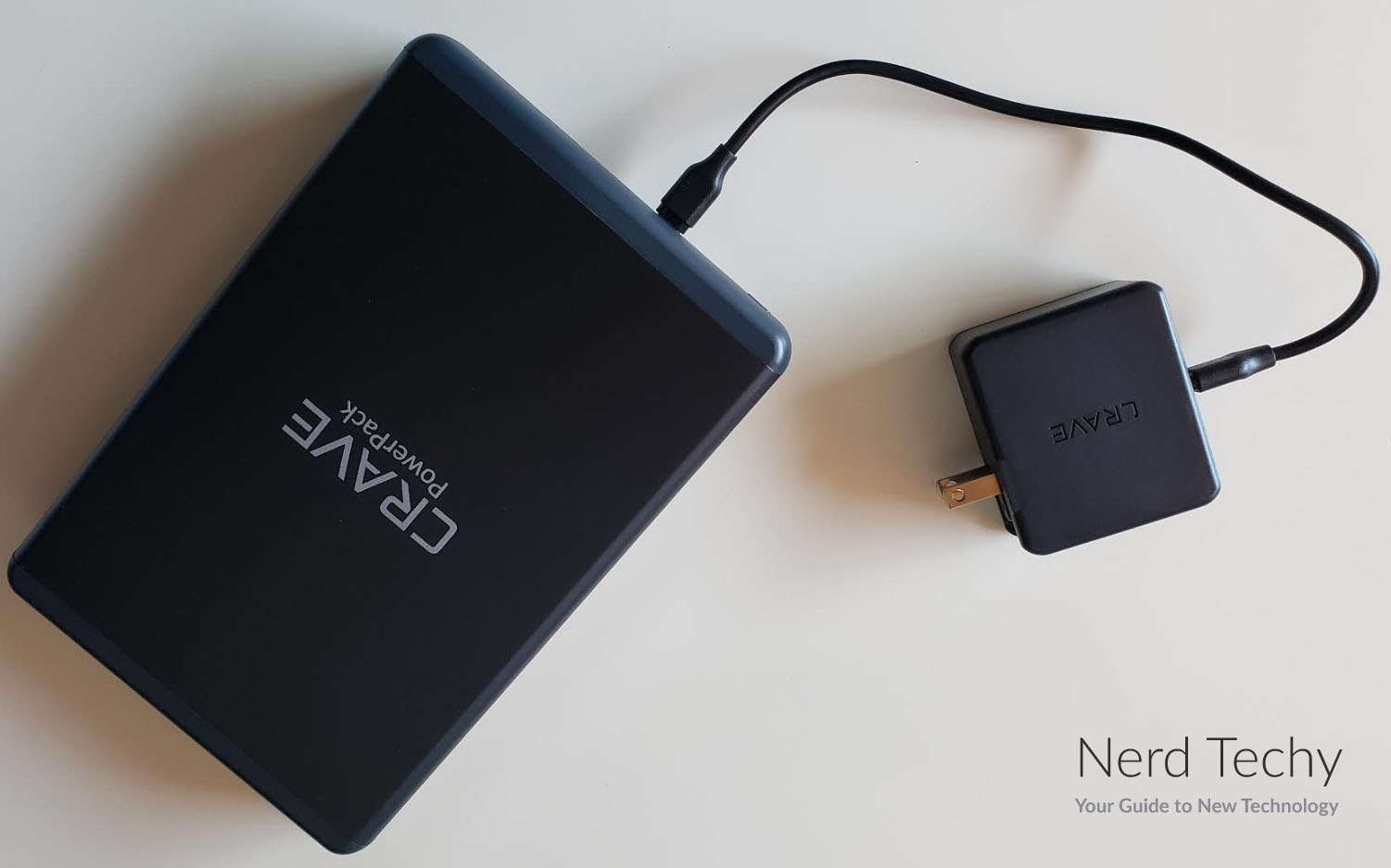 Of course, the PowerPack 2 is not without its flaws. It doesn't offer pass-through charging, and it's too powerful for easy air travel. These are minor complaints that come with the territory, but they're worth considering. The PowerPack 2 is also not water-resistant, but that's expected with most larger power banks. That said, it has a big, beefy design and can handle significant abuse. It's also attractive to look at, with an intuitive, simple design. All in all, you're looking at an ideal choice for anyone who needs an incredibly powerful power bank.