Portable power is quickly becoming a necessity. With phones being used for streaming high definition video, and as the modern 'on the go' gaming device of choice, we drain our phones faster than ever. The biggest issue with most portable charging options is the inconvenience of carrying them around. The traditionally bulky size of a power bank can make it an irritating experience to use your phone while charging. Luckily there are a few options available that were designed precisely with creating a convenient functional experience in mind.
Aesthetic Functionality
Qi charging has come a long way since we first saw it begin appearing in phones such as the Nokia Lumia 920 and Google Nexus 4 back in 2012. That is easy to see with both the increase in charging speeds and the decrease in size. This is clearly demonstrated with the iWALK Qi wireless power bank. Using the charger is simple enough, you simply press the physical power button on its side and you are ready to go. The charger itself feels very solid which gives the impression that it could survive a few falls.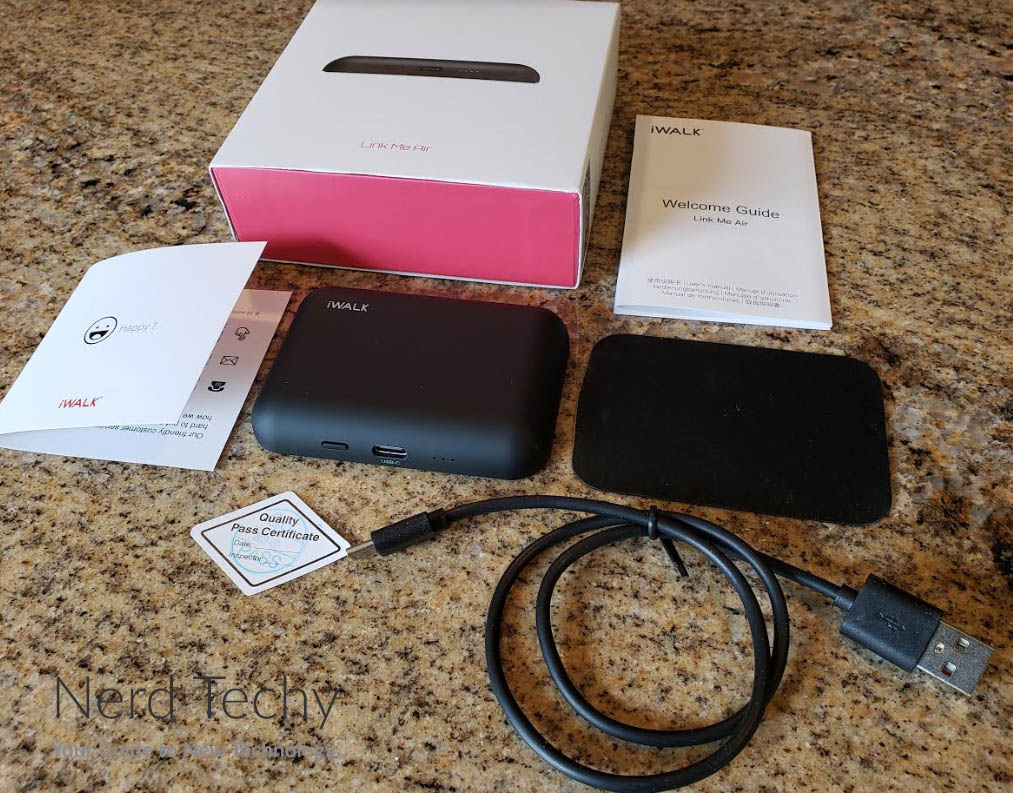 Surprisingly despite the solid build of the power bank itself, it still manages to feel incredibly lightweight, weighing in just over 7 ounces. This is a fairly important factor considering the iWALK charger was designed to stick to the back of your phone utilizing nano-suction technology. The combination of the nano-suction technology with the charger's light weight, results in the charger being very sturdily attached. The charger even maintains its suction when vertically hanging from the phone.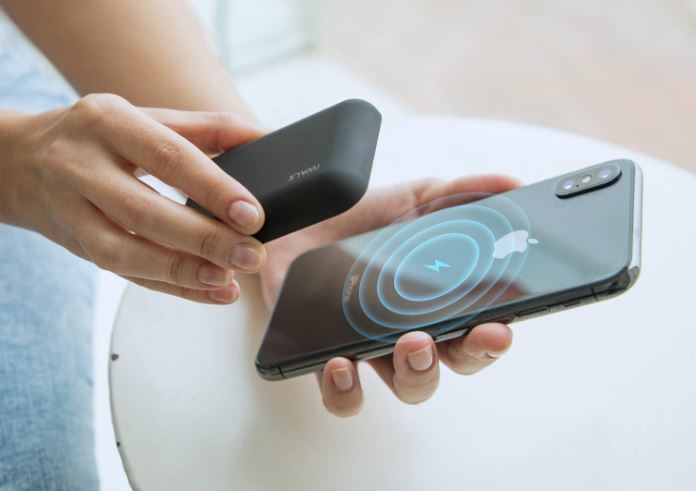 Aesthetically, the charger has a sleek minimalist design and comes in both black and white. It's design keeps it from becoming an eye-sore or a hindrance while charging. The charger itself is 4.6 x 4.5 x 1.6 inches, being thin enough to fit in your pocket, or throw in a woman's bag. Being able to store it while attached to your phone is particularly convenient. The charger is also just thin enough to function with most desk stands as well. However if you are looking for a dedicated desk stand charger you might consider the Seneo wireless charger and the Pleson fast charge stands we reviewed previously.
The size of the charger along with the nano-suction strength gives it some added unintentional functionality. One example being its use as a wedge for your fingers to hold the phone up while playing games that require both thumbs.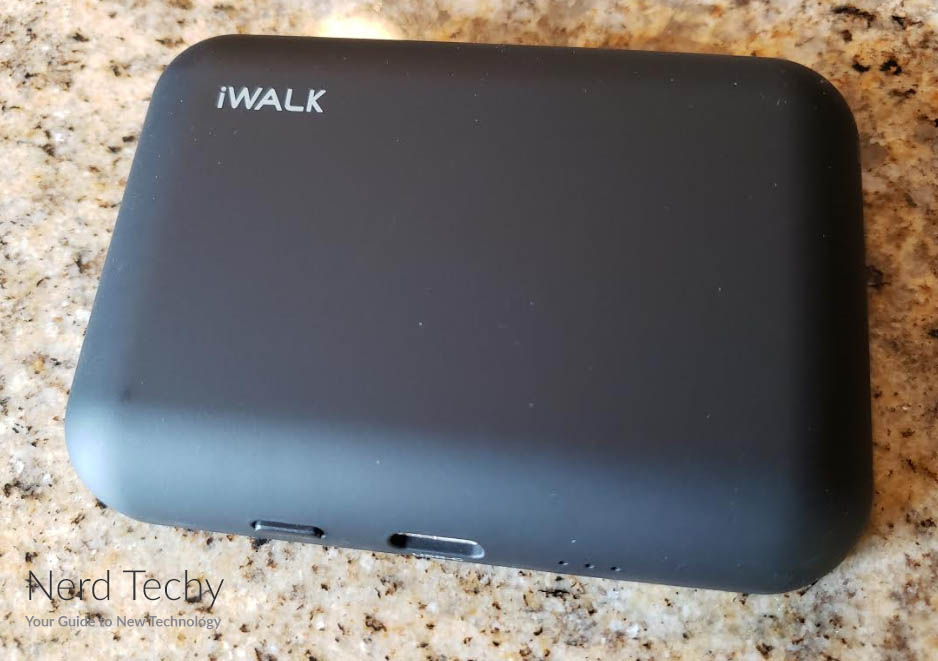 Charging Performance & Considerations
Like most Qi chargers it has to be incredibly close to your device in order to charge it due to range limitations (around three to four centimeters). Despite these limitations the iWALK charger still manages to charge through most cases. Cases become an issue however if the case has ridges or if the material itself is non-stick. This is due to the nature of the charger being designed to stick to the back of your phone while charging. Though the charging itself will work through cases such as an Otterbox, it will not stick very well and when combined with the added size of a large case, the proportions of the charger itself become much more noticeable.
As far as charging speed is concerned the iWALK wireless power bank stands out as one of the better chargers on the market. The overall battery capacity is a solid 3000mah which given the size of the power bank is expected. At 3000mah most phones get around a 60-80% charge which serves the purpose of the power bank being an emergency supply to get you through the day, though might leave you wanting just a bit more power.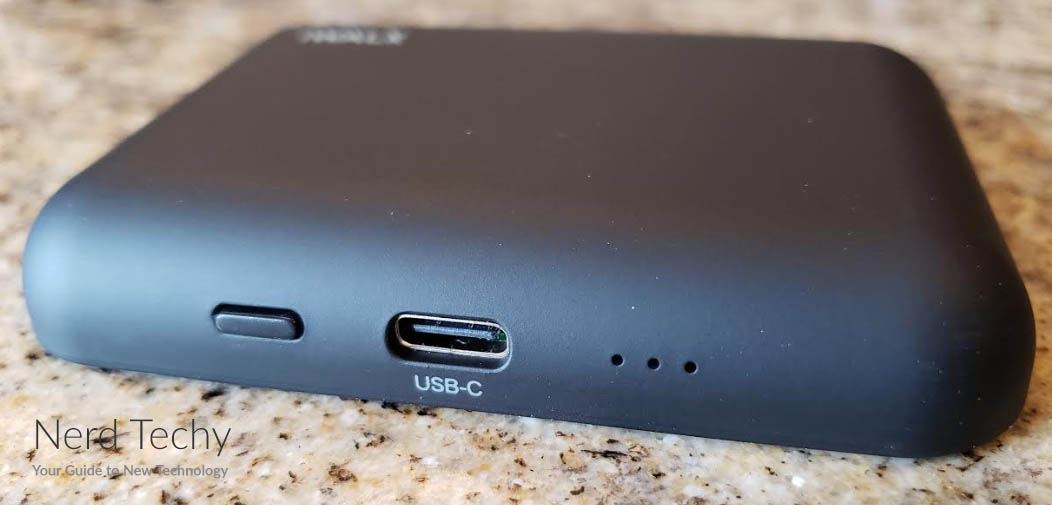 However if you are looking for a more long term power bank other options such as the Solice 20000mah portable charger are available. Though along with the charge capacity the physical size and weight are much bigger. Given that Qi charging was named after the Chinese word qi (chee) meaning 'vital energy', it's rather applicable for a wireless charger at 3000mah which is specifically for providing that extra bit of vital charge you need to make it to your wall charger.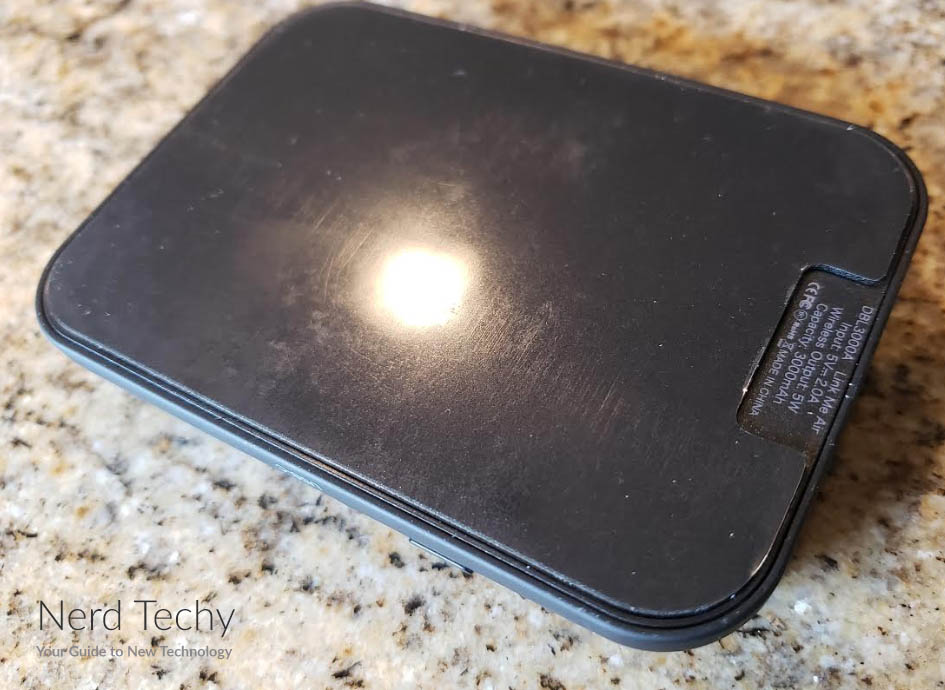 Compatibility and Phones Supported
Qi is the accepted standard for wireless charging which means that most modern mobile electronic devices tend to be compatible. The technology is so widespread that many coffee shops, airports, and other public facilities install inductive charging stations. There are even some vehicles that are building Qi charging pads into them. However all those with cars that don't have Qi charging pads built in, there are wireless charging mounts.
As the technology continues to spread, we will see a universal compatibility with mobile devices. Perhaps one day they will be so common no backup power bank would even be necessary. However, as that day has not yet come, a reliable power bank is still a necessity.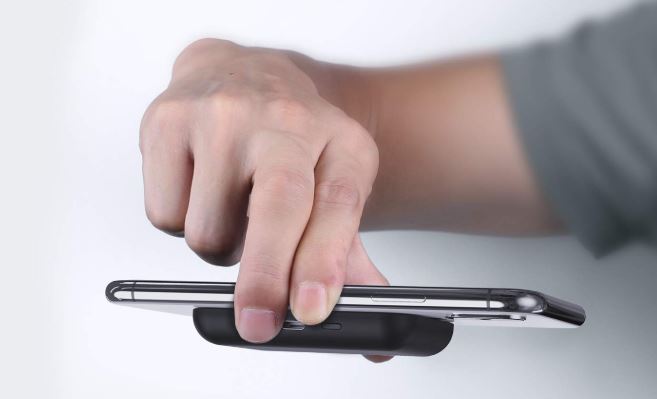 The iWALK wireless portable power bank specifically advertises itself for "iPhone Xs, XR, X, 8, 8 Plus, Samsung Galaxy S10, S10+, S9, S9+, S8, S8+, Note 9, Nexus, HTC and More" though Qi charging can be found in many more devices including smart watches. Essentially all devices with Qi functionality should have no issues working with any Qi charger. The only caveat to that would be larger devices such as some newer laptops that are designed with wireless charging functionality. Obviously larger devices such as laptops require a much higher power output for charging than a mobile device. Especially if you intend on charging while working on your laptop.
That being said, the iWALK wireless portable power bank was clearly designed as a mobile device power bank and should be utilized as such. Most major mobile manufacturers have already begun integrating Qi inductive charging into their phones and other devices. Currently some of the main device manufacturers that include Qi in their products are Google, Apple, HTC, LG, Motorola, Samsung, Asus, Huawei, Xiaomi, Sony, and BlackBerry.
However, there are some cases of incompatibility due to design limitations on some mobile devices and charging distance inherent in all Qi chargers. If for example, the Qi power receiver in your mobile device was designed for high amperage charging pads, it might not be able to charge with lower power charging stations. The charging pads that are plugged in can generate a stronger electric field making them more universally compatible. Especially compared to a battery powered wireless charger. Though I was unable to find any specific examples of devices that were not compatible with the iWALK Qi wireless power bank.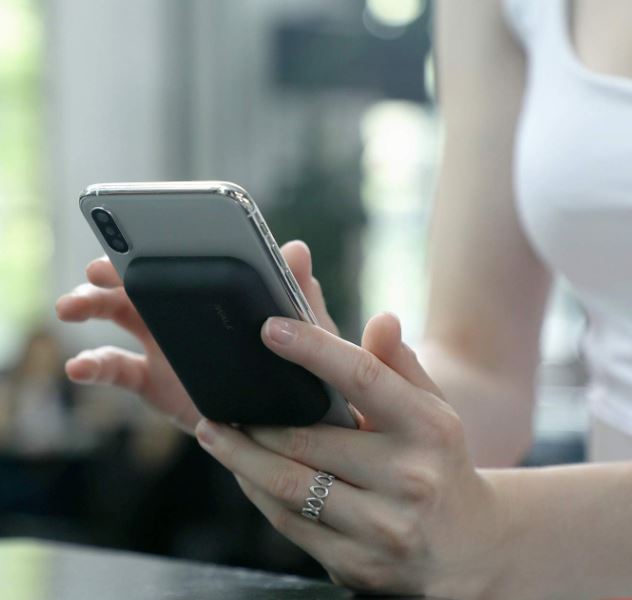 Additional Features
Overall as far as features are concerned, a wireless charger is a wireless charger and you are buying it specifically to charge your devices wirelessly. You get what you pay for and you know what to expect. Design however can play a role in whether or not a charger can provide some added features. For example, the iWALK Link Me Plus DBL3300L was designed to plug into the base of your phone. The Link Me Plus has a distinctive cylindrical design that makes it stand out aesthetically but limits any other functionality beyond being a plug-in battery backup.
On the other hand, the iWALK wireless power bank was designed to be flat in order to be as convenient to use your phone while charging as possible. Because of the flat design, it can be utilized not only as a charger you stick to the back of your smartphone to charge, but also as a small charging pad on your desk. This is doubly made possible by the fact that the iWALK wireless power bank has pass through which can charge your devices while also being charged itself.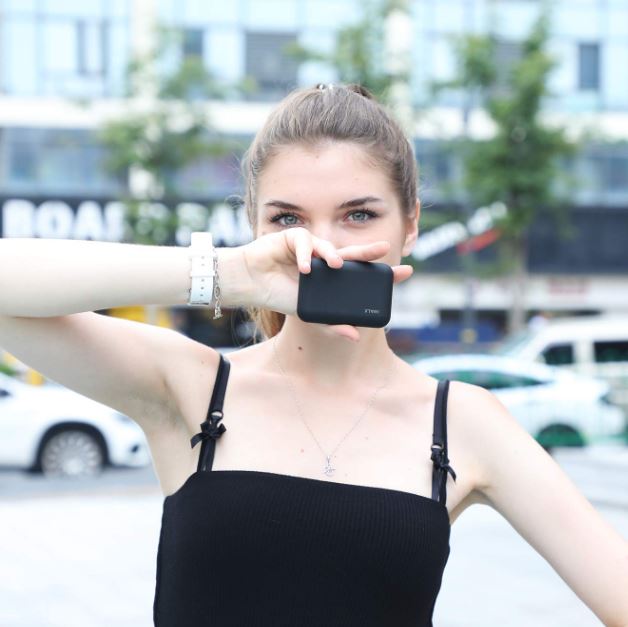 So while you're at your desk utilizing the power bank as a charging pad, you can charge the power bank itself. Then when you are ready to leave you will have full power in your backup. The duel nature of any flat wireless charger is apparent. However if you are looking for a solid charging pad that was designed as a pad, check out the Choetech Dual Wirelss Charger.
Charging the iWALK wireless power bank is simple enough, it has a USB-C port that is used for charging. Given the universal nature of a USB-C the cable is easily replaced in case it is lost or damaged or if you simply want to get a little extra distance with a longer cable. There is also a convenient power indicator next to the USB-C port that gives you a solid indication of how much power is left in the power bank. The simplistic minimalist design makes using the power bank incredibly straight forward while making it multi-functional.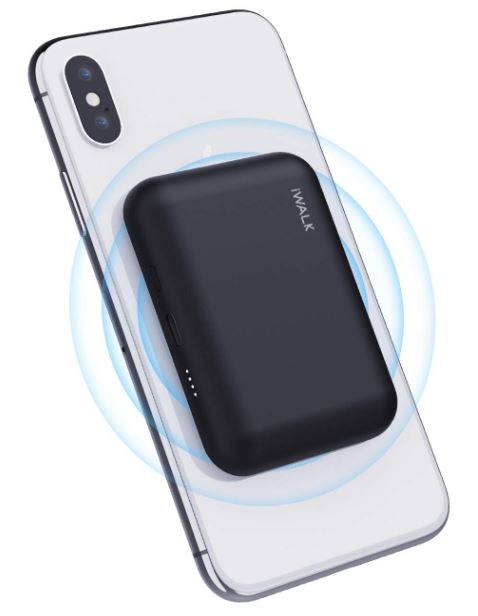 Concerns and Conclusions
The iWALK wireless power bank tends to get fairly warm while charging, this is especially the case if you are plugged in. Though the heat doesn't seem to get too extreme. The nano-suction also requires consistent cleaning in order to maintain its ability to adhere to your phone. Once applied to the back of your phone however it can be a little difficult to remove. Cleaning the back of the phone is prior to sticking the power bank on it is also required often. Also in order to properly charge your phone the iWALK power bank has to be in the middle of your phone. That is however a common theme among wireless chargers. The only other minor concern is simply the fact that it doesn't have a bit more power to get at least one full 100% charge.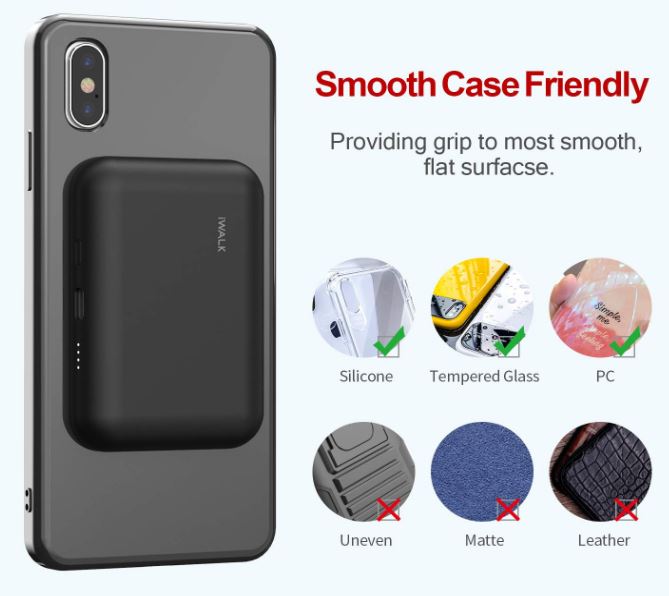 All that being said, the iWALK wireless power bank is a solid wireless charger with many more upsides than downsides. The size, style, speed, and reliability of the charger make it a good choice for both day to day use and longer hikes. Though it wont get you through a full camping trip alone, in combination with the Choetech 24w portable solar charger it makes for a great light weight hiking companion.
Where this charger really shines is as a simple, reliable power backup that wont weigh you down. It was designed with simplicity in mind and it will best serve those that are looking for some simple vital energy.