Quick Analysis
Pros
Excellent bass, mid and high tones.
Charging case included.
Amazing battery life.
Generous warranty period.
IPX5 water resistant.
Cons
Glossy case lid shows fingerprints.
No USB-C charging, uses micro-USB which is a bit outdated.
Only available in one color scheme.
Whether you're an avid fitness guru or just trying to shed a few pounds, we can likely all agree on one thing – listening to music is a great motivator. While some might prefer to blast their tunes through a speaker, most of us love the idea of having a compact, comfortable and reliable pair of earbuds. There's only one slight issue; the market is completely saturated with different options. Ultimately, it can make finding the right pair a cumbersome task.
If you've been scouring Amazon (like most), you've probably come to realize this. Of course, you could go with a popular brand like Apple, Beats, Sony, etc. However, spending hundreds of dollars on a pair of wireless earbuds can seem a bit ridiculous. Luckily, there are several options out there that offer good quality, but might not have the brand-recognition you're used to. Take Tranya for example. Their latest upgraded version, the B530, are packed to the brim with features, yet come in at a reasonable price-point.
Tranya reached out to us in the past couple weeks and asked if we wanted to give them a try. We simply couldn't turn them down, and knew that it'd be a great opportunity to see all that they offer and how they perform. On paper, they seem to boast just about every favorable feature we could think of. But how do they really perform? Today we'll find out as we open them up, pair them to our smartphone and give them a run for their money.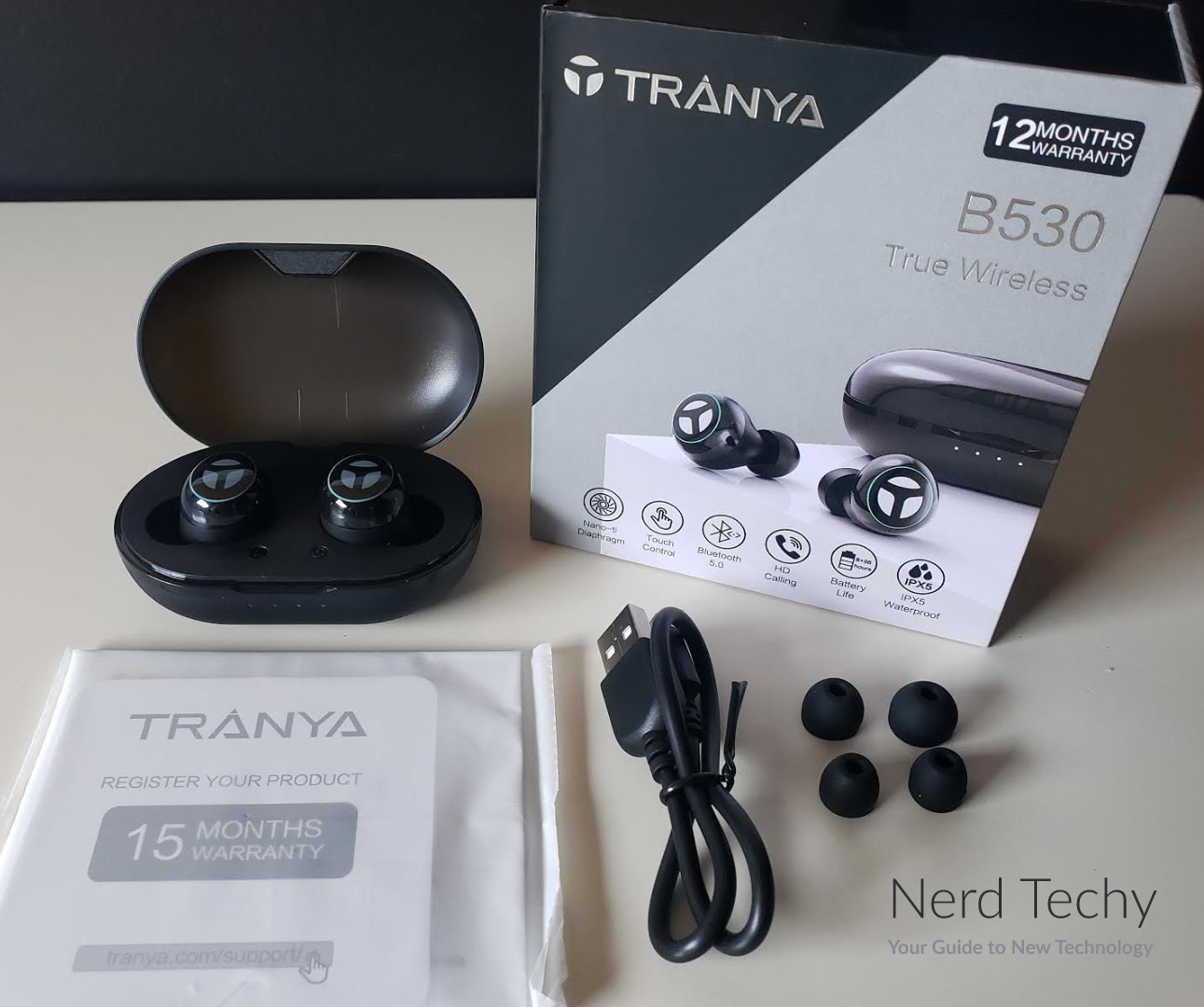 First Impressions
At first glance, the Tranya B530 True Wireless Earbuds boast a fairly plain and straightforward appearance. Right out of the box, you'll notice the earbuds are contained within a clamshell-design carrying case that doubles as a charger. Open it up and you'll see that each earbud rests independently in its own indentation with two metal prongs that automatically charge the buds when they're not in use. With an "L" and "R" clearly indicating which one is meant for your left or right ear canal.
The case measures roughly 2 x 3 inches, a nice size to quickly throw in your pocket or book bag. On the front, you'll notice 4 tiny LEDs that clearly indicate the current charge level once you lift the earbuds out of their indentation. Glance on the side of the case and you'll see a small micro USB input. This is where the included charging cable plugs-in for topping off the internal battery. It's a pretty basic but straightforward design that we can appreciate.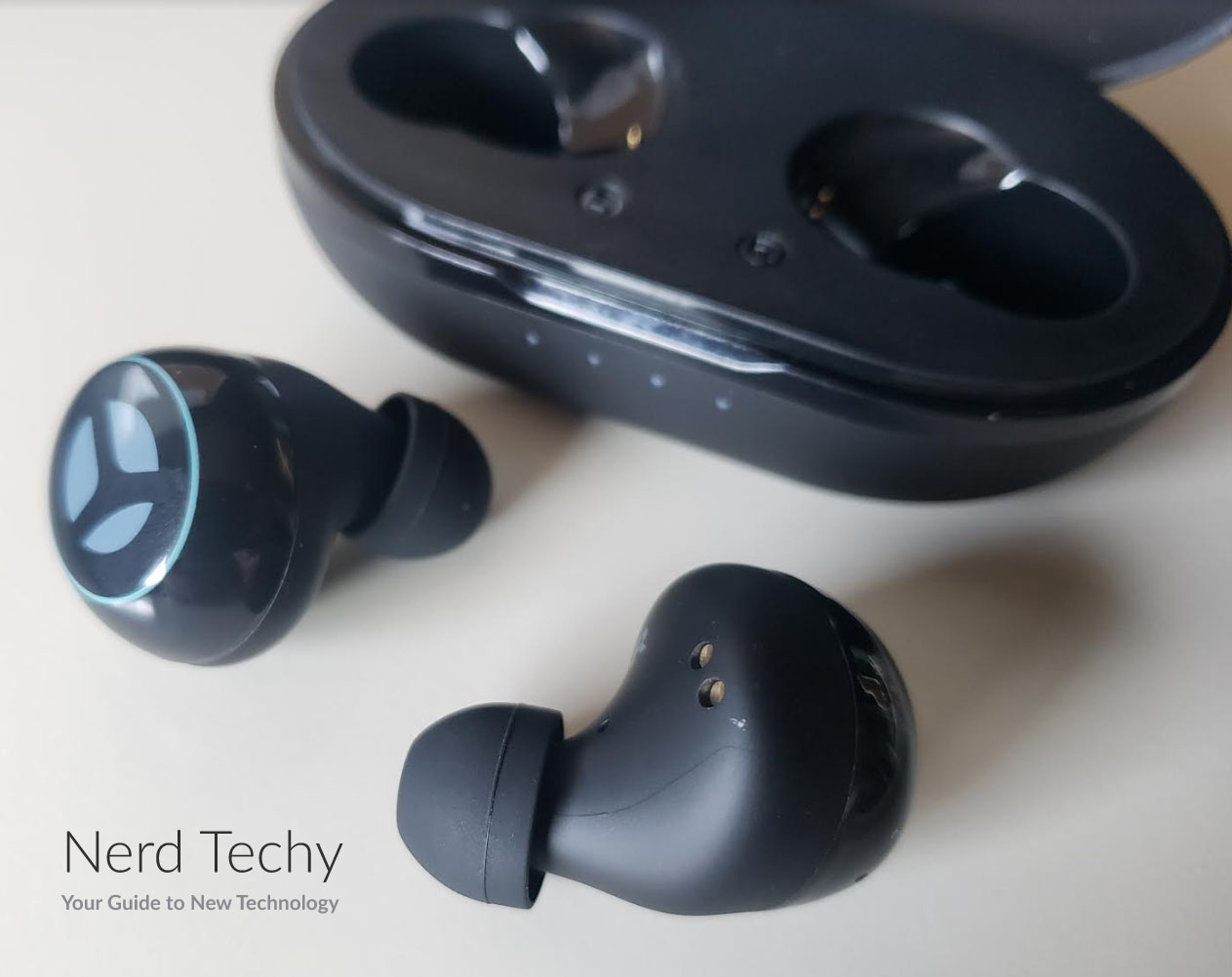 Pairing
One of the nice things about the B530's is that you have the option of listening to either both or just a single earbud at a time. Once you lift an earbud out of the case, it'll automatically go into pairing mode, indicated by the blinking LED on the outside of each earbud. Once you see it start blinking, open your smartphone and make sure Bluetooth is enabled. At this time, select "Tranya B530" from the list of available connections and give it a few seconds to configure. Once it does, the LED will stop blinking and you're ready to start listening.
Pairing them is a simple process that can be done with virtually any modern Bluetooth enabled device. This includes but isn't limited to most laptops, some TVs and just about any smartphone. Best of all, once you pair it to a certain device, it'll remember that connection and pair much quicker each time you remove them from the case.
Use code BJBMMDLK on Amazon.com for 20% off the B530 Earbuds
Comfort
Now that the B530's are paired and ready to go, the last step is placing them in your ears. Take note on the "L" and "R" indicated by each earbud and place them into your ears with the tip pointing into each canal. They should feel snug but not overly tight. In fact, a good way to test the fit is to put them in and vigorously shake your head. If they wiggle or move at all, you'll need to adjust them.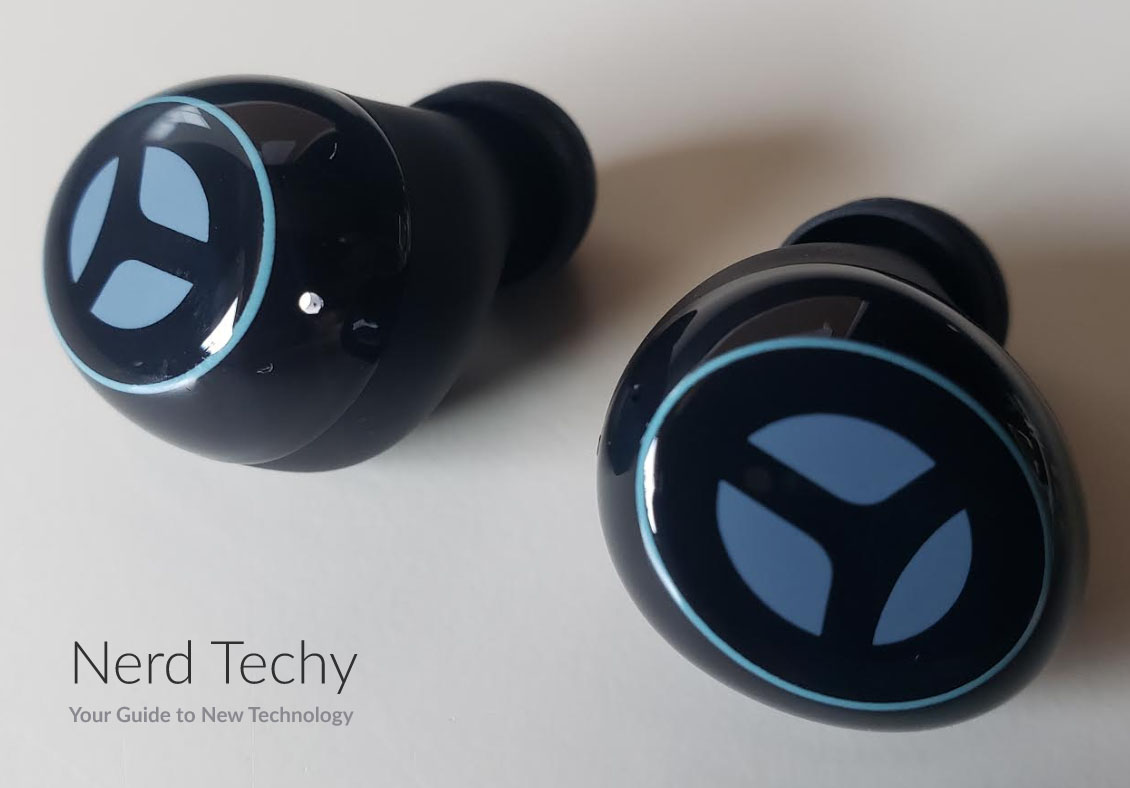 Tranya included a total of three different pairs of silicone "tips" that can easily be interchanged. The default tips are medium in size, whereas the other two pairs in the box are small and large. Have a bit of wiggle? Try the large tips. Do they not fit in your ears at all? Try the small tips. By carefully removing the tips, you can wedge-on either size to conform better to your specific needs.
Once you've established a good fit, you shouldn't feel any pressure-points or wiggle-room. It's important to achieve proper sizing because it goes hand-in-hand with ideal sound quality and noise cancellation.
Overall, they do seem to offer enough comfort for hours of continuous listening. We spent several hours listening to them on the first day we tested them and we don't have any complaints on the way they fit and feel. Even though they don't have an earhook or cable that wraps around, they contour nicely to the shape of your inner-ear. They seem to "wedge" into position but don't want to come out on their own – the right kind of positioning for virtually any workout or activity.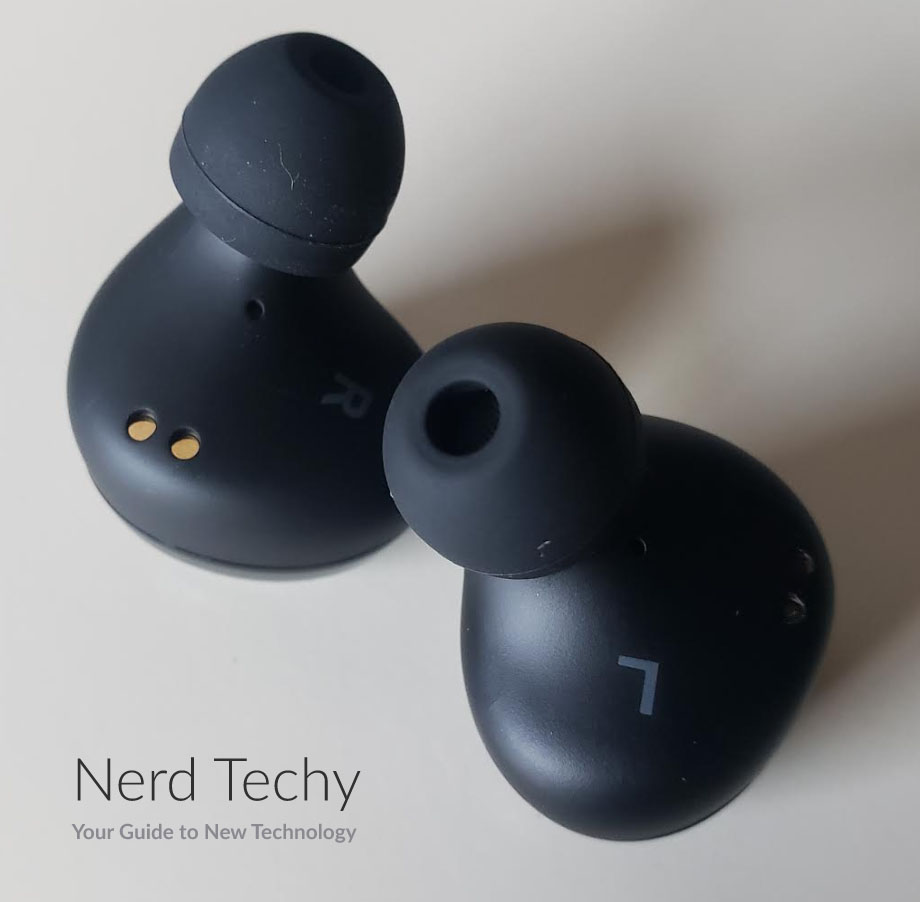 Sound Quality
Moving on, we were very pleased with how they sound. We tested out a wide variety of music genres from classic rock to modern day hip hop, and even tried some classical jazz. The clarity was superb with no noticeable degradation between all the different sounds we tested them with a day of continuous listening. The mid and high tones were really nice, especially with the decent amount of low-toned bass that they emitted. This may be in part because of the integrated dynamic driver that lets bass effects resonate at 20Hz to 80Hz. The inclusion of this makes them sound better than 90% of the earbuds we've tested in this price-point. Typically, when you take a pair of mid-tier earbuds and crank up the volume to the max, you'll usually get some sort of distortion or unfavorable effects. This doesn't seem to be the case with the Tranya B530's.
Another factor that makes them shine is the built-in aptX audio technology by Qualcomm. This supports an incredibly low bit-rate at 384 kbps with a wide frequency range of 20Hz to 20,000Hz. What this means is that high tones are left sounding crisp and fresh while low bass tones are capable of hitting some of the lowest frequencies around.
Although we already discussed it, a proper fit is essential if you're trying to make the most of these earbuds. By securing a snug fit right from the start, around 15 to 20 decibels of background noise is automatically cancelled out. Known as "passive" noise cancelling, this assures the best of both worlds – a cozy fit and the best audio emission possible.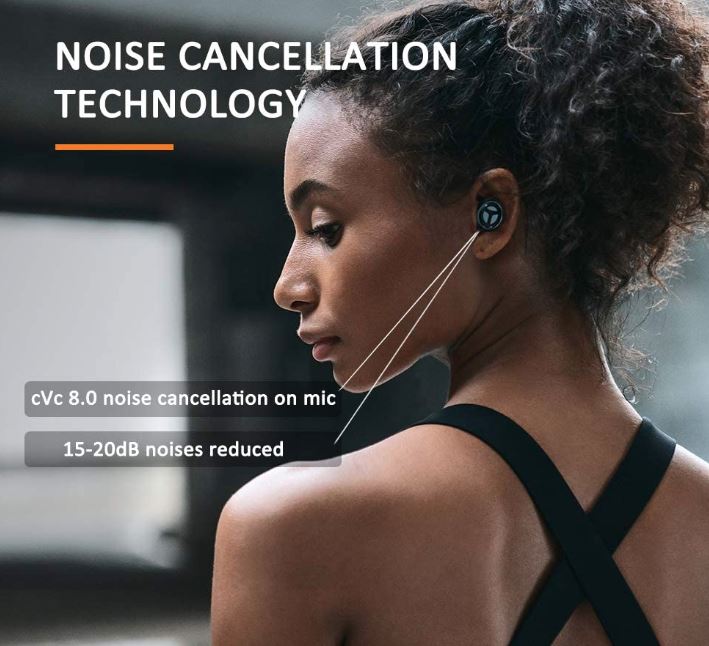 Battery Life
Not all wireless earbuds come included with a charging case. We see the charging case as a great way to keep the earbuds in one protective place, but also a smart way to keep the internal battery of each earbud topped off. With each full charge, you can expect around 7 to 8 hours of listening. We tested this out and found this projected duration completely accurate. During our first listening session, they lasted about 7 and a half hours before they failed to keep a connection. Once this happens, just pop them into the case for a few hours and they're ready to go for another round.
After about 6 or 7 recharges, it's time to charge the case. Simply plug-in the included micro-USB cable into the port on the left side of the case and wait for the four LEDs to illuminate.
It's nice to see that the advertised battery life is accurate. Some manufacturers make bogus claims or over-estimate the battery life for mass appeal. Tranya was truthful and precise when it came to these estimates and we can truly appreciate that.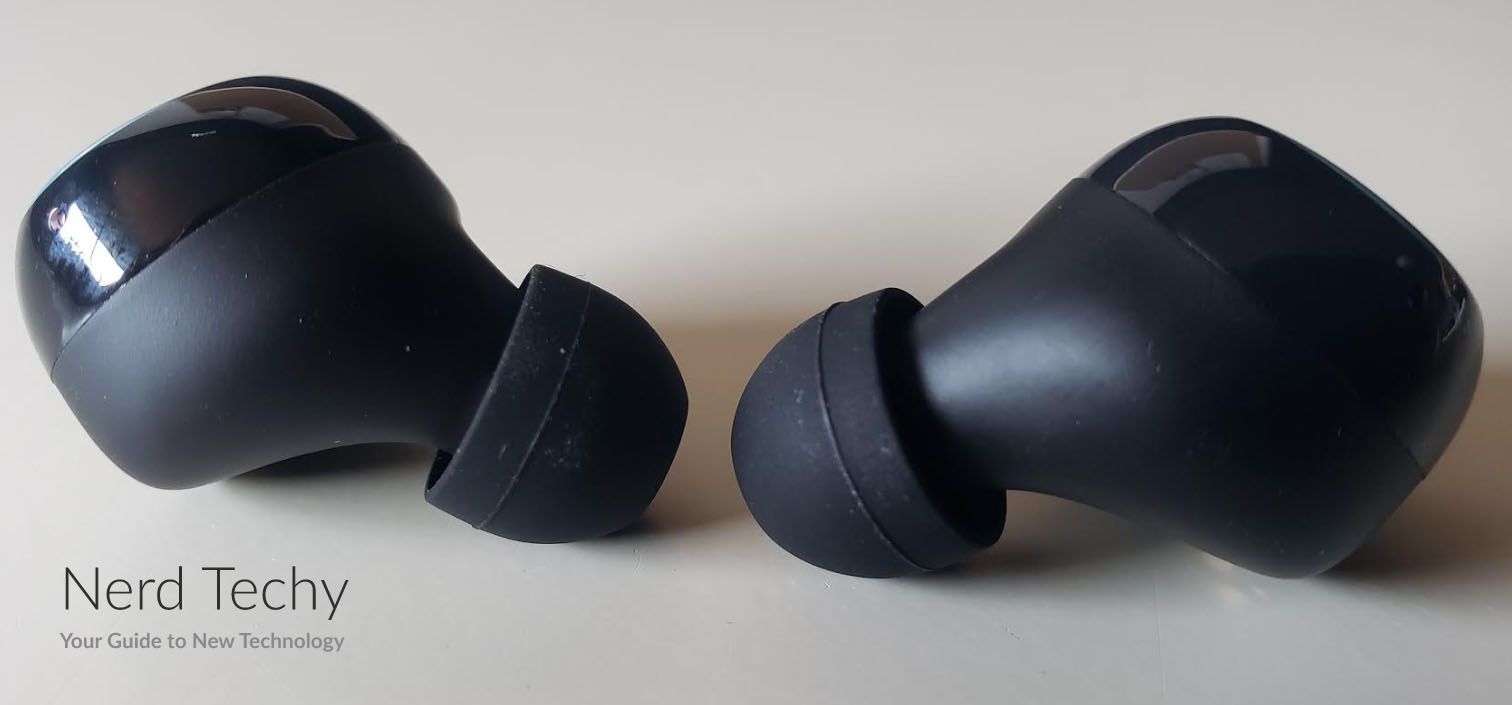 Durability
Since the Tranya B530's are designed and geared for workouts and sports-related activities, durability is actually pretty important. Holding them in your hand, you'll notice there are no moving parts and in-fact, hardly any crevices or cracks where water, dirt or other particles can enter. This is by design.
Tranya spent extra effort on making sure that the B530's are completely sealed for ingress of moisture or debris. They're given an IPX5 water resistance rating, meaning that they're OK to use in the rain, but not in the swimming pool. In other words, they can withstand sweat and rain without issue, but cannot be submerged into water.
Keep in mind that the water resistance and durability rating only applies to the earbuds themselves. The charging case is not water resistant or meant to take much abuse. What this really means is that you can take the earbuds with you for virtually any activity, but keep the case securely within a pocket, your vehicle or a safe place when using the earbuds.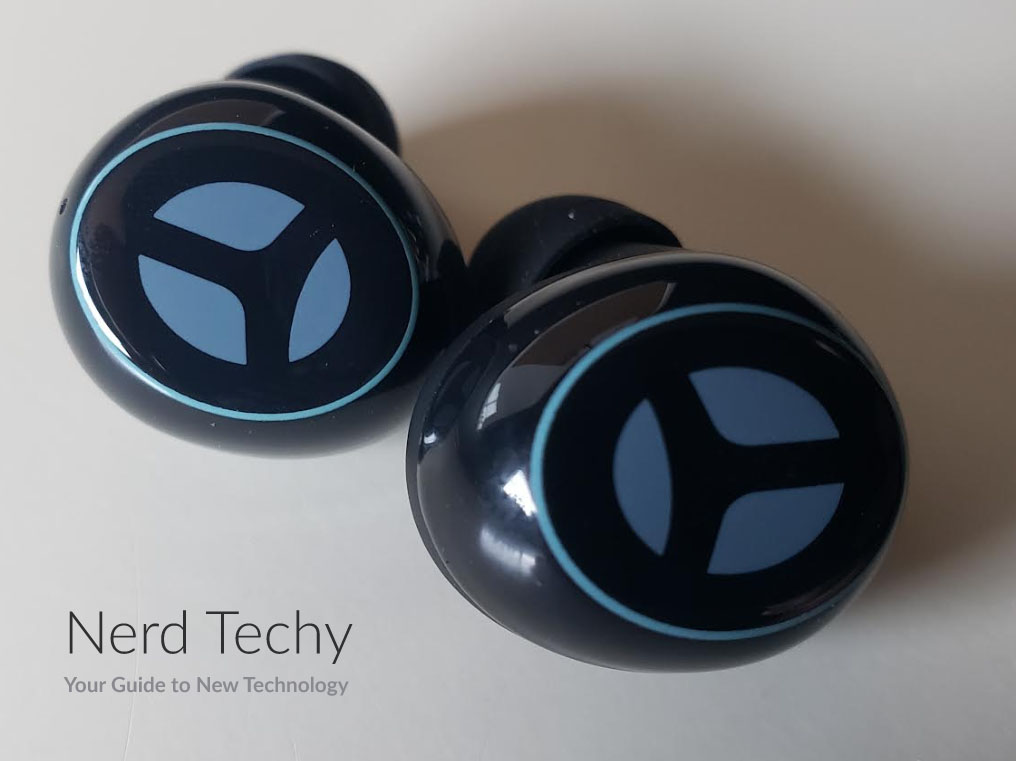 Phone Calls
While we must admit, we typically don't use earbuds to take phone calls, it can happen when you least expect it. If the earbuds are paired to your smartphone and you receive or want to make a phone call, you can easily do so without effort. Hands-free calling is simple and actually quite nice. They utilize cVc 8.0 noise cancelling to actively suppress background noise when taking a phone call. The integrated microphone on each earbud ingeniously cancels out nearby and far away sounds while concealing errors and packet loss. This keeps the person on the other end of the conversation with a clear sound of your voice.
We tested out three different phone calls, each in a different setting. On the bus, at the grocery store and waiting in line at the post office, we found the call quality to be superb. It's a nice way to take a call without being forced to remove the earbud(s) and/or call them back when you're in a better, quieter place.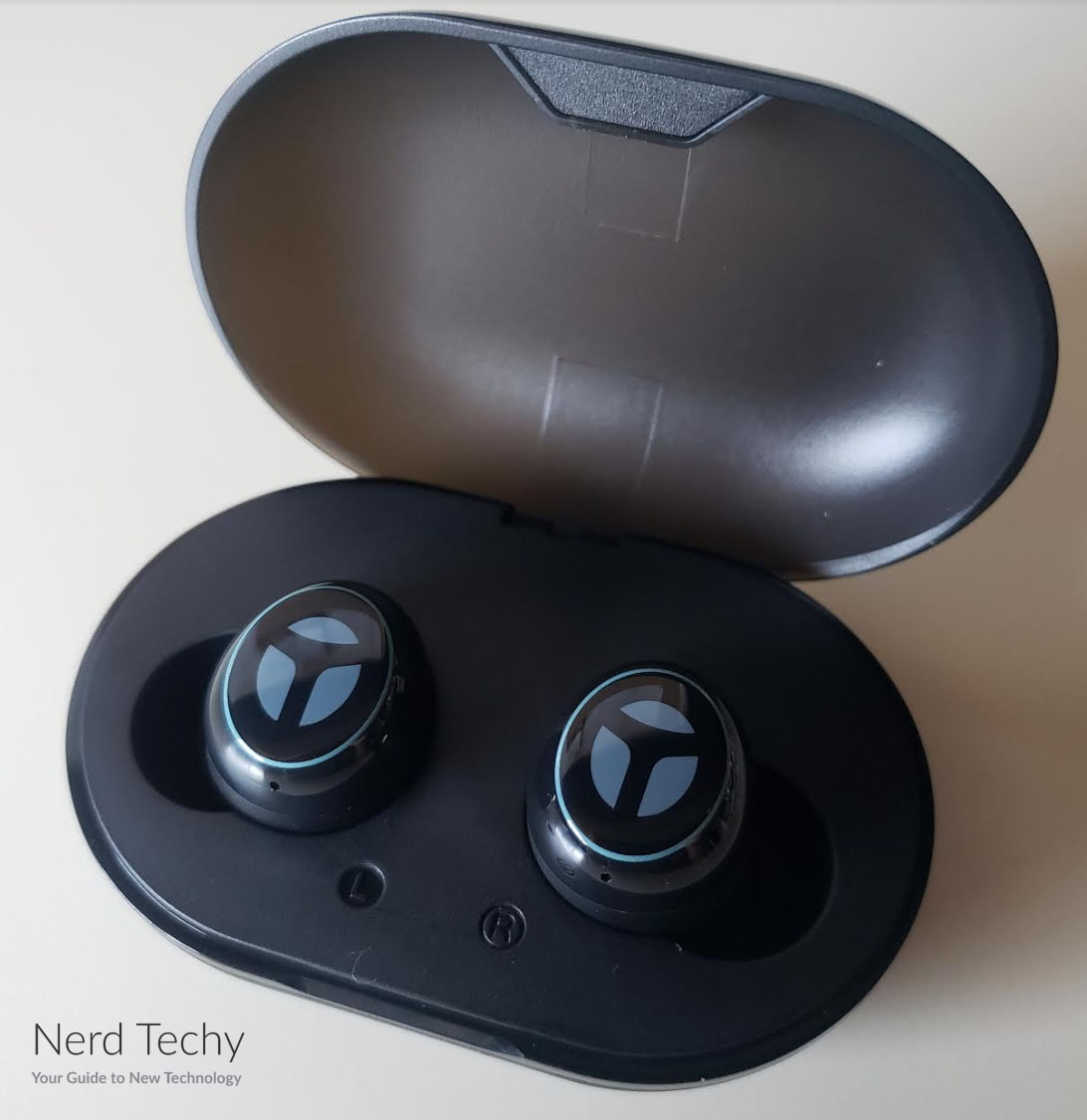 Final Thoughts
Overall, we must say that we're big fans of the Tranya B530 True Wireless Earbuds. (20% off coupon code: BJBMMDLK) Boasting a wide array of high end features, it just goes to show that you don't necessarily have to spend an arm and a leg to get decent quality for your budget. The sound quality is wonderful with bass and mid and high tones right where they need to be. Although you can't take them in a swimming pool, they pack enough durability to include them for virtually any workout or sporting event you want to use them for.
Best of all, Tranya backs them with a 12 month warranty right out of the box. Moreover, the warranty can be extended to 15 months if you register your earbuds once they arrive.
Yes, they're not the flashiest or most well-known brand out there, but there's not a single reason we'd hesitate to recommend anyone against them. Great sound, amazing battery life and also, a generous warranty period that offers excellent peace of mind.
Meet Derek, "TechGuru," a 34-year-old technology enthusiast with a deep passion for tech innovations. With extensive experience, he specializes in gaming hardware and software, and has expertise in gadgets, custom PCs, and audio.
Besides writing about tech and reviewing new products, Derek enjoys traveling, hiking, and photography. Committed to keeping up with the latest industry trends, he aims to guide readers in making informed tech decisions.