If you're looking for a pair of wireless earbuds, there are plenty to choose from. But quantity is not the same as quality. For every solid pair of earbuds, there's a real clunker. How do you decide which one is the best? One way is to stick with a reliable manufacturer. Aukey is one such manufacturer, with a solid track record for good quality products. Today, we'll be looking at two of their Key Series earbuds, the EP-B33, and the EP-N33. In many ways, these two sets of earbuds look and feel similar. But the EP-B33 costs twice as much as the EP-N33. Why? Let's take a closer look, and see what they have in common, and how they're different.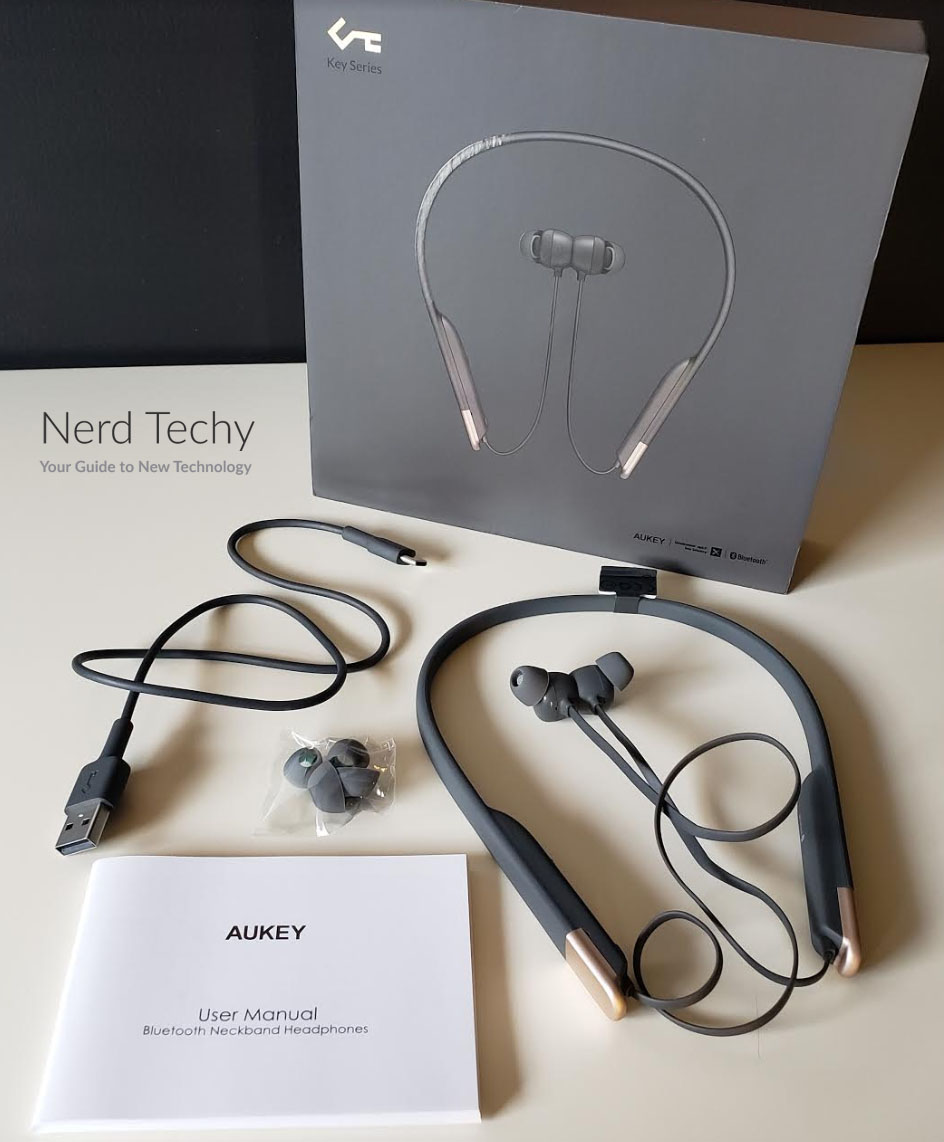 Aukey Key Series EP-B33
The Aukey Key Series EP-B33 is a neck band-style set of earbuds. This means that instead of being separate units, the earbuds are wired to a silicone neck band. For some, this might seem a bit bulky. But there's actually a significant benefit to this design. It makes the earbuds just about impossible to lose. If one of them falls out of your ear while you're running, you won't have to hunt around for it. The neck band is quite comfortable, and fits most people's necks with a gentle tension. The kit is available in grey or black, and includes 3 sets of silicone ear tips. This ensures that just about anybody can get a comfortable fit.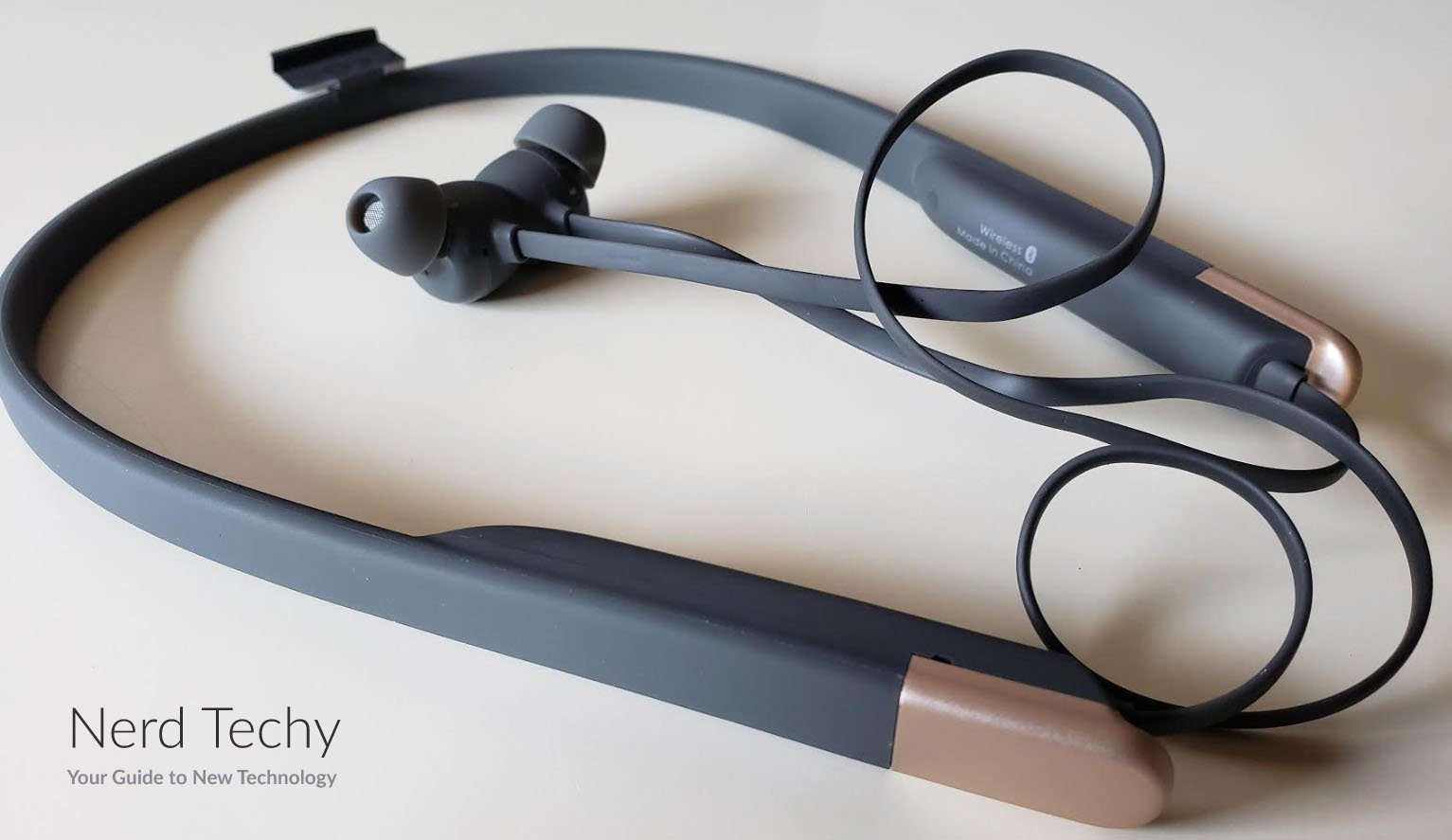 The EP-B33 earbuds have a magnetic design. The backs of the buds are magnetized, which makes them easy to stick together when you're not wearing them. When you take the buds off and stick them together, your music will automatically stop playing. When you separate the earbuds, your music will automatically resume. This makes it easy to enjoy quick social interactions without having to pause and play your track. Unfortunately, the magnets are a bit weak, and can easily come apart. This means your music might automatically start again when you don't want it to.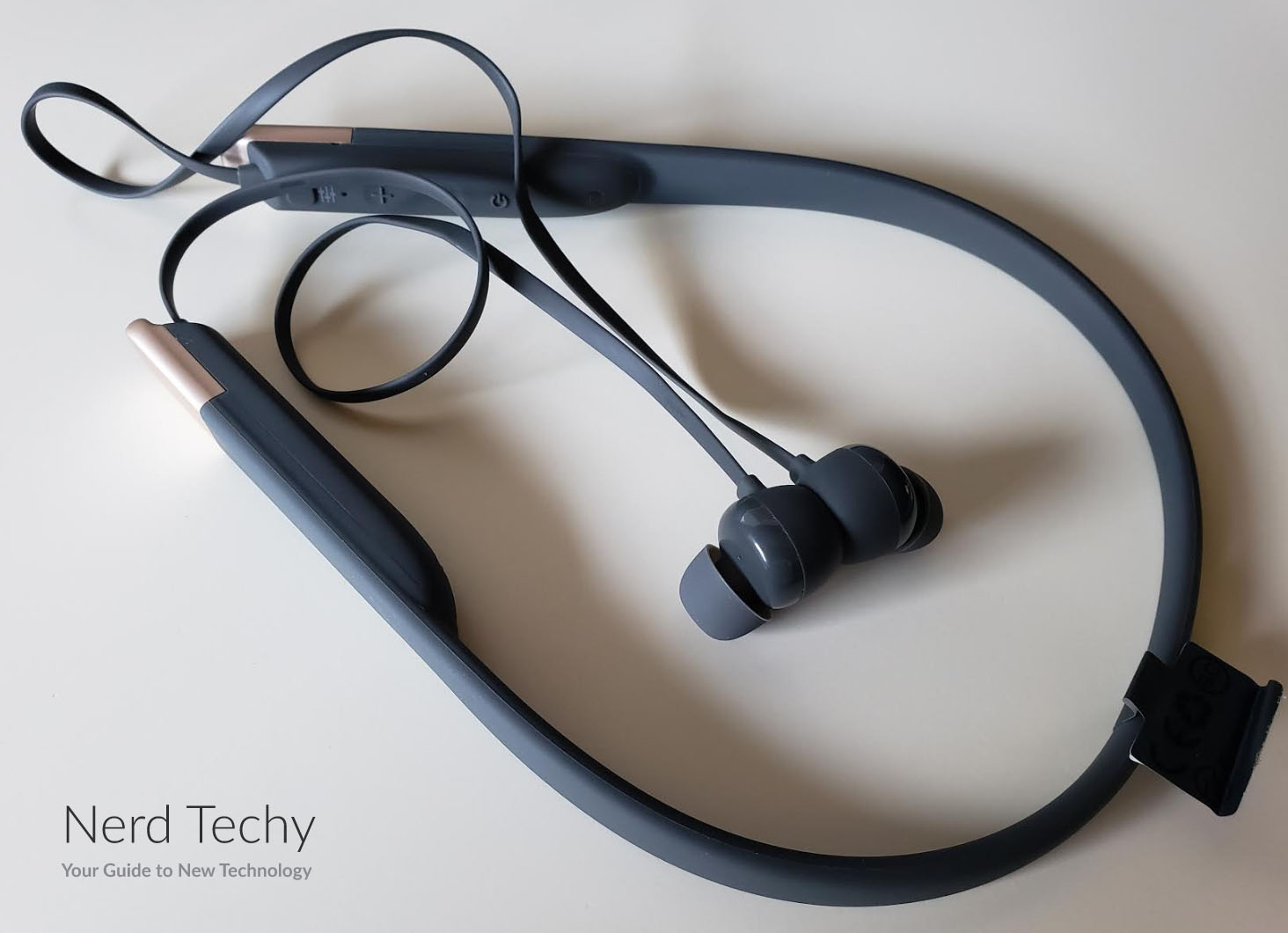 The manual controls are located on the inside of the band. They have a nice, clicky feel, and allow you to perform just about any function. Play or pause your music, skip tracks, answer and end calls, or activate your voice assistant. You can also turn the active noise cancelling (ANC) on or off. The entire assembly is IPX6 water-resistant. This means it can stand up to a steady stream of water without suffering any damage. Enjoy a sweaty workout, go for a run in the rain, or even wear your earbuds in the shower. Just don't take them swimming, and you'll be fine.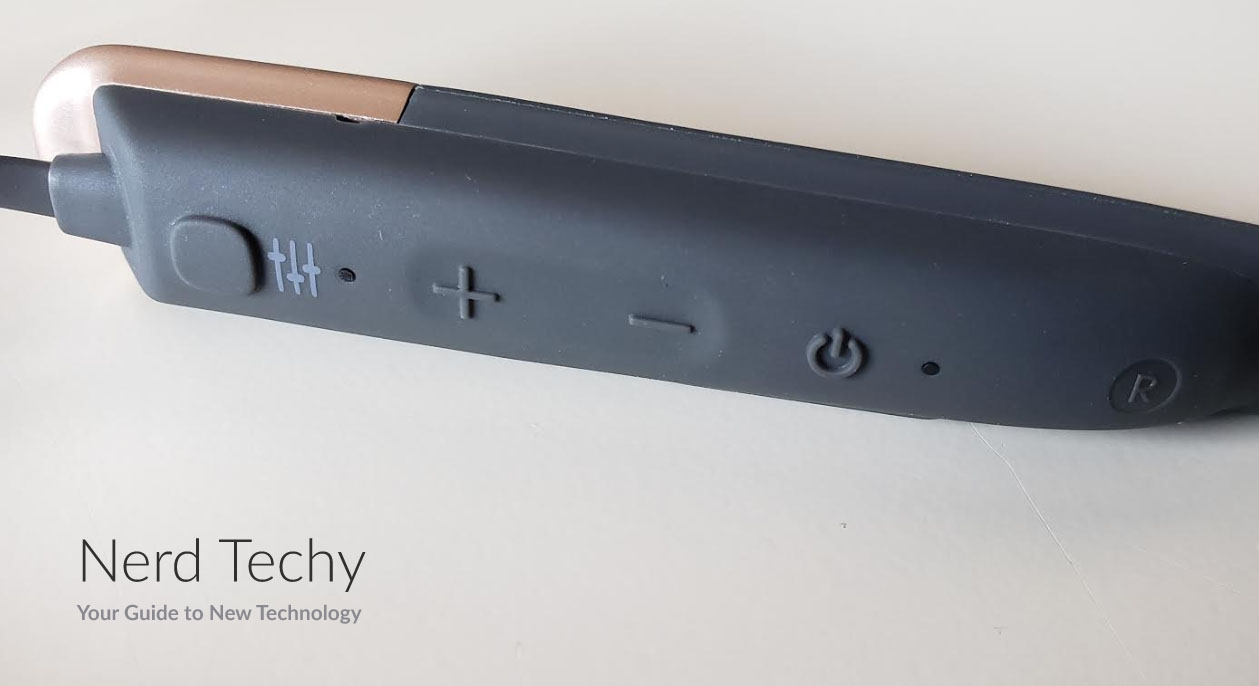 In addition to the EP-833 earbuds themselves, you also get a couple of extras. First off, you get a USB Type-C cable for easy recharging. Secondly, you get a small drawstring pouch. This isn't the same as a crush-proof case, but it makes travel more convenient. You also get a 24-month product replacement warranty, one of the best in the business. As part of this guarantee, Aukey offers a 45-day money back guarantee. If you decide you don't like the earbuds for any reason during this period, just return them for a refund.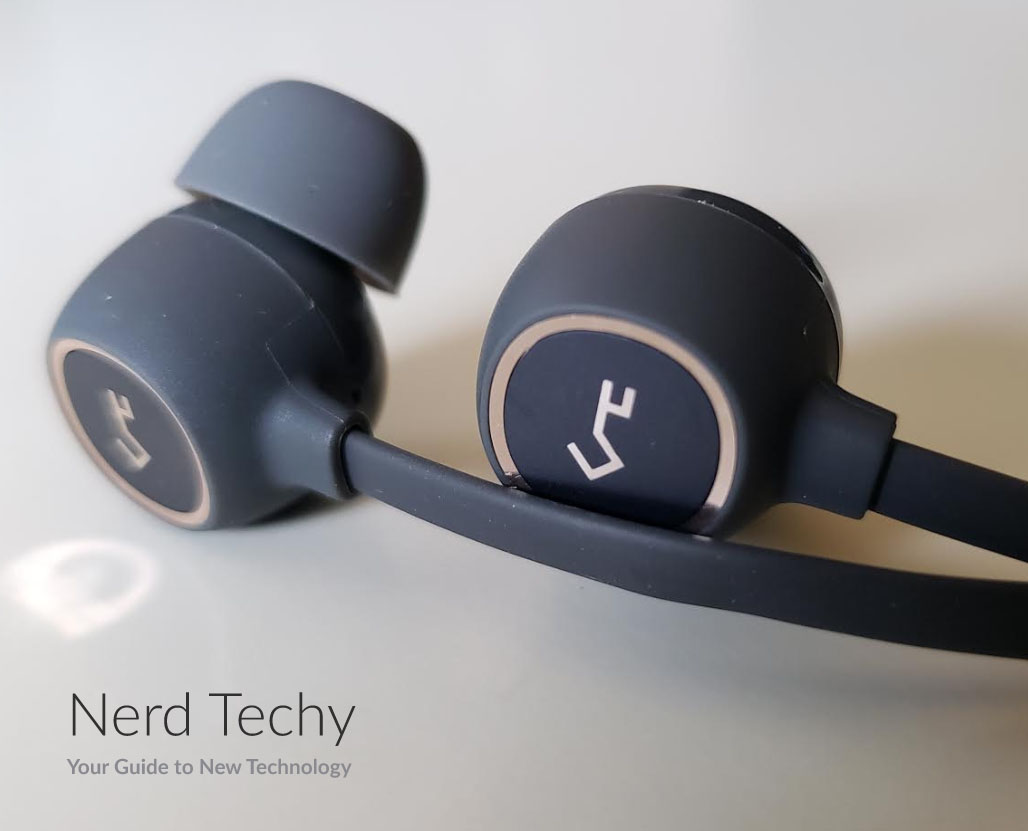 Battery & Charging
The Aukey Key Series EP-833's battery is rated to last for up to 8 hours. This is based on the manufacturer's tests, which are performed at moderate volume. But even if you like to crank your volume all the way up, 6 hours to a charge is a reasonable expectation. With low-bitrate audio such as podcasts or audiobooks, you can get even better performance. When the battery runs dead, recharging is a breeze. From 0 to 100 percent, recharging only takes about an hour. And if you're caught in a pickle, you can get 2 hours of playback from a 10-minute fast charge. All in all, battery life is no issue here.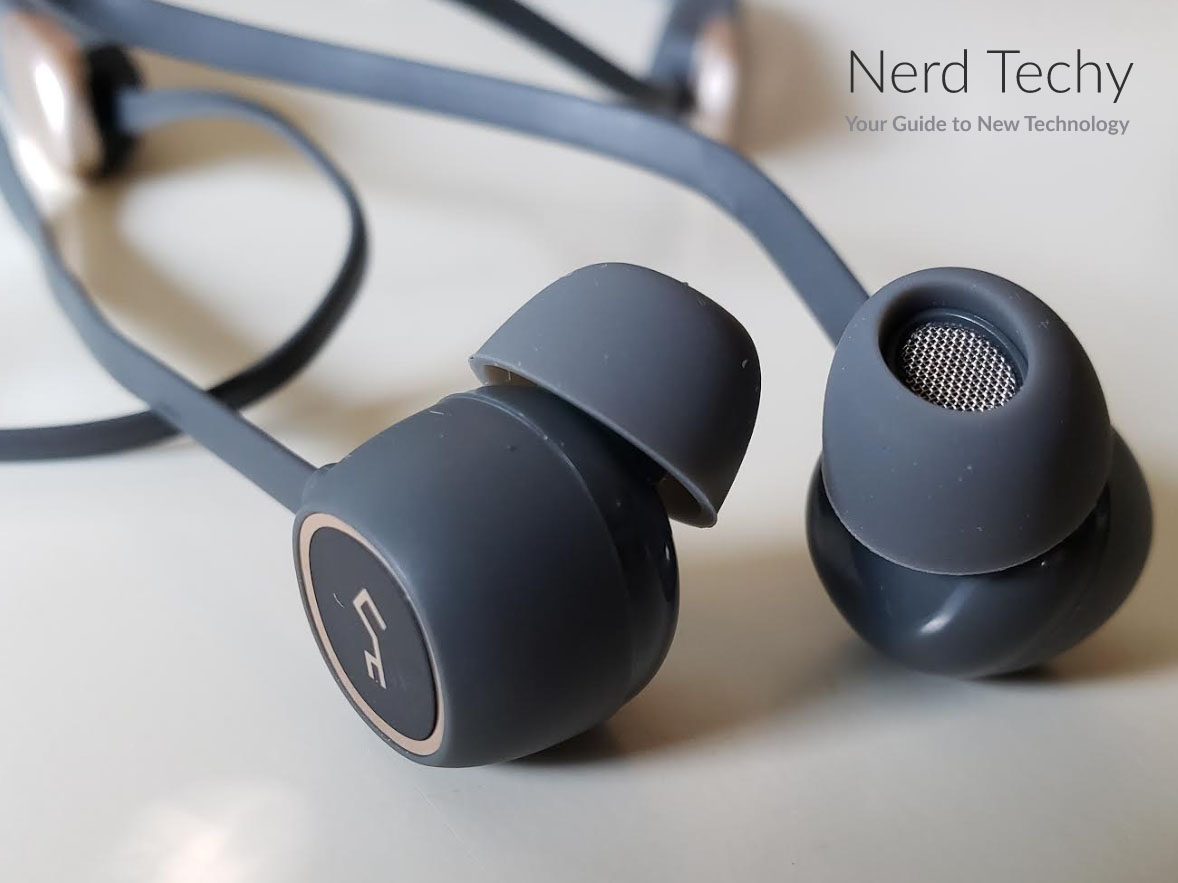 Sound Quality
Even the most well-engineered pair of wireless earbuds is useless without good sound quality. After all, the whole point is to enjoy your music, right? In this regard, the EP-B33 earbuds deliver. They have a 10mm graphene driver, which reproduces music with high fidelity. The sound quality is excellent across all parts of the spectrum, including the bass. This is unusual for earbuds, and it's much-appreciated. You also get to choose between three different EQ modes. Depending on what your favorite genre is, you can get the perfect balance for your tunes. The EP-B33 also utilizes active noise cancelling. This helps to block out ancillary noise, so you can enjoy your music in peace. If you spend a lot of time in crowded spaces or public transport, you'll love the ANC feature.
Call quality is crystal clear. Obviously, this depends in large part on the other person's connection. But provided they've got good earbuds, they'll be able to hear you just fine. Dual mics in the end of the neck band ensure maximum clarity for personal and professional calls.
Aukey's Key Series includes several other well-made earbuds. For example, the Aukey Key Series B60 is a solid choice. These earbuds have a similar design, as well as much stronger magnets. That said, the sound quality isn't as good as the EP-B33.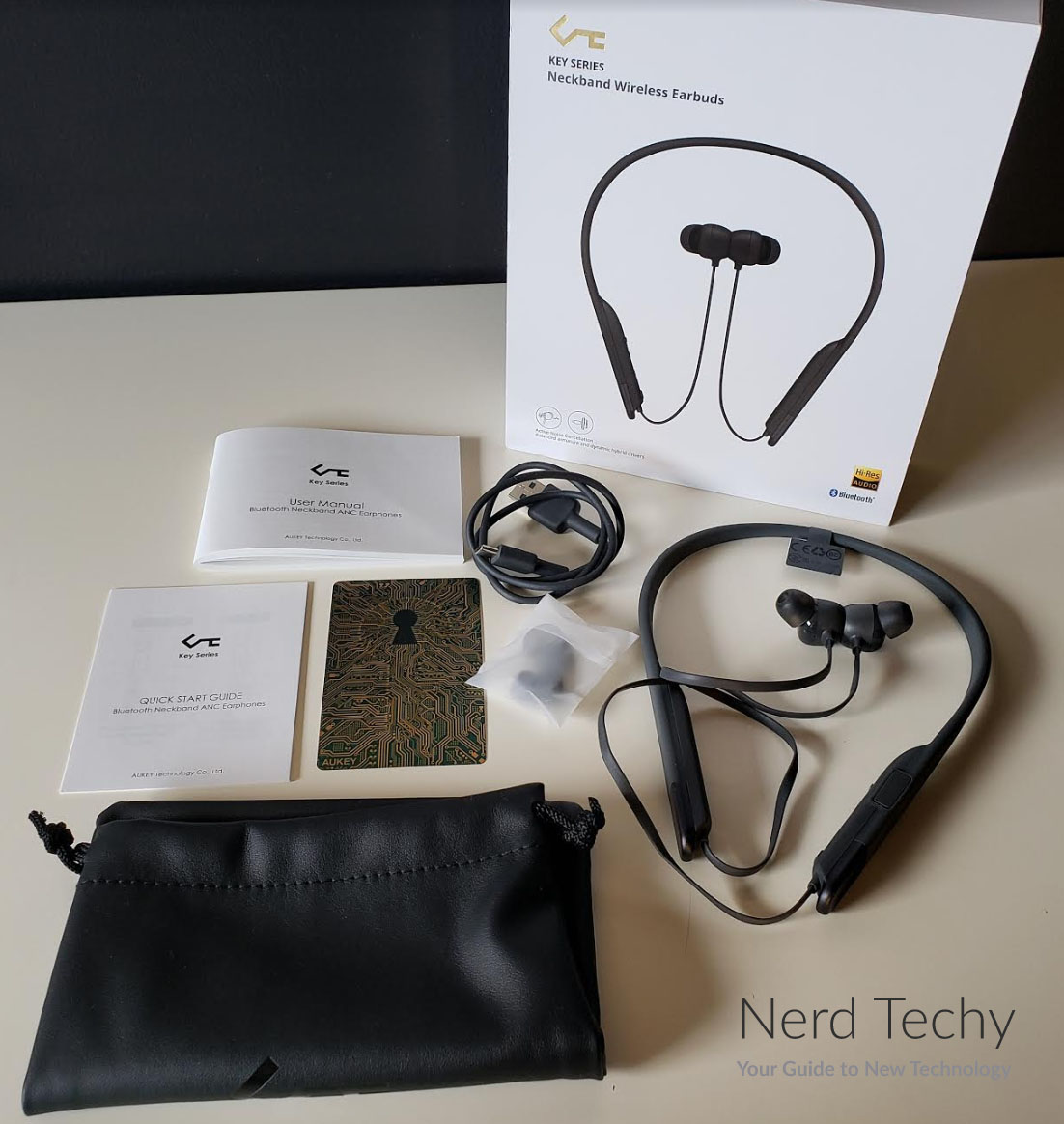 Aukey Key Series EP-N33
At first glance, the Aukey Key Series EP-N33 looks nearly identical to the EP-B33. It has a neck band-style construction, and it's available in grey and black. But beneath the surface, there are a few key differences. Let's begin with the neck band controls themselves. While the EP-B33 buds have buttons that click, the EP-N33 has softer, rubbery buttons. This makes them cheaper to produce, but it also means you don't get the same tactile feedback. In practice, though, this isn't a major concern. Hopefully, you'll notice if your music has paused or restarted playback.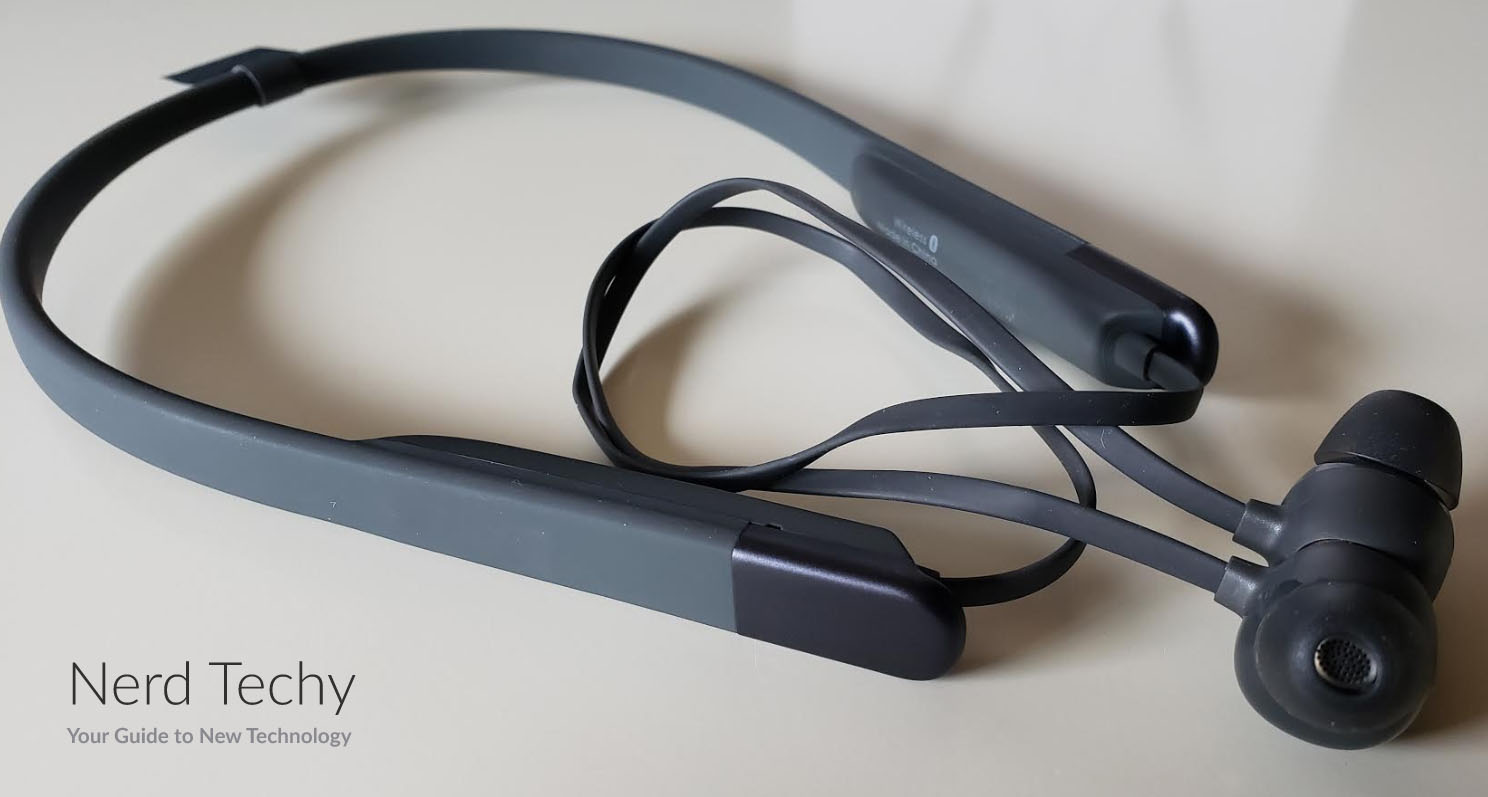 The neck band fit is similarly comfortable. The rubber actually has a memory. Whether your neck is large or small, it will adjust well to your size without squeezing too much. The earbuds themselves have the same magnetic design as the EP-B33. Put them together when they're not in use, and your music will pause. Pull them apart, and it will pick up right where it left off.
Like the EP-B33, the EP-N33 has many of the same features. It's IPX6-rated for water-resistance, so you can take it anywhere. It also includes 3 sets of silicone ear tips for a perfect fit, and a USB Type-C cable for charging. The 24-month warranty is still one of the best in the business. That said, you don't get a 45-day no-questions-asked return window. But if you're already confident in your choice, you're protected from any manufacturing defects or premature failure.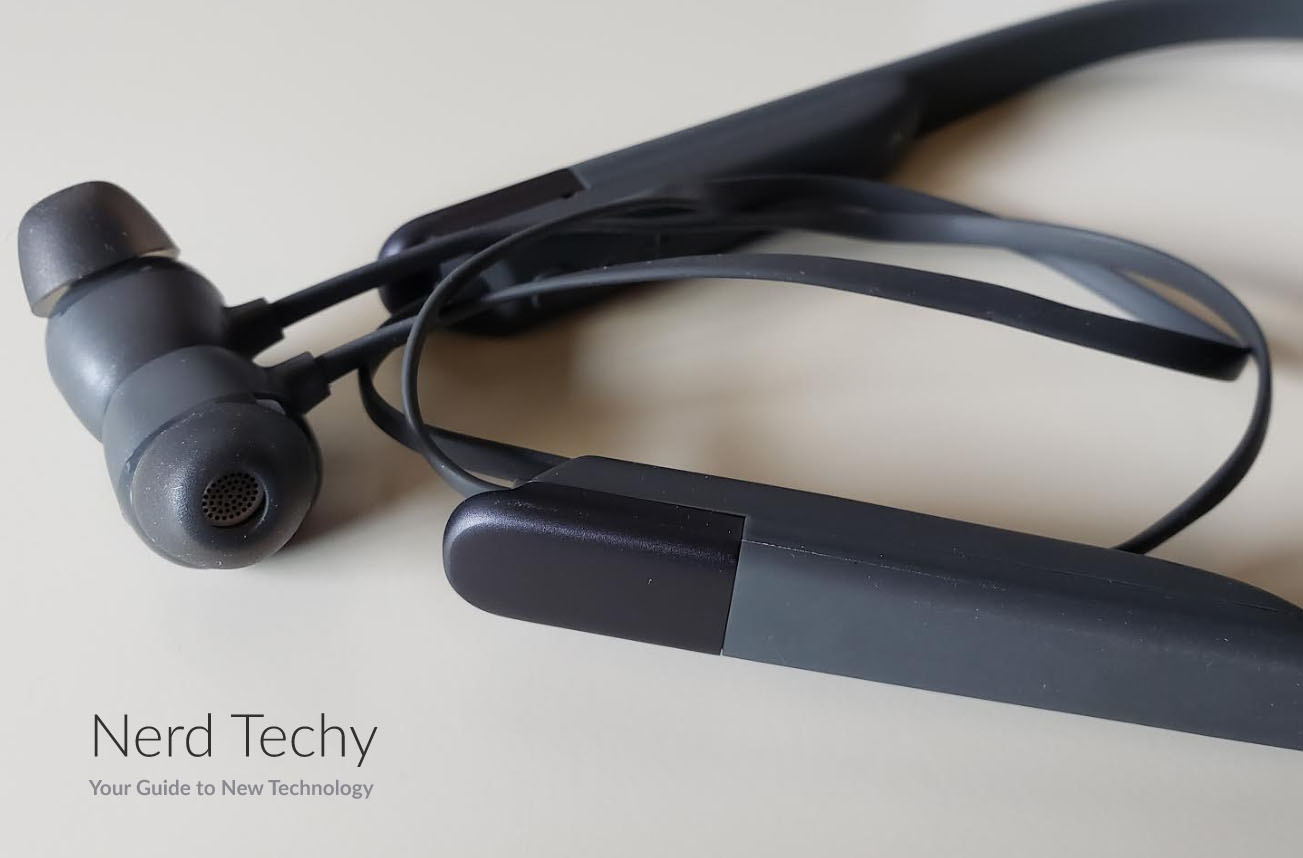 Battery & Charging
The EP-N33 uses the same battery as the EP-B33. As you might expect, given the similarity between these earbuds, the performance is about the same. You can count on 8 hours of playtime at moderate volume, or about 6 hours at full volume. As always, your performance can vary based on a variety of factors. High-bitrate audio will use batteries faster than low-bitrate audio. Similarly, cold weather will get you less battery life than warm weather. The battery charges fully in about an hour, or enough for 2-hours' playback with a 10-minute fast charge.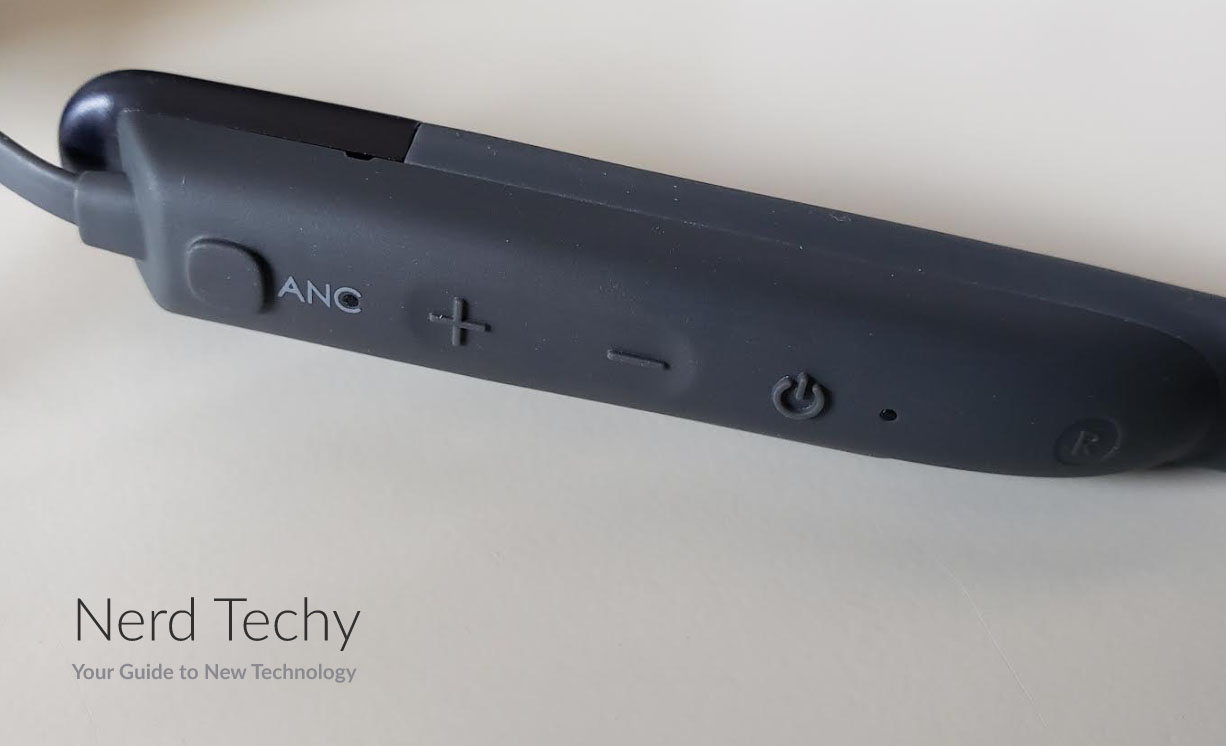 If you want even longer battery life, you're going to need a different earbud style. For example, an AirPod-style earbud has a charging case, which means you can juice up on the go. The Aukey Key Series T18NC True Wireless Earbuds are an excellent choice. They don't have a neck strap for security, but they offer up to 24 hours of total battery life.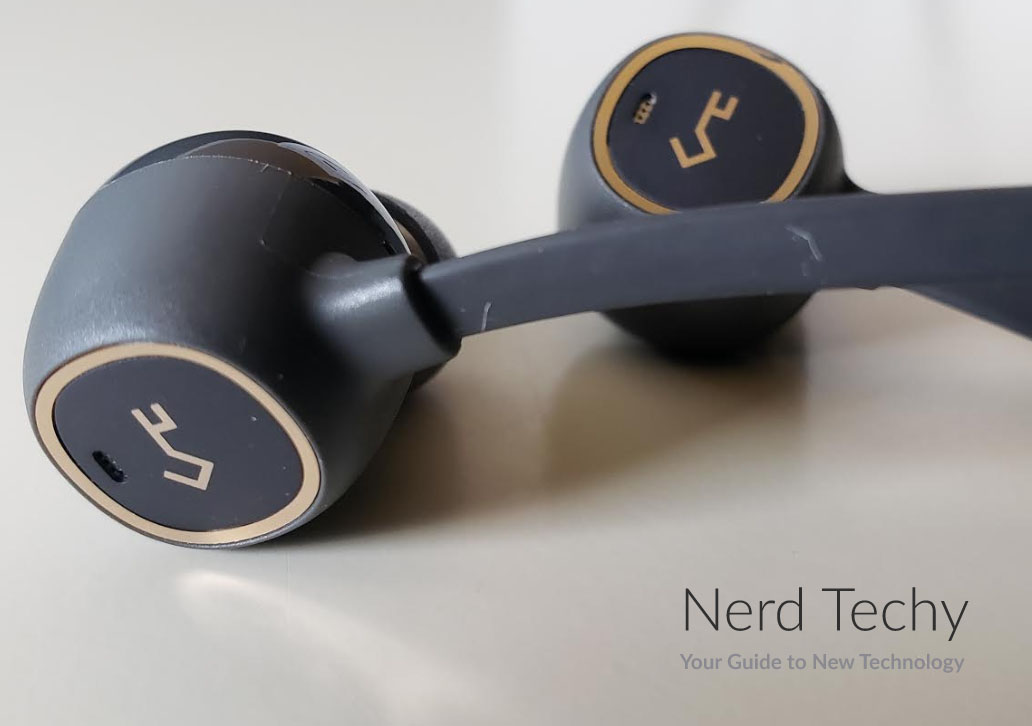 Sound Quality
The Aukey Key Series EP-N33 earbuds advertise a pair of 10mm graphene drivers like the EP-B33. The design is very similar, but the performance is not the same. Don't get us wrong, the sound quality is still very good. But the volume is lacking. If you like to crank the volume all the way up, you'll be disappointed in the total volume. That said, you do still get three different EQ modes. You can adjust easily for different genres, without any need to fiddle with the EQ on your phone or iPod.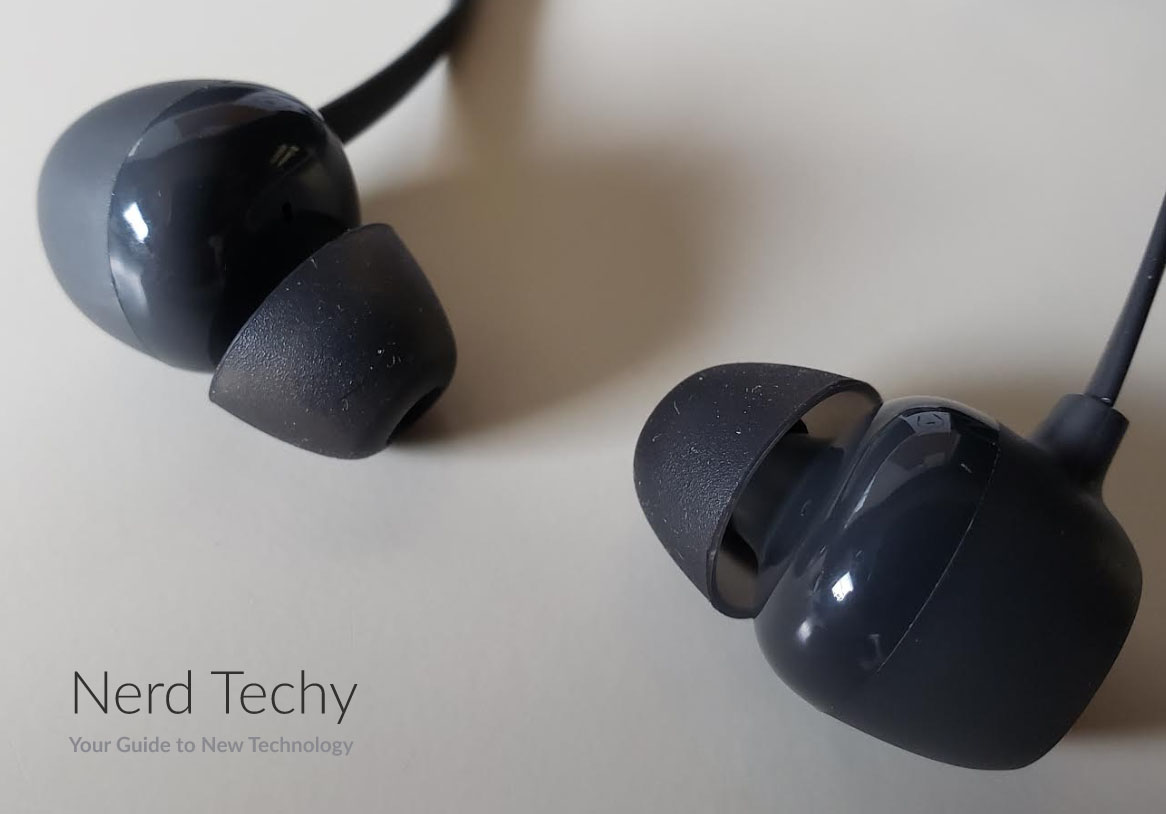 One thing the EP-N33 earbuds don't offer is active noise cancelling. If you've taken the time to choose the right ear tips, you'll get plenty of passive filtering. That said, if you need active noise cancelling, you'll want to spend more and buy the EP-B33 buds. Call quality is the same as you get with the EP-B33. You won't have any issues hearing the person on the other end, provided they have a good microphone. The dual mics on the EP-N33 ensure that the other person will be able to hear you just fine. If you're looking for good hands-free calling, you don't need to look any further.
Final Verdict
So, what have we learned from this comparison? To start with the obvious, either one of these earbuds would be a solid choice. But as we hope has become clear, there are some important differences between the two. To begin with, the biggest difference is that the Aukey Key Series EP-N33 uses active noise canceling. The Aukey Key Series EP-B33, on the other hand, does not. To be fair, ANC is not commonly found on wireless earbuds. Normally, you'll only find it on over-the-ear headphones. That's why the EP-B33 comes at a premium price.
When it comes to sound quality, there are both similarities and differences. On the one hand, the quality itself is very good across the board. You get plenty of clarity, as well as three different EQ settings for different genres. On the other hand, the EP-N33 is limited in volume. The EP-B33 is better-suited for jamming out at top volume. The only other significant difference between the EP-B33 and the EP-N33 is the control buttons. This is more or less a matter of preference. If you want plenty of tactile response, choose the EP-B33. If you prefer a softer, rubbery feel, go with the EP-N33. Either way, you'll get solid performance.