Tacklife KP200
Jump Start Performance
9.0/10
Power Bank Performance
10.0/10
Flashlight Performance
9.0/10
Pros
Powerful, long-lasting battery.
Can jump a totally dead battery.
Can charge 3 devices at once.
Doubles as a flashlight and 12V power supply.
Cons
Jumper cables are relatively short.
Not as powerful as some dedicated jump starters.
Back in the day, you had to rely on strangers for a jump. You could be a responsible adult, and carry a pair of jumper cables in your trunk. But if there was nobody else around, you were out of luck. With better battery technology, this has become less of a problem in recent years. Now, you can carry a power pack in your trunk, and take care of your own jumps. But most of these devices are big and bulky. Do you really want to carry a briefcase-sized accessory just in case of an emergency? There are better options. For example, you can now get a portable jump starter that's only slightly larger than a cell phone.
Today, we'll be looking at one of these, the Tacklife KP200 Portable Jump Starter. This is a compact jump starter that can spark up just about any engine. Even diesel engines aren't too much for it to handle. But the KP200 is more than just a jump starter. Like many larger jump starters, it also functions as a power bank. You can use it to charge your smartphone, or even to power 12-volt automotive tools. There's even a built-in flashlight, which can help in non-battery-related emergencies. These are a lot of features for one little device! But how well does it perform in the real world? We're about to take a closer look at all the features, and tell you what we found. Let's get started!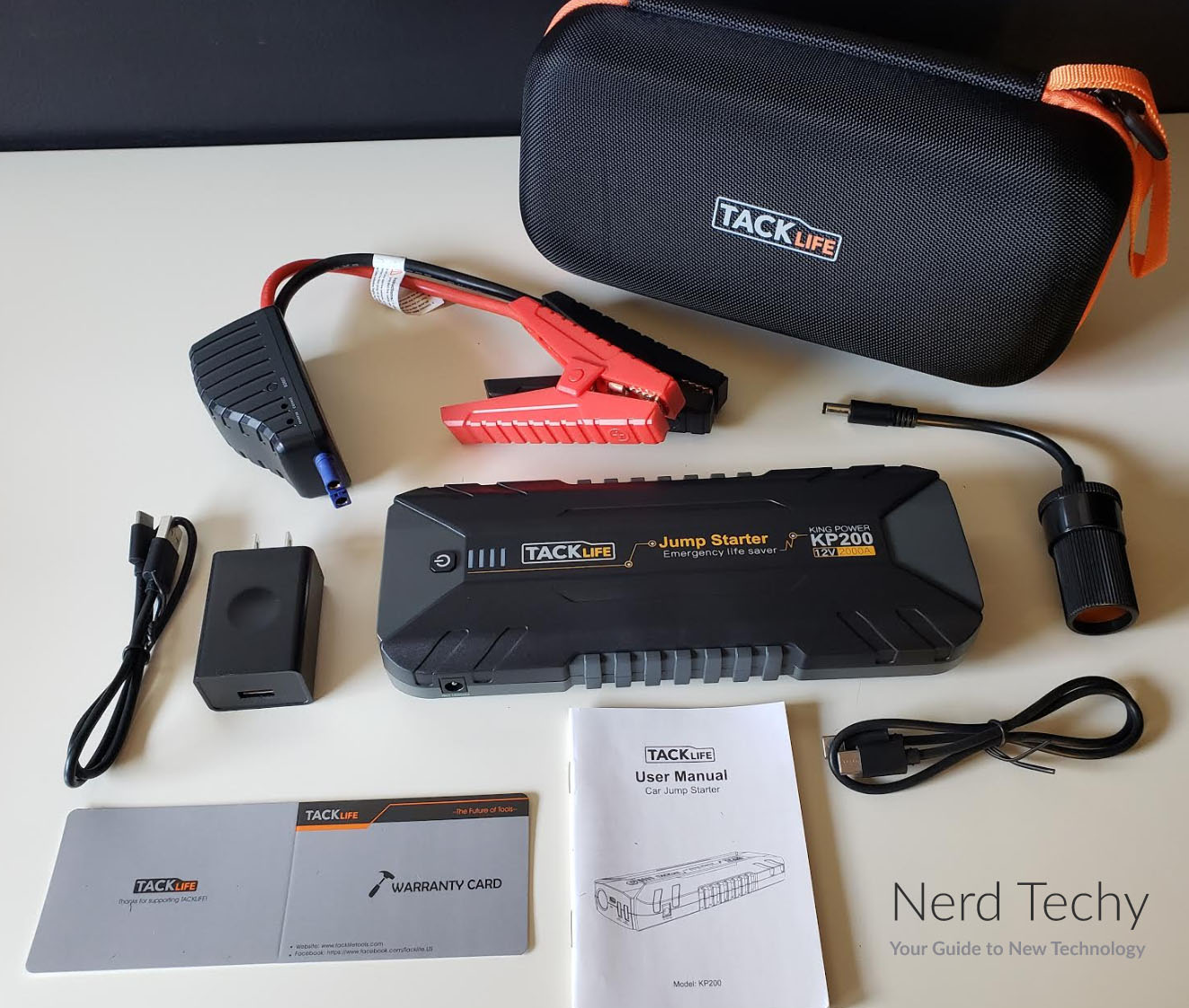 Design & Construction
The Tacklife KP200 Portable Jump Starter is designed to be compact and easy to transport. It measures only 8.3 inches long, 3.5 inches wide, and 0.8 inches in thickness. This is slightly bigger than your average smartphone, so it's a good size to hold in your hand. It tips the scales at 3.05 pounds, so it's relatively heavy for the size. This is about par for the course for power banks, though. Keep in mind that the bulk of the size consists of a battery, and batteries are heavy.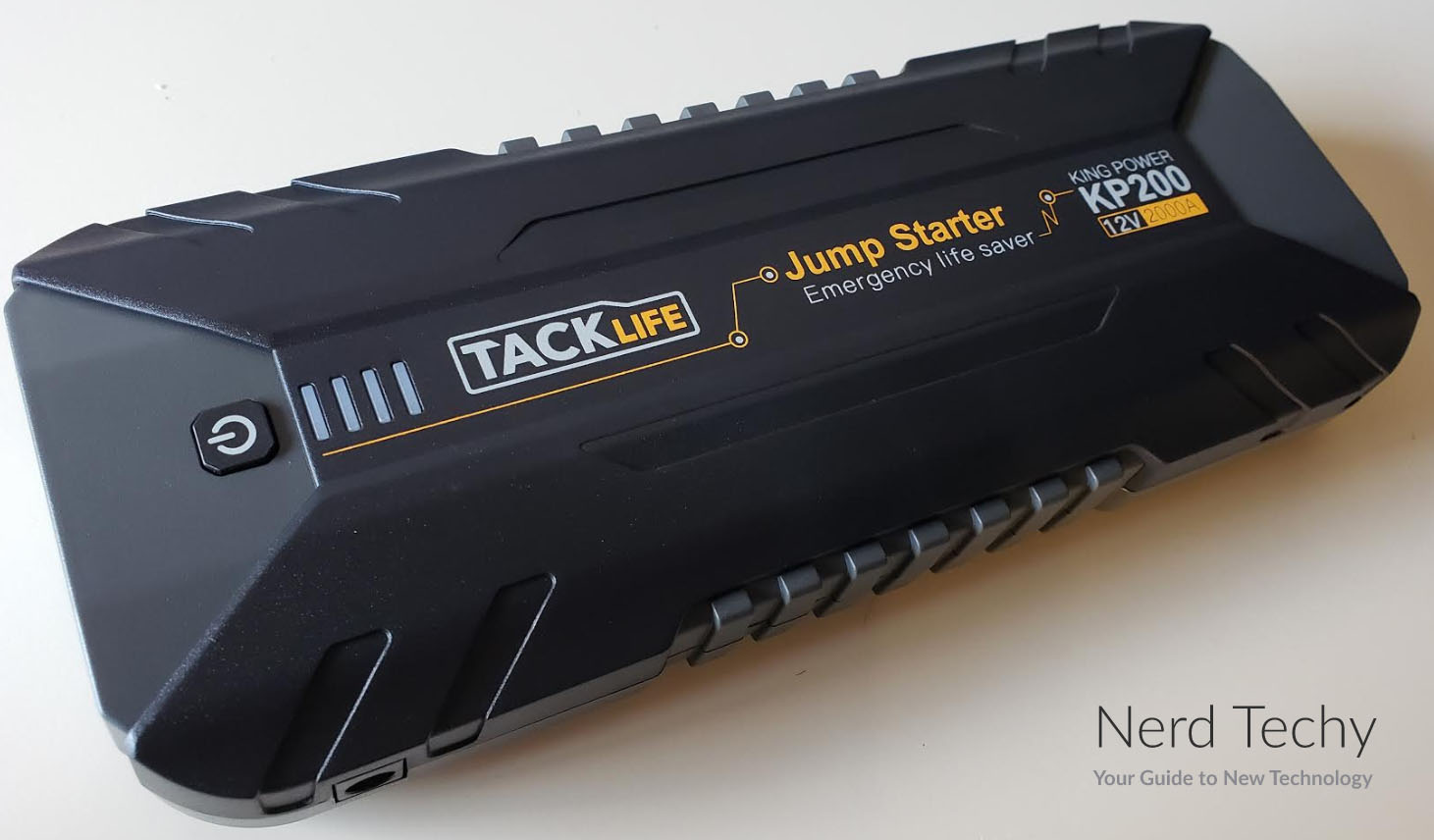 The case is constructed from heavy-duty plastic, and has a lot going on. The top is sloped, providing more space on the inside, and an easy-to-grip profile. To compliment this profile, the sides are also ribbed. This makes it very easy to hold onto when you're trying to use the KP200 in the rain. The top of the case is black, and the sides are grey, so it has a utilitarian, two-tone look. On top, you'll see the TackLife logo in bright orange, and a row of four blue LED lights. These lights illuminate when the KP200 is powered on, and indicate the current status of the battery. There's a power button right in front of the lights, conveniently positioned right by your thumb.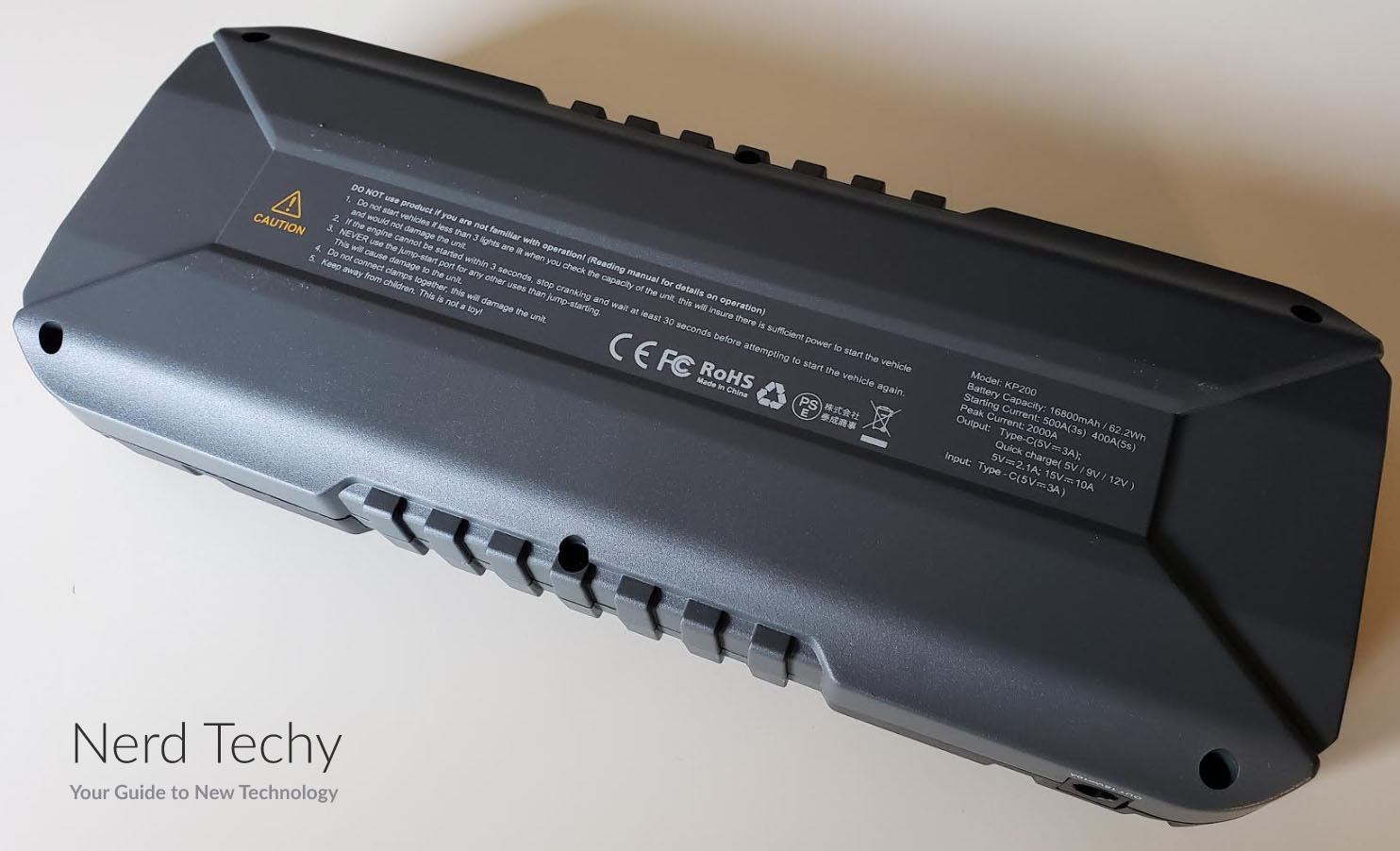 On the front of the KP200, you'll find the bulk of its functions. First off, there's a flashlight, which can be activated by holding down the power button. Next, there's a USB Type-C port, which can function as both an input and an output. There are two USB Type-A ports next to this. There are white and orange tabs inside, respectively. These tabs let you know how to insert the USB plug, so there's no confusion. Finally, there's a DC output port on the side. This is used to provide power to the 12-volt DC dongle, which we'll talk about more in a minute.
The heart of the KP200 is its powerful, 16,800mAh battery. To provide enough peak current for a jump start, a standard battery isn't going to get the job done. Instead, the KP200 has four stacked Lithium power supply modules. This allows it to give you the peak current you need to get your engine to turn over. To actually jump your engine, the kit includes a pair of 14-inch cables, in traditional red and black. The clips are mostly encased in plastic, which makes it difficult to inadvertently cause them to spark. The cables are connected into a shared base. This base has a shared plug, which inserts into a proprietary port in the back end of the unit.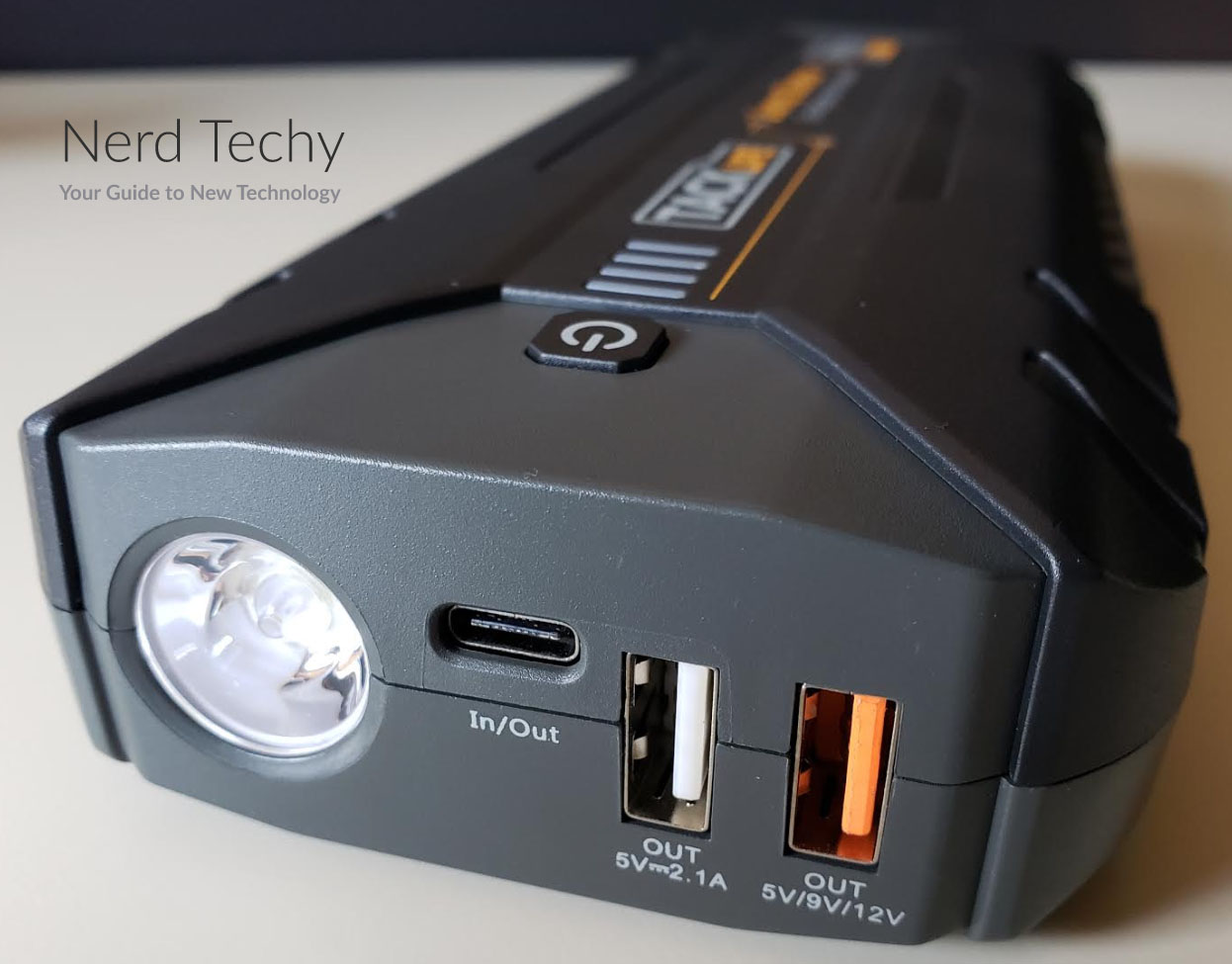 Finally, the KP200 comes with a 24-month manufacturer's warranty. Since most defective electronics fail within the first few months, this is more than sufficient. You shouldn't have any worries about longevity or early failure.
Jump Starter Performance
So, when you connect the KP200 to your battery terminals, how does it actually perform? In total, it has a peak output of 2,000 amps, providing 24,000 joules of energy in 3 seconds. What does this equate to in real life? It means you can start any vehicle that runs with a 12-volt battery. This ensures you can start just about any standard passenger vehicle. From compact cars to full-sized pickups, you're not going to have any issues. But what if you're trying to start a diesel engine? In this case, it depends on how powerful the engine is. In general, you can use the KP200 to start diesel engines up to 7 liters in capacity. This covers all passenger vehicles, as well as most commercial engines.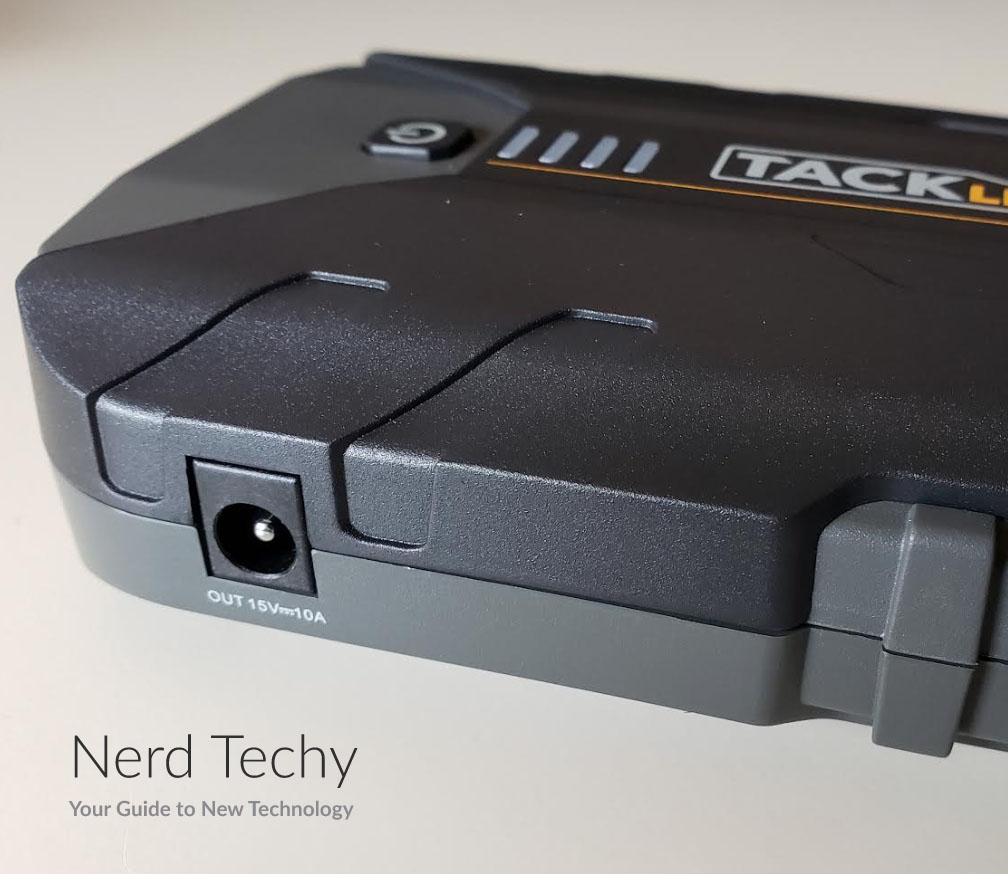 The KP200 comes with a couple of extra features that make it easier to use. To begin with, there are a pair of indicator lights on the unit itself. One will illuminate when there's a connected circuit. The other will light up when you've clamped onto the wrong contacts. Yes, the KP200 is truly idiot-proof. There's also a "boost" button that overrides the safety cutoff that stops power to the alligator clips when the unit does not sense a connection to some amount of residual charge in the vehicle battery. Boost enables the jump pack to start batteries that are completely discharged.
The KP200 will automatically shut off after 30 seconds of operation. This is to ensure that it doesn't totally drain the internal battery packs by mistake. This can get annoying if you're having trouble getting your engine turn over. But it's actually not a big deal. Simply press the power button again to resume power flow.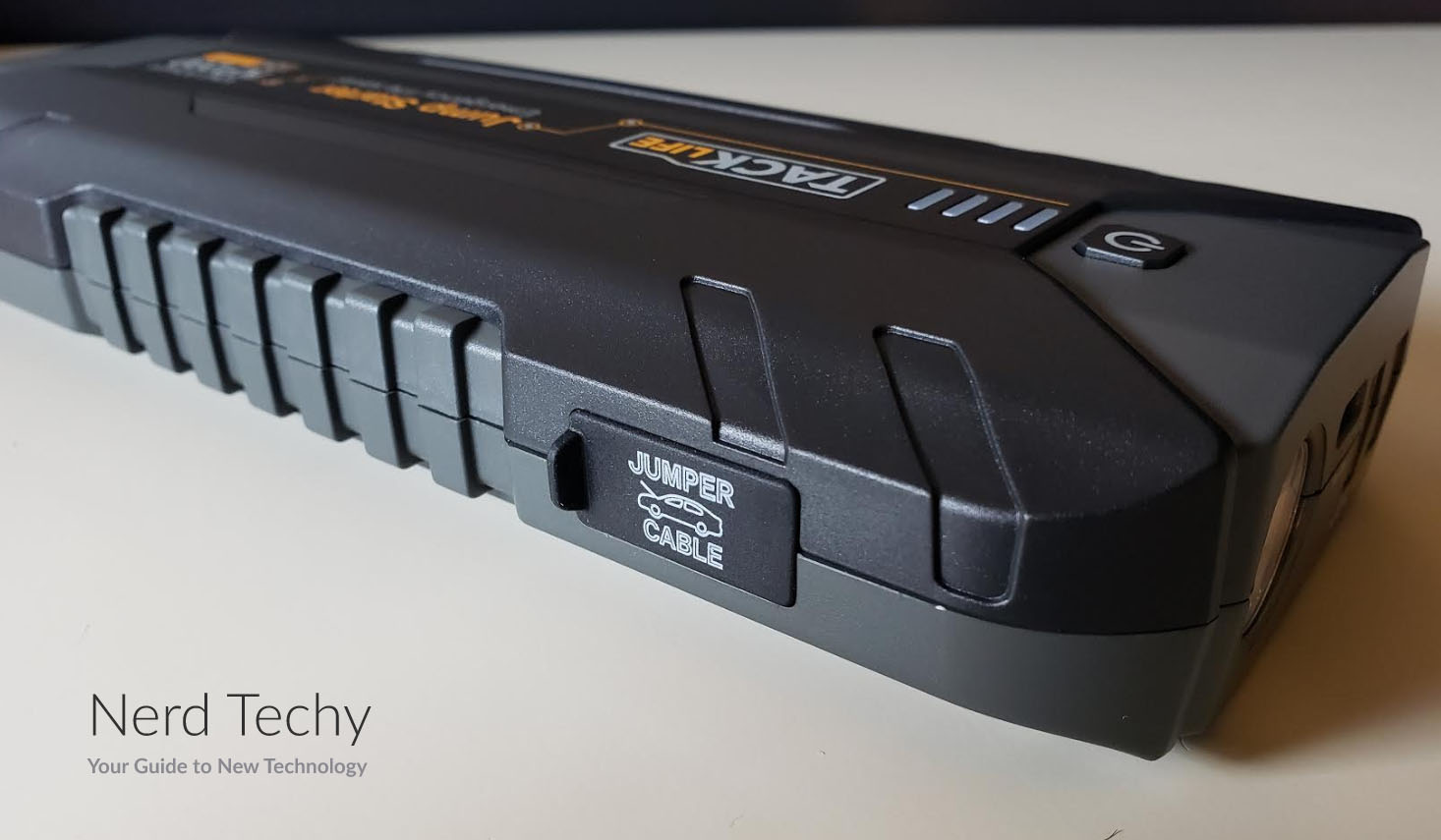 One common concern with portable jump starters is longevity. If you throw it in your trunk for emergencies, it's easy to forget about it. Then when you need it, it can suddenly be dead. The Tacklife KP200 Portable Jump Starter performs very well in this regard. The battery will still work after as much as 12 months on standby. That said, leaving it untouched for this long can cause it to lose capacity over the long term. If you want to maintain peak performance, Tacklife recommends you charge it at least once every 3 months. Charging the battery is easy. With a simple USB connection, you can get a full charge in less than 3 hours.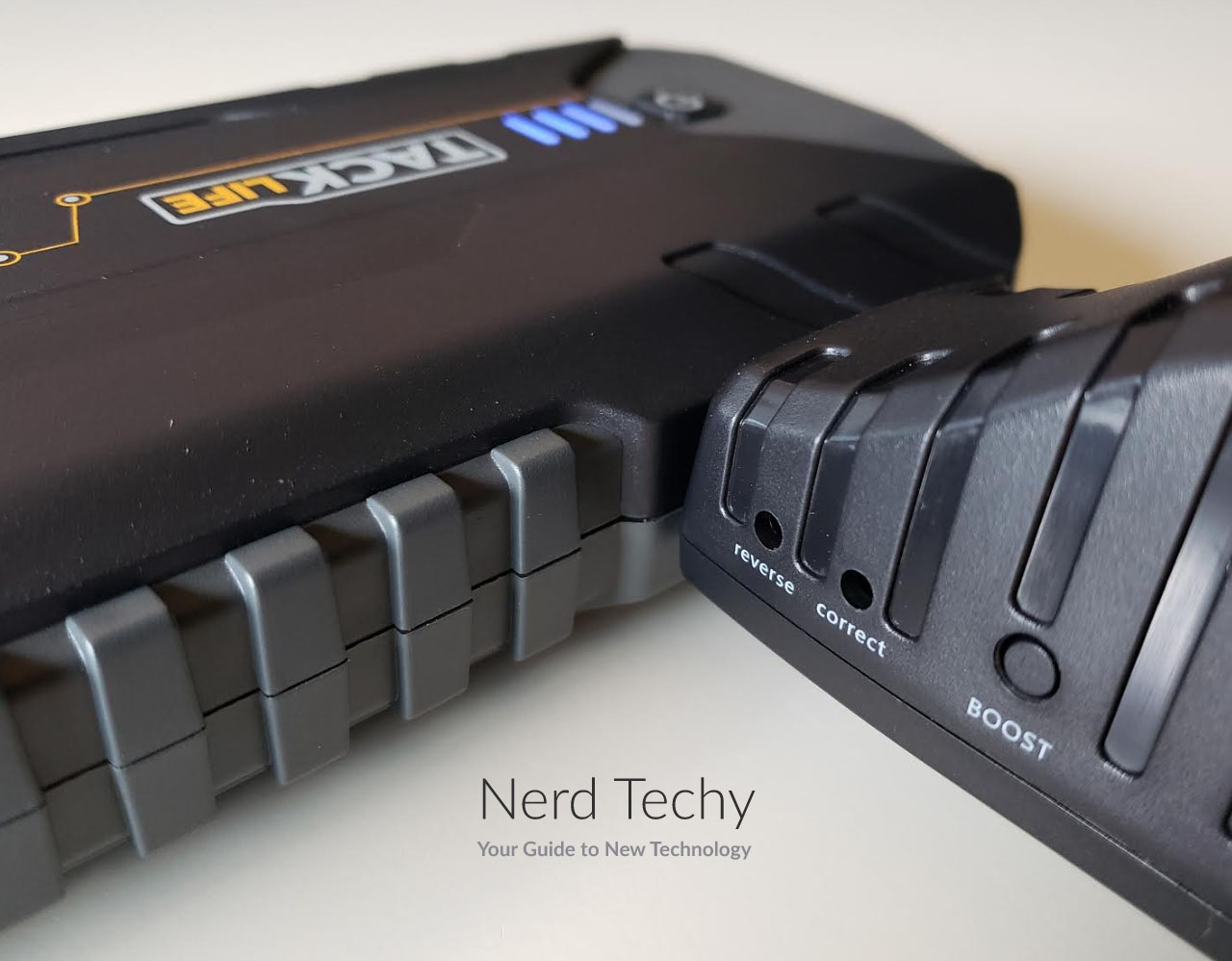 Bonus Features
One thing we appreciated about the Tacklife KP200 is that it's much more than just a portable jump starter. It's also a portable power bank. You can charge from either the USB Type-C port, or from the USB Type-A ports. The Type-A ports support Quick Charge 3.0 technology, to provide the maximum speed possible. You can charge an iPhone X or Samsung Galaxy S8 in less than an hour. And you'll get an 80 percent charge in only 35 minutes. The internal chip will automatically adjust power output to each device. This ensures that you don't have to worry about over-current causing damage to your connected devices.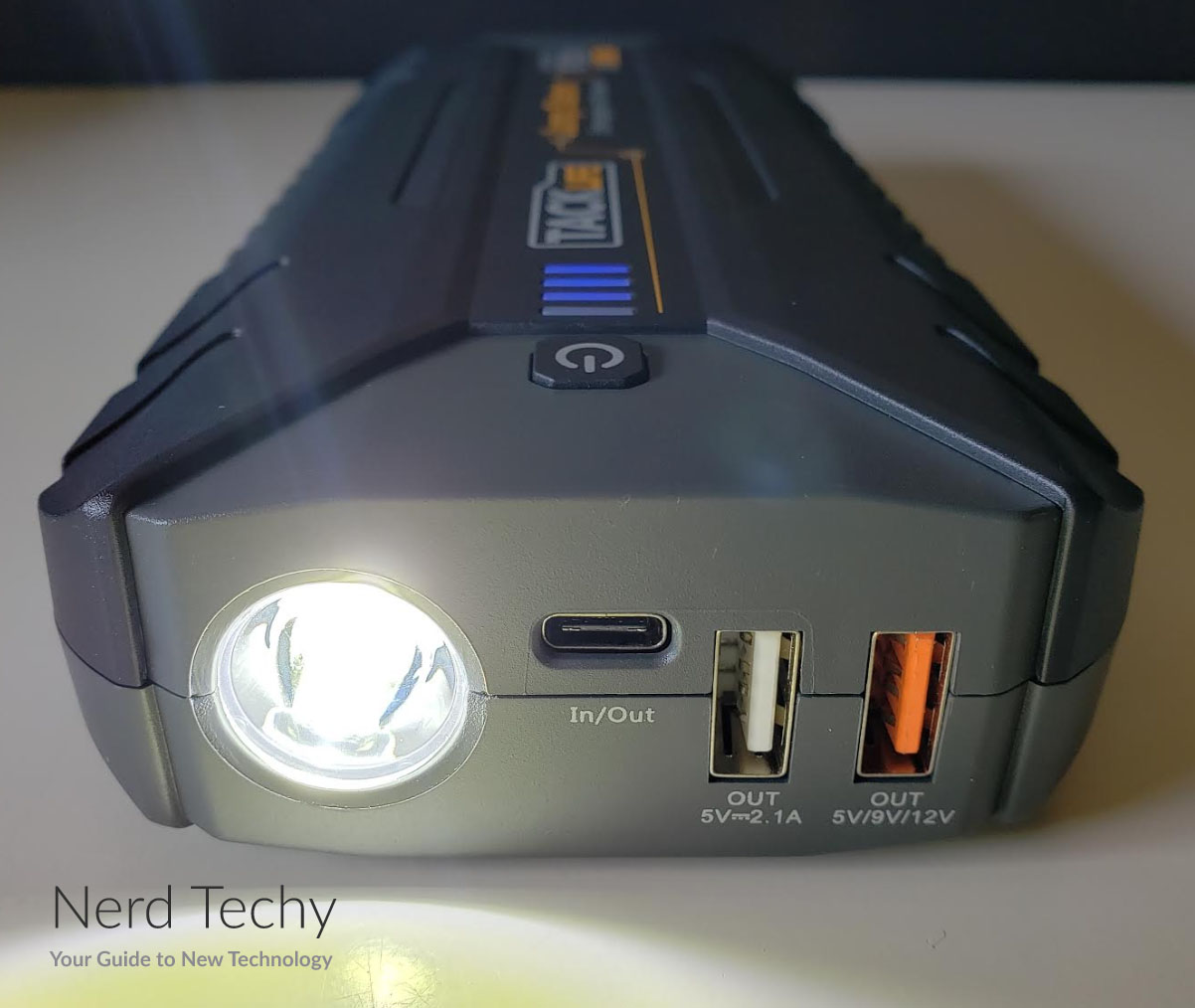 Of course, the KP200 should only be used for this purpose in an emergency. After all, you might need it to jump your car. Why would you use it to charge your phone, unless you're stranded on the side of the road? If you're looking for an everyday go-to option, you can save money by getting a dedicated power bank.
In addition to the USB ports, the Tacklife XP200 also comes with a 12-volt DC dongle. This dongle plugs into the DC port on the side of the XP200, and has a standard cigarette lighter interface. It can be used to power air pumps, vacuums, and other accessories. Again, this isn't the primary purpose of the XP200. But if you're in a pinch, it's a useful feature to have. In addition, it ensures that you can run automotive accessories without being near your car. For example, you can fire up your air pump and use it to fill a bicycle tire.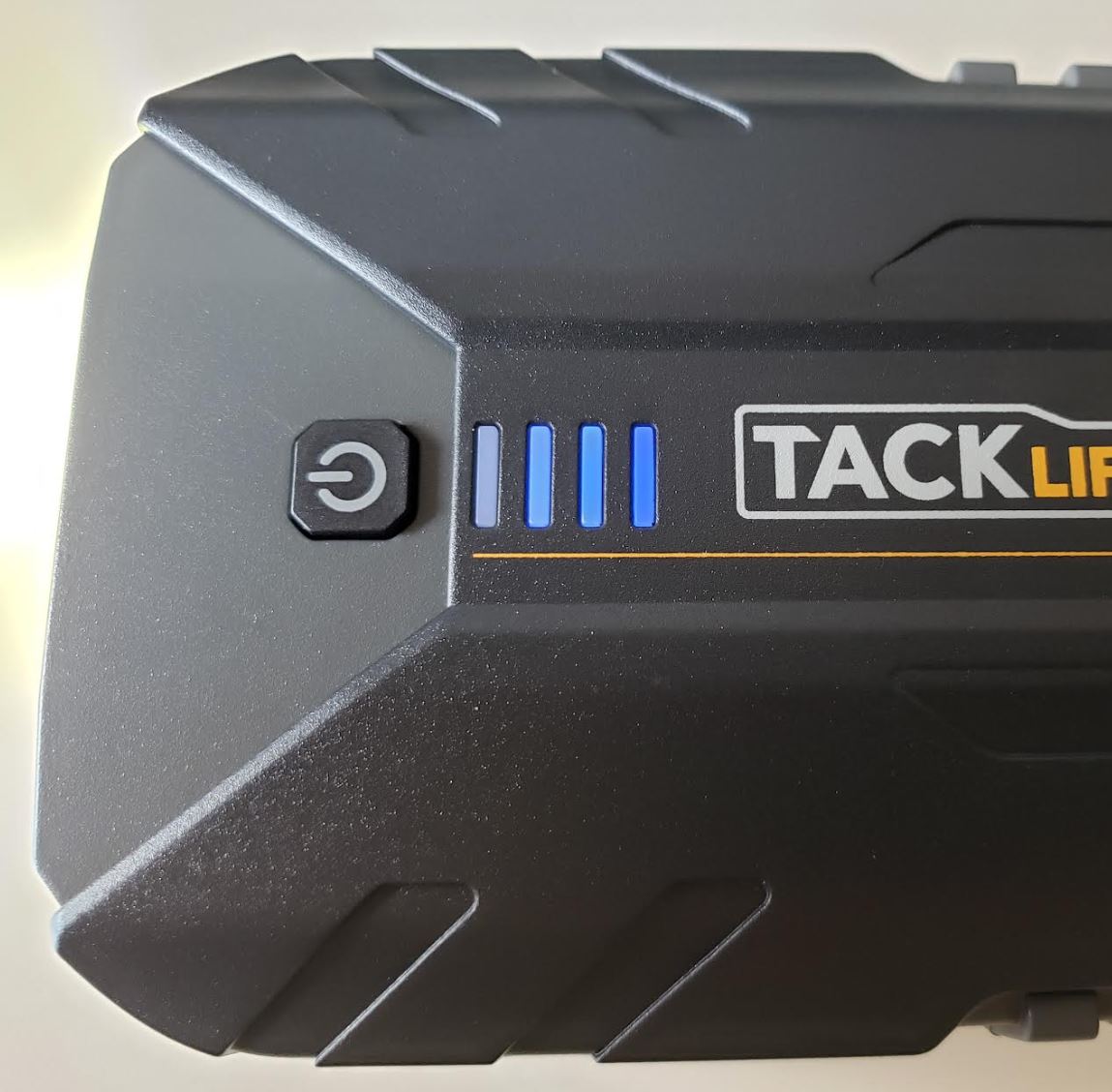 Finally, the XP200 has a built-in LED flashlight. The light has three different modes: constant, strobe, and SOS. The constant mode can be useful for finding contacts or checking your engine in the dark. The other two modes are useful in an emergency. If you need to flag down help, you can get people's attention this way. The total battery life is good for 72 hours. So even if you've used the flashlight for a few hours you'll still have enough juice to jump your car.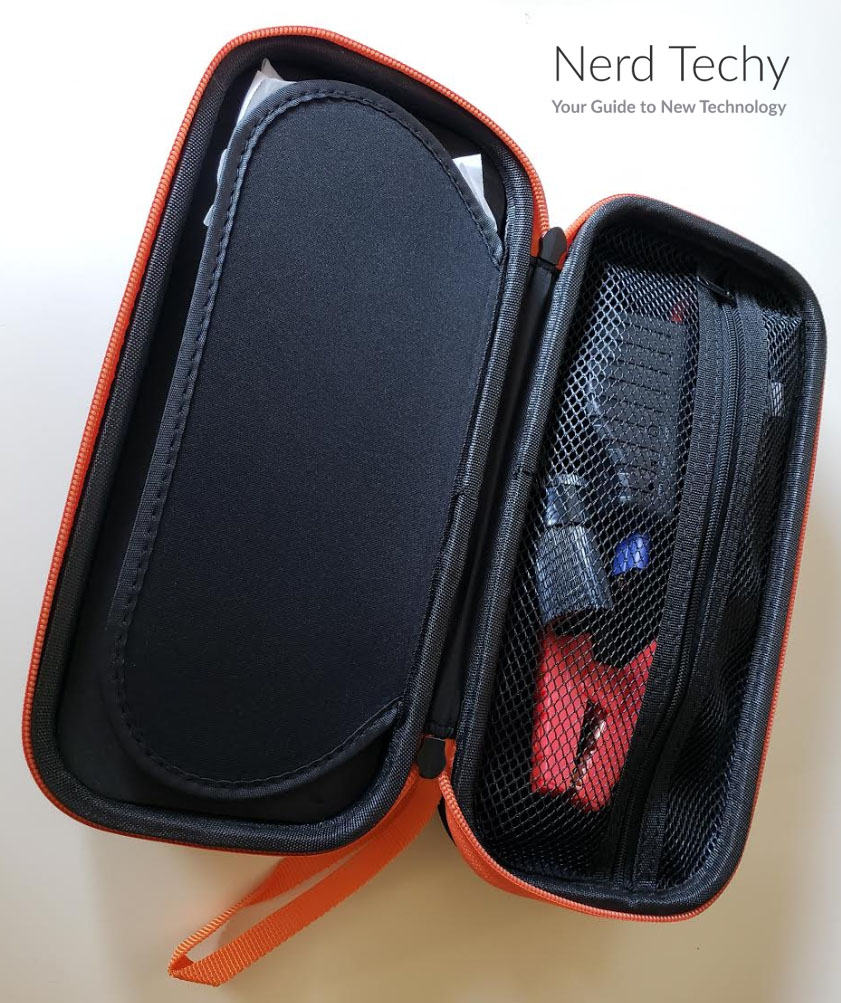 Final Verdict
So, where does this leave us? Is the Tacklife KP200 Portable Jump Starter worth the money? Absolutely! To begin with, let's state the obvious: it's a fraction of the size of most portable jump starters. You don't have to worry about breaking your back while you're in the middle of an emergency. Just unpack it, connect it to your battery terminals, and you're ready to go.
But the benefits go a lot further than mere portability. Let's talk about performance. With 2,000 amps of peak power, you can start just about any vehicle. And then there are the extra features. You can charge your smartphone so you can call for help in an emergency. You can also power any accessory that takes a 12-volt power input. And if your battery is dead at night, you even have a built-in flashlight to help you out. The Tacklife KP200 is the real deal.