We live in an era of options. Games come with an almost infinite capacity to customize your character, there are streaming services with more movies that you could watch in a single lifetime, and more streaming service options than we even know about. In that same capacity there are tons of headphones and earbuds out there.
With so many options, there is more to picking a pair of earbuds than just finding 'the best' one. Best becomes incredibly subjective if you have a completely different use case in mind than someone else. It is now about finding the best product for your specific lifestyle and desired use.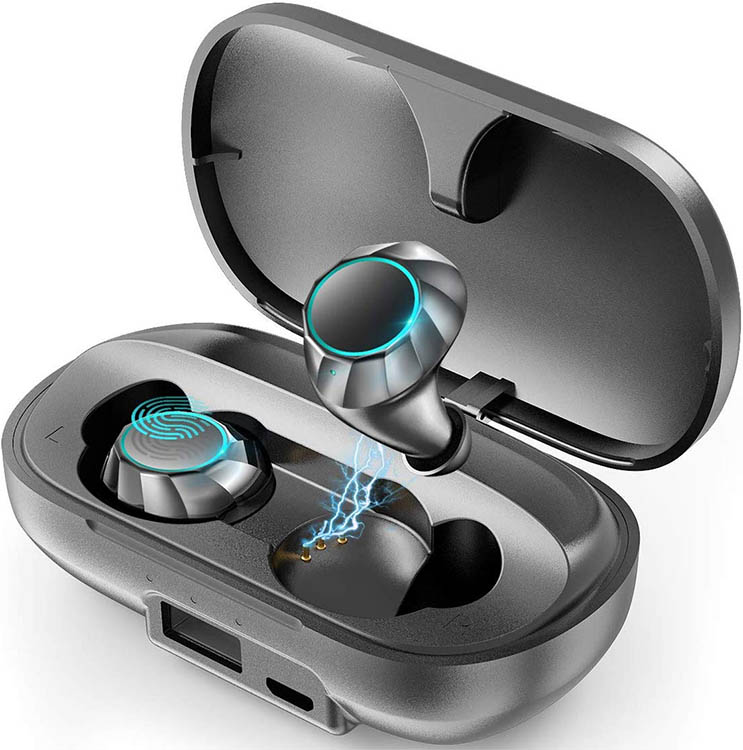 The PeohZarr T50 Bluetooth Earbuds were designed to be tough. With IPX8 waterproofing it is pretty clear who they are targeting. You only manufacture your products with IPX8 waterproofing when you are making a product that you want to see rough times.
Many manufacturers build in IPX4 and call it waterproof or they are a little more honest and go all the way up to IPX7 to be truly waterproof. The thing is IPX7 is the bare minimum for qualifying as truly waterproof and most outdoor earbuds with waterproofing will only be IPX7. Having IPX8 means you can rest assured that most encounters with water will not be a problem.
Though if you just want a pair of home headphones then over the ear options make more sense. These sorts of earbuds are designed to be on the go. When you want your primary use case to be at home then you should look into the Mpow H10's or the TaoTronics SoundSurge headphones.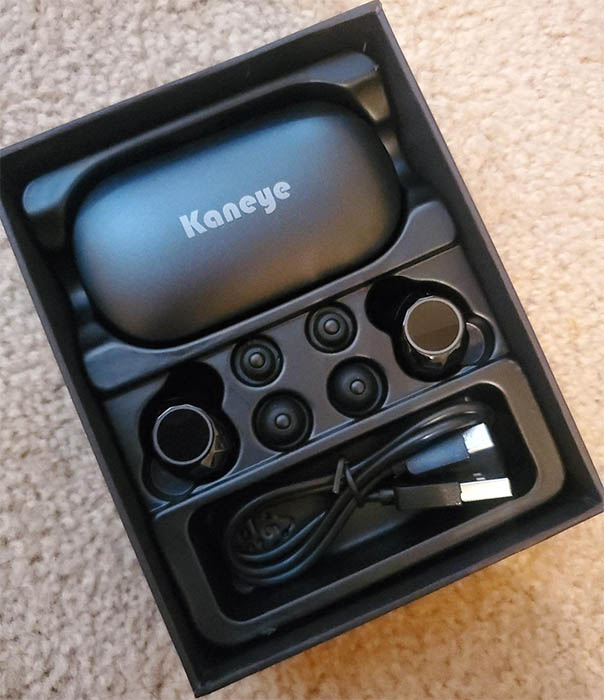 Design & Features
Earbuds have reached a balance point with their size. For a long time we kept seeing smaller and smaller headphones, then wired earbuds where a wire linked the two buds together. The latest generation of earbuds has been single buds that fit right into your ear like a hearing aid.
The PeohZarr T50 earbuds follow suit, being the latest generation in design for earbuds they are true wireless and fit snug in the ear with no extremities hanging out. They were designed with ergonomics in mind so that you can wear them for a long time without getting that terrible sore ear feeling after a few hours of having earbuds in. They have a spiral on the outside which give them a sleek look, and for the true nerds out there this naturally gives them the Gurren Lagann spiral power.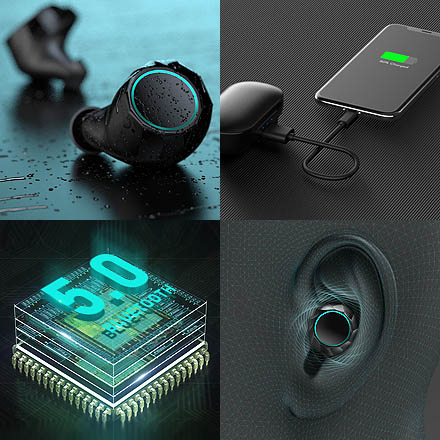 Pairing is straight forward with their specialized one-step pairing technology. Once they have been associated with your phone you simply take them out of the case and they auto pair again. The first time is also easy because you simply take them out and search for "T50" and then auto pairing will be set for next time.
With the Bluetooth 5.0 built in you get around 33 feet of range and crisp quality due to the high speed connection of the latest rendition of Bluetooth technology. If you are using the headphones as your phone mic you can get around 3 hours of talk time out of them. If you use them for music you get just a bit more ranging from around 3 to 4 hours. The earbuds by themselves also only weight 0.38 ounces so along with their size they are incredibly easy to carry around with you though that makes them potentially easy to lose.
In the package you can expect to find both of the earbuds of course, the charging case, four pairs of silicone ear tips ranging from small, medium, large, and even extra large. The Medium tips will be already attached to the buds by default. You will also find a Micro USB charging cable and the user manual. If I had one grip about these headphones it is that they made them with the latest technology and then didn't choose to go with the USB-C port for charging. Though this is a minor gripe, we always like to see companies adopt the latest cabling standards.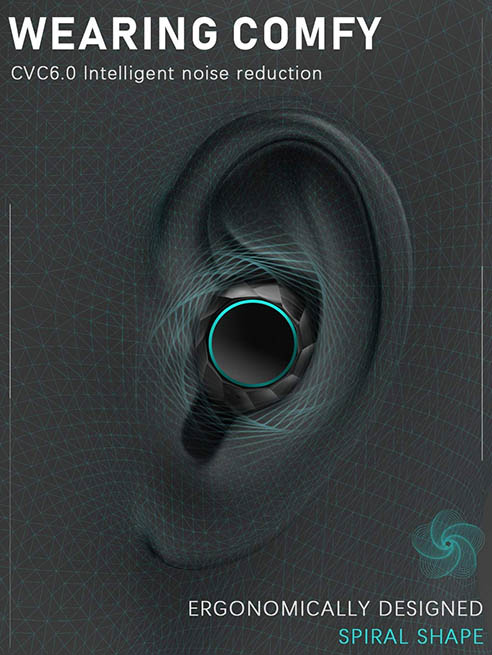 The right earbud is the master earbud and the left is the slave earbud which isn't necessary to know. The earbuds have the pause, play, track change and volume functions and they also have the ability to utilize your phones smart assistance such as Siri.
The Power Pack
Earbuds these days seem to have a new standard of having the case be the charging station. The reason this is the case is due to the true wireless design. Without wires and with the desire to create the smallest buds possible, adding a cable port on them would be counter productive. So instead the buds are designed to charge with the case.
The case has a 2600mAh battery that can be used to charge the earbuds up to twenty-five times with up to 160 hours of standby time. The design for the slots allow you to essentially drop them in case where they will then be magnetically latched into their charging slot.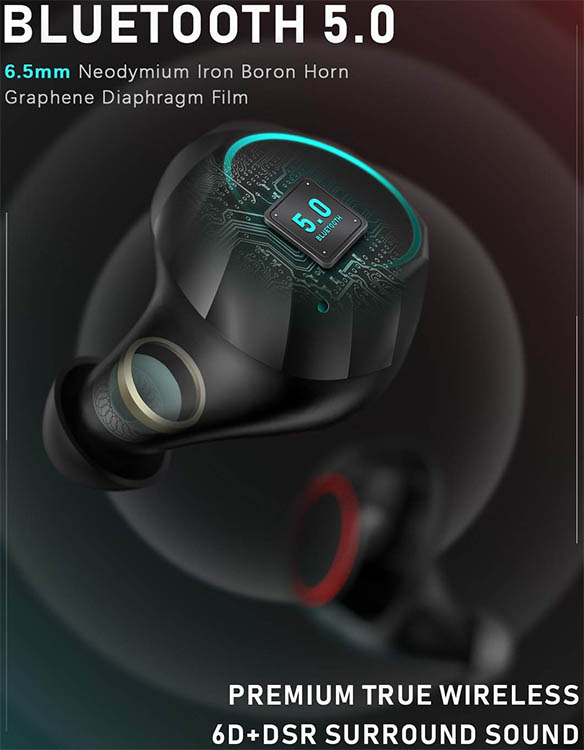 A very useful feature of the case is that it can double as a portable power bank. So when you are faced with dying headphones and a dying phone, you can charge your headphones taking 1/25th of the power and then charge your phone next. Being only a 2600mAh battery you shouldn't expect to get a full charge for most modern phones so you should not rely on this charging case as your primary battery backup. Though the Axloie Attitude X9P Earbuds do have a slightly larger battery in their charging case it is also slightly larger so it comes down to personal preference on whether you want the smaller case or extra power.
If you want a larger backup of power for your phone you should check out the Omars Beast 26800mAh Power Bank. For those of you that like wireless charging options you can check out the iWALK Qi Portable Charger.
Aside from that the case is pretty straight forward, it's the familiar ovular shape with the lid that snaps down. The USB ports are on the front of the case where one of them is to be used for charging the case and the other is to be used as the output port for when you need to charge other deices.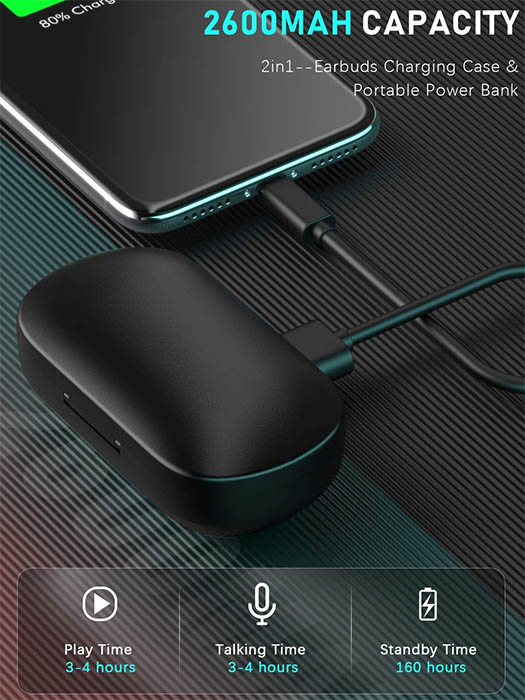 Sound Quality
The sound quality here is a point to pay attention to. These earbuds have 6d stereo sound. Sound 6d utilizes the latest in audio technology to create a truly high definition audio experience. That combined with DsR surround sound and you have some high quality earbuds.
The T50's are equipped with a graphene diaphragm that allows for better audio. The composite is stiffer and lighter than alternatives. You've got a high performance neodymium iron boron horn and CVC6.0 noise cancelling technology all built in. cVc works on the digital level to isolate the sounds you should hear and cancel out the other ones. cVc was produced by Qualcomm and helps improve call quality audio immensely.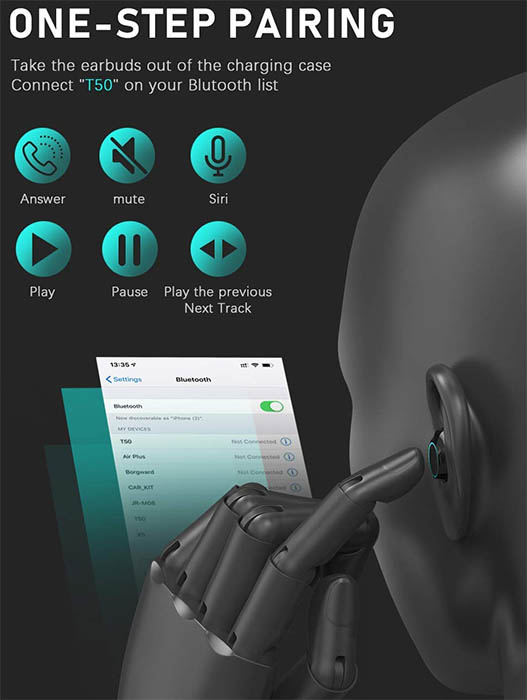 Essentially it seems like they took all the latest tech and shoved them into a tiny spiral body, them made these them waterproof so they last long. When you throw these earbuds in and put on your favorite music you will definitely be able to tell the difference between them and some cheap alternatives. Other earbuds that have comparative value are the Axloie Attitude X9P wireless earbuds.
The Final Verdict
With the 2 year warranty new replacement warranty there seems to be zero risk involved with giving the PeohZarr T50 Earbuds a try. They are perfect for the gym due to their waterproofing, and given that the waterproof is IPX8 you wouldn't have to worry about taking them into the sauna or wearing them in the hot tub either. The only other brand that compares with their level of outdoor use in mind is Braven with the Braven Flye Sport Earbuds.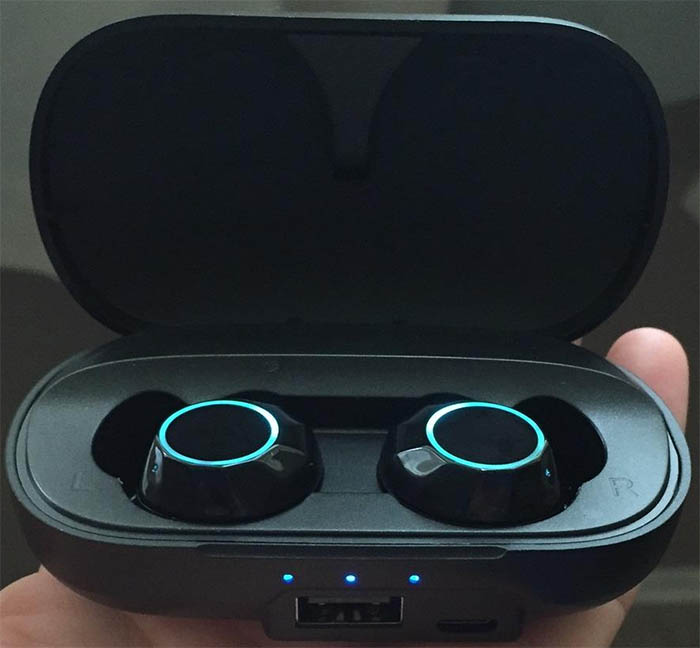 Though you definitely want to clean in your ears, you can actually wear these headphones in the shower without an issue. I wouldn't press your luck by putting them right under the jets, depending on what kind of pressure your shower head can produce, but they have enough water proofing to keep them safe in most situations.
Aside from just a replacement warranty they come with a money back guarantee. The company seems to want to make sure they differentiate themselves not just with the technology they put into their earbuds but with their customer service as well. They have 24 hour customer service so if you decide to test your earbuds out for the first time at midnight and want to process your return immediately you wont have an issue. Though with the quality you get it is unlikely that you will want to take advantage of that return policy.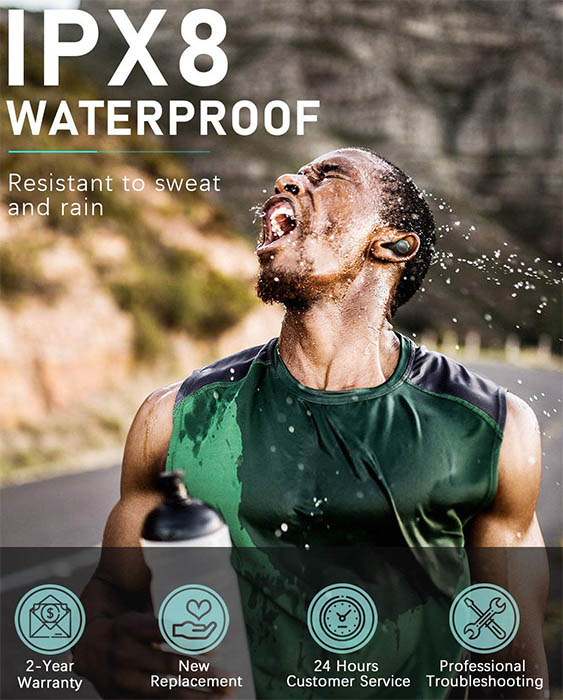 The price for value you get with these headphones is surprising because they are not from a huge name brand like Sony or Bose, yet you are still getting phenomenal sound and build quality. PeohZarr seems to pride themselves on customer service as mentioned above. They even advertise a 98% positive customer feedback and offer both live chat and call center support options. It is always good to see a company build their brand around treating the customer right and taking pride in it.
All that said and done you should definitely check out the T50 headphones if you want top of the line sound quality mixed in with a high degree of waterproofing so you can wear these through rain or shine and never skip a beat.