A car charger running a 12-24V output can help you when you're out on the road. But you're not always in your car, are you? A solar panel help you out, in a lot of different circumstances. At least, assuming you're outside, it's sunny, and you're willing to carry panels around. Outside of that, the best option for most people is a power bank.
Nobody likes battery anxiety, and a power bank can pretty much eliminate it from your life. But it can be a little tricky to find the right one bank. Because different types of power banks are made for different sorts of people. Thankfully, when you're looking to power larger devices, like laptops or tablets, it actually gets much easier to choose.
Omars Beast 26800mAh AC Power Bank
It's not too hard to imagine who the Omars Beast Power Bank was designed for, especially when you notice it has such excellent support for the Nintendo Switch. But beyond the slight emphasis this power bank has on gaming, you should find this is a generally well-designed unit with a number of forward-looking features. That allows it to operate as a more generalist power bank, too.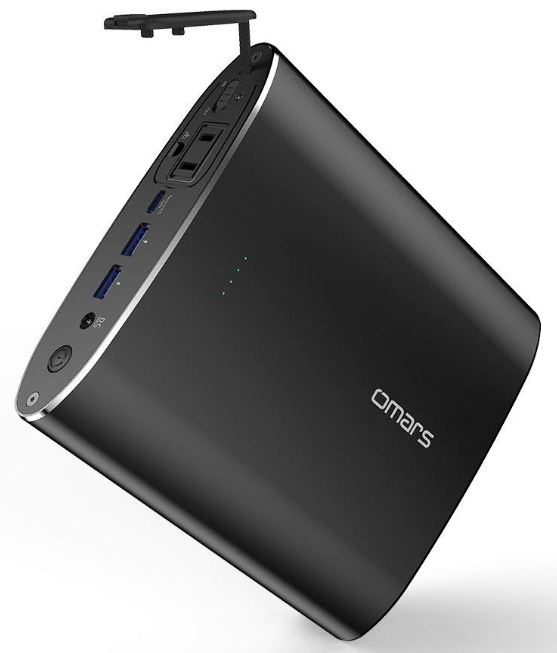 For the most part, the thing that defines this unit is the inclusion of a high-powered USB-C port. That was, of course, essential for the Switch to operate properly. But in addition to the presence of USB-C, you'll find the Omars Beast AC Power Bank also combines multiple rapid charge technologies into a single device. Most notably, that includes USB power delivery and QC 3.
Use coupon code: DOCGFP7D for a generous discount on the Omars Beast 26800mAh AC Power Bank when you order on Amazon.com
And the results are fairly ideal for charging basically any USB QC 3 or USB Type-C smart device. Then again, not everybody needs rapid charge features, and not everybody is using USB-C devices. That means this power bank isn't going to be right for just anyone. But when your needs align with the needs of a high-power user, it's also clear this power bank will work well for many types of people.
Design & Layout
Outwardly, it's hard to argue that the black chassis looks like anything special. It's pretty ordinary looking, which is somewhat disappointing for a power bank that has a slight emphasis on gaming support. You often expect these sort of devices to have some kind of cool aesthetic, but here they've gone for a blander and more professional image.
Apart from the style, you'll find this power bank is quite compact. It measures only 7.17 x 6.3 x 1.5 inches, making it somewhat like a thick smartphone. And like basically any other power bank that aspires to deliver this much power, you'll find Omars Beast does weigh the better part of three pounds.
That weight is pretty good for traveling over greater distances, but a little less good for people who are only traveling across the street. When you're only going an incredibly short distance, and you might be carrying everything in your hands, you might place a higher emphasis on portability and size.
However, that's slight weightiness to the unit is really something you can't avoid with a power bank of this size. So it's really not something you can avoid unless you're willing to go with a much smaller unit. And to the credit of this power bank, they did do a reasonably good job balancing the distribution of the weight across the chassis.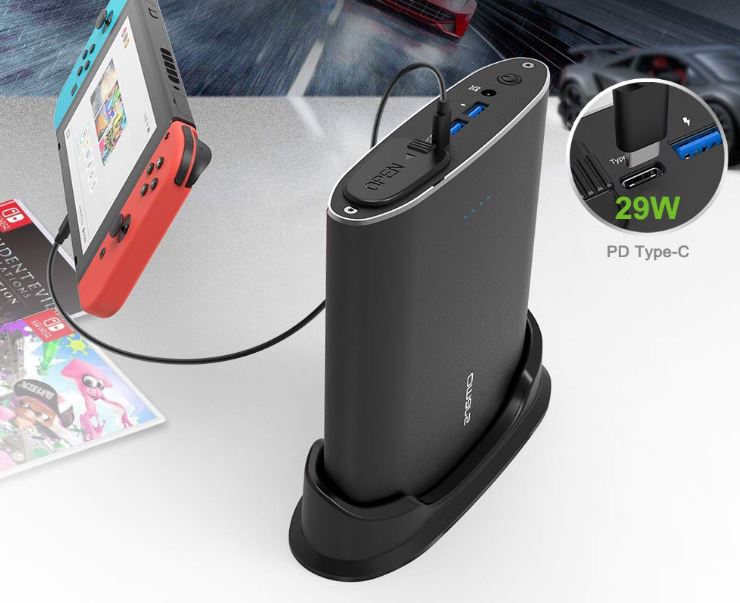 User Interface
With respect to its user interface, you'll find the Omars Beast AC Power Bank is reasonably intuitive. On the front face of the device, you'll find an on/off switch adjacent to a rubber-sealed AC port. The on/off switch can be handy for preventing the battery from drawing power when you're trying to preserve it. Near the center of the interface, you'll find the USB-C connection, sitting next to a pair of USB-A ports and a DC power jack. No big mysteries here.
Moving over to the topside, you'll find a set of four power LEDs, and they will give you a rough estimate of how much battery remains inside of the device. Unfortunately, the display isn't that informative because you're basically just looking at four lights.
On a handful of power banks these days, you'll find far more informative percentage-based readouts of the remaining battery capacity. But on the other hand, these more detailed displays have the counter-productive effect of using more power to keep you apprised of the batteries status, so the design used by Omars Beast and similar banks is probably preferable to a number of different people.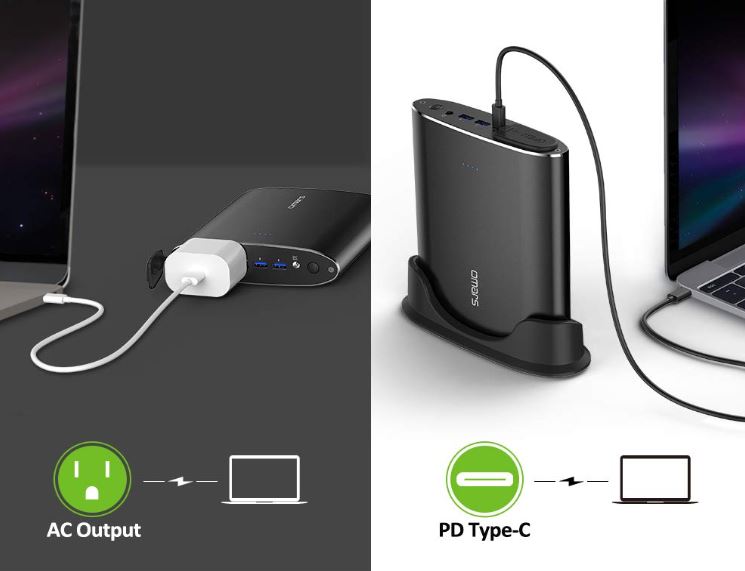 Battery Capacity
As you can tell from its name, the Omars Beast portable charger has a storage capacity of 26800mAh. That's fairly ideal for people who are running smartphones with larger batteries, like the iPhone X. Moreover, the USB-C power delivery system can accommodate some reasonably high wattage output.
That makes it quite valuable for people who are attempting to power devices with greater needs, like the MacBook or the Nintendo Switch. Because that means you can keep your stuff running on a longer on a flight where you don't have an electric plug, or similar circumstances.
Omars Power Bank ensures you've got several different methods of recharging from the battery or recharge the power bank as needed. For starters, you can recharge the bank in about six hours using a USB-C cable. If you're running a DC input cable, like the included 18V/2A cable, then you can get that time total down closer to 4 hours.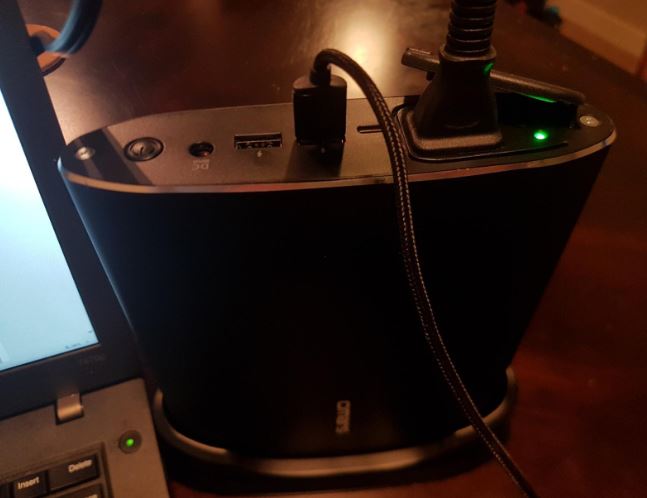 And the speedier rate of charge through a DC input is actually one of the better reasons to select a charger like this, which contains its own AC power port. Though naturally, you might also just use the included AC adapter to charge something like a laptop.
You may or may not be aware of the fact that there's a limit on the size of a battery which you can take on commercial air travel. You'll find the Omars Beast AC Power Bank slips right under those limitations with its capacity at 96.48Wh. How many recharges does that give you, in more practical terms?
Well, it's tough to say because it depends on the type of devices you're trying to connect. But you can get about six iPhone X charges, or six Galaxy S8 charges. And you can basically replenish the capacity of your notebook two or three times over, depending on the model. That's quite a bit of power, especially considering the generally small size of this unit.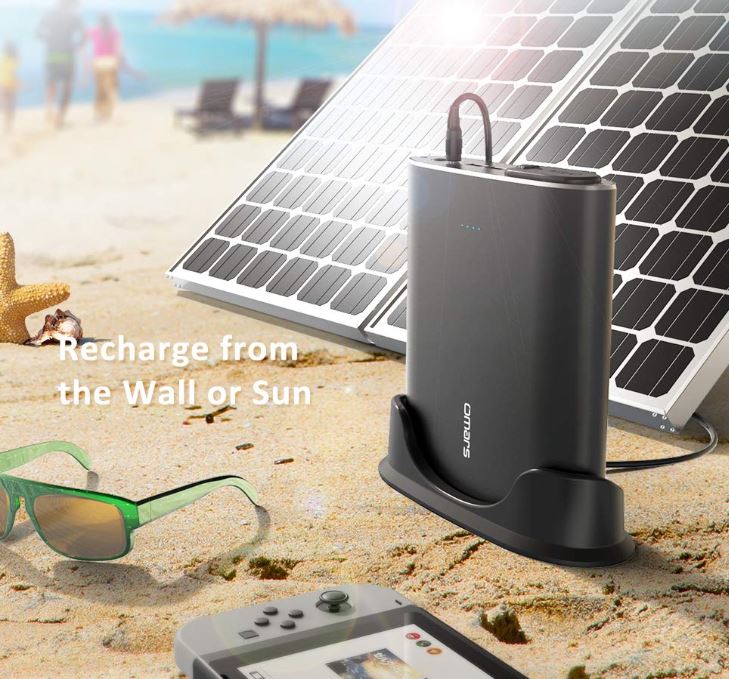 Charge Speed
But it's not only size that helps define a strong power unit; especially not with a power bank so bold as to call itself a beast. Here, you'll find this charger does deliver on speed. That includes DC 5V 3A connections, allowing you to take full advantage of the quick-recharge features available on a number of modern smartphones, headsets, and similar battery powered devices.
More specifically, the USB-A port supports both QC 2 and QC 3 fast charging. That's makes the Omars Beast Power Bank compatible with the latest fast charging features form devices like the Samsung Galaxy S8, the Nexus 6P, and others. Additionally, the 110V 60Hz/90W AC output allows this charger to support flashlights, speakers, cameras, and so forth.
A powerful gaming laptop might draw as much as 200W during peak operation. This charger peaks out at 90W for appliances, which means you're not going to be doing any 4K mobile gaming on it. But outside of the kinds of extremes that you'll experience in edge cases, like high-end gaming laptops, you should find basically any ordinary laptop should do just fine with the supported 90W connection.
Other Considerations
It may be worth knowing the Omars Beast Power Bank was made with overcurrent protection, overheat protection, over-voltage protection, and short circuit protection. That makes it a fairly dependable battery which is capable of protecting the devices which are connected with it.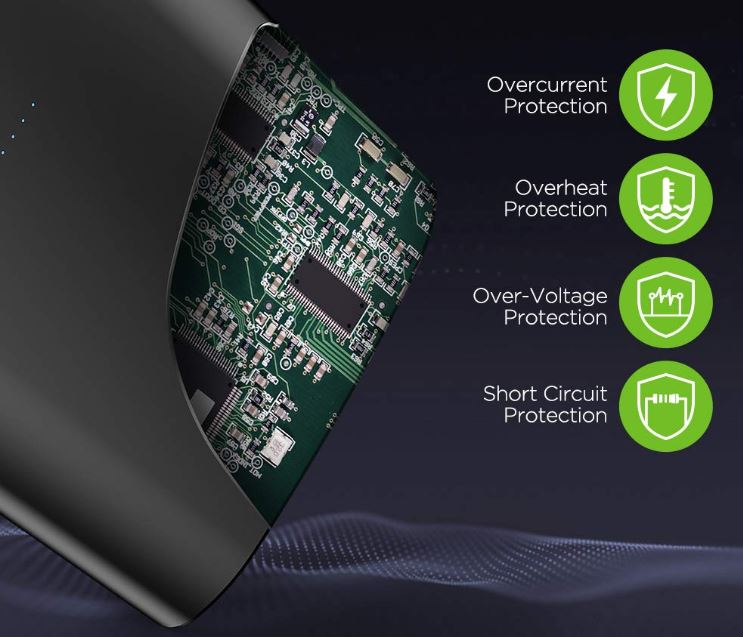 The AC power and USB-C port shouldn't be used simultaneously if possible. You won't get the best possible performance from this unit, and you may end up slightly degrading its overall lifespan. Speaking of lifespan, how long should you expect this device to keep working for you?
Well, with respect to its longevity, you ought to find this battery good for nearly 1,000 recharge cycles. That basically means you should be able to make regular use of it for several years to come, even if you're someone who's basically draining the power bank every couple of weeks.
In addition to the power bank, this kit includes an 18V/2A AC adapter, a user manual, and a USB-C to USB-C charging cable. Omars Beast also includes a one-year warranty, though you really don't need to obsess over warranties for these types of devices. The failure rates for batteries like those used inside Omars Beast 26800mAh AC Power Bank are terribly low.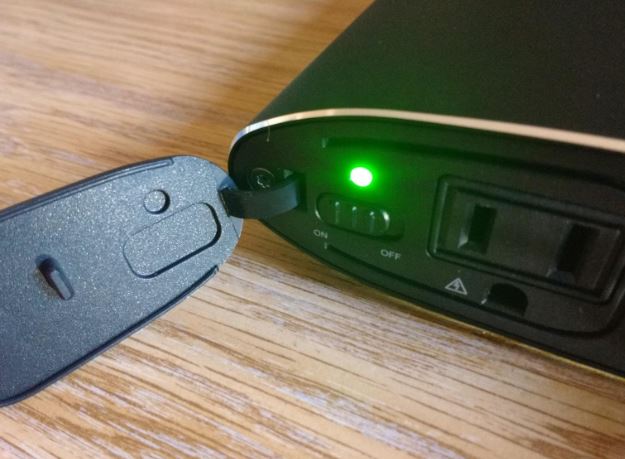 Who Should Pick Omars Beast 26800mAh AC Power Bank?
One thing is clear. If you don't care about the AC socket, you could find a slightly cheaper option. But what makes the Omars Beast 26800mAh AC Power Bank special is that it's able to cram basically everything you might want into a single unit, and that includes the fast recharge potential of an AC socket.
Use coupon code: DOCGFP7D for a generous discount on the Omars Beast 26800mAh AC Power Bank when you order on Amazon.com
And then there's the fast-recharge features behind each USB socket, a fantastic battery capacity, and a reasonably compact design with plenty of input/output options. So what's the problem? It's that you're paying for all of these things. If you don't need rapid charge features, you could go without them and save a couple of bucks. Then again, you might think it's nice to have the option for growth in the future.
Suppose you didn't care about USB-C. That's another area where you could shave off a couple of bucks. But once again, USB-C is a forward-looking format that's here to stay, and it's nice to have room for growth. Whether or not you're able to take advantage of all this power bank has to offer presently, it does provide some real adaptability.