Portable power banks can be pretty handy. But when you're thinking about charging more than a smartphone, you've got to pay more attention to the type of power bank you end up selecting. Because not all of them are made with the same types of users in mind.
Some people really are only trying to recharge their smartphone. And plenty of AC power banks are made specifically for those people. Others need to power small appliances, or even laptops. And they need different equipment to achieve their goals.
NOVOO 22500mAh (Upgraded) AC Power Bank
Compared to the original version, the upgraded version of the NOVOO Power Bank actually has quite a few distinct advantages. Not all of them are really easy to appreciate because they have to do with under-the-hood types of features. For instance, there are improvements in heat dissipation and durability. But those are the kinds of things you can appreciate over a longer period of use.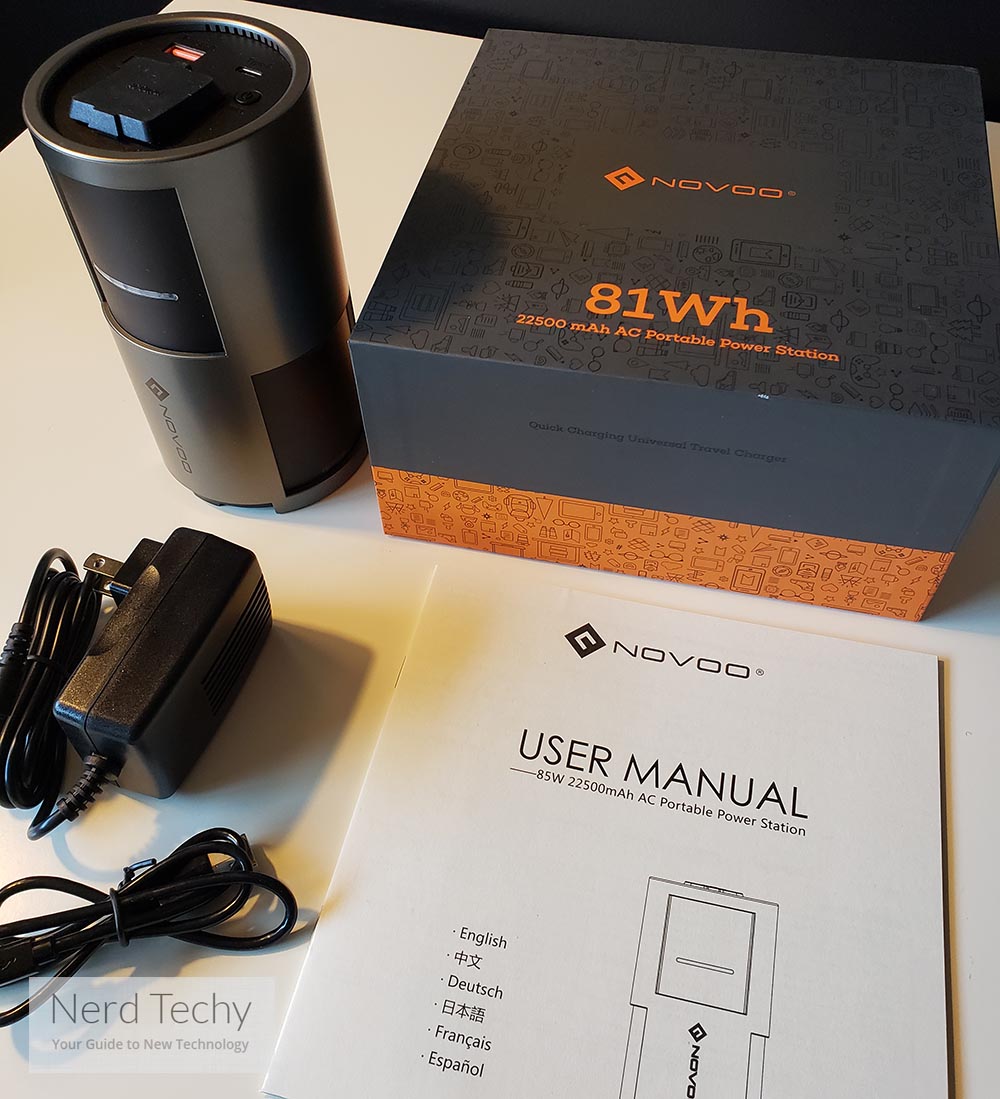 The NOVOO AC Power Bank allows you to charge as many as three devices at the same time, and it provides a USB Type-C, USB-A, and an AC port. Basically any sort of device you might want to charge will be accommodated by those options, which makes this device pretty compelling from even a casual glance. If you were really looking to get nitpicky, you'd find there's no micro USB charging port. But that's nothing that an adapter couldn't fix, if it did become an issue.
Use coupon code: G7765K5G for a generous discount on the NOVOO (Upgraded) Power Bank when you order on Amazon.com
This charger is capable of operating 5V/2A for the USB-A port, as well as the USB-C port. Looking at the AC socket, you'll find it's rated to support up to 65W, which is large enough for most notebooks. Though it's not quite enough power for larger 17+ gaming laptops. And along with the lack of quick-charge features, this power bank will be alienating to some people and attractive to others.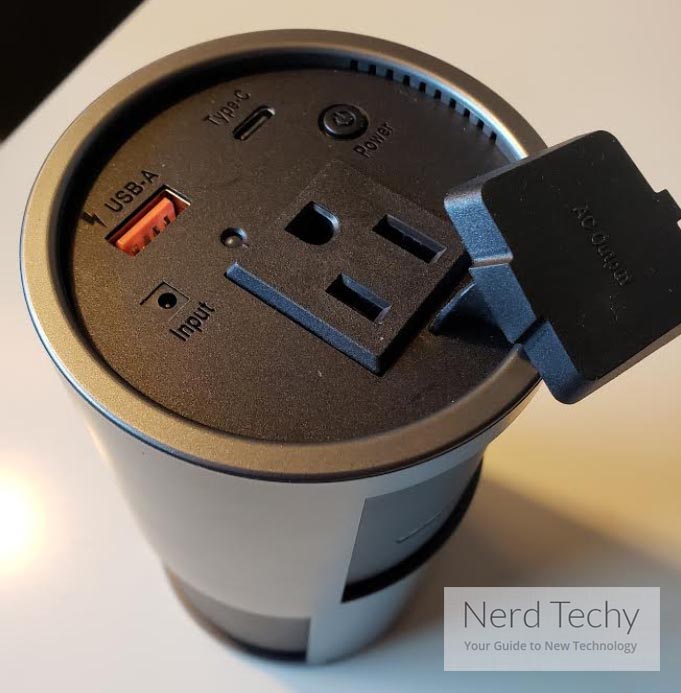 Design & Layout
From a glance, it's clear the gray-and-black exterior of this power bank wasn't intended to be very pretty or uniquely stylish. Instead, it makes use of a fairly professional, if a bit bland sort of design. It would look equally at-home on a camping trip or in the office.
The exterior is largely constructed from ABS plastic, which helps to make the unit partially impact resistant. But the chassis isn't especially resistant to scratches, so you'll be better off treating it with a reasonable degree of respect, similar to almost any other electronic device made of plastics.
The NOVOO AC Power Bank measures roughly 3 x 3 x 6 inches, making it roughly about the size of a can of coke. Despite that generally small and handheld size, this thing is actually capable of quite a bit. For starters, the battery can churn out 65W of power with its 110-120V output. That makes it suitable for a wide variety of laptops, tablets, and notebooks.
Pretty much only high-powered devices are really out of bounds — but that's basically par for the course when it comes to these types of power supplies. If you really want to be able to power a hairdryer through one of these things, you would need to be willing to spend quite a bit to do it. And carry around a much larger, heavier battery, too.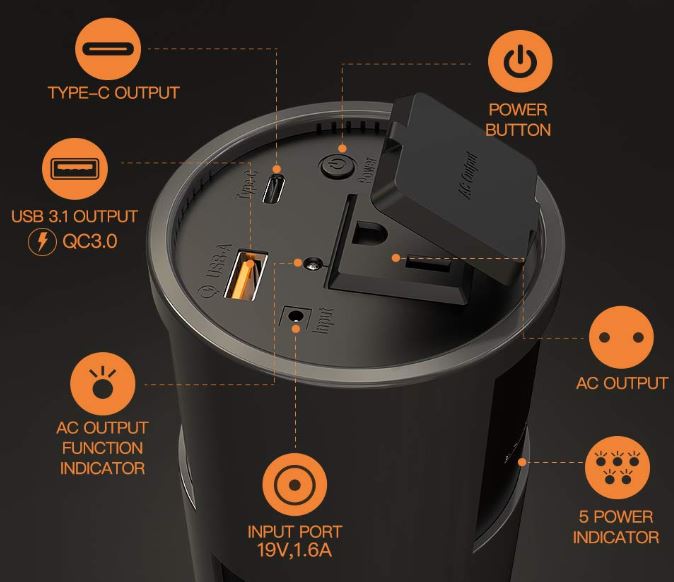 Putting that aside, you will find the NOVOO Power Bank retains a great deal of portability. True to its generally small nature, this device weighs just shy of three pounds. Since your hand wants to compare it to a can of coke, it does feel pretty hefty in your hands. But the weight isn't that much of a drag, it's easily thrown inside a handbag or traveling bag.
The topside has a built-in rubberized AC cap, which can serve to protect the AC outlets from the ingress or fluid. It also protects the AC socket from dust and debris, which can gradually lead to problems if they're allowed to build up inside the unit. The caps remain securely in position until you're ready to pop them off and start using the socket. But the other inputs, including the USB ports, don't have their own caps, they're essentially unprotected.
The lack of caps for those ports is basically the only reason why this unit doesn't have some kind of waterproof rating. Because the general chassis is reasonably protective against water, it would likely survive a small splash, or having a drink spilled on it. But against a little moisture, the open ports may not do nearly as well. Which is why you'll want to be careful to keep this power bank away from fluids. Or at least go out of your way to protect the ports while there's a risk of rain.
Charge Capacity
True to its name, the NOVOO 22500mAh AC Power Bank has a maximum capacity of 22500mAh. That's pretty close to the largest that you can make a battery before it starts to become burdensome. With respect to its practical use, you'll find this power bank should be able to provide you with quite a few charges and re-charges.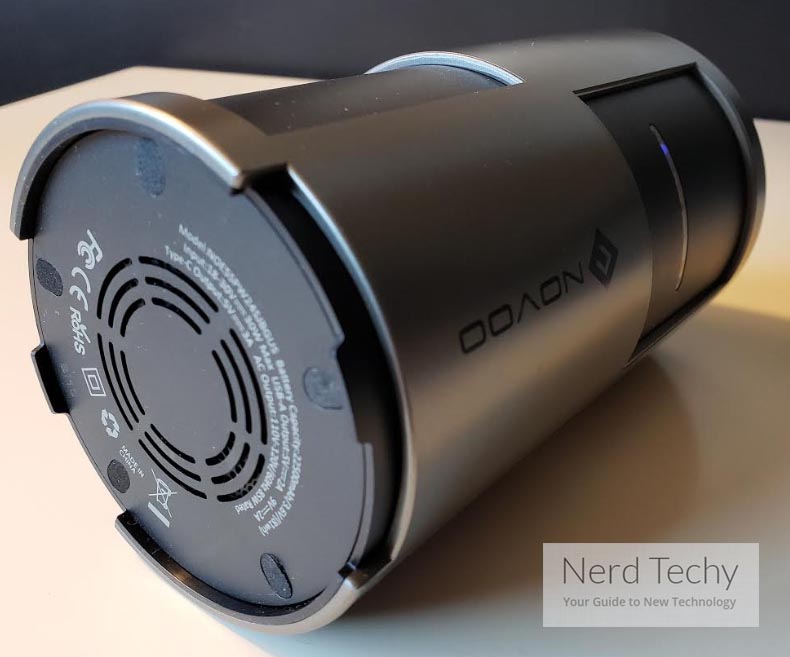 Exactly how many? Well, it really depends on the kind of devices you're using. With a high-end smartphone, you might be looking at more than a dozen charges. With a more entry-level smartphone, you could be getting two dozen or more. Those figures begin to go down slightly as you approach larger devices, like tablets and notebooks.
You might be able to recharge a MacBook two or three times with this power bank. And with earbuds, you'll find battery capacity can vary quite widely. But in most cases, you're looking at anywhere between 30-40 possible recharges from a single charge of the NOVOO Power Bank. All in all, this is quite a bit of power packed into one place.
Ease of Use
Power banks are rarely very complicated. Just about the worst thing they can do with respect to their ease of use is find ways to be a little counterintuitive. It also doesn't help when they're designed such that you might accidentally trigger something during transportation.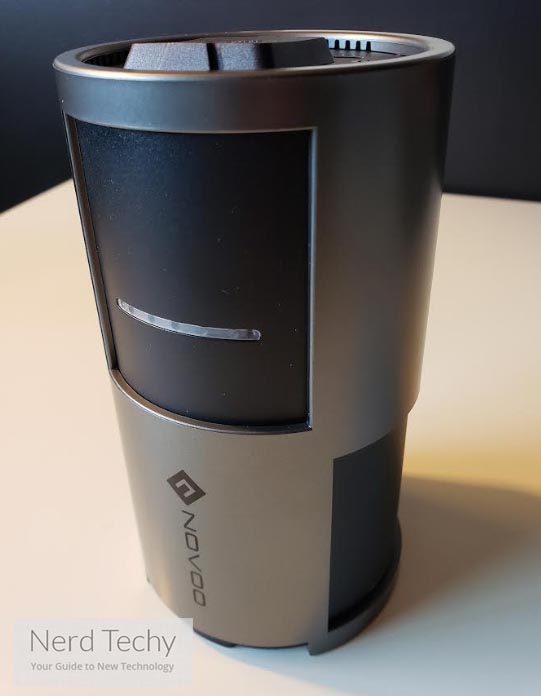 Here you'll find that operation is pretty simple. You just hold down the power button for around five seconds to turn on or shut down the AC power. But it is important that you remember to flip off the AC power each time you use it, or else the battery will slowly drain itself empty. It would be nice if the power button was a sliding switch instead of a round button.
The edge of the chassis extends far enough that the power button is unlikely to be triggered by accident, even if you place the unit standing on its end. But a sliding switch would've been even more secure because the button they use is still prone to being triggered when you stuff this power bank inside a suitcase full of other things.
Air Travel Capacity
You may or may not be aware of commercial air travel restrictions on batteries. Those restrictions are pretty important because batteries are basically like small bombs, they contain an enormous amount of energy. And a lot of batteries really aren't that hard to set-off.
A puncture wound through lithium-ion cells is generally enough to get them burning, which is why it can be so important to look for are reasonably strong chassis on your power bank. It's also why there's a restriction on the size of batteries for air travel.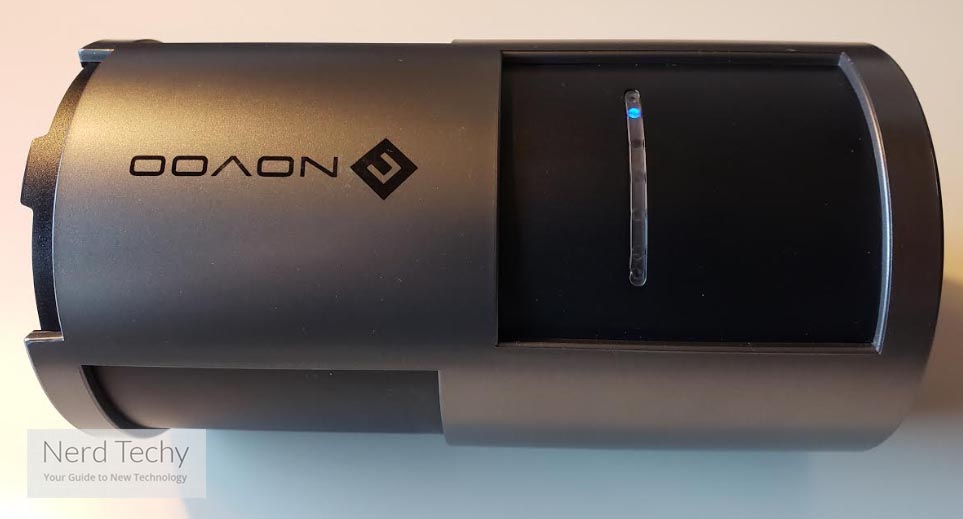 Here you'll find the NOVOO AC Power Bank runs a battery which comes in at 81Wh, slipping well under the limit for commercial air travel. If you really wanted to go as big as possible, this wouldn't be the right choice for you. But it does come awfully close, such that most people won't be able to experience the difference between this and the largest power banks you can carry on a plane.
Other Considerations
In terms of its safety protections, you'll find the NOVOO AC Power Bank includes surge protection, and short-circuit protection. Basically all the sorts of things you would expect from a power bank that's being constructed to the safety standards you want.
A few things you should keep in mind about taking care of the battery. Like basically any power bank, you'll want to fully charge the battery before you try using it. In the interests of the longevity of the battery, you don't want to charge devices on the power bank while the power bank is recharging.
Beyond that, there's not too much you need to know. But if you do want to learn a bit more, the user manual goes into detail about how you might be able to prolong the lifespan of this unit. Speaking of the user manual, this kit includes the power bank, a micro USB cable, an AC/DC adapter, and the manual. NOVOO also includes a one-year warranty on their AC power bank, which is quite nice.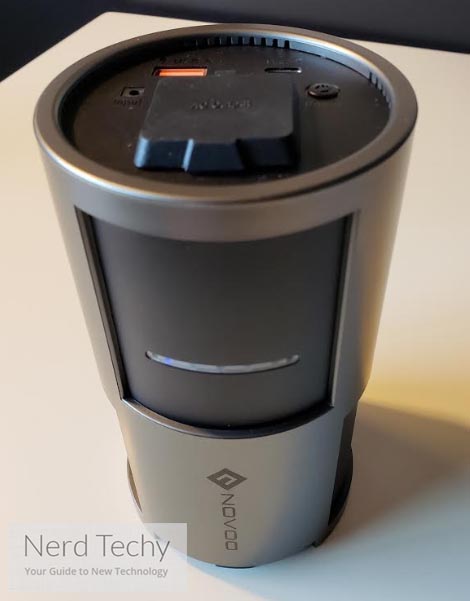 Who Should Choose NOVOO 22500mAh (Upgraded) AC Power Bank?
The NOVOO Upgraded AC Power Bank is reasonably solid as a power source, but what really makes it distinctive is the AC socket. If you weren't looking to power AC devices, then you wouldn't have many nearly as many great reasons to pick this power bank. The included USB sockets can hold their own, but the formidable AC socket is definitely reflected in the price of this unit.
Use coupon code: G7765K5G for a generous discount on the NOVOO (Upgraded) Power Bank when you order on Amazon.com
Put into action, that socket does perform quite well, especially for people who are interested in using their laptops or notebooks with a power bank. With respect to its ruggedness, even though the chassis is basically made from plastic, you should find it is still reasonably sturdy and protective. The battery itself is also quite solid, though made with more of an emphasis on portability than some other power banks.
If you were looking to go cheaper, the normal version has nearly the same battery capacity, you're really only losing about 15%. And the design isn't that much flimsier, though it's probably a bit uglier. All in all, that makes the NOVOO Upgraded AC Power Bank a good choice for someone who's looking a highly portable power bank that's still got enough power to run a laptop.