Every year, our portable electronics get more and more powerful. Some of the tasks we're able to do weren't even possible on a desktop computer 5 years ago, and now they run in the palm of our hand. But all of this high-end hardware is pretty power hungry, and manufacturers are pushing the limits of technology to find a balance between portability and power efficiency. If you've been following the trouble with the Note 7 smartphone, you'll understand that there is limitations to how far we can go.
If you're the type of person who gets nervous when your battery hits 10%, you'll need a solution. The perfect way to keep your tech juiced up while you're on the go is with a power bank battery pack. In many ways, these solutions are as elegant as they are simple. Because the portable battery pack can be removed easily, the extra bulk that comes along with it never has to be a problem.
The first generation of these products came in the form of battery cases. A high-end model was capable of doubling your battery life. At the time, this seemed impressive. But compared to the external batteries we have today, they seem borderline pathetic. Let's take a look at the three best power bank battery packs on the market. After, we'll help you find the one that's right for you.
Anker PowerCore+ 20,100 mAh Power Bank
Although they're a bit of an underdog, we've looked at several of Anker's mobile accessories in the past. They're usually priced well below the brand name products, but often come with unique features that we don't often come across. They have an excellent engineering process that allows them to get the latest technologies to market quicker than most other companies. For you, this means that you've got access to cutting edge technologies for a rock bottom price.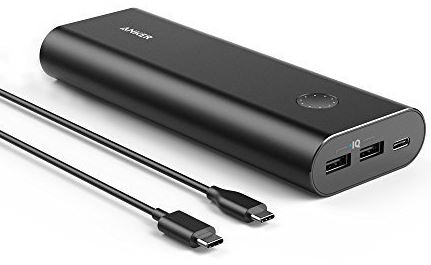 Design
The candy bar shape of the Anker PowerCore+ 20100 mAh Power Bank has a few key benefits. It's easy enough to hold in your hand, or shove into a pocket. It is a little larger than some of the mobile devices we're used to using, so they've rounded off the edges to help it smooth and easy to pack around. In terms of visual appeal, Anker chose to keep it simple with this lithium ion battery pack. The entire thing is colored a flat black, with nothing but a small white logo on the front. There is a small circular power button, but beyond that there isn't much else on the cover of this battery back.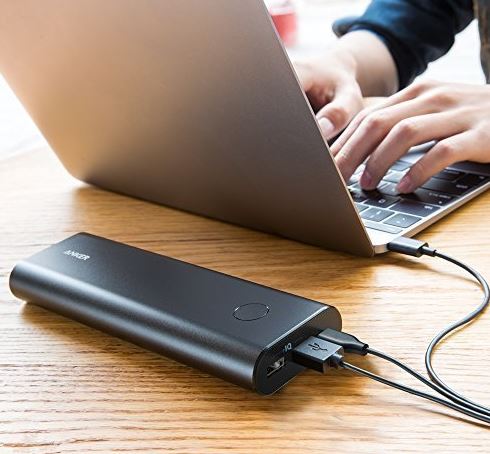 Connectivity
The PowerCore+ has two USB ports, as is to be expected from a battery bank of this capacity. But what makes it unique is it's USB-C port. This means that it's not just for your phones and tablets, it's capable of charging any USB-C powered device. It works with the latest Macbook, and is theoretically compatible with any standard USB-C device that's yet to hit the market. While there aren't a whole lot of USB-C devices out right now, you can expect to see this standard on virtually anything within a year or two.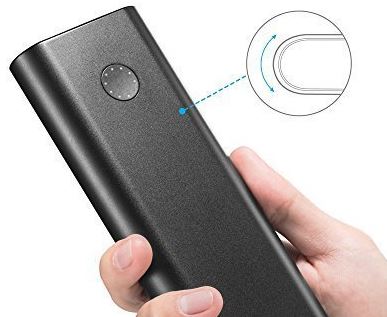 Output
Although we've been using USB chargers for quite some time, there are actually a large variety of standards out there. Ever plugged your cellphone into an old charger you had kicking around and realized that it took forever to juice up? That's because the first generation of USB chargers were only capable of cranking out 1 amp at 1.5 volts. Newer chargers, known as Turbo chargers on some phones, crank out 2.4 amps at 2 volts. The latest USB-C supports up to 3 amps at 5 volts. The key word here is "up-to." Because USB-C allows for some lower power devices, you get a lot of battery banks that are technically USB-C compatible, but actually don't produce the output we're looking for. Fortunately, this model produces the highest output possible on every charging port, so you'll never be stuck tapping your toes wondering why your devices are charging so slowly.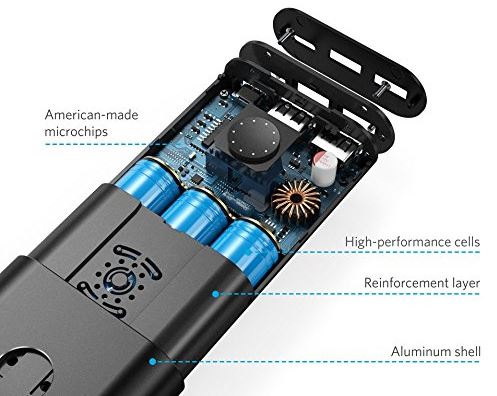 Capacity
The PowerCore+ has a total capacity of 20,100 mAh. mAh stands for milliamp hours. It's a measure of the total power output that can be sustained over time. For example, let's say that you were charging your phone at 2.4 amps. This means that you'd be able to charge your phone for a total of 8.3 hours before the battery pack was depleted. With a maximum output of 6A at any given time, this means that the battery pack will charge for about 3 hours if you've got a phone, tablet, and USB-C laptop plugged in at all times.
What does this mean for you? At the end of the day, this means that you could charge your iPhone 7 a total of 6 times before you'll run out of power. Or, you could charge your MacBook once. Overall, these are some seriously impressive stats.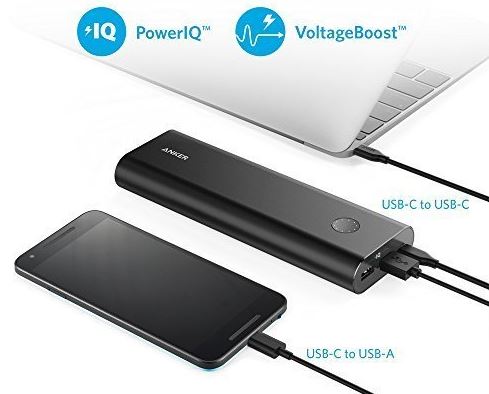 Bonus Accessories
Most battery packs include only the unit itself, and an AC charger. But this one throws in a few extras. It's to a USB to USB-C cable so you can charge newer model phones, a straight through USB-C cable, and a micro-USB cable. This is everything you need to get started right away, making this the complete package.
EasyAcc Monster 20,000 mAh Power Bank
EasyAcc isn't a company we've come across before, but when we saw some of the technology included in their battery pack we had to try it out. Combining cutting edge charging controls with a stylish design, this is a battery pack you don't want to miss.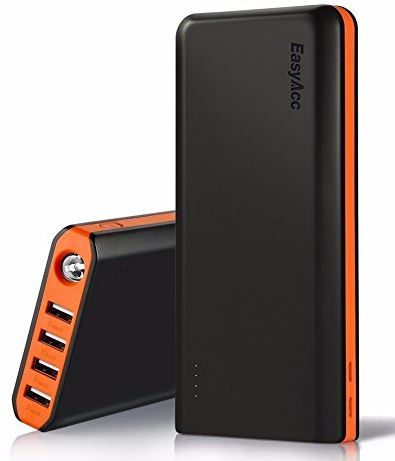 Design
With the EasyAcc Monster 20,000 mAh Power Bank, they take the boring design of typical battery packs and adds a little flair. While the top and bottom are using the same matte plastic that's become so popular these days, the edges are accented with a striking orange tone. In our opinion, it's the perfect combination between flashy and eyecatching, without coming across as gaudy. With such a small surface area colored like this, it draws attention away from the featureless parts of the casing and towards the functional bits, making it just as useful as it is stylish.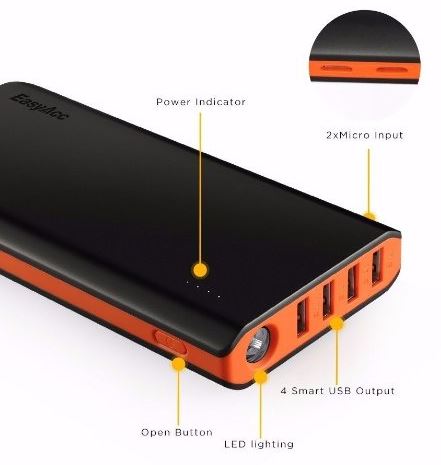 The power button is located on the side of the device, but it does more than just turn it on and off. Hold down the power button for a few moments and the built in LED light will turn on. If you've ever struggled to shove a USB cable into the bottom of you phone at night, this is a feature you'll be glad to have. The final feature is something that you may have missed if you weren't looking for it. There are 5 pinhole holes on the top that expose tiny LED lights below. These indicate the current charge. Full battery has all LEDs illuminated, while low battery only has a few.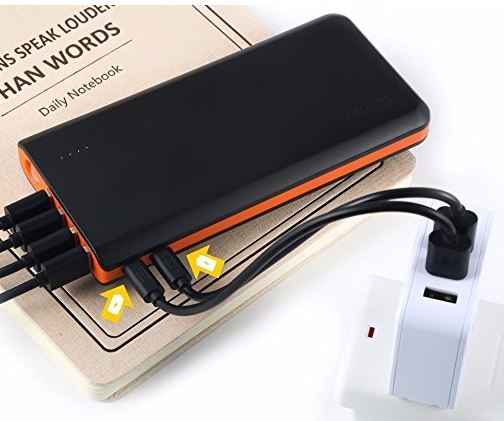 Connectivity
Standard USB ports are, by far, the most common DC charging plugs on the market. USB-C may be useful to a select number of consumers, but very few will be able to use that feature today. EasyAcc clearly wanted to create something that makes most users happy, so they elected to included 4 standard USB ports.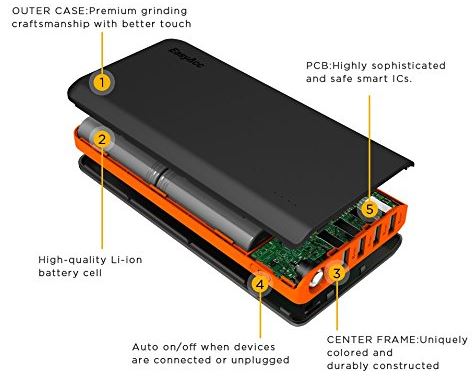 Output
Between the four USB ports, this battery pack is capable of putting out nearly 5 amps. But this isn't just a simple battery that allows power to flow into whatever it's plugged into. This is actually a smart charger that carefully conditions the power for the most safe and efficient charging possible. To understand why this is important, we first need to understand a little about how batteries work. Have you ever noticed that when manufacturers advertise their turbo chargers, they always say something along the lines of "charges from empty to 50% in X minutes".
When we first saw this, we always wondered why they wouldn't just advertise the total charge time. It turns out, this is because batteries do not charge evenly. It takes way longer to go from 90% to 100% than it does to go from 20% to 30%. What the smart charger does is adjust the power output depending on the charge rate. This prevents damaging the batteries from overcharging, and ensures that the devices with the lowest charge are provided with the most current. The end result is that every device you connect this to is charged as efficiently as possible.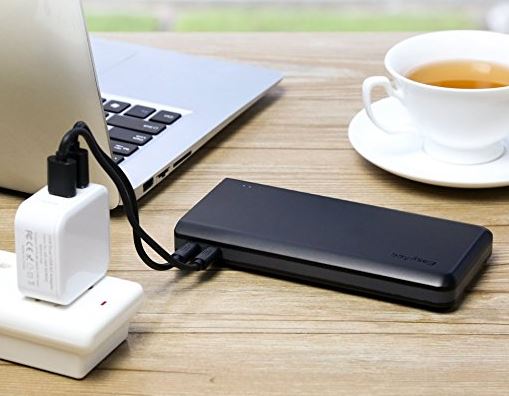 Capacity
With almost 20 amp hours of capacity, this battery is on the same level as the Anker model. However, the smart charging circuit means that each amp is put to good use, so you'll get more hours of use per charge than you would with other battery packs.
RAVPower 26,800mAh Power Bank
RAVPower has been producing battery packs for many years. In fact, the company also develops white label laptop batteries. If you've ever had to replace one of the batteries in your laptop, there is a good chance that you are using their well-engineered cells.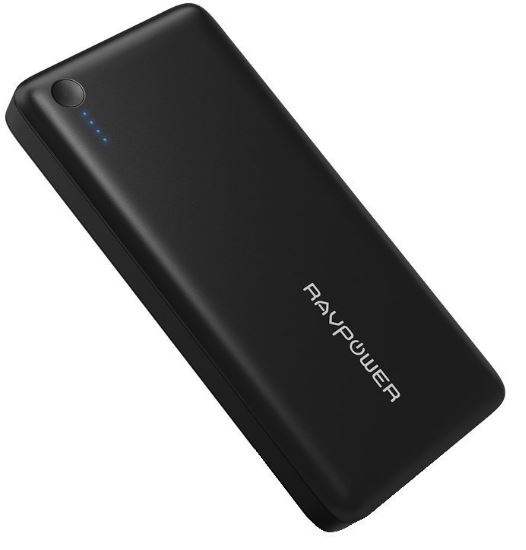 Design
RAVPower was definitely putting function above form with this pack, as there are very few design elements embedded into the unit. They do, however, still included some of the more useful features we've looked at on other models. The bright charge indicator in the top corner and touch-activated power button are simple and elegant, meaning there is no learning curve to get this battery pack up and running.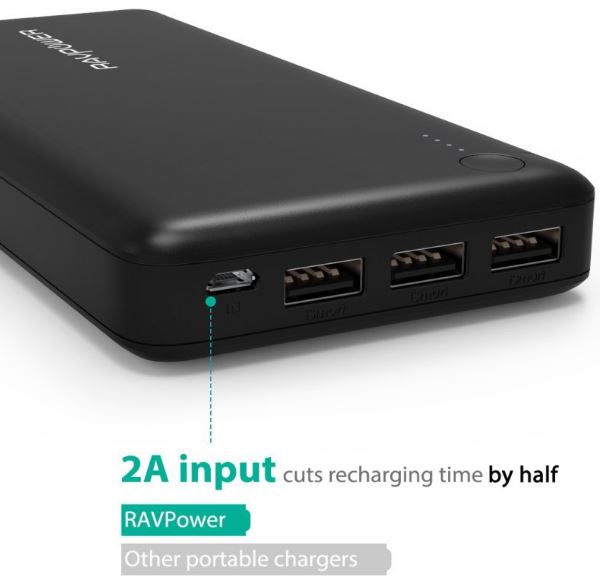 Connectivity
This battery pack is designed for people who want as much battery life as possible for their core devices, so it only includes three USB ports. For a single user, or perhaps even two, this should be more than enough. But families may want to look elsewhere.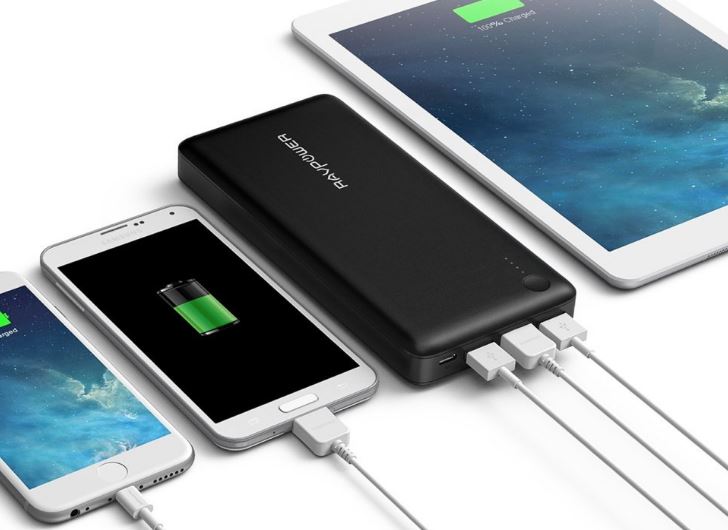 Output
The RAVPower power bank is capable of automatically adjusting the output depending on what's requested by your phone, providing up to the maximum 2.4A per USB port. The total continuous output is 5A, so you can turbocharge 2 devices and standard charge 1. When you're charging up the pack itself it has it's own proprietary turbo charging feature that cuts your charge time in half. It can still be used with any other micro USB charger, but it will just charge at the regular rate here.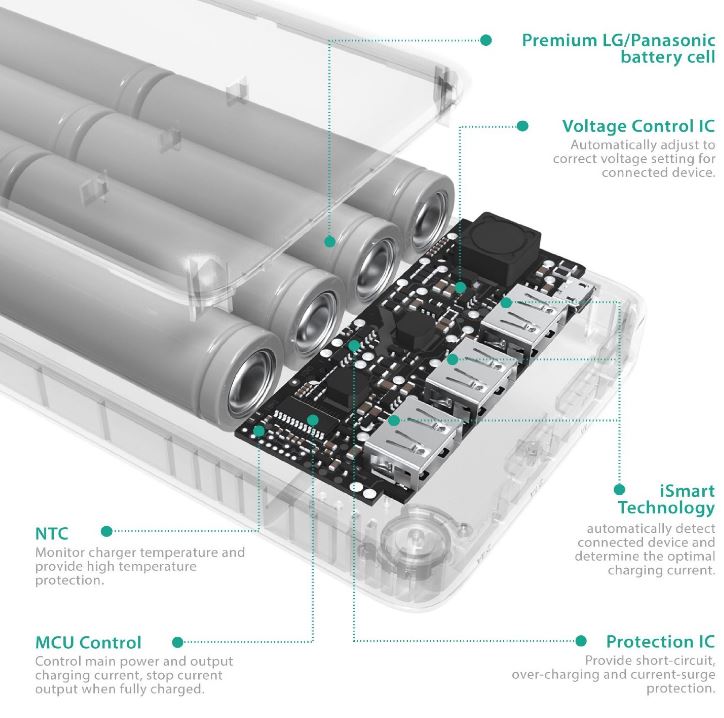 Capacity
The 26.8 amp hour capacity is the largest we have ever seen in a portable battery pack this small. With 20% more power than other models, you can charge an iPhone 7 nine times. With over a weeks' worth of battery life for you and your phone, it's unlikely you'll need anything bigger.
Which Portable Power Bank is Right For Me?
If you're charging phones, the RAVPower Power Bank is probably the best bang for your buck. It's got higher capacity than any other charger on the market, and it's output is perfectly tuned for the modern smartphones of today.
Lithium ion batteries are often good for 1000 charge cycles. Considering that each of these battery packs can charge your devices 5 to 10 times per cycle, there is a good chance that you'll have this device for many years to come. For the sake of future proofing, the Anker PowerCore+ is a good portable battery pack to have. USB-C is already hitting the market, and you'll want a charger that can take full advantage of this technology.
When it comes to bang for your buck, you can't get a better deal than the EasyAcc Monster. This portable battery pack provides all the great features you need, at a rock bottom price.