Portable projectors have really only been possible for a couple of years now. At least, when it comes to making projectors look any good while retaining their portability. But as technology has been getting better, portable projectors have too. Though you usually still need a device that's larger than a phone to really deliver the kind of clarity that people expect from a modern display, there's an increasing number of phone-sized projectors that can reach the visual standards that people want.
Canon Rayo S1 Mini Projector
The Canon Rayo S1 isn't Canon's first attempt at making a portable projector, and it certainly won't be the last. In this case, you'll find a device with a very particular slant in its design. That slant is towards professional presentations — at least primarily. Because this projector also has a variety of multimedia purposes that should make it attractive to just about anyone who likes the idea of being able to take a portable presentation with them on the go.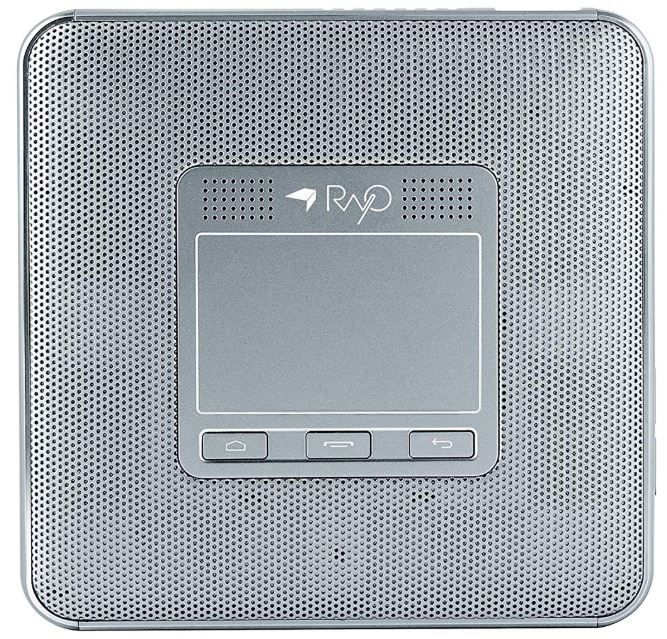 More specifically, the Canon Rayo S1 was not made to create super-enormous movie theatre sized screens, though the device that projects that image is scarcely larger than a couple of business cards. Likewise, the onboard Bluetooth speaker can be used for watching movies, listening to music, or even making hands free calls.
Because with the S1, you can connect your projector alongside a compatible smartphone or tablet, and then mirror the display of those devices across the Rayo S1. That opens the door to things like impromptu meetings, sharing documents without the aid of another computer, and also some pretty neat calling features.
If you can make a projector so small, then why aren't all projectors made this small? Because there are tradeoffs to cramming a projector into a space of this size. Those tradeoffs occur in many forms, including battery lifespan, storage capacity, and even brightness. That means the S1 Mini Projector isn't going to be the right choice for everyone. But it does certainly does have a few things worth checking out.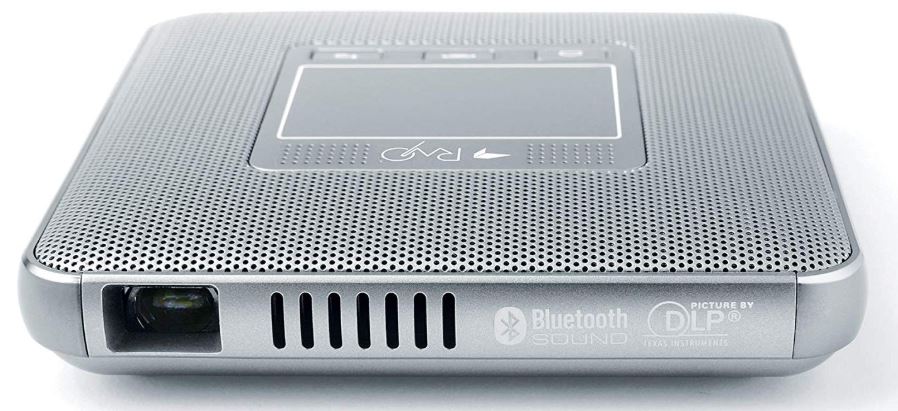 Design & Layout
The S1 Mini Projector measures 4.1 x 4.1 x 0.8 inches, and weighs just over one pound. That makes it easily one of the smaller projectors on the market right now, and it's nearly an eighth the size of some projectors that are sold as mini projectors. Since the device is pretty small, everything is just a tiny bit cramped though.
For instance, the backside of the device has a USB jack and a headphone terminal, using USB Type-A connections. That allows you to connect essentially any USB device or data carrier to your projector. And the smart touch pad is basically like the touchpad control that you'll find on a laptop — it's quite smooth and responsive.
In addition to the touch control, there are only three analogue buttons. So using the S1 is actually very intuitive. With only a couple of taps, you can start manipulating video sourcing, changing the projector's settings, and so forth. This is really far better than the alterative, which would've been cramming the interface with a bunch of different analogue buttons and perhaps even an LCD screen. Touch controls draw very little power, but even well designed LCDs can become a real power-draw over time. So this is a pretty smart tradeoff.
Small size creates barriers to good design. But the Rayo S1 does a reasonably good job of weaving around those barriers. For instance, you'll find there's about 4GB of internal memory help provide plenty of space for storing apps, images, documents, and so forth. But the onboard memory is really not where the S1 shines – it's only when you start looking at its broader connectivity options that you can really start to appreciate the real capabilities of this projector.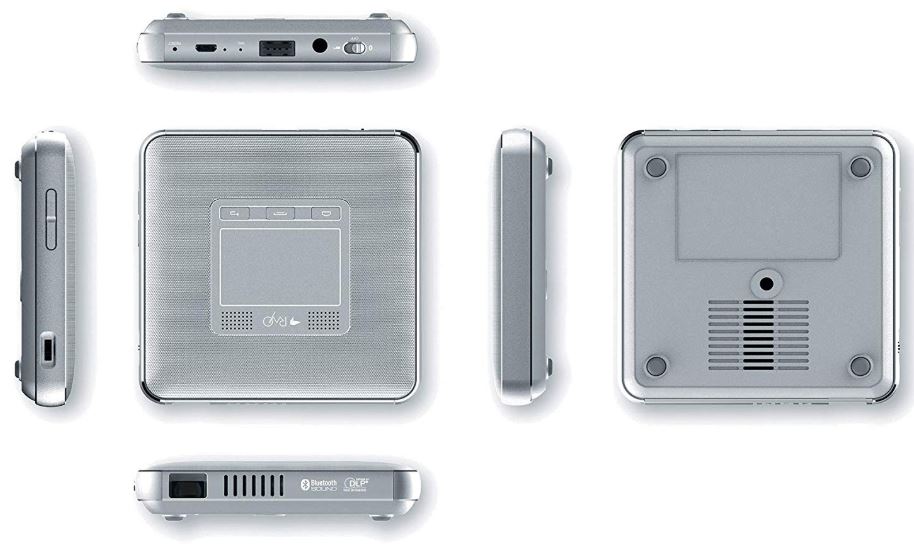 Video Presentation
You probably have low expectations for the performance of a mini projector, and under most circumstances, those expectations are reasonable to have. After all, it's tough to get strong performance out of a smaller unit like the S1. Nevertheless, there are a lot of things that help the Rayo S1 along. For instance, this projector makes use of DLP technologies, which is a proprietary tech from Texas Instruments that's used on some of the best full-sized projectors on the market. It helps guarantee the S1 can deliver color vivacity that exceeds that of a standard LCD television.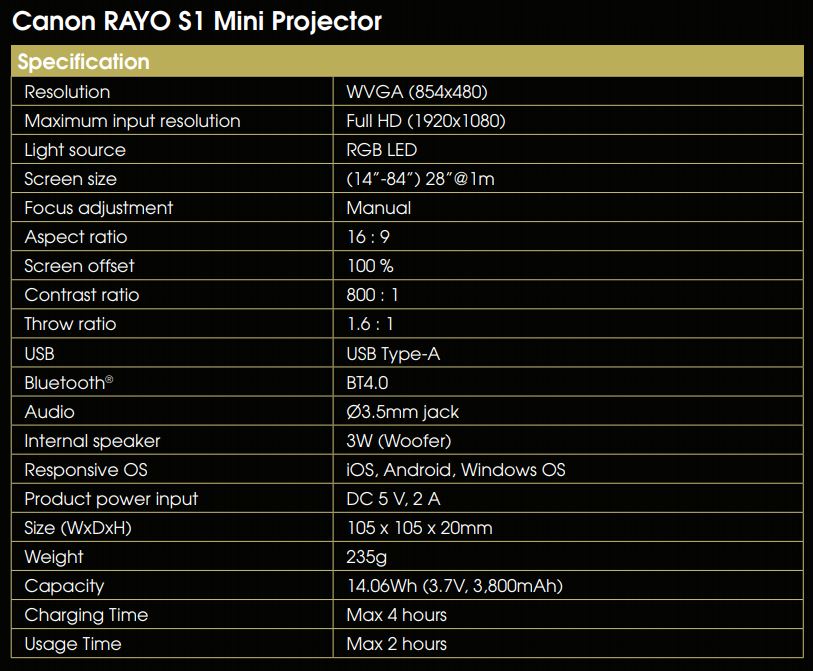 The Rayo S1 also needed to deliver when it comes to clarity. Because if you're presenting information, data, charts, graphs, numbers, and text, a professional presentation will need everything to be crisp and readable. That's exactly what makes it so tough to pick the right portable projector for professional purposes. Because it's not that tough to cram a projector into something that's around this size. But it's actually much tougher to make that smaller projector perform with the kind of vivacity that you can squeeze from a larger unit.
The Rayo S1 has vivacity that exceeds what you'll find from most full-sized routers around this general price range, and that's pretty impressive. Not that many portable projectors are made specifically for clarity – most are made with the assumption that you're going to be watching a bunch of movies. Of course, the S1 does reasonably well in those kinds of scenarios as well. That's largely because this projector is capable of delivering such vivid colors since it's backed by DLP.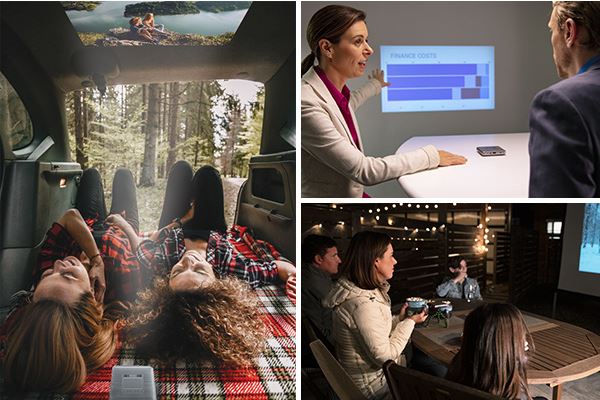 Battery Lifespan
The rechargeable battery inside the S! provides a total of two hours of runtime. That outcome is actually contingent on a number of different factors. For instance, it relies heavily on the brightness of the projector. If you're willing to turn down the brightness just a tad, you can end up with greater battery outcomes.
That may be difficult unless you're using the S1 in particularly well-dimmed locations. But should you expect to run the projector at maximum brightness at all times, then you'll end up with the 2-hour estimate. Another thing to keep in mind is that you don't want to operate the projector while it's recharging. Technically speaking, you can get it to work. But you'll tank the longevity of your battery in the process.
Really, the fact you can use the S1 to recharge your other devices is a little bizarre. Because you're already working with a battery lifespan that's in the neighborhood of two-hours. If you start tapping into that with your smartphone, then you're going to end up draining the S1 pretty quickly. Of course, you'd be able to totally refill your phone if you really wanted.
But you shouldn't think of the S1 Mini Projector as being an independent power bank. Instead, think of it as a backup that you might use if you find yourself in a pinch. And from that perspective, it's actually a pretty cool feature to have. As long as your presentation only runs 20-minutes or so, you just might have a little excess battery lifespan to spare after-all.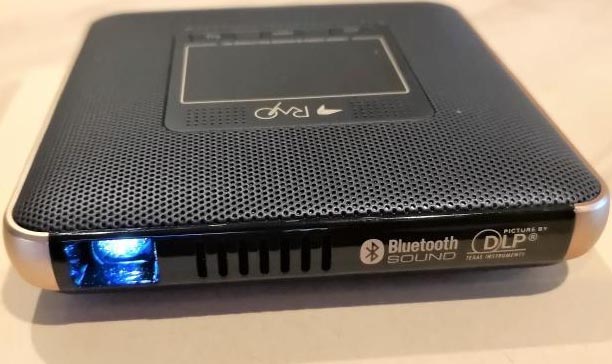 Additional Features
Apart from being a pretty well-rounded projector simply because it has the kind of media inputs it does, the S1 goes a few steps further to make connecting to your stuff easy. More specifically, it's possible to download your apps, audio books, and so forth right off the web due to its built-in Wi-Fi capacity. Likewise, you can access the internet from the projector directly and navigate through the onboard touch controls.
If you feel like being a little more hands-off with your installation, then you may be pleased to know that the S1 includes a pre-installed Canon Camera Connect App. That can be used to connect with various compatible Canon devices, for an easier time sharing videos and images. Think of it as a Wi-Fi type feature specifically for Cannon products.
Adjustability & Other Considerations
Sometimes projecting from a flat surface just won't give you the kind of presentation you're looking for. Larger projectors are usually designed with some kind of bottom screw that can allow you to extend a small leg from the front end of their body, and slightly adjust the pitch of your projection.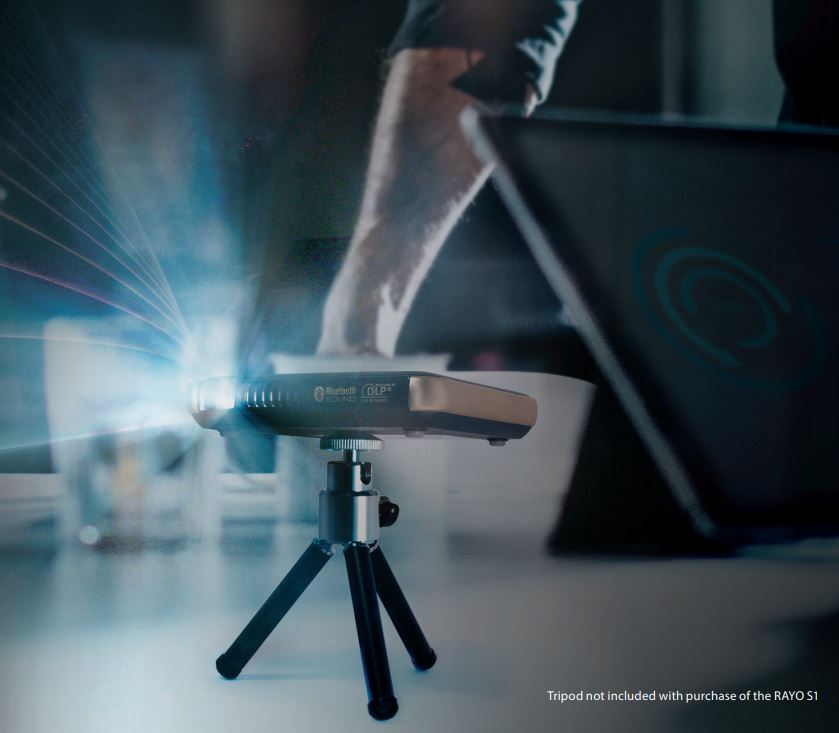 In this case, the Canon Rayo S1 Mini Projector includes a tripod mount that can be used to level-out your projection. With a little adjustment, it can give you far better access to the preferred angles you'd like. It also provides much better stability than placing a projector directly on a flat surface, especially if anything or anyone else is interacting with that surface. It's certainly not great when someone sets down their drink on the table, and that's enough to shake the screen.
Because this device makes use of a built-in battery, you can probably expect its lifespan to be in the neighborhood of five or six years. That's assuming you're using it modestly. If you're using the S1 frantically, and emptying the battery day-after-day, then you'll more likely end up with about three years with this projector before needing to replace the unit.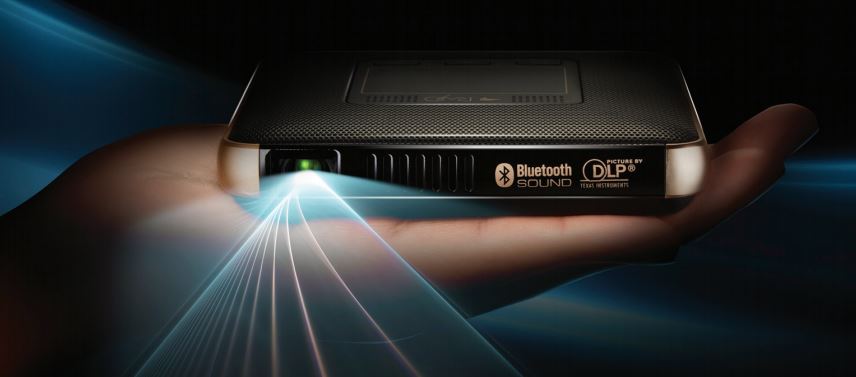 Who Should Choose the Canon Rayo S1 Mini Projector?
If you're trying to find a projector for your home theatre, then you probably don't want the something like the S1. This device is really defined by its portability. People who need to carry their projector from one location to another, or store it away between viewings, will find a lot of appeal to a small and compact design like the S1 provides.
Most mini projectors, especially those that are aimed specifically at presenting movies, will not be able to deliver the kind of clarity you need for professional presentations. Especially when it comes to small text. The S1 is a rare exception to this rule. Of course, you can still enjoy a movie or YouTube clip on the S1. But it doesn't command the kind of high contrast ratios that you can only expect from stationary equipment.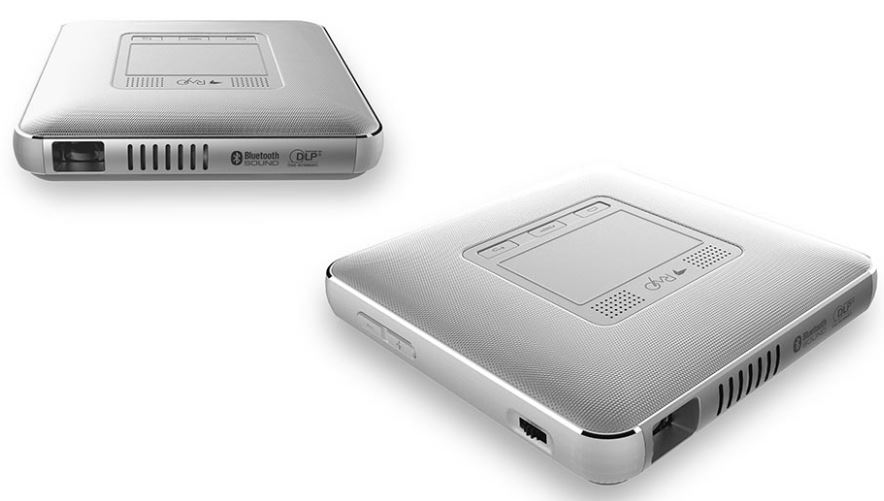 So if you're someone who is trying to find a projector for mobile presentations, the Canon Rayo S1 Mini Projector certainly has a lot of things to offer. In more than a couple of ways, the S1 is adaptable. The only hard limits you'll find, like the 2-hour battery capacity, are limits shared by virtually all similar machines. Which really makes the S1 attractive in a number of different ways.