It doesn't matter whether we're using our phones or our laptops, we always find ourselves wishing that we could squeeze a little more power out of our batteries. No matter how much we wish it was possible, there is always a limit to how much battery life manufacturers can squeeze into their compact devices.
This is where external power banks come in handy. You can throw them in a backpack until you need them, potentially extending the useful life of your portable devices many times over. We've reviewed some of the best 20,000 mAh power banks quite recently. But when Razer announced their own unique battery bank, we knew that it was going to be something special. What is it that separates this battery from others on the market? We decided to find out for ourselves.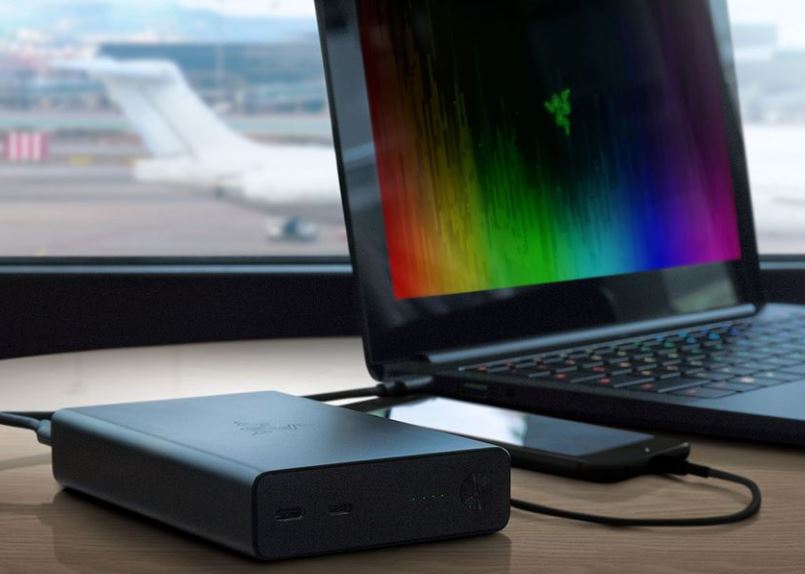 First Look
The Razer Power Bank is slim, sleek, and stylish. But underneath it's sleek exterior is a set of bleeding edge components that offer a little more than your traditional portable power bank. For starters, the USB-C port is what will sell most users. With this, you can power virtually any USB-C device you have laying around. With that in mind, there are still some standard USB ports, making it useful for almost any device in your collection.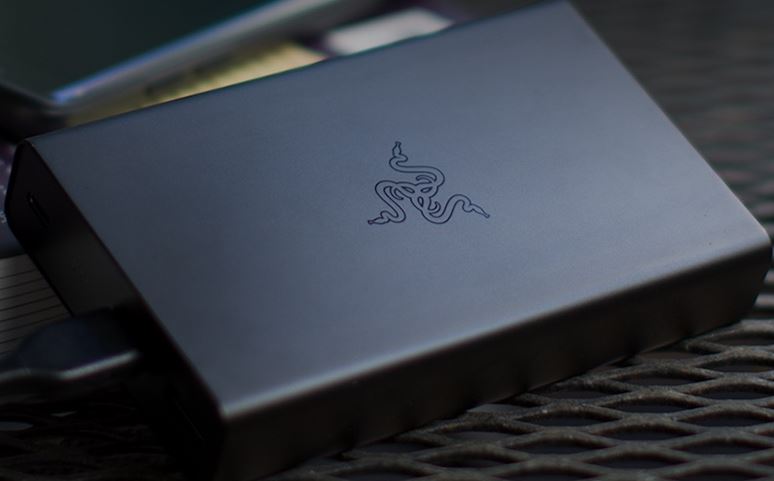 What You Get
One of the nice things about Razers power bank is that they include a few extras. The most important of which is the USB-C cable. These are still pretty new, and many consumers find that they don't have many extras. With the price still being fairly high, this is a huge asset. They also include a handy USB A to USB C adapter. There are definitely uses for this outside of charging, but we did find that this allowed us to use our standard USB power adapters with the USB-C input port.
Design
From the first look, we felt as if Razer took a page out of Apple's design book. The smooth finish of the aluminum enclosure and crisp lines make this power bank feel much more advanced than your everyday options. On top, the enclosure is bare, with the exception of the laser-etched Razer logo. On the front, you've got several indicators that show you the battery status. There are five tiny green LED lights that show the charge in 20% increments. There is a large white LED light that indicates the power status, and a brushed power button. The button has a very solid feel to it, and the brushed finish is a nice touch.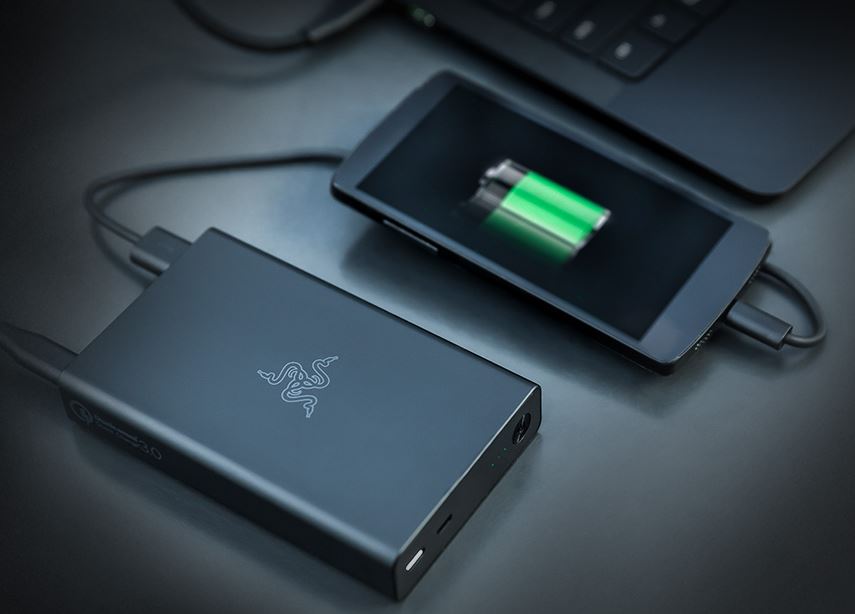 Right next to the power LED is the input port. This is a USB-C connector, and there is a micro-USB port right next to it. On the rear of the battery are the outputs. There are two standard USB ports, and one USB-C port.
Overall, the Razer power bank is very attractive, yet simple in design. It's easy to find what you're looking for, making it a highly functional design.
Durability
The whole idea of an external battery is that you can take it with you wherever you go, saving you from battery life worries. But if you're concerned about damaging the battery, it's not quite as useful. Fortunately, this is one of the most durable external batteries we've used. With a completely aluminum case, it's highly unlikely that you'll ever damage any of the internet components. We have no concerns about chucking it in our bag, or even in our rear pocket.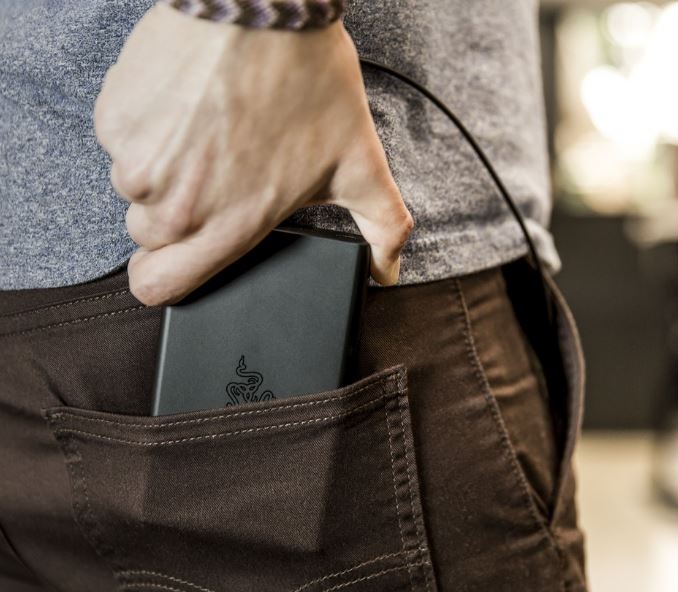 One of the reasons this is so important is the Lithium Ion batteries inside. As we know from the Note 7, batteries that have been physically damaged can create a pretty big problem. Since this battery is so large, we think that the extreme durability of the battery is warranted.
Razer includes a 1 year warranty. Considering the disposable nature of most batteries, this is somewhat uncommon for the industry. But it does say a lot about the quality of the components used, a strong benefit for this battery.
Capacity
How much extra juice can you get with this battery? Well, that depends. The battery itself is 12,800 mAh. However, it's worth noting that this is a single cell lithium battery. If you're calculating the amount of power you can use to charge a phone, the numbers will line up. Phones also use single cell lithium batteries. But other devices, particularly laptops or larger USB-C electronics, can use multiple cells.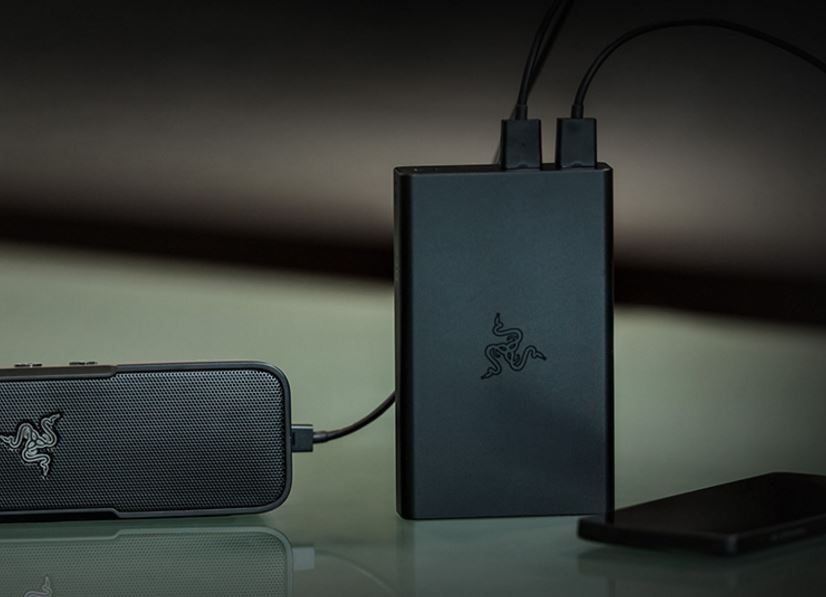 On average, this battery will charge a compact laptop once, doubling your battery life. For high performance laptops, you might only see a 50% increase in battery life. That being said, this is still pretty impressive for the industry. If you're the owner of Razer's popular "Blade Stealth" laptop, you'll be happy to know that this is one of the only external battery packs on the market that works well with this laptop. It's almost as if they were designed for eachother!
As for phones, you can charge a standard iPhone 7 a total of five times. With large phones, you might get 10 to 20% less. But overall, you can expect this battery to last you several days of heavy use for cellphones.
Charging
How do you charge the battery itself? Well, you've got a number of options. If you want to charge it as quickly as possible, you'll want to buy Razers separate 45W USB-C charger. This can take the battery from completely dead to full in less than 12 hours. But if you already have a USB-C device, you might not need it.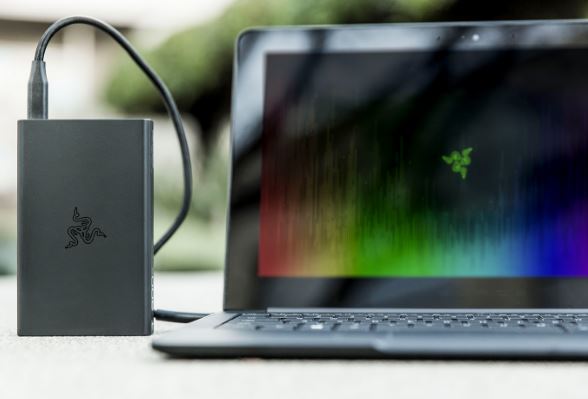 This is what makes the Razer Power Bank stand out. It's got an incredibly DC to DC converter in there. You can plug virtually any USB-C charger into the input and it will work. You can charge at 5V, 9V, 12V, 15V, or even 20V. It can take input current from 1 to 3 amps. Not only does this give you a lot of versatility, but it lets your battery always charge at the highest speed offered by the charger.
Don't have a USB-C charger? No problem. It's fully compatible with mico-USB. You can use any standard phone charger to recharge the battery. It's not going to be the fastest charge on the market, but it still fills up at a decent clip. Most phone chargers are around 10 to 12 watts, so you can expect a 6 hour charge time accounting for line loss.
What about the other way around? As we know, not all USB ports are alike. If you try to charge a modern phone with a 1A phone charger, you're going to be waiting for quite a long time. Fortunately, that advanced DC to DC convert comes in pretty handy here. The battery includes both Qualcomm Quick Charge 3.0 and Apple Fast Charge controllers. This allows them to automatically negotiate the best possible charge rate for your phone, making the battery work just as well as your stock charger that came with your phone.
Disadvantages
Although this is one of the most advanced external batteries on the market, it's not quite the largest. In an ideal world, we'd like to see the battery capacity pushed to 20,000 mAh. At that rate, it would be the best on the market in every regard.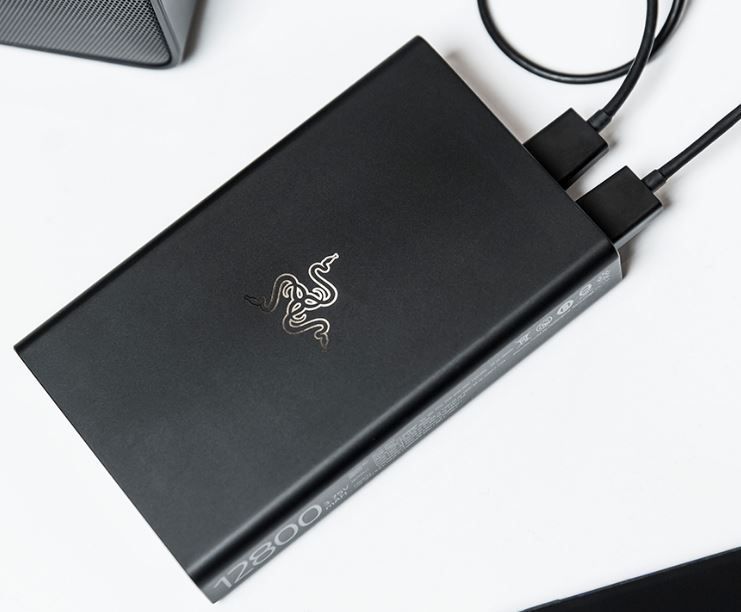 Final Verdict
Overall, we are happy to say that this is one of the better external battery packs we've used. What makes it stand out is the advanced power management system. It supports a large variety of voltages, currents, and settings. No matter what you decide to plug in, you'll never find that your hardware is charging more slowly than it should be. In the past, this has been one of our biggest frustrations with external batteries. We're happy to see that Razer has elegantly solved the problem.
Another thing we like about it is the durability. There is no doubt that the build quality is a cut above the rest, allowing the Razer Power Bank to last for a very long time.
Who should buy this particular battery? Ideally, anyone who wants to charge devices over USB-C. There isn't much else on the market that can compete with the Razer for USB-C compatibility, so it really shines.
Don't plan on charging any USB-C devices? Well, this might not be the charge for you then. If you just want to charge basic phones, you might want to take a look our list of the best 20,000 mAh power banks. That being said, most of these batteries can't quite compete in the durability department. So some users might find Razers offering a little better.