When it comes to portable power on the go, there are many options available. A portable power bank can help you squeeze a few extra charges out of your cellphone, before having to revert to an AC outlet. A UPS system can help keep your computer running in the event of a power outage. A generator provides long term, high capacity power for demanding equipment.
In many ways, a lithium power station is better than all of those options. Longer battery life, more versatility, and a compact design are all benefits exclusive to lithium. While small lithium batteries have been available for quite some time, we're only just starting to see affordable lithium batteries that can handle demanding applications. The Goal Zero Yeti 1400 Lithium is considered by some to be the best on the market, but it's price tag scares some people away. Does it actually perform that much better than alternative solutions? We decided to find out for ourselves.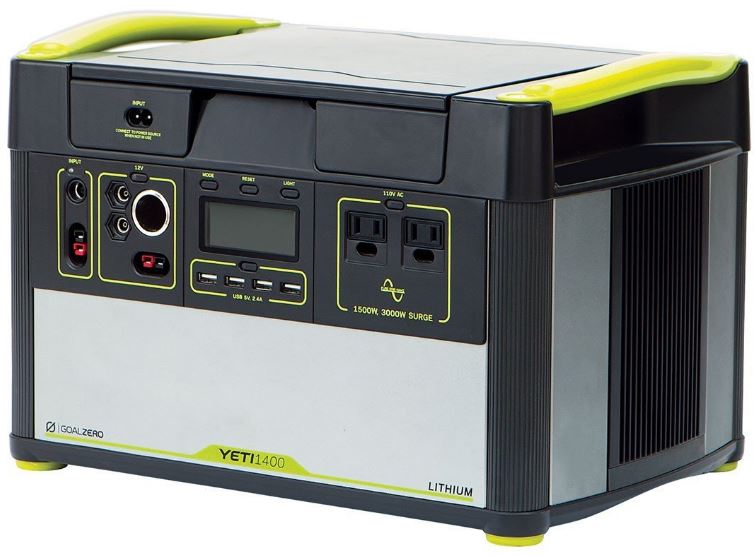 First Look
As soon as we opened the box, we knew that the Goal Zero Yeti 1400 Lithium was a powerful device. Weighing in at 45 pounds, we were glad to have some large metal handles to help us move it. Although it's larger, it's still very similar to the Yeti 400. This portable power station can be charge in many different ways, and used to power almost any electric device you have in your home. Whether you're charging it up for an off-grid camping trip, or stashing it in the basement in case of a power outage, having power on hand is incredibly useful.
Design & Durability
Whether you're taking it outdoors or leaving it in the garage, the Yeti 1400 Lithium isn't going to be easily damaged. The plastic enclosure is much more durable than most battery packs we've tested. It's got rubber feet that absorb any impact from the ground, durable ridged plastic bumpers on all corners, and two large metal handles that make it easy to lug around.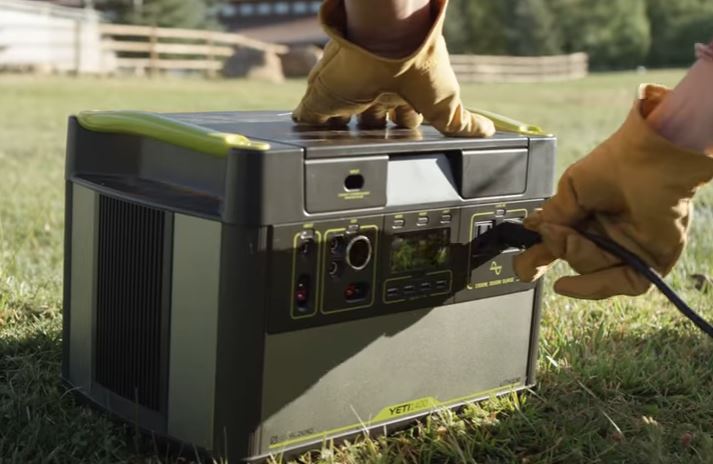 Although it's one of the largest power stations we've used, the layout is still very similar to the other models. You've got two 120V outlets on the right side, four 2.4A USB ports, and the same 12V electrical port you'd find in a car. But there are a few extras. If you want 12V DC power, you can use either of the two BNC connectors. These are commonly found in RVs and Boats, and connectors are readily available to splice onto an existing option. You can also wire directly in to the connectors, which may be useful for running any 12V appliance with bare wires.
On the center of the Yeti is a large LCD display. Although the back light isn't extremely bright, this screen uses very little power. At a glance, it will tell you some pretty important information. It shows you how much power is being drawn from the system, how much power is being put into it, and the estimated minutes of life remaining. When you've got limited power available, this information will help you ration it responsibly.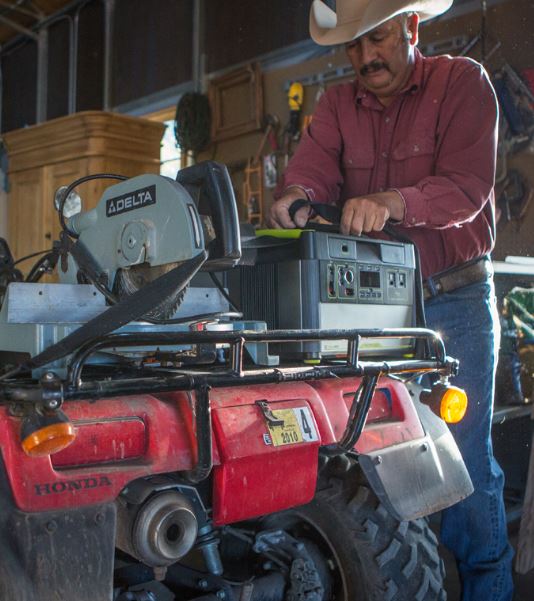 Charging
Before you can actually use the Yeti, you'll need to charge up the battery. Goal Zero wanted to make sure that you can charge it in almost any circumstance, so there are a number of different options available. The quickest and easiest way is just to plug it into a standard 120V outlet. The battery ships with a little charge in it already, but it would take 25 hours to charge it from 0 to 100%.
Don't have access to AC power? This battery has a built in solar charge controller, so you can quickly turn it into a noiseless, fume-free source of renewable energy. The rate of charge depends on how much sun you'd get in a day, and how many solar panels you have. If you max the input capacity out with an array of six 100 watt panels, you can fully charge the battery with just six hours of bright sunlight. With just a single panel, you'd need several summer days. Ideally, the solar capacity should be sized to replace whatever power you use during a day, starting the process off with a single full charge over AC.
If you're not interested in buying solar panels, you can use your car to charge the battery. It comes with an adapter that plugs into your cigarette lighter, then into the power pole collection on the far left of the face plate. The nice thing about this input is that the power goes through its own separate charge controller. When running, most cars are actually producing something between 12.5 and 13.7 volts. Most charge controllers just restrict the flow of current, so only 12V can get through. But this controller uses all of the power it can get, charging more efficiently. Charging rate depends on your vehicle and alternator, but you can expect it to charge at half the speed as an AC outlet.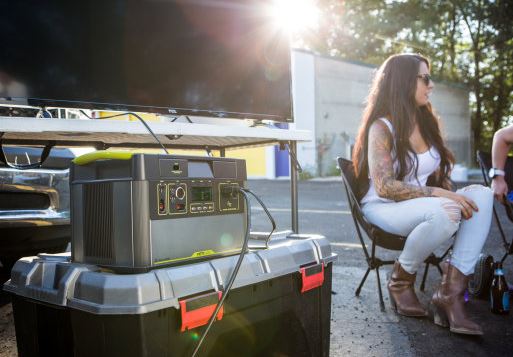 Capacity
With a 1425-watt hour battery, there is more than enough power for even your hungriest devices. With 118 hours of charge time for USB devices, you can be sure that your phone will be juiced up for days, if not weeks. A laptop could be charged from empty 16 times, and an LED strip light could run for 10 days non-stop. But what about higher power appliances? The pure sine wave inverter included can supply 1500 watts of continuous power, and up to 3000 watts of surge power. This will allow you to power appliances like a microwave, coffee pot, heater, or even a fridge. For the most part, these appliances will drain a lot of power if used consistently. But even a full-size fridge can run for up to 24 hours.
Features
Not enough power for you? There is an expansion port located under the lid. This port can be used to connect multiple Yeti 1400 batteries together. If you have some serious power demand, this allows you to expand it as much as necessary.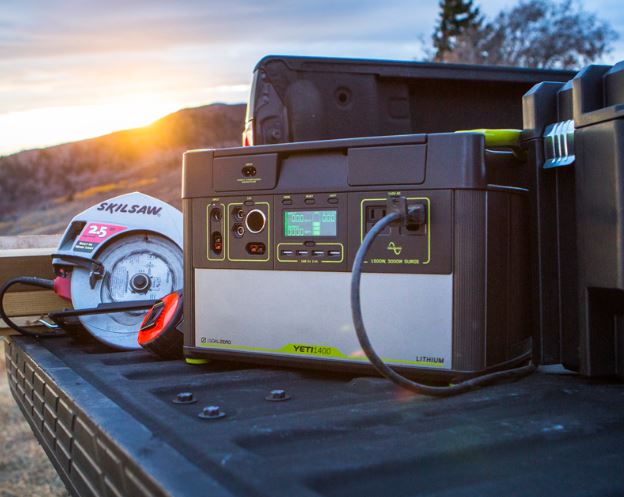 There is one feature in particular that stands out about the lithium batteries. Have you ever accidentally killed your car battery just by leaving an interior light on? Car batteries have a pretty high capacity. Often 1260 watt hours. But this power can only be used if it's drawn at a specific rate. A 1 watt load might kill the battery in as little as five hours. Most battery backup systems use the same technology as car batteries. No matter how little power you're drawing, the battery will never last more than 24 hours. Plus, even when not in use, lead acid batteries will self-discharge. To be kept full, they have to be plugged in charging at all times.
Lithium batteries don't have either of these problems. If you're not drawing any power, you can throw it on a shelf for a year and still have a full charge when you pull it out. When small loads are applied, no power is wasted due to battery inefficiency. Best of all, these batteries will typically last 5 to 10 times longer than standard backup batteries.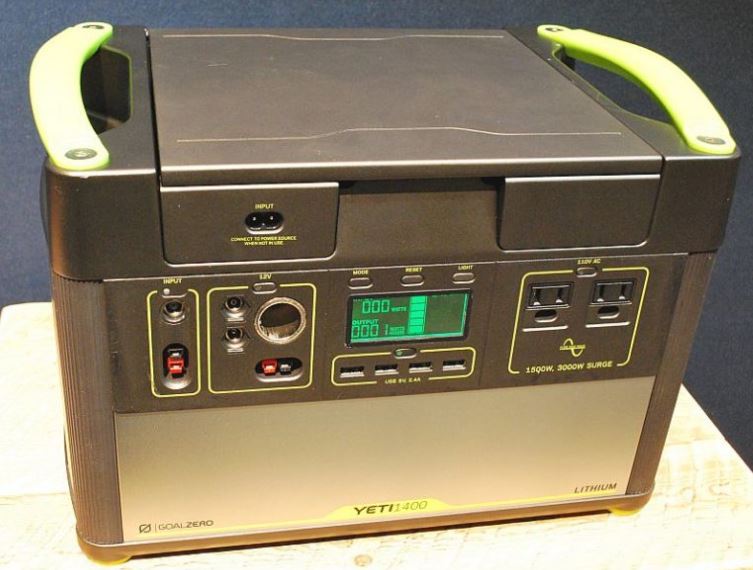 Disadvantages
Lithium is still a very new technology. While there are certainly some major benefits, this comes at a pretty steep price. If you need a reliable source of power right now, you're not going to find anything like it on the market. But high capacity lithium batteries are coming down in price every day, so you can expect to see this price drop over time.
Final Verdict
Is this the first lithium backup battery on the market? No. But this is the first high-capacity, all-in-one lithium power station. You don't need any fancy charge controllers, battery balancers, inverters, or DC-DC converters. Everything is included. Even if you don't know the first thing about batteries, the included LCD display will tell you how much power you're using, how much time you have before empty, and how quickly the battery is charging. This technology in inherently complicated, but the Goal Zero Yeti is Foolproof.
The Goal Zero Yeti 1400 Lithium has the capacity to run most smaller electronics for several days, if not weeks. Whether you want to keep the internet up and running so you can communicate, run the lights at your campsite, or keep your food cool in a power outage, this is the power station for you.
Of course, not everyone will need this much power. If you only need enough power for a weekend or two, check out our review of the Goal Zero Yeti 400 Lithium. It's got much of the same features, but comes at a much lower price.