Laptops have gotten incredibly powerful and it's becoming more and more common that people simply don't own a desktop computer. The only major issue that poses is that it becomes a bit more difficult to hook up a multi monitor setup for those of us who need the extra boost in productivity that three monitors provide.
There have been some attempts to remedy this laptop screen real estate dilemma by developing products that hook onto the back of your laptop screen and extend your total displays to three monitors. The major issue with these types of solutions is that you cannot alter the size of the monitor beyond a certain point due to the limitation of being attached to the laptop monitor itself. Also it's very difficult to get a larger setup because you would have to replace the entire attachment, not just a single monitor.
For this Kensington has developed the SD4900P USB-C triple 4k crossover Multi-Monitor docking station. That name is definitely a mouth full but it's also filled with features and is incredibly convenient for laptop only users. There are of course other companies that have developed docking stations, such as the Targus USB-C Universal Quad HD docking station. The Kensington SD4900P however, blows it out of the water due to the 4k capacity, use of Display++ ports instead of just HDMI, higher number of USB expansion ports, as well as the much cooler design.
In case some if you don't know who Kensington is, we're going to start with a quick overview of the company then dive into some benefits that a multi monitor setup can provide you, all before digging deep into the features of this specific product.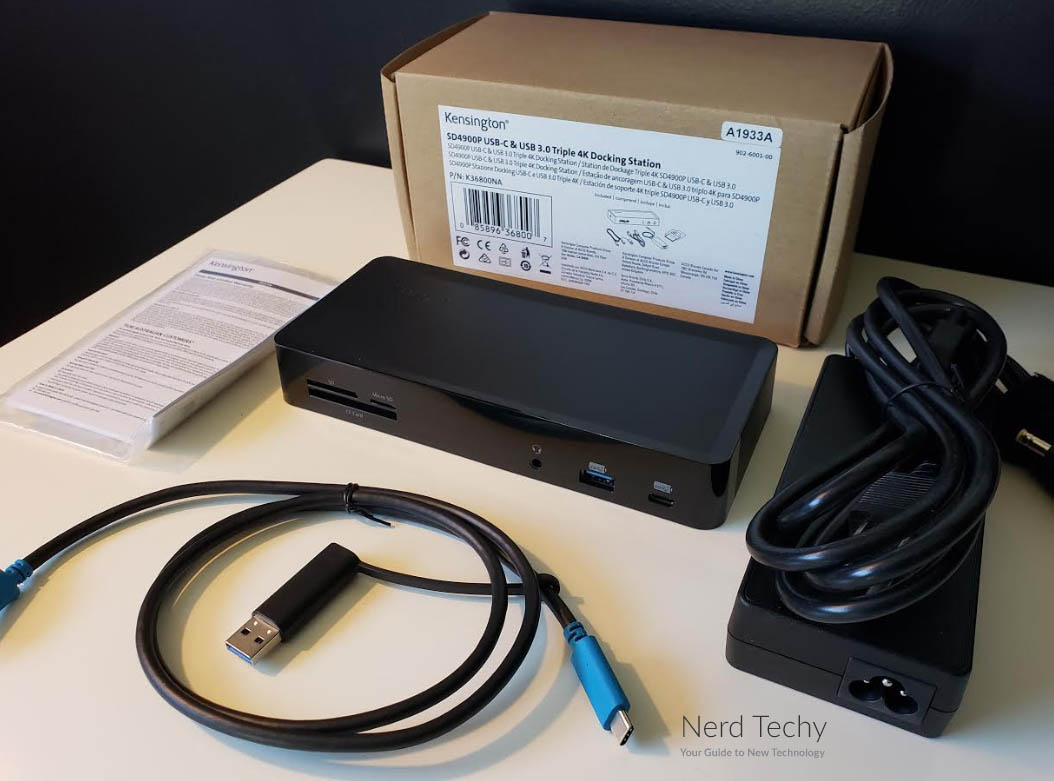 Kensington
The power of a brand is one of mental shortcuts. We learn to associate specific brands with quality or some specific traits. If a brand consistently makes bad products we don't buy things from that brand. On the opposite side however, if we have had great experiences with products from a particular brand, we tend to be much more willing to buy more products from them in the future. For that reason we want to take a moment to talk about Kensington as a company and whether or not they have a history of building good quality products.
Kensington is a company that's headquartered in San Mateo, California. They are primarily known as the inventors and world leaders in manufacturing laptop security locks. Though they have branched into providing a wide range of desktop and mobile accessories and peripherals. Additionally, they have multiple contracts with educators, businesses, and IT departments and have built a reputation of having high quality products.
Kensington primarily targets professional environments and do in-depth focus studies to isolate exactly how they can build a product that will help businesses and individuals in some specific way. As such they have built a very impressive portfolio of award-winning products, ultimately meaning they're one of the brands you can rely on.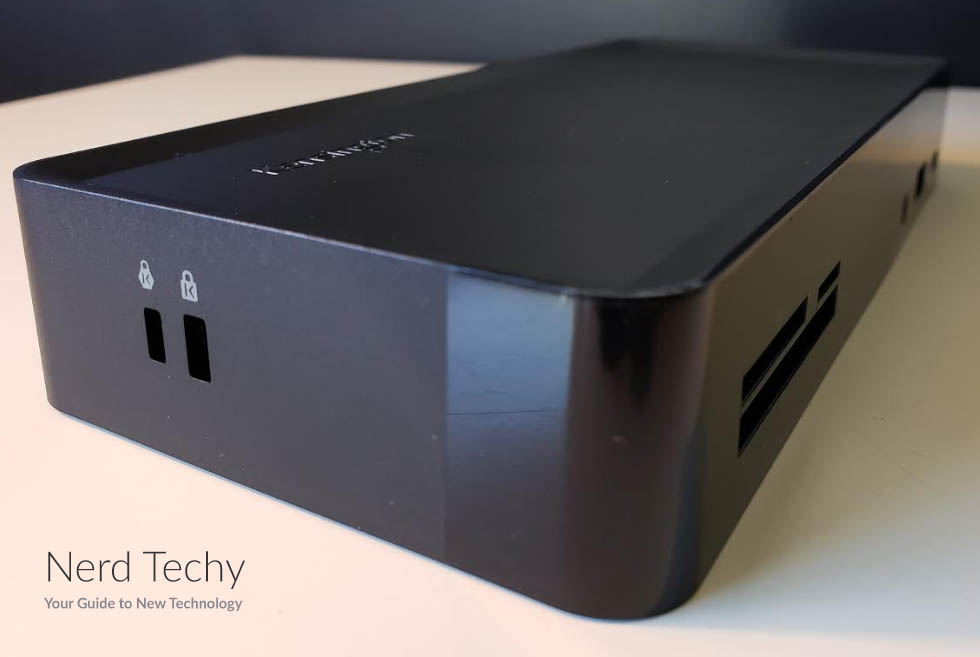 Boost in Productivity
The old saying that two heads are better than one applies even more so to monitors. The question of monitors when it comes to productivity is: "How many is too much?" That's of course a difficult question to answer but many organizations have tried to do just that. Boosting your productivity is not an easy task however, but adding monitors definitely helps. Whether you use your computer for work or just entertainment, you can do a lot more at once when you have more screen real estate.
In today's world we utilize far too many apps, programs, and websites for a single screen to handle it all. Attempting to bounce between windows is a huge time waste and almost impossible when you're trying to use multiple software at once.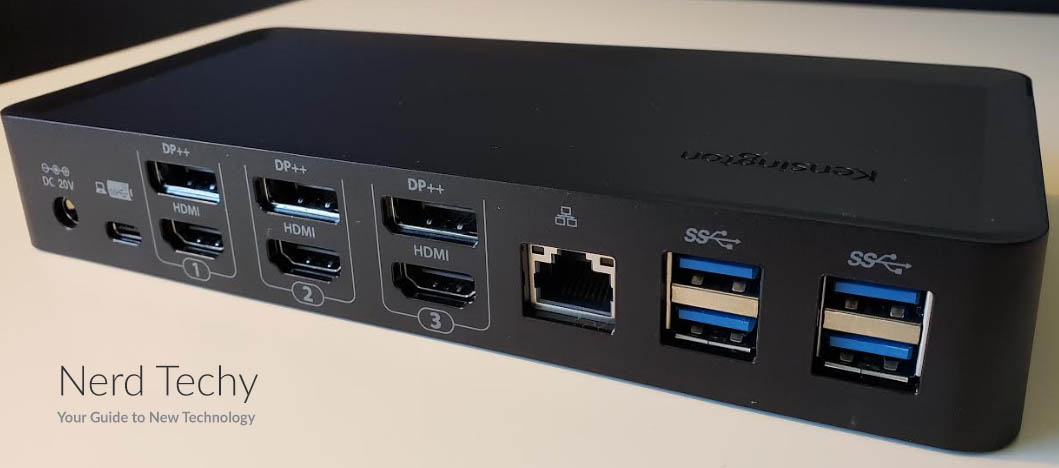 The main issue with using a single monitor is that it's simply not suited for the multitasking that's expected of us on a daily basis. If you find yourself engaged in any of the following scenarios you might benefit from a multi-monitor setup:
Switching back and forth between multiple programs.
Utilizing chat programs while working and having to click the pop up icon each time someone messages you.
The need to copy and paste from one window to another.
Comparing different products side-by-side to get the full picture.
Writing email responses while having the chain open next to you so you do not have to scroll up and down.
Working on or reviewing big spreadsheets that do not fit on a single screen with lots of scrolling.
For twitch streamers it's important to have the game open on one screen and your twitch chat open on another so that you can engage with your audience.
The list above is far from complete however if you're still unconvinced there have been a wide range of studies done that prove the benefit of using multiple monitors. In 2008 there was a study conducted by the Georgia Institute of Technology that showed employees completed tasks 2.5 times faster when using a multi monitor setup.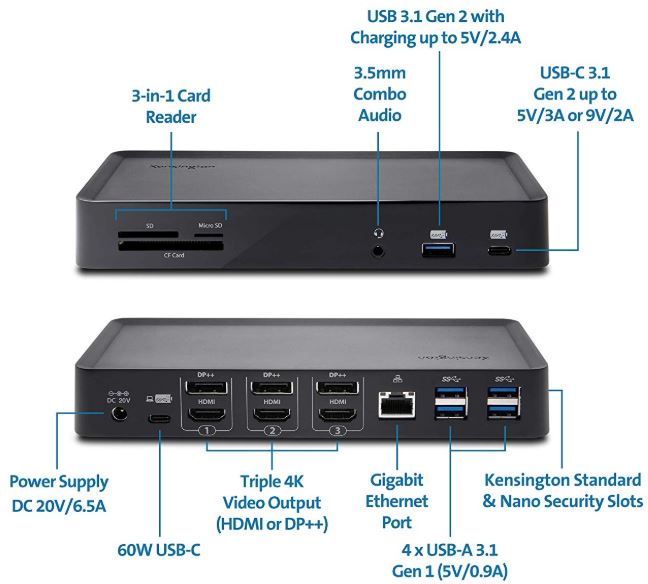 A similar study that same year by the University of Utah showed a 20% reduction in mistakes with individuals using multiple monitors over those using only a single monitor. A newer study done in 2017 by "Jon Peddie Research" concluded that individuals had an average of a 42% increase in productivity when using multiple displays. If that isn't enough for you, this has been common knowledge since 2003 when Microsoft released a research paper estimating a bare minimum of a 9% improvement in productivity by getting a 2nd monitor.
Features
To start you can select from six different video ports on the back of the docking station. Each set of two ports is designated for use with a single monitor, there are two so that you can choose between using an HDMI or a Display Port. These ports have full support for 4k video that can be streamed from your USB-C Alt Mode enabled laptops.
Alt Mode or "Alternate Mode" is a new USB-C functionality that enables a USB to carry non USB data such as video streaming data. This is the same port and function that allows phones such as the Samsung Note to connect to a monitor and go into the full desktop mode. With the docking station you can get a total of three 4k monitors streaming from your single USB-C Alt Mode port. The docking station is also compatibility with all three major operating systems including: Windows, macOS, and Chrome OS.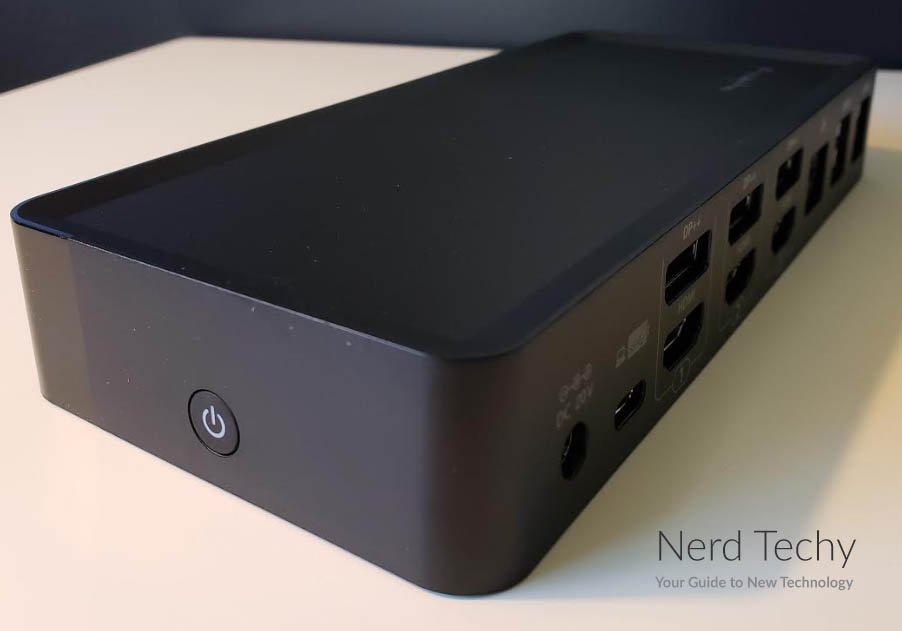 On top of streaming 4k video from your laptop the docking station will actually charge your computer through that very same USB-C port while also expanding its connectivity for utilization of all the expansion ports on the docking station. There are three card readers built into the docking station which include an SD card slot, a Micro SD slot and a CF card reader slot. Other ports include one USB-A Gen2 port and four USB-A Gen1 ports, as well as an Ethernet port for direct network connectivity.
On top of all of that the docking station also has an adjustable clamp that can easily attach to the edge of a desktop or cubicle wall or pretty much any other surface including your monitor. This mounting option makes it great for creating a low footprint setup that easily hides the monitor cabling since we all know cable management is a beautiful thing.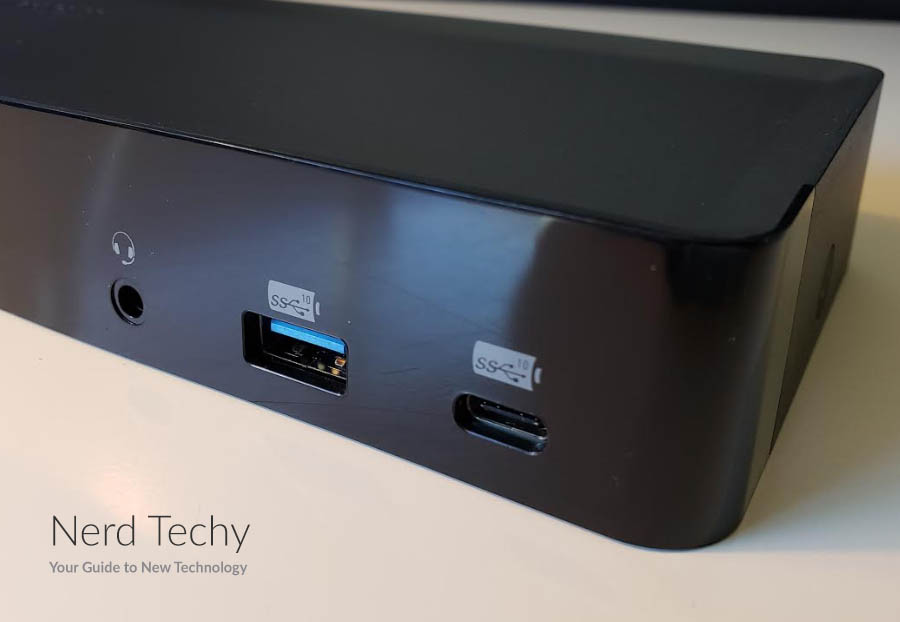 Some additional important compatibility information:
Best For: USB-C or USB 3.0 Laptops & Ultrabooks and Monitors that support up to 4K
Connection Technology: USB-C or USB 3.0 (DisplayLink)
Power Delivery: Supports USB-C PD 3.0 (60W of laptop charging)
Compatibility: Chrome OS 44 or above, Windows 7 or above, macOS 10.14
# of Monitors Supported: 3
Video Ports: 3 x HDMI v2.0 and 3 x DisplayPort 1.2++
Maximum Resolution Supported: USB-C Alt Mode Laptops: Video Port 1: 3840 x 2160 @ 30Hz (@ 60Hz with DP1.4++/HBR3) // Video Port 2 & 3: 3840 x 2160 @ 60Hz OR USB-C (non-Alt Mode) and USB-A Laptops: Video Port 1: (n/a) // Video Port 2 & 3: 3840 x 2160 @ 60Hz
DisplayLink driver installation required
System Requirements: USB-C host device must support Power Delivery and Alt Mode. Power Delivery is not supported on USB 3.0 host devices without the use of the optional 60W power splitter (K38310NA)
Warranty: 3 Years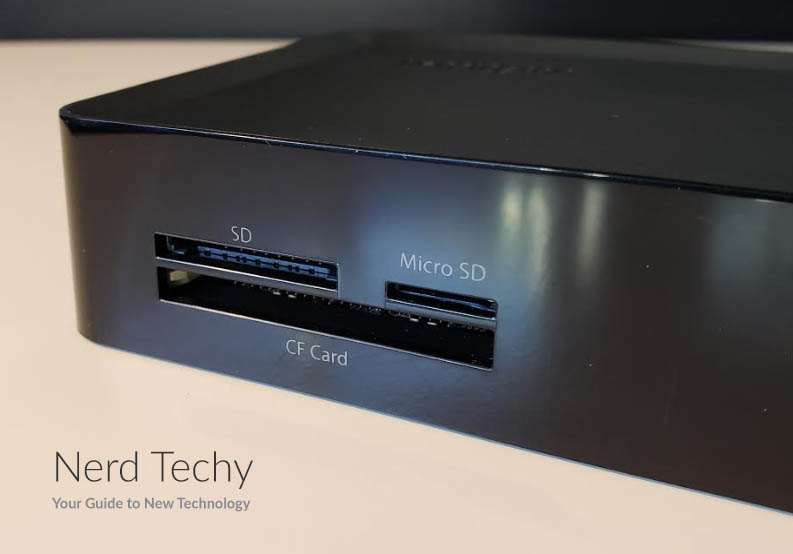 Who Should Get The Kensington SD4900P?
Anyone that's using their laptop as a primary computer would benefit from this docking station. The Kensington SD4900P provides is without a doubt one of the most powerful tools that any laptop user could get for its expansion capacity.
Not only that but you can use it as a mobile phone charger as well so when you sit down at your desk and connect your laptop, you can hook in your phone also. From personal every day users to business professionals and freelancers, the boost in productivity that you get from this docking station is not one that can be quantified.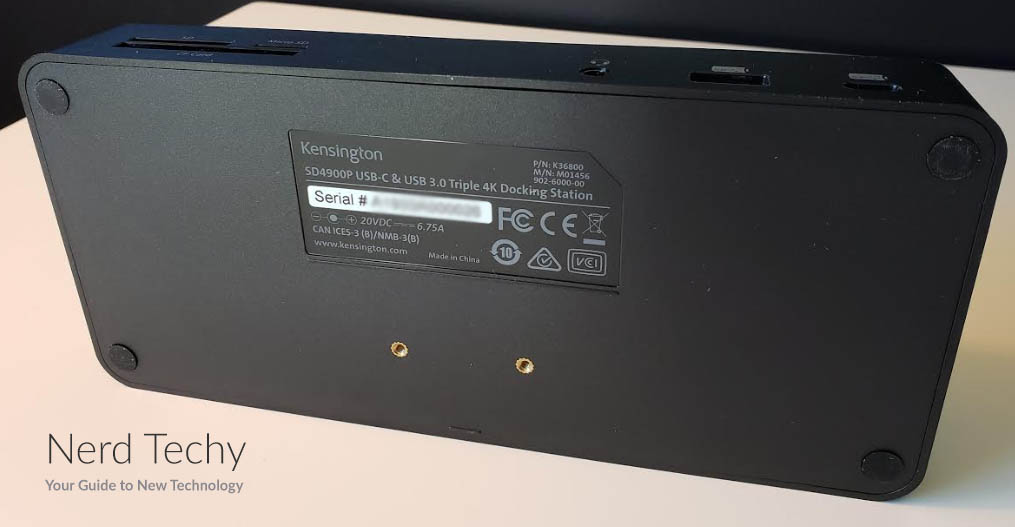 If you're a user of the Surface Pro you might also look into the Kensington SD7000 docking station designed specifically for the Surface. Otherwise the Kensington SD4900P is a tool that everyone should look into.
At NerdTechy we bounce between desktops and laptops but even though the laptop is not the primary unit, a docking station like this is still incredibly valuable for when you need to get a lot of work done and do not have the time to bounce between windows. So to answer the question of who should get the Kensington 4k Docking station, we say that everyone should, because everyone can use a boost in productivity that lets them have more free time to enjoy life.