Many computers have an Achilles heel when it comes to expandability. Because they're often made to ensure systems cannot be improved by installing new core components. Occasionally this is done in the name of convenience, and occasionally it's done in the name of cost. Whatever the reason, it can present an obstacle to almost anyone who didn't built their computer from scratch.
But it was much more of an obstacle to expansion in the past than in the present. Today, you can get external hard drives, GPUs, recording devices, and even full docking stations to help expand your system. More often than not, the only thing you need to make this happen is having the right ports available.
The beauty of a great docking station is in how it makes your life simpler. It's about adding flexibility and expandability to a workspace. And whether you're working with a Mac system, a Windows system, or anything between, that kind of expandability is usually warmly welcomed.
Targus USB-C Universal Quad HD (QVHD) Docking Station
In a superficial sense, the Targus USB-C Universal Quad HD Docking Station seems like a device that might have existed 15 years ago. After all, it's just a hub full of ports, right? Well, not exactly. Because like with so many things, it's all a matter of detail.

Sure, a docking station might have USB ports. But are they older USB 2.0 ports, or modern USB 3.0 ports? Is there support for USB-C and USB-A, or just one of them? Can all the included ports charge your devices? Is their charge speed any good? Working through these kind of details helps you sort through the wheat and the chaff.
It doesn't take long to notice the Targus USB-C Docking Station was made to hit all the essential bases. However, it does require a closer look to see how much thought went into the design and placement of each port. From top to bottom, there's a reason behind every aspect of design, which makes this a pretty great station for people who happen to need precisely what it was made to offer.
Build & Design
This docking station measures 1.7 x 3.5 x 8.2 inches, and weighs just over 1.5lbs. The topside is matte black, while the bottom side is a dark gray, highlighted only by the addition of the Targus logo and a number of ports. Like you would hope from a full-sized device like this, the depth of each port allows you to plug in your devices fully, so your cables don't have to make tenuous connections.

This no-nonsense design might not be colored with Apple's signature white look, but it would be fair to say that this docking station is an Apple-quality device. Nothing about it looks or feels cheap, from the ports to the plastic.
The bottom side is padded with a rubberized surface, helping protect the device and the surface you place it on against scratches. Underneath, you'll also find a VESA bracket space which can be used to mount the docking station.
Even though the chassis looks like it's pretty well sealed, this device is far from waterproof. Spills into these ports would have a good chance of damaging them. If a spill did occur, you'd want to throw the power switch, unplug everything, and do your best to dry-out the device before turning it back on. Of course, when you get one of these docking stations installed in a more permanently position, you can generally stop worrying about things like accidentally spills.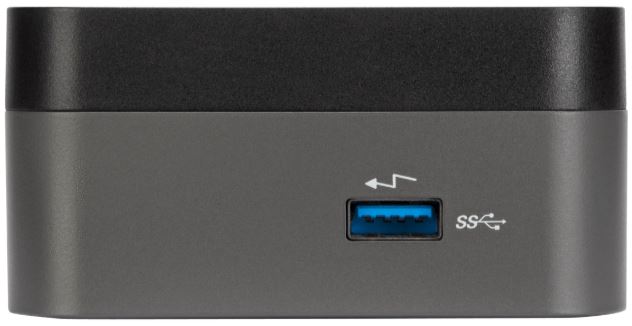 Installation Issues
If you want to mount it without using a VESA bracket, Targus actually has their own separate mounting bracket you can use. Unfortunately, their own bracket isn't included with this station, so if you hope to mount it without getting extra hardware, you'll need to make use of the VESA connection.
Because the station weighs about 1.5 lbs., it's not advisable to try and pin it in place with something like tape or adhesive. But in any case, it's not tough to get your dock positioned behind your display, or in another space-saving location.
When it comes to installation, your imagination is the limit. Or rather, your imagination and the length of the cords you have to use. For saving workspace, that's pretty excellent. Even when you've got a bunch of cables connected to this docking station, it's got a low profile design is pretty good for reducing the amount of desk space consumed by a docking station.
But if you do decide to hide away the station, you'll lose sight of the onboard LED. It's on the front side, and can be used to help indicate the status of devices on your network connection. It mostly comes in handy when you start to get an Ethernet connection involved with the docking station because it can be used to diagnose network problems.
Port Support
Across the face of the station, you'll find support for a total of four 1080p displays. Or alternatively, you could run two displays at 1440p. This either/or arrangement is possible by connecting with one of four HDMI ports. If you're running at more than 1080p, you'll need to double up on the HDMI ports in order to access 2K content.

Though there are ports scattered on many sides, it's only when you look at the topside of the docking station that you really see all the different connection options. Those 4 HDMI ports are near the center of the station, with everything else revolving around them. On one side of the station, there's a Gigabit Ethernet port, a pair of USB 3.0 Type-A ports, and a locking slot.
On the other end, there's a simple on/off switch which can be used to reset the docking station. Next to that, there's a port for the included DC power adapter, a USB Type-C port, and one more USB-C port that's fully powered with 15-watts. Adjacent to the powered USB port, you'll find a one Gigabit Ethernet port, and a pair of 3.5mm audio in/out ports. Pretty useful for microphones, speakers, headsets, and so on.
Is there anything missing? Not really. Though you don't find any DisplayPort options, that's not truly a limitation when you consider how this device was intended to be used. Given the sheer size of this docking station, they could have easily fit a couple more USB ports on board. It seems like a missed opportunity. But on the other hand, more USB ports could potentially clutter up the user interface, and eventually lead to some heat issues.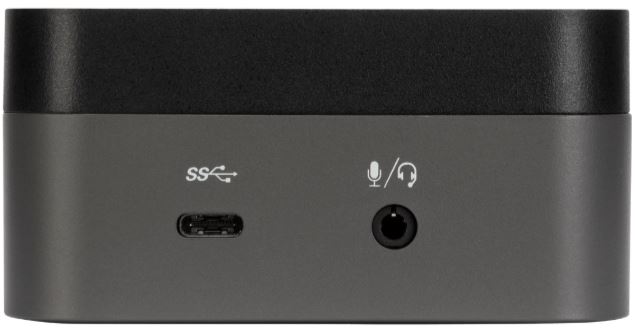 Additional Port Notes
When you're running this many wires into a single device, things can get hot. The Targus USB-C Quad HD Docking Station is built of a mixture of ABS plastic and aluminum, which is ideal for helping to dissipate that heat. Even though there aren't any clear venting spaces along the docking station, things stay cool enough to where you generally don't have to think about it.
Part of that heat is due to the fact these ports are capable of running a lot of current. The supercharged USB-C port can run 15W on its own. That's fantastic if you're trying to power peripherals or charge devices, but it's a little hectic when it comes to heat management. That's a part of the reason why this device has such a large body. It could be much smaller if there wasn't so much thermal energy to manage.
There's at least one fair criticism to level against this docking station. It's that there is almost no question the labeling on these ports could be improved. To their credit, they use industry-standard labeling. But the icons are somewhat small and muted. Because the ports themselves are actually scattered all over the docking station, if you're not well acquainted with what each port looks like, the weak labeling can be a source of confusion.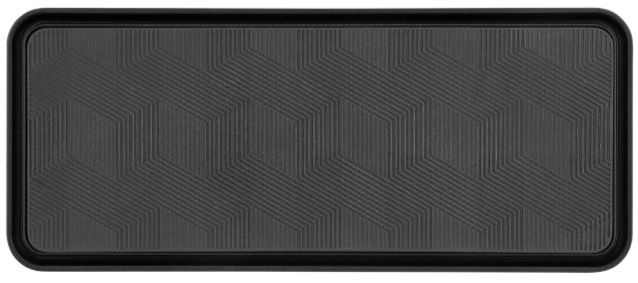 Other Considerations
Though you don't get a bunch of neat accessories along with this kit, Targus does include a three-year warranty along with the docking station.
This docking station is compatible with Macs, Chromebooks, PCs, and Android. It seems likely most people will be using these types of docking stations to adapt and expand the workspace surrounding a Mac. For that reason, it's worth noting the Targus USB-C Universal Quad HD Docking Station is also Thunderbolt 3 compatible. Great for people who are looking for the best speed they can get.
One more thing to note, this charging station isn't TAA compliant. Maintaining compliance with TAA standards basically means you're not sourcing products from areas with poor labor practices and untrustworthy material auditing. In other words, it's likely that most of this docking station was sourced from products made in China.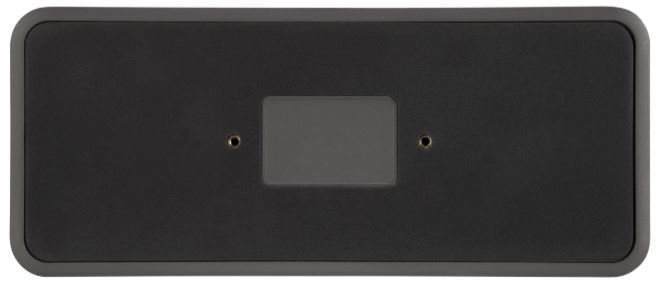 Who Should Choose Targus USB-C Universal Quad HD Docking Station?
The Targus USB-C Universal Quad HD (QVHD) Docking Station is quite compact. In spite of having numerous ports built into it, it remains wondrously low-profile. With the included mounting kit, it's pretty simple to get this station hidden away or out of sight. Even if its atop a desk, this station is small enough to free up desk space compared to virtually any similar device.
From a technical point of view, the Targus station supports either four HD displays or a pair of 2K UHD displays. Along with the ability to add numerous peripherals and even a joined Ethernet network, this docking station is highly effective at routing and replacing your wires and cables. Just about the only things it can't do are totally obvious, like its lack of support for DisplayPort.
What it does provide is equally clear. From top to bottom the station is well made, so it's easy to imagine it providing several years of service. Especially because it's adopted modern USB-C standards, which helps to make it more of a forward-looking docking station. What makes an excellent docking station is really a matter of detail. Targus seems to have gone out of their way to make sure those details were done right.
Meet Derek, "TechGuru," a 34-year-old technology enthusiast with a deep passion for tech innovations. With extensive experience, he specializes in gaming hardware and software, and has expertise in gadgets, custom PCs, and audio.
Besides writing about tech and reviewing new products, Derek enjoys traveling, hiking, and photography. Committed to keeping up with the latest industry trends, he aims to guide readers in making informed tech decisions.