If you tinkered around with different wireless options in the early 2000's, you're probably familiar with powerline access points. These devices use your home's electrical wires to transmit a signal across the house. The concept is simple: rather than daisy-chain multiple wireless routers or install Ethernet connections in multiple rooms, you use your home's existing systems for a quick setup.
In theory, this was a great alternative to traditional WiFi routers. It was cheaper, it didn't require you to hire an electrician, and it was just as fast as early WiFi. But as happens all too often with new technology, the powerline industry got bogged down in a battle over standards and protocols that kept the industry from advancing. Meanwhile, WiFi standards have been updated five different times since the year 2000, offering significantly faster speeds.
This is a shame, because the powerline concept is a good idea. It's cheap and convenient, and the latest standards are almost – but not quite – as fast as WiFi. Enter TRENDnet, with their brand new 1200 AV2 Wireless Kit. This kit does combines the benefits of both a powerline kit and a WiFi extender. Whether you simply want to extend Ethernet to another room or extend your wireless network's signal across the house, it achieves both.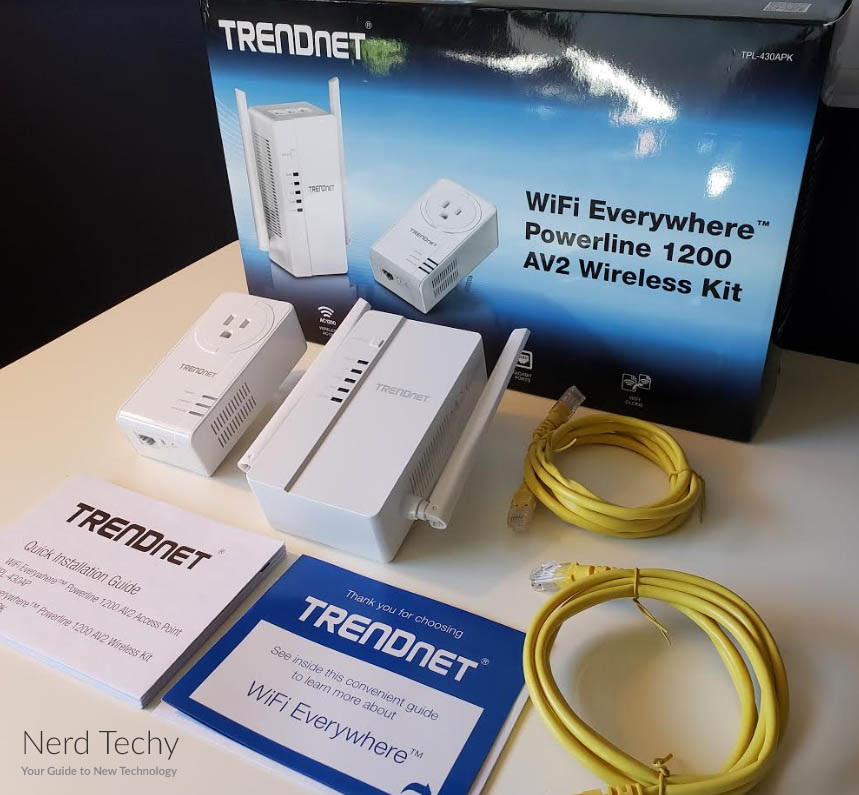 As should be clear by now, this wireless kit is not a traditional router. If that's what you were looking for, you'd be better off with the Netgear Nighthawk AX4, which we recently reviewed. This is a powerful dual-band router that offers excellent range, as well as four Gigabit Ethernet ports for connecting your stationary devices by wire. If you're trying to extend wireless coverage to a large house, but you just want to use a single traditional router, the Nighthawk AX4 is well worth considering.
Design and Construction
As befits a powerline internet kit, the 1200 AV2 includes not one but two different components. The first is the TPL-421E, which is the main powerline adapter. It measures 5 inches high by 2 ½ inches wide by 1 inch thick. This is fairly large, but TRENDnet put some thought into the design, and built it so that when the adapter is plugged into the bottom outlet, the top outlet will be clear and available. In addition, there's also a three-prong pass-through outlet, so you can continue to use the bottom outlet as well.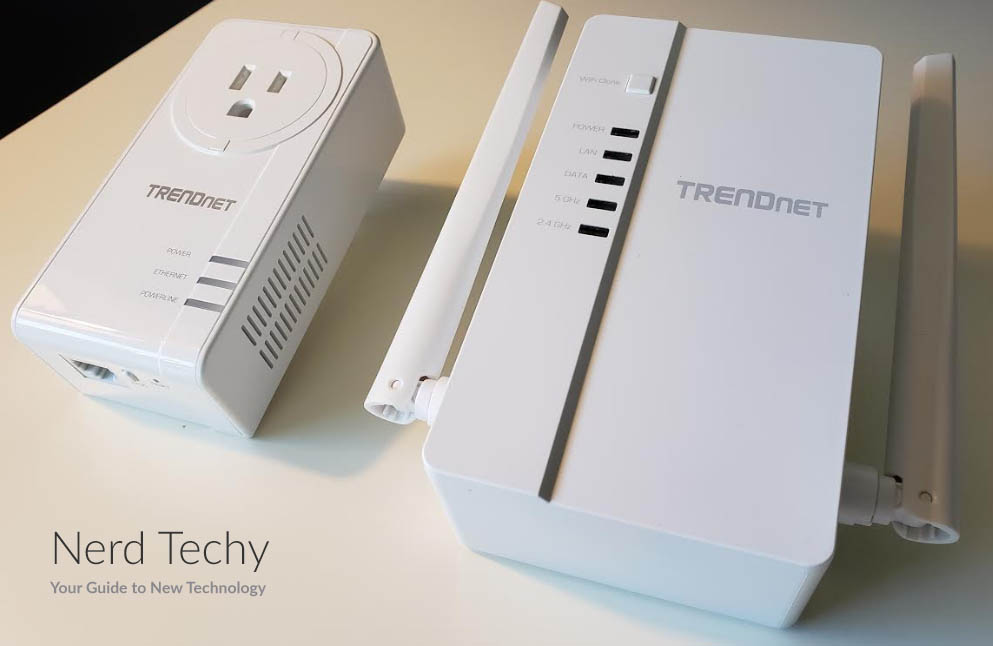 The box itself is clean and white, with a trio of LEDs on the front that indicate when it's powered, whether it's connected to your router via Ethernet, and whether it's connected to an access point. By default, these LEDs are all green. However, when your powerline connection to the access point is weak, the bottom LED will turn orange as a warning.
The bottom of the TPL-421E, you'll find a Gigabit Ethernet input port for connecting your powerline kit to your router. You'll also find sync and reset buttons that we'll talk about in more detail later. For now, all we'll say is that the sync button is easy to locate and press, while the reset button is recessed so you aren't able to press it by accident while you're handling the unit.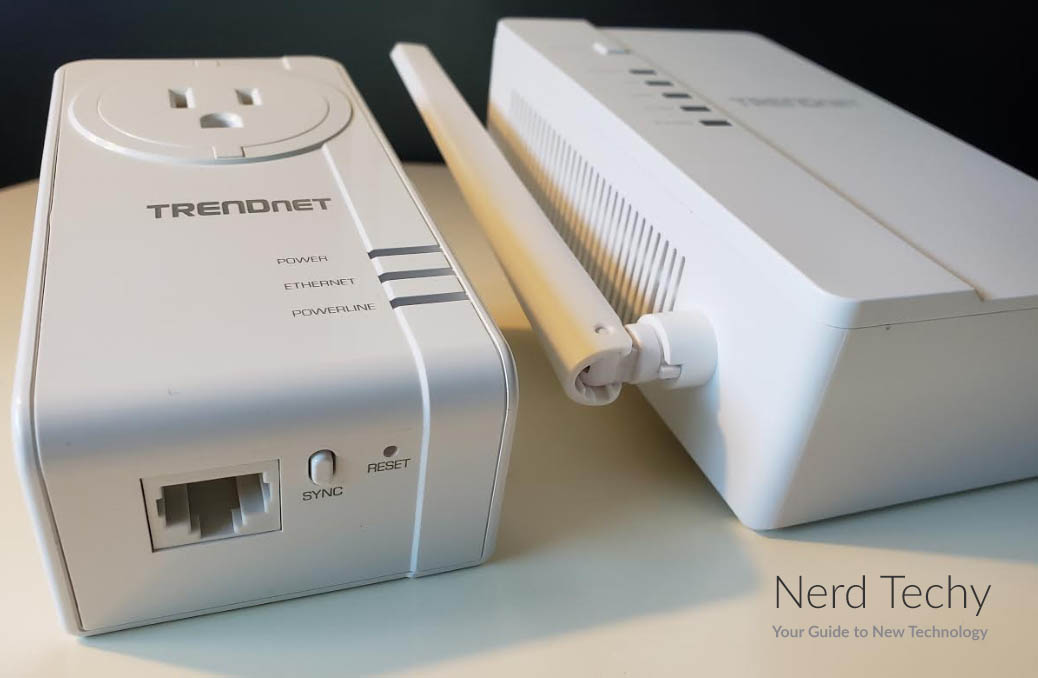 The TPL-430AP is the second half of this kit, and it's the wireless access point itself. It measures slightly larger than the powerline adapter, at 5 ¾ inches high by 3 ¼ inches wide by 1 ¾ inches thick. Like the powerline adapter, it's designed to be plugged into the bottom outlet, and to leave the top outlet open. However, it doesn't offer a pass-through plug, so you're going to need to use it on an outlet where you can spare the bottom half. In addition, it features a pair of external pivoting antennas, which can be rotated to point in any direction.
The access point has five LED indicators on the front, most of which are similar to what you'd see on a standard router or wireless access point. From top to bottom, these are: a power light to indicate that the unit is plugged in, a LAN light to indicate an active connection to your router, a data light to indicate that you're connected to the internet, and separate 2.4 GHz and 5 GHz indicator lights that tell you when there's an active connection on each band.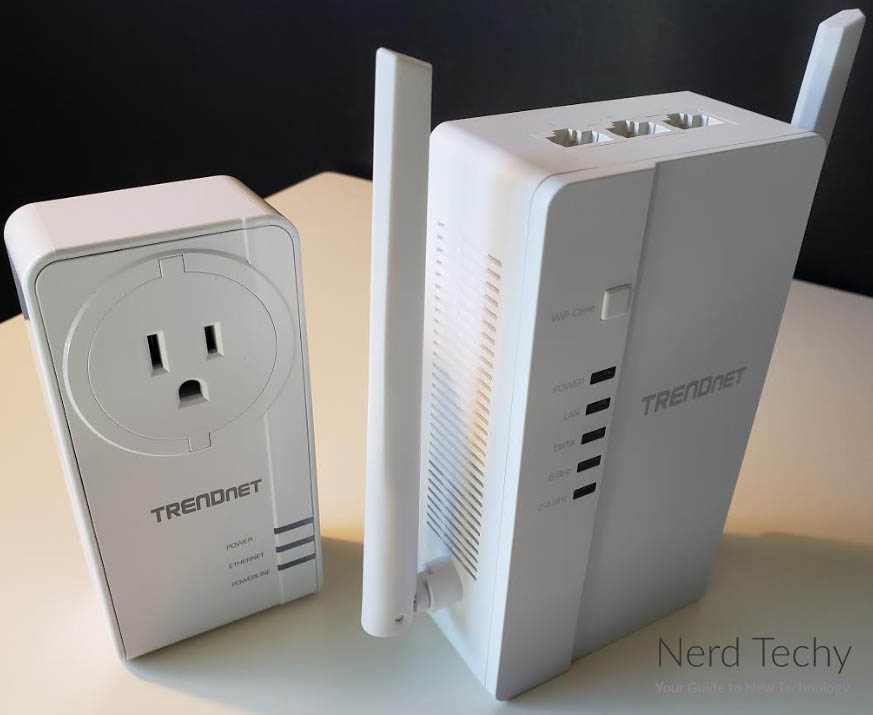 On the bottom of the TPL-430AP, you'll find the same sync and reset buttons that are located on the TPL-421E powerline unit. In addition, you'll also find a button for cloning your existing wireless network. This is a convenient feature for quickly extending your existing network, since you won't need to worry about any complex configurations if you don't want to.
The only thing we didn't like about the design was the placement of three Gigabit Ethernet ports on top of the wireless access point, rather than underneath. On the one hand, this makes it easy to quickly connect and disconnect your wired devices. On the other hand, it means that your cables will droop awkwardly over the top of the unit, instead of plugging elegantly into the bottom.
One thing you've probably realized by now is that the 1200 AV2 isn't suitable for outdoor use. If you need to extend your wireless network to the outdoors, we recently reviewed several outdoor WiFi range extenders that are more than up to the task. No need to worry about rain, cold, or other weather damage.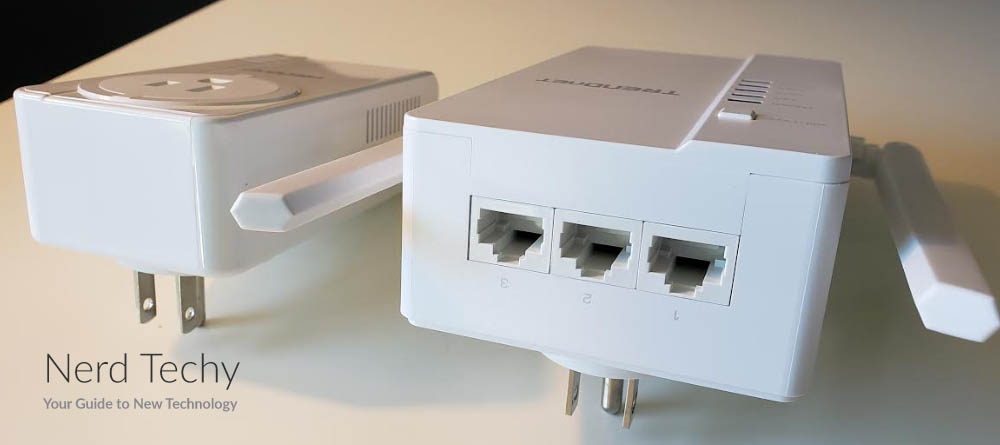 Setup and Compatibility
As we've already mentioned, the 1200 AV2 doesn't require a complex setup or even a wizard. The reason for this is that you're actually plugging in directly via Ethernet. As a result, all you need to do is plug everything in and you're ready to go. By default, the password and network name on the range extender is "HomePlug", but simply by pressing the sync buttons on both units, you can set the 1200 AV2 to mirror your home's wireless network name and access key.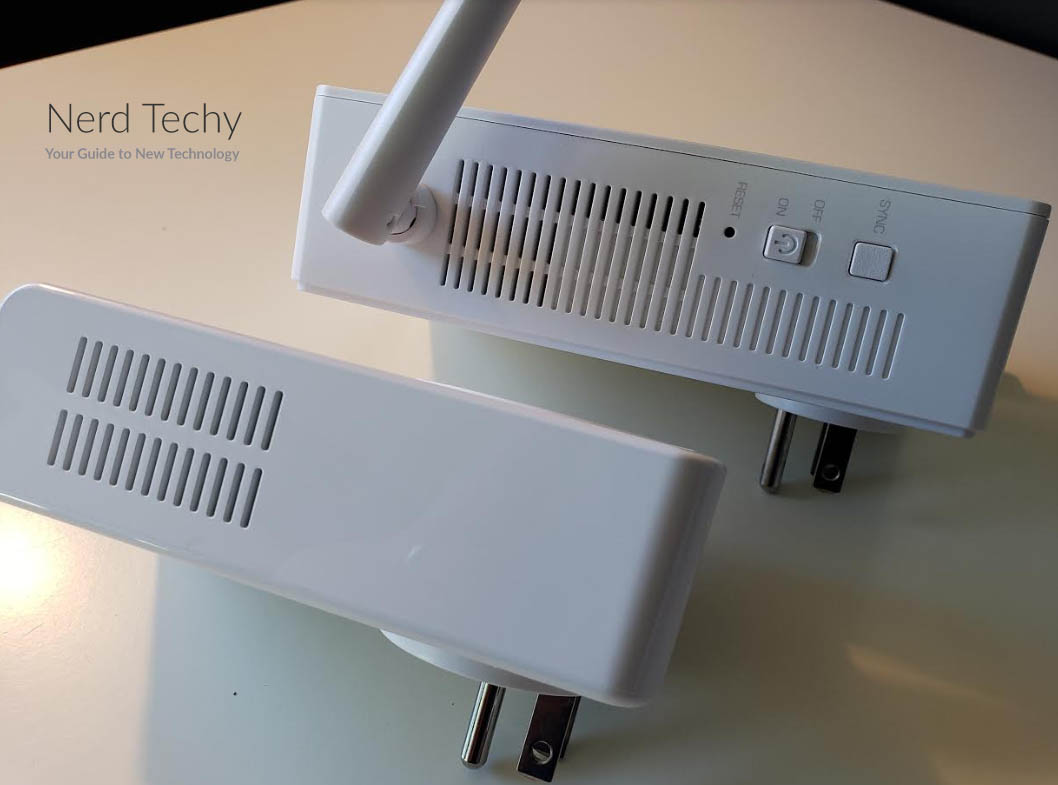 As far as setup goes, that's about as simple as it gets. That said, there's no app for changing your settings. Even more frustrating, when the device is connected to your router, there's no way to access it directly to change your settings. To do anything advanced, you need to leave the powerline adapter disconnected from the internet, and plug into it with an Ethernet cable. From there, you can access the settings by navigating directly to the IP address http://192.168.10.1. This is similar to how you'd set up a traditional router, but it's a frustrating interface when you need to disconnect your wireless extender just to make a few adjustments.
To make these changes, your 1200 AV2 will include an instruction card with login and password requirements for accessing administrative functions. Don't lose this card, or you'll have no way of making administrative changes.
If you're in the market for a simpler wireless extender, you should read our review of the Zyxel Multy U. These wireless extenders are available individually, but also in a two or three pack. They're not terribly powerful in terms of range, but they're very affordable. They're primarily designed for extending line-of-sight coverage, which is essential if you want to take advantage of the advanced features that are coming with 5G. If you have a lot of smart home devices, the Zyxel Multy U is an ideal choice.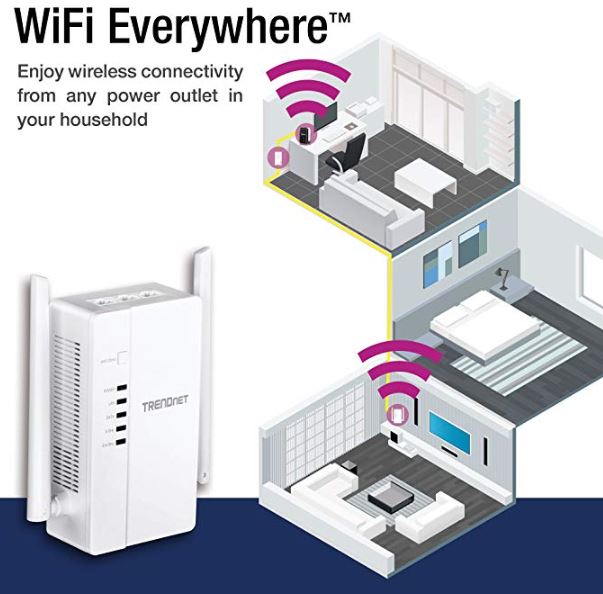 Speed and Connectivity
Like all powerline kits, the 1200 AV2's signal depends on your electrical wiring. Since electrical wires weren't designed for carrying a signal, the signal degrades much faster than it does over a similar length of Ethernet cable. As a result, while you don't typically have to worry about the length of an Ethernet run in a residential context, powerline units are limited by how much electrical line they have to run through. The 1200 AV2 is rated for a range of 300 meters. Keep in mind that this isn't 300 meters in a straight line. This is 300 meters of electrical wire, which includes twists and turns through walls, and potentially runs down to the circuit breaker and back.
Both halves of the 1200 AV2 combine for a total power draw of 15 watts, which is comparable to a pair of bright LED light bulbs. That's not bad at all for power savings. Its official speed rating is 300Mbps on the 2.4 GHz channel, and 867 Mbps on the 5 GHz channel. However, we've looked at some user benchmarks for different distances. Here's what we found.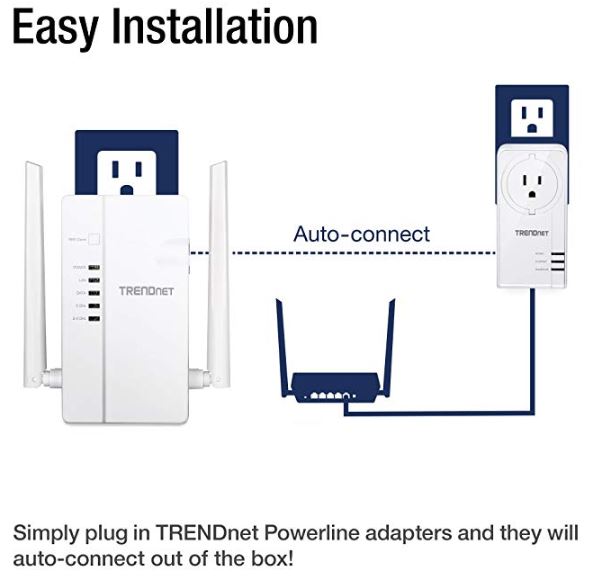 With both units connected on the same circuit, you're looking at an actual transfer rate of 105 Mbps up/37 Mbps down on the 2.4 GHz channel, and a rate of 154 Mbps down/36 Mbps down on the 5 GHz channel. This is respectable, but a far cry from the advertised transfer rates. If you move the access point to a different circuit than the powerline adapter, so the signal needs to run all the way to your circuit breaker and back, your speeds drop to around 79 Mbps down/28 Mbps up at 2.4 GHz and 80 Mbps down/21 Mbps up at 5 GHz. Now, these are benchmarks we found on the internet, and your results will be different depending on your home's unique wiring. Nevertheless, we think we've made our point; connection speed still suffers somewhat when you're using a powerline unit.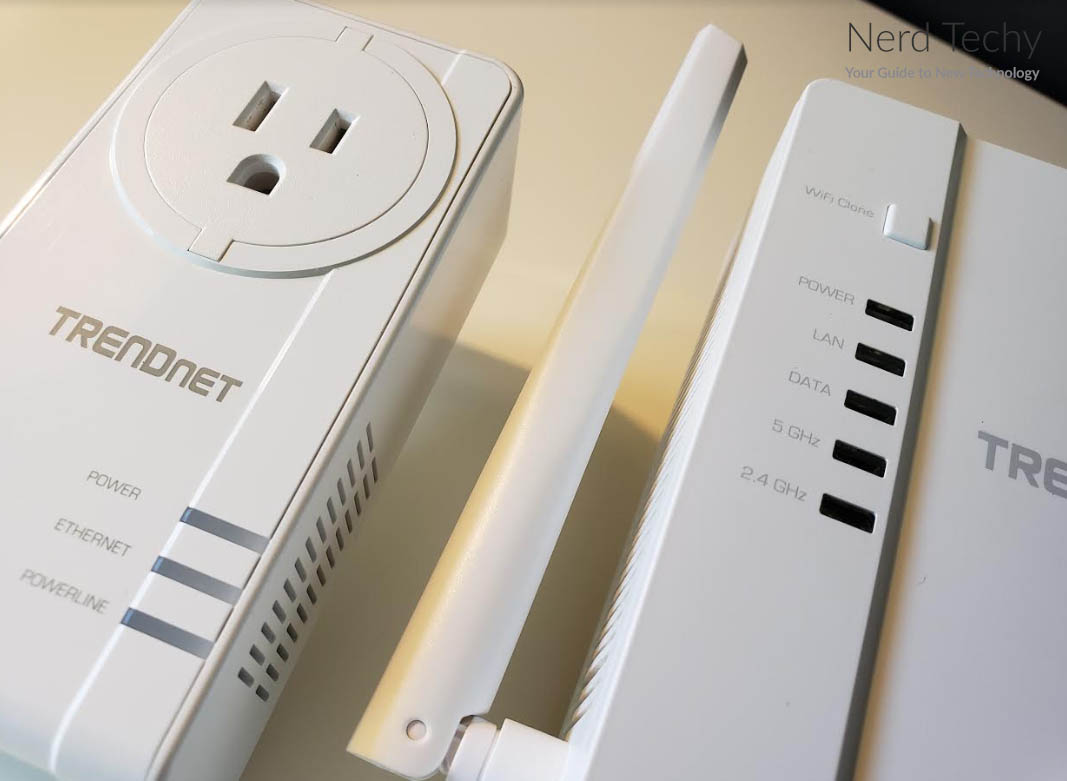 Final Verdict
So, is the WiFi Everywhere Powerline 1200 AV2 worth getting back into the powerline market for? Yes, if that's what you want, but it's not for everybody. As we've demonstrated, the connection speeds aren't quite what you'd expect from a quality wireless router. While there's practically no difference when the two halves of the device are close together, you'll experience a steep drop-off in performance when the devices are on opposite ends of the house.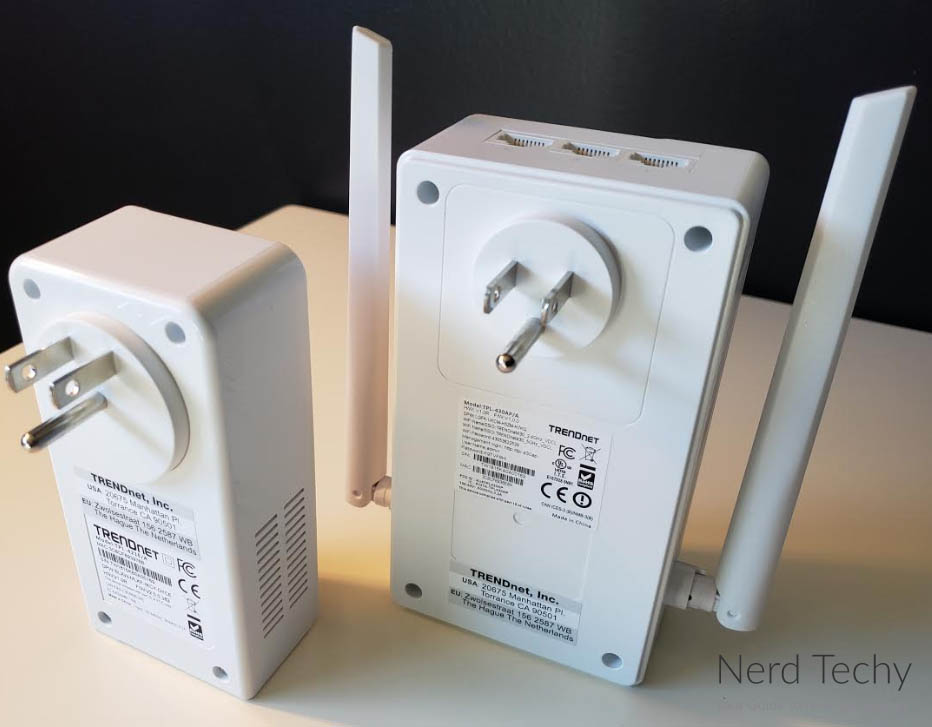 That said, setting up a traditional wireless extender can be a headache. And if you want to have an Ethernet port available in a new room, you'll need to run wires and install a new port. Unless you're an experienced do-it-yourselfer, this means hiring an electrician. Considering the headache and expense involved with either option, sometimes it just makes more sense to install a powerline extender.
Finally, the 1200 AV2 is user-friendly. If you're not experienced with configuring wireless networks and you're not interested in learning how, it can just be easier to install a powerline extension and leave it at that. That's a lot of good reasons to install one of these puppies, provided you don't need a blazing-fast connection speed.
Meet Derek, "TechGuru," a 34-year-old technology enthusiast with a deep passion for tech innovations. With extensive experience, he specializes in gaming hardware and software, and has expertise in gadgets, custom PCs, and audio.
Besides writing about tech and reviewing new products, Derek enjoys traveling, hiking, and photography. Committed to keeping up with the latest industry trends, he aims to guide readers in making informed tech decisions.