In the past few years, WiFi service has become less and less optional. At home, we have all kinds of smart devices, and all of them require an internet signal. We also spend more time than ever on our smartphones.
The better your WiFi signal, the less data you'll burn through on a daily basis. WiFi is also important for businesses, and not just for commercial purposes. If your business is open to the public, free WiFi is a great perk to offer them.
Note: At no extra cost to you, we may earn a commission for purchases using our links. Learn more.
So, how do you get the best WiFi coverage? One way is to use a more powerful router. High-quality routers offer far more coverage than lower-quality ones, and it's a big reason they cost more. But eventually, you're going to reach a point where the router's signal degrades.
At that point, you'll have more choices. One option is to use a mesh router system, which combines multiple overlapping routers in one network. Another option is to use one or more WiFi range extenders. A range extender is similar to a router in that it sends and receives WiFi signals. However, it can't manage traffic to and from the internet the way a router can. Instead, it serves as a bridge between your device and your router.
Finding a good range extender is particularly important if you need outdoor coverage. Even the best indoor router isn't designed to cover a large outdoor area.
Meanwhile, an indoor range extender would fail as soon as it got rained on. These devices aren't just useful for getting coverage in the outdoors. You can also use them to spread coverage to multiple buildings. If you want coverage in your barn or separated garage, you can simply extend your home's network.
Choosing the Best Outdoor WiFi Range Extenders
Today, we're going to review three of the best outdoor WiFi range extenders. These are all well-engineered devices with the ability to spread your signal over long distances. They're also simple enough for the average person to install. You don't have to be a wireless networking guru to get them set up.
That said, there are also major differences between our three choices. Obviously, we'll have to look at the physical design, and how they're constructed. We'll need to consider how you install them, and what kind of power supply they require. And of course, we'll discuss the wireless signal strength. After that, we'll make a final comparison between the three. Let's take a closer look, and see how they stack up!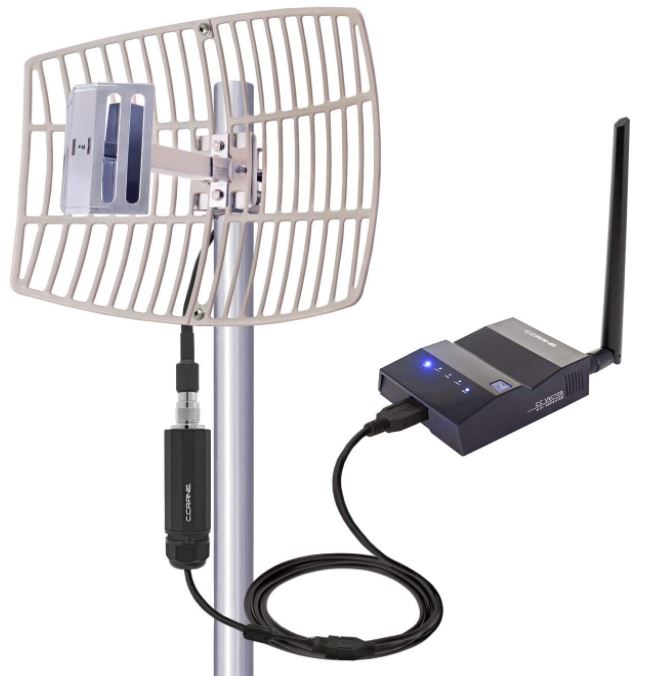 CC Vector Extended Long Range WiFi Receiver System
The CC Vector Extended Long Range WiFi Receiver System looks less like a WiFi antenna and more like a satellite dish. It's roughly rectangular, although the parabolic shape requires it to have bowed edges. It's also skeletonized, which helps keep it lightweight. The total size is 15 inches wide and 10 inches tall, with a central receiver that protrudes by 8 inches.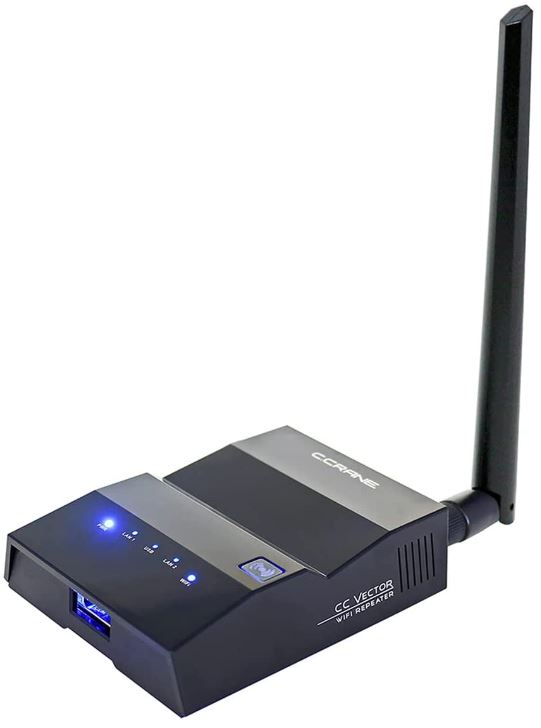 This antenna is specifically designed to supply a WiFi signal to outbuildings like barns and guest houses. It's attached to an aluminum rod, and can be bracketed to the outside of the building.
A little dongle hangs down from the back center, and sports in a waterproof connection. A 30-foot cord connects there, and you run the cord inside of your house. Because this involves drilling through an exterior wall, you'll need a drill at bare minimum. However, the kit includes tubes of silicone grease and sealant. That way, you can weatherproof any holes you've just put in your exterior wall.
The cord terminates in a USB Type-A plug, which goes into the back of a wireless repeater. The repeater is a small black device about the size of a smartphone. It has indicator lights on the top, similar to a router, along with a small adjustable antenna. It also has a reset button, so you can reboot it if there are any issues.
This extender doesn't just supply a WiFi signal. The repeater has a pair of Ethernet ports, so you can also connect your wired devices. Next to the Ethernet ports is a round DC power port, and a barrel-style DC power adapter is included. This adapter powers not just the repeater, but also the outdoor antenna.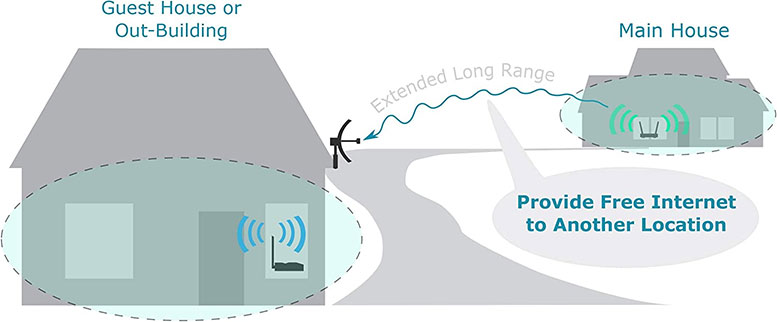 Performance & Connectivity
With most WiFi devices, the direction of the antenna only makes a marginal difference. The CC Vector antenna, on the other hand, has a directional, parabolic design. This design has two advantages. First and foremost, you get incredible range.
With an unobstructed line of sight, the maximum range is three miles. Even under normal conditions, with trees and hills in the way, you'll get a signal over half a mile away. Another advantage of the parabolic design is that you'll get less interference. Because it's so directional, it can be focused directly on your router.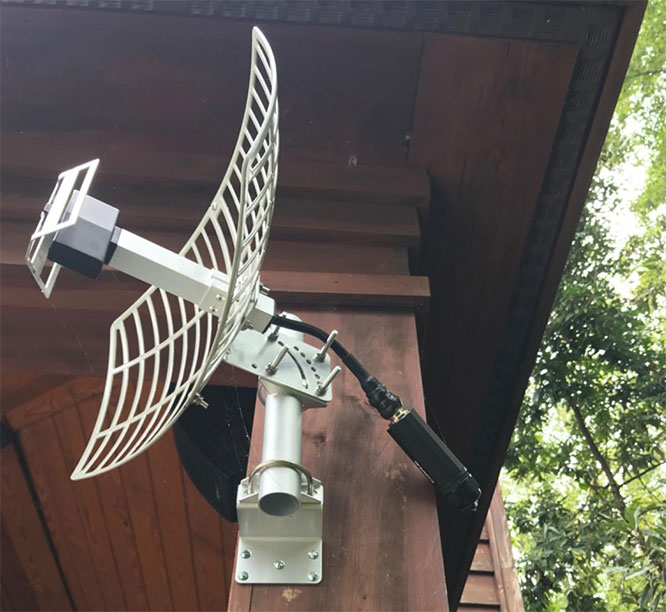 This range extender has a relatively slow data speed of 150Mbps. It's not suitable for gaming or for streaming videos on multiple devices. This is mostly because it only utilizes the 2.4GHz WiFi band, not the faster 5.0GHz band. Then again, the repeater itself has a wide coverage area. It's also compatible with 802.11b, g, and n, although it's not WiFi 6-compatible.
If you're looking for something that takes up less space, consider the Rock Space AC1200 WiFi Range Extender. It's a rectangular block with antennas, which you plug right into an ordinary duplex outlet. Installation is absurdly simple, but it's not designed for outdoor use.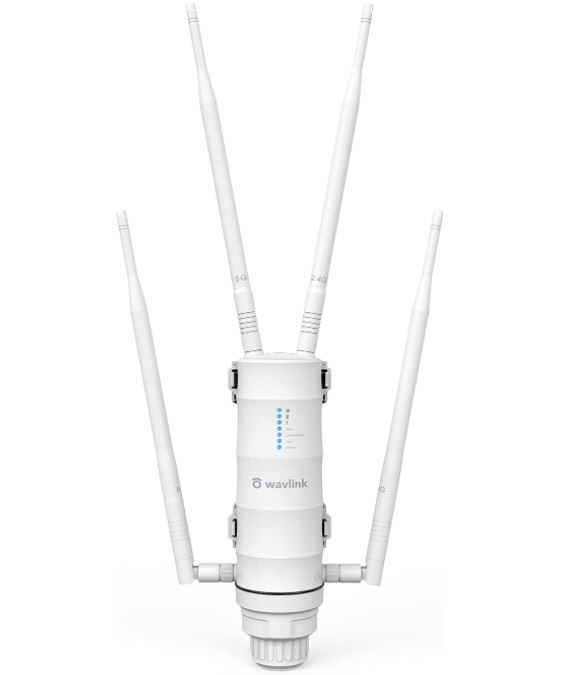 WAVLINK AC1200 High Power Outdoor Weatherproof WiFi Range Extender
WAVLINK is a company that's well-known for their connectivity devices and adapters. Not long ago, we reviewed the WAVLINK USB-C Universal Docking Station. It worked very well, as have most WAVLINK products we've tried. So it only made sense to examine their outdoor range extender.
The WAVLINK AC1200 High Power Outdoor Weatherproof WiFi Range Extender has a compact design. The main housing is a simple white plastic cylinder, and measures 7.09 inches high, with a 1.97-inch diameter. There are four swiveling, tilting antennas, two of them located on the top, and two more on the sides. A column of blue lights sits in the center, so you can see the current signal status.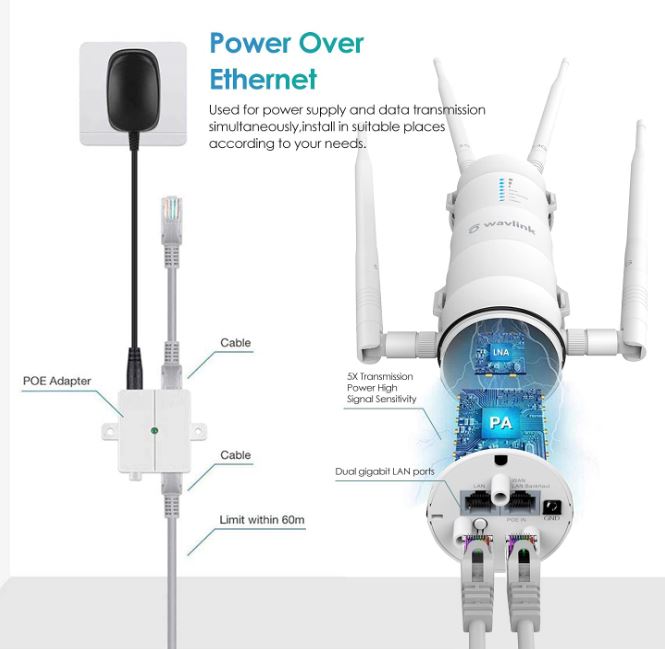 This is an incredibly tough device. To begin with, it has a weather-resistance rating of IP65. The 6 is the highest possible level of dust-resistance, so dry environments are no concern. The 5, meanwhile, means that you're getting enough water-resistance to withstand a thunderstorms. Speaking of storms, there's even a built-in lightning arrestor that can absorb a 15kV shock. Keep in mind that the arrestor is single-use, and the range extender will be broken after a large shock. However, it will keep the lightning from proceeding down the wire into the house and damaging your other electronics.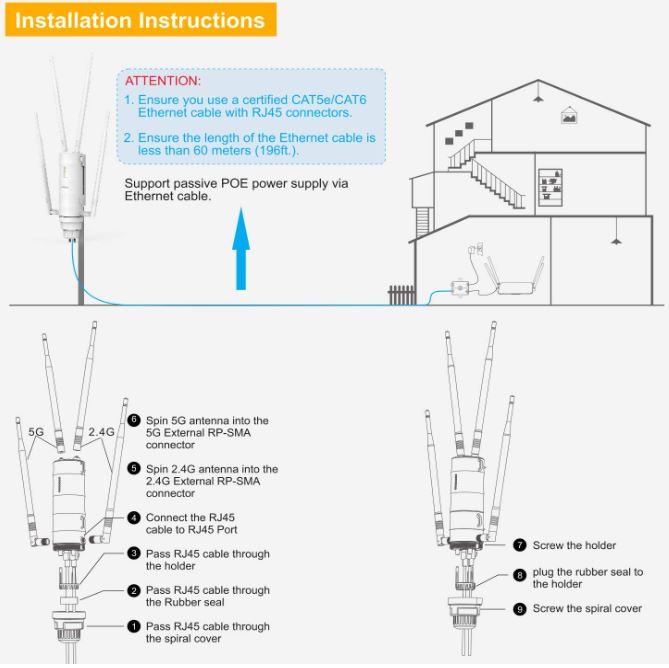 The WAVLINK range extender is designed to be strapped to a post or other vertical mount. It's easy to install with just a pair of zip ties. However, you'll need a supply of PoE power. PoE, or power over Ethernet, is a way of sending a current down an Ethernet cable. You'll need a PoE router or injector, but you won't have to run a separate power cable to your extender.
Performance & Connectivity
This is a dual-band range extender. In addition to 300Mbps over the 2.4GHz channel, you'll get 867Mbps over the 5GHz channel. That's a total of 1,167Mbps. In theory, you can get full Gigabit speeds on a single device. You also get a respectable amount of range. The signal extends for around 300 yards, depending on how many obstructions are in the way. That's enough to cover a 600-yard diameter circle.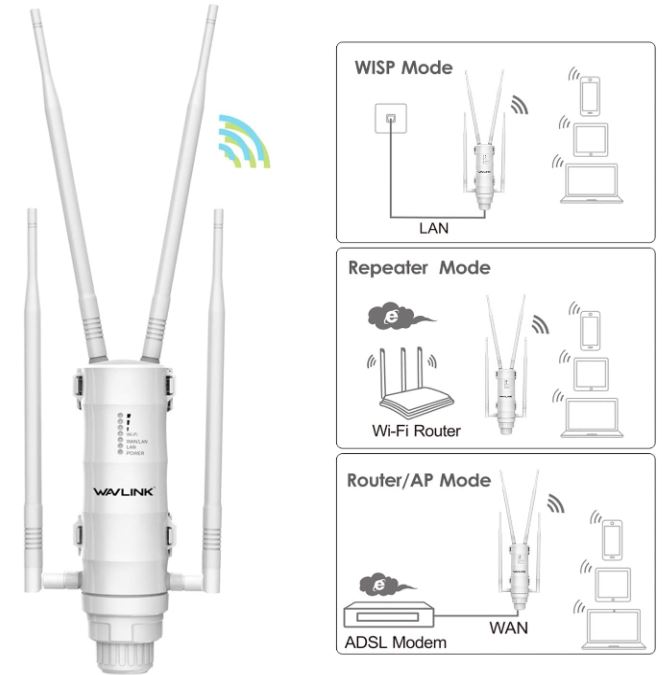 You can use the WAVLINK extender in three modes, each of which works a bit differently. Here's a quick overview:
WiFi range extender – This is the default mode, and it works like any other range extender. You pair it with your router and it extends your home's network.
Wireless access point – In this mode, you can connect to a wired network, and add a wireless signal on top of it.
Easymesh – In Easymesh mode, the range extender turns into an Easymesh client. This way, it can be used to build out a mesh network with other range extenders. However, that can be tough for novices to do.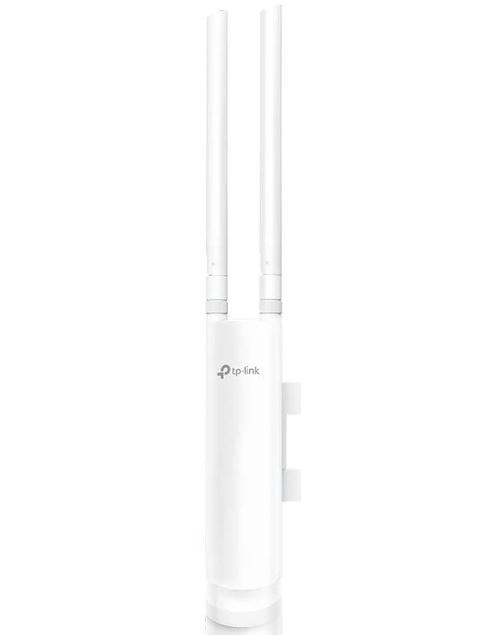 TP-Link EAP225-Outdoor
TP-Link is another well-established company. Among their many offerings, we recently reviewed the TP-Link Archer A6 (C1200) Wireless Router. It's one of the better routers out there, and we were excited to get a look at their outdoor WiFi extender.
The TP-Link EAP225-Outdoor is similar in design to the WAVLINK extender, only smaller. It's also a vertical white cylinder, but with a smidge over half the diameter. It also has two antennas instead of four, with the side antennas completely absent. With the antennas fully vertical, it's about 17 inches tall. If you bend them down, the total height is less than nine inches, so you can tuck it up under an eave.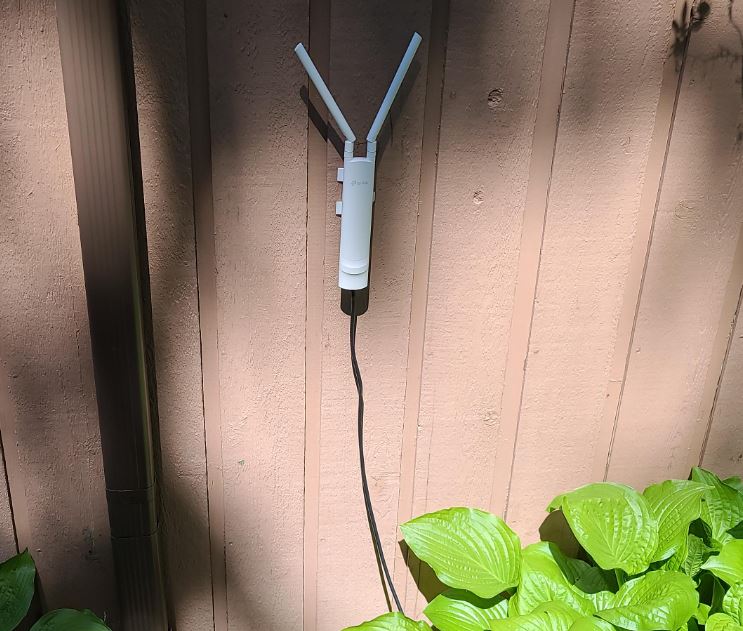 Like the WAVLINK range extender, the EAP225-Outdoor has a weather-resistance rating of IP65. Rain, dust, and other foul weather are no concern. It also has a 6kV lightning arrestor. Not quite as strong as the WAVLINK's but still enough to withstand a nearby strike.
Another thing these two range extenders have in common is their power supply. The TP-Link extender requires a PoE power supply, along with a PoE router or injector. This is convenient in the sense that you don't have to run any extra cables. However, it would be nice to have the option to plug into a normal AC power supply.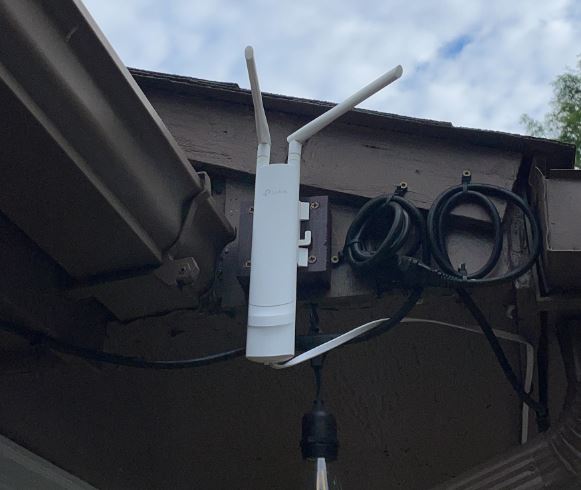 Performance & Connectivity
The EAP225-Outdoor is billed as a 1,200Mbps range extender, which is almost accurate. If you want to split hairs, it's an 1,167Mbps extender. You get 867Mbps of bandwidth on the 5GHz channel, and 300Mbps on the 2.4GHz channel. Once again, you're looking at a lot of similarities to the WAVLINK router. However, the TP-Link router has slightly reduced range, somewhere around 200 yards. So it's not as desirable if you need to cover a large area with one range extender.
However, there's a way to expand this range even further. When you set up multiple EAP225-Outdoor units, they'll link together to form a mesh wireless network. If you have several overlapping access points, this mesh network can even self-heal. If one device stops working, others will pick up the slack as much as possible.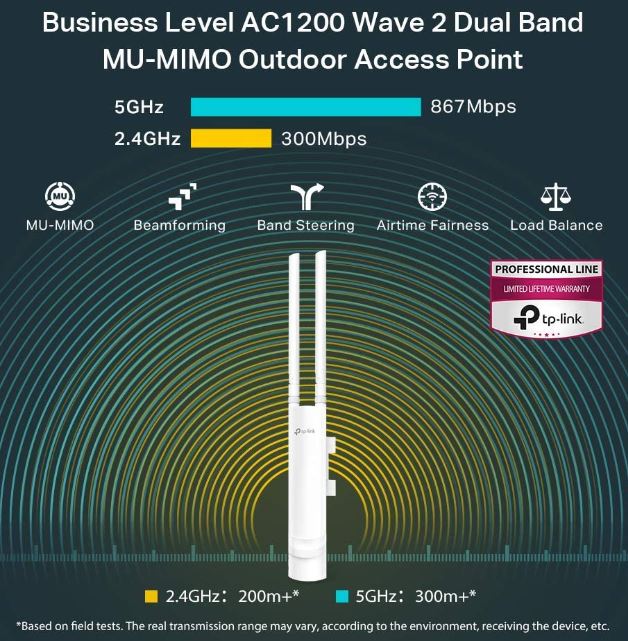 Another neat thing about this access point is the smartphone app. With the app, you can view a diagram of your network and monitor the flow of data. You can view the activity of individual devices, and even set data caps for particular devices. Best of all, you don't even have to be on site to do it. With TP-Link's subscription cloud service, you can administer your network from anywhere on Earth.
Final Verdict
All three of these outdoor WiFi range extenders are ideal in the right situation. But which one is right for you? Let's go over what we've learned.
We started out by looking at the CC Vector Extended Long Range WiFi Receiver System. This extender doesn't have all that much bandwidth, with a maximum of 150Mbps. However, it makes up for that with its incredible range – as far as three miles under ideal circumstances. If you're trying to connect a distant outbuilding, you're looking at the perfect solution.
Next, we examined the WAVLINK AC1200 High Power Outdoor Weatherproof WiFi Range Extender. This extender has an impressive 1,167Mbps signal strength and a range of 300 yards. It's also exceptionally weatherproof, with a powerful lightning arrestor system. If your area has a lot of foul weather, this is an excellent choice.
Last, we reviewed the TP-Link EAP225-Outdoor. This is similar in many ways to the WAVLINK router, but with a slightly shorter range. On the other hand, it can also be used to create a self-healing mesh network. As a result, it's an excellent choice when you need to cover an extremely large area.
Please consider sharing:
Note: At no extra cost to you, we may earn a commission for purchases using our links. Learn more.