Nowadays, we expect our connected devices to work just about everywhere. But this wasn't always the case. In the year 2000, for instance, wireless internet was a novelty, and smartphones were nonexistent. Even as recently as 2010, you might have had three or four online devices in your home. A PC, a laptop, and a handful of smartphones were about all the average family was using. But nowadays, we have streaming media everywhere. You can literally watch the entire extended edition of The Lord of the Rings in 4K on your tablet. Needless to say, old-school wireless coverage simply isn't enough.
Along the same lines, we've also entered the age of the Internet of Things (IoT). We're currently going through a transition period where people are fundamentally rethinking what exactly an online device is. Now, everything from LED lights to your toaster oven is getting its own internet connection. This in turn is changing the amount of coverage we need. For instance, it may no longer be sufficient to only have internet coverage inside your home. If you have WiFi security cameras, sprinklers, or other devices, good outdoor coverage is also a necessity.
Note: At no extra cost to you, we may earn a commission for purchases using our links. Learn more.
A WiFi range extender is one way of spreading your coverage throughout the entire property. Range extenders are not to be confused with a second router. They don't actually create a second wireless network. Instead, they simply act as an extension of your existing WiFi network. Depending on the model, you may even be able to connect multiple extenders to further increase your range.
Today, we'll be reviewing three of the best outdoor WiFi range extenders available for purchase. We'll begin by looking at the WAVLINK High Power Outdoor Wireless Access Point. This is a powerful extender with a bandwidth of up to 1200Mbps. Next, we'll review the TP-Link Omada EAP225 Outdoor. This is a Power over Ethernet (PoE) access point, with an optional cloud service. Finally, we'll check out the Meraki Go by Cisco. This is a more unconventional access point, which nonetheless offers excellent remote access. Which one is the best for you? Let's dig deeper, and see what we unearth!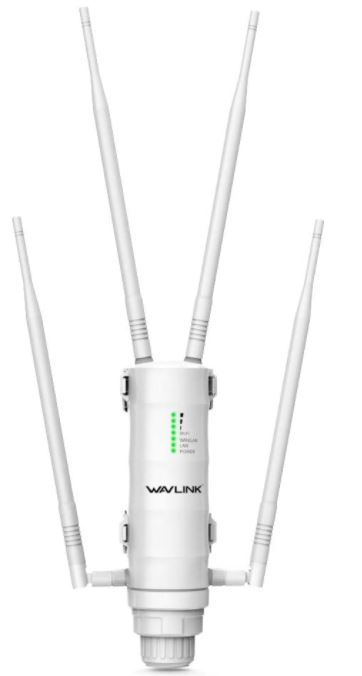 WAVLINK High Power Outdoor Wireless Access Point
WAVLINK are masters of connectivity and data transfer. Among their other offerings, we've been impressed by their USB Type-C universal docking station. So when we saw their wireless access point, we knew for sure that we had to give it a try.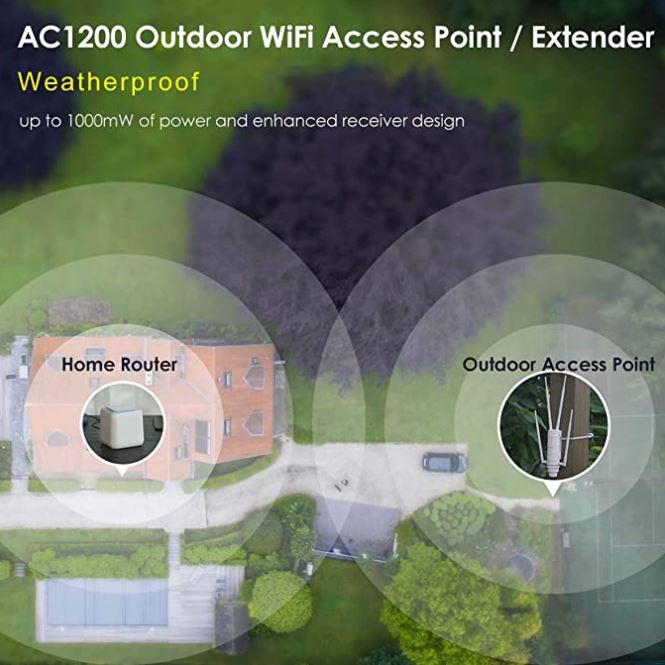 The WAVLINK High Power Outdoor Wireless Access Point has a cylindrical design. The overall profile looks almost like a water filter, with four antennas giving it a futuristic appearance. The housing is white ABS plastic, and comes with a separate bracket. The bracket itself can be screwed into any vertical surface, such as a lamppost or a tree. Then, the actual access point can simply be clicked in and out. This makes it easy to remove for troubleshooting, repair, or even replacement. You won't actually have to do any extra drilling unless you want to relocate the bracket.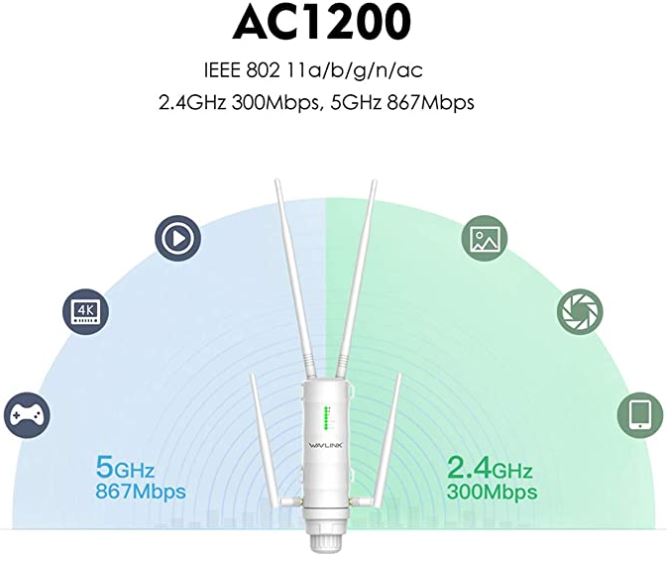 Another thing that makes installation easy is the ability to use either PoE or AC power. PoE is generally easiest, provided you're already using a PoE switch or injectors. That said, if you're not, it may be easier to use the AC power adapter. Just keep in mind that this will require you to install the device near a power outlet. The WAVLINK access point can also be connected via WiFi. This will require you to use AC power, but you won't have to run an Ethernet cable.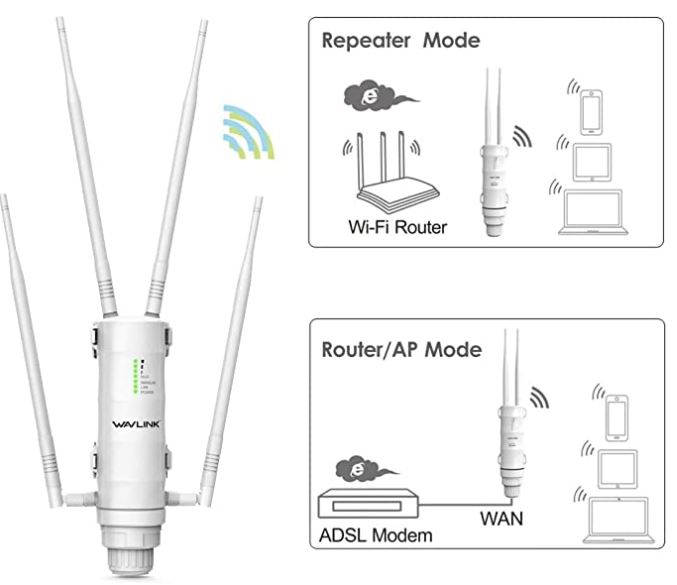 In terms of sturdiness, this range extender can stand up to most weather conditions. With a weatherproof rating of IP65, it's almost entirely dustproof. It can also withstand rain, as well as being cleaned with a hose. It can't be fully submerged, though. Be careful positioning it near the ground if it might flood. Mounting it high up, on the other hand, is perfectly viable. It has a lightning protection rating of 4KV. That's not enough to withstand a direct strike, but it's more than enough if the strike is nearby.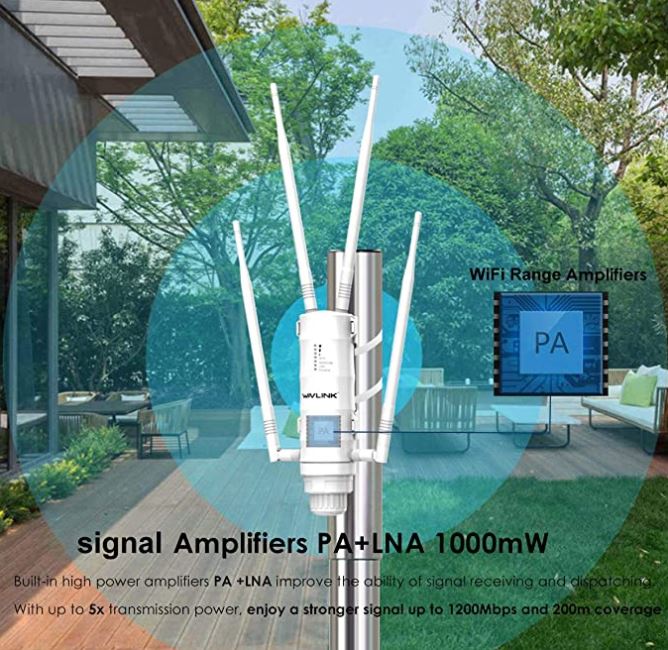 Performance & Connectivity
As with most modern wireless devices, the WAVLINK outdoor access point works on a dual-band system. This means you'll get different speeds depending on which band you're using. The 5GHz band is more powerful, with up to 867Mbps of bandwidth. However, because of the higher frequency, it has a shorter range. The 2.4GHz channel tools along at a slower, but still respectable 300Mbps. But it has a longer range of the 5GHz channel, pushing the limits of your connection even further. At closer ranges, you can actually be connected on both bands, for a theoretical maximum of 1,167Mbps. Coverage is generally good, but a lot depends on placement, as well as any obstacles. In edge cases, it can help to adjust the antennas to get a few extra yards of coverage.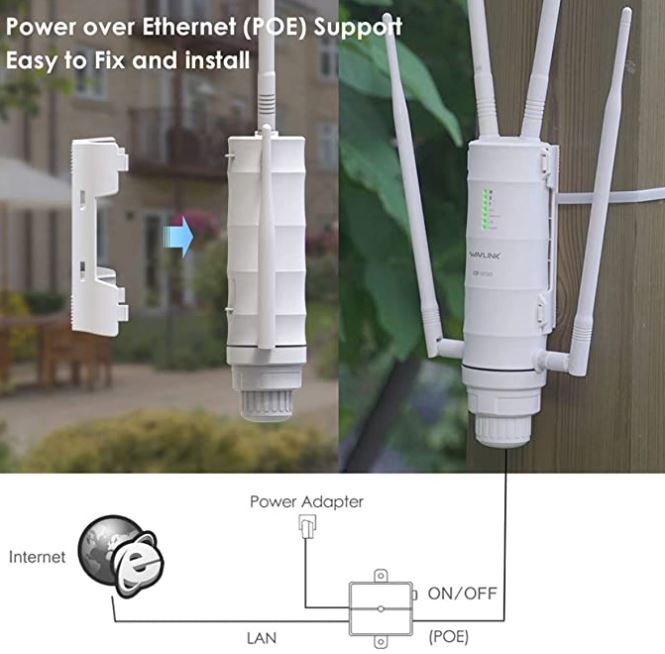 This brings us to the main reason you might want to use an Ethernet connection instead of wireless. If the access point is connected to your router via WiFi, the wireless bandwidth is effectively halved. For instance, say you're streaming a video. If it's coming in from the router at 400Mbps and going to your phone at 400Mbps, that's a total of 800Mbps. Suddenly, you're only left with 367Mbps for other devices. With an Ethernet connection, communications between the access point and the router travel by wire. This leaves all of your wireless bandwidth free for your connected devices.

TP-Link Omada EAP225 Outdoor
TP-Link is a brand that should be familiar to anyone who's shopped for networking equipment in the past. As just one example, they manufacture some of the most coveted Gigabit routers on today's market. Because of their sterling reputation, we were excited to get our hands on the TP-Link Omada EAP225 Outdoor.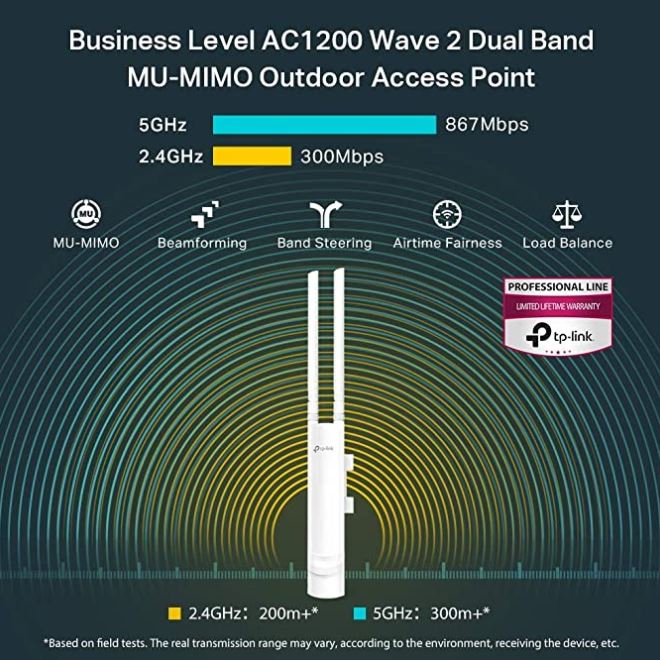 In terms of overall appearance, the EAP225 looks like a slimmed down version of the WAVLINK access point. It has a similar white housing, with an overall cylindrical shape, but about half the diameter. At the same time, instead of four antennas, it only has two. These are mounted on top, and can be unscrewed for storage or transport. With the antennas attached, the overall height is about 17 inches, which isn't terribly enormous. Without the antennas, it's less than nine inches tall, short enough to install discreetly under an eave.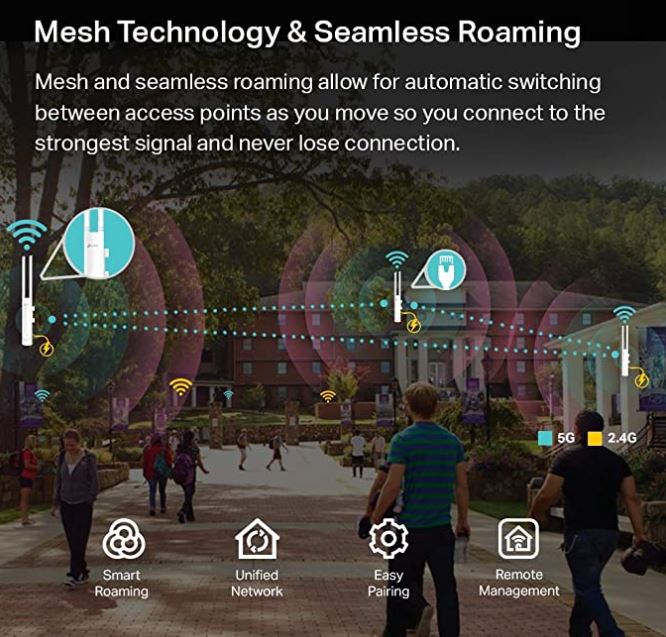 This range extender has a weather-resistance rating of IP65, right in line with the WAVLINK. Ordinary dust and rain are simply not a concern. Nor is washing the housing with water periodically to keep it looking sharp. One area where it does excel is lightning protection, where it can stand up to 6KV of performance. This is enough to withstand an even closer strike than the WAVLINK.
The major downside of the EAP225 is that it only works with a PoE power supply. There is no ordinary AC adapter. Even if you're connecting to your router via WiFi, you'll still need to plug a PoE injector in for power. This was an odd choice, since AC adapters are cheap. TP-Link could even have used a USB power supply.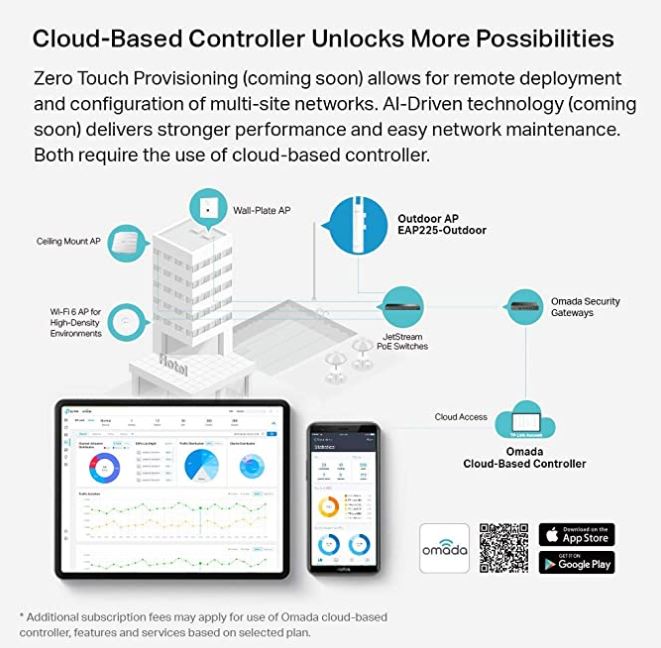 Performance & Connectivity
The maximum bandwidth of the EAP225 depends on what channel you're using. It's advertised as a 1,200Mbps access point, but it's more accurately a 1,167Mbps system. This is split between 867Mbps on the 5GHz channel and 300Mbps on the 2.4GHz channel. This makes it identical to the WAVLINK router in terms of speed. Keep in mind, though, that the signal isn't quite as powerful. It's tough to put an exact range on things, since there are so many variables involved in wireless signal range. But with a smaller chipset and fewer antennas, you're looking at a somewhat shorter range.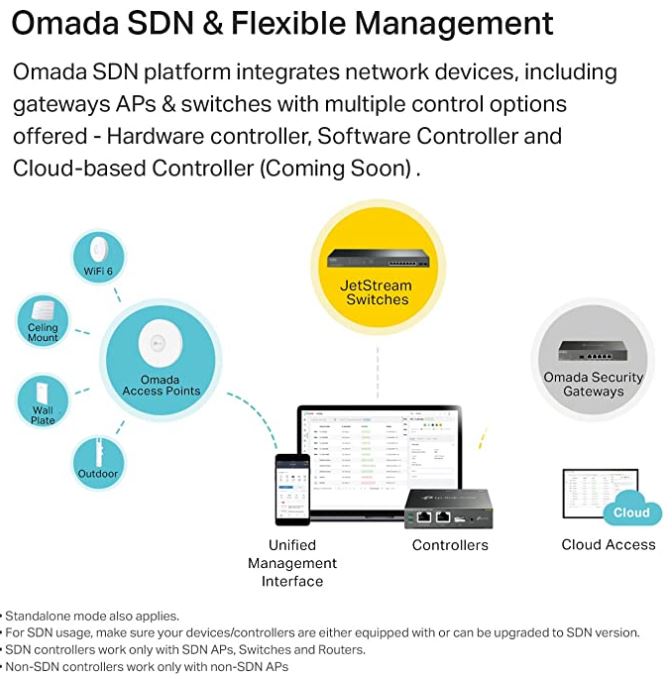 That said, you have a way to extend this range if need be. Yes, you can connect to your router via WiFi, with all the benefits and drawbacks that entails. Yes, you can connect via Ethernet. But you can also daisy-chain multiple EAP225 access points together to form a mesh network. If multiple access points are in range of each-other, this network can even be self-healing. In the event that one unit fails, others will form new connections to fill the gap.
This access point can be fully configured using the smartphone app. From there, you can monitor individual devices, set limits for them, and view traffic flow. This can also be done from anywhere in the world, via the cloud. That said, cloud service requires a monthly subscription, which may not be ideal for everyone.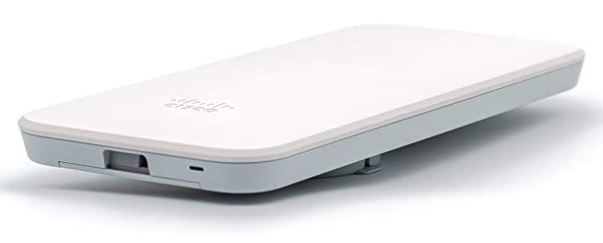 Meraki Go by Cisco
The Meraki Go by Cisco is in a slightly different category. Instead of a big mounted tube with antennas, it's a rectangular device a tad larger than a cell phone. This gives you a bit more flexibility in terms of installation. This access point can be installed anywhere you can put a switchplate. In fact, it includes a click-on mounting bracket that makes it look exactly like a switchplate. You also get your choice of power supply. The default option is to use PoE, but it's by no means required. The kit includes an AC adapter for connecting to a nearby power outlet.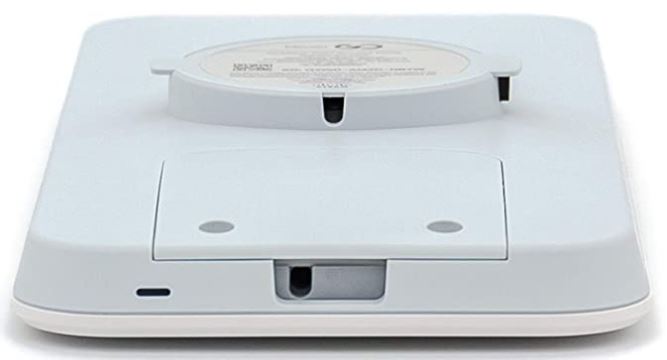 Despite this more minimalist design, weather-resistance is actually better than it was with our last two options. The rating of IP67 means it can withstand submersion, at least for up to half an hour. We wouldn't recommend installing it underwater, but it's no big deal if it gets dropped in a puddle.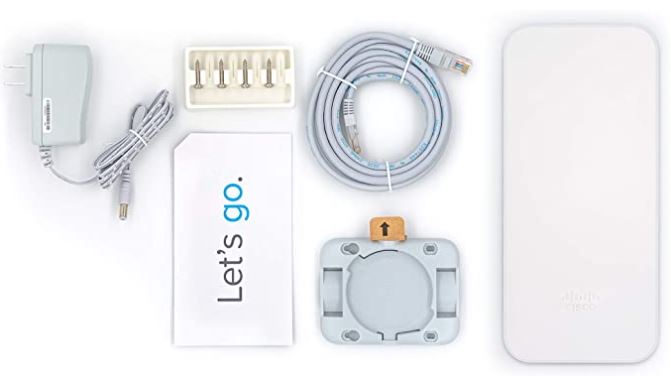 Performance & Connectivity
The Meraki Go can be connected in three different ways. If possible, Ethernet is your best option. First, you can maximize your wireless bandwidth. Second, you can take advantage of PoE power. That said, you can also use a WiFi connection if need be. And just like the EAP225, you can also use multiple access points to create a mesh connection. We regret to report that there's no stated maximum bandwidth, which is a bit disappointing from a Cisco product. That said, we had no issues streaming HD video from two devices. That's as much as you can reasonably expect from any access point.

One thing we very much appreciated was the cloud management system. The Meraki Go app is free to install on Android and iOS, and allows for control from anywhere in the world. Even better, there's no monthly fee, so you get lifetime access to remote monitoring and setup. The options are fairly robust. Not only can you block and limit individual devices, but you can also control content. You can block particular websites to reduce traffic flow, or create a separate guest WiFi network. This is particularly useful for businesses. You can offer free WiFi to your customers without giving them access to your business network.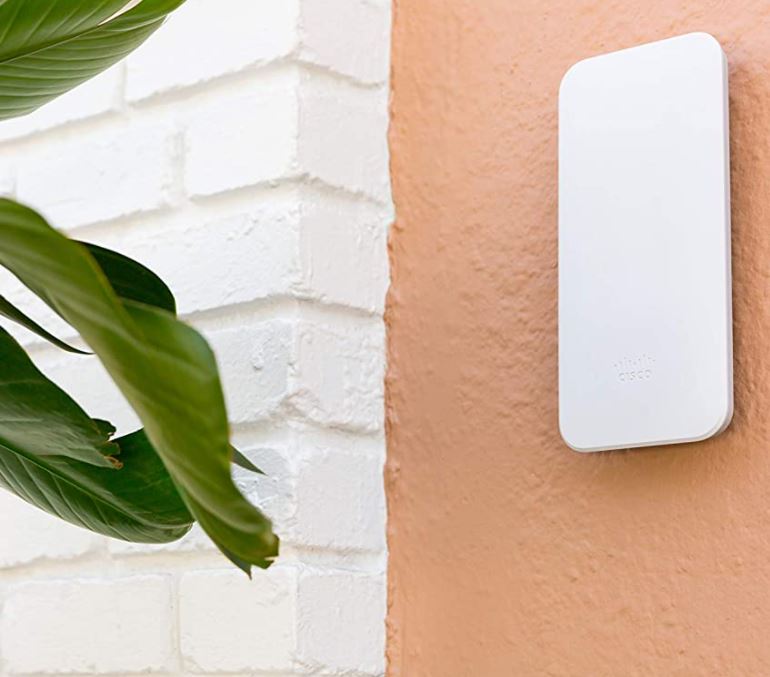 Final Verdict
Which one of these access points is best will depend largely on what's important to you. The WAVLINK High Power Outdoor Wireless Access Point is your best choice if you want the most bandwidth. It also has wide coverage, with a dual-band connection and four omni-directional antennas. If that's not enough, it can be powered by either Ethernet or AC power. On the downside, there are no cloud controls. You can only configure this access point locally.
The TP-Link Omada EAP225 Outdoor is a more understated, compact choice. It's a discreet option that can be installed in smaller locations and still cover a reasonably wide area. The range isn't quite as wide as the WAVLINK, but you get the same maximum bandwidth of 1,167Mbps. That said, the only way to supply power is via PoE, and cloud controls require a separate monthly subscription.
The Meraki Go by Cisco is the best choice if you need cloud controls. The speeds are adequate, but it's not as fast or as long-range as the last two options. But if you want to be able to manage your network from anywhere in the world, it's tough to beat. Thanks to these extra features, it's also a great choice for small businesses.
Note: At no extra cost to you, we may earn a commission for purchases using our links. Learn more.