Atomi Alpha Electric Scooter
Overall Design -

6/10

Power -

5/10

Battery -

8/10

Build Quality -

7/10
Summary
The Atomi Alpha is a sleek looking scooter that's undoubtedly visually attractive with a unique, colorful appearance. While it has sufficient power on flat ground, it noticeably struggles on uphill inclines. The smart app is fun to use, works well, and offers a good amount of customization.
Pros
Quick acceleration
Sleek and stylish design
Multiple safety features
Customizable lights via app
Decent power on flat ground
Cons
The kickstand barely works
Struggles on inclines
Screen is kind of hard to view in sunlight
It's no secret that living in a bustling city can be a nightmare when it comes to commuting. Public transport can be unreliable, expensive, and crowded. And driving your car can be even more stressful, not to mention the environmental impact.
Fortunately, there's a better way – the Atomi Alpha. This scooter is designed to help you navigate the city quickly, easily, and in style.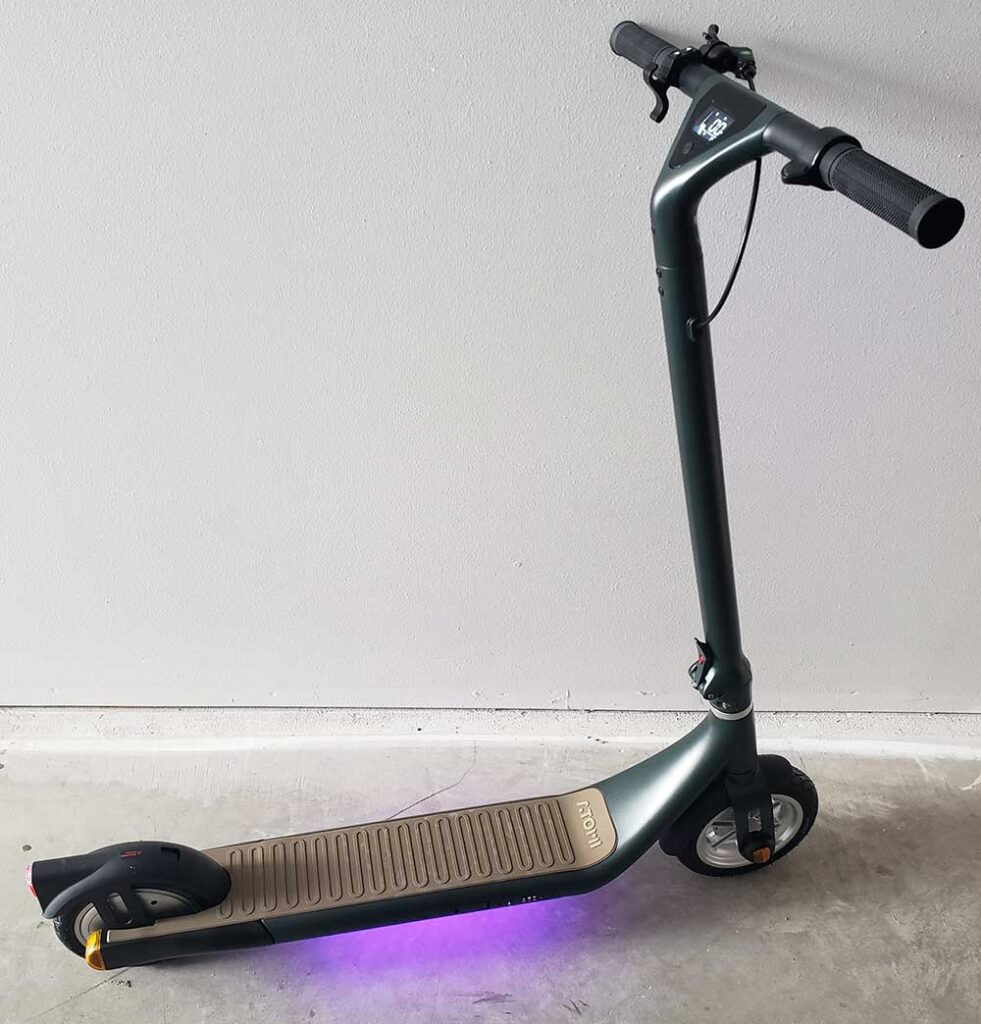 In recent years, electric scooters have become increasingly popular as a mode of transportation. They're easy to use, cost-effective, and eco-friendly. However, not all electric scooters are created equal.
Many have limited features, low-quality components, and poor battery life. The Alpha sets itself apart by offering a range of features that make it a top-tier option for those in search of a reliable, high-performance electric scooter.
In this review, we'll take an in-depth look at the Atomi Alpha, including its design, features, and performance. We'll also explore the pros and cons to help you determine whether it's the right choice for you. So without further ado, let's dig into the details!
Design and Features
The Atomi Alpha foldable scooter is a personal transportation device that's packed with innovative features and design elements. It's both sleek, stylish and functional, making it a popular choice for those who want a reliable and efficient way to traverse the city streets.
If you like variety in your electric scooter options, you'll be pleased to know that the Alpha electric scooter is available in Zinc White, Slate Black, and Pine Green. We're overall pretty happy with this range of colors.
It should be pretty easy for most people to find one that suits them. This is a highly-attractive scooter that's designed with an eye for detail and style. Its sleek frame, aerodynamic design, and minimalistic aesthetic make it a stylish addition.
In terms of performance, the Atomi Alpha boasts a long range of up to 25 miles from a single charge. Moreover, it features a 650W motor that enables quick acceleration and torque on flat surfaces. It also comes with puncture-resistant tubeless tires that offer stellar comfort and grippy traction on rough surfaces.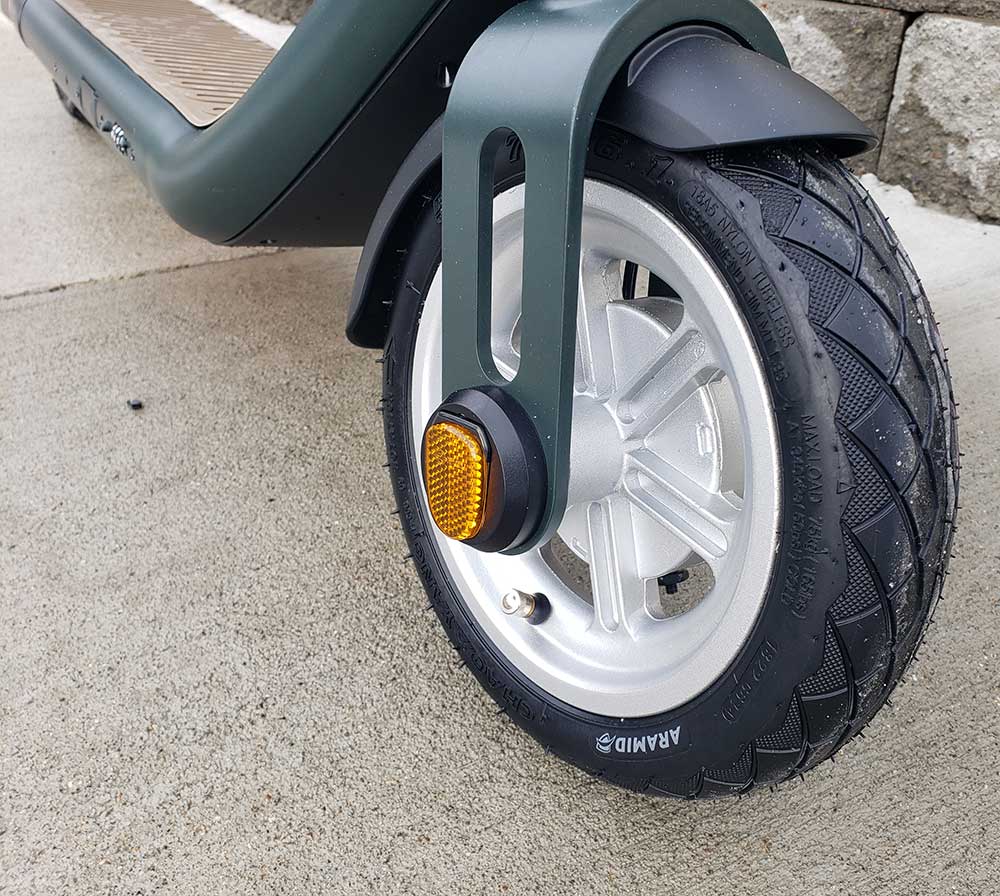 There's even a hidden rear suspension system that provides an extremely smooth ride, even on bumpy terrain. While it's no match for real off road travel, the rear suspension is designed to handle potholes and other small obstacles that you might encounter during your ride.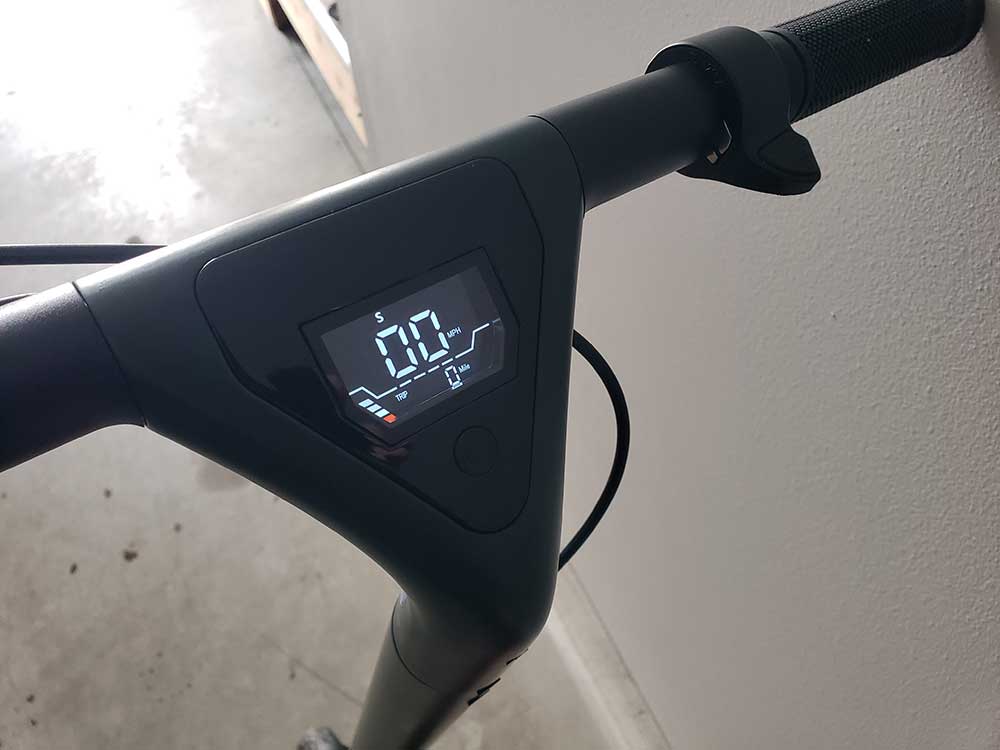 The Alpha also features a highly intuitive and customizable LCD display dashboard that provides all the important information you need to stay updated. Yes, the screen can be woefully hard to see at times (think direct sunlight), but that's the nature of screens, so it gets a pass.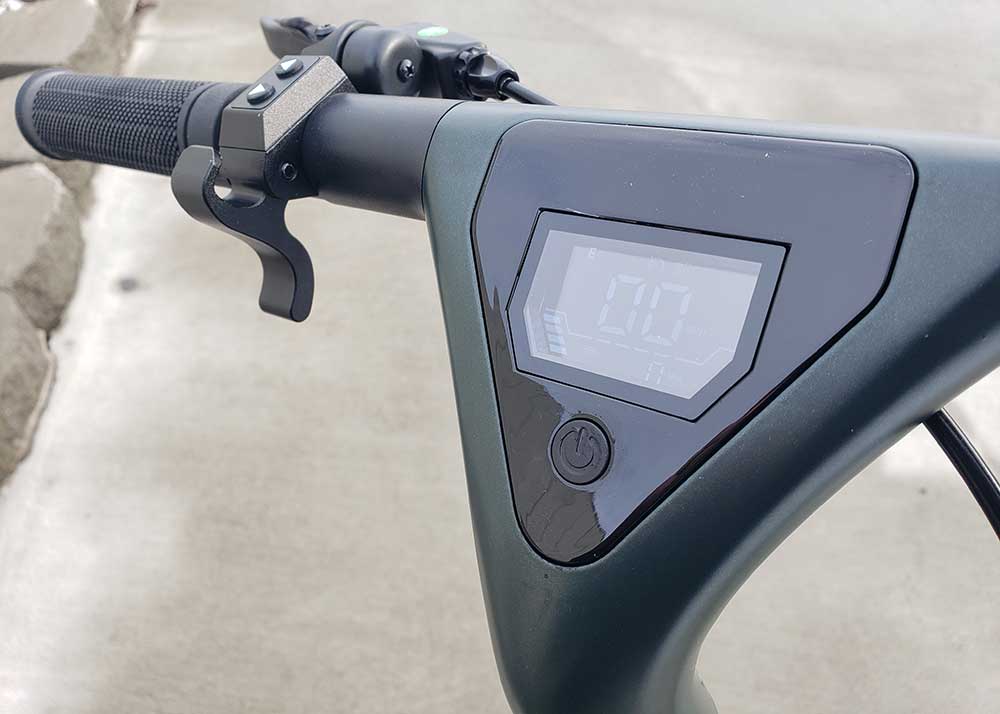 Even better, the scooter's ambient light bars can be customized however you please – just set it to your mood or the time of day.
Another huge plus is that the Alpha is designed for easy use and transport. It features a highly efficient folding mechanism that allows you to fold up and secure your ride in only three easy steps. Atomi's proprietary auto-locking mechanism provides double insurance, so you never have to worry about forgetting to clip the scooter when you're in a rush (more on this later).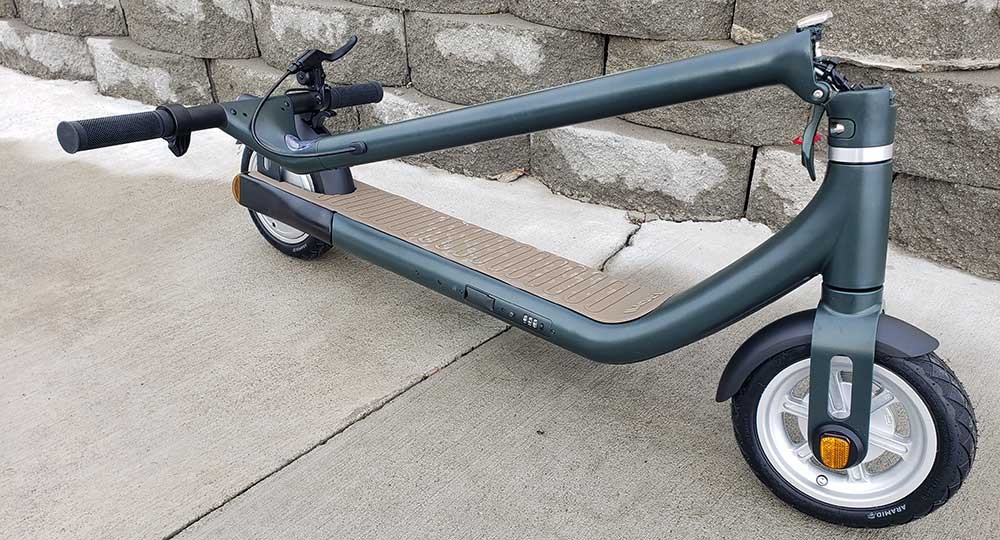 One notable disappointment is the kickstand. While everything else feels sturdy and robust, the kickstand barely works. This is a problem that we'd rather not see in a scooter of this caliber. So if you need to chain it up, make sure it has something to lean against while you're away from it. The good news is that it's equipped with an anti-theft cable. It's a bit of a letdown, however, since it's so thin that any size of wire cutters could easily snap it.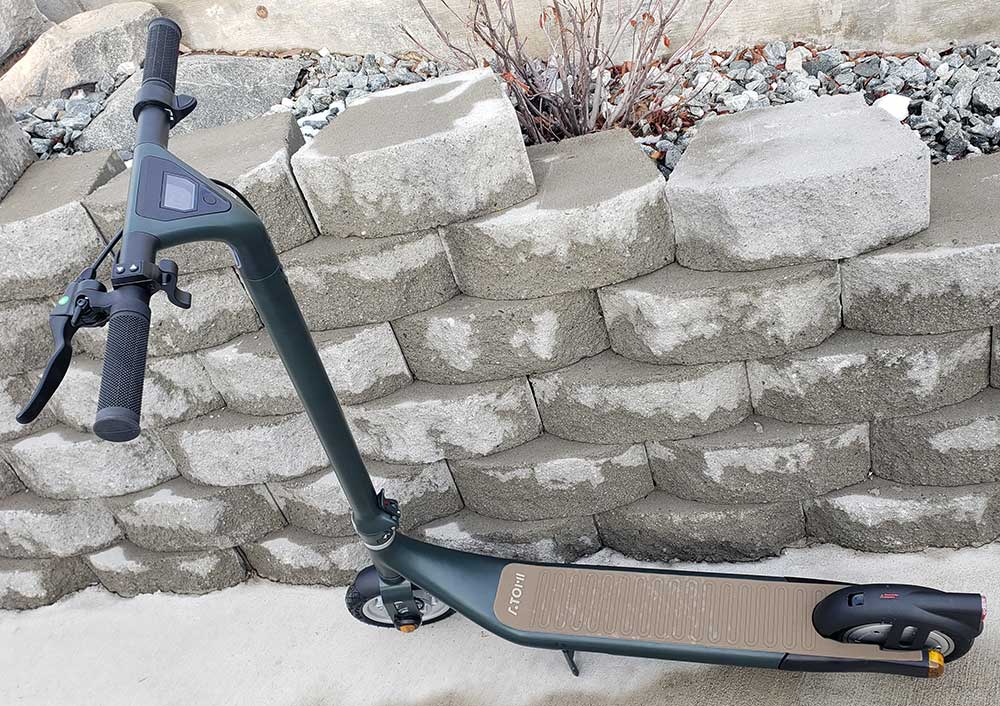 Then there's the smart app control feature. It lets you customize your riding experience so that it meets your needs. The app features three speed modes (Pedestrian, Eco, and Sports), and you can even see the current battery level and access map navigation. On top of that, the systems keeps you apprised of your travel distance. Definitely handy features. There's even built-in cruise control and more.
This is perhaps one of the most comprehensive and intuitive scooter-specific apps on the market, making it a fine choice for those who want to customize their ride. We like that the app is easy to use and well-designed, with intuitive navigation and helpful features that make it a breeze to use.
We're impressed by the range of features offered by the Alpha. The combination of design and smart features elevate this scooter to a level that few others can match.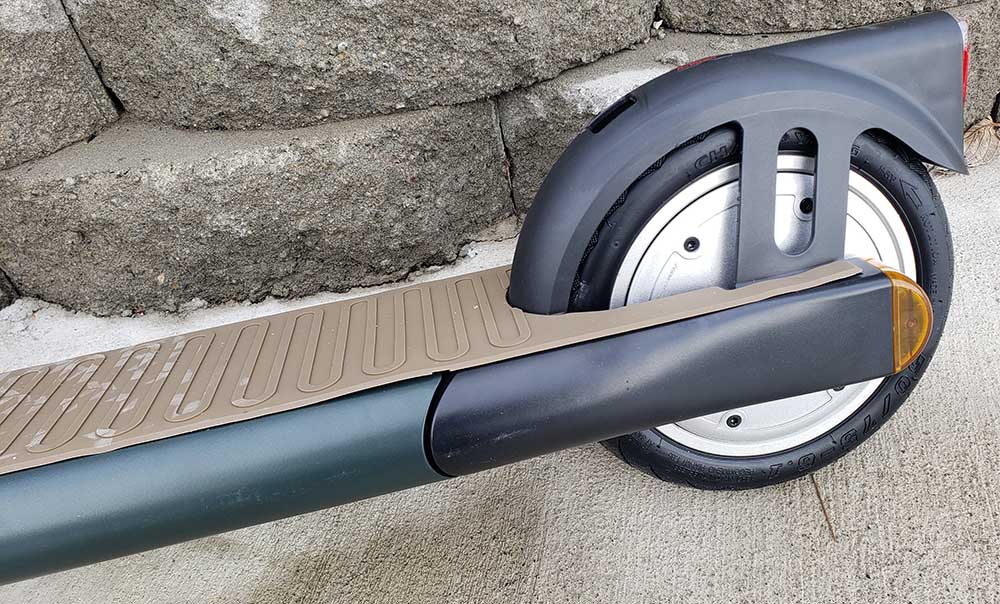 Performance
Because the Atomi Alpha boasts a 650W brushless motor, it's fairly capable of quick acceleration and torque, allowing riders to reach a maximum speed of 20 mph. This motor is located in the rear of the scooter and provides moderate power for its size.
The 360-watt lithium-ion battery is highly safe and can last up to 25 miles on a single charge. Compared to other typical scooters, the Alpha scooter can be charged up to 25% faster thanks to the included 2A charger.
The battery is designed for efficiency and reliability, as well. With a quick charging time of only 4 to 6 hours, riders can easily recharge their scooters during the day or overnight, ensuring they're always ready for their next ride.
This fast charging feature is a significant advantage for those with busy schedules and limited charging opportunities. And it's a big deal for anyone who wants to get the most out of their scooter, as a fully charged battery means more power and longer distances.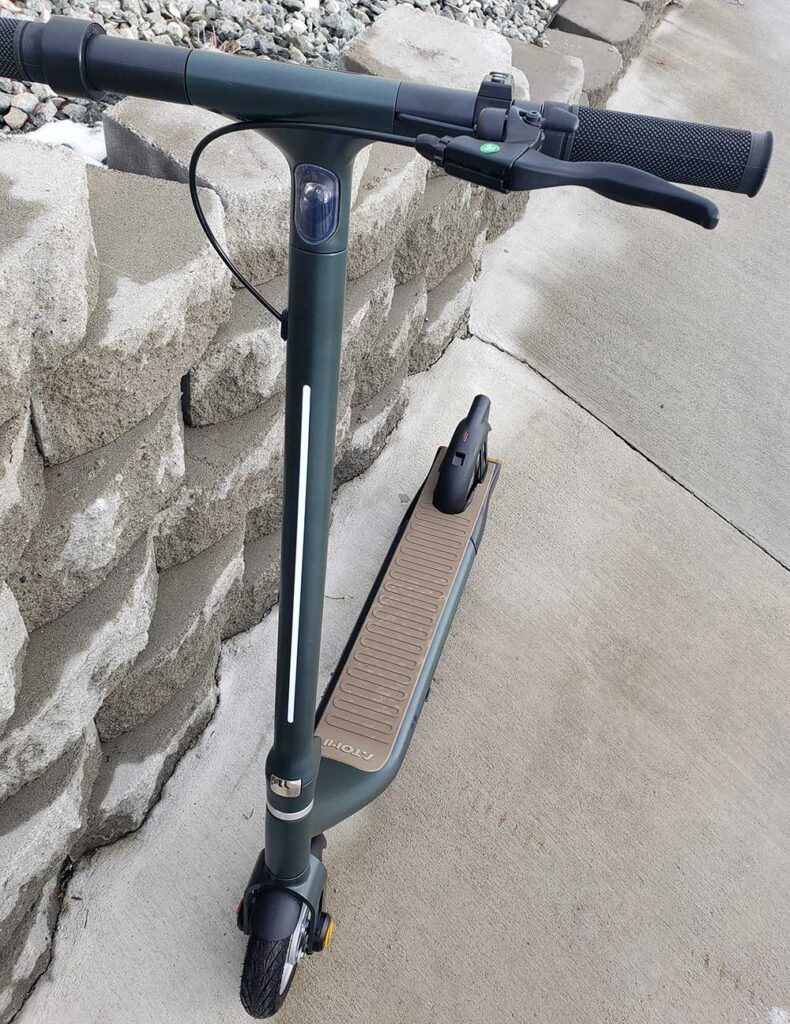 We're big fans of its versatility. Portability aside, the riding performance and range make this the perfect scooter for a whole slew of needs. However, we did have some issues tackling steep hills, but weaving through flat city streets, it works just fine. Whenever you take it on a hill, you can feel a noticeable decline in power. Not to the point where you can't ride uphill, but to the point that it's a bit annoying.
The Alpha scooter also boasts a smooth and comfortable ride. As we briefly touched on earlier, the rear suspension handles potholes and rough terrain with ease. The nine-inch wheels are an impressive addition. You can ride them with lower air pressure for improved comfort and riding performance when you're traversing over rougher surfaces.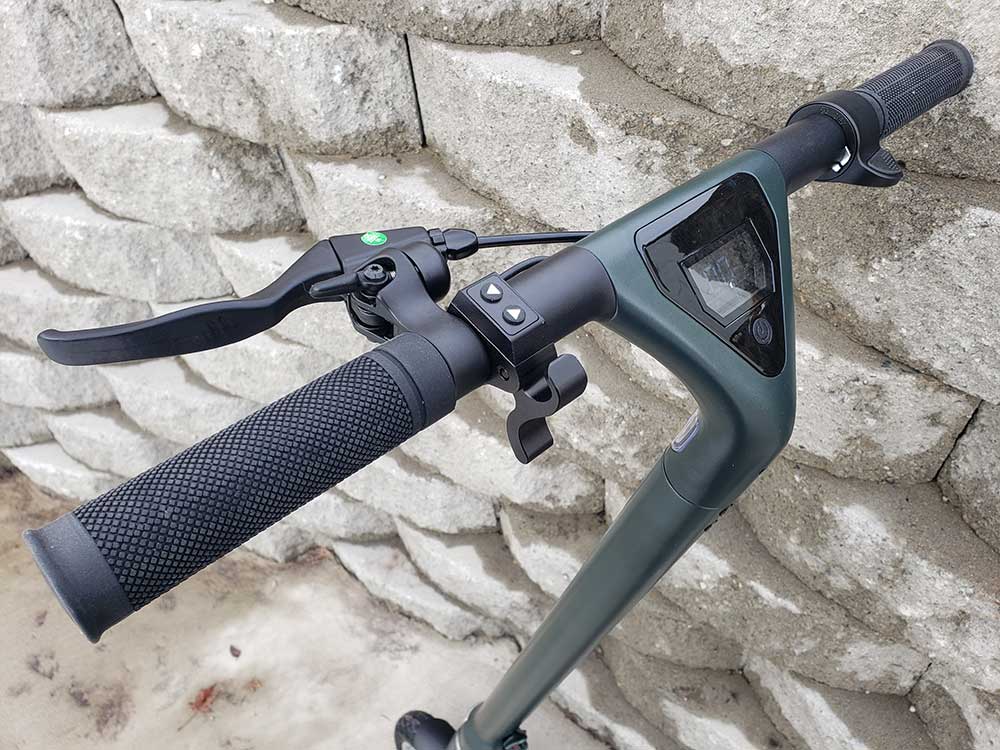 While it's not meant for off-road action, it's good enough for most surfaces you'll encounter. These tires are also anti-puncture, meaning that riders can enjoy a hassle-free ride without the fear of getting a flat tire.
It's hard to mention the tires without also mentioning the brakes. Let's just say that they work well together. Every rider is sure to appreciate the way Atomi implemented the two features to work hand-in-hand.
And as you'll soon learn, the dual brake system provides peace of mind to riders who prioritize safety, while the option to customize the riding experience via Atomi's App adds an extra layer of convenience and control.
Safety
Safety is a top priority when it comes to electric scooters, and the Atomi Alpha does not disappoint in this regard. The scooter is designed with several safety features that ensure a secure ride.
Firstly, it features dual brakes that consist of an electronic anti-lock braking system (E-ABS) and a drum brake. The E-ABS provides regenerative braking, which not only helps to slow down the scooter but also recovers energy and extends the range. The drum brake provides strong and smooth braking power, ensuring safe stops even in wet or slippery conditions.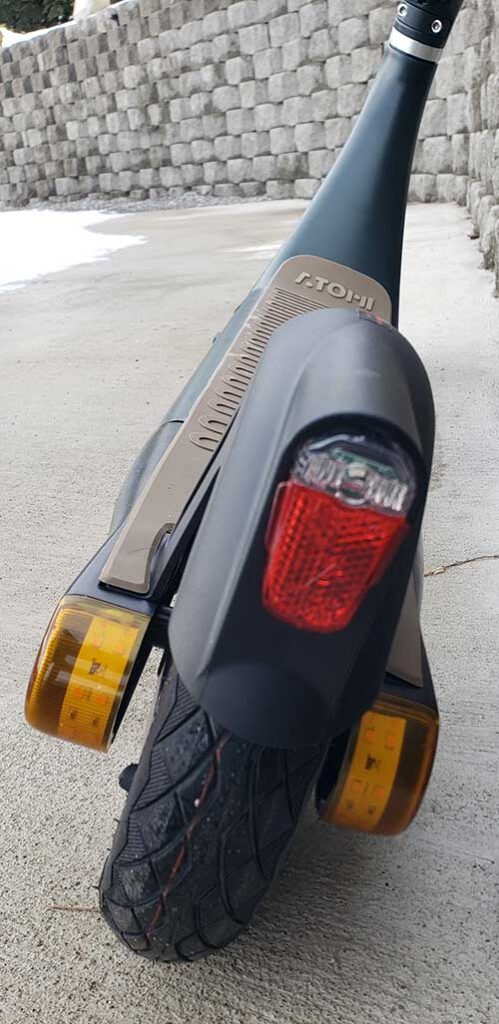 What's more, it's equipped with front and rear LED lights, as well as a brake tail light and indicating lights, to enhance visibility and ensure that you can be seen in low-light conditions. Best of all, the lights are compliant with safety standards worldwide, giving riders peace of mind when riding at night.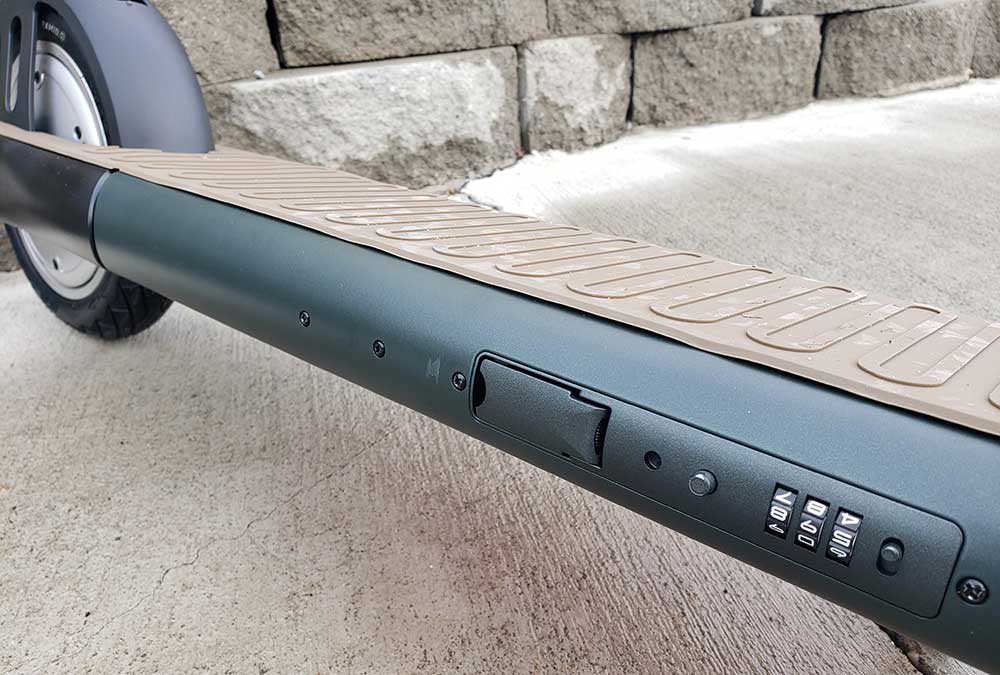 The Alpha also features a built-in combination lock on top of the app locking, providing extra security against theft. While the cable is pretty cheap and flimsy, it's nice to have, even if it just visually deters theft.
Furthermore, the Alpha has passed rigorous testing and has been fully certified to the highest safety standards worldwide. This certification ensures that riders can enjoy a safe and worry-free ride without corners being cut.
LED Light Bar
One of the most striking features of the Atomi Alpha is its LED light bar situated on the front of the steering shaft. This innovative feature not only adds a visually appealing element to the scooter's design but also serves a practical purpose by enhancing visibility and safety during rides.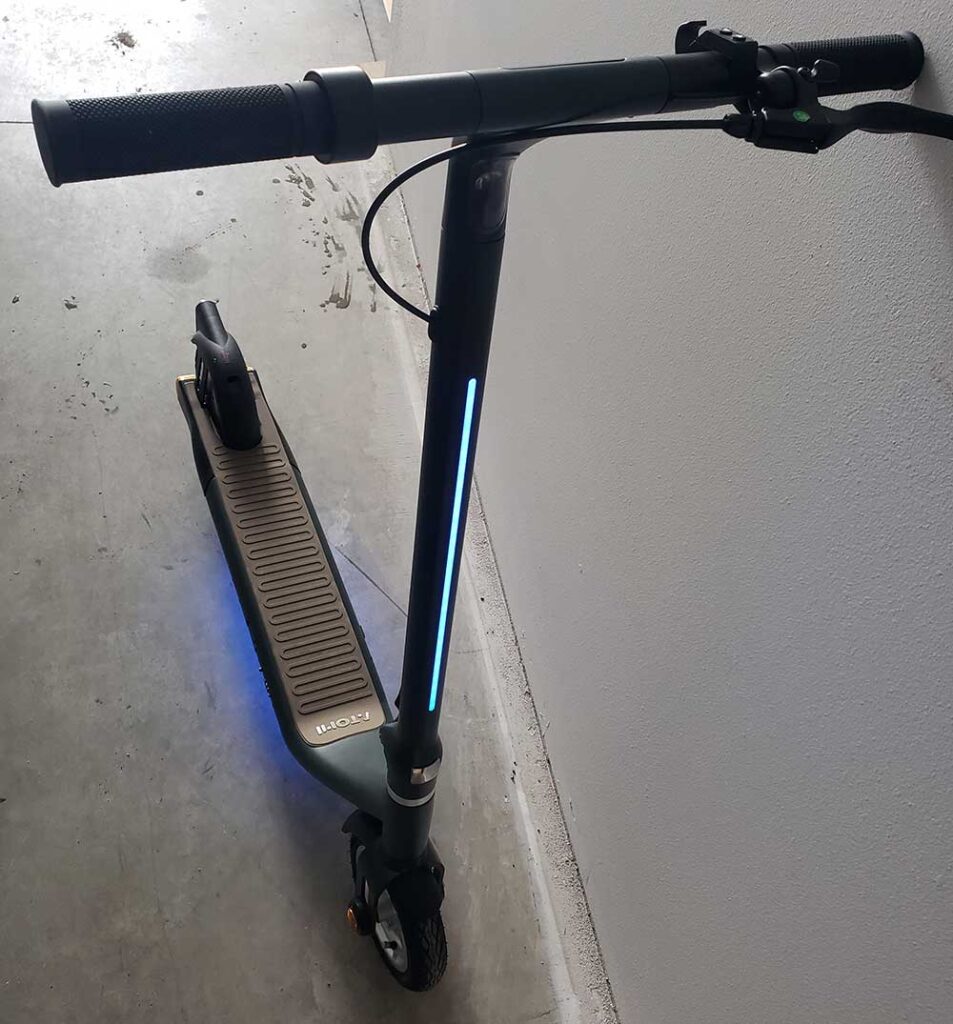 Enhanced Visibility for Safe Riding
The LED light bar significantly improves visibility for both the rider and others on the road. This powerful and bright light source effectively illuminates the path ahead, making it easier for riders to see potential obstacles and navigate safely in low-light conditions. Furthermore, the light bar also increases the scooter's overall visibility, ensuring that pedestrians, cyclists, and motorists can easily spot the scooter from a distance.
Customizable Ambient Lighting
In addition to its practical uses, the LED light bar offers an extra layer of customization. Through the scooter's smart app, riders can choose from a variety of colors for it to show. Ultimately, this allows riders to personalize their scooter and express their individuality freely. It's perfect for those who want to make a statement and stand out from the crowd.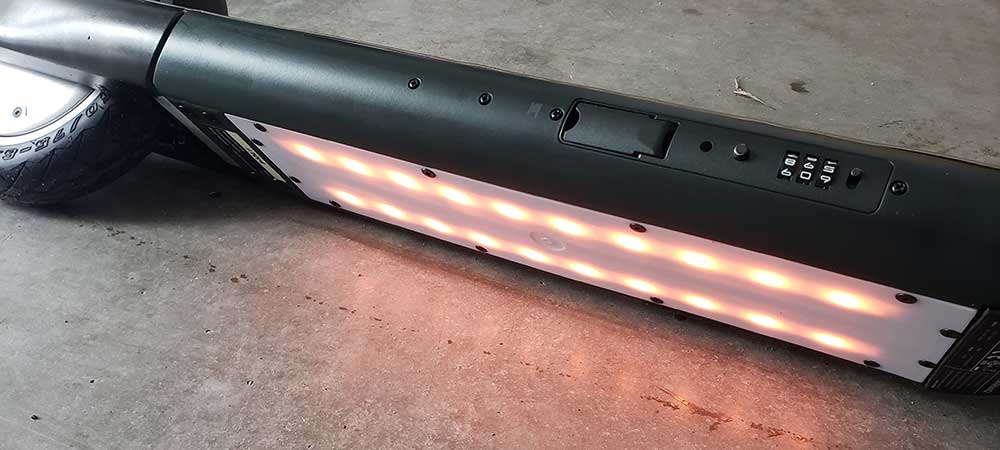 Energy Efficiency and Longevity
The Atomi Alpha's LED light bar is designed with energy efficiency in mind. LEDs consume significantly less power than traditional lighting options, which helps to conserve the scooter's battery life and extend its overall range in the process. Moreover, LEDs have a much longer lifespan than conventional bulbs, ensuring it'll remain functional for years to come, without ever requiring a replacement.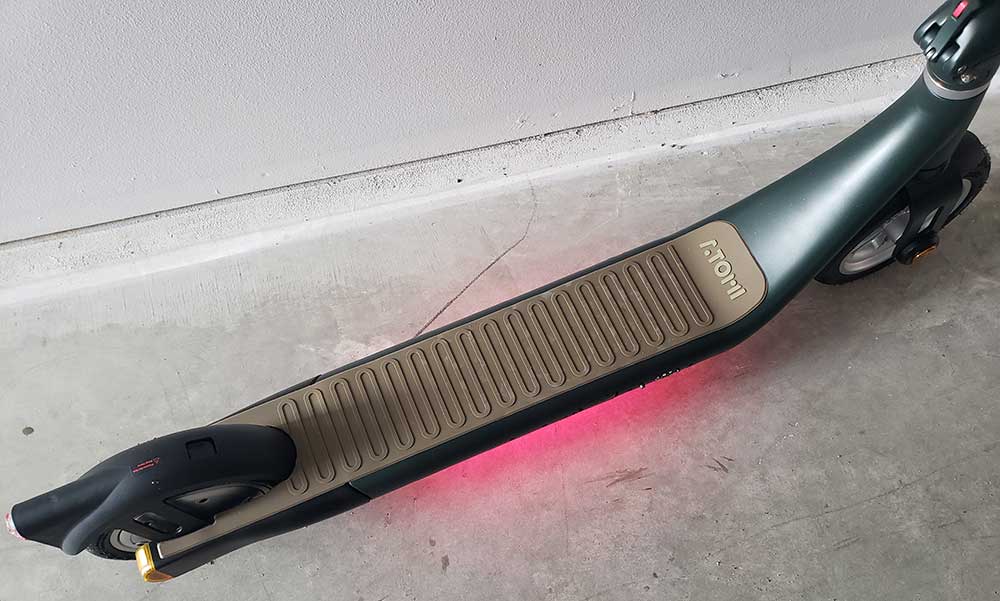 Final Thoughts
We really enjoyed our time testing out the Atomi Alpha. Its 650W motor provides a fun ride while the suspension adequately makes for comfortable and plush experience. Although the performance lacks on uphill terrain, it isn't too big of deal if you plan on riding it around a flat city.
The inclusion of a locking cable is commendable, but it's cheap and silly considering how flimsy it is. Sure, it'll deter some thieves, but any pair of wire cutters could easily snip through it.
The smart app integration sets it apart from other electric scooters on the market. With the ability to connect your smartphone via Bluetooth, riders can access various features and customize their experience. It allows users to record trips, access GPS navigation, and monitor the battery life and performance in real-time.
As long as the uphill performance doesn't bother you too much, we feel it's a good option for commuters, students, and leisure riders alike. The Alpha is a ton of fun. But more than that, it's safe and convenient.