Accent lighting is a great way to spruce up just about any space. For example, the area under your cabinets can be dark, which makes the whole room feel gloomy. Throw up a good set of under-cabinet lights, and you've got a charming, cheerful space. The same is true for bookshelves, alcoves, and other nooks and crannies inside your home. In all of these scenarios, an LED light strip can be an excellent solution to your problem. LED lights can also be used for closets, to light up furniture, or even to accent your electronics. The key is to find the right light strip for your needs.
Since different light strips come with their own features and benefits, it can help to focus on one kind. One useful feature to look for is a built-in motion activated. With a motion sensor, your LED lights can turn on automatically when you're in the vicinity. This doesn't lend itself quite as well for always-on applications, like a bookshelf accent. But it's a great feature for more utilitarian scenarios. For example, a motion sensor can turn on under cabinet lights when you're working in the kitchen. But just because a light has motion sensors doesn't mean it's automatically a winner. You also want a light that provides good overall quality.
Note: At no extra cost to you, we may earn a commission for purchases using our links. Learn more.
Today, we'll be reviewing three of the best motion activated LED light strips we could find. We'll begin by looking at the Govee Motion Sensor LED Light Strip. This is a purpose-built under-cabinet LED light strip with ultra-flexible corners. Next, we'll check out the SENSKY Motion Activated LED Strip Light Kit. This is a customizable LED light strip with a modular motion detector and power switch. Finally, we'll examine the Homelife Motion Sensor LED Light Bar. This is a 2-pack of battery-powered LED light bars with a simple magnetic mount. Which one is the ideal choice for you? Let's look a little closer, and see what we're dealing with!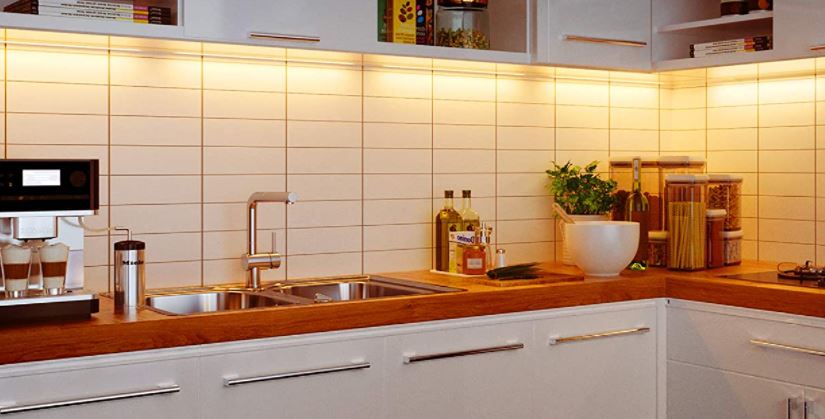 What Makes a Good LED Light Strip?
So, what is it that makes one LED light strip more desirable than another? There are a number of features you may want to think about, depending on your needs. Let's go over the most important ones.
Length
The number one thing you should think about is how long the strip is. Simply put, is it going to be long enough for your purposes? The larger area you want to light, the longer strip you're going to need. At the same time, longer isn't always better. For example, what if you're putting up lights around a mirror? In that case, you'd want a strip that's short enough that you won't have a ton of excess. It can also help to choose a strip that can be cut to a particular length.
Color and Brightness Options
For the most part, LED light strips are used for decorative lighting. Depending on what you're looking for, that might mean a number of things. A lot of people love to use rainbow LEDs, color-changing LEDs, or even choose a particular solid color. On the other hand, you might just want a more practical plain white light.
Even if you're buying a white light, like the ones we're looking at today, you still may want different options. For example, you might prefer a warmer or a cooler light, to match the rest of your room's lighting. You'll also need to think about brightness. Are you trying to light an entire large space? You'll want a brighter set of lights. For mood lighting, you'll want something a little dimmer. Or, you could find an adjustable light strip that can be changed to suit your needs.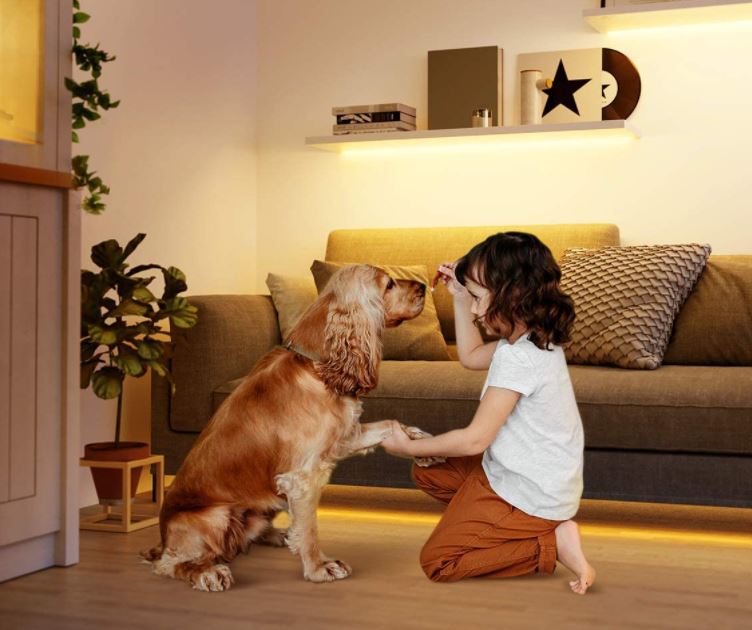 AC or DC Power?
Depending on your application, you might want a different power supply. If you're permanently installing your lights, you'll want light strip that plugs into your home's wall power. This makes the installation process simpler, and you don't have to buy any extra adapters.
Then again, there are times when a USB light makes more sense. Suppose you want to install your lights on a larger electronic device. In that case, you can simply use a USB port on that device. That principle is commonly used for computers and game consoles, for example, PlayStation 5 RGB lights.
Another option is to use battery power. This obviously isn't as convenient for permanent installation, since you have to charge the batteries. But it's great for applications where you don't have a readily-available source of power. It's also useful when you don't want to have to run any wires.
Build Quality
You also want to think about how durable your LED light strip is. Now, for the most part, a light strip isn't meant to handle a ton of abuse. But you should still expect a rating of tens of thousands of hours. Air flow is also important, since it's essential for heat management. For example, if you're using your lights inside a PC case, they need to be made for that purpose. But for an under-cabinet scenario, a closet, and most other "practical" applications, you'll have plenty of air flow.
You may also need your strip lights to withstand extreme conditions. That's not what we're looking for today. But in the past, we've researched the best waterproof strip lights. These are great for scenarios where splashing or other moisture is inevitable.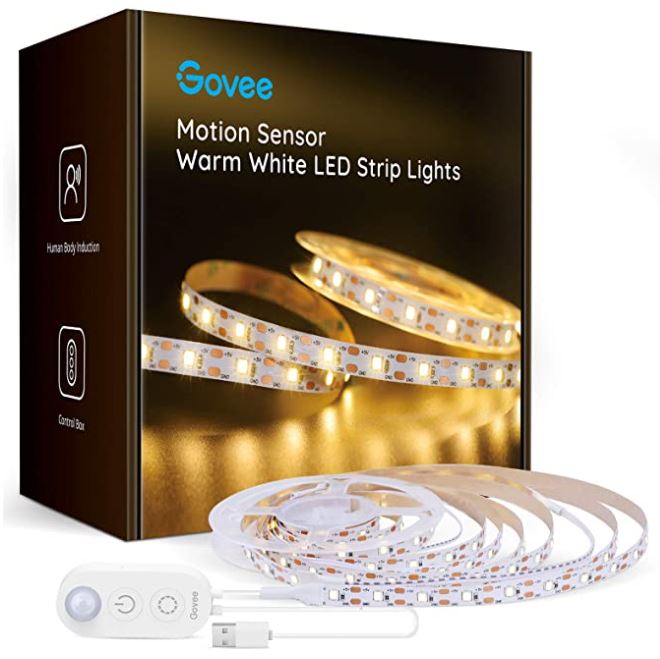 Govee Motion Sensor LED Light Strip
Govee is a well-known manufacturer of LED light strips. Not long ago, we reviewed their wireless LED light strips, and we liked how they performed. So it only made sense to take a look at the Govee Motion Sensor LED Light Strip. This light strip comes in two- or three-meter lengths, which equates to 6.56 or 9.8 feet. At one end, there's a 3.28-foot cord, which runs into a little oval fob. The fob has a little motion sensor built into it, as well as a pair of control buttons. There's a little USB pigtail protruding from one side of the fob. It runs on any standard USB power supply, including USB wall outlets, laptops, and USB adapters.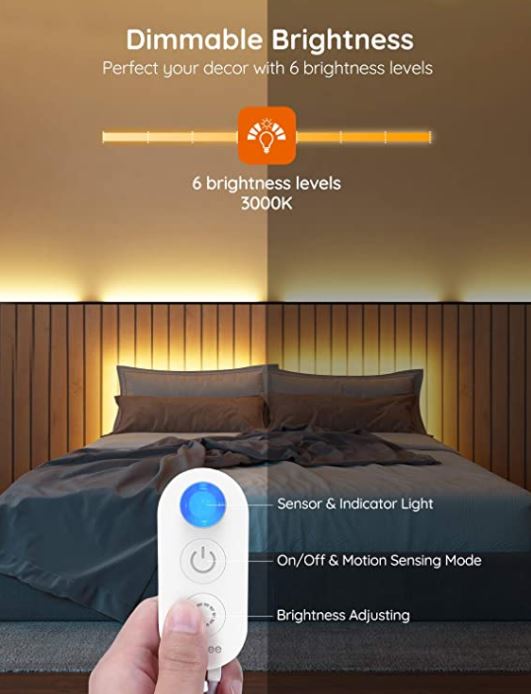 One important thing to note is that this is not a continuous light strip. It consists of multiple 1.64-foot sections, which are separated by stretches of ordinary wire. This is nice in theory, for going around corners more easily. But if you want a continuous light, you'll have to tuck the excess away somewhere. You may also struggle if your corners aren't exactly the right distance apart. That said, installation is still fairly straightforward. The back of the strip, as well as the fob, has a removable backing with a 3M mounting adhesive. The kit also includes a set of plastic clips, which can be used to screw-mount the lights.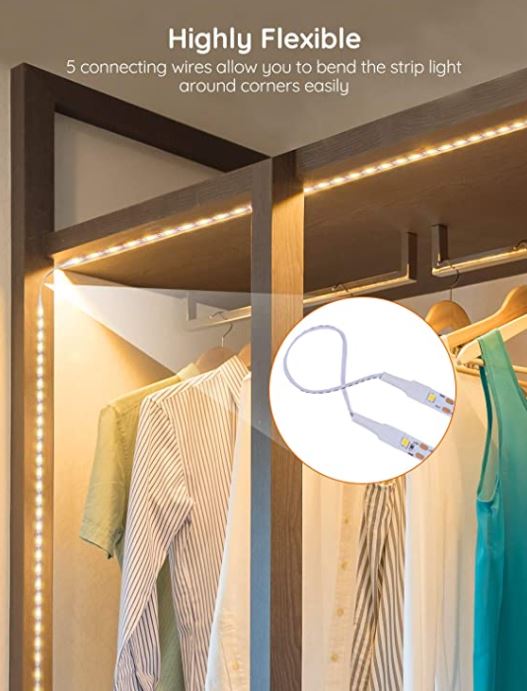 The lights themselves have a 3,000K warm white light, which is a great choice for soft lighting. You can also choose between six different brightness levels, using the control button on the fob. The power button will turn on the motion sensor, and activate a blue indicator light. The motion sensor has a range of 6.56 feet (2 meters), which is suitable for most applications. In a closet or under a counter, for example, it's going to be easy to trigger the sensor. Once the sensor is triggered, the light will remain on for at least 15 seconds. When 15 seconds go by with no further motion, the lights will automatically shut off.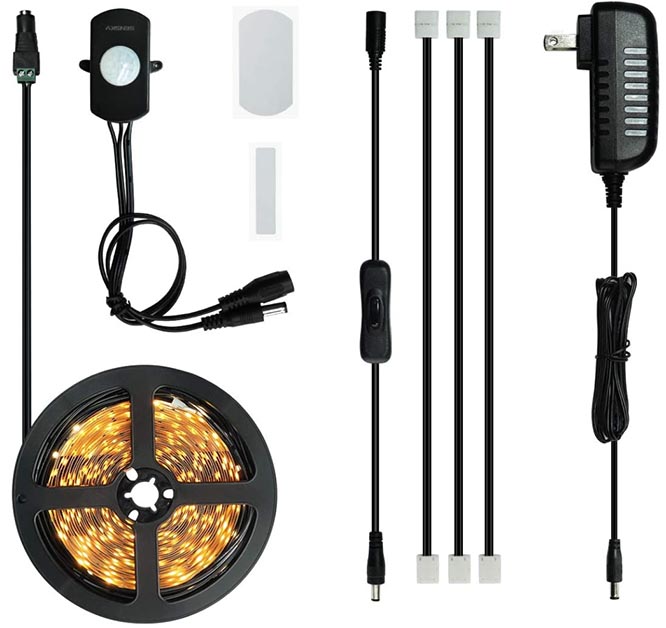 SENSKY Motion Activated LED Strip Light Kit
The SENSKY Motion Activated LED Strip Light Kit consists first and foremost of a long, 19.7-foot strip light. This light has a warm white color temperature, ranging from 3,000 to 3,500K depending on the brightness. It's also exceptionally durable. The LED diodes are rated for 50,000 hours of operation, which is some of the best longevity available. SENSKY backs this with a 12-month satisfaction guarantee.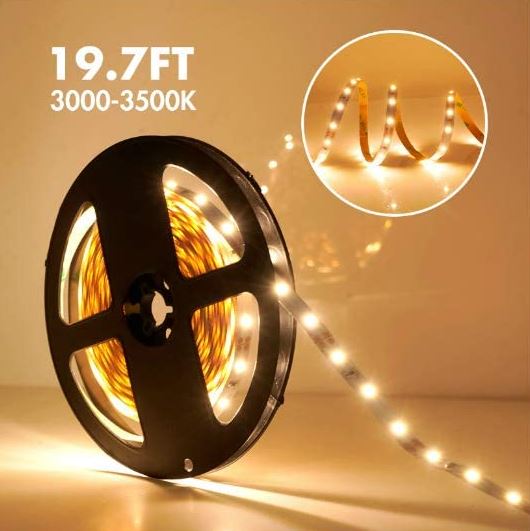 With all of that being said, the main benefit of the SENSKY kit is that it's a complete kit. To begin with, you can modify the light strip itself. There's a little line every few inches where you can – carefully! – cut and splice it. The kit includes a set of three 11.8-inch connector wires, which can be used to create gaps where needed. This is great for making a custom light strip that can wrap cleanly around corners.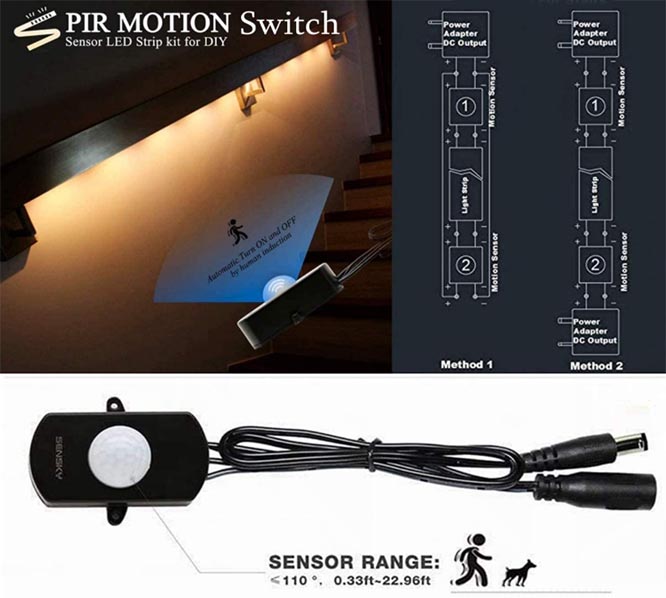 There are three different ways of assembling and powering this strip light. At the end, it connects to a small adapter with a barrel-style DC power socket. This socket can then be connected to an AC power adapter, via two different attachments. The first option is the motion sensor attachment, which is a black fob with a large white sensor. The second is a short extension cable with an in-line on/off switch. You can also use both of these attachments at the same time. In that configuration, the lights will be motion-activated, but you'll be able to turn them off manually.
This strip light installs with an adhesive backing, which makes it easy to stick to almost any surface. The motion sensor has flanges on the sides, which can be used for easy wall-mounting. The back of the sensor is removable, and you'll find three tiny dials. You'll need a Philips head screwdriver to turn them, but they allow you to customize three options. First, you can change the time delay on the motion sensor, between 2 and 280 seconds. Second, you can adjust the brightness, between 10 and 300 lux. Finally, you can adjust the motion sensor sensitivity. Its range can be changed all the way from four inches to 23 feet.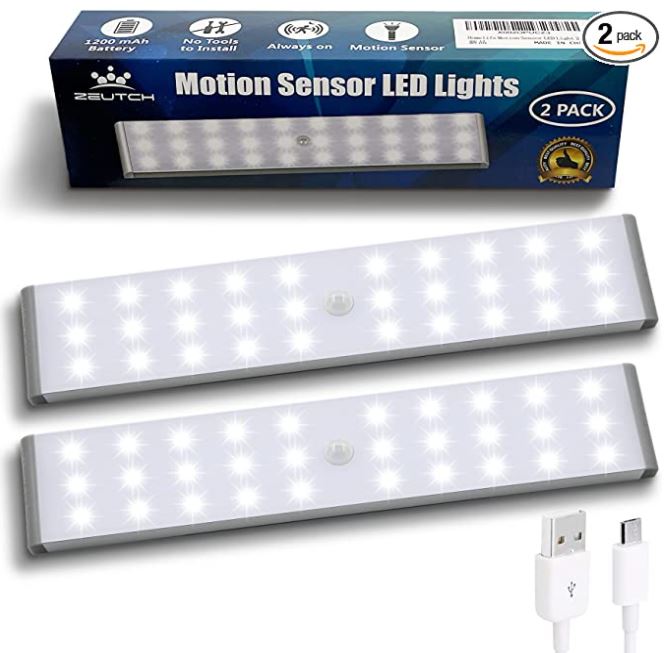 Homelife Motion Sensor LED Light Bar
The Homelife Motion Sensor LED Light Bar has a completely different design. Instead of a light strip, this is a set of two LED light bars. Each light bar has a white housing that measures 7.8 inches long, 1.5 inches wide, and under ½-inch thick. On the top surface, there's a set of 30 LED diodes, grouped with 15 on either side. In the center, there's little motion sensor dome.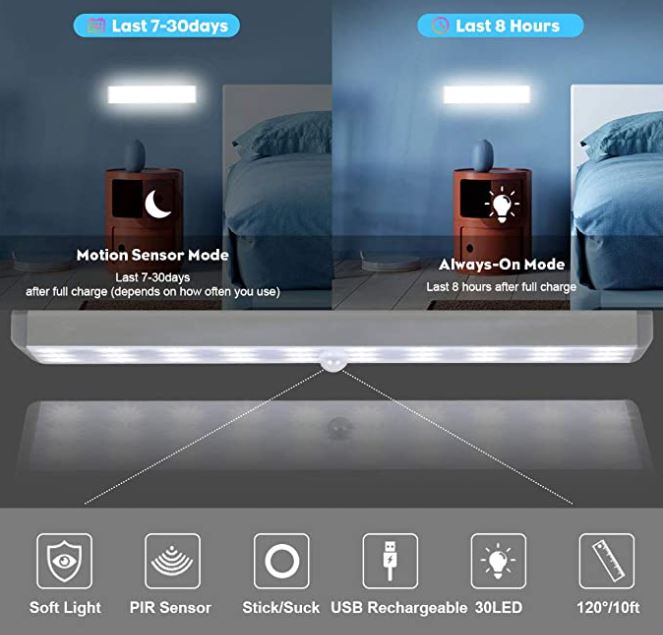 On one end of the housing, there's a grey button with a power symbol. This doesn't actually turn the light on and off. By holding it, you adjust the brightness up or down between the three brightness levels. The actual power switch is located at the other end of the housing, and has three different settings. It can either be off, automatic, or always on. This lets you set the light up for tasks and not have to keep triggering it intentionally.
Also on this end of the housing is a Micro USB charging port. The charging cable is included, and will fully charge the battery in a few hours. The battery will last for 8 hours or so if it's continuously on, but can last for up to 30 days in standby mode.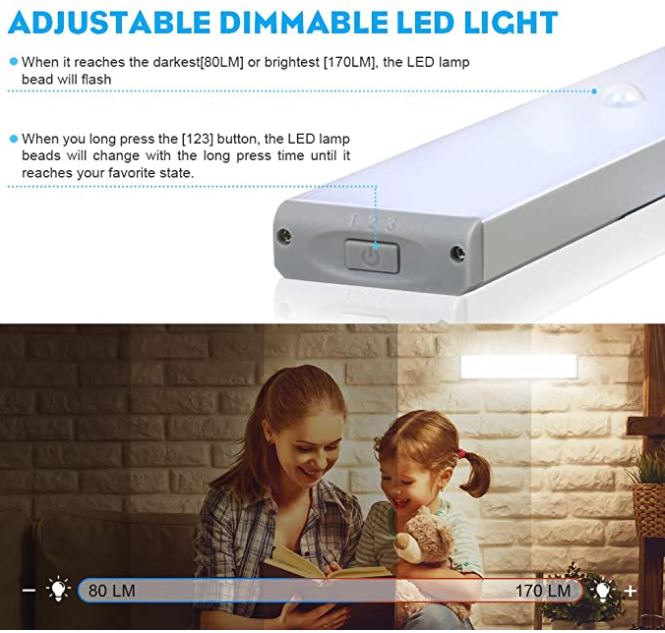 The back of the housing is magnetized, for mounting on any metal surface. Alternatively, there's a pair of adhesive metal strips included in the kit. You can adhere these to any surface, and the light bar can easily be mounted and removed.
Final Verdict
As you can see, these are all good quality LED lights. But which motion activated strip is the right choice for your needs? Let's go over what we've learned.
The Govee Motion Sensor LED Light Strip is a simple USB-powered light strip that's easy to install. The sectioned nature of the design is an interesting choice, and can be good or bad depending on your needs. The controls are simple and intuitive, and the soft white light is easy on the eyes.
The SENSKY Motion Activated LED Strip Light Kit is the most customizable of the bunch. You can cut it and splice it, adjust the time delay and motion detector sensitivity, and more. You can also choose between multiple different wiring modes.
The Homelife Motion Sensor LED Light Bar is straightforward and easy to use. It's not ideal for permanent installation, because it has to be charged periodically. That said, it's very easy to mount, especially if you're attaching it to a metal surface.
Please consider sharing:
Note: At no extra cost to you, we may earn a commission for purchases using our links. Learn more.