Whether you're looking to add a professional touch to your business or add a cool lightshow in your kid's room, your options are limitless with a few well-placed LEDs. Modern RGB LED strips are specially designed for versatile decorating because they can change color scheme to match any location or holiday. Whether they're adding flair to the tires of your bicycle or they're helping you set up a Halloween party, your imagination is the limit.
Even though there's no denying LEDs strips can look cool, it's not all about aesthetics. You can add LED strips to the bottom of a cabinet or the back of a drawer to light up hard-to-see areas. LEDs are also one of the simplest modifications you can make to the interior of your car. Whether you're a professional driver or you just love your ride, its aesthetic can be instantly modernized for only a few bucks.
Choosing a Wireless LED Light Strip
Unfortunately, selecting a wireless LED light strip does mean you'll end up sifting through a horde of poor brands and cheap knockoffs. But that's not all you have to pay attention to. The difference between a string of Christmas lights and wireless LED light strips isn't just a wireless connection, it's also important to be able to cut and hardwire the LED strips in whatever arrangement you need.
Regardless of if you plan on getting your lights wet or not, waterproofing adds protection to each bulb. Power consumption is more at the user's discretion, but LED setups that are run from inside vehicles or in other areas without unlimited electricity should consider sticking to 12 volts.
At the very least, the strip you get should be programmable and it should change colors. Buying a strip with one fixed color is a gamble because even if you want a red light, you might not like the shade of red you end up with. Any decent brand should be able to offer you a color changing strip with the standard LED palate of 16 million colors.
Asking Practical Use Questions
If you know what you're looking for, then choosing and setting up LED lights doesn't have to be a difficult process. Spend a few moments to think about where you want to use the lights. Do you plan on having your light strips mounted, or stuck with adhesive? Do you want them cut and wired in a specific configuration? You'll also want to reflect on how you want to control the lights, and whether you need to control several at once.
Before you start any LED light project, you should have an idea of how many strips you'll need. But strip length isn't everything. The density of the LEDs on the strip varies widely from brand to brand, and the brightness of those LEDs varies just as much. You'll want to think about the strips you're getting both in terms in wattage and LED per foot.
LED Bulb Quality
Many qualities of LEDs are worth paying attention to. If you're interested in getting very white-whites, you'll want to keep an eye on color temperature. True white is found around 6000K, while orange-whites are closer to 3000K. LEDs are typically rated for either 20,000 or 50,000 hours of life, which approximately means between two and six years of use. If you're going to hammer your lights with non-stop use, you may want to make sure you grab bulbs rated to last.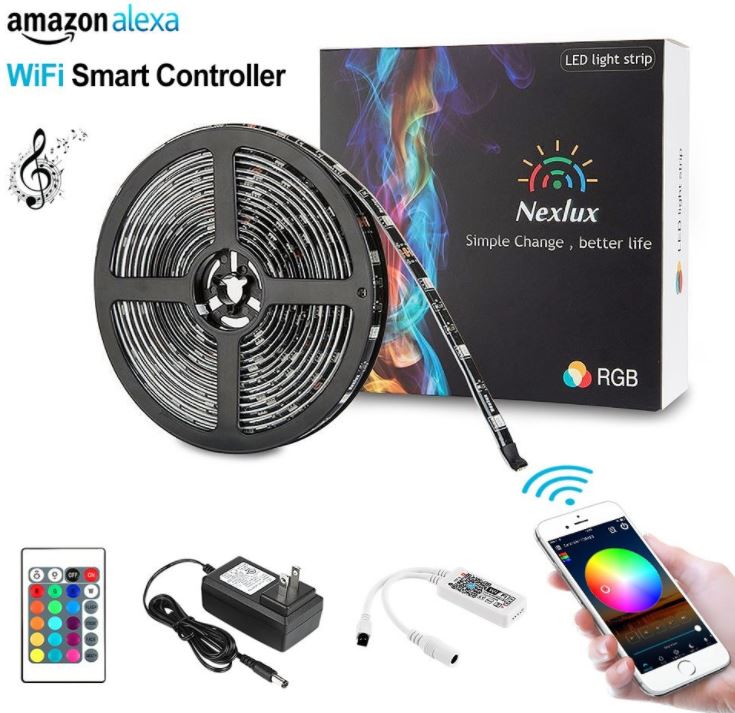 Nexlux LED Strips
What most people are looking for from LED strips are their ability to convey a mood. Whether it's decorating their home, lighting up a dark closet, or accenting a room during a social event, LEDs are a reminder of why people break out lights during Christmas. They should be eye-catching, and help establish the kind of vibe you're going for. Nexlux achieves that and goes beyond. Lights that respond to music are an increasingly popular feature, which is not at all overlooked in this light kit.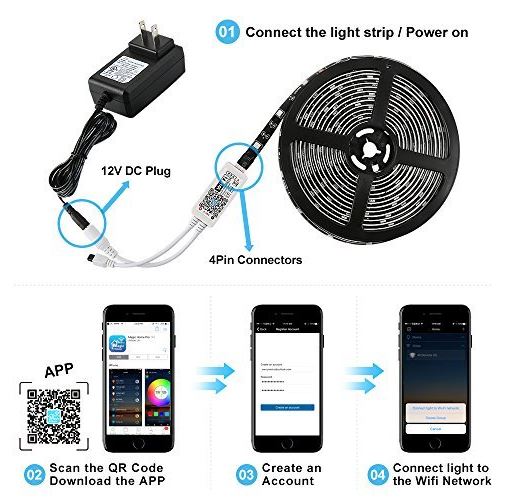 Features to Notice
Nexlux LED strips are Wi-Fi controlled and can be set to power on when you get up in the morning, or power off when you head to work. With a fully modernized design, Nexlux has made their LEDs to cooperate with both Google and Amazon's voice assistants. With simple voice commands like "Echo, turn on the lights", you'll be able to switch lights on and off, change their color, and alter the brightness of your strips.
If you don't want to use their app, you can use the IR remote with a range of about 5 meters. Connecting the lights is simple, and only requires Bluetooth 2.4 or equivalent. Best of all, Nexlux has decided to include multiple light support in their app. If you want to do a lot of lighting, you'll find the micromanagement far easier if you're not trying to connect to them one at a time. In fact, anyone who plans on using more than one two strips may want to consider this feature essential.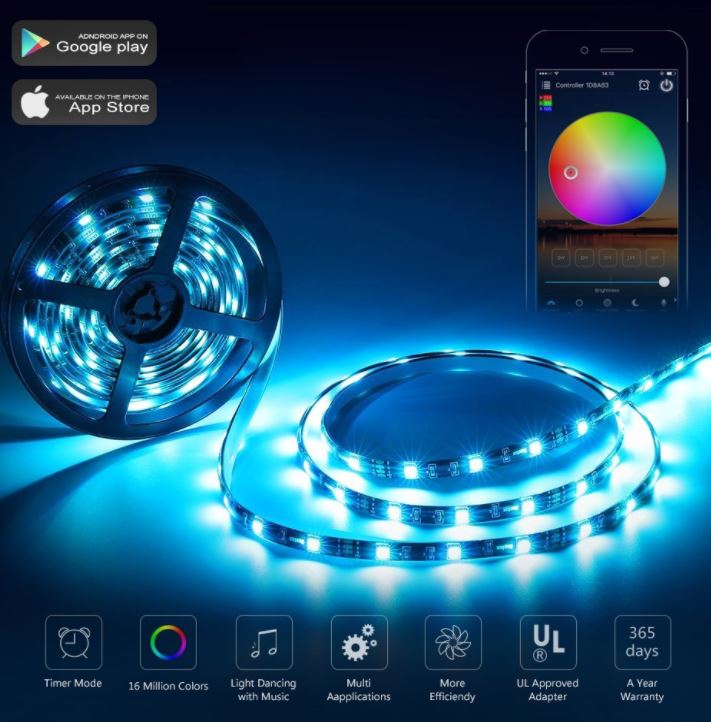 The Gritty Details
This kit includes a Wi-Fi controller, adapter, and 16.4 feet of strips containing 150 LED lights. For simple logistical reasons, the Wi-Fi remote requires you use a private Wi-Fi network. In other words, you won't be able to run the lights through the remote unless your network has a password on it. Nearly everyone's network should be password protected, so this issue will affect few people.
Like you would hope, the strips are waterproof. Every third LED there's a link that can be cut and placed independently. And if you need more than 16 feet of strips, Nexlux also offers a 32.8 foot version of the same strip. But if you're looking for bulbs with cool color temperatures, you'll have to look elsewhere. These bulbs have great warmer colors around 3,000K, but you won't get the whitest whites.
Nexlux doesn't specify how long their LEDs are rated to last. Most LEDs are rated for 20,000 or 50,000 hours. When a manufacturer doesn't specify, it typically indicates they're using bulbs rated for 20,000 hours.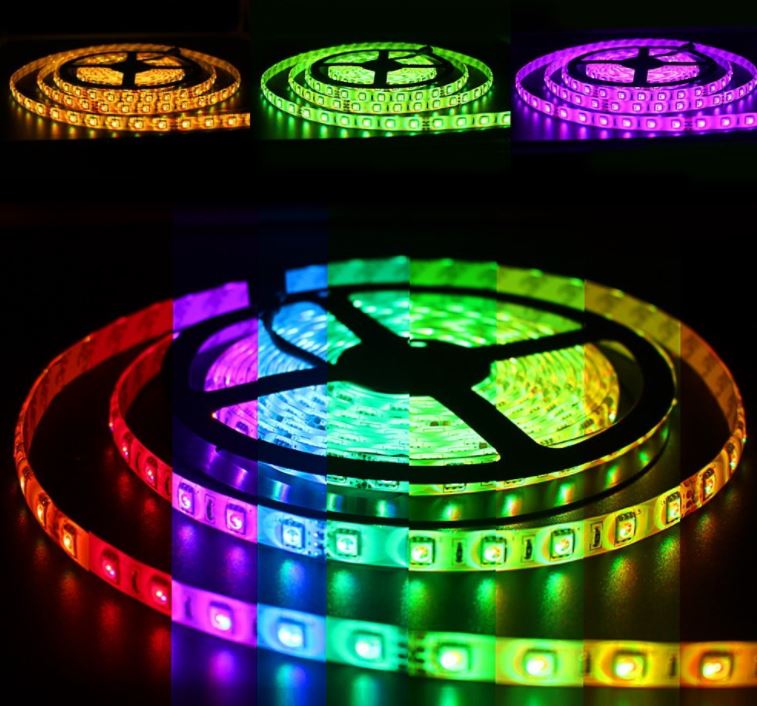 Tudoccy RGB LED Strip
Tudoccy doesn't hand you a box full of lights let you figure out the rest. Instead they've created a kit that includes 20 buckles and 40 screws so you'll have everything you need to get started with installation. Additionally, the back of the light strip includes an adhesive for maximum convenience. And like with other LED kits, you'll find strips with 16 million colors, covering all your favorite colors in every feasible shade.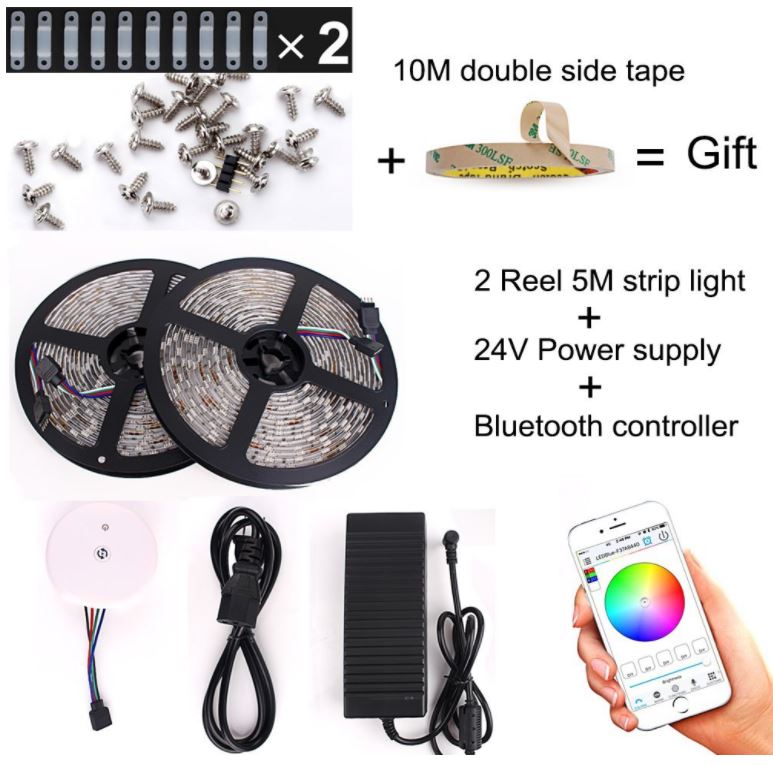 Features to Notice
Tudoccy's lights are run through an app that's available in both iOS and Android devices. It's important to note their app requires iOS 7.0 or Android 4.3 and later, but those technical requirements shouldn't be hurtles for anyone who has a device that's been updated in the past 6 years or so.
This kit comes pre-programmed with 20 dynamic display modes designed to dazzle, but you don't have to rely on their settings. With a little imagination, you can create your own color schemes and light modes. The popular music sync feature is present, allowing your lights to flicker and flash along with your tunes. You'll also find a timing function to set your lights to start or turn off when you want, which you can keep tabs on through their app.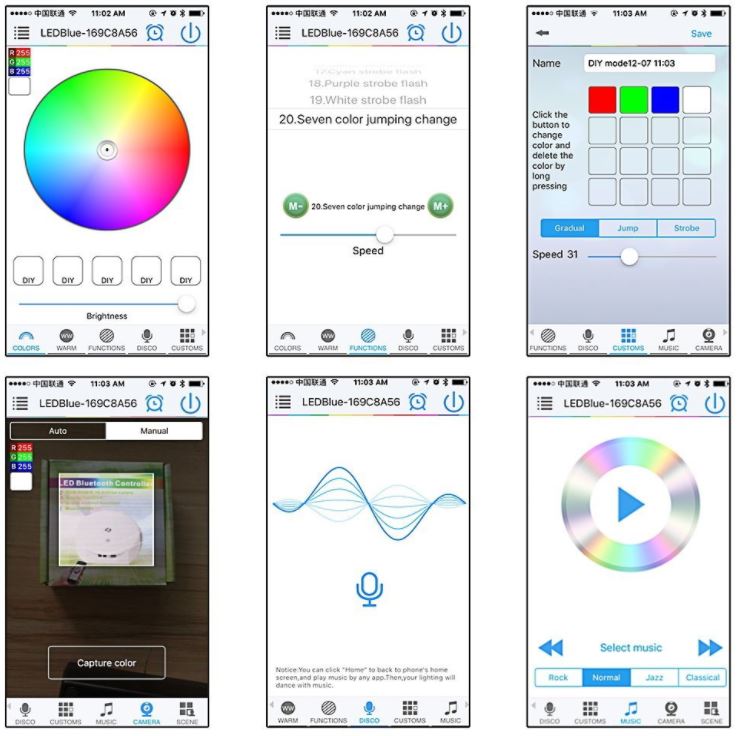 The Gritty Details
As a further convenience, the back of each strip includes clear lines where you can slice the strips, which is the kind of subtle but important ease of use Tudoccy offers. The connection between the power adapter and the LED ends are clearly marked. Little additions like this are what ensure you don't end up feeling frustrated while you're trying to put it together. Putting up your lights should be as simple as figuring out what you want to do, and then doing it.
Their 32.8 ft. strip includes 600 waterproof LEDs, which is twice as many LEDs per foot as Tudoccy. These bulbs are also clearly rated at 50,000 hours. Getting the kit started is as simple as connecting the controller to the power supply. However note that unlike the lights, these other components aren't waterproof. Epoxy on the light strips keeps them waterproof, but if you're looking to install the strips outdoors, you may need to figure out some separate protections for the controller and power supply. Inside the kit you'll find the light strip, controller, power adapter, and those handy screws and buckles.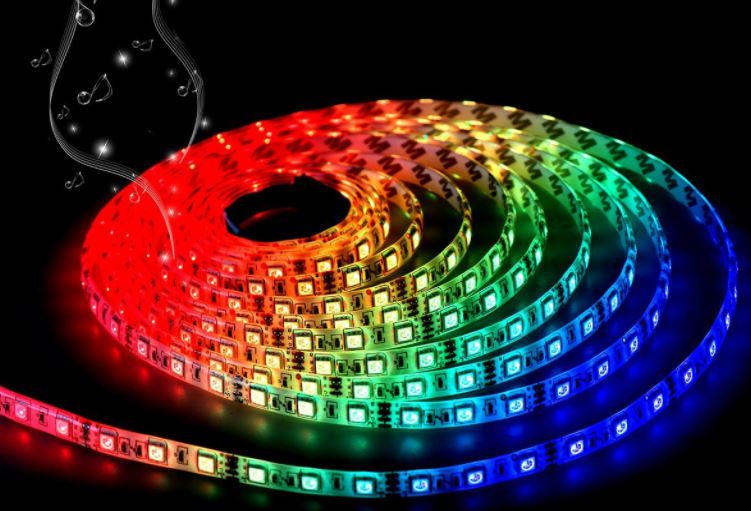 DotStone LED Strip Lights
If you need the perfect combination of plug-and-go with perfect customization, then you'll want to take a close look at this DotStone LED Strip Light kit. Available in a variety of measurements, from 4 feet to 32.8 feet, you'll have an easy time getting exactly as many lights as you need. If you end up needing 34 feet, you'll find a cheap and easy solution is ready. With a heavy emphasis on the basic features everyone wants, this kit gives you little reason to look elsewhere.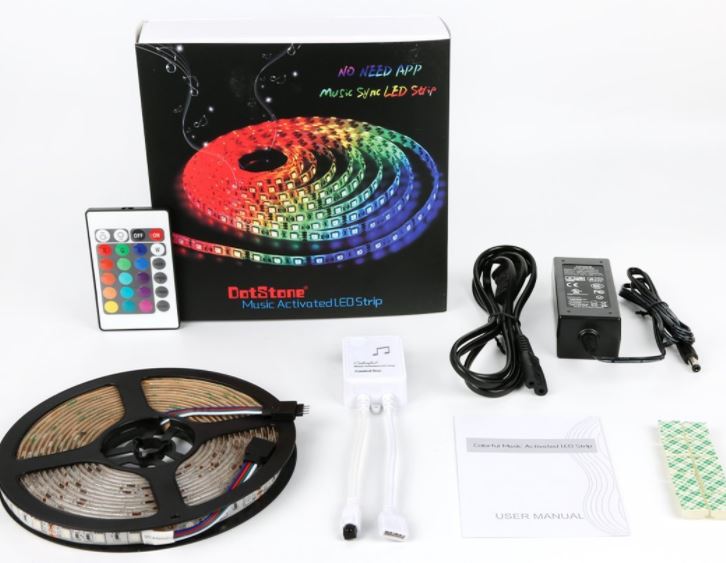 Features to Notice
Like with the other light strips on this list, DotStone's strip is designed to change color and sync up with music, so your lights can play along with the rhythm of your tunes. You can connect your music through Bluetooth, but DotStone emphasizes you won't need a Bluetooth connection to get the lights to dance with music.
If you like presets, you'll appreciate DotStone offers 11 levels of brightness, as well as four lighting modes. Those modes include the previously mentioned music mode, flash, fade, and static mode. Using the included remote, you can toggle 20 buttons to sort through the various color palates, light fading patterns, and brightness options.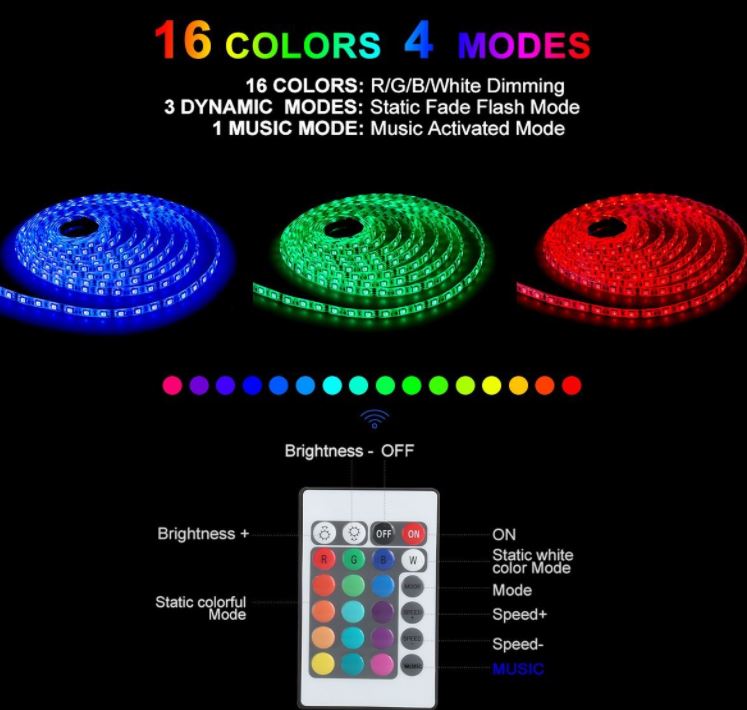 The Gritty Details
For customized installation, you can cut the strip along every third LED without damaging the remainder of the strip. These LEDs are waterproof, include a helpful adhesive on the back, and come with 10 buckles for installation. Like with Tudoccy, there are 300 LEDs per 16.4 feet of strip.
The strips include an adhesive on the back and 10 buckles to help you install them on the surface of your choosing. Use the same 12 volt connection as the other members of this list, you'll find these lights suitable for installation just about anywhere. Although DotStone emphasizes they've provided short circuit protection, the same protections are in place among any reputable brand. It's also worth noticing that DotStone includes an 18 month satisfaction guarantee, is a strong signal of confidence in their own product, and helps ensure you'll be satisfied as well.
Choosing Between 3 Great Picks
If you're looking for lights to connect to your digital assistant, or control multiple lights at once, you're going to want Nexlux. Their strip has half the LED density of the other two members of this list, but at the same time consumes twice as much power. In other words, their LEDs are aesthetically spread thinner, but are considerably brighter. The IR remote is another important detail for anyone who doesn't want to be chained to their smartphone to alter their lights.
If you're looking for ease of setup and lasting quality, then you clearly want Tudoccy. The bundle of buckles, screws, and adhesive you get goes a long ways towards simple installation. Whether you want to be hands-on with setting up your lights or just plug-and-go, Tudoccy has you covered. Their bulbs are also rated to last, and offer a rich 300 LEDs per 16.4 foot strip.
If you like presets, then you'll love DotStone. Some people aren't going to want to spend time programming your own unique lighting profiles. If that's the case for you, then the plug-and-play aspect of DotStone should be right up your alley. While you don't end up with as many screws and buckles as Tudoccy provides, the handful of buckles combined with the adhesive strip should be enough to get yourself setup almost anywhere.