For as long as people have been able to control light, we've used it for decoration and inspiration. Whenever the ancient Greeks founded a new city, the city's opening was marked by a ceremony of light. A torch was lit in a nearby, existing city, from the fire of the temple of Hestia, the goddess of the hearth. This sacred flame was carried to the new city, where it would burn perpetually at the new temple of Hestia. To this day, a similar torch is carried at the opening of the Olympic Games. Modern people might not pray to the goddess Hestia, but light remains a potent symbol of hope and joy.
This is no less true in our homes, particularly when it comes to accent lighting. Whether you're hosting a fancy dinner or an informal barbecue, splashes of light can beautify your home. Led strip lights aren't just for parties, either. You can use them to light up a favorite bookshelf, accent a three-season porch, or create a colorful bathroom nightlight. And because LEDs can change colors and brightness, they're more versatile than other kinds of lights. You can keep them bright while you're setting the table, for example, and dim them at dinnertime.
We're about to review three of the best wireless (WiFi or Bluetooth) LED light strips available for purchase. First on our list are the Govee RGBIC LED Strip Lights. These come as a pair, and feature IC multicolored diodes for fast, smooth color changing. We'll follow up with the Daybetter Smart LED Strip Lights. These can match colors in your environment, using your phone's camera. They can also pulse in time with music. We'll end by reviewing the TJOY LED Strip Lights. This is a 25-foot strip, and it's both cuttable and linkable. As a result, it's an ideal choice if you need an exact length. Which strip is right for you? Let's dig a little deeper, and see what we learn.
What to Look For in a Set of LED Lights
So, why would you choose one LED light strip as opposed to another? Let's take a look at some of the features you should be considering. Keep in mind that depending on your needs, some of them might be more or less important than others.
Length and Number of Lights
The first consideration is perhaps the most obvious. How long is the strip, and how many bulbs are there? If you're trying to illuminate a whole room, you're going to want the longest possible strip. On the other hand, if you're trying to accent a TV or a liquor cabinet, a shorter strip is better. If you get a long strip, you'll either need to trim it or find some way to hide the excess. When it comes to LED light strips, bigger is not always better!
Power Supply
For most types of permanent installation, you're going to want lights that run on AC power. This is the most reliable solution for long-term use inside your home. LED light strips will normally come with an AC power adapter, so finding this style is easy. All of today's offerings are equipped to run on ordinary AC power.
That said, there are some other options you might want to look out for. Some LEDs are powered by USB, for example. These tend to be smaller strips, the kind used around gaming PCs or televisions. Other LEDs can be equipped to run on solar and other 12-volt power systems. We won't be talking about those today, but they can be useful for vehicles and off-grid use.
Colors and Patterns
At the end of the day, LED strips are designed primarily as accent and mood lighting. They may additionally serve some useful function, like our example of a bathroom night light. But if they don't set the right mood, you're going to want to look at a different set of lights.
Exactly what the "right mood" is will depend on the situation. In some cases, you just want a solid, static light. If that's all you need a simple 10 or 20-color kit will be all you need. Unless you're terribly picky about getting the perfect shade of blue, you won't have any issues. On the other hand, you might want to use the same lights for multiple purposes. More color options, color-changing patterns, and music pulses can go a long way in this regard. It all depends on what the lights are being used for.
Ease of Installation
Another important consideration is how you're going to install the light strips. Most modern strips are very lightweight, and can be held in place with a light, double-sided adhesive. That's how all of our top three choices work. That said, there are some other mounting options you may see. Strips designed for truly permanent installation may screw in, or snap into special screw-in brackets. Others may be designed to get zip-tied into the inside of a PC.
With an adhesive, the most important thing to do is to clean the surface thoroughly before application. Otherwise, you might not actually get your light strip to stick.
Quality of Construction
LED diodes can last through a decade or more of use. That said, some are far more durable than others. The reason for this is that heat kills LEDs. A light strip with poor heat management can lose tens of thousands of hours of bulb life. This can be caused by poor ventilation, such as usage inside a PC case or display cabinet without enough airflow. However, it can also be caused by low-quality LEDs putting out excessive heat to begin with. Avoid discount-priced LEDs, or ones that have a lot of customer complaints.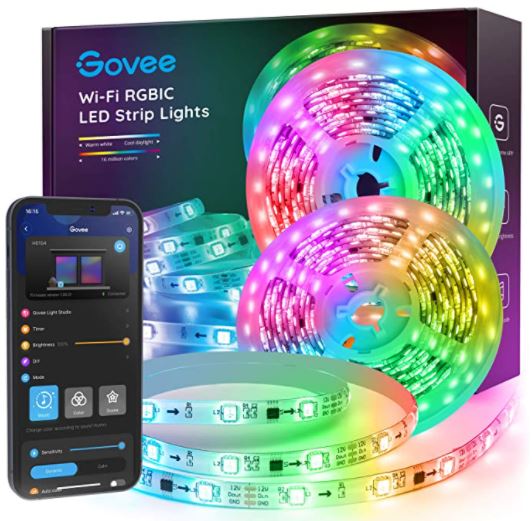 Govee RGBIC LED Strip Lights
GOVEE is a respected LED light manufacturer, and we've reviewed some of their offerings before. We particularly liked their TV LED backlights, and we were eager to review the RGBIC LED Strip Lights. This is a complete kit, including a pair of 16.4-foot strips, a remote, and an AC power adapter. There are 300 LEDs in total, with 150 of them on each individual strip. This means they're relatively tightly spaced, creating a dense lighting pattern. If you only need a single strip, they can be ordered individually as well as in a set.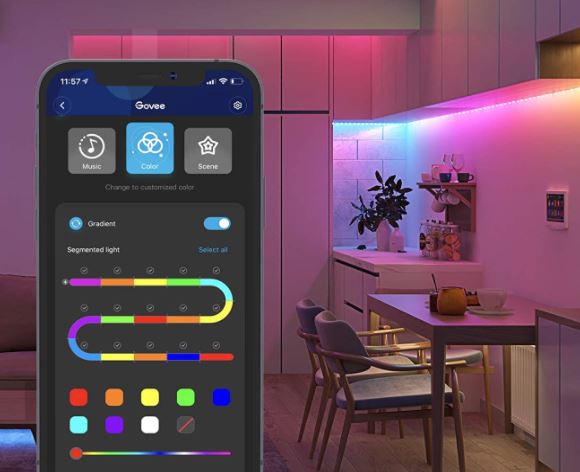 The RGBIC gets its name from the built-in IC chipset, which allows diodes to display multiple simultaneous colors. This allows for faster, smoother transitions from one color into the other. This is particularly noticeable during fast-moving lighting patterns and rainbow effects.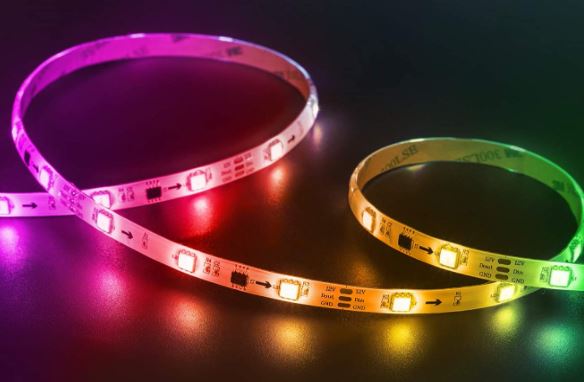 Control and Compatibility
Like all the LED strips on our list, the RGBIC is a WiFi-controlled unit. To use it, you'll first need to download and install the Govee Home app from your phone's online store. The download takes just a minute, but you'll have to create an account with your email address. Once that's done, you can take advantage of a number of advanced controls. First, you can change to a variety of fun color patterns. You can use the app's Music Mode to sync the lights with music from your phone. You can even set a weekly schedule. If you always get up at six in the morning, why not have your lights wake up with you?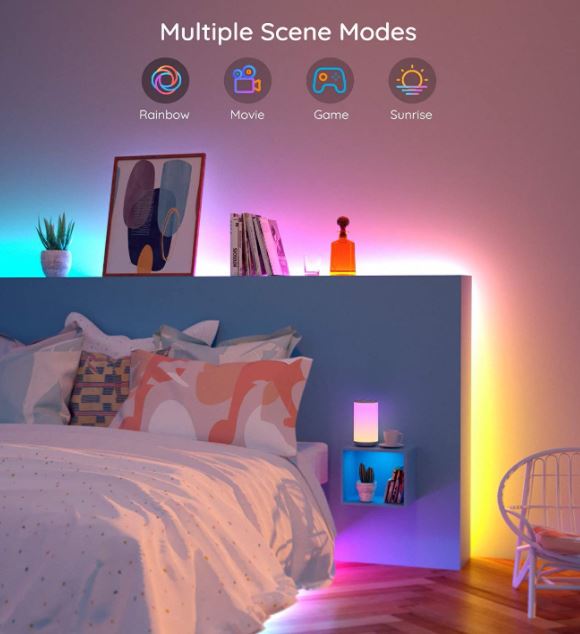 Once the RGBIC is paired with the app, it can also be controlled by your home's voice assistant. It's compatible with both Alexa and Google Assistant, where you can perform any function you can through the app. Alternatively, you can use the in-line controller. It only has three buttons, and they're fairly basic. You can switch the light strip on and off, change between 10 colors, and switch motion patterns. Still, it's easy enough to quickly adjust your lights if your phone isn't handy.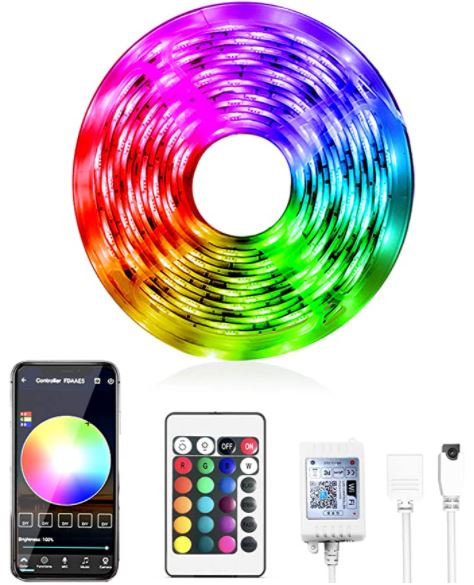 Daybetter Smart LED Strip Lights
Daybetter is another brand we've reviewed in the past. We looked at their waterproof LED strip lights, and we liked what we saw. Their Smart LED Strip Lights have a lot of the same qualities. They're 16.4 feet in length, with 150 lights. This equates to a light roughly every 1 ¼ inches, the same as the Govee lights. You can also order the Daybetter lights in a 2-strip kit, in the event that you want to cover a larger area. The kit includes a handheld remote with 24 buttons. This gives you far more options than the Govee's controller. But then again, you'll probably want to use the app anyway.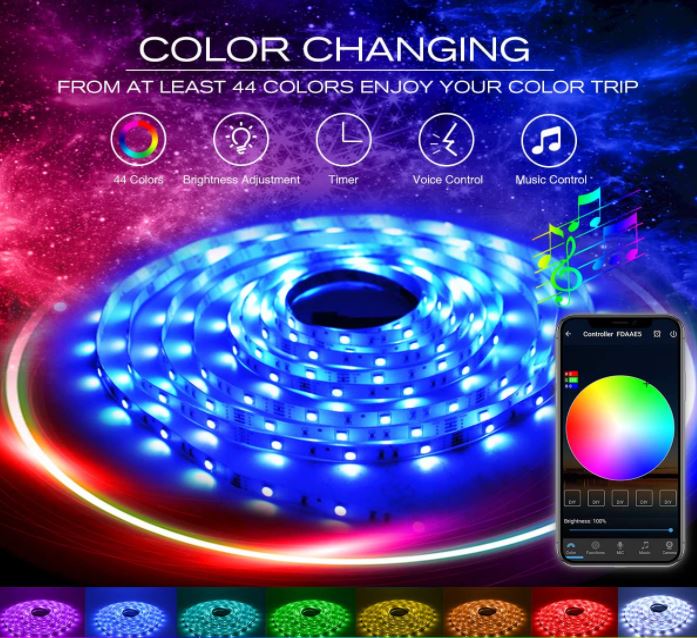 Control and Compatibility
Much like the Govee lights, the Daybetter strip can be controlled in different ways. The first is the remote, which we've already mentioned. The second is the Magic Home app, which you can download for free on Google Play and the Apple Store. This app is easy to install, and allows for full control of the lights. You can adjust the brightness, change colors, change patterns, and even select colors. Take a photo of your room, and select a single pixel to match. This lets you tailor your lighting to decor, so you can have custom lighting at every occasion. You can also use the Daybetter lights with Amazon Alexa or Google Assistant.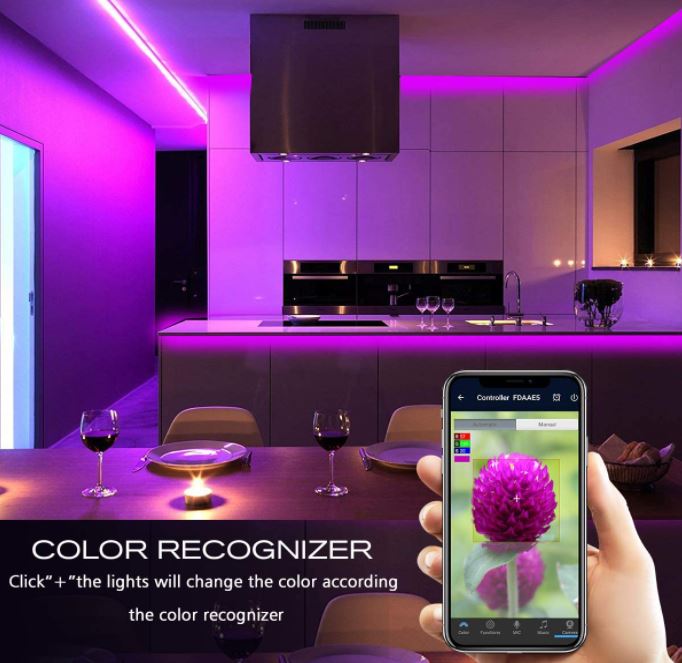 The most impressive feature, though, is the light strip's built-in mic. The mic will pick up the sound of music and match the lighting to the beat. And while music-activation is available on the other light strips as well, it's not the same. It relies on your phone mic, which means that if you're using your phone, you'll disrupt the lights. Because the Daybetter's mic is built-in, you aren't relying on your phone.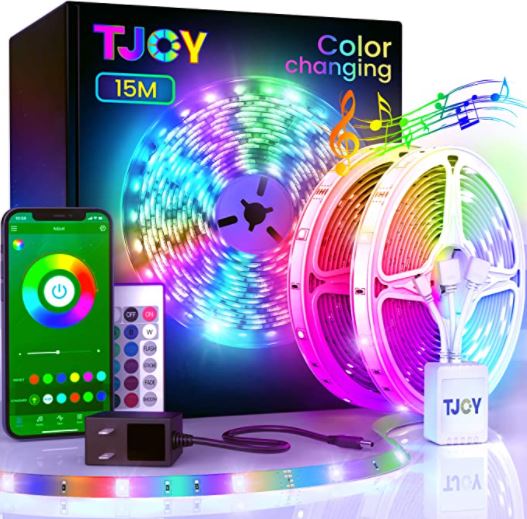 TJOY LED Strip Lights
The TJOY LED Strip Lights consist of a pair of 25-foot rolls that are long enough to light up just about any space. Moreover, the strips are also marked at several locations where they can be safely cut. This allows you to create exactly the length of strip you need. If you want to repurpose your lights, you can also link them again with a TJOY 4-pin connector. Each strip has 270 lights built in, so the density is about the same as our other two choices.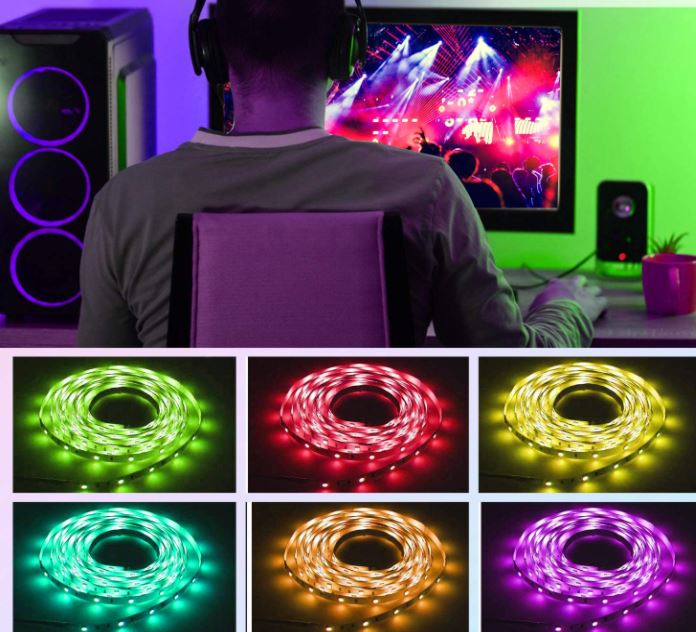 The TJOY lights are covered by a 12-month manufacturer's warranty. If they fail in that time period, you'll get a full refund or a replacement.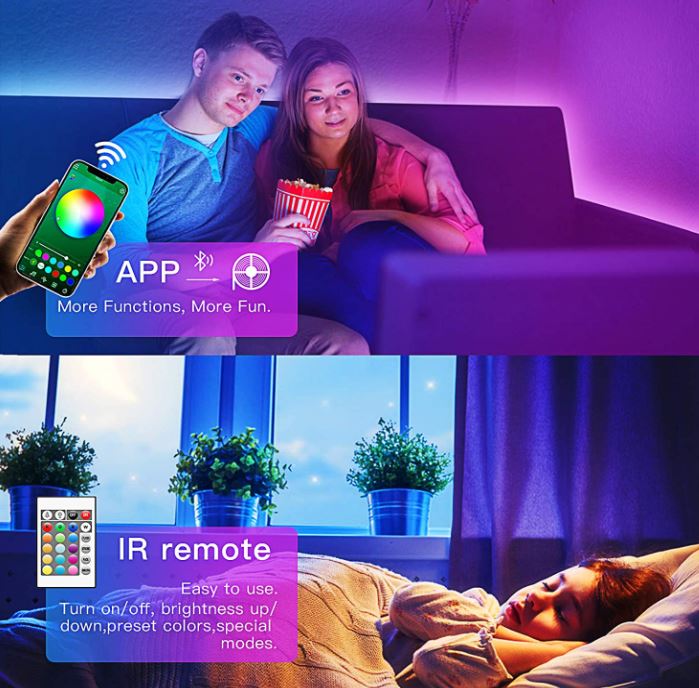 Control and Compatibility
There are two methods of ctonrolling the Daybetter strips. First, you can download the app and switch between color modes. You can also adjust colors and brightness from there. The 24-key remote control performs most of the same functions, but it needs a line-of-sight connection. There's also an option for music control, but it relies on your phone being in the room with the music. Otherwise, it won't work properly.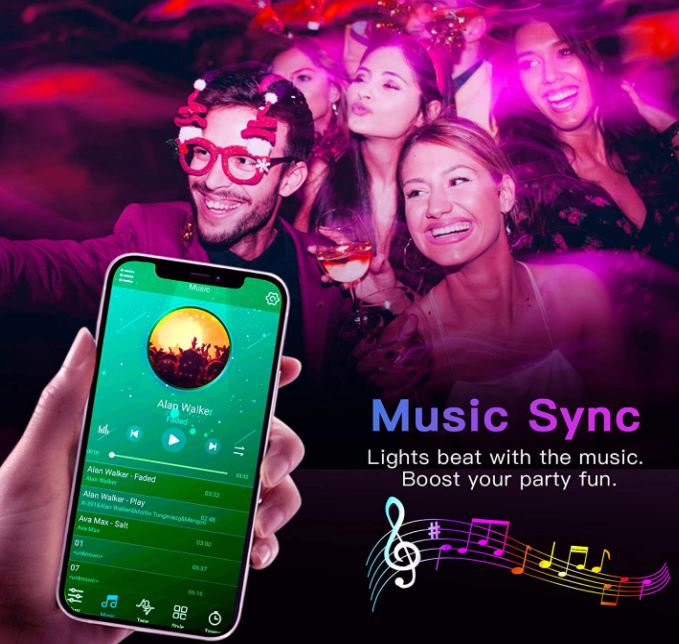 Final Verdict
Clearly, each of these LED light strips has something to bring to the table. The Govee RGBIC LED Strip Lights have the best color-changing effects. Their IC chip makes them most effective when they're in motion. And while the control options may not be the best, they're still adequate. The only thing that really bothered us was the need to sign up for an account just to use the app.
The Daybetter Smart LED Strip Lights are similar in length and in design. What sets them apart, though, is their music mode. The built-in microphone allows for excellent synchronization that doesn't rely on your smartphone. The ability to match a color from a photo is also an excellent feature.
The TJOY LED Strip Lights aren't quite as advanced in terms of functionality. But they're the easiest to install and most versatile by far. Because the strip can be cut, it can be trimmed to length for just about any application. And with 50 feet of total length, you'll have plenty of lights for even a very large space.