When it comes to helping enhance your TV viewing experience, few things may be more beneficial than incorporating LED bias lighting.
While some may see it as simply an aesthetic choice, bias lighting can also be crucial for improving your eye health when viewing screens.
Understanding Bias Lighting
Televisions and the content being played on them can be extremely bright with high contrast. The problem is that prolonged screen viewing can have a negative impact on overall eye health and performance.
Constant exposure to bright lights can cause negative symptoms such as eyestrain and even long-term degeneration.
TV viewing in a dark room can make things even worse. However, most people find that simply turning on additional lights in the room can diminish the overall viewing experience.
Bright overhead lights can wash out the screen and cause glare. That's where bias lighting comes into the picture.
Also known as a TV backlight, bias lighting refers to any light source that illuminates the space behind your screen. Having it may help ease the amount of work your eyes have to do.
Ultimately, this means less eye strain and more comfortable viewing over long periods of time. In addition, you won't have to worry about things like glare messing with the viewing experience.
Best Overall: Govee RGBIC TV LED Strip Lights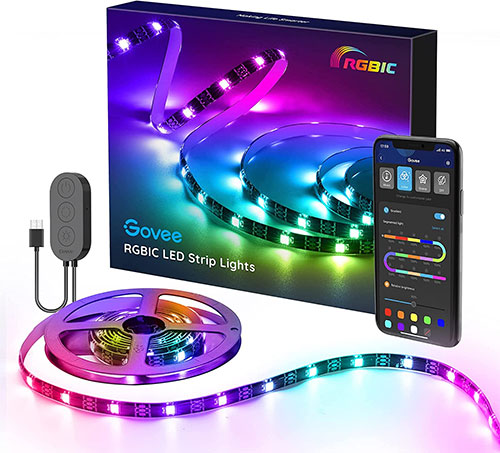 Key Features:
USB powered.
Music sync feature.
Water resistant.
Includes smartphone app control.
Can select multiple colors.
Multiple lengths available.
Suitable for televisions between 55" and 75".
The Govee RGBIC LED backlight offers a feature set that works for a wide range of situations and offers the convenience that a lot of users are looking for. There are a few aspects that set it apart as our choice for the best overall. For starters, the power consumption is very low. Even compared to other LED bias lighting, the Govee outperforms them while still delivering consistent illumination. There's no noticeable flickering or light fluctuation which can happen with other lights at this price point.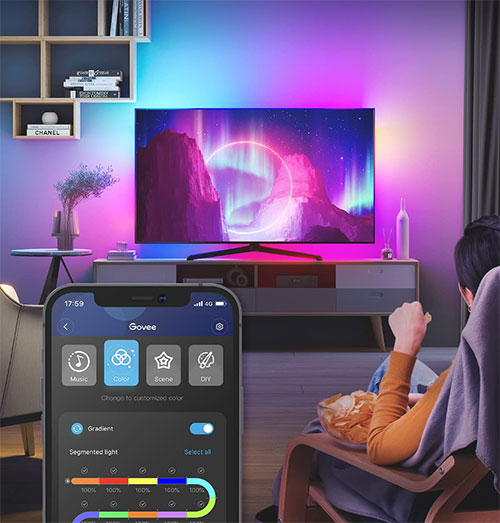 Another solid aspect is in regards to color selection. Nearly all the lights we tested allow you to change the light color to nearly anything. However, the Govee allows you to choose a different color for different sections of the light strip. This allows you to customize your lighting experience without having to purchase multiple strips to achieve the desired effect.
The included control app makes choosing colors and adjusting brightness very simple. If you end up using multiple units, you can manage all of them in one place which makes things extremely convenient. Rather than having to remember your preferred lighting setups and manually inputting them every time, the app lets you create presets. It's a small but powerful feature that we found saves a lot of time.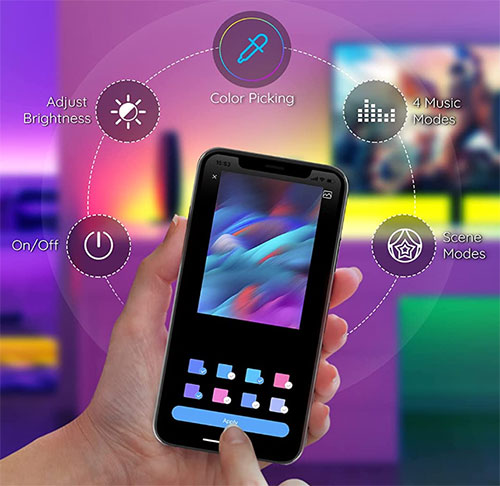 Although the app is great for total control of your LED bias light, the Govee RGBIC can also be set up with Alexa for voice activated control. While you can't have Alexa adjust the brightness or change the colors, it's a pleasant feature that lets you turn on and off your lights, hands free. In addition, the music sync feature works extremely well for both listening to music and gaming.
This option offers one of the lowest brightness thresholds of any that we've tested while offering very solid, full brightness at the top range. The result is an extremely versatile solution that works well in both bright and low light conditions.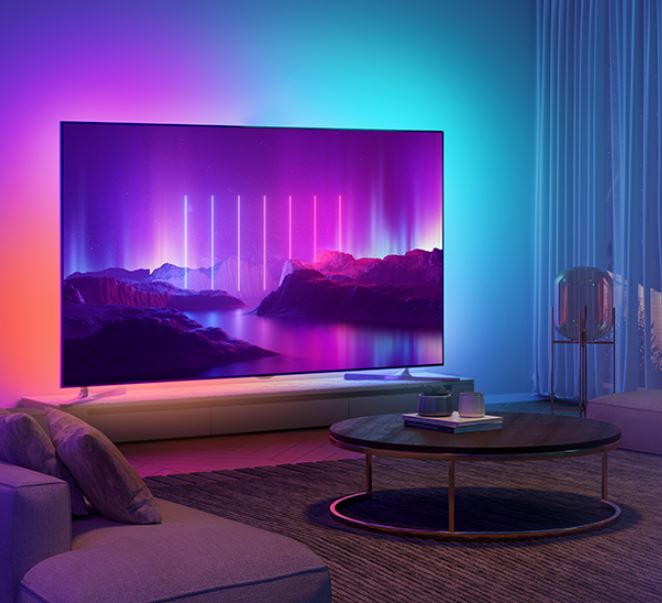 The Govee RGBIC TV LED Strip Lights are an ideal option for people that want something extremely versatile with a robust set of features to provide maximal flexibility.
What We Liked:
Powerful LEDs that can also adjust to extremely dim.
Choose different colors for different sections of the same strip.
Robust mobile app with great light management tools.
Custom presets make color changing simple.
No need for additional equipment to use mobile app control.
Alexa enabled for basic on/off function.
What We Didn't Like:
May not work for televisions larger than 75".
Best White LED: Power Practical USB Bias Lighting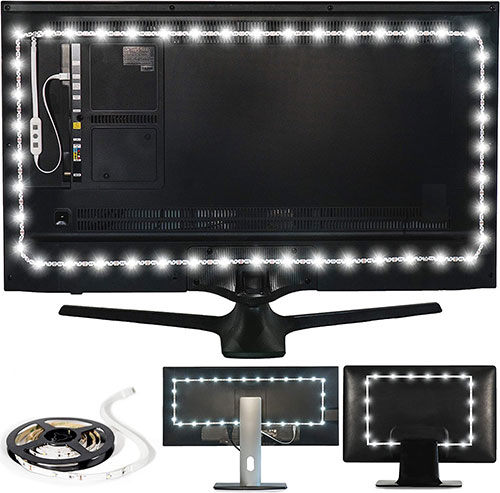 Key Features:
USB powered.
Various size options available.
6500K true white LED.
10 brightness modes.
15 ambient color lighting options.
Remote operated.
The Power Practical USB Bias Lighting offers the best option for those that are looking for white-specific LED option. At a 6500K color temperature, these lights sit at the top of the daylight color temperature range. This makes them suitable to add extra light to daylight settings. While other LED bias lighting default to white as well, this one has the most consistent white color temperature of the ones we tested.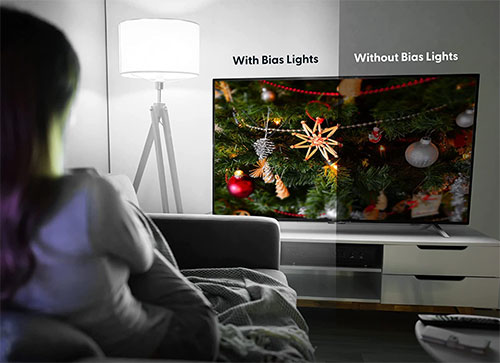 Keep in mind that it uses a remote control for adjustments instead of a mobile app. While this may seem to be a negative, we found that having a remote gave the needed flexibility to make adjustments without having to have a smartphone nearby. An example of this would be for a child's room television. Additionally, it comes with ten different brightness modes that cover a wide range of needs. While you can customize the color, these lights come pre-programmed with fifteen popular ambient light scenes.
The Power Practical lights are easily attachable to a wall or the back of your TV. The pre-installed 3M adhesive did a good job adhering to different surfaces. However, it might be a good idea to clean the surface of dust to make sure you get a secure fit.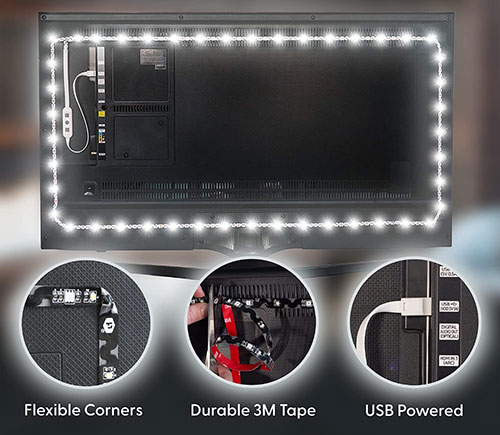 Regarding overall performance, these units produce a bright, consistent light with a solid range of presents and settings. Be aware that the remote requires direct line-of-sight for it to function. As long as you make sure that the control unit of your light isn't obstructed, you'll be able to control it from anywhere in the room.
What We Liked:
Accurate, 6500K color temperature.
Wide selection of brightness settings.
High quality, on-trend color presets.
Remote control works well.
What We Didn't Like:
Mobile app control would be a nice feature.
Best High-End: Govee Envisual TV LED Backlights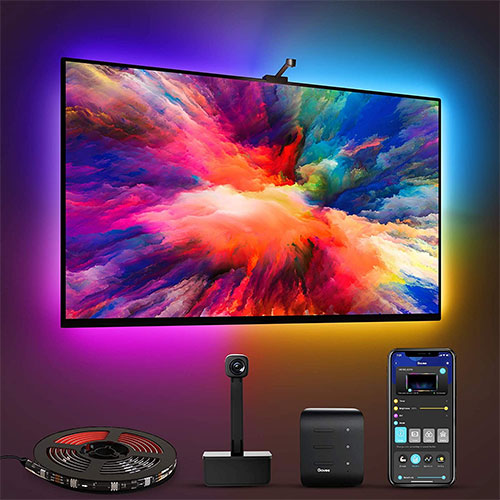 Key Features:
1080p camera included.
Control box included.
Ideal for TVs 55-85".
Controlled by mobile app and voice control.
Alexa and Google compatible.
Adaptive color match feature.
Bluetooth and Wi-Fi Enabled.
While the price point is on the higher side, the Govee Envisual TV LED Backlights are some of the best we tested in nearly every category. These lights are environmentally adaptive. This means they adjust their color settings based on what is happening on your television screen. It solves a common problem a lot of users tend to have with LED bias lights. The last thing you want is your background colors to clash with the color grading of what you're watching.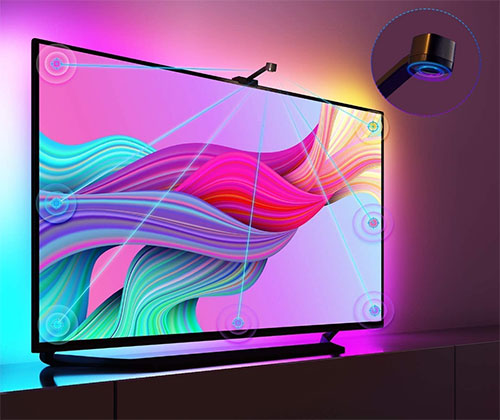 There's a 1080p camera included with this kit. When aimed at the screen, the lights will adjust their color and brightness to complement what you're watching. You won't notice the camera above the screen after a while, but you'll save a lot of time and hassle not having to adjust your lights manually. After looking at hundreds of user reviews, this is one of the most popular features.
When we tested it out internally, it did a great job of making adjustments subtly that didn't distract from the television. However, the camera did seem to do better in low light settings as opposed to bright daylight, but overall it functions well.
The app-connected features are substantial. Besides the features we mentioned for the Govee RBGIC, it also has things like video, DIY and timer mode to add even more versatility. It allows you to customize different sections with different colors. It's not common with competitors since execution can be tricky.
This high-end option comes with additional clips to mount the lights to the back of your TV if you aren't a fan of using an adhesive. Although both come in the package, many users prefer the low profile clips.
The included smart home features work great. The instructions are easy to follow and the Wi-Fi and Bluetooth control unit can stay connected to services like Alexa and Google Assistant without issue. One thing to keep in mind is that when your smart device searches for these lights during setup, some users mention that they may have a different name than what they list in the instructions. However, this did not hamper the setup process.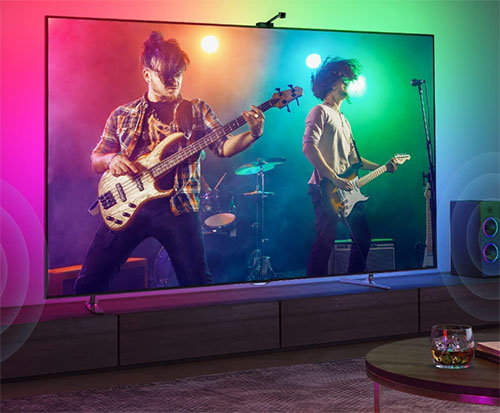 If you are looking for a high quality LED bias light with intuitive features and customization, the Govee Envisual TV LED Backlights are definitely worth considering.
What We Liked:
Govee Envisual feature is extremely accurate at adapting to what is on screen.
Voice control and Alexa compatible.
Lots of features in a simple mobile app.
High-quality light and color output.
Includes both the camera and control unit.
What We Didn't Like:
One of the most expensive options.
Best Alternative: Sengled Smart LED Light Bars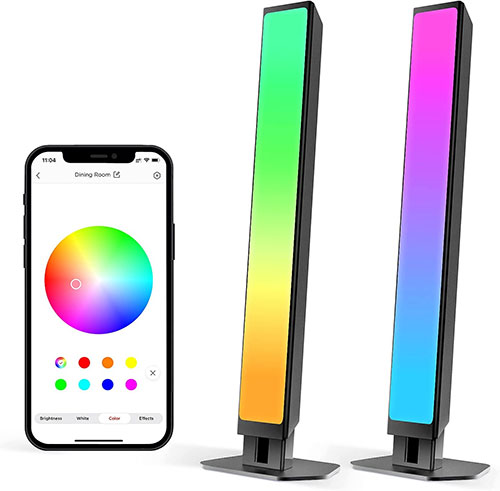 Key Features:
2 exterior light bars.
Adhesive, free-standing or screw-mounted options.
Alexa, SmartThings and Google voice control.
Music mode.
Mobile app control.
The Sengled Smart LED Light Bars are a great option for people that want a different form factor than the conventional strip light. While both options provide great light output, light bars provide a more focused light radius which may be ideal for different rooms and applications.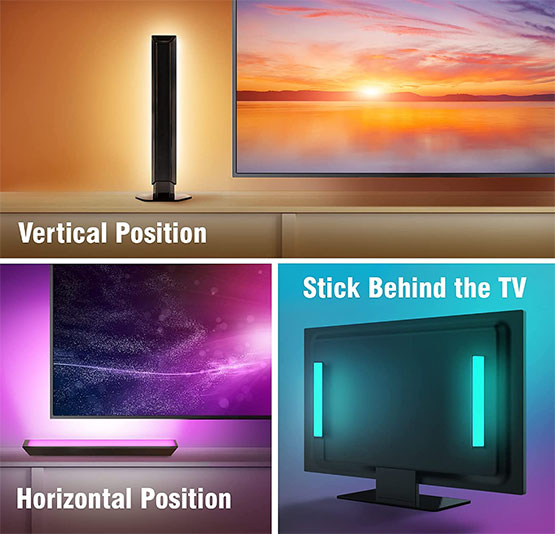 The Sengled comes with two bars that you can mount three different ways. It comes with adhesive, stands and screw mount hardware. The stands let you orient the light bars in either vertical or horizontal, giving you more options. The screw mount option is a great option if space is a factor. Best of all, these lights are narrow enough to work with different TV mounting brackets. Installed with Wi-Fi and Bluetooth onboard, you can control them with an easy-to-use app. It boasts 27 preset scenes and a multitude of modes like timer, music and video to customize your experience. If you have several Sengled lights, you're even able to connect and designate them into different groups.
Combined with Alexa, Google and SmartThings, features like light grouping make it easier to voice control your lighting setup with minimal effort. Setup and connecting these with Alexa is very simple. Many users report completing the setup from mounting to connecting with Alexa in under thirty minutes.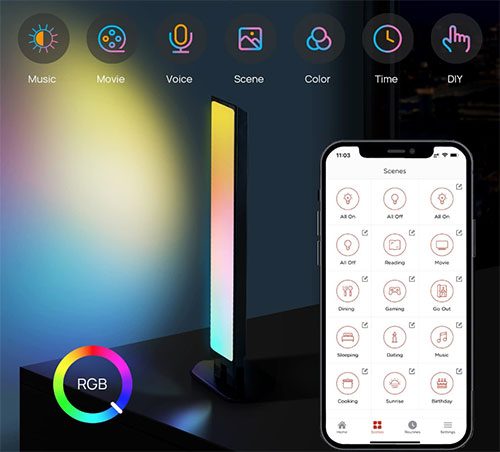 The Sengled Smart LED Light Bars are a great alternative if you're looking for bias lighting in a light bar form-factor. Since they can be standalone, they're also a great choice if you'd like to use them in different places throughout your home or office.
What We Liked:
Free-standing option.
Mobile app extremely easy to use.
The ability to create lighting groups enhances smart home functionality.
High-quality light and color output.
Multiple lighting scenes and modes.
Great customer support.
Easy to set up.
What We Didn't Like:
A bit bulky for some setups.
Best 2nd Alternative: Nexillumi LED Strip Lights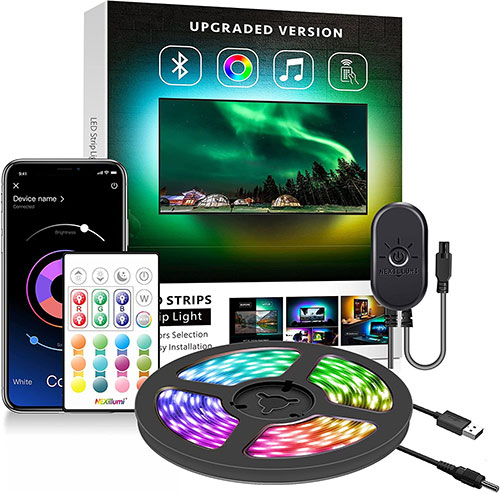 Key Features:
Multiple lengths available.
Includes IR remote.
Controlled by newly updated mobile app.
Music mode and customizable colors.
The Nexillumi LED Strip Lights are a great alternative for people that need multiple ways to control their lights. While most products either let you control from a mobile app or with a remote control, Nexillumi gives you access to both. The included IR remote does a great job at controlling them from a distance with brightness and color preset adjustments on-board.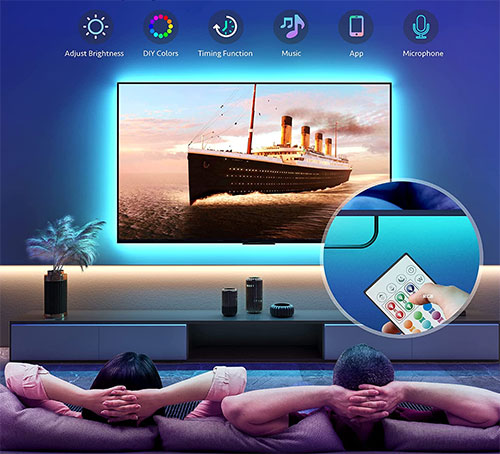 The mobile app gives you more features and adjustments so that you can customize them to your specific tastes. The light quality is consistent and bright enough to work in nearly any setting. An additional thing to note is that they're not compatible with Alexa at this time, which means there's no voice control.
However, with such a low price point and the addition of a remote control, the Nexillumi are a great option for those looking for an affordable and versatile bias lighting setup.
What We Liked:
Budget friendly.
Fits a wide range of screen sizes.
Music mode and other features with the mobile app.
Includes an IR remote.
What We Didn't Like:
Lack of Alexa and Google Assistant compatibility.