When I was a kid, my parents would always reprimand me for sitting too close to the TV. "Your eyes will turn square!" they'd tell me. While this obviously isn't true, their heart was in the right place. Eyestrain is a very real concern. These days, we spend an awful lot of time staring at square rectangles. It's not the shape of our screens that cause damage, but the fact that our eyes are struggling to deal with the sharp contrast between the bright display and the comparatively dark background.
Technically, we should all be watching TV with the lights on. As we all know, there is no fun in that! Bias lighting is the best balance between the two. This technology is designed to analyze the image going on in your screen, and illuminate the back of the TV with similarly colored lighting. Not only is this good for our eyes, but it helps to create an immersive experience that few of us have experienced before.
If you're looking to take your media experience to the next level, you'll want to find a bias light. Bias lights first came out several years ago, and the products range from "good" to "overpriced." If you don't have time to dig through hundreds of competing products (let's be honest, who does?) we'll give you a great place to start. We'll be taking a look at the three best LED bias lights on the market. We'll help you understand the difference between them. After, we'll point out which of them are best for each purpose.
Vanksy Bias Lighting
Vanksy isn't your average company. They're a bit of a mix between a manufacturer and a supplier. Technically, they don't make any of their products themselves. But they do assemble them. Bias lights are simple products made from two different parts, an LED light strip and a controller. Both of these parts are useless on their own, but easily sourced from overseas. Vanksy specializes in simple products like this. They buy the supplies, get them put together domestically, and sell them for a discount online. Prior to reviewing their Bias lighting, we haven't encountered this manufacturer before. But they are very highly reviewed, so we had to test them out for ourselves.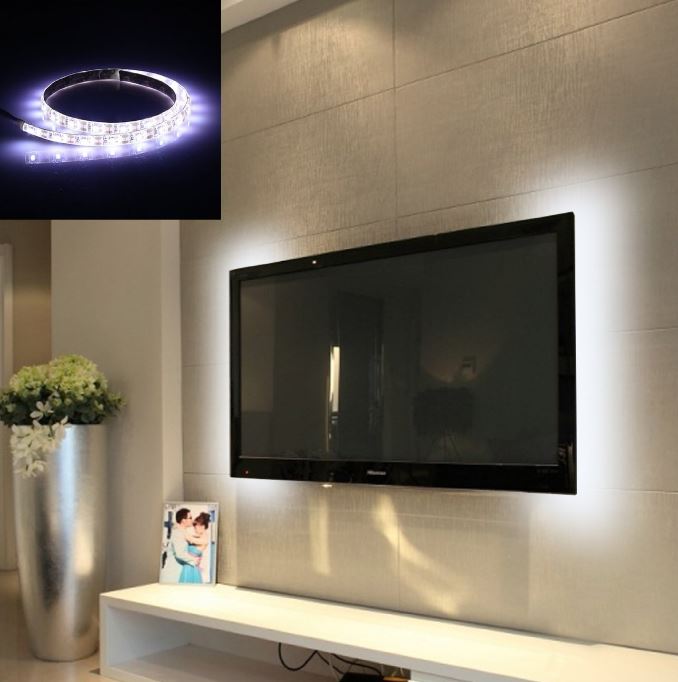 Layout
Before you get the Vanksy Bias Lighting Kit setup, you'll have to attach the lights to your TV. This LED strip is very simple in design, consisting of a single 35-inch strip and a power cord. For most larger TVs, all you have to do is stick it to the back of your TV and plug it into a USB port. At 35 inches, it's long enough to make a single stripe across the back of your TV. Our recommendation is to place it evenly on the back, as close to the center as you can. But if you pick up two, you can easily place one on each side.
One of the nice things about this LED strip is that you can cut it. Along the strip, you'll see several white lines with two metal connection points on them. You can cut the strip at any of these points and it will still work perfectly. This is great if you want to apply the strips along the side of a smaller TV, as they can be made to fit any TV.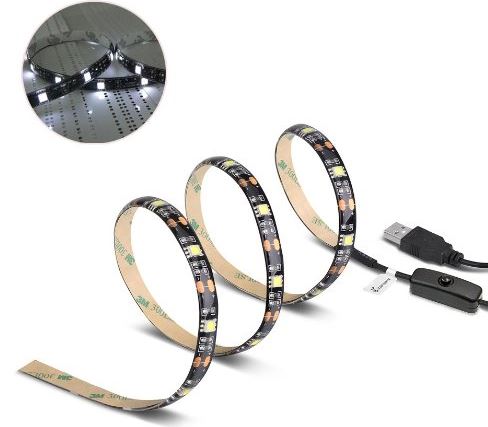 Ease of Use
For the most part, this bias light will be running on autopilot. 90% of your interaction with it will be the time you spend installing it. For the most part, this is very easy. The back of the light strip is coated with a special 3M sticky backed tape. All you have to do is peel off the paper, and place it where you like. When we applied it to our TV, we found that the easiest way to install it was to peel just the tip of the paper off, place the beginning of the strip where you want it, then continue to peel off the rest of the tape as you slowly run your hand along the perimeter of the tape. This secures it in place, and assures a firm mount.
To get it running, you have two options. First, you can use the included USB charger. It's a standard 1A power supply, so technically you could use any phone charger on the market. But we recommend plugging it directly into a free USB port on your TV. Remember, this is a simple device. It's either on or off. If you plug it into your TV, it will be on whenever your TV is on. If you plug it into the wall, you'll have to turn it off separately from your TV.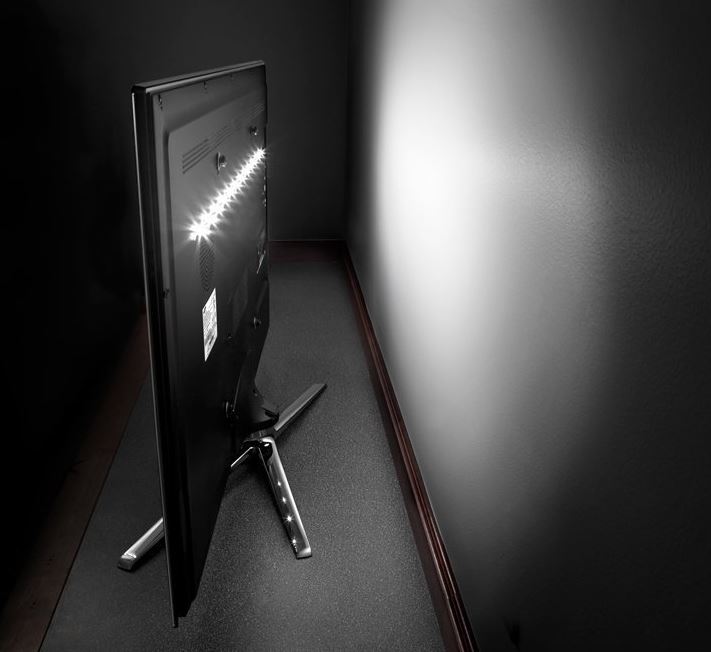 Durability
Much to our surprise, this LED strip is fully rated at IP67. For those who haven't encountered the IP rating system before, this means that the actual LED strip light is fully water proof. At first, we were a little curious why something that is designed to attach to your TV (which is almost certainly is not waterproof) would go through the trouble of getting such a rating. But when we did some more research into the IP67 rating, everything became clear.
LED strip lights can't be hidden inside some case, like your TV can. For this reason, all of the circuitry is exposed. This means that dust or other foreign matter can settle on the strip and muck up the electronics. But with the IP67 rating, you don't have to worry about this. Chances are, this LED bias light will long outlast your television.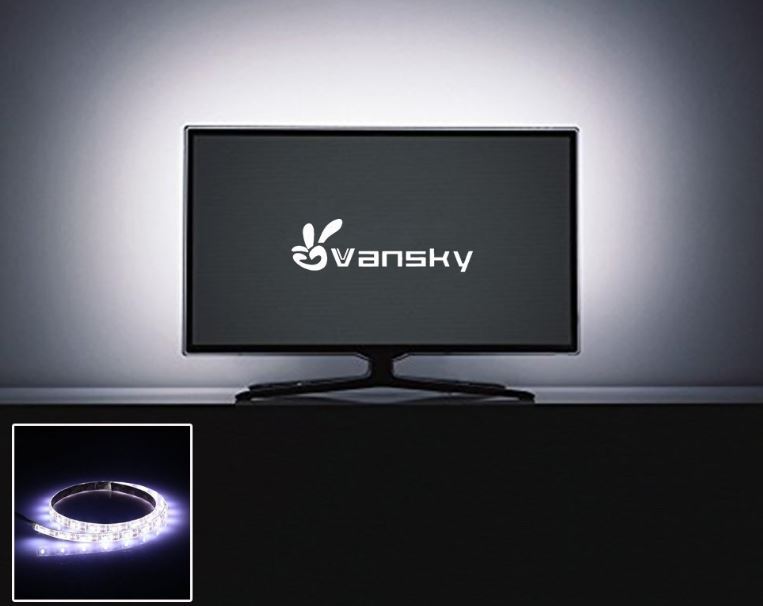 Lighting
The 27 independent LED lights on this strip are capable of lighting up the back of your TV for up to 100,000 hours. They have bright, cool light. If it was facing you directly, it would likely be a little too bright. But the rubber encasement does a good job of diffusing the light, so it's the perfect brightness for the back of your TV.
Luminoodle Bias Lighting
We've heard a lot of product names before, but we have to admit that the 'luminoodle' made us laugh. But once you get a look at this bias light, you'll see where the name came from. Much like a noodle, it's a long floppy thing that is capable of brightening your day. But all around, it's simple and practical, just the type of product the Power Practical likes to promote.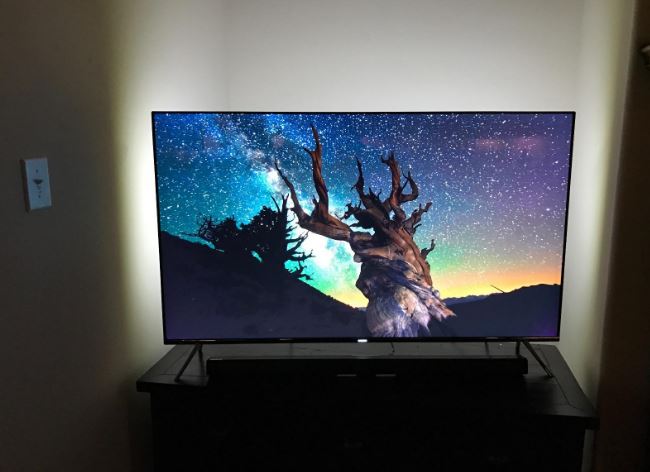 Layout
The Luminoodle is one of the larger LED bias lights we've seen. Measuring 78 inches from tip to tail, it's capable of completely surrounding all four sides of a 50" TV, or three sides of a 70" TV. Some models have two separate components, a long strip followed by a connector and the USB port. This manufacturer made the entire unit all in one shot, so the ultra-slim USB connector and controller are embedded on the strip. They do give you about a foot of space between the connector, so you've got lots of room to get the start of the strip exactly where you want it.
Ease of Use
Getting this bias light up and running couldn't be easier. The adhesive on the back of the strip, although still made by 3M, has a bit of a different installation procedure. It's designed to fix some specific issues (which we'll get into later) and to be effective it must be installed on a clean surface. Before you put it on, you'll want to make sure you clean the back of your TV so there is no dust in place. After that, sticking it on is very easy.
This model does not include a charger, but is instead designed to plug into your TV. Almost every modern TV has a USB port, but if yours doesn't you can try and find a USB on another device you use with your TV, such as a cable box or Blu-ray player.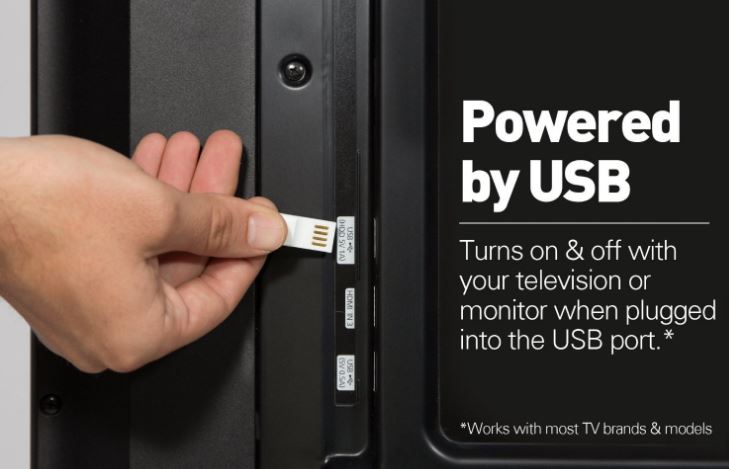 Durability
This LED bias lighting strip uses ultra-thin components, so the delicate circuitry can be encased inside the strip itself. This means that they don't need any fancy rubber coating to keep it durable.
But realistically, the components and the LED's aren't the first thing that's likely to fail. The adhesive can degrade over time, causing the lights to fall off. For this reason, this particular strip uses a different formulation of 3M's double sided tape, enabling it to last for years.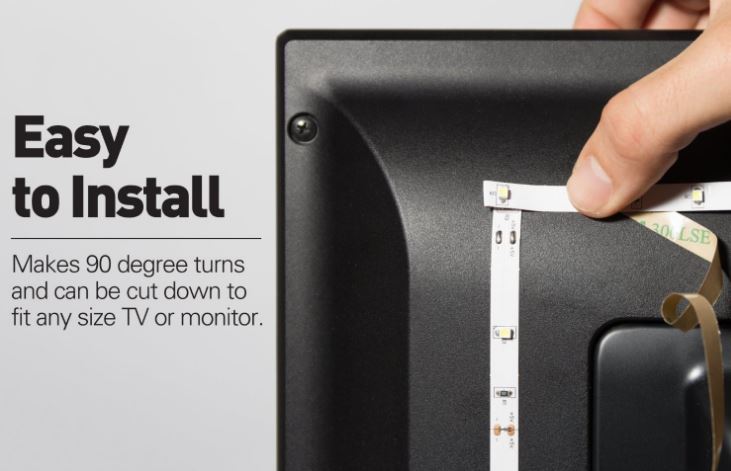 Lighting
Lights are generally measured as being either "cool" or "warm." But this light is rated exactly in the middle. With a color temperature of 6000K, this strip light produces a completely neutral light. It produces 200 Lumens, which is a little on the dim side. But if you're looking to add a little atmospheric accent to your movies, it's a great choice.
Emotionlite Bias Lighting
Emotionlite doesn't just make bias lighting, they've got a huge range of accent lights for all purposes. From evening lamps to nightlights, their bias lighting is just one entrant into a large range of fantastic lighting products.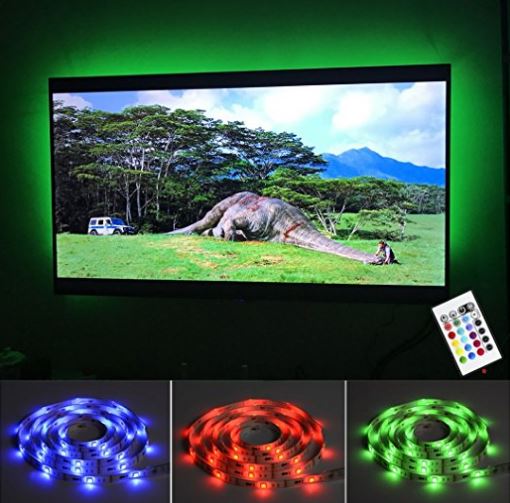 Layout
The Emotionlite Bias Lighting package is also designed to light up all four sides of a TV, but they do it a little differently. They give you four separate LED strips. Each of them are connected via a set of thin wires, so you can separate them a bit on your television. At 52cm each, they're not the longest strips on the market. But due to the design, they can still illuminate the back of any TV up to 60" easily.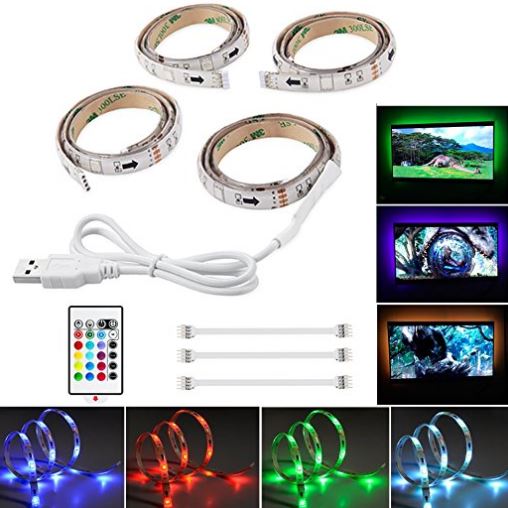 Ease of Use
Installation of these LED lights is just as easy as any other model. Just dust off the back of your TV, and place each of the strips one by one. We recommend plugging them into the USB port first, placing the nearest strip, then moving in a clockwise direction.
Durability
Like the first model, these ones are also coated with a rubbery coating. They didn't go through the process of getting an IP rating, but we're confident that they'll hold up to all kinds of dust.
Because this model has multiple LED strips that need to be connected, we were concerned that the connections could be a point of failure. Fortunately, we found the connectors to be very well made. They've got large plastic inserts that should keep them securely attached for a very long time.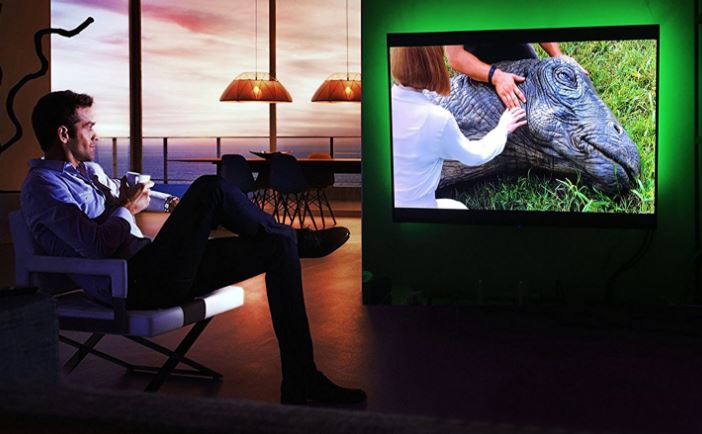 Lighting
If you're looking for something unique, these are the lights for you. They use RGB LEDs, each of which can be automatically adjusted to create up to 16 different colors. There are two different lighting modes you can choose from. The first mode is manual. Using the included RF remote, you can choose white or any of the other colors on the list, each of which have their own dedicated button. You can also choose the automatic modes, each of which dynamically change from one color to the next to create a unique atmosphere.
Which LED Bias Lighting Kit is Right for Me?
Not sure which one to buy? The first thing you should think about is the size of your TV. If you've got a smaller TV (under 47") or just want a small amount of light, the Vanksy Bias Lighting Kit is a great buy. But for larger televisions, the Luminoodle Bias Lighting Kit has the length you need to get full coverage.
But white light doesn't give the impact that everyone wants. If you're looking to kick it up a notch, you can get 16 great colors to choose from with the Emotionlite Bias Lighting Kit. Coupled with a nice pair of surround sound speakers, you'll be ready for the ultimate cinematic experience!