Are your projects feeling the heat? Efficient cooling is crucial, and the right blower fan can make all the difference. In the world of compact, powerful cooling, the 5015 24V Blower Fan stands out.
This fan, measuring 50mm x 50mm x 15mm, is a staple in managing airflow for electronics, 3D printers, and other precise applications where targeted air circulation is a must.
They're engineered to operate on a 24V power supply, providing a balanced performance of airflow and pressure with minimal noise.
Our hands-on experience has led us to the best of these small but mighty workhorses. Let's cut to the chase and share with you the top 5015 24V Blower Fans that have proven their mettle in our rigorous testing.
Here is a quick comparison:
| Feature | GDSTIME | WINSINN | SoundOriginal |
| --- | --- | --- | --- |
| Pack Quantity | 2 | 3 | 2 |
| Bearing Type | Dual-ball | Hydraulic | Dual-ball |
| Lifespan | 50,000 hours | 35,000 hours | 40,000 hours |
| Warranty | Not specified | 2 years | Not specified |
| Voltage | 24V DC | 24V DC | 24V DC |
| Current | 0.1A | 0.1A | Not specified |
| Power | 2.2W | 2.4W | 2W |
| Fan Speed | 6000 RPM | 5500 RPM | 5800 RPM |
| Static Pressure | 1.21 In H2O | 0.98mm H2O | Not specified |
| Airflow | 5.36 CFM | 3.23 CFM | 3.6 CFM |
| Noise Level | 38.7 dBA | 40 dBA | 39 dBA |
| Cable Length | Not specified | 11.8 in (300mm) | 9.8 in (250mm) |
| Size (L x W x H) | 50 x 50 x 15 mm | 50 x 50 x 15 mm | 50 x 50 x 15 mm |
| Air Outlet Size | 19.5 x 15 mm | Not specified | 20 x 15 mm |
| Mounting Spacing | 2.24 in | Not specified | 2.3 in |
Factors to Consider:
Airflow: Evaluate the fan's airflow capacity, typically measured in CFM or LPM, to ensure it meets the cooling demands of your application.
Static Pressure: Look at the static pressure ratings to determine the fan's effectiveness in pushing air through obstacles or restrictive spaces.
Noise Level: Consider the noise level in decibels (dB) to ensure the fan's operation will be acceptable for your environment.
Power Consumption and Voltage Compatibility: Verify that the fan's voltage requirements and power draw are suitable for your power supply and system needs.
Durability and Build Quality: Assess the fan's build, focusing on bearing type and material quality, to gauge long-term reliability and performance.
1. GDSTIME 5015 Blower Fans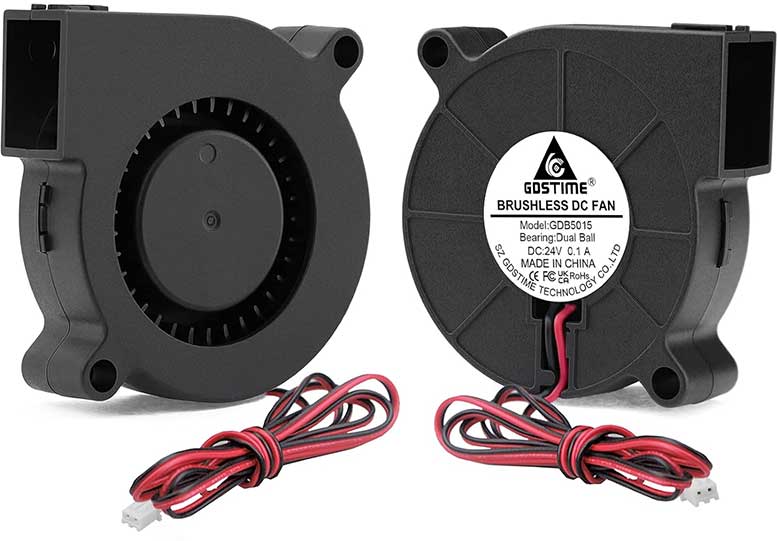 Key Takeaways:
Sold as a 2-pack.
Easy-to-connect XH2.54-2Pin connectors.
Quiet dual-ball bearings, 38.7 dBA.
Durable lifespan: 50,000 hours.
Strong airflow at 5.36 CFM.
High static pressure performance: 1.21 In H2O.
The GDSTIME 50mm 5015 Blower Fan is an excellent choice. Right out of the box, we noticed you get two fans – a nice bonus. Setting them up was a breeze since they come with two wires each, complete with an XH2.54-2Pin connector.
The wires were long enough to reach our power supply without any hassle – red for positive, black for negative, just like the instructions said.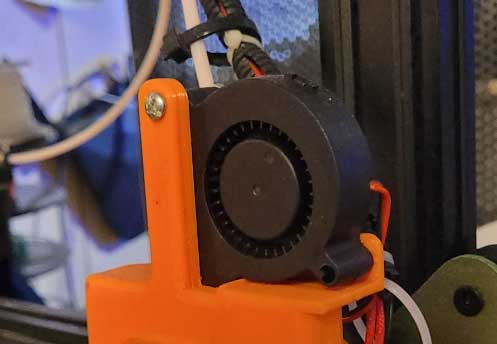 We decided to test the fans on a 3D printer that's been known to get a bit too warm during long print jobs. After hooking them up, we immediately noticed a difference.
The fans were super quiet, only hitting about 38.7 decibels on our sound meter. That's quieter than a lot of the fans we've used before. For something that's rated for 50,000 hours of use, that's impressive.
The size was perfect for our setup. We had no trouble with the air intake size or the outlet, and the mounting spacing was spot on for our printer. They fired up easily within the operating voltage range – our system uses 24V, so we were good to go.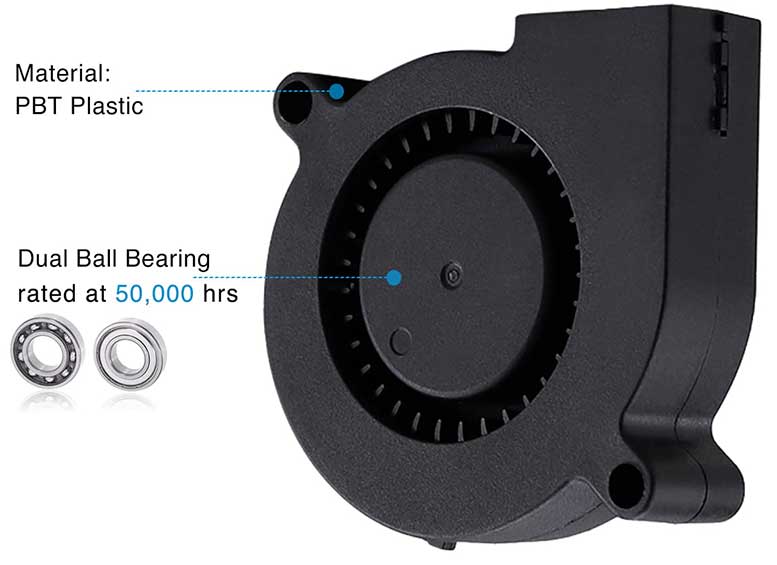 But here's where it gets really cool: we watched these little blowers move air like it was their only job. With a fan speed of 6000RPM, they pumped out 5.36 cubic feet of air per minute.
Plus, the static pressure was strong enough to push air through our printer's somewhat tricky ductwork. At 1.21 inches of water, we could tell that resistance was just a word, not a problem for these fans.
We ran these fans for a few hours, and the performance was consistent – no dips, no drags. The printer stayed cool, and the fans… well, they just kept on spinning quietly and powerfully. All in all, a great all-around option with a small price tag.
2. WINSINN 5015 Blower Fans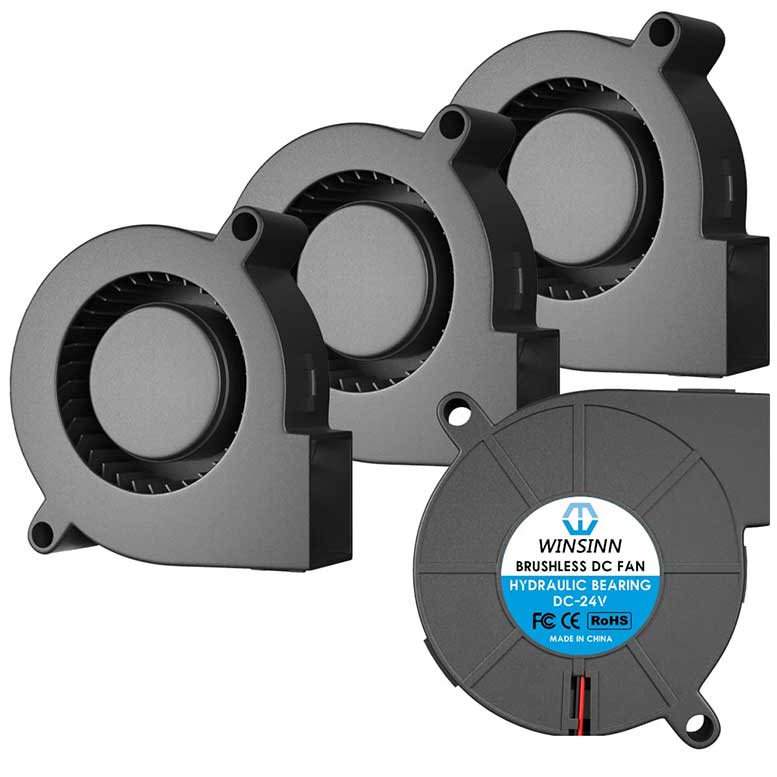 Key Takeaways:
Comes in a 3-pack.
Hydraulic bearings with 35,000-hour lifespan.
Includes a 2-year warranty.
Efficient, with 3.23 CFM airflow at 40dBA.
The WINSINN 50mm 5015 Blower Fan, is another great choice. This 3-pack of fans was slightly cheaper than the GDSTIME fans we'd tried before. So, we hooked them up to a custom-built 3D printing enclosure that needed a cooling boost.
The fans utilize high-quality hydraulic bearings – they should be good for ~35,000 hours of life. Plus, they come with a 2-year warranty, which gave us a little extra peace of mind.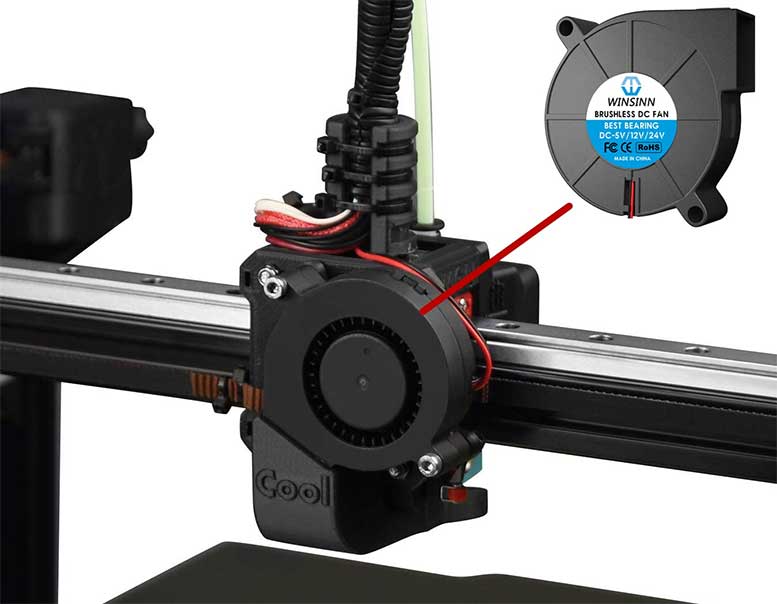 We tested them out and found they were pretty straightforward to install. The cables and connectors were long enough to comfortably reach our power supply – no extensions needed.
We powered them up, and they worked great! With a voltage of 24V and a current draw of just 0.1A, they're pretty standard.
Now, they do spin a bit slower than the GDSTIME fans at 5500RPM, and they push out less air at 3.23 CFM. The static pressure is slightly lower too.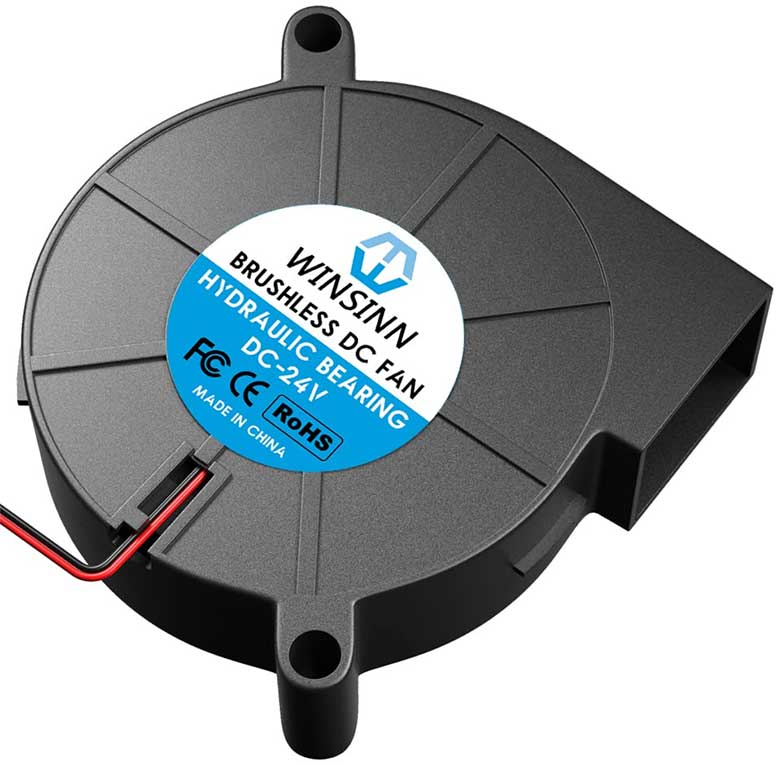 But here's the thing: they managed to keep our enclosure cool enough, and they did it at a noise level of around 40dBA – which isn't too loud at all.
In practice, these WINSINN fans kept things running cool over several test runs. They didn't offer the same oomph as some of the pricier models, but for a setup that doesn't need industrial-strength cooling, they worked just fine.
3. SoundOriginal 5015 Blower Fan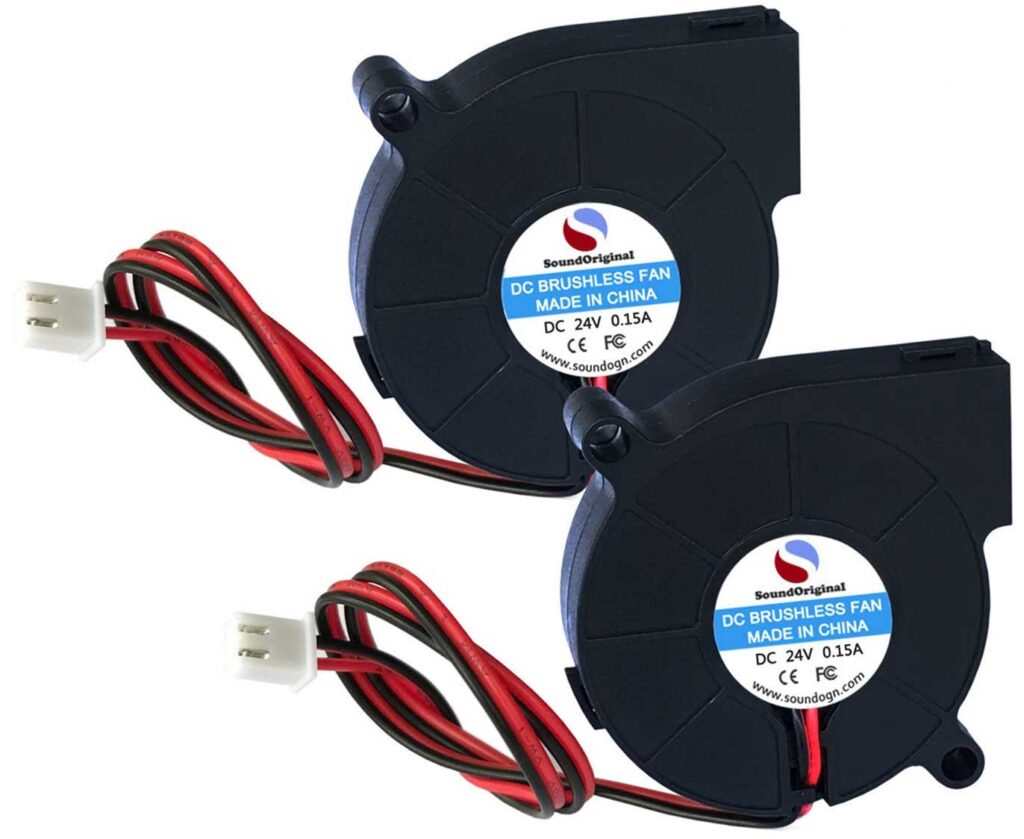 Key Takeaways:
Compact size with powerful 5800 RPM speed.
Dual ball bearings ensure longevity and quiet operation.
Airflow efficiency with 3.6 CFM output.
Durable with a 40,000-hour lifespan guarantee.
When the SoundOriginal 5015 Blower Fan landed on our workbench, we were intrigued by its promise of high-speed cooling. Sold as a 2-pack, we decided to test them on a weekend project that involved a lot of soldering on a circuit board.
First impressions? This fan is compact, a near-identical to the GDSTIME and WINSINN. It fit snugly into the corner of our workspace without hogging any room. The dimensions were just as the specs promised: 2 inches square, with a thickness of merely 0.6 inches.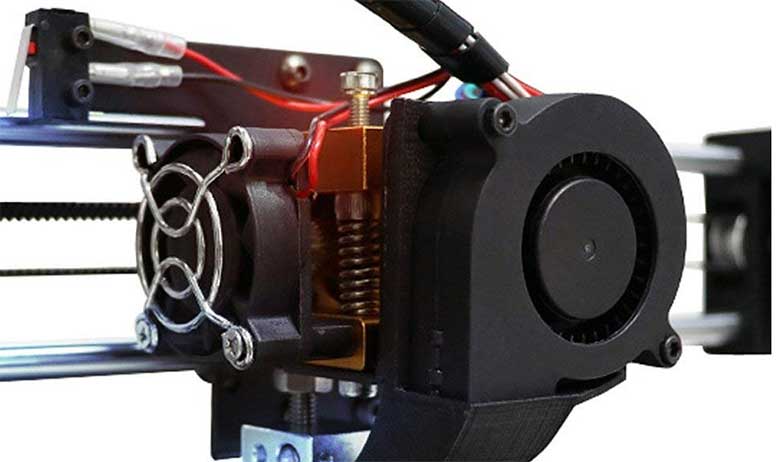 Now, let's talk about performance. This little fan packs a punch with a speed of 5800 RPM. When we powered it up, we could feel the breeze it was kicking out – 3.6 CFM of airflow to be exact. It's not a hurricane, but for its size, that's some serious wind power. It kept the air moving around our soldering project, helping to dissipate the heat.
We weren't distracted by any whirring or buzzing either. The dual ball bearing design, crafted in Japan, seemed to do its job well, keeping things running smoothly and quietly.
The company says it'll last for 40,000 hours. We haven't reached that mark yet, obviously, but after a few days of continuous running, it hasn't skipped a beat.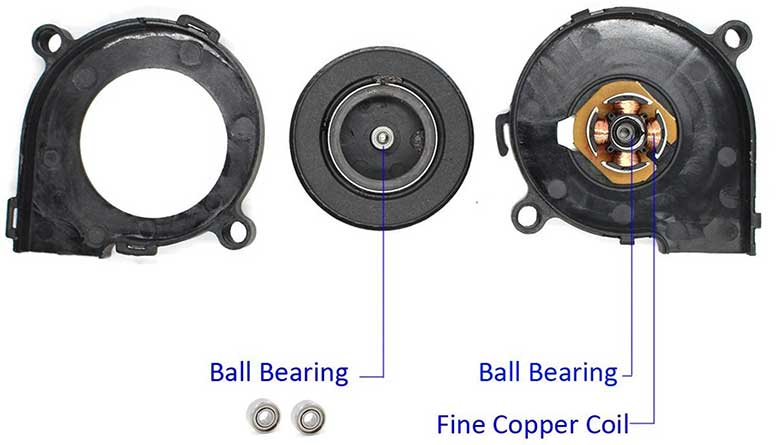 The cable was plenty long enough, too – about 9.8 inches, which made it easy to connect to our power source without any extensions.
After putting the SoundOriginal fan through a few days of steady work, we concluded that it's a reliable workhorse that can handle long hours. It's simple, effective, and does what it promises.
Meet Derek, "TechGuru," a 34-year-old technology enthusiast with a deep passion for tech innovations. With extensive experience, he specializes in gaming hardware and software, and has expertise in gadgets, custom PCs, and audio.
Besides writing about tech and reviewing new products, Derek enjoys traveling, hiking, and photography. Committed to keeping up with the latest industry trends, he aims to guide readers in making informed tech decisions.