Overall Design -

9/10

Performance -

9/10

Ease of Use -

8/10

Noise Level -

8.5/10
Summary
In a saturated market, the UWANT H100 High-Speed Hair Dryer manages to shine bright, owing to its thoughtful design, impressive performance, and user-centric features. It beautifully marries the best of aesthetics and functionality, setting itself apart as a worthy contender in the hairstyling domain.
Pros
Exceptionally fast drying
Customizable temperature settings
Minimal noise operation
Lightweight and portable
Cons
Slight learning curve
High speed may intimidate first-time users
Any time you're talking about the crowded hairstyling market, a product needs to stand out both in terms of design and functionality.
UWANT's H100 High-Speed Hair Dryer seems to have cracked that code, promising an innovative blend of aesthetics and performance.
We spent a lot of time with UWANT's latest addition to its lineup to give you all the essentials.
Design and Aesthetics
When it comes to personal care appliances, form and function often go hand in hand, and the H100 is a testament to this synergy. Its design doesn't just aim to capture your attention; it also promises a superior user experience.
Let's look at how the golden ratio and nature-inspired color variants contribute to this union.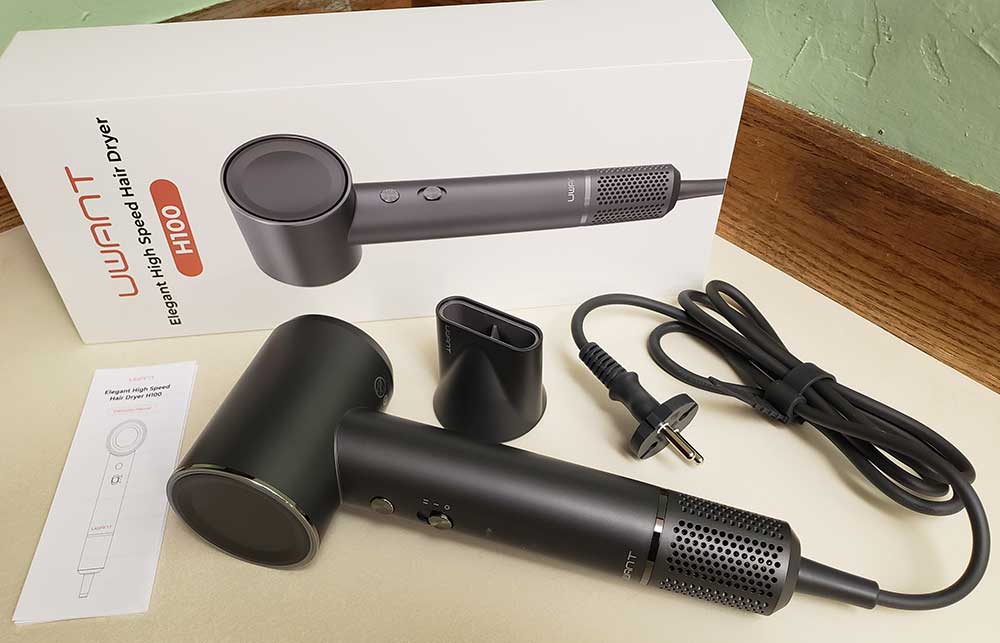 Golden Ratio Perfection
At first glance, the H100 exudes an air of calculated elegance, but there's more than what meets the eye. Crafted with the golden ratio in mind, it takes an age-old approach to blending beauty with balance.
But this is so much more than merely an aesthetic choice. During prolonged usage, the harmonious proportions made the dryer incredibly comfortable to hold, reducing wrist fatigue. It's undeniable that a lot of thought went into crafting a balanced and captivating structure.
Nature-Inspired Color Variants
Moving on to color choices, UWANT eschews the standard palette of blacks and silvers for something more intriguing. The H100 comes in two unique, nature-inspired hues: Volcanic Ash and Ice Berry Pink.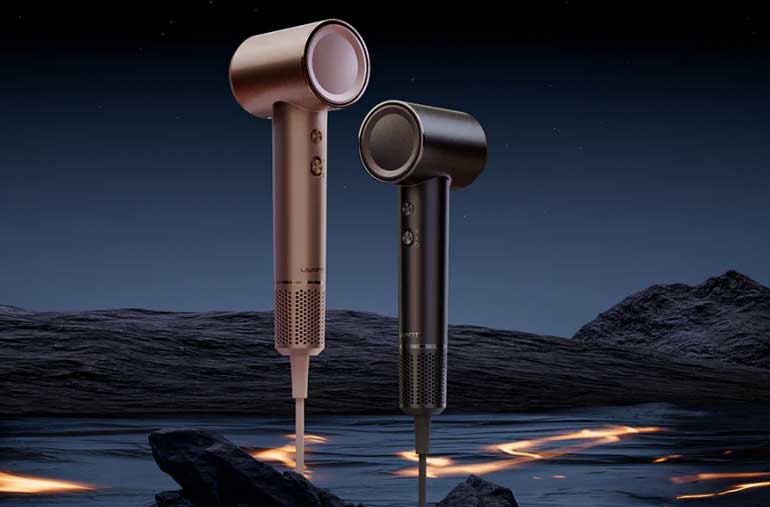 To understand the potential impact of these colors, we alternated between both variants over a span of two weeks. While the colors don't technically influence performance, we found that they did add an intangible but pleasant element to our daily routine.
Volcanic Ash gave us a sense of boldness and stability. Drawing from the serene yet powerful visual of obsidian-black lava flows in Iceland, this finish conveys deep richness and serenity. It's an embodiment of time's passage and sedimentation.
In a nod to rare mother-of-pearl rock formations, the Icy Berry Pink variant resonates with luxury. This is further enhanced by its metallic finish reminiscent of high-end smartphones, underscoring UWANT's dedication to both elegance and performance.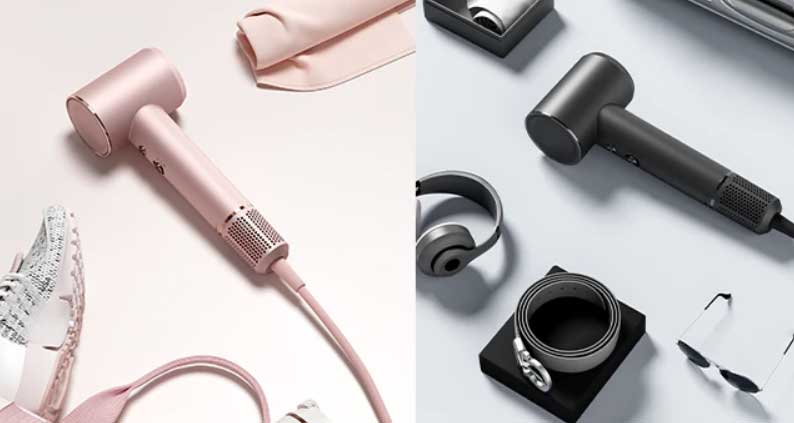 In fact, both Volcanic Ash and Ice Berry Pink are strikingly similar to Apple's Space Grey and Rose Gold color options, respectively.
As far as matching bathroom décor goes, we had more concerns over the Ice Berry Pink option than we did the Volcanic Ash one.
To our surprise, both colors blend in well with just about any decorative aesthetics you might have going on. And if you own an Apple product with either aforementioned color, you'll have a much easier time selecting your H100 hair dryer.
Performance and Reliability
When you're on the go or simply want to get your styling done quickly, performance is paramount. You also want a device that consistently delivers without any hiccups. In these regards, the H100 doesn't disappoint.
High-Speed Drying
The H100 takes quick drying to a whole new level with its 110,000 RPM motor and a wind speed clocking in at 66m/s. To put this in perspective, most traditional hair dryers operate at around 13m/s.
That means the unit delivers a wind speed that's a staggering 507% faster. We set out to test these claims with a stopwatch in one hand and the dryer in the other. True to its promise, the H100 dried our hair in approximately 2 minutes.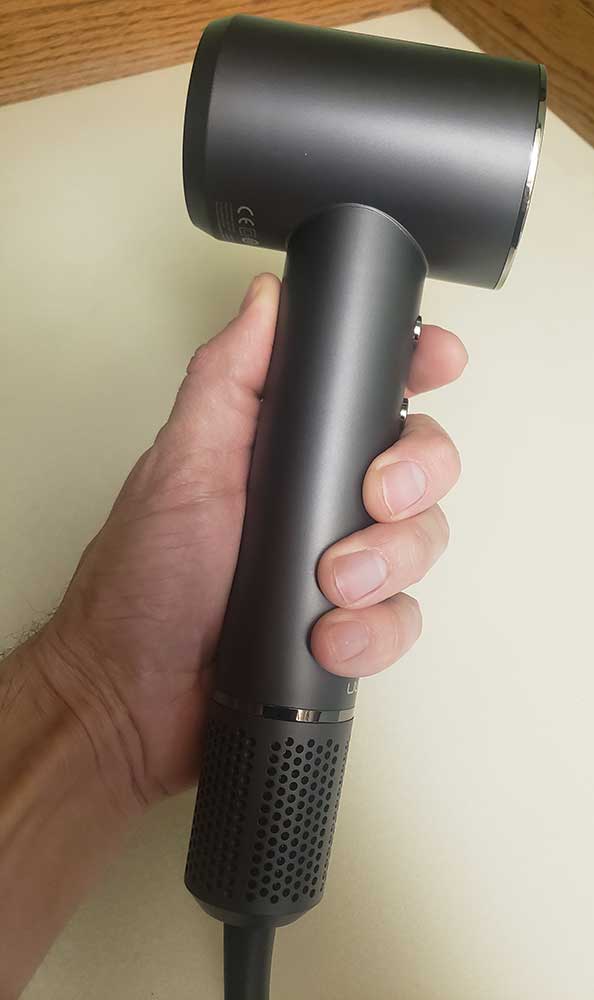 We even cross-verified this with various hair types among our team members, from fine to thick, and the results were consistently fast across the board.
This kind of speed doesn't just translate to less time spent on drying your hair; it also means you have more time for other aspects of your beauty routine or morning rush. It's a game-changer for anyone with a busy schedule or for those who just dread spending a long time on hair drying.
However, with great power comes great responsibility. If you're not accustomed to such high speeds, it may take a couple of uses to get the hang of it.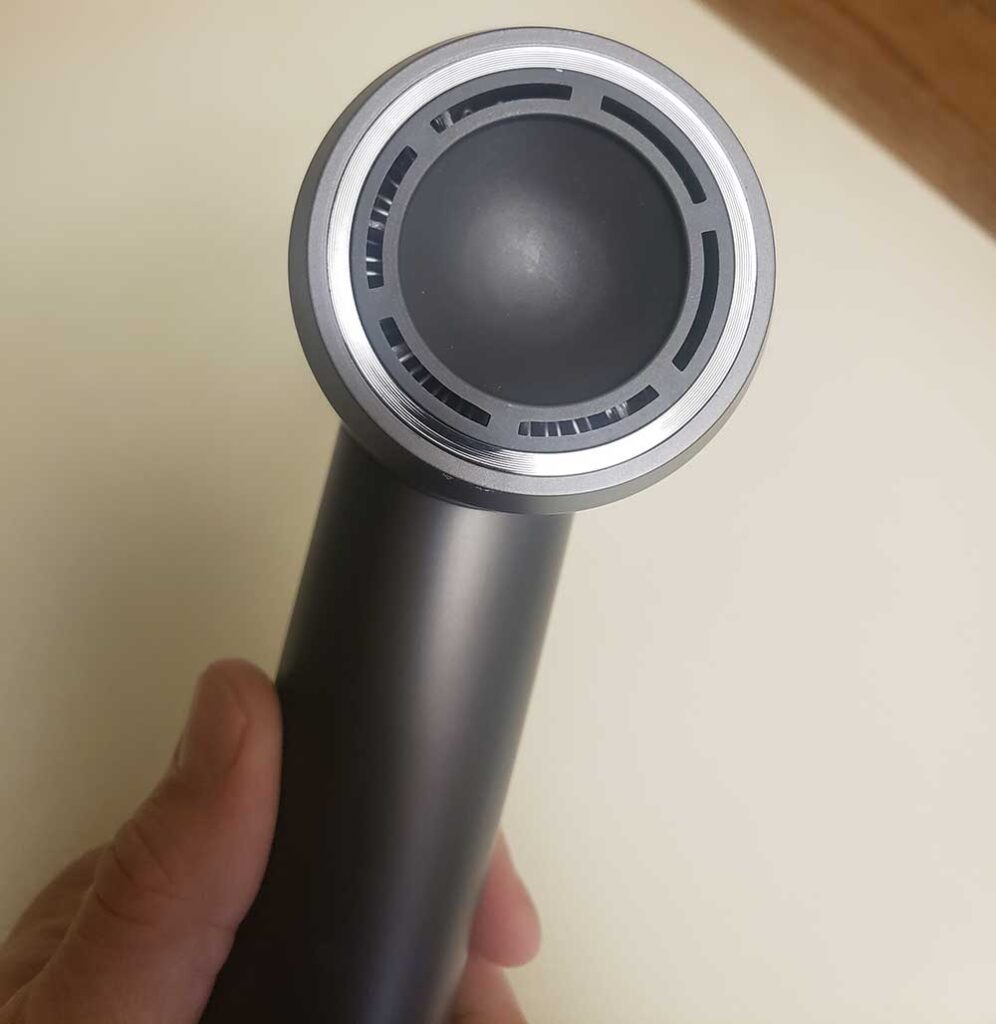 And while the speed is a significant benefit, those with particularly sensitive or damaged hair might want to use the device's lower settings to ensure they don't cause further harm to their locks.
Overall, the H100's high-speed drying feature proves to be both efficient and reliable, although it might require a slight adjustment period for those new to this level of power.
Frizz-Free Magic with 300M Negative Ions
When it comes to hair care, it's not just about how fast you can dry your locks but also about the quality of the result. We can attest that there are no more frizzy hair days here.
The H100 releases a staggering 300 million high-concentration negative ions. What's the big deal, you ask? Well, these negative ions neutralize the positive ions that hang around in wet hair, making your locks smooth and luminous.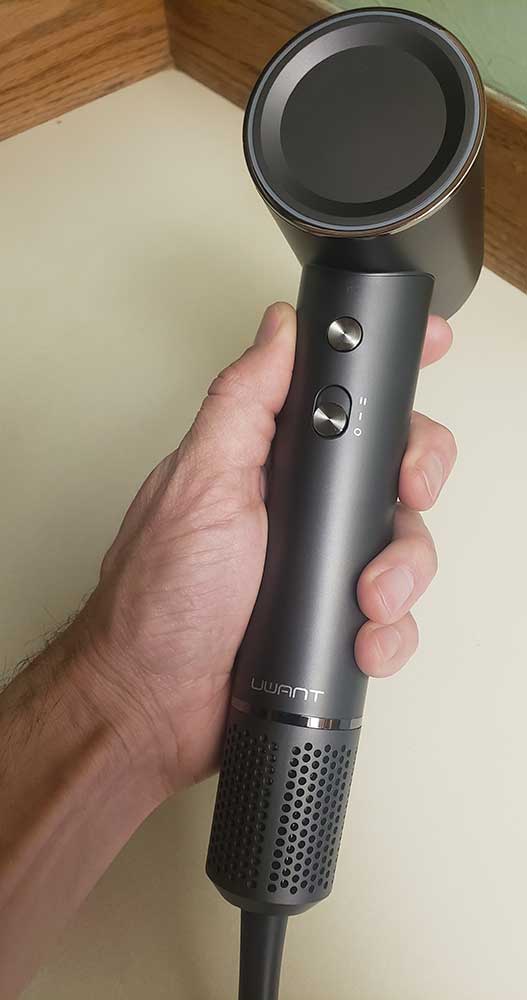 We put the H100 head-to-head with a run-of-the-mill, non-ionic hair dryer for a little real-world assessment. After drying two separate hair sections to completion, it was clear who the winner was. The H100-treated hair showcased significantly less frizz and a bit more sparkle.
And this wasn't just a one-time thing; we tested it on various hair types, from curly to straight, and observed the same impressive results—consistently less frizz and more shine.
However, it's worth mentioning that the effects of the negative ions are most noticeable immediately after drying. As the day progresses, other factors like humidity can come into play, which may slightly compromise the frizz-free look.
Therefore, those who live in especially humid climates may still need to apply additional hair products for long-lasting results.
The H100's negative ion feature serves as an excellent addition to its high-speed capabilities, contributing to not just quick but also high-quality hair drying.
It makes the unit particularly valuable for those who struggle with frizzy hair, though its impact might slightly diminish in challenging environments.
Customizable Comfort
Personalization extends beyond mere color choices or aesthetic designs; it's also about how a device caters to your specific needs. In the case of the H100, the device shines in this aspect with its four adjustable wind temperatures.
This allows users to tailor their hair drying experience to their comfort and necessity, ranging from room-temperature cool air to an invigorating cold-hot cycle. To evaluate this feature, we took turns using each of the temperature settings over a series of days.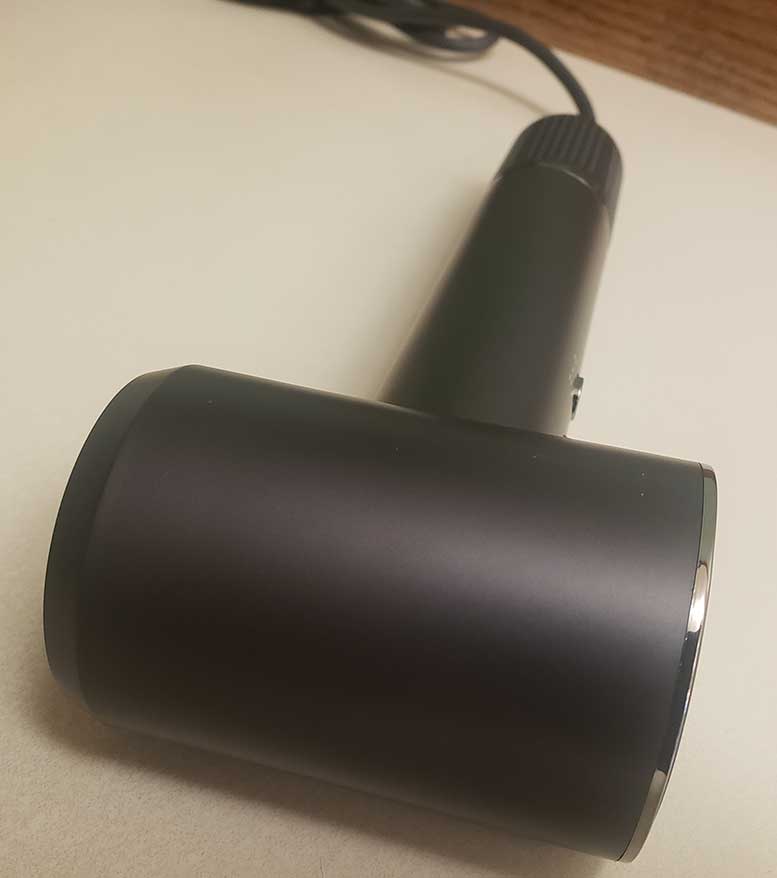 What stood out was the flexibility it offers. For example, the room temperature setting was ideal for those of us with sensitive scalps or finer hair types, as it dried the hair without causing any discomfort or potential heat damage.
Conversely, the hot air setting that maxes out around 160°F offered rapid drying. This'll be especially appreciated by those of you with thicker hair who are usually resigned to longer drying times.
We also tried the intriguing cold-hot cycle, a more dynamic setting that alternates between hot and cold air. It's designed to optimize the drying process while minimizing the risk of overheating or damaging your hair.
And indeed, the alternating temperatures provided a sort of "best-of-both-worlds" experience – quick drying times without the downside of excessive heat exposure. It's worth noting that while the device offers excellent customization, the variety of choices may initially feel overwhelming.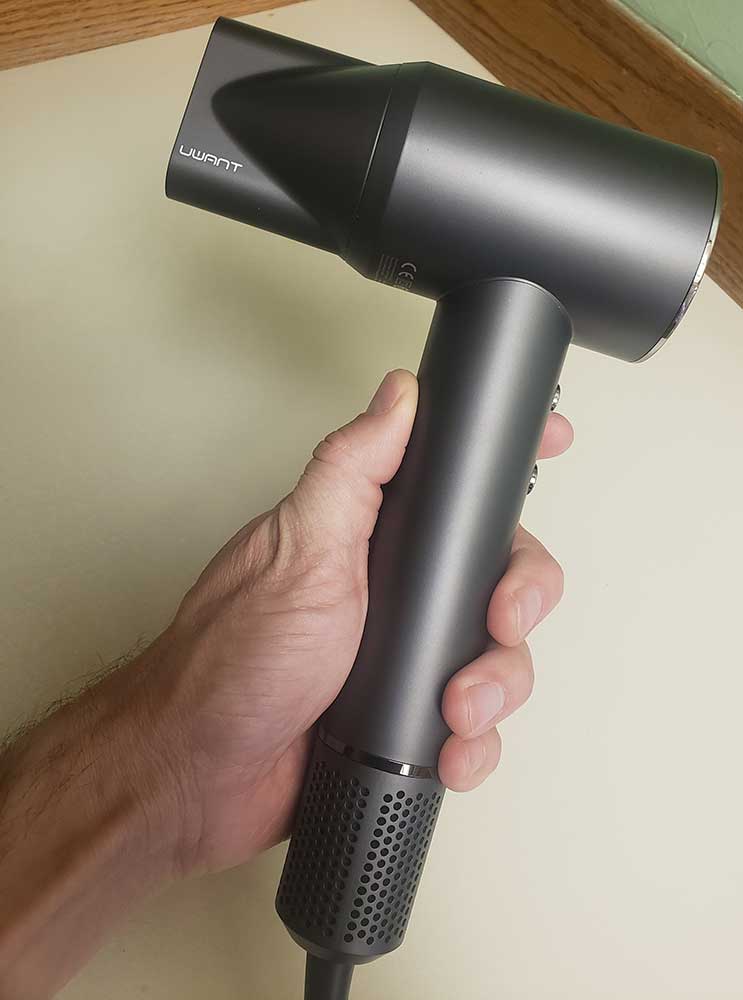 This is mostly true for people who are accustomed to more straightforward, less customizable hair dryers. A small learning curve is involved in finding the setting that best matches your specific hair type and comfort level.
All in all, the customizable temperature options make the H100 a highly versatile appliance. They allow for a more individualized hair-drying experience, although they may require a period of adjustment for those new to such a wide array of choices.
Noise-Free Operation
One of the most overlooked aspects of hair dryers is the noise level during operation. Anyone who's had to wake up earlier than their roommate or significant other knows the challenge of drying hair without causing a morning ruckus. The H100 addresses this issue with its dual noise reduction technology, which is powered by a brushless motor.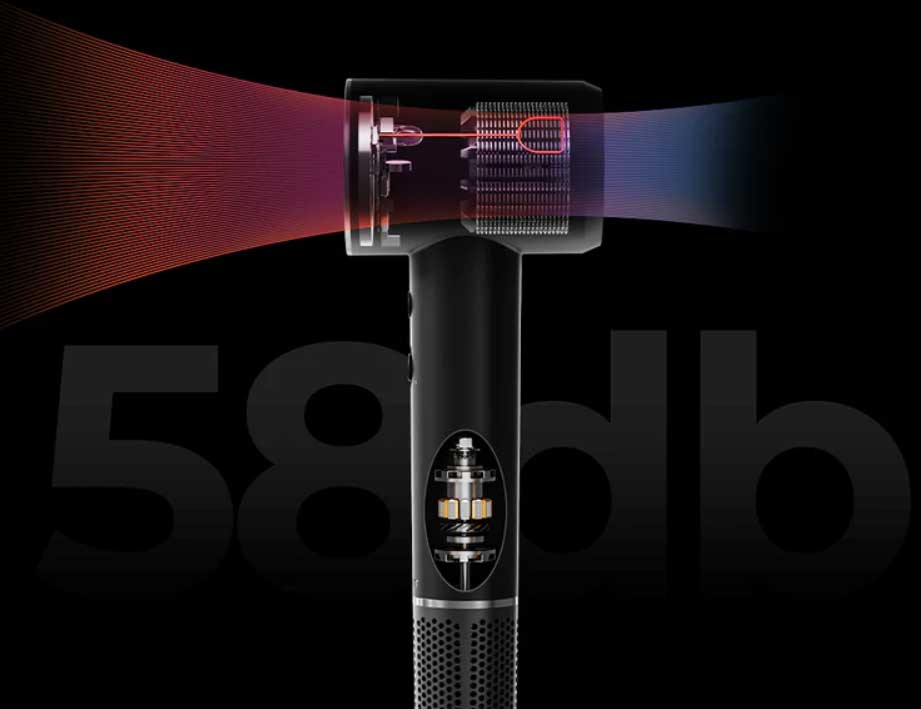 Our tests confirmed the manufacturer's claims. The hair dryer operates at a noticeably lower volume compared to other conventional hair dryers. This feature is particularly beneficial for those who enjoy peaceful mornings or have small children and don't want to disturb their sleep.
The quieter operation doesn't mean a sacrifice in power or efficiency – quite the opposite. The H100 remains powerful while offering a less disruptive experience, which is a win-win situation in our book.
Portability and Convenience
Another highlight is the lightweight and compact design. At only 12.7 ounces, it's an ideal travel companion. If you want an idea of its weight, it's about the same as a can of soup. So it's easy to manage.
And because it's so well-balanced, it's incredibly comfortable to operate. We tested its portability by packing it in various sizes of luggage and even gym bags. It fits easily without taking up much space and, more importantly, without adding significant weight.
However, one could argue that its lightweight nature might make it feel less sturdy or durable, although we did not notice any compromise on build quality during our testing phase.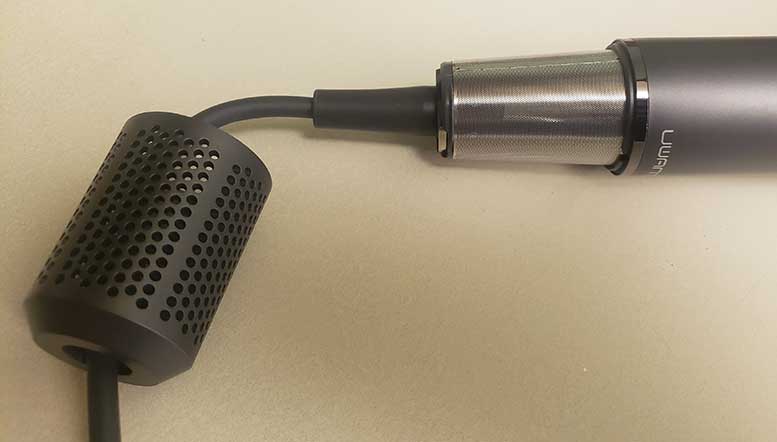 One Dryer for All Hair Types
Finally, let's talk versatility. The H100 isn't just a one-trick pony. It boasts adaptable airflow and comes with a variety of temperature controls.
In short, it's a universal solution for hair, from the fine and delicate to the robust and dense. In our hands-on testing across diverse hair textures and lengths, it consistently hit the mark or soared even higher.
Not just about looks, the fine-tuning features contribute to healthier locks by reducing heat-related damage and ensuring optimal ion dispersion.
And for those with specialized needs, like frizz control or quicker drying times, the H100's settings can be adapted to meet those requirements effectively.
Bottom line, the user experience proved to be fantastic, scoring high in noise control, portability, and versatility. While each of these features is impressive on its own, when combined, they make for a hair dryer that's both convenient and highly adaptable to individual needs.
Final Verdict
In a saturated market, the UWANT H100 High-Speed Hair Dryer manages to shine bright, owing to its thoughtful design, impressive performance, and user-centric features.
It beautifully marries the best of aesthetics and functionality, setting itself apart as a worthy contender in the hairstyling domain.
Meet Derek, "TechGuru," a 34-year-old technology enthusiast with a deep passion for tech innovations. With extensive experience, he specializes in gaming hardware and software, and has expertise in gadgets, custom PCs, and audio.
Besides writing about tech and reviewing new products, Derek enjoys traveling, hiking, and photography. Committed to keeping up with the latest industry trends, he aims to guide readers in making informed tech decisions.