Running a wire in an existing building can be a painful process. If you're lucky, there's already conduit between the two places you want to connect. Then, you can just fish the wire through the old fashioned way. If you're working above an unfinished basement, you can often get away with running a wire under the floor. But what if you've got to go through existing walls, and there's no conduit? How are you going to get your wires through without tearing out the drywall and making extra work? One method is to use a magnetic wire puller to guide your wire through from the outside.
Magnetic wire pullers come in a number of different designs, but they share a few common features. First, there are two magnets. One is used on the inside of the wall, and is connected to the end of your wire. The other magnet is held in your hand. You drop the first magnet down into the top of the wall. Then, you use the other magnet on the outside to guide the first magnet to its destination.
Sounds simple, right? But there are important differences you need to consider before you settle on an option. You need to think about the power of the magnets, as well as their size. Bigger, stronger magnets will work with thicker drywall and insulation. Smaller magnets, on the other hand, can be fed through a smaller hole. They're also less likely to get stuck on obstacles like air ducts. Another factor is the shape and form factor of the magnets. Are they designed for penetrating insulation? For going through conduit? Depending on the nature of your work, one model might be better than the other.
We're about to review three of the best magnetic wire pullers available. We'll begin with the Magnepull XP1000-LC. This puller is designed for a ¾-inch hole, and sports a radial magnet lead that powers through insulation. After that, we'll look at the Chromex Magnetic Wire Pulling System. This puller is designed for DIY users, and has a plastic casing to protect your drywall. Finally, we'll examine the Zezzo Wiremag Puller. This puller has two different heads, which are designed to tackle different types of projects. To reach our final verdict, we'll need to take a closer look at all of their features and benefits. After that, we'll know everything we need to know. Let's get started!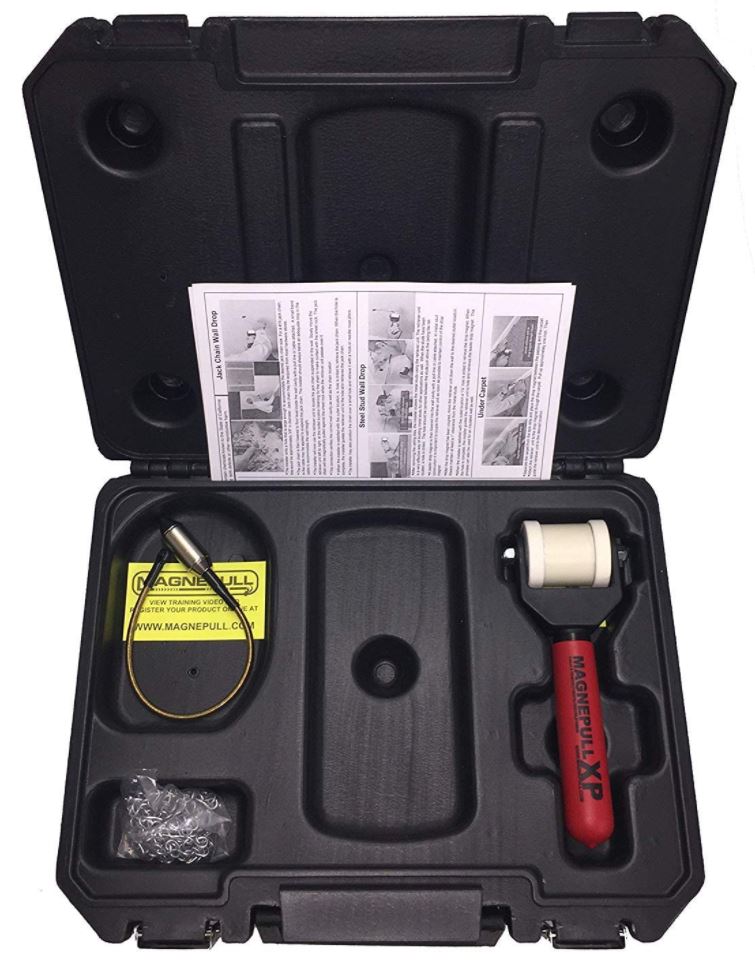 Magnepull XP1000-LC
The Magnepull XP1000-LC's most notable feature is the outer guide magnet. Most such magnets are designed to be held in your hand, and dragged along the wall. This is pretty straightforward as far as tool operation goes. However, you run the risk of scratching your paint, particularly if you have a matte paint. The outer magnet on the XP1000 is barrel-shaped, and it's designed to roll over your wall. It has a beefy, rubbery handle that's similar in design to a paint roller. This makes it comfortable to guide your cable, and it also means you won't scratch your paint.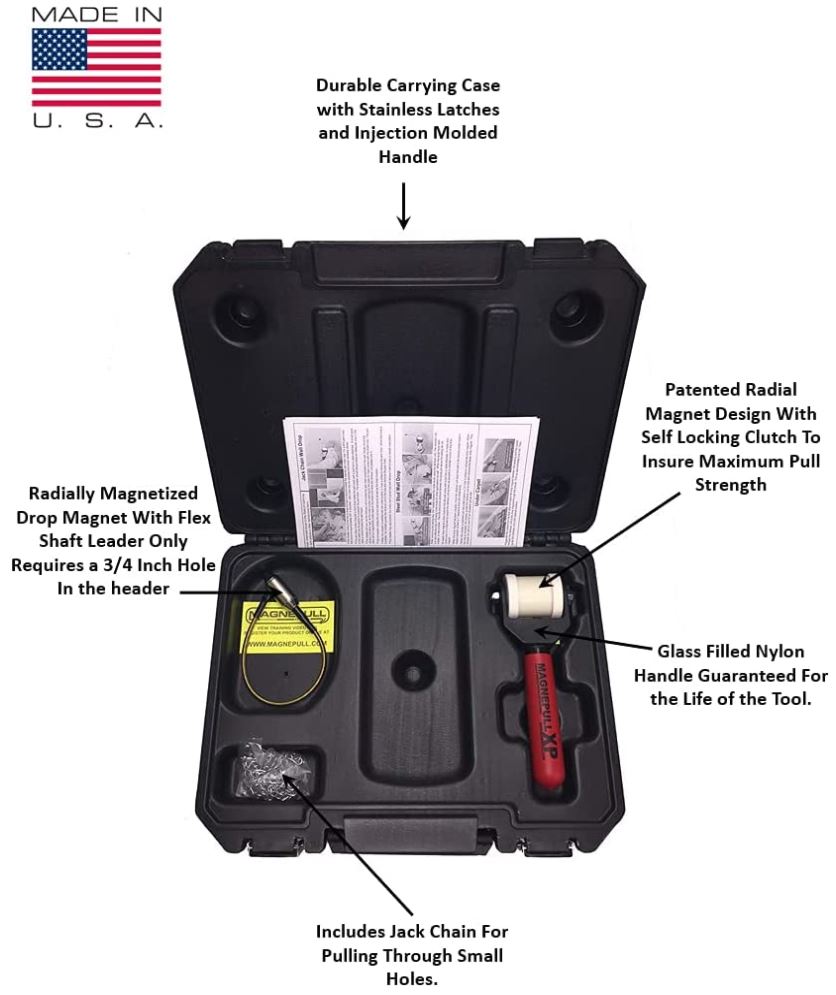 The inner lead magnet is shaped like a bullet, with a cylindrical profile that tapers to a tip. It measures 1 ¼-inch in length, and has a diameter of ¾-inch. Keep in mind that this diameter dictates the size of hole you'll need to drill to start out with. If you need to go through a half-inch hole, you won't be able to fit the magnet through. The back of the magnet connects to a 13-inch braided brass lead. It's flexible enough to go through conduit, and tough enough not to get damaged by screws or nails. At the end, there's a plastic connector with a circular hole at the back. This gives you somewhere to run a small cable through and tie it off. With a heavier cable, you can just tape the tip to the connector.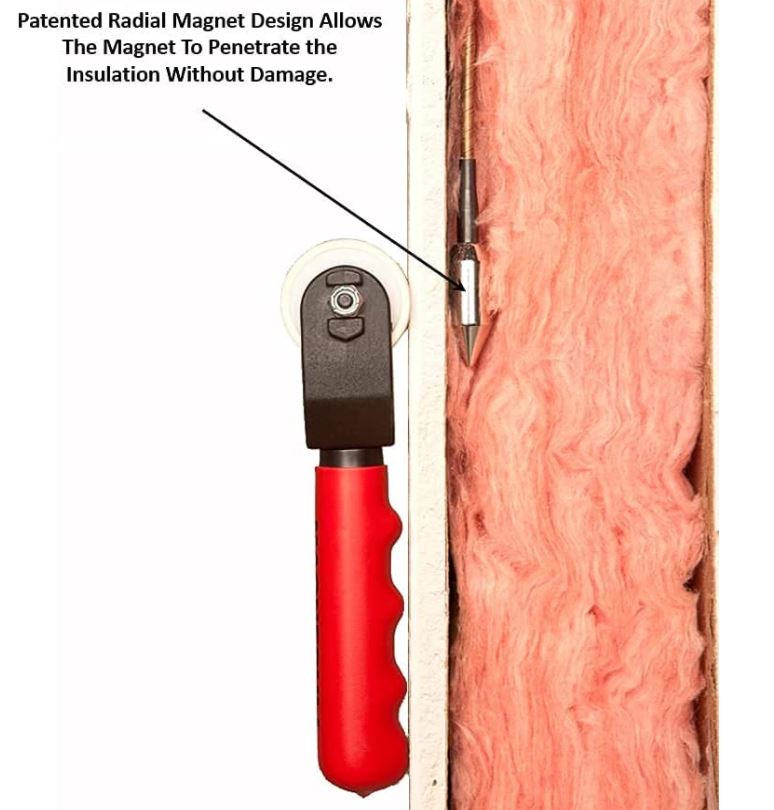 Along with this, you get a lead chain that you can use to further extend the length of your tool. This can be helpful if you want to thoroughly scope out an area before you actually run your wire. Everything in the kit fits inside a molded plastic carrying case. It's black and beefy, with compartments for each component. It secures at the front with a pair of metal latches, so it stays closed reliably. Not only that, but it's compact. It measures 14 inches high, 11 inches wide, and 4 inches thick. This makes it easy to stow pretty much anywhere.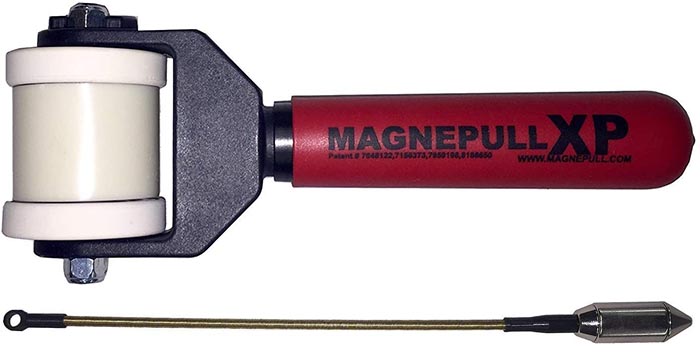 Penetration and Magnet Strength
The thing that makes the Magnepull so powerful is the unique design of the magnet itself. The pointed tip is tapered specifically to power through insulation. Not only that, but it's a radial magnet. Combined with the design of the roller, it will always turn and point the direction it's facing. This means you won't get stuck trying to drag it sideways instead of forward. As a result, the Magnepull system is particularly well-suited for insulated exterior walls. That's not always the case with many magnetic wire pullers, which often are suited for interior use only.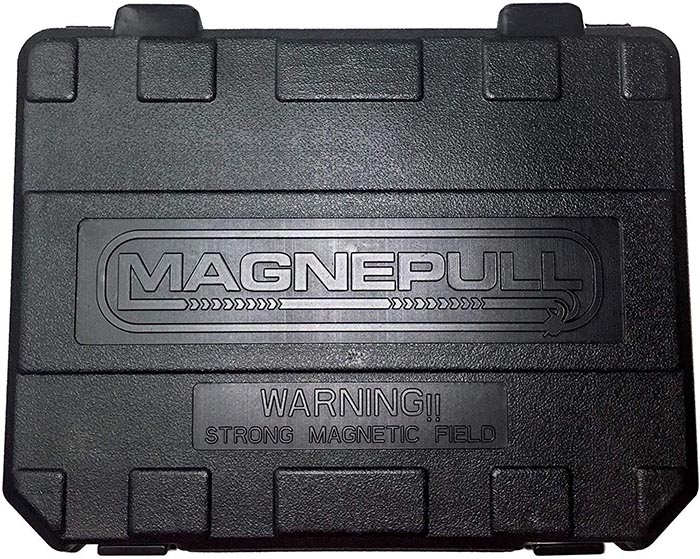 On interior walls, it will be just fine as well. The magnet is reasonably strong in terms of attraction strength. It will work just fine on 3/8- or ½-inch sheetrock, even in a fully insulated wall. It will also work on non-insulated walls with 5/8-inch fire safe sheetrock. That said, it suffers on insulated walls with 5/8-inch sheetrock. It can also lose contact if you try to traverse a baseboard. As a result you'll need to be careful working near floor level.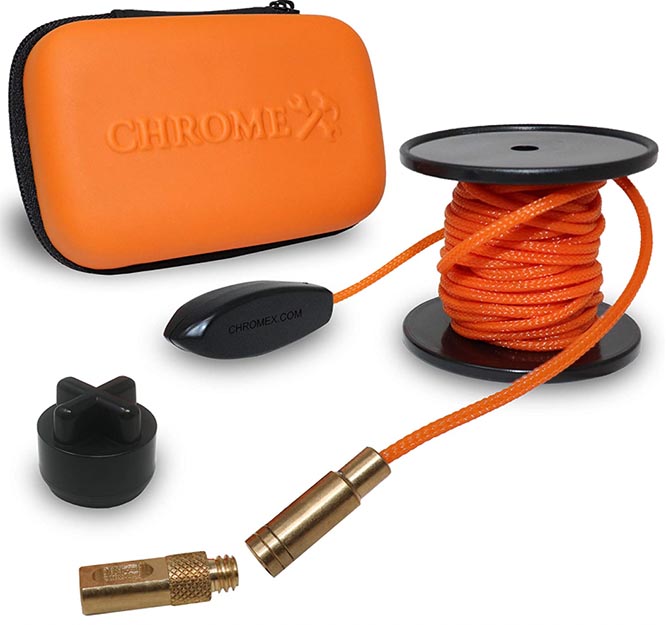 Chromex Magnetic Wire Pulling System
The Chromex Magnetic Wire Pulling System has a different design altogether. Instead of using a short metal lead, the magnet connects to your wire via a 25-foot long nylon string. The string comes with a spool, which is designed to keep it from tangling. Because you're using a string, you can easily pull your wire through conduits and other tight spaces. The spool also makes the string easy to store. The kit includes a hard case, with a strong zipper closure that's nice and secure. Everything fits easily inside, so taking your wire puller on the road is no big deal.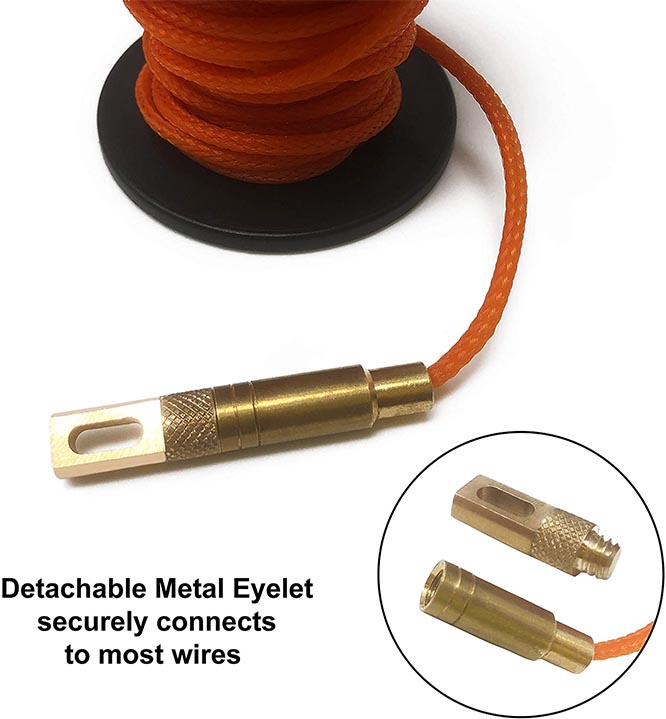 The outer guide magnet has a pretty simple design. It's housed in plastic, and it has a cylindrical design. There's a cross-shaped ridge on the back, which gives you somewhere to brace your palm. One thing we didn't like is that the magnet is not completely enclosed. This leaves the metal bottom free to scratch your paint. It also means that the magnet could potentially pop out of the plastic. Even so, it's reasonably powerful.
The inner magnet is permanently affixed to the front of the nylon lead line. It's shaped kind of like a clothes iron, with a pointed tip and a flat back. The bottom side is also flat, where it drags against the back of your drywall. This prevents it from gouging or doing any other kind of damage.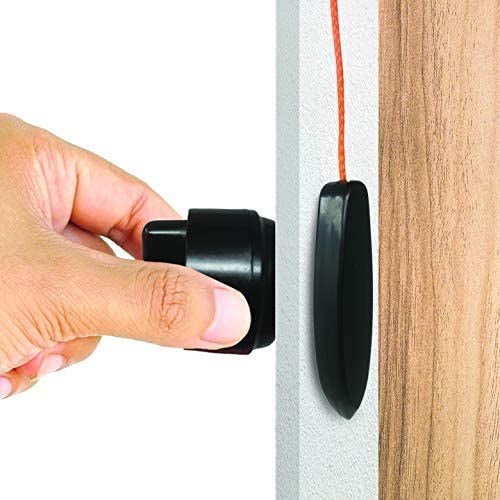 At the other end of the lead line, there's a brass eyelet leader. This leader can be used for tying off a smaller wire. A heavier wire can be tied to it with twine, or affixed to it with tape. The nice thing about this leader is that it's detachable. It can be screwed in half, revealing a hollow opening inside. Inside this opening, the lead line is tied off in a knot to keep it secure. Untie the knot, and you can pull the leader off. The advantage to this is that you can then cut the lead line if you prefer a shorter line. You can also use a different lead line altogether, or just tie the line directly to your wire. The point is, you have the flexibility to set things up the way you like.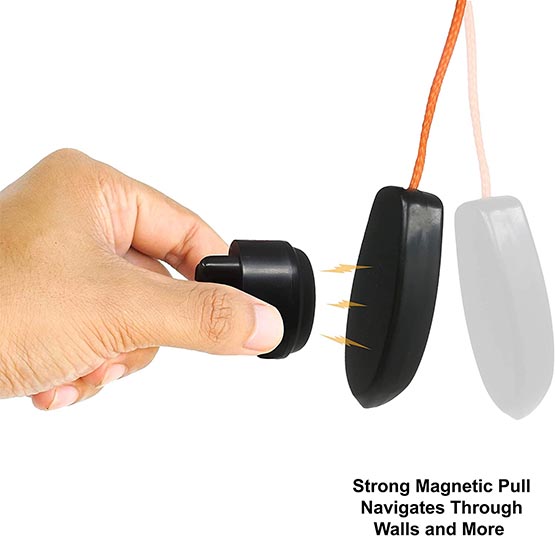 Penetration and Magnet Strength
The magnet strength on the Chromex puller is what we'd describe as moderate. It's not as if you're pulling the inner magnet with an iron grip. That said, you can still get through most insulation without any trouble. The design is very well set up for this purpose, so you can easily use it on exterior walls. Needless to say, you'll have an even easier time with interior walls.
The only serious drawback of the design is that the lead magnet is pretty beefy. You'll need a hole much larger than ¾-inch in order to get it into your wall. Not only that, but you might have trouble navigating certain obstacles. For example, you might get stuck between a pipe and the drywall.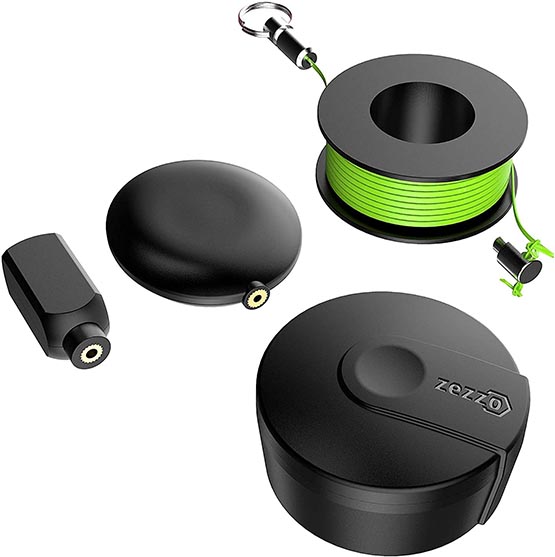 Zezzo Wiremag Puller
The Zezzo Wiremag Puller is similar to the Chromex puller in that it relies on a nylon cord to pull your wire. The cord is 20 feet in length, and it wraps around a plastic spool that helps keep everything neat. There's also a carrying case, which helps you keep everything together. At the back end of the cord, there's a metallic fob, with a sturdy metal ring at the end. This ring is where you attach your wire, either by tying it to the ring or taping it all together. At the front end of the cord, there's a second metal fob, which is designed to connect to the lead magnet.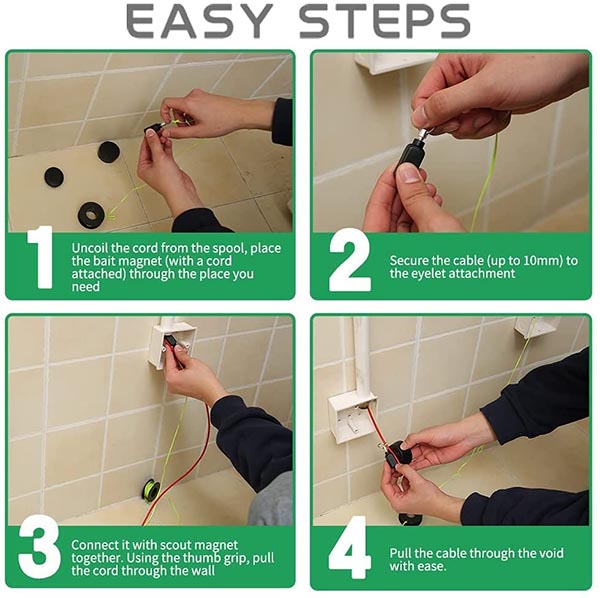 In fact, there's not one, but two different lead magnets. Both are black and metallic, with a smooth finish. However, one is flat and disc-shaped, with a broad profile designed to slip between insulation and drywall. The other magnet is a rectangular cylinder with a square profile. Because it's not nearly as wide, it can fit easily through conduit, or in other tight spaces.
The handheld guide magnet is surprisingly beefy, and fits in the palm of your hand. It has a cylindrical design, and more importantly, it's coated in plastic. This keeps it from scratching your paint when you drag it across the wall.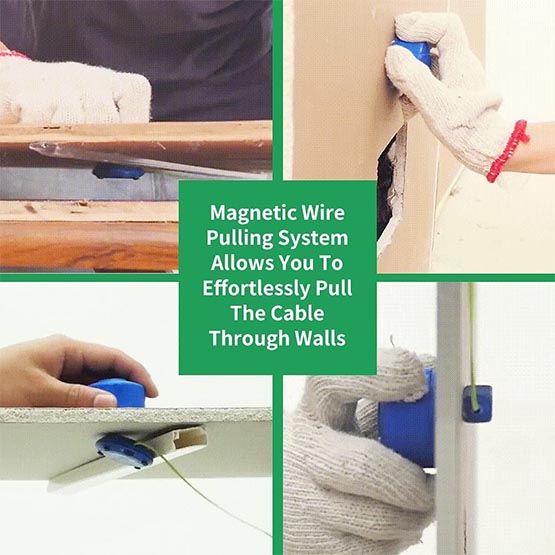 Penetration and Magnet Strength
One thing we appreciated about the Zezzo puller is how incredibly powerful the magnets are. You can work even through heavy drywall and lots of insulation. You can also get through smaller holes in the top of the wall. Since the rectangular magnet will fit through a ½-inch hole, it will go where many other magnets won't go. You can also fit through smaller-diameter conduit, which means you can run wire to more places. Then again, powerful magnets also have a downside. They can tend to get caught on air ducts, pipes, and even nails. This means you have to pull the line out and start over.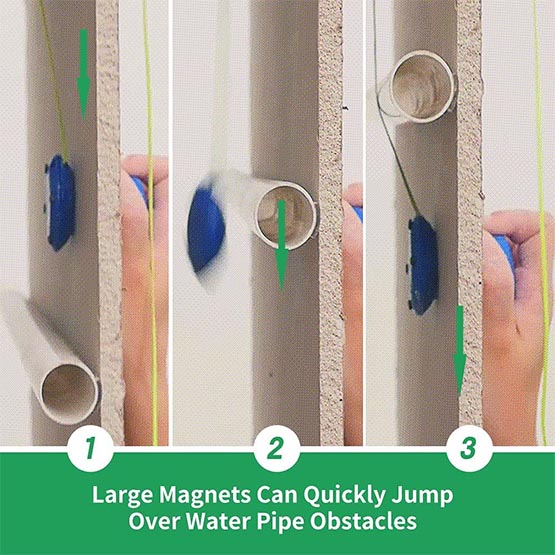 On the plus side, you get a similar versatile design to the Chromex puller. You can disconnect the lead line and tie the magnet directly to your wire. You can also shorten the line, or use a different line if you prefer that. As a result, it's easy to use for DIYers.
Final Verdict
As you can see, each of these magnetic wire pullers has its own strengths and weaknesses. We started out by looking at the Magnepull XP1000-LC. This is the best puller for insulated walls, because of its shape and the radial magnet design. The ¾-inch diameter does pose some limitations. In addition, some people might prefer a stronger magnet. But for exterior walls, it's a great tool for the job.
The Chromex Magnetic Wire Pulling System is also designed to get through insulation on exterior walls. We weren't as much a fan of the design, since the lead magnet can potentially get stuck. That said, it's more versatile, with a lead line that can be shortened or changed as needed. We also appreciated the versatile design, which makes it easier for DIYers to work with.
The Zezzo Wiremag Puller is another beginner-friendly magnetic wire puller. It has a nylon lead line, and it's equally adjustable. However, it also has two different lead magnets, which can be swapped out for different tasks. The magnets are also very powerful, which can be good or bad depending on what you're doing.