If you're going to own any computer repair accessory, a USB to SATA adapter should be your first choice. This converter allows communication between the two most common interfaces. SATA is used on virtually every internal drive – both desktop and laptop. And every computer made in the last 10 years is certain to have a USB port.
What can you use these adapters for? These are your first line of defense in the event of a hard drive failure. If something has gone wrong with your internal drive, there's a pretty good chance that your computer isn't going to boot. You'll still have to replace the drive, but what about all your old data? Just because a hard drive is partially failed doesn't mean that everything is unrecoverable. With a USB to SATA adapter, you'll likely be able to recover most of your files. Even if the drive won't initialize, there is plenty of freeware that will allow you to scan the partition table and identify any recoverable media.
Hardware failure isn't the only use for a USB to SATA adapter. What if you upgrade to a faster or larger SSD? These adapters can copy all your old data back with only a little work, and they'll likely cost you significantly less than paying a computer shop to do it. Plus, hard drives have become incredibly cheap. Anyone who tends to upgrade their computer regularly will have at least one 500GB drive laying around. With this simple adapter, you'll be able to turn it into an external drive or access your old files without having to spend more money on a new external.
But not all adapters are created equal. Some use an old standard that will cripple your throughput, others are incompatible with newer drives. Let's take a look at the three best USB to SATA adapters, and help you find the one that's right for you.
Unitek USB 3.0 to SATA Converter Adapter Cable
Browsing through Unitek's selection, you'll notice that the company has no shortage of accessories and peripherals for computers. Everything from chargers to cables to adapters are available, with nothing but positive reviews. You might not see this retailer in stores, but they happen to be the white label supplier for many branded products, allowing their merchandise to be sold all over the country.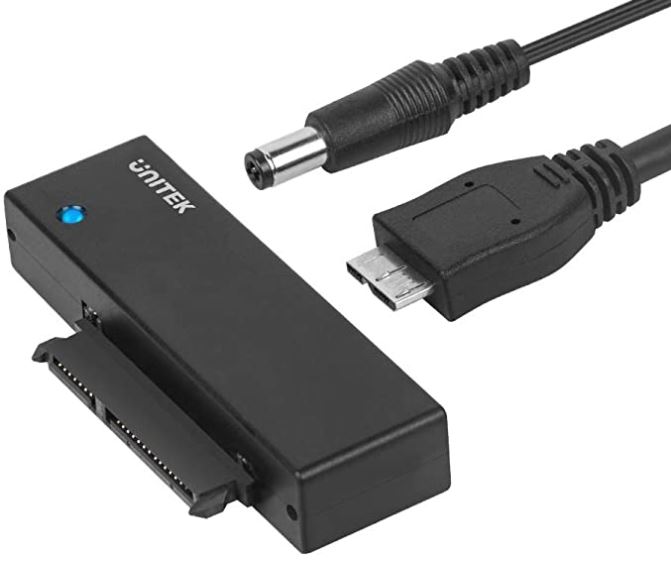 Design
The Unitek USB 3.0 to SATA Adapter is strictly business. There are no unnecessary components, only the bare essentials required for this adapter to do its job. In spite of that, the designers made sure it was built to do its job well. The device itself is a solid black rectangle. This allows it to stay firmly put on your desk, preventing it from separating from your drive during use. On the back, you have two cables that can be plugged in. One is the USB cable for data transfer, and the other is the optional power cord for use with higher power drives. The cables are nice and long, making this adapter useful even if there is a little distance between your laptop or desktop computer and the SATA device you'd like to use. It's no-nonsense design is perfect to keep your desk looking uncluttered, making it an excellent choice for a professional environment.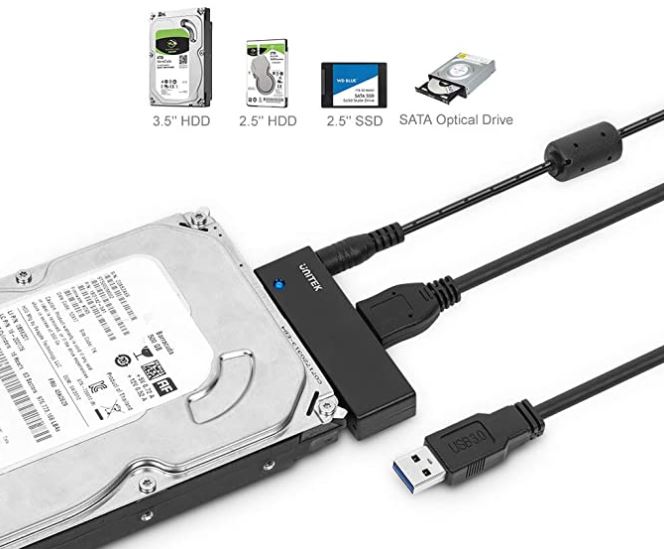 Compatibility
Unlike some adapters on the market, this one has a hardware SATA controller. Other devices rely on software to convert the signals, which can often result in performance and compatibility issues. Fortunately, the hardware controller used is standard and has been well tested with a variety of devices. This means that pretty much any computer or drive that can physically connect to this adapter will work. It supports both 2.5" and 3.5" drives, thanks to the included power adapter. Your USB port is only capable of putting out a relatively small amount of power. This is enough to power compact 2.5" laptop drives as well as SSDs. But 3.5" drives need a little more juice, so you'll want to use the power adapter in such cases. In terms of drive compatibility, you can use hard drives, SSDs, Blu-Ray drives, DVD burners, and combo drives. It also works on virtually all operating systems, from Windows 98 all the way up to Windows 10. Mac OS is also supported. Theoretically, there's no reason that Linux wouldn't work, although we were not able to verify this.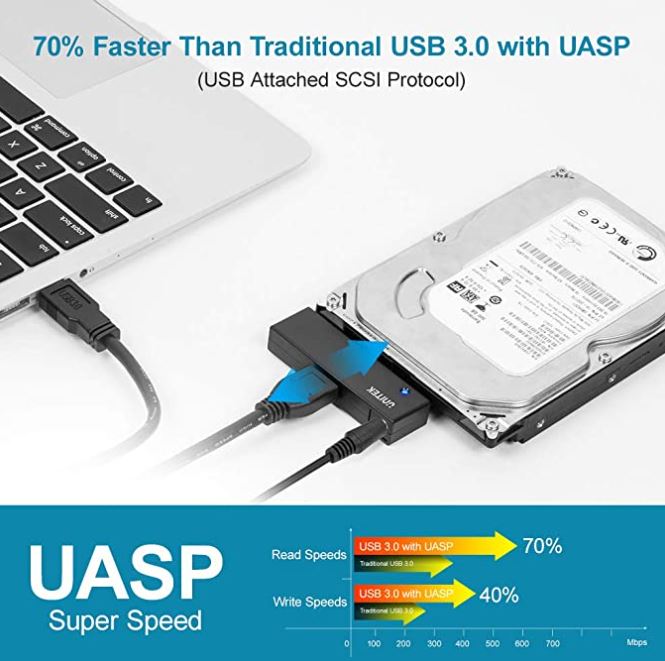 Performance
With its USB 3.0 interface, very high performance is possible. The theoretical limit of this interface is 5GBPS, although we know from experience that this is not often achieved. With SSD's, we were able to see speeds of around 350 MB/s read and 254 MB/s write. With the exception of the fastest SSDs on the market, you're unlikely to experience any bottlenecking. For desktop hard drives, max speed is around 120 MB/s read and 100 MB/s write. At this point, it's not the adapter causing the speed drop but the simple fact that this is the maximum throughput hard drives are capable of.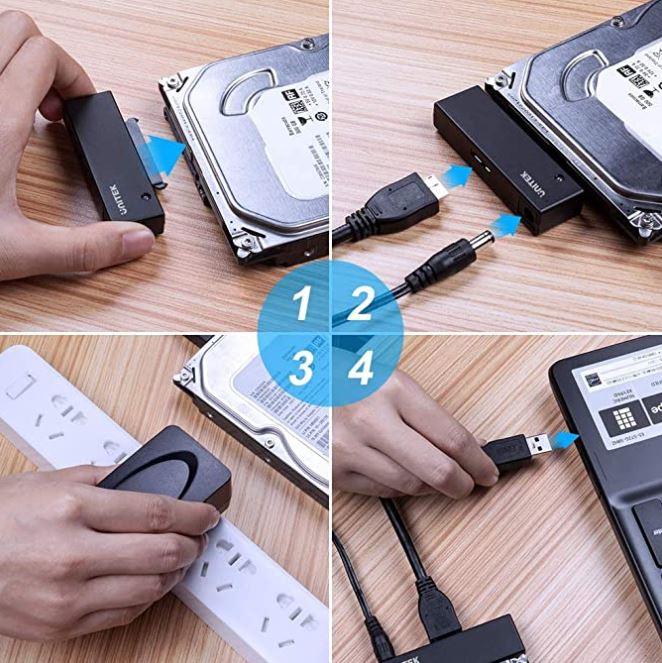 Features
There are not a lot of extra features on this adapter. However, you'll likely find that its simplicity is the very thing that opens so many doors for you. The operating system doesn't actually see the adapter itself, it simply sees a standard USB external drive. This means that all of the built in backup software will work without a hitch. You'll also be able to use any data recovery program or perform bit by bit imaging without any special drivers or configuration. Because of its driver free operation, the adapter will work in safe mode, making it perfect for a diagnostic and repair environment.
Inateck Universal USB 3.0 to IDE / SATA Converter
Another popular computer peripheral manufacturer, Inateck tends to focus on both consumer and professional product lines. Many of their products offer a little more a little more in terms of features than the competition, although are still sold at a very affordable price.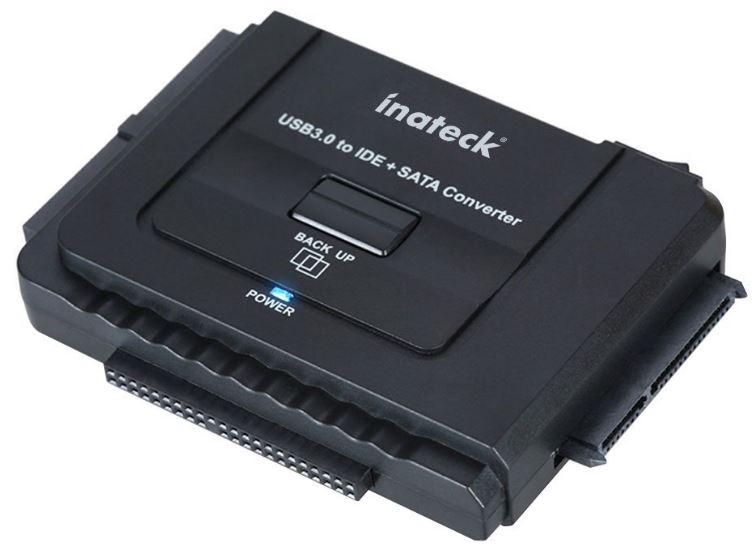 Design
The Inateck USB to SATA / IDE converter looks a bit like a swiss army knife. Every surface is covered in features from the one touch backup button, to the three separate ports located on each face of the device. It's got three plugs on the back, one for input power, one for data communication, and one IDE power adapter. There are no fancy design tricks, giving it a very utilitarian look. However, it still uses the remote mount adapter look we prefer, as it allows you to keep your cables neat and tidy with the adapter remaining firmly in place even without a drive connected.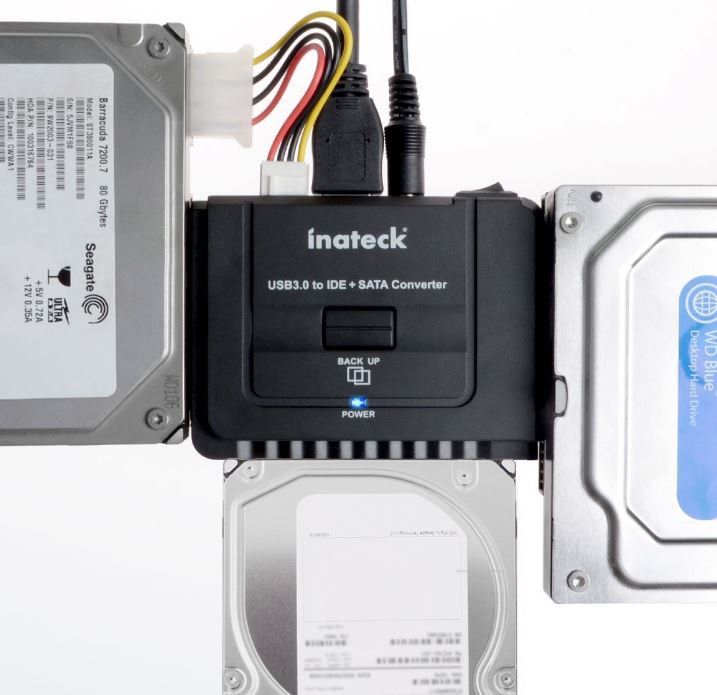 Compatibility
Despite the large number of features, the drive remains largely compatible with all operating systems and drives. The one thing separating this adapter from others is the support of IDE drives. Although IDE drives have gone out of fashion, there are still many in use out in the wild. This connection standard is used for everything from laptop drives to desktop drives to CD, DVD, and even some floppy drives. Many adapters are only compatible with the compact IDE drives, as no separate power is included. But thanks to the special IDE power cable, you'll be able to use full size 3.5" and 5.25" IDE drives without problem.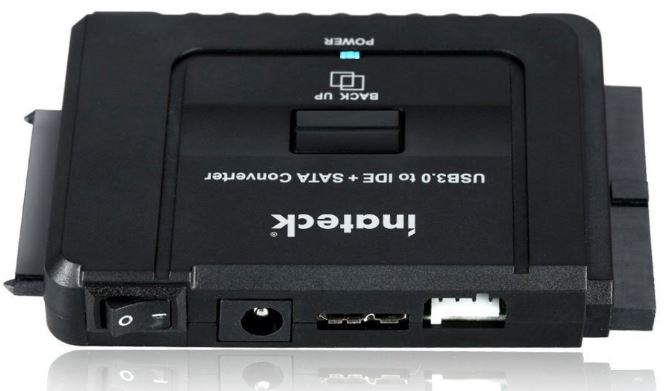 The adapter works with OSX, and Windows XP through to Windows 10, although one touch backup (more on this later) isn't functioning with windows 8 or OSX. It will be backwards compatible with all USB interfaces from USB 1.1 up to 3.0. It is worth noting, however, that the extra features in this drive require a separate driver. This means that there may be compatibility issues in safe mode with Windows 7 (pre-SP1) or earlier operating systems. However, on newer ones there should be no problems.
Performance
With a single disk connected, performance is the same as with any other USB to SATA adapter. You can achieve a maximum throughput of around 350 MB/s read 250 MB/s write. With multiple drives, this bandwidth is split equally between the three ports, even if only one drive is being accessed at a time. This means that you'll cap out at around 110 MB/s for each drive. With mechanical drives, this doesn't result in much of a degradation of performance. However, you're not going to be able to connect two brand-new SSDs and make the most out of them.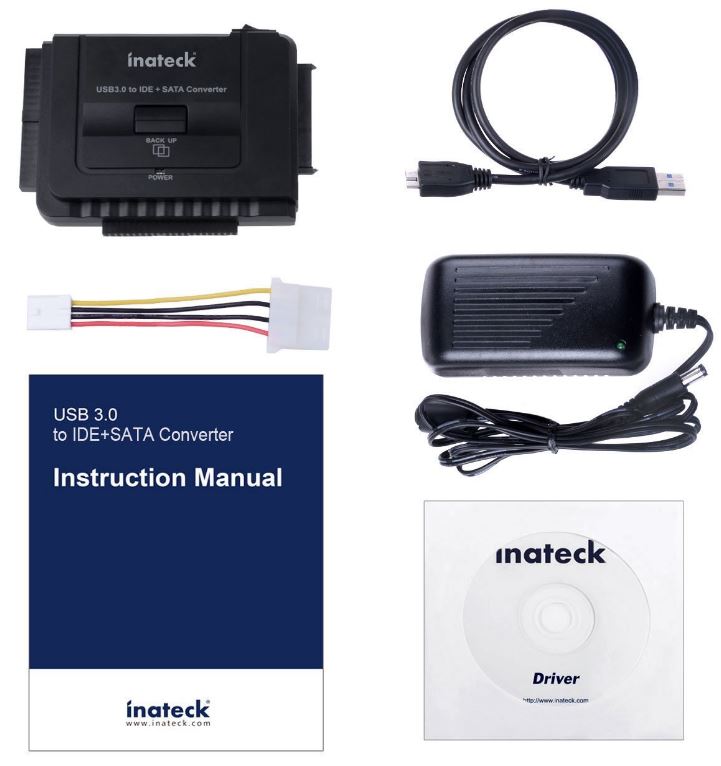 Features
The most impressive feature with this adapter is the one touch backup. Once the driver is installed on your computer, you'll be able to use the included "PC Clone EX Lite" software to perform backups. There are two primary functions to this. First, the standard one touch backup. You set up the software and choose which drive you want to back up. Simply press the button, and all of the data will be copied from one drive to the other. Alternately, you can copy an entire partition bit by bit, useful if you're trying to install a new internal drive or recover data from a damaged drive.
StarTech.com USB 3.0 to SATA/IDE Hard Drive Adapter
StarTech makes all kinds of adapters, cables and converters. Their products are known for being simple, compact, and efficient, and this adapter is no different.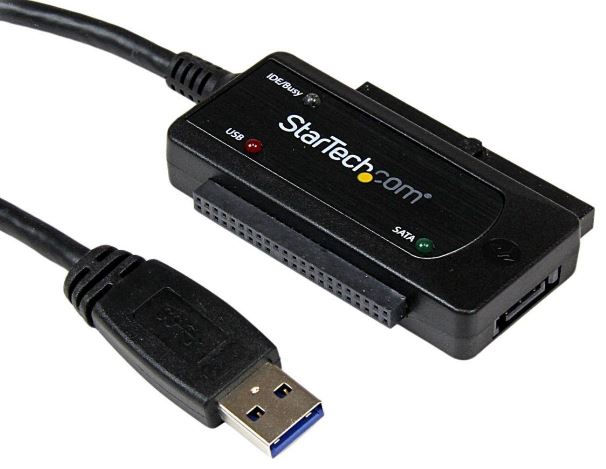 Design
If you're looking for a SATA adapter that's compact enough to throw in your work bag, then you're in luck. The StarTech USB 3.0 to SATA/IDE Adapter is as small as they get, and still has all of the essential features you need. There is only one cable which is permanently affixed to the back, ensuring that you never wind up losing or damaging the included cable.

Compatibility
This adapter gives you a triple whammy in terms of compatibility. You can use IDE drives, standard SATA drives, as well as external drives that support eSATA-P. eSATA-P is a relatively new standard that combines both the data connection and the power into a single port. This is a female port, so you'll need to use a cable to connect your drives. However, this does open doors as to which drives you can use. It's designed to work with virtually all operating systems from OSX to Windows (7 to 10). There are no drivers required, so it will function in safe mode as well. The only disadvantage of this drive is the fact that there is no external power adapter. This means that large, power hungry 3.5" drives are not likely to work. For IDE, you'll probably be restricted to compact 2.5" drives as well. However, most drives currently on the market are quite small, so this shouldn't restrict you too much.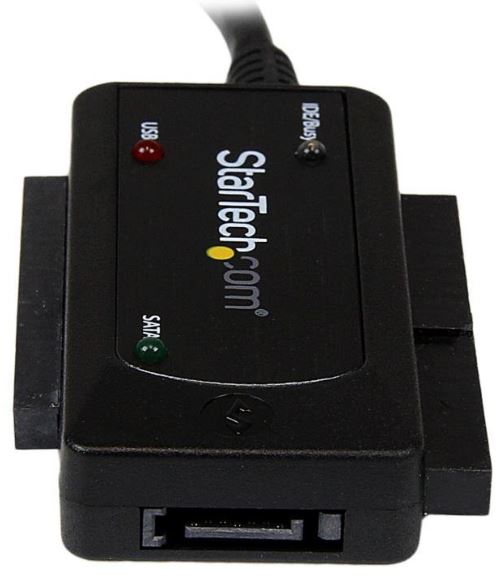 Performance
With this adapter, you're only able to use one drive at a time. Fortunately, this means that you can get the same high performance you'd expect. Download files at up to 350 MB/s with an SSD drive, or upload them at a speedy 250 MB/s.
So, Which USB to SATA Adapter Should I Get?
We've covered a large range of adapters, each of them designed for a specific purpose. If you want to get the most bang for your buck, the Inateck adapter is probably your best bet. It supports virtually any drive, and has plenty of great features making it the most functional out of any adapter.
In almost every circumstance, however, you're only going to encounter a SATA drive. In this case, the Unitek adapter should provide more than enough features for most users.
Finally, if you're a mobile computer repair technician who has tons of equipment to cart around, the StarTech adapter is the simplest and most compact one on the market. You'll still be able to diagnose and repair almost any mobile drive on the market, and desktop drives can be repairs at the shop using a desktop computer.