By now, the PlayStation 5 has been on the market for well over a year. And even after all those months, it remains as much in demand as it was at launch. A lot of this is due to supply chain issues and shortages in production. Many people wanted to buy one at launch or shortly thereafter, but haven't been able to find one for sale. But that demand is slowly starting to ease up. If you're one of those people who still hasn't found one, you could be in luck. Now that the holiday shopping season is over, PS5 consoles are slowly trickling onto store shelves. If you keep your eyes out, you should be able to find one soon.
But if a PS5 console now adorns your living room shelf, you might be looking for ways to spice things up. There are any number of ways to dress up your PS5. You might want something practical, in which place you've got plenty of options. There are aftermarket chargers, secondary and tertiary controllers, and cooling docks. There are even upgrades like PS5 controller remap kits and wireless QWERTY keyboards that mount on your controller. Then again, maybe you're looking for a purely cosmetic upgrade. In that case, it's tough to go wrong with RGB lighting. For whatever reason, RGB lights have become central to the gamer aesthetic. So it makes sense to add some to your PS5.
We're about to review three RGB light kits for the PlayStation 5. We'll start with the eXtremeRate LED Light Strip for PS5. This is a simple 2-strip kit with an infrared remote. Next, we'll take a look at the IMOFEE Light Strip for PS5 with Music Sync. This is a pair of connected LED light rings to go around your PS5 fan. Finally, we'll check out the FYOUNG Horizontal Stand with LED Light Strip. This is a pair of remote-controlled LED strips with a plastic stand for horizontal mounting. Which of these lighting kits is the best one for your PS5? Let's take a closer look at all three, and see what we come up with.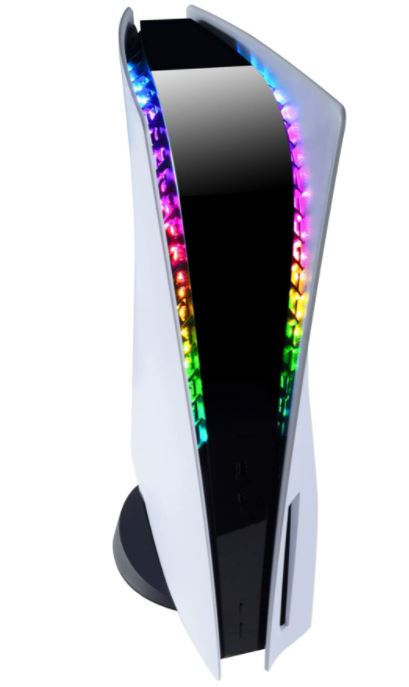 eXtremeRate LED Light Strip for PS5
eXtremeRate is a well-known manufacturer of gaming gear and accessories. Among their many offerings, we've reviewed such gems as their dockable Nintendo Switch OLED case. So it only made sense to take a closer look at the eXtremeRate LED Light Strip for PS5.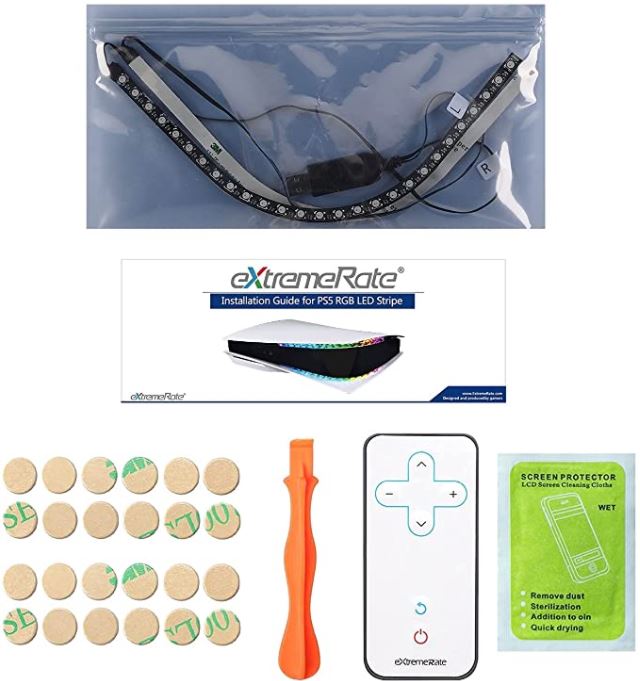 The term "light strip" is actually a bit of a misnomer, since this is two strips, not one. Both strips measure 1.6 feet in length, with little LED diodes every ¾-inch or so. The two strips are connected at the bottom into the same USB power cord. This cord measures 2.6 feet in length, which gives you plenty of reach for most scenarios.
The light strips themselves can be positioned any way you like. However, eXtremeRate provides instructions for installing inside the housing, around the outside perimeter. The lights illuminate in seven different primary colors: red, green, blue, white, yellow, indigo, and pink. You can set them to a number of different patterns and configurations. They can be all one color, cycling, or flashing. It all depends what you want.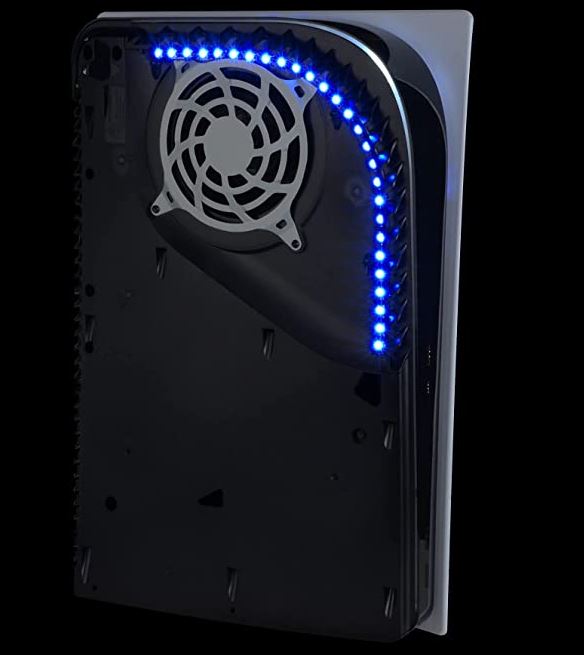 Along with the lights themselves, you also get a handheld remote control. This is a slim plastic controller, with a black back and sides and a white top. When you first take it out of the box, there's a white plastic tab on the bottom. This is the battery protection tab, and the controller won't work while it's inserted. Just give it a tug, and it will pull out. After that, you'll be able to use the controller freely.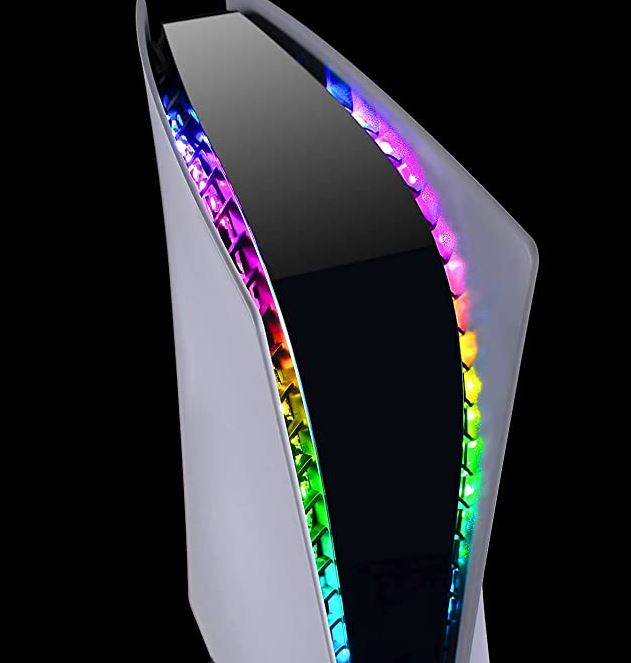 Installation and Ease of Use
The RGB strips are self-adhesive, with a peel-off backing and a high-quality 3M adhesive. The adhesive works best when it's pressed into place and not moved, so take some time to think. Do you want the lights on the outside of your PS5? Do you want them to glow from the inside? Make sure you know exactly what you're going to do before you remove the backing. It helps to make a test run beforehand, to make sure you're getting things exactly right.
If you want to use the LED strips on the inside of your PS5, there are a couple of simple options. The most basic is to remove the side panels and run the lights around the perimeter. This is pretty easy to do, provided you start the strip at the right spot. To get the placement right, first pop off your side panels. Pick one up, and look at the back side. Next to the fan, near the bottom back of the side panel, there are two little raised plastic rings. Adhere the light strip horizontally, from back to front. Position it with the beginning of the strip just below the right side of the right ring.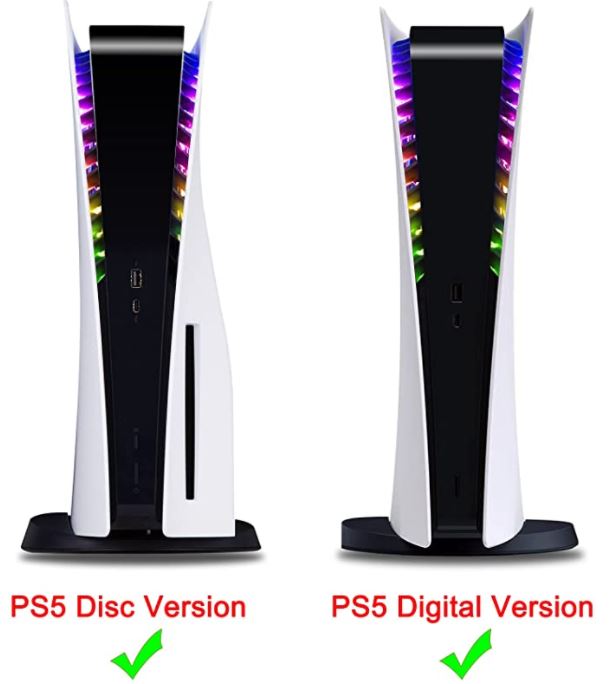 Another alternative is to run the strip around the fan. To do that, you also start by removing the side panel. Below and behind the fan, there's a gap in the bottom of the PS5's housing. Run the LED light strip in through this gap from the bottom. Now, run the strip along the front of the housing, until you're even with the end of the fan. Make a 90-degree turn, and run the rest of the strip in a gentle curve back around the fan. No matter which method you use, you'll have to plug the USB power cord in. It can be used with any USB power source, including the USB port on the PS5 itself.
The infrared remote has 17 keys that allow you to control all aspects of the strip's operation. In addition to single color mode, you can choose between 358 effects. Some of these are complex, with lights seeming to race across the front of your PS5. Others are a little more laid back, like the simple breathing modes. You can also use the remote to adjust the brightness, or to turn the lights off altogether.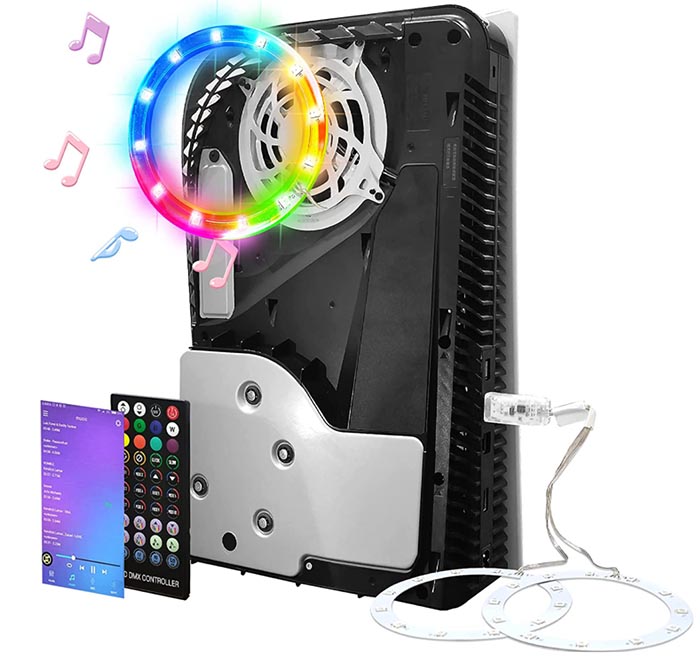 IMOFEE Light Strip for PS5 with Music Sync
The IMOFEE Light Strip for PS5 with Music Sync is yet another poorly-named RGB light. This isn't a strip at all. It's two rigid light rings that are designed for the sides of your PS5 fan. The nice thing about the rigid design is that you'll run into fewer problems during installation. This is a notable improvement from flexible strips, which take a steadier hand to install. Then again, the rings themselves can't really be repurposed. Unless you have some identically-sized fan you want to decorate, they'll only ever be good for your PS5. The two rings are connected to a USB plug by a pair of short, silvery tether cables.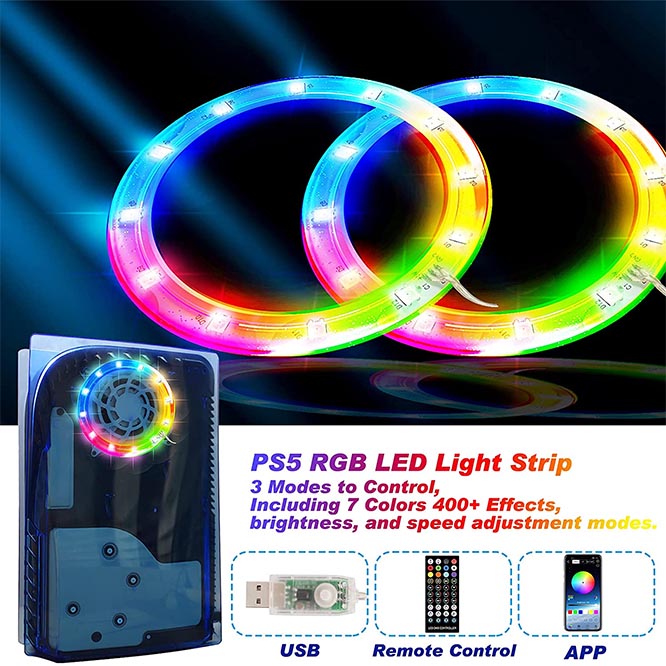 The lights themselves are high quality, with a wide scattering angle that creates a softening effect. They're also low voltage, so they won't draw as much power as some other LED lights. Once the lights are powered on, you can choose between multiple different color modes. There are eight monochromatic color options if you want something less complex. Alternatively, you'll be able to choose between more than 400 optional lighting modes. If that's not enough, there's a music sync feature that can be activated in only seconds. In this mode, the lights will automatically cycle in time with your game's background music. This is incredibly immersive, as well as just plain fun.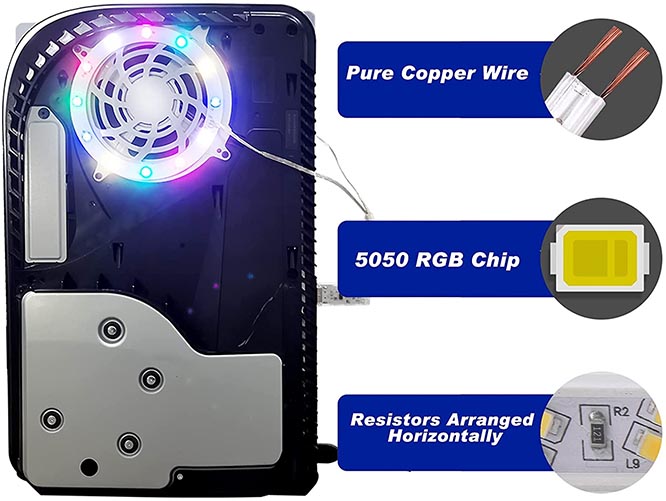 Installation and Ease of Use
One thing we liked about the IMOFEE lights is how easy they are to install. First, remove the side panel from your PS5 console. Next, you'll need to apply the adhesive. Inside the package, there's a little white wax paper sheet with eight red adhesive putty blocks. Take four of these, and work them around in your fingers until you have four little blobs. Now, apply these blobs to the outer metal ring on top of your fan, right where it meets the support arms. At that point, all you have to do is press the light ring into place. Just make sure the wire is pointed downwards, and towards the back of your console. Replace the side panel, repeat the process on the other side, and you're all set.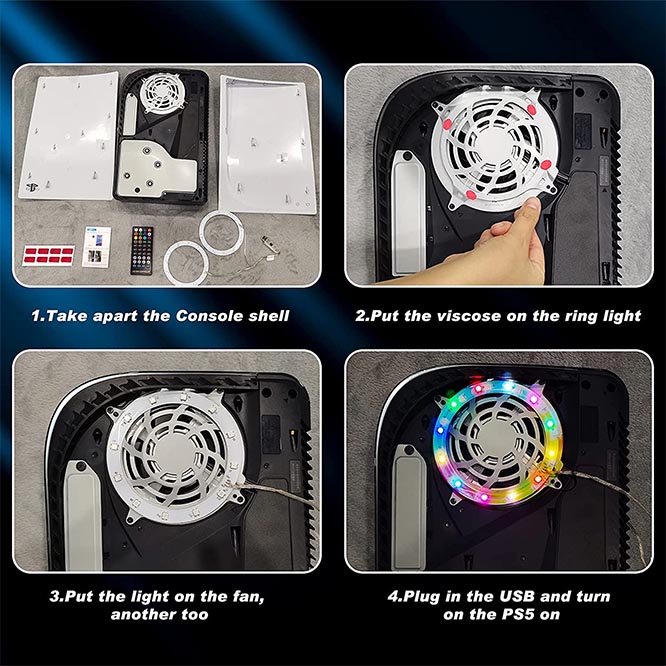 In order to work properly, this light kit must be plugged into the USB port on the back of your console. It can't be plugged into a wall outlet or an extension cord. Once it's plugged in, you can switch between the most common lighting modes by pressing the button on the plug. To get access to all the features, you can use the remote control. This allows you to adjust the brightness, or choose between hundreds of cycling modes. As a third option, IMOFEE also has a free smartphone app, with all the same functions as the remote. That way, if you lose your remote, you'll still be able to access all your controls.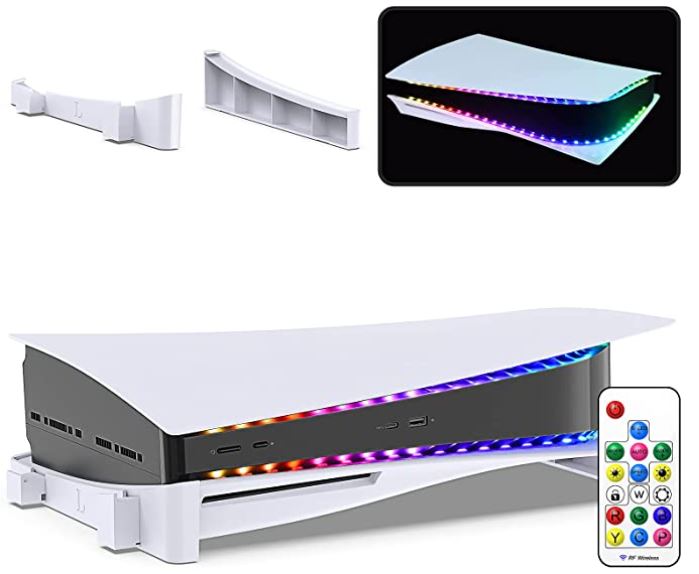 FYOUNG Horizontal Stand with LED Light Strip
FYOUNG is another manufacturer we've reviewed in the past. Among other PS5 accessories, we've reviewed their PS5 DualSense phone mount. Their FYOUNG Horizontal Stand with LED Light Strip consists of 2 components. As you might expect, these are an LED light strip and a stand. The strip is actually a dual strip, much like the eXtremeRate strip. Both halves connect to a single USB power supply, with a reasonably long lead. There are also seven base colors, and 358 possible lighting effects. The kit even includes a little infrared remote.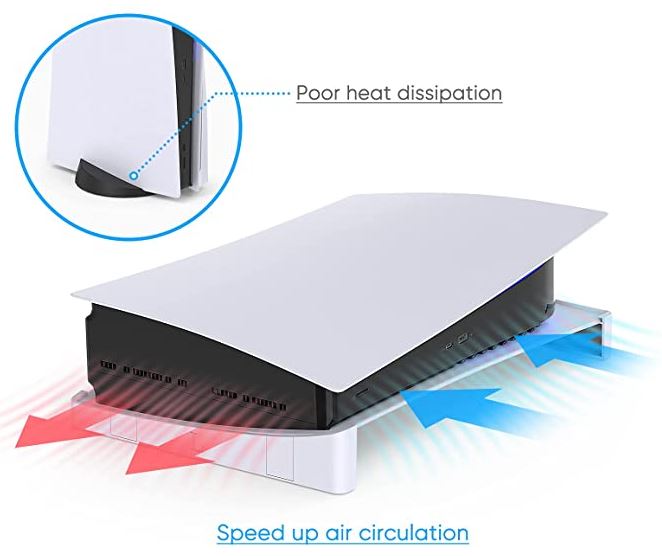 The main attraction to this kit, though, is the horizontal stand. The stand consists of two halves, and is made of white ABS plastic material. It's surprisingly sturdy, and it's molded to fit the ends of your PS5's side panels. The right side is a single solid piece, without any moving parts. The left side has an adjustable bottom half that can be opened up. This is designed to accommodate the larger form factor of the PS5 optical version. With the bottom half closed, it will fit the PS5 digital version. This is great if you want to set your PS5 up horizontally, instead of with the default vertical stand.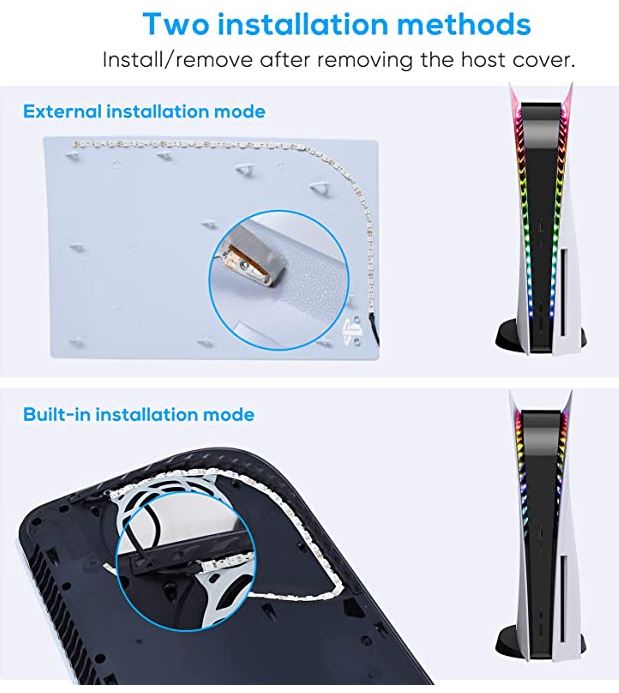 Installation and Ease of Use
While the FYOUNG kit's stand is certainly worthy of consideration, the lights are identical to eXtremeRate's. This means you have the same installation options, and the same considerations. You can mount the lights inside or out, using the adhesive backing. You can also plug them into any USB power source. The infrared remote provides you with the same control options, such as brightness adjustment.
Final Verdict
As you can see, a lot of the difference between these light strips is purely cosmetic. But that's just fine, since these are cosmetic upgrades. As long as you're happy with the look, that's all that matters. We started by reviewing the eXtremeRate LED Light Strip for PS5. This dual strip can be easy or difficult to install, depending on how you want to locate it. That said, it's extremely versatile, and there are over 350 light patterns.
The IMOFEE Light Strip for PS5 with Music Sync is the easiest of all to install. Since these are rigid rings, not strips, you can get them installed in just a few minutes without previous experience. We also liked that there are multiple control options, including the smartphone companion app. The only real downside is that you can only plug it into the USB port on your PS5.
We ended by looking at the FYOUNG Horizontal Stand with LED Light Strip. The light strip itself is more or less identical to the eXtremeRate. This gives you similar installation options, and similar controls. However, you also get the dual stand. This isn't going to provide any value if you prefer your PS5 in the traditional, vertical configuration. But if you want your PS5 to stay cool while lying on its side, the base alone is a game changer.