Nothing beats the taste and crunch your favorite fried foods. But it's equally true that eating tones of fried chicken, fries, or bread crisped in traditional oil is terrible for your health. Why do all the best-tasting foods have to be so bad?!
Thankfully, the invention of home air fryers has enabled fried food lovers to keep making their favorite crispy treats without as many of the negative health side effects you get with a traditional oil fry machine. Air fryers can produce delicious tasting and fast-cooking food, all with taking up about the same amount of counter space as a larger blender or bread maker. These days, you can also find smart air fryers – these are air fryers that can connect to WiFi networks for remote activation or modification, or even for integration into smart home networks.
But no two smart air fryers are truly alike. Some are clearly superior to one another, featuring better onboard software, better generally frying capabilities, or bigger capacities. Others might have better integration with smart home systems or might be better for cleaning after using the frying baskets to make a tone of delicious food. You'll need to consider all these features and more to determine whether a smart air fryer is really worth your time and money.
The Proscenic T21 and COSORI Smart Air Fryers are direct competitors in this industry. We'll break down the major aspects of each device so you can know for sure which of the two is a better option even though they're quite similar. Let's get started.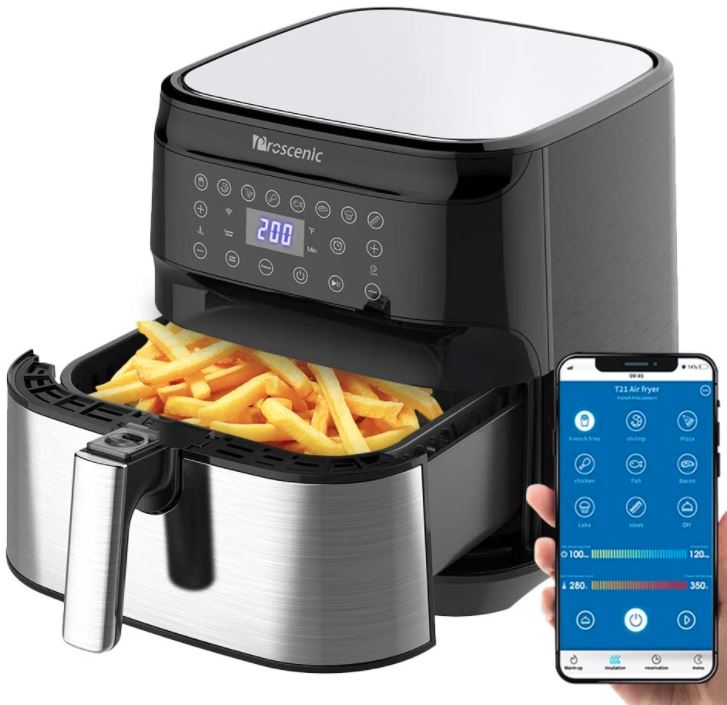 Proscenic T21 Smart Air Fryer
The Proscenic T21 comes with a lot of modern innovations to make it a cooking tool for chefs who only want the best. For starters, it features an easy to use one-touch LED panel. This allows you to select menus and functions whenever you need, and the machine starts to cook automatically. This is much better than many other electronic air fryers, which often require you to cycle through a menu to reach your desired option.
It also comes with a number of advanced design features to make the resultant food taste better or your cooking experience even easier. For instance, it comes with a 5.8-quart capacity basket. This allows you to make plenty of food for several people at once depending on the dish in question. The square basket is made of aluminum, which prevents it from sticking to either the interior of the prior and food from sticking to the basket itself. This also reduces residue left behind and makes it easier to clean.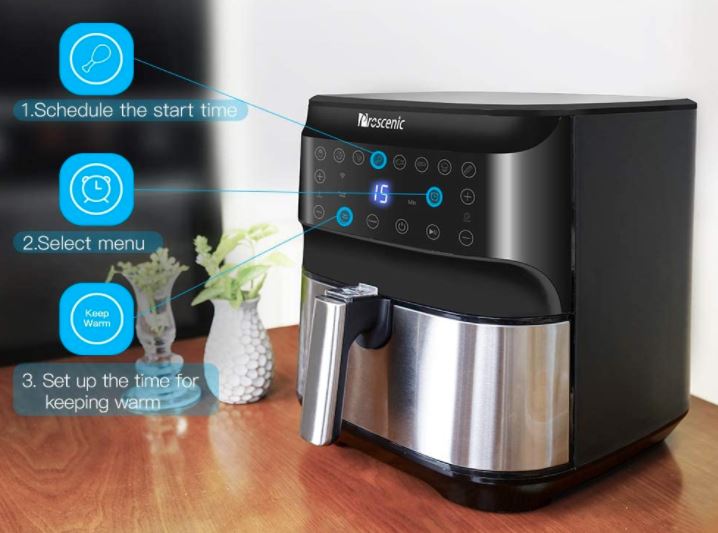 An automatic shut off feature kicks when it detects that cooking has finished. This both stops the machine from overheating and prevents your food from being overcooked: an ideal element for those with busy homes or just for chefs that like to make multi-element meal with more than one dish. Plus, the nonstick basket and drawer are both dishwasher-safe. Cleaning both of these elements is therefore very easy and you don't have to spend a lot of time scrubbing their interiors.
The WiFi part of the fryer comes from the remote-control app that you can download from either the Apple Store or Google Play store depending on your preferred mobile device. This allows you to control and adjust the air fryer with your mobile phone – for instance, you can turn the fryer on or off while you are at work to prevent food from overcooking throughout the day. Additionally, you can pair it with your Alexa devices to bring it into your already existing smart home ecosystem.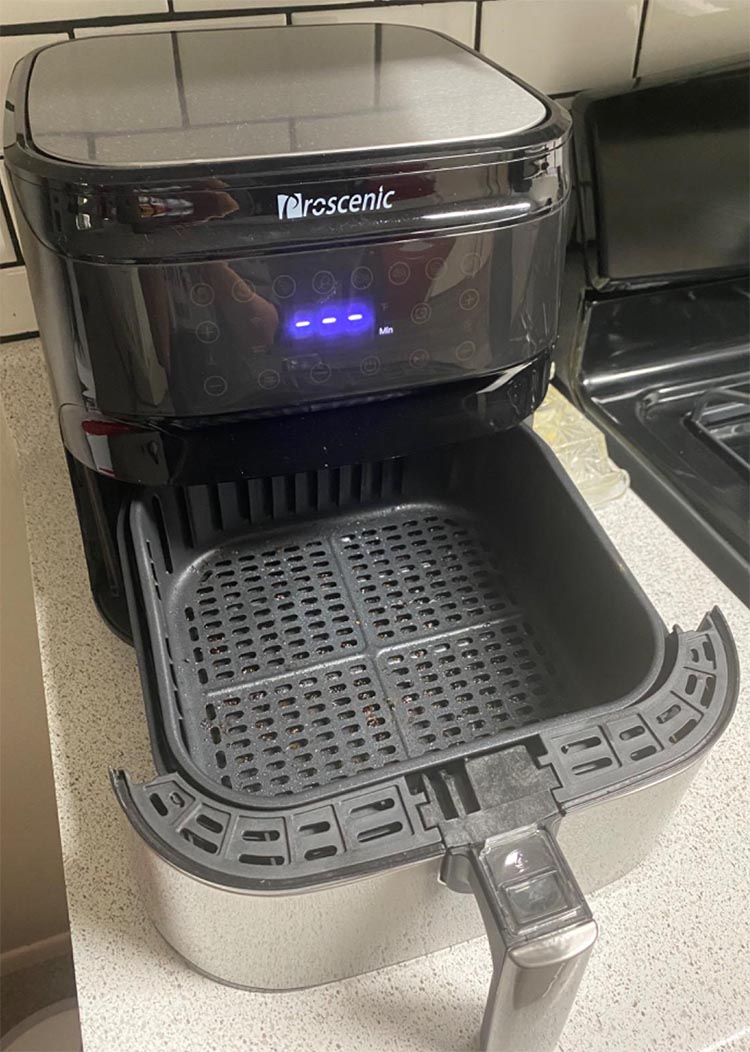 Cooking Options and Programmed Recipes
The Proscenic T21 is also a great choice because of how easily you can use the aforementioned control panel to cook great tasting dishes. Its panel is designed such that you can select any combination of three buttons and set up the machine in advance. You can set a cooking schedule, a menu, and whether or not you want the dish to be kept warm ahead of time. The Proscenic T21 then operates as normal and follows the program routine. As a result, it's one of the best smart WiFi air fryers for distance or remote use, or for frying food items that take an especially long time to cook.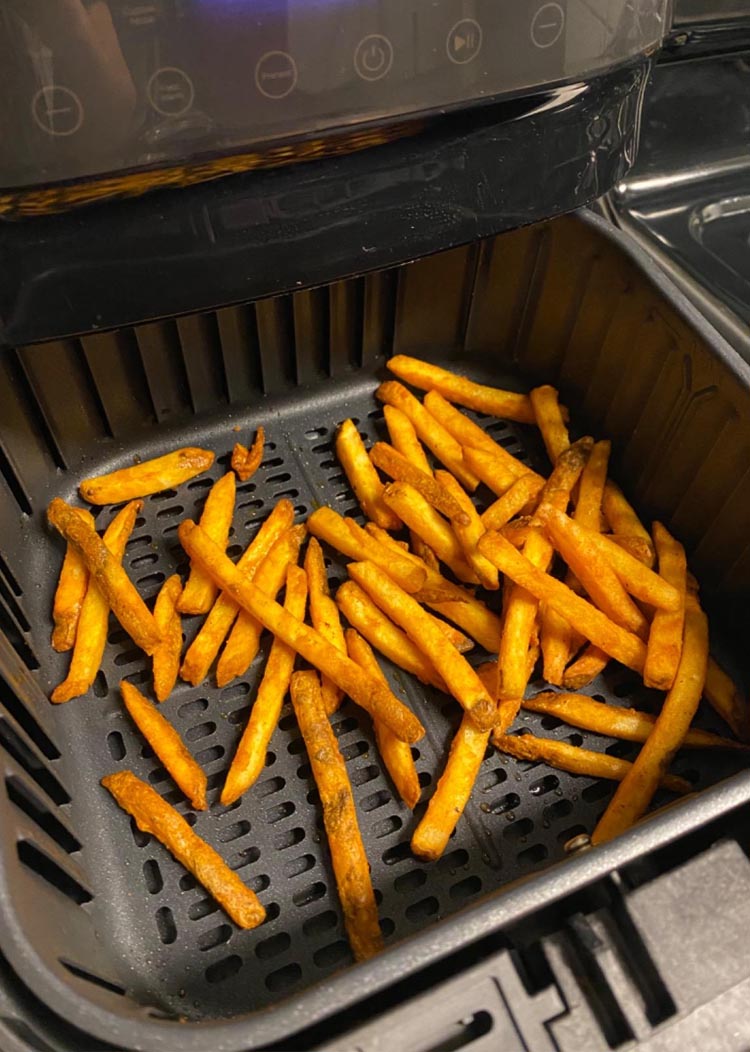 You get eight menus in total preset in the machine, and you can select whether you want to fry, grill, bake, or roast those items depending on your needs. The eight menus in question are fries, shrimp, pizza, fish, chicken, bacon, steak, and cake. Talk about variety! These eight preset menus make it so that you can almost make any typical fried food with this tool without having to come up with your own setting combination in the menu.
The app mentioned before also comes with dozens of online recipes. Even beyond being able to access these premade formulas, you can customize your own recipes and then program them on the app for later retrieval. All in all, the Proscenic T21 has a lot to like, from its basic functionality to its ease-of-use to the depth of its app and available controls.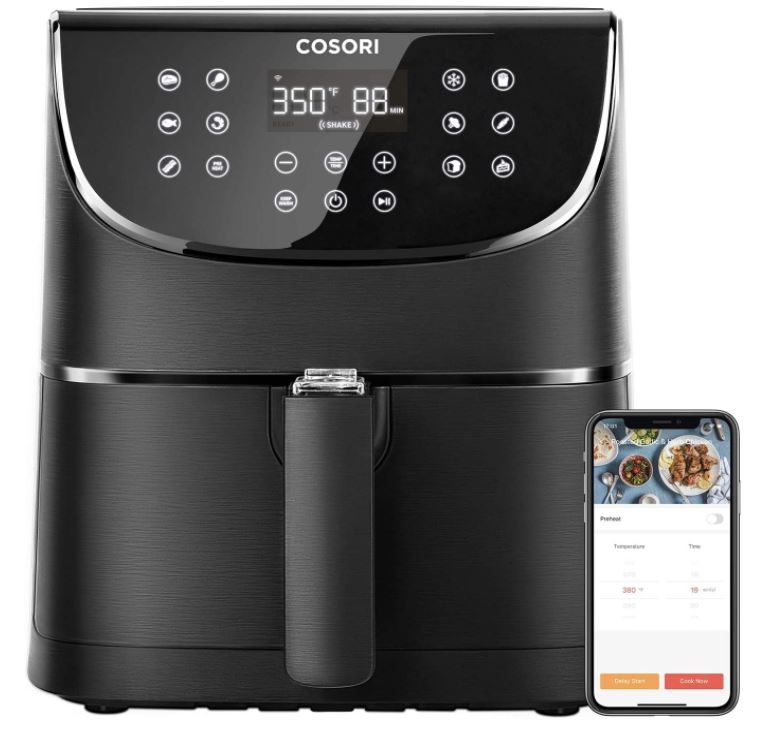 COSORI Smart WiFi Air Fryer
But how does the COSORI compare? It's also, of course, WiFi enabled, meaning that you remotely control it by syncing it to your Amazon Alexa or Google Assistant smart home functions. This allows you to command the fryer through one of these assistants by saying what you want – the assistant then carries out the order without you having to touch a button on the fryer itself or on your mobile phone. You can, of course, still use the proprietary app that comes with the purchase to control the fryer from afar, like if you're at work.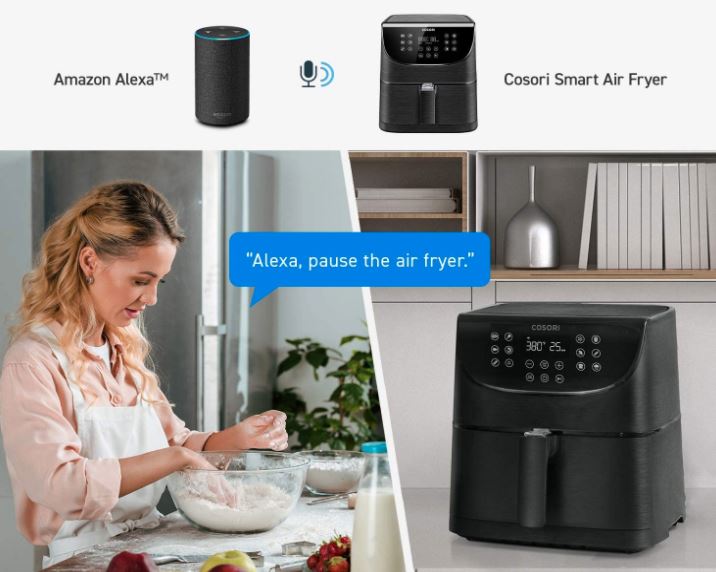 The COSORI Smart Fryer comes with a large and dishwasher safe basket of the same size as the last fryer: 5.8 quarts. This is enough to make food for several people at once, and it's made with BPA-free basket materials. It's dishwasher safe, so cleaning it is similarly easy. However, the drawer is not dishwasher safe – you'll have to clean this yourself if you get any food particles scattered on its interior. This isn't a huge drawback overall, though it is a small downside where the T21 shines a little brighter.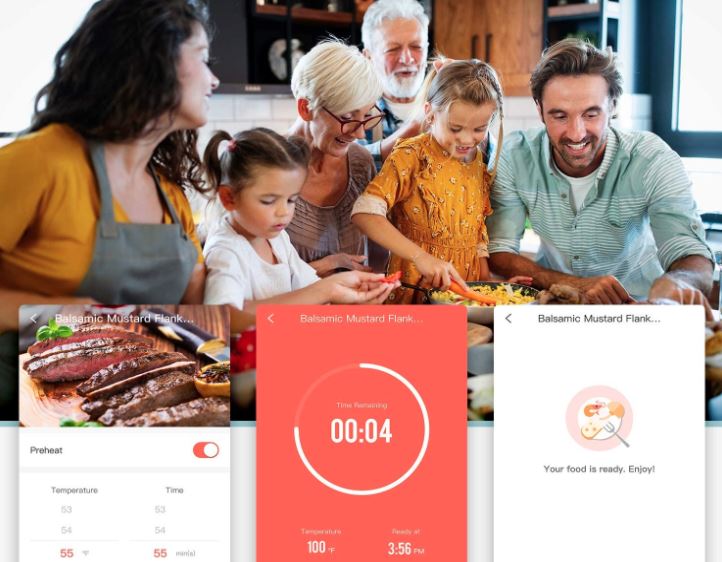 The COSORI Smart Fryer's touchscreen display is actually set at a slight angle to face you. This makes the main control panel a little easier to see and even easier to use. As with the last air fryer, it also comes with an automatic shut off feature, plus an overheat protection feature to stop the fryer from damaging itself if, for whatever reason, the heat becomes dangerous to its casing or the food inside.
Cooking Options and Programmed Recipes
All told, the COSORI Smart Fryer features 11 preset cooking menus to select from. These include staple food items like fries, chicken, steak, and so on. These are all accessible from the main control panel, and from the smart app as well. The VeSync app additionally allows you to time your cooking by providing better monitoring tools. You can even schedule cook times for up to four hours in advance, allowing you to remotely begin cooking dinner before you've even returned home from work.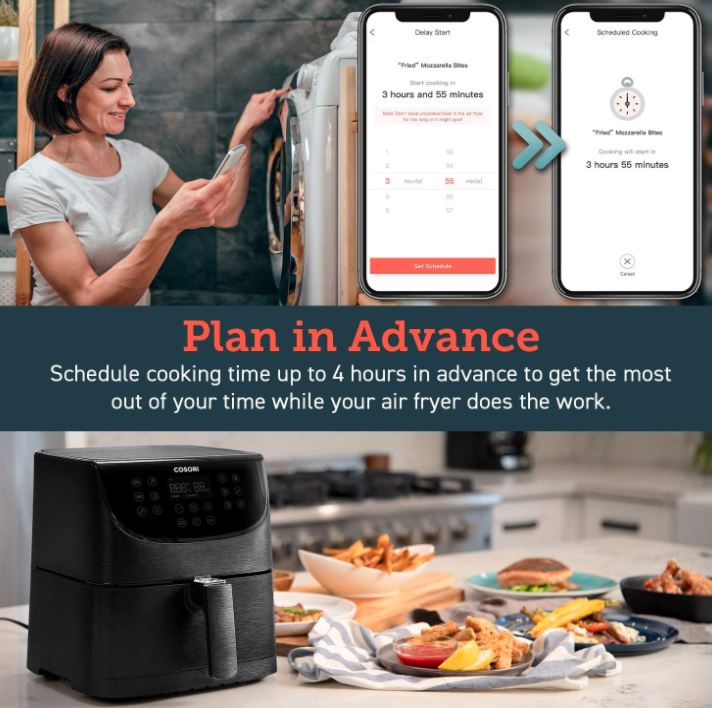 Speaking of the app, it comes with a whopping 100 recipes that you can peruse at your whim. The recipes are quite varied and diverse, including full instructions to create meals in conjunction with the frying capabilities of the COSORI. This is an excellent resource worth quite a few bucks on its own, but that you get a totally for free when you purchase this smart air fryer. New recipes are added weekly and, even better, the preprogrammed recipes in the app are guaranteed to work with the COSORI itself.
The controls are a little different here in that you aren't able to combine multiple buttons at once for a sequential cooking sequence. But there's more variety in terms of recipes built into the COSORI compared to the T21, so it's not really a downside.
Final Verdict
All in all, both of these WiFi smart air fryers are quite competitive. The Proscenic T21 is a slightly larger air fryer that features a more customizable interface. The combination function that allows you to select any one of three distinct menu button types means you'll be able to customize your cooking sequence as long as you're at the fryer in person. Being able to tell the fryer to keep food warm for a particular period of time is quite handy. The COSORI Smart Fryer, meanwhile, is also quite nice in terms of its menu, though it's less customizable and more reliant on the variety of recipes that come with the proprietary app and built into its menu software.
Both air fryers are also user-friendly and easy to clean thanks to their dishwasher-safe baskets. Neither one particularly takes up lots of counter space, though the COSORI Smart Fryer is just a little smaller so it may be a bit better for smaller apartments or kitchens. The COSORI also comes with more recipes in its app, so college students or those who otherwise don't have lots of cooking experience under their belts might prefer this air fryer since they won't have to look up as many recipes online.
Aside from these minor differences, the two air fryers are quite close in function and value. They're even very nearly the same price! Still, we'd recommend the COSORI just a bit overall because of its added recipes and additional presets.
Being able to network your smart air fryer into your smart home collection is really cool and it's arguably one of the biggest reasons to pick up one of these automatable machines in the first place. Furthermore, the COSORI Smart Fryer's app allows you to schedule cooking for up to four hours in advance – even aside from the plethora of recipes included in its data, this feature is fantastic for those who like to use their smart air fryers to prepare for cooking ahead of schedule. You'll be able to make the most of the fryer's functionality thanks to this fantastic app, so the COSORI gets the bigger thumbs up in the end.
Was this helpful? Please consider sharing: