If you're trying to create branded artwork, engraving is a truly unique medium. Everybody has a tee shirt or a mug with their brand on it. But an engraving stands out. It exudes a sense of permanence that ink can't provide. Hand somebody an engraved plaque or similar trinket, and it's something they'll cherish. Engraving is also a practical way to create permanent name plates and other accessories.
If you haven't looked at an engraving machine recently, you might think they're big and bulky. They certainly can be. It's a necessity for engraving larger objects. But engravers can also be compact and lightweight. This is great news if you have a small working area, or if you need to take your engraver with you.
Note: At no extra cost to you, we may earn a commission for purchases using our links. Learn more.
Today, we'll be reviewing the ATOMSTACK M4 Fiber Laser Engraver. This is a miniature engraver that's designed for name tags and other small jobs. You can even use it in handheld mode on vertical surfaces. But those are just a couple of the features we're going to have to look at. We'll need to consider the laser power and intensity. We'll talk about the frame, accessories, and compatibility. After we've given it a thorough examination, we'll know enough to draw a conclusion. Let's begin!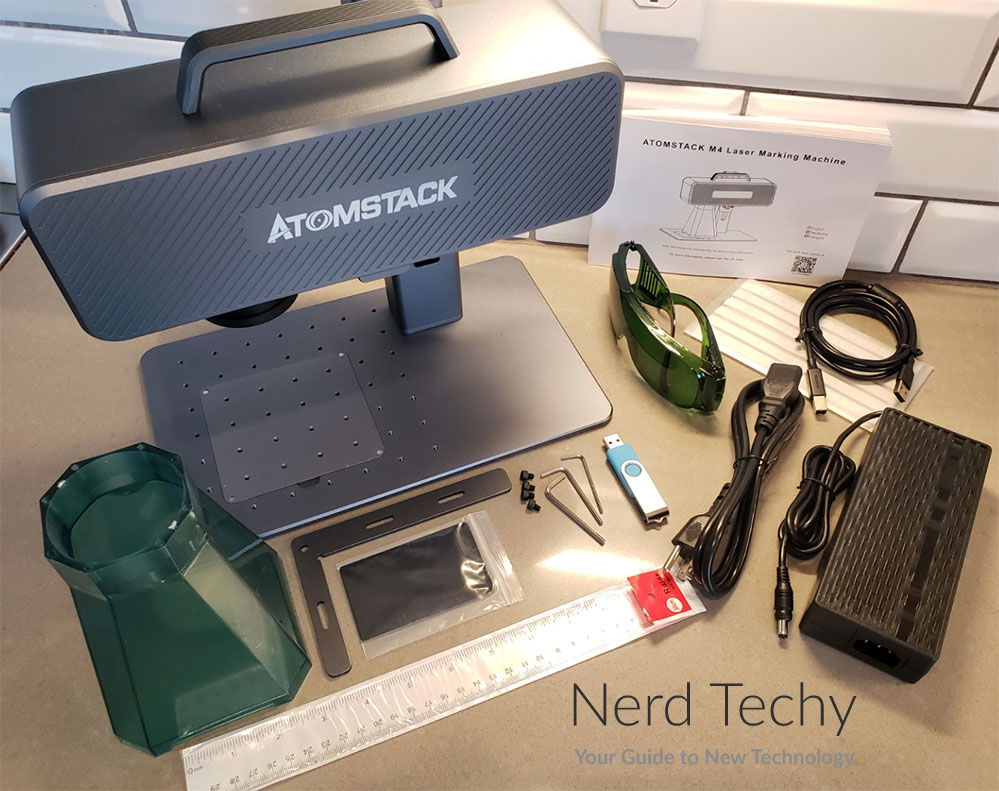 Frame and Design
The ATOMSTACK M4 has a one-of-a-kind design. Most laser engravers we've looked at consist of a rectangular frame with a gimbal-mounted laser. This one is altogether different. Instead of an open bottom, there's an aluminum base plate. The laser attaches with a bracket to a vertical riser, which sits on the back of the base plate.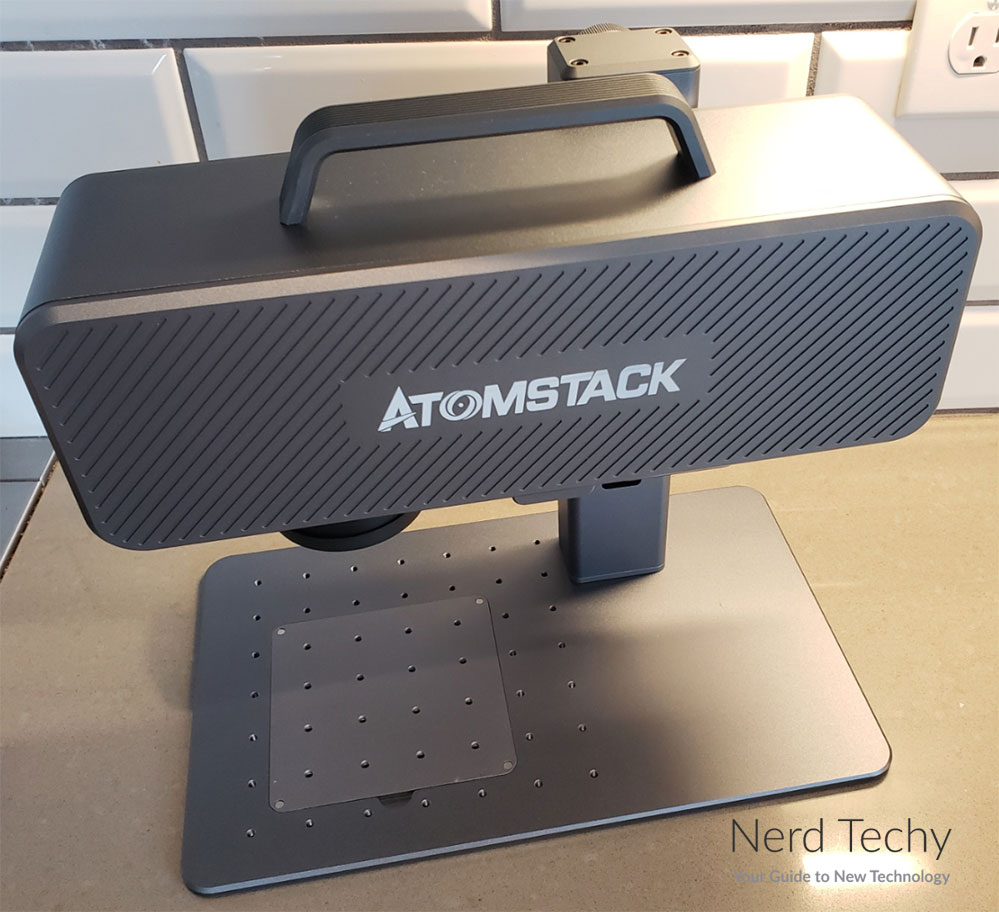 It's easy to adjust the height, with a small crank near the top. There's even a little height scale on the side, with a travel range of 11cm. The total maximum height is 96mm, or 3.8 inches. However, there's also a removable plate in the base that pops out to create a window. If you need to engrave taller objects, just prop up the engraver and put the object underneath. This allows you to engrave items of virtually any height or thickness.
Alternatively, you can use the M4 in handheld mode. The rectangular laser housing attaches to the bracket with a single, easy-to-remove screw. Just twist it loose, and the laser module pops right off. On top of the module is a molded handle. As a result, it's easy to keep control of.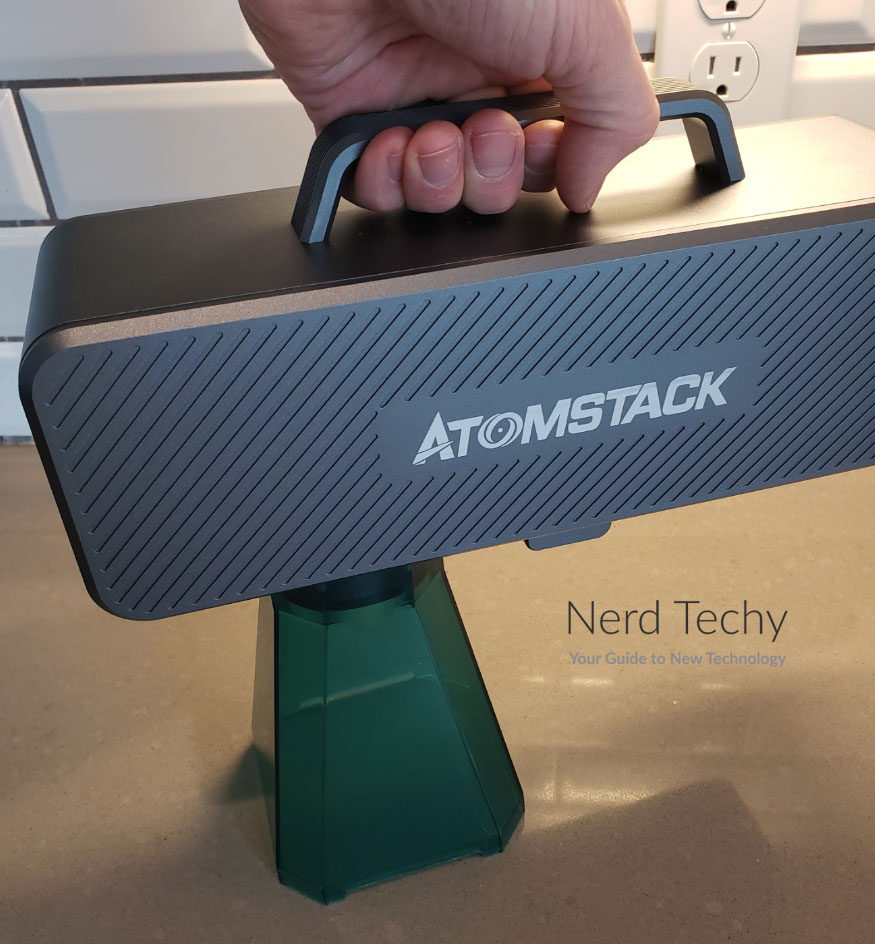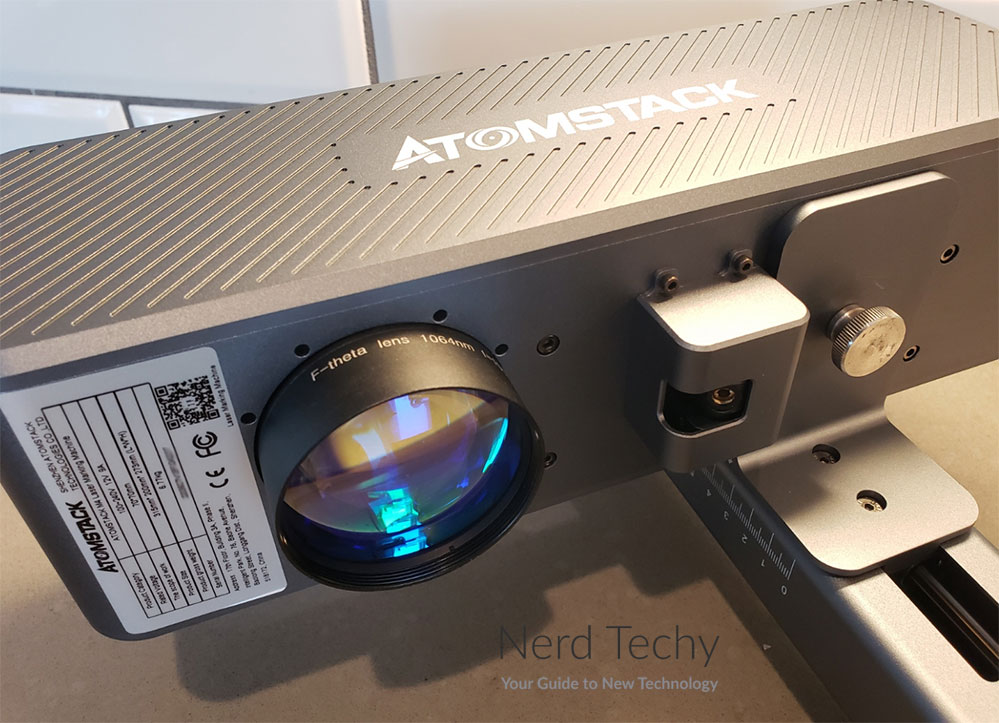 The kit includes a blue-green plastic shield that attaches over the laser lens. It's about eight inches long, and it flares out into a square shape that's slightly larger than the engraving area. Just place the end of the shield on the surface you want to engrave and you're ready to go. In this mode, you can engrave vertical surfaces or even use the engraver upside-down.
ATOMSTACK backs the M4 with a 12-month manufacturer's warranty. That's not incredibly long, but it's enough to verify that it's working properly. They also offer excellent online technical support, and resolve most issues within 24 hours.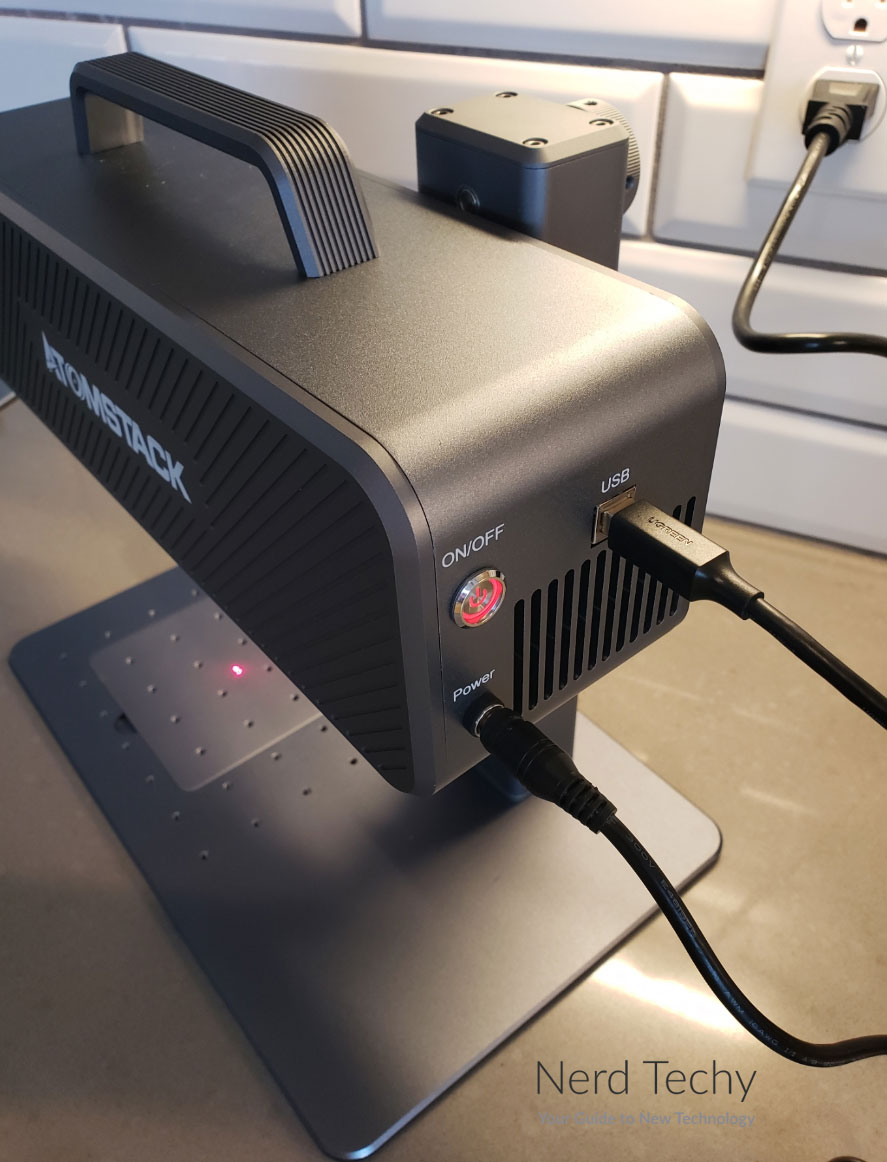 Use code "M4025ZBA" for a 25% discount when you order the ATOMSTACK M4 on Amazon
Laser and Controls
The laser emitter itself doesn't move around. Instead, there are three lenses that work in tandem to focus the laser on a given point. They also keep the laser tuned to a fine point. Depending on your task, it can be anywhere from 0.02mm to 0.01mm in diameter. This allows you to create incredibly detailed images, even on a very small scale.
This is fortunate, because the engraving area is relatively small, at 70mm x 70mm. That's a bit over 2.75 inches to a side, so you're not going to be able to create large images. But you'll still have enough space for name plates, bespoke business cards, knives, or other small objects. For many engraving applications, that will be all of the area you're ever going to need.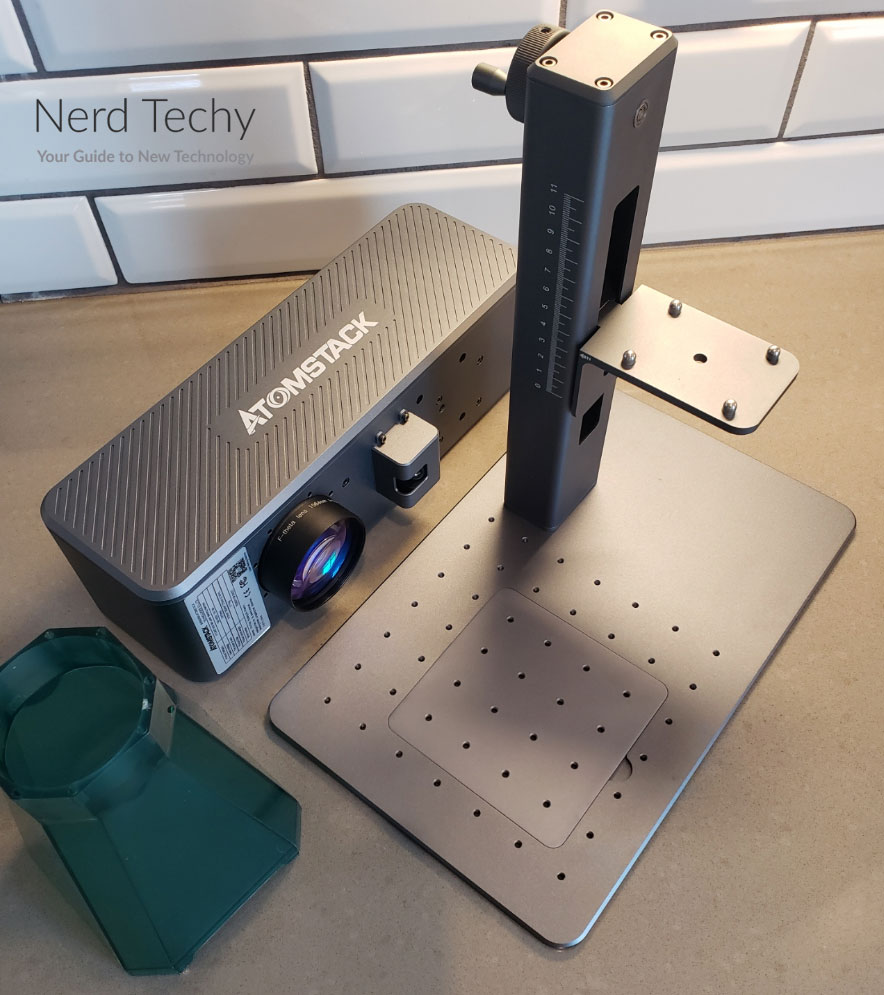 We should also point out that the laser element is rated for 20,000 hours of operation. That's a little more than 15 months of non-stop, 'round-the-clock use. Under a more realistic work load, it will last for several years without any issues. More than likely, it will be obsolete by the time you have to replace it.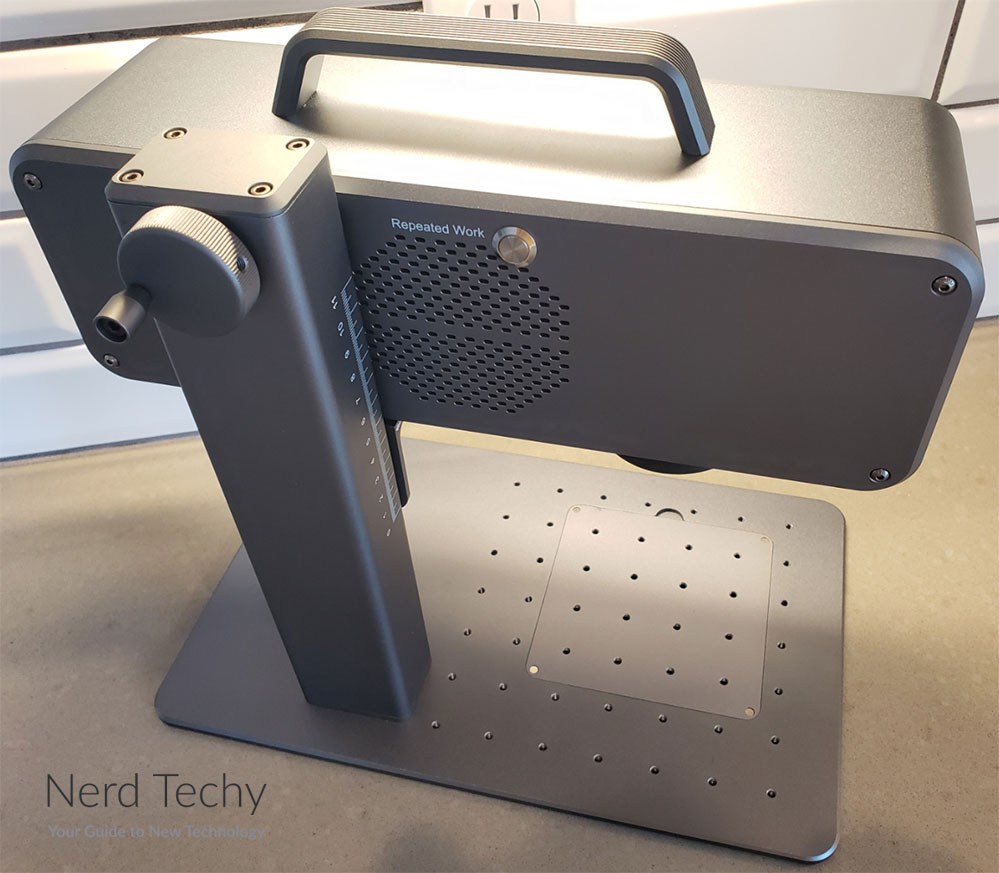 Another useful feature is the built-in button on the side of the housing. Press it, and the engraver will reproduce whatever image has been stored in memory. This is incredibly handy for batch engraving, since you don't have to leave your computer connected. Instead of needing a dedicated laptop for your engraver, you can use your existing laptop. You can even set up multiple engravers for multiple images.
Connectivity and Setup
The M4 is easy to set up. It comes with a USB cable and you just plug it into your computer. It also needs to be plugged into wall power. The laser is far too powerful to operate via USB alone.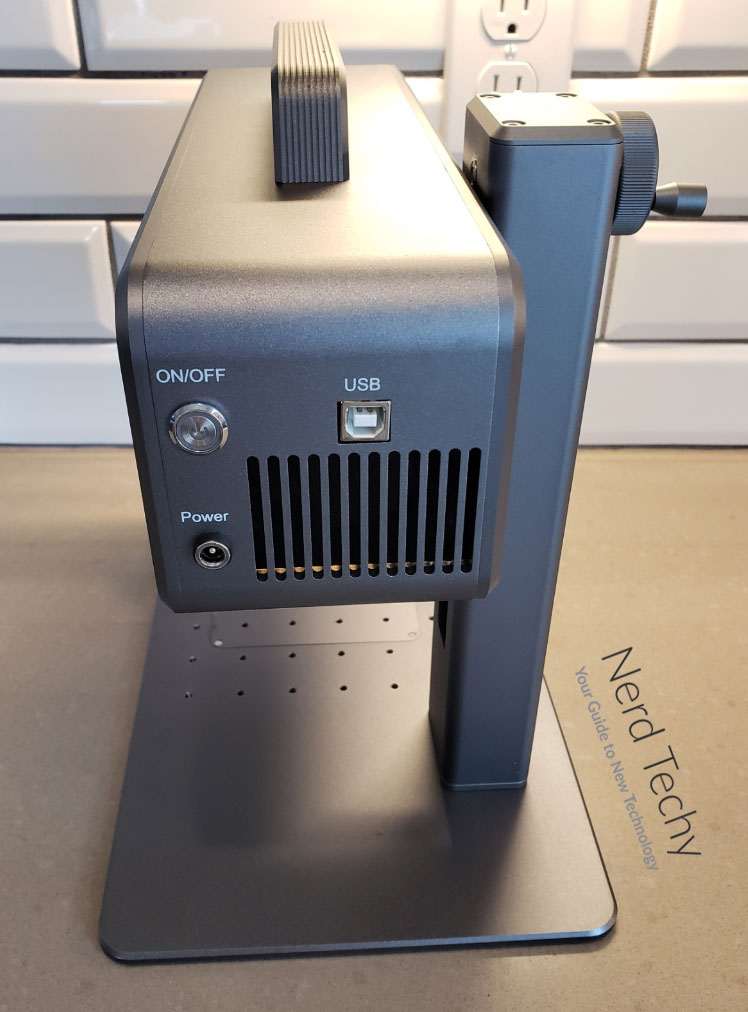 You shouldn't have to install any drivers to run this engraver. It's compatible right out of the box with Windows XP and later. Just give your computer a minute to recognize it. When the popup window appears to tell you the engraver is attached, you're ready to go. On the downside, there's no Mac support. It will only work with a Windows computer.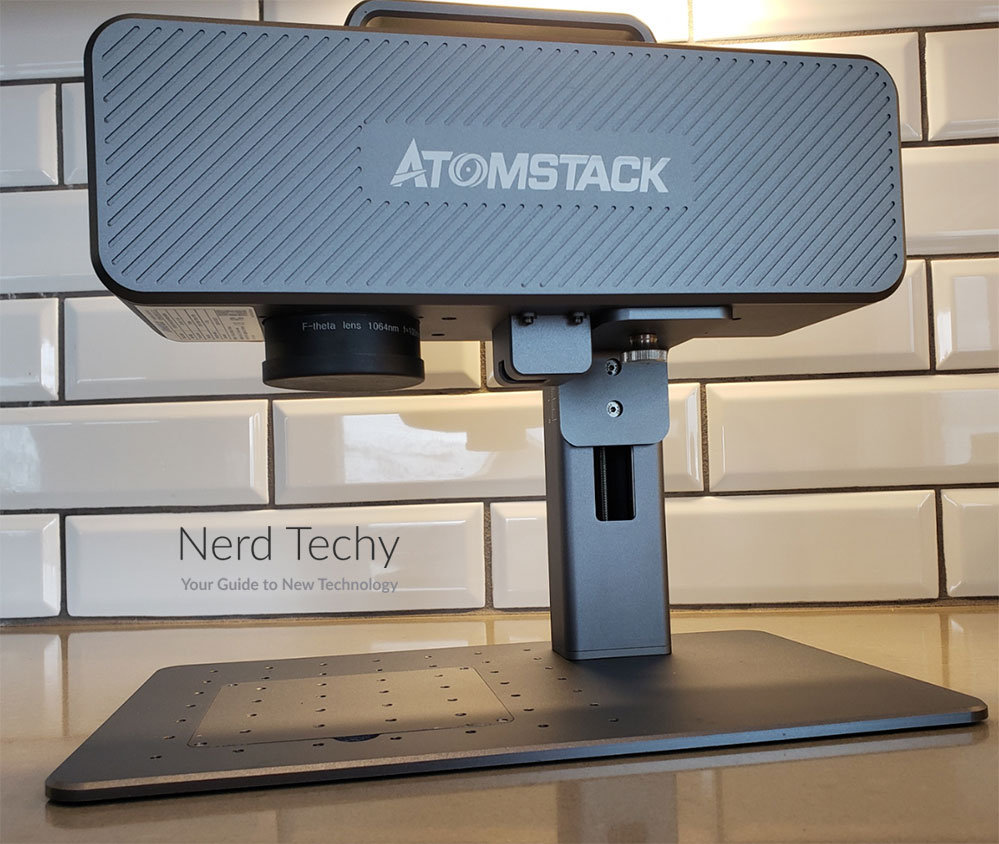 There are no such issues with image compatibility. The M4 supports all common image formats including JPG, BMP, PLT, and DXF. In addition, it supports a wide number of popular barcode formats. These include Code39, DM, EAN, and PDF417. So if you want to engrave barcodes, you're looking at the ideal tool.
Software compatibility is also a non-issue. The system comes with a small USB thumb drive, with a SeaCAD 5.1 install package. On the one hand, this is a nice touch. Most engravers leave you to find your own software solution. On the other hand, the software is very basic. It's obviously Chinese and the controls are limited and non-intuitive. You're better off with another engraving software, such as LaserGRBL, which is both free and intuitive. For a full overview, take a look at the SeaCAD user manual that's available on their website.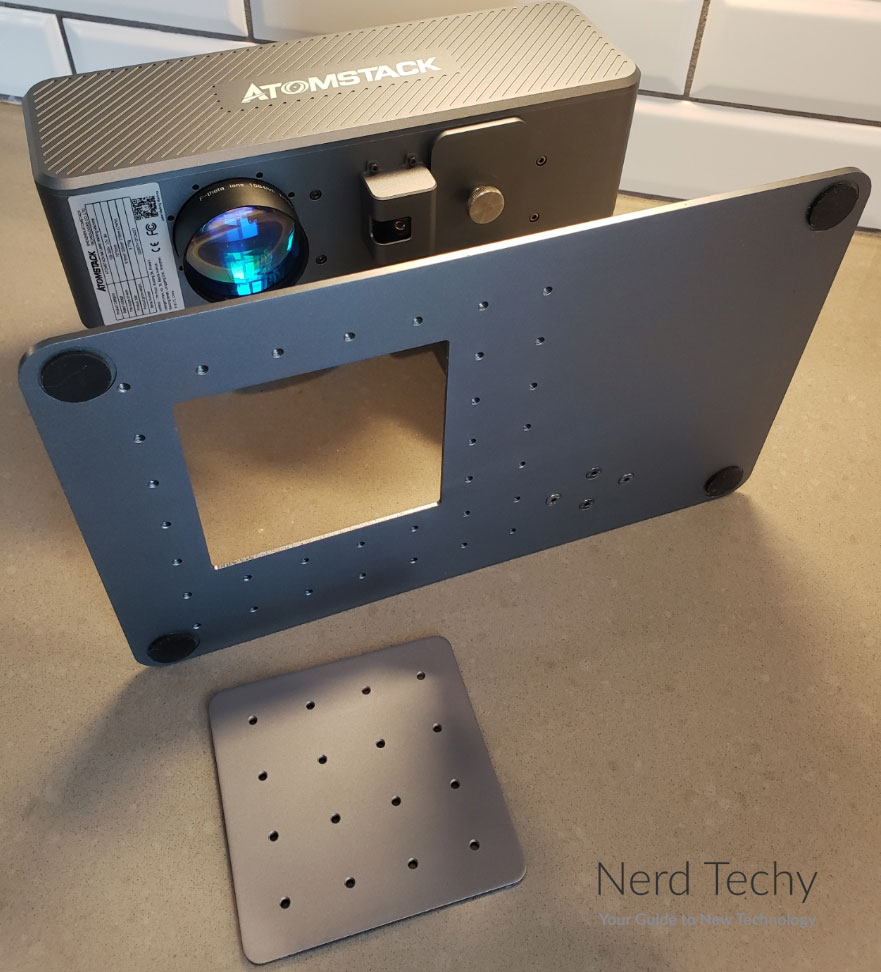 Engraving Performance
One thing we loved about the M4 is the absurdly fast engraving speed. The laser can move along at a rate of 12,000mm per second, or almost 40 feet. This is the maximum rate, and is used for light materials and shading. When the machine is creating a darker line or cutting a heavy material, it will move slower. But no matter how you look at it, this is a very fast-working machine. This is yet another feature that makes it great for batch work. If you're trying to take 100, 300, or 1,000 of something, you need an engraver that can keep up.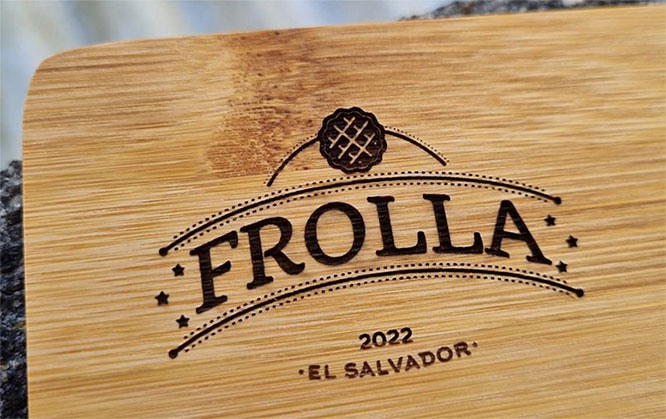 The laser draws 20 watts of power during normal operation. That's twice as powerful as most engraving machines can reach. Better yet, it can draw an incredible 20,000 watts of pulse power. These pulses are so fast that the beam looks continuous. But it allows you to work on materials that many engravers just can't handle.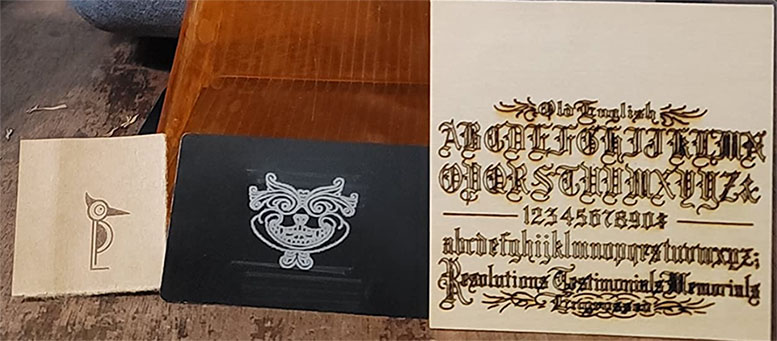 The M4 can do this because it uses 1,064nm wavelength infrared light. This light is different from the light used on most other lasers, and it won't cut most materials. So the laser can turn up to full power for regular engraving, without damaging the working surface.
As for materials, the sky's the limit. This engraver will work on any type of metal, including rare metals. It can engrave wood, ceramic, stone, and even leather. You can also use it on ABS, acrylic, poly panels, and glass. Be careful when you're working on transparent surfaces, though. The laser will just pass through them, and won't be effective. Instead, cover the surface with black marker or spray paint before engraving. While you'll have to wash it off afterwards, the laser will be effective.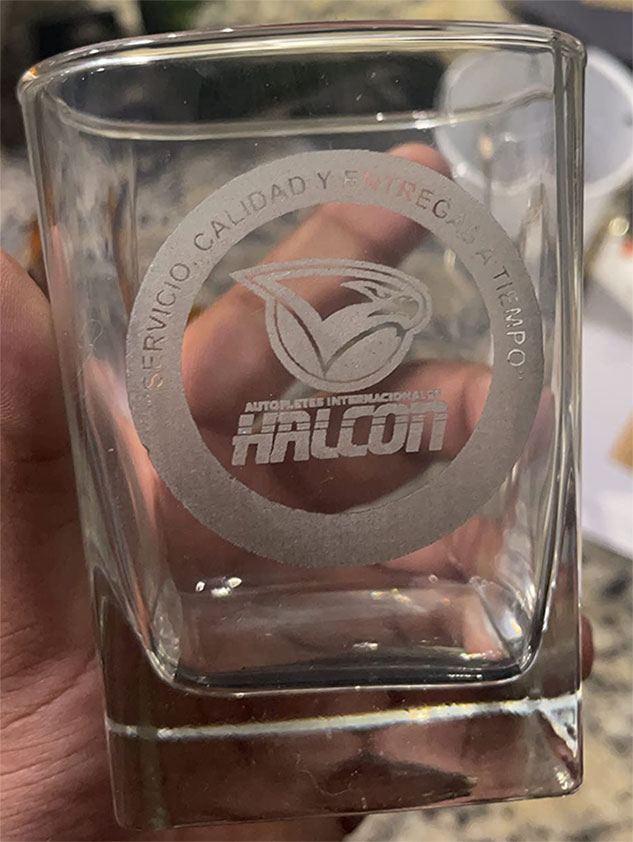 The quality of the engravings is hard to beat considering the form-factor of the unit. It's obvious that precision and accuracy were paramount when AtomStack designed and developed the M4. Whether you're using it on wood, plastic or metal, the results are remarkable.
Accessories and Support
Before we wrap up, the M4 comes with a few accessories that are worth pointing out. First and foremost are the green safety goggles. Eye protection is very important for any engraver, but it's doubly important here. For one thing, there's no shielding around the laser when you're using it on the mount.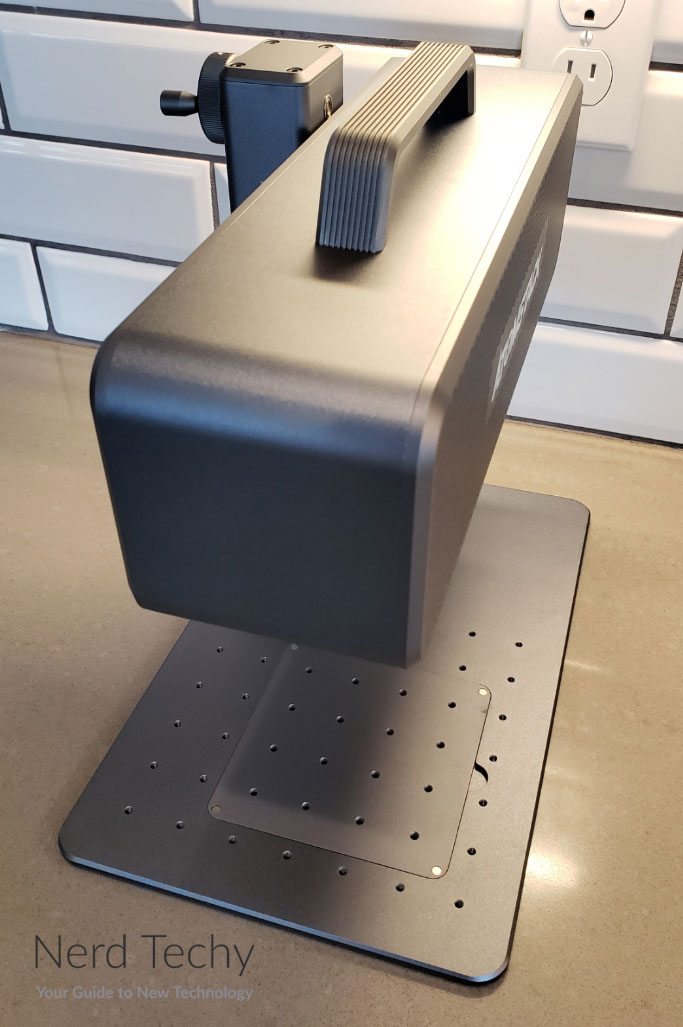 For another thing, there are fewer safety features than other engravers. An ordinary engraver will have an anti-tilt function that shuts off the laser if it gets tipped over. But that wouldn't work here. The M4 needs to be able to operate at any angle. That's one of its main features! But if you mishandle it or drop it, it could be easy to cause eye damage. Always wear your safety goggles!
The kit includes a ruler and an L-shaped positioning bar. These are used to position whatever objects you're engraving. You can get precise placement and repeatable results, yet another key feature for batch work. You also get five sheets of black paper for calibration. These are essential for testing your performance before you get to work.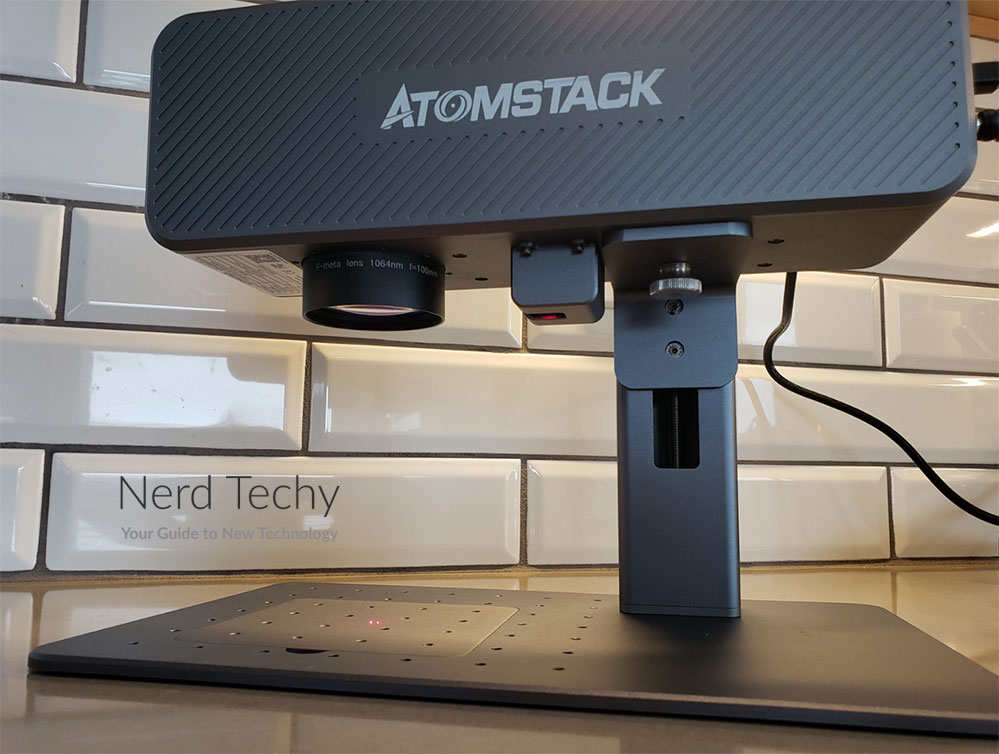 Final Verdict
The ATOMSTACK M4 Fiber Laser Engraver is a capable little machine. For one thing, it can work in just about any position. Besides using it as a stationary, vertical machine, you can operate it in handheld mode. This is great for engraving door plates and other fixed objects. You don't have to find some way to fit the object you're engraving under the machine.
Use code "M4025ZBA" for a 25% discount when you order the ATOMSTACK M4 on Amazon
The laser itself is very powerful. With 20 watts of constant power and 20,000 watts of pulse power, it can engrave pretty much anything. You can etch metal, wood, stone, glass, ceramic, and many plastics. The small working area is undeniably a drawback. But that goes along with portability and ease of use. And with the 1,064nm laser, you don't have to worry about it cutting through your materials.
The system is easy to set up. While it won't work on Mac, it's plug-and-play on Windows machines. The included software is a nice perk as it works decently well.
Please consider sharing:
Note: At no extra cost to you, we may earn a commission for purchases using our links. Learn more.