When the crock pot first hit the market, it changed the way many American homes prepared their dinner. Having the ability to throw a bunch of stuff in a pot, let it slow cook while you're at work, and come home to a nice hot meal ready to eat.
The crock pot invented the "set it and forget it" cooking mentality, and the pressure cooker increased the types of foods that could be cooked this way. By increasing the pressure inside the cooking chamber, waters boiling point could be pushed beyond 100 degrees Celsius.
These two types of cookers are a staple in many homes, and also the latest industry to get the tech treatment. Smart slow cookers and pressure cookers promise to make an already easy cooking system even simpler. But just how useful are they? We decided to go hands on. We'll take a look and see how this advanced cooking technology works, then we'll help you decide if it's a good fit for your home.
Instant Pot IP-Smart Bluetooth-Enabled Multifunctional Pressure Cooker
Although the Instant Pot has a bit of a cult following in the United States, this unique pressure cooker is infamous with our neighbors to the north. Pressure cookers are a step above most slow cookers, as they allow you much more control over the cooking environment than a standard slow cooker. But where control is concerned, there isn't much that can compete with the Instant Pot IP-Smart Pressure Cooker.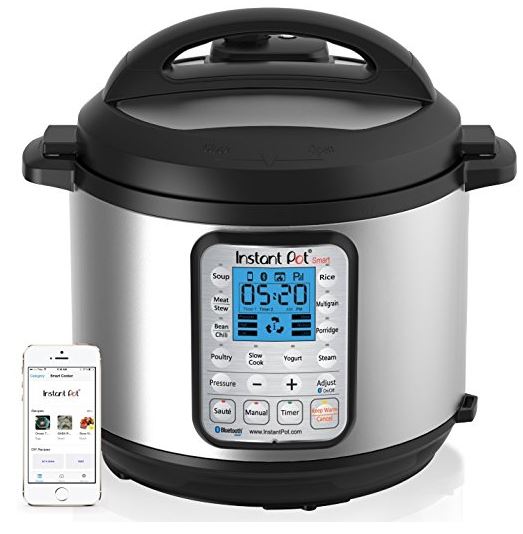 Basic Overview
For the end user, the main difference between a pressure cooker and a slow cooker is time. A pressure cooker can get much hotter than a slow cooker, and you can steam vegetables in as little as five minutes. However, you can still cook foods over a long period of time if you prefer.
This instant pot is definitely a lot more robust than most slow cookers. It's got a heavy duty locking lid and an intimidating looking control interface. But using one is much simpler than you'd expect. You can cook mashed potatoes without boiling them, or prepare food in advance and have the cooker make it ready at a time of your choosing.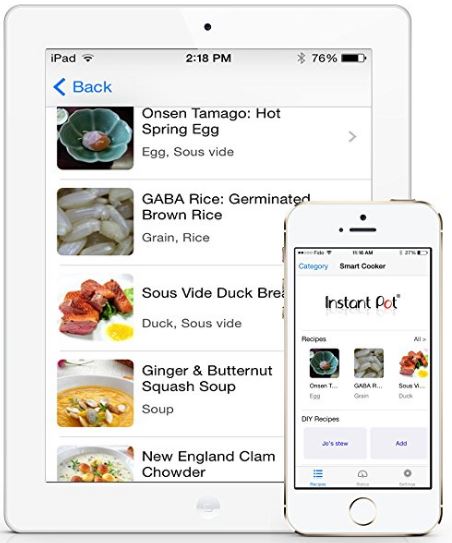 Design
Instant Pot designed this cooker to have the same stainless steel appearance that we prefer. But the steel design isn't just a visual treat. The inside is also made from stainless steel, which is much more durable and easy to clean than other materials.
It's very ergonomic to use, with the large handled lid oriented to use a single hinge, and a center mounted control panel with an easy to read LCD display.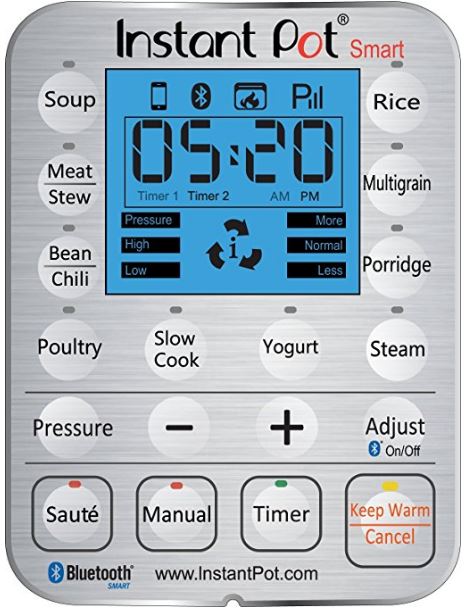 Setup Procedure
The setup procedure is very similar to the Crock Pot, although it's not essential to its operation. Technically, you can just start using it straight out of the box. But if you really want to unlock it's full potential, you need the companion app.
Currently, the app is only available for iOS. You download it from the app store, then connect to the cooker either through Bluetooth, or WiFi. Once the app is synced up with your phone, you're able to control it remotely.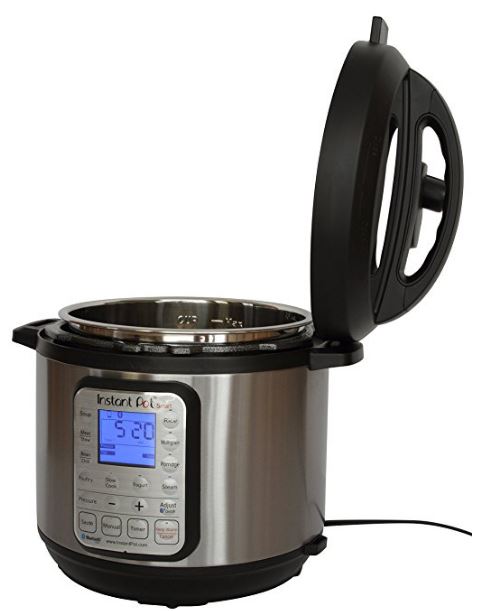 Smart Functionality
There is no doubt in our mind that the Instant Pot benefited hugely from it's smart makeover. Just one glance at the front panel can tell you how many features are available. Multiple timing settings, cooking temperatures, and pressures are available. These may need to be changed multiple times through the cooking process, and the companion app automates this.
Just open the app, and pick a recipe. There are thousands of different recipes available. You add the ingredients as specified, check the cooking time, and hit the cook button. The app will automatically follow the directions for you, adjusting the temperature and settings as needed. Advanced recipes are generally not something you can just set and forget. But with the Instant Pots Smart Functionality, you're able to let it do all the hard work, while you focus your energies elsewhere.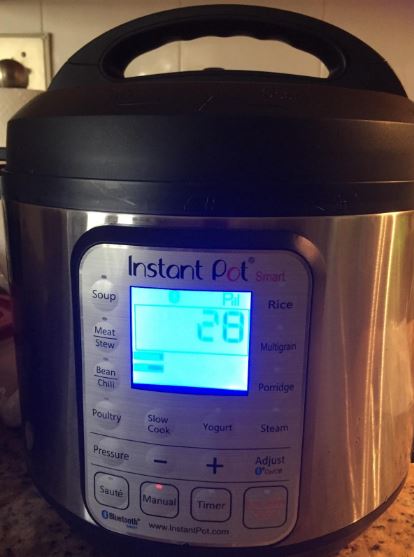 Standard Features
The Instant Pot is available with both an opaque or glass lid, which would allow you to see your food as it's cooking. Both of these options have the same feature-set, so you're not forced to make any compromises.
Unlike many pressure cookers, this model is extremely safe. It's got a pressure relief valve that prevents the pressure from ever exceeding the maximum safe limit, even if other components were to fail. It can also detect common flaws from well used cookers, such as leaky lids and blocked pressure valves.
A highly accurate temperature sensor allows the pot to self-regulate, so no babysitting is required.
Crock-Pot SCCPWM600-V2 Wemo Smart WiFi-Enabled Slow Cooker
From the company that invented the slow cooker comes the modernized version fully ready for the 21st century chef. In the looks department, the Crock-Pot SCCPWM600-V2 appears very similar to most modern crock pots on the market. But behind the shiny metal exterior is a chipset that adds a ton of great functionality that goes hand in hand with the way I crock pot was designed to be used.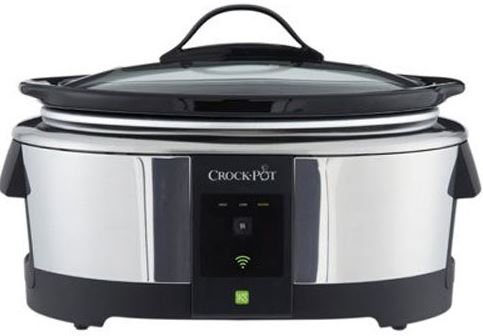 Basic Overview
If you haven't used a slow cooker before, we'll give you a little primer on how they work. In essence, you can think of this like a giant casserole dish with an oven built right in. Unlike the oven in your home, a crock pot doesn't get quite as hot as an oven. It's designed to cook your food over a long period of time (as the name obviously implies) so you can leave it on while you're out of the house. Crock pots come with three different heat settings. High, low, and warm. The warm setting isn't designed to cook your food, but simply keep it at an edible temperature.
You do have controls on the front, but the main advantage of this specific crock pot is that you can control it remotely. You can leave it cooking before you leave for work, and swap it to warm once the food is done. For the modern man balancing a tight schedule, we couldn't think of anything more helpful.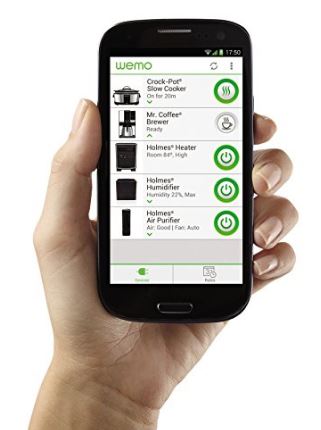 Design
Most slow cookers are quite large, as they're designed to prepare a meal for an entire family. However, since they're a little too big to fit in many drawers, it's important that they're visually appealing. If you're going to leave an appliance out on your kitchen counter, you want it to look good. Fortunately, this model doesn't disappoint in the looks department.
Adorned with black ceramic and stainless steel, it's one stylish looking appliance. It's design matches that of most modern appliances, and will definitely earn you a few remarks from your dinner party guests. If the appearance doesn't catch their attention, they'll definitely notice when your phone notifies you that dinner is ready.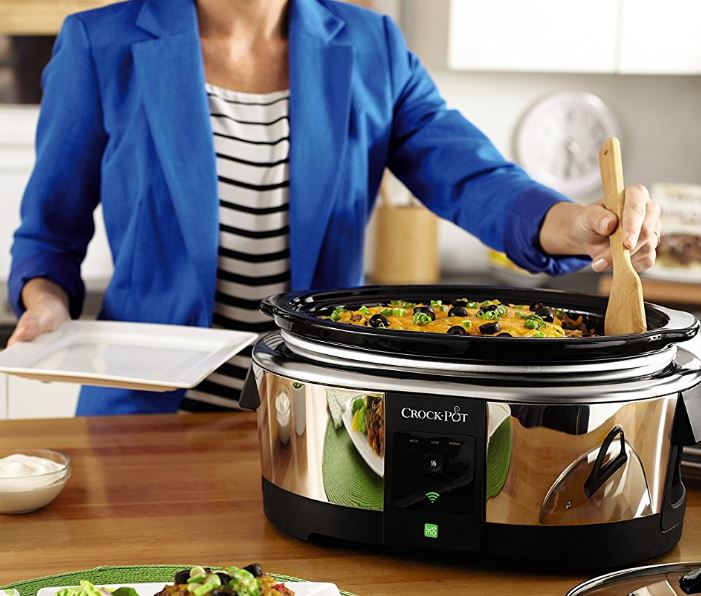 Setup Procedure
Very few things are more exciting than bring home the next hottest piece of technology. But very few things are more frustrating when you spend hours struggling to get that new purchase up and running. We're not accustomed to having to configure software just to cook a meal, so we'll admit that we were a little apprehensive before we started to set it up.
Fortunately, we found the process fairly straightforward. The first thing you need to do is download the app from the app store. It works on both Android and iOS devices, and Crock Pot provides a QR code you can scan if you're having any trouble finding it.
For us, it came up in the search immediately. After opening it for the first time, the app reminded us that we needed to turn on WiFi before we could set up our new cooker, and gave us a button that we could use to do so.
From here, we needed to stand near our Crock-Pot and wait for the app to connect to it via WiFi direct. It then asked us to select our network from a list, and enter our password. Once you've completed this process, your Crock-Pot is now online. You can access it anywhere in the world when you have an internet connection, and you only spent about 5 minutes getting that up and running.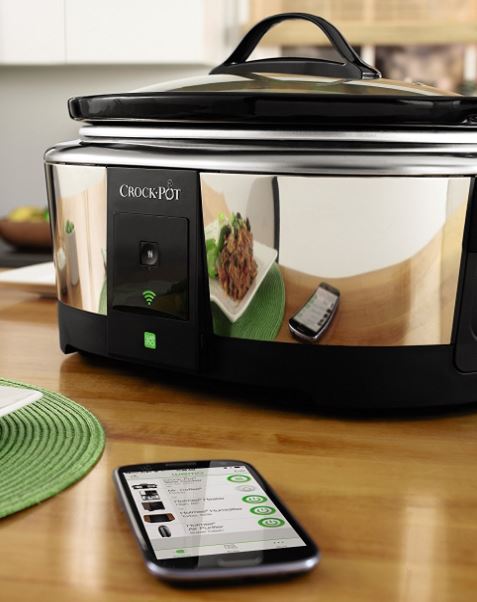 Smart Functionality
This crock pot uses the popular WeMo application which gives you access to a variety of features. There are four main functions of the WeMo app. You can schedule, monitor, modify, and notify.
Scheduling is simple enough. You pick a time that you want your meal to be done, or you can pick a start date. The cooker will automatically activate at the appropriate time, making sure that your meal is ready when you want it.
In monitor mode, the app tells you exactly what's going on inside the cooker. You can see how long the cooker has been on for, the current cooking temperature, and the exact time that your meal will be done.
Modify mode lets you adjust your settings to meet different parameters. Let's say you've got your meal set to be ready at 5:00. But then your boss walks in and asks you to stay for a few hours. You can change the "Ready by" time, and the app will automatically adjust your cooking settings to meet your new requirements.
Finally, notify mode is like a smart egg timer. You can set it to give your phone a notification when the meal is done. Alternately, you can set it to warn you before hand. A notification 30 minutes before the meal is done gives you a chance to prepare drinks, or whip up a side salad.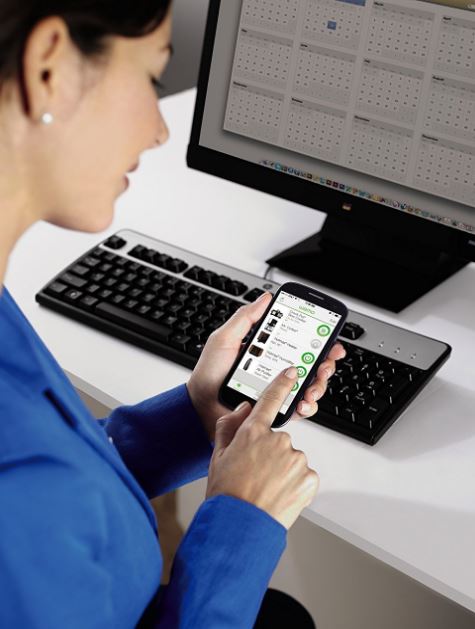 Standard Features
It doesn't matter how smart your new cooker is, if it's not built to a high standard then it's not really considered an upgrade. Fortunately, Crock-Pot made sure that this cooker was one of their highest end models, and they didn't skimp out on features at all.
For starters, you don't have to use the app to run it. The full set of controls is on the front, so you're not going to go hungry if your phone runs out of batteries. It's large cooking surface holds 6 quarts, so you can prepare enough food for a large family.
The ceramic cooking pot is specially coated in such a way that food is very easy to clean off. You do have to wait until the cooker has cooled off, but cleanup at the end of the day will be much easier than most of your cookware.
Should I Buy a Smart Pressure / Slow Cooker?
Both of these products look very similar, but perform very different functions. Which one you choose depends entirely on what your goals are, and how you hope to change your cooking style.
The Crock-Pot SCCPWM600-V2 is ideal for the busy chef on the go. It allows you to cook your dinner from the palm of your hand. Yes, there is some prep work required. But you'll be reminded when it's time to call the kids for dinner, and can quickly change the settings to adapt to your ever changing schedule.
On the other hand, the Instant Pot IP-Smart Bluetooth-Enabled Multifunctional Pressure Cooker is designed for those of you who want more control over their meal making process. Many people choose to use them for the health benefits. Why boil your food for a long time and allow it to leech nutrients into the water, when you could speed-cook it and maintain as much of the nutritional value as you can? Others choose it for simplicity. By combining the features of a yogurt maker, rice maker, hot pot, double boiler, and steamer into one, you'll have less kitchen gadgets to keep on hand. But the most important advantage of the smart upgrade is the fact that you can make advanced recipes without any manual work. Just pick your recipe, follow the directions, and let the cooker automatically change the settings as needed, getting perfectly cooked food every time.