Sometimes, it's nice to spend an entire day in the kitchen. Everybody looks forward to Thanksgiving, and the time we spend as a family. It's not just about enjoying a meal together. It's about the preparation, and sharing the entire experience. But Thanksgiving is a holiday. Most days, we're juggling real-world responsibilities like work, childcare, and laundry. On these ordinary days, cooking tends to be more of an inconvenience than anything else. But alternatives like delivery food aren't typically healthy, and eating out all the time can get expensive. Using a slow cooker or a pressure cooker is a better option.
These types of cookers are a bit different, and we'll get into those differences in a second. But they share a common benefit; you perform very little prep work. For most recipes, you just add all the ingredients, press some buttons, and walk away. Everything else takes care of itself. These cookers are also notably safer than using an oven, because you can leave them running. If you have to go pick up the kids from soccer practice while you're cooking, no worries! A slow cooker or pressure cooker isn't going to burn the house down while you're out.
We've reviewed a number of kitchen appliances in the past. These include niche devices like sous vide precision cookers. Today, we'll be reviewing two of the best WiFi smart slow cookers and pressure cookers. These aren't just your average kitchen appliances. They're online smart home devices that are designed to bring your kitchen into the 21st century. We'll start by looking at the CHEF iQ. This is a convenient, effective cooker with a built-in scale for cooking by weight. Next, we'll review the Instant Pot Smart WiFi. This is the updated, WiFi-enabled version of the iconic original Instant Pot, which needs no introduction. But which one is best for your kitchen? Let's take a closer look, and see how they compare!
Pressure Cooker vs. Slow Cooker
So far, we've been using the terms "pressure cooker" and "slow cooker" more or less interchangeably. But this is not the case; slow cooking and pressure cooking are radically different processes. The reason we've used the terms in this fashion is because we're reviewing combination units. Both of the appliances we're looking at can be used both for slow cooking and for pressure cooking. It's relatively easy to make a combination unit, since the basic construction is the same. Both machines require an enclosed space with an electric heating element. This provides a good starting point the manufacturer can start from.
A slow cooker, or a crock pot, is designed to do just what it sounds like. It's supposed to cook your food slowly. With a slow cooker, you can cook a soup, chili, roast, or even a small roaster chicken throughout the day. The concept, in theory, is that you prep your meal in the morning and put it in before work. The cooker works its magic, and you arrive to a fully cooked meal. Slow cookers typically also have a warm setting for keeping food hot after it's been cooked. Depending on how advanced the cooker is, you may be able to set a timer. This way, you can cook for a set period of time, then switch to warm mode. Your meal won't be overcooked when you get home, but it will be warm and delicious.
The main difference with a pressure cooker is speed. But cooking food faster usually means drying it out. If you put your small roaster in the oven for an hour at 500 degrees, it will be safe to eat. It will also be burnt to a crisp. A pressure cooker solves this problem by pressurizing the cooking chamber. The higher the pressure, the higher the boiling point of water. This means moisture won't escape from your meat, soups won't boil, and casseroles won't congeal. A pressure cooker can cook at higher temperatures while still leaving meat moist and vegetables crispy. The concept here is the opposite of a slow cooker. You add a roast, a soup, or another meal that normally takes several hours. Instead, it's done in one or two hours. This allows you to prepare "all-day" meals when you get home from work.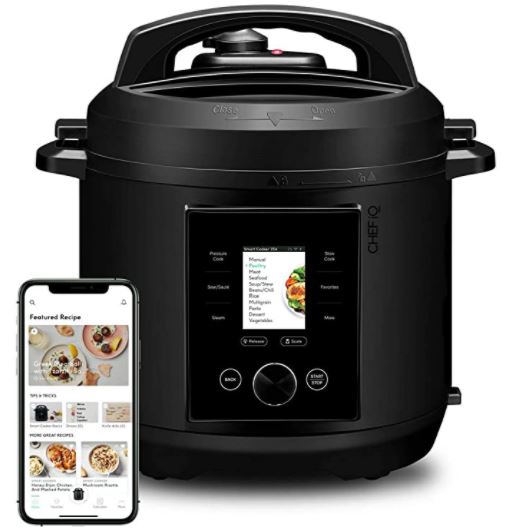 CHEF iQ
The CHEF iQ is a heavy-duty slow cooker that's built for near-constant, everyday use. It's big and beefy, measuring 13 inches in diameter and 13 in height. It's housed in black brushed aluminum, which looks really sharp on your countertop. Not only that, but the aluminum finish is nice and smooth, which makes it easy to keep clean. That's an essential feature to look for anywhere in the kitchen. The large profile also allows for a large capacity. The inner cooking chamber has a capacity of six quarts. That's enough to feed the entire family, and still have leftovers tomorrow night.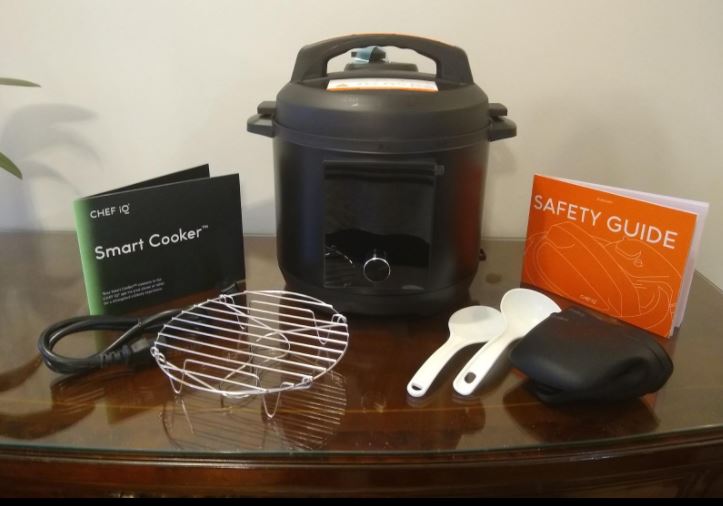 The lid sports a large handle, which makes it easy to twist on and off. You can even take it off or put it on with oven mitts on, which is convenient when you're juggling multiple tasks. There's also a pressure release valve, with both a twist and button release. The locking brackets are also clearly visible, so it's readily apparent whether or not the lid is locked in.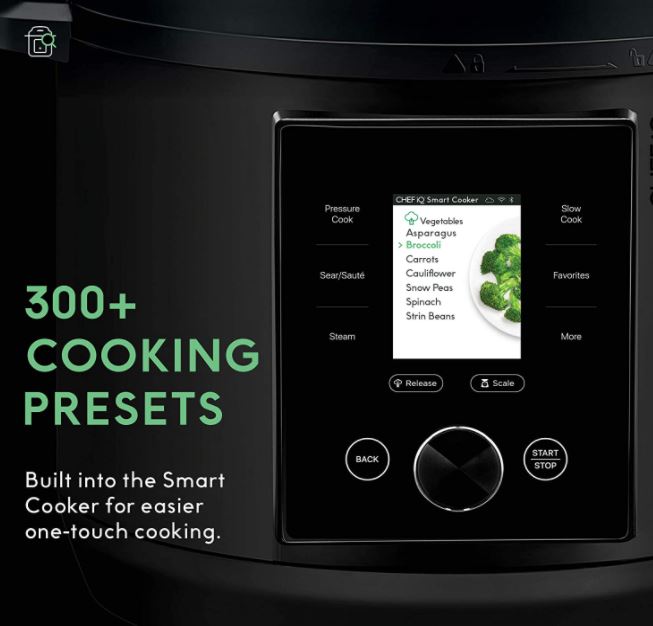 The CHEF iQ's interface is both attractive and intuitive, and is centered around an easy-to-read LCD display. This is a large, full-color display that shows all the information you need to know. Forget about a simple text readout. The CHEF iQ can show you visual instructions for recipes, and for using the cooker itself. The buttons have a soft touch design, so they're easy to operate with wet or greasy fingers. In addition, the menus are navigated with a dial, which is a bold choice. But the dial is well-constructed, with an easy-to-grip brushed finish.
Along with the cooker itself, the CHEF iQ comes with a steaming rack and basket. These add a ton of versatility, since it doesn't just work as a pressure cooker and slow cooker. It's also perfectly viable as a steamer.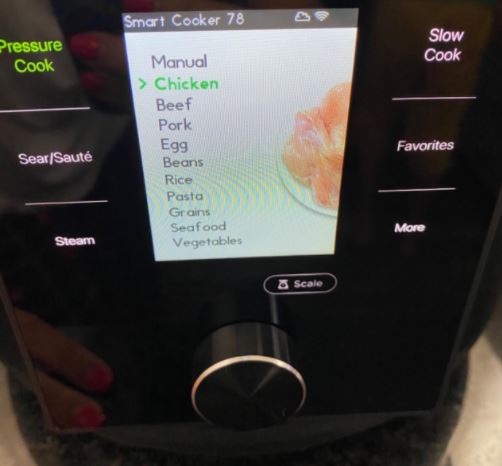 Connectivity and Bonus Features
The CHEF iQ connects to your home's WiFi network, and can communicate with your phone. Alternatively, you can also forego a WiFi connection and communicate with your phone via Bluetooth. Keep in mind, though, that Bluetooth only works if you're in the same room. If you're trying to check in on your slow cooker from work, you'll need it to be connected via WiFi. Regardless of the connection type, you'll need to have the CHEF iQ app installed on your smartphone. It's free both in the Apple Store and on Google Play, and it's easy to pair with your cooker.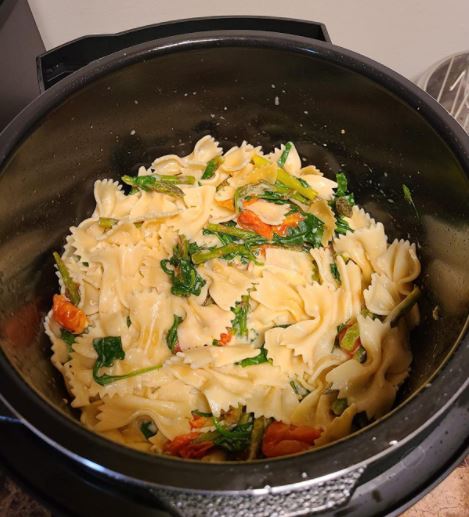 Within the app, you can check in on your cooker's status remotely. You can see the current temperature, time remaining, and other essential information. If need be, you can even change your settings. For example, suppose you wanted the pressure cooker to turn on at four to have dinner ready at six. But your boss has asked you to stay late, and you won't be home until seven. You can hop online, and change the timer so your dinner is fresh when you arrive. You'll also get access to over 100 recipes, with new ones added regularly. These recipes will show you step-by-step instructions, both on the smartphone and the cooker's front display. The CHEF iQ will also follow the cooking instructions accurately. You won't have to worry about getting the timer or other settings right.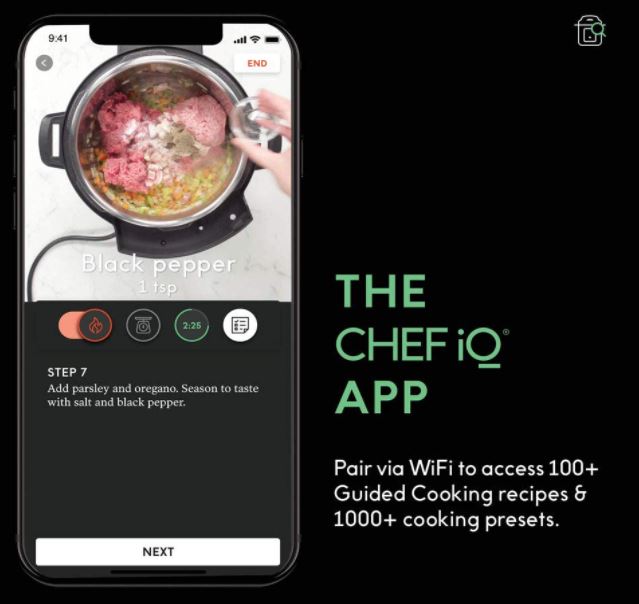 Installing the app is still a good idea even if you never plan on using any smart features. The reason is that CHEF iQ provides periodic firmware updates via the smartphone app. If you don't have the app installed, you'll be missing out on future updates and improvements. This alone makes it worth your while to download the app and pair with your cooker.
One last nifty feature of the CHEF iQ is that it has a built-in scale. If your recipe lists ingredients by weight, you'll be able to measure without the need for a separate kitchen scale. Be careful, though. If you're adding more than one ingredient and add too much, it's tough to remove the excess.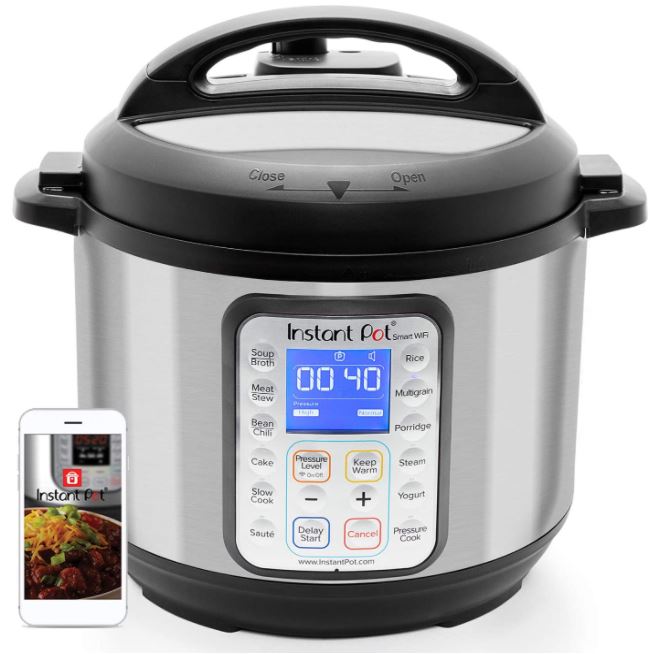 Instant Pot Smart WiFi
The Instant Pot Smart WiFi 6-Quart Pressure Cooker has a design that's familiar to most people. The original started as an As Seen on TV product, before appearing in literally every big box store in America. Its build is iconic, and is similar in many ways to the CHEF iQ. This includes a beefy handle and an easy-to-use, twist-on lid. You're also getting the same impressive six-quart capacity, so large meals are no sweat. The overall dimensions are more or less the slame. It's a hair skinnier and a hair taller than the Chef IQ, but by less than half an inch in any dimension.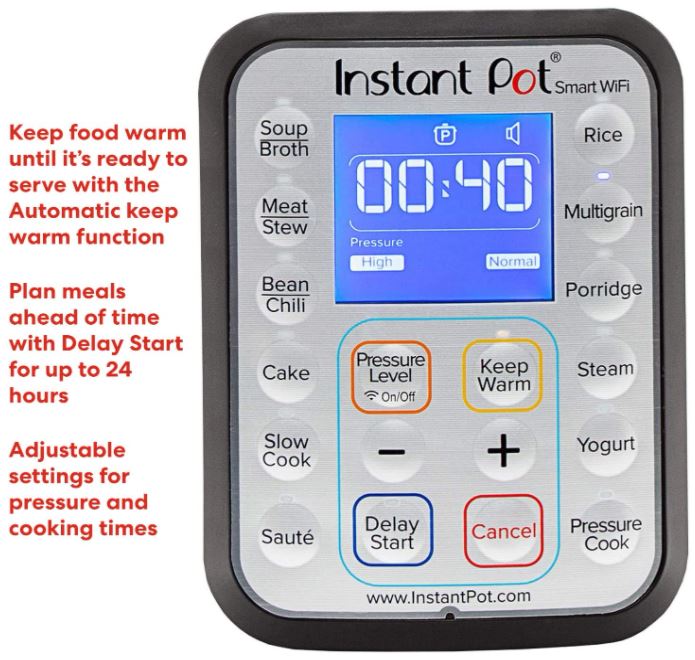 The display panel is a simple white-on-blue, with no other colors. That said, it's still easy to read, with large numbers and intuitive function icons. You shouldn't have any trouble understanding what's going on with your machine. The buttons aren't a soft touch, and instead rely on a bit of pressure. Even so, they're easy to operate with dirty hands. Think of your typical microwave buttons, which are made specifically for cooking. The Instant Pot's are like that, but slightly domed for better tactile response.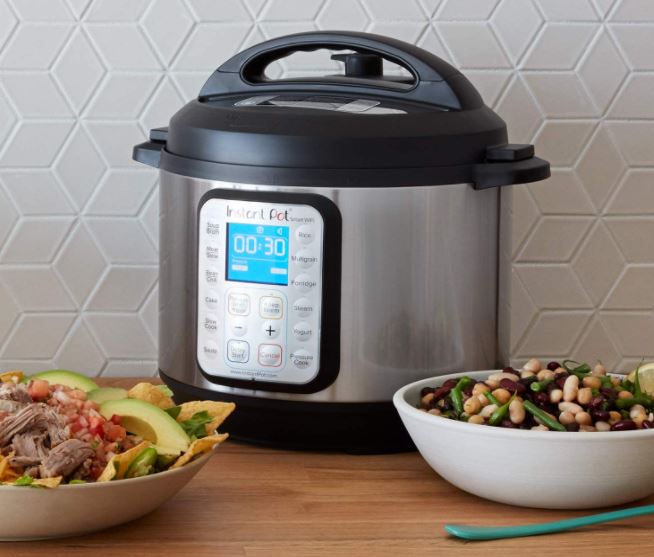 The inside of the Instant Pot consists of a removable stainless steel pot. This is essentially a vertical bowl, with a lip that's flared outward to help prevent spilling inside the cooker. It's easy to remove and keep clean, or even to store in the fridge. The removable bowl ensures that the inside of the Instant Pot itself remains clean. Take out the bowl, wipe out the inside of the lid and the lip, and you're all clean. There's also a roast rack included in the package. This keeps meat elevated above the bottom of the inner pot, so it won't get burned if you're running dry.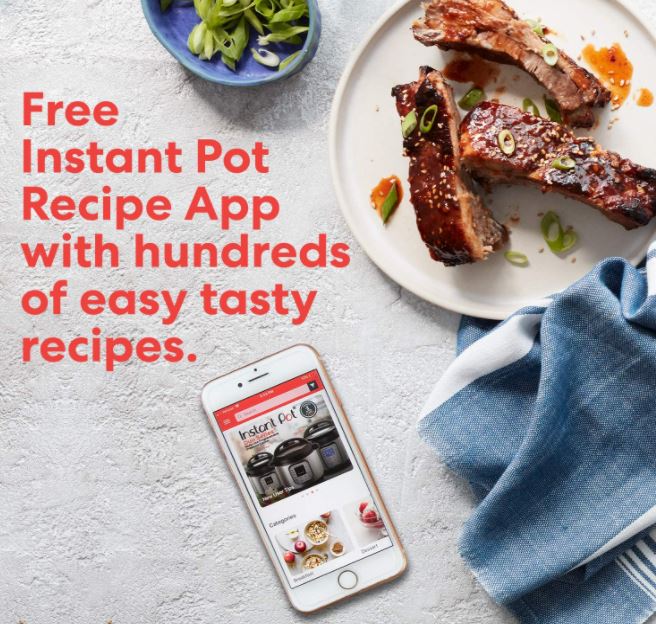 Connectivity and Bonus Features
This is the newer, WiFi-enabled variant of the Instant Pot, and it comes with some helpful benefits. First, much like the CHEF iQ, you get a free app that allows you to remotely control the cooker. You can monitor and change your settings from work, or from anywhere else you happen to be. You can connect via Bluetooth or WiFi, and download recipes as well.
In fact, the recipes are where the Instant Pot really shines. Instead of around a hundred, you get literally thousands of recipes online, with more still being added. Just like the CHEF iQ, the Instant Pot will follow the recipe instructions automatically. All you have to do is add your ingredients and start the cooking cycle. From there, everything takes care of itself.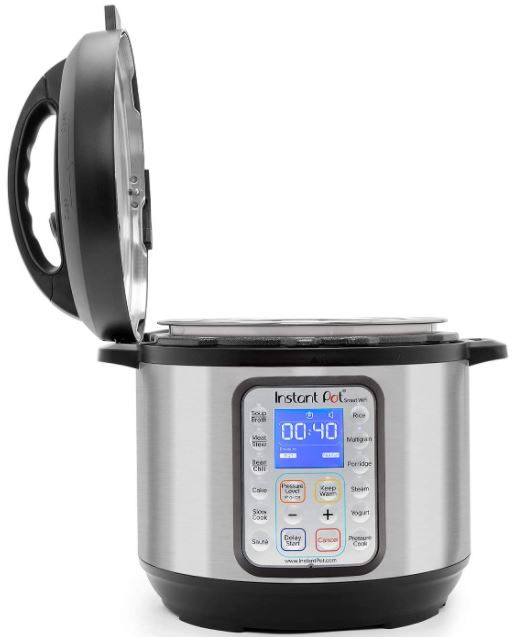 The Instant Pot is designed with a number of safety features. To begin with, it has dual pressure-relief valves to ensure it can be safely opened. These valves are mechanical, so they will continue to work even in the event of an electrical failure. There's even a built-in detector that warns you if your food is burning. You'll hear an alarm, and the Instant Pot will automatically shut off. This means you can salvage the situation, instead of being stuck with burnt food.
Final Verdict
At the end of the day, we can heartily recommend both of these WiFi smart slow cooker/pressure cooker units. The CHEF iQ is a beast of a machine, with a rugged design and kitchen-friendly controls. It also allows for plenty of app control, and even offers over-the-air firmware upgrades. It's a bit pricier than the Instant Pot, but it's also made for consistent, day-in and day-out use.
The Instant Pot Smart WiFi is geared more towards the average homeowner. While it's more affordable, it's not quite as robust, and there's no built-in scale. That said, you get access to thousands of recipes, and the machine itself is very easy to use and keep clean. It saves you time not just by cooking quickly, but by shortening the time you spend doing dishes.