If you're looking for a security system for your home or business, you're not alone. The sad fact is that the vast majority of burglaries go unsolved. If you think about it, it's a tough crime to solve. Burglars don't normally leave a business card behind for the police to find them. Unless they screw up in a big way, you're never going to get your possessions back. At best, you'll be able to file an insurance claim, which is inconvenient. And if your possessions had sentimental value, they're irreplaceable. Moreover, if your business gets robbed, your insurance rates will go up. And if the item that was stolen is essential to your business, you're dead in the water until you replace it.
A good set of security cameras can serve two purposes. Primarily, they work as a deterrent. If a thief sees that they're being recorded, they're more likely to look elsewhere. They can also provide police with crucial evidence after the fact. If the person in the recording is a known local criminal, they can be quickly arrested. There's an outside chance that you might even get your stuff back! And with modern technology, a security camera can even let you know when a burglary is in progress. You can call the police right away, and they'll have a better chance of catching the thief.
Note: At no extra cost to you, we may earn a commission for purchases using our links. Learn more.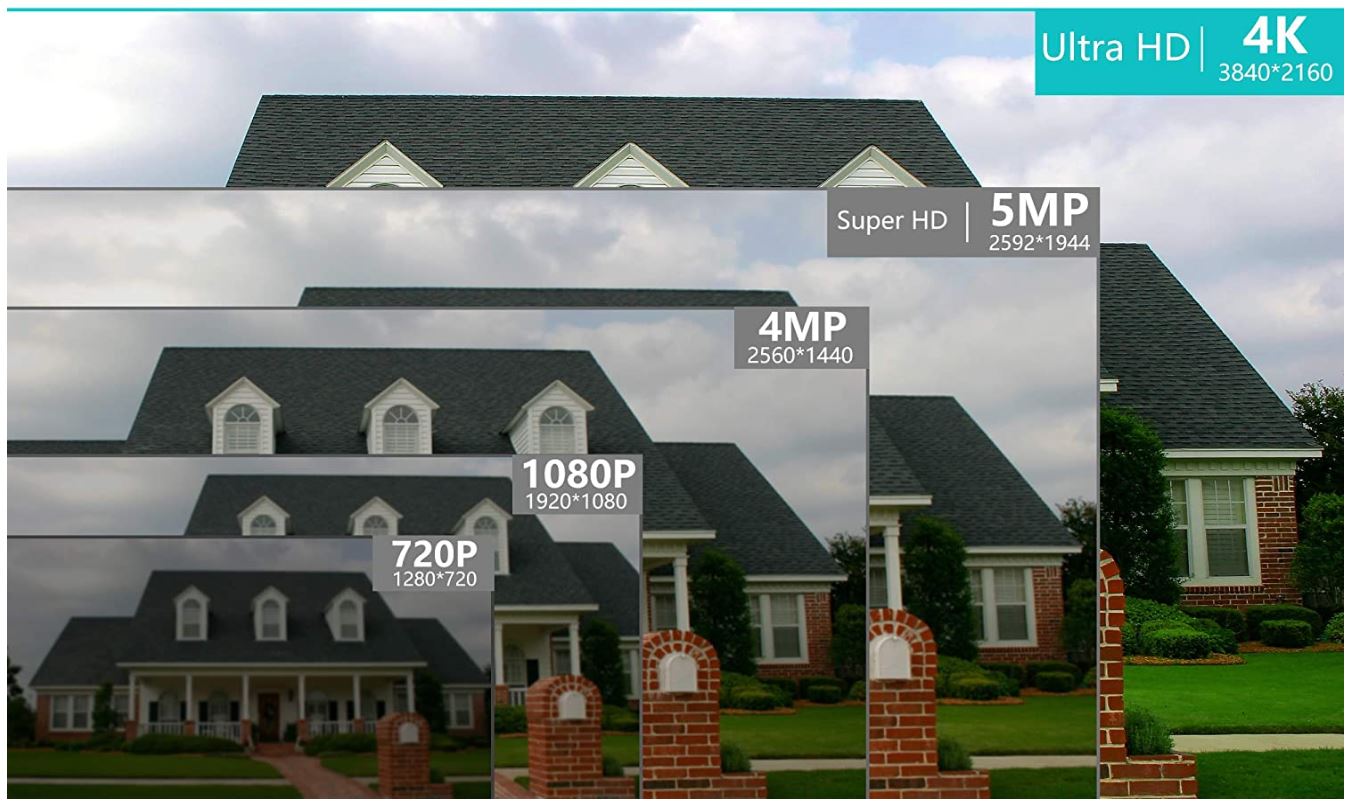 Perhaps the most reliable type of security camera is operated by power over Ethernet (PoE). This is a technology that allows Cat 5 or Cat 6 cables carry an electrical current. This simplifies installation, since you'll only need to run one wire for each camera. Today, we'll be looking at four different PoE camera options. The first is the ANNKE H800 4K PoE Security Camera System. It's packed with some of the most desirable features currently available. Next is the Reolink 4K PoE Security Camera System. It comes with a 30-day money back guarantee and a robust 2-year warranty. After that, we'll be looking at the OOSSXX 4K POE Security Camera System. This system provides push alerts to your smartphone when the motion detector is activated. Finally, we'll review the Hornbill 4K PoE Security Camera System. These cameras have wide angle lenses for better coverage. At the end, we'll wrap up, and render a final verdict. Let's begin!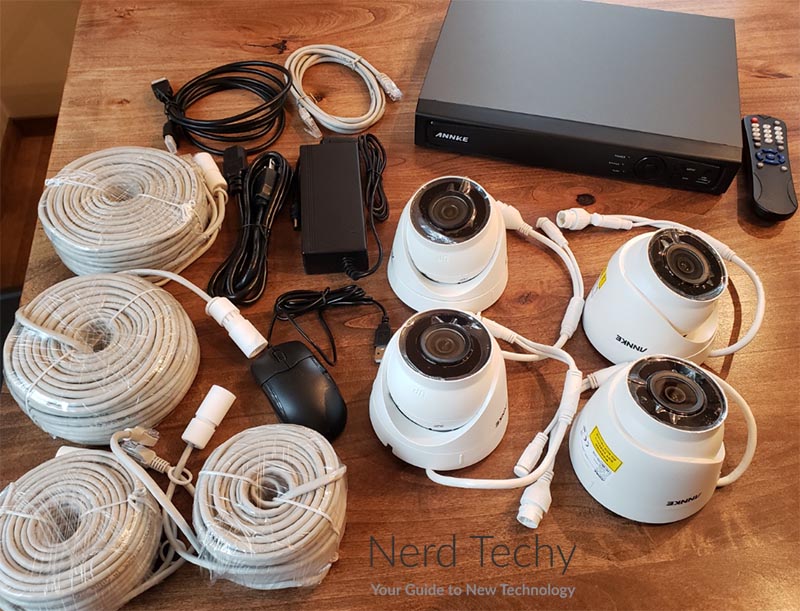 ANNKE H800 4K PoE Security Camera System
ANNKE has made a name for themselves over the past few years as a top-rated manufacturer of some of the best security camera equipment available. Their H800 4K PoE Security Camera System is one of their most popular choices for those looking to improve their home or business security without much guesswork. Sold as a packaged set with an NVR and four turret cameras, it's packed with plenty of high-end features to easily add surveillance to virtually any environment. Additionally, the entire system is plug and play without a complicated process; simply plug in each camera, run some cables from the NVR to each camera, and use the app to connect your smartphone within seconds.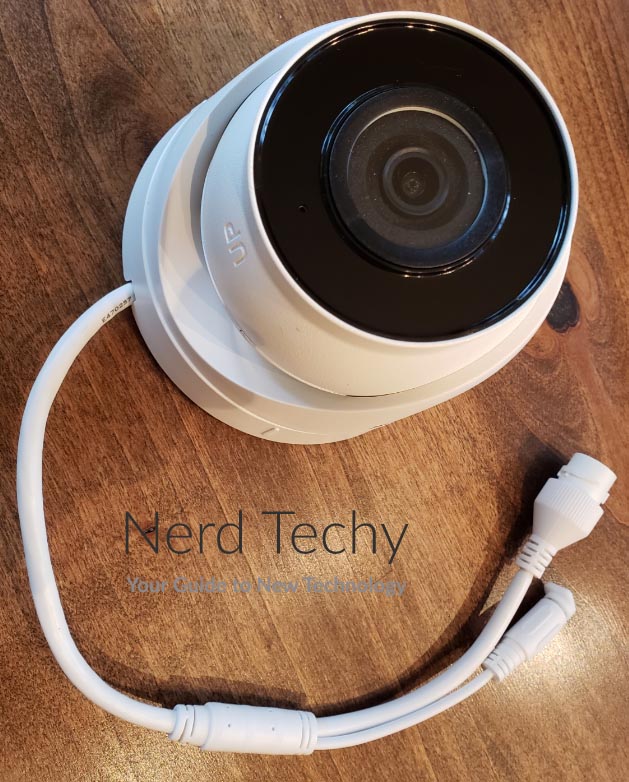 Each camera is built with a durable IP67 weatherproof design that's comprised of anodized aluminum within a hard-plastic shell. This is enough protection to withstand rain, snow, moisture and dust and capable of withstanding temperatures between -22 and 140 degrees Fahrenheit. Providing 8 megapixels of image quality for a resolution of 3840 x 2160, each camera provides four times the clarity as a standard 1080p system. Each equipped with a 2.8mm lens, you'll achieve an ultra-wide 102 degree viewing angle for a broad visible range wherever you decide to install each camera around your property.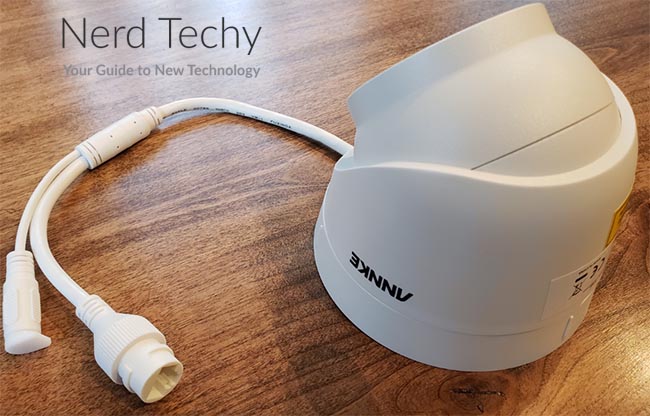 With two 100 ft. and two 60 ft. Cat5 Ethernet cables included, you can wire them almost anywhere you'd like. Best of all, although the kit comes with four cameras, it's expandable for up to eight total cameras. Keep in mind, installation is very simple as it's all plug and play. However, if you have any issues or are in need of assistance, ANNKE offers 1-on-1 tech support via email or through their toll-free hotline @ +1-833-717-0187.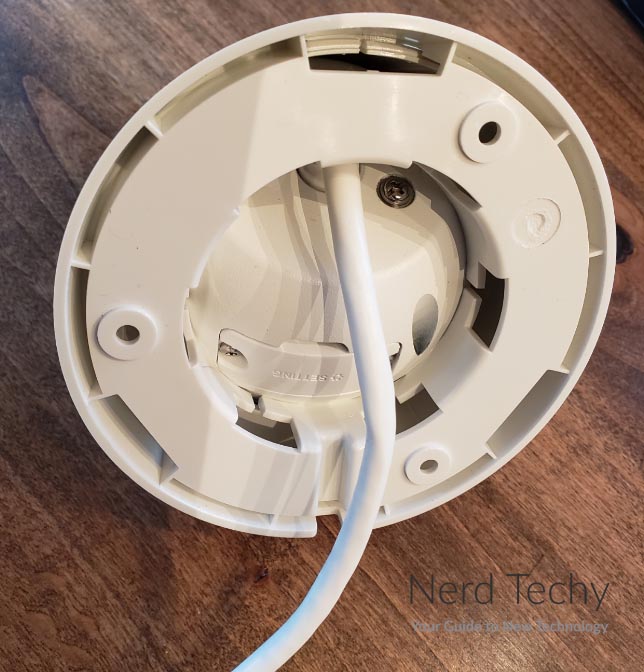 Video Quality
The 4k video that the ANNKE H800 camera system provides is stunningly vivid and rich. All colors seem to be accurate in a wide range of scenarios and the clarity is right on-point. With 3840 x 2160 resolution, fine details such as license plates, hair color, body type, etc. are much easier to distinguish. In fact, even the night vision is better than average. Equipped with 'Starlight Color Night Vision' you can say goodbye to grainy green or black and white video if the cameras are pointing into a dark setting with street lights or ambient light that can typically confused most DVR/NVR security camera systems. Alternatively, you can record in standard infrared if you're viewing in total darkness. The standard infrared is much nicer than you might imagine – it does not appear green or obscenely grainy.
Simply put, the video quality is excellent. With accurate color and a high resolution, you're getting the best image quality and audio that isn't scratchy or distorted. In fact, the external microphone on each camera is surprisingly powerful. Each mic has the ability to pick-up audio from great distances. In many cases, you'll even be able to hear people whispering from 50 to 100 feet away.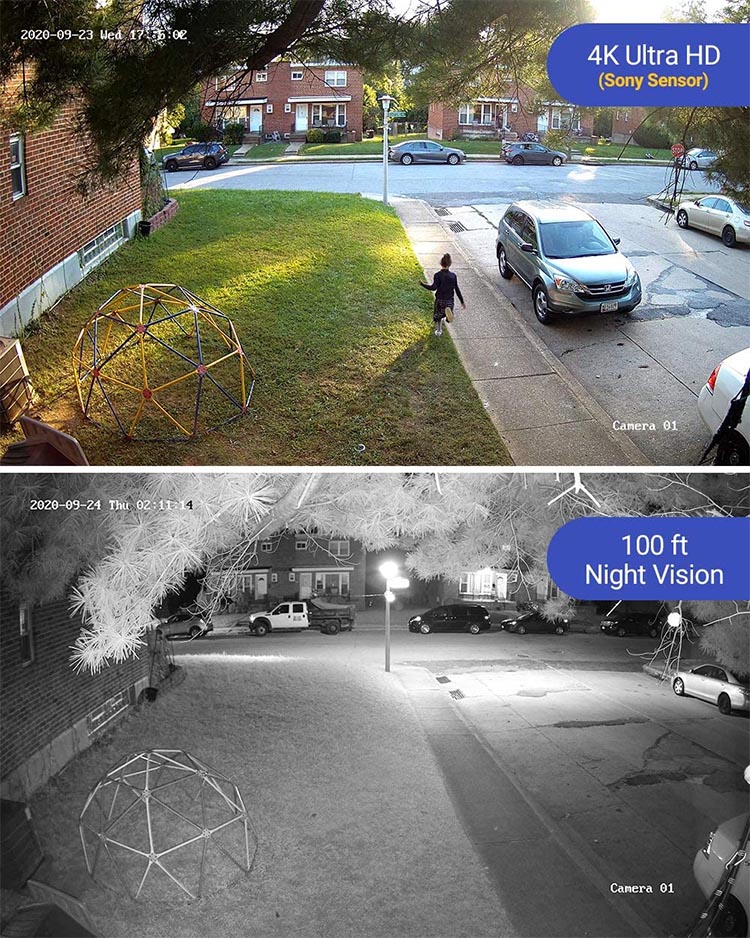 Whether you're viewing from your smartphone, computer screen or an HDMI-wired monitor, you're able to browse through days-worth of footage for each channel (camera) and pinpoint any event down to the exact second it happened. In our opinion, the interface is best experienced on tablet or smartphone, although the onboard viewing from the NVR lets you explore better configuration options from virtually any aspect you can think of. You can seek through specific dates, times and channels within a matter of seconds. This will let you pull-up and save any video clip for sharing video/audio with your friends, family and/or neighbors.
Connectivity & Storage
The NVR acts as the "base station" where all of the cameras plug-in. Measuring 12.5″ x 9.5″, it's compact like a DVD player, while offering an easy-to-use interface. On the front of the NVR are three LEDs that indicate power and the status of the hard drive and network connection. Next to that is a small directional button with an "enter" button in the center. In addition, there's a menu and esc button along with an audio-out auxiliary port and a USB port for adding an external hard drive or extra peripheral (mouse).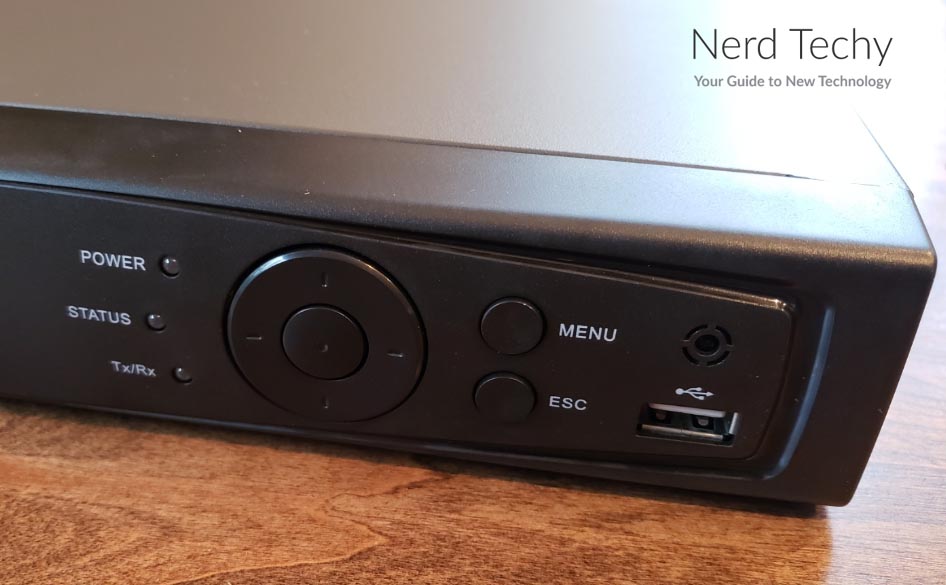 To setup, simply run a single Ethernet cable from each of the RJ45 ports to each individual camera. Next, plug a single Ethernet cable from your router to the "LAN" port on the back of the NVR. To instantly view, plug-in a monitor or TV via the HDMI or VGA output and connect the included mouse to the USB port.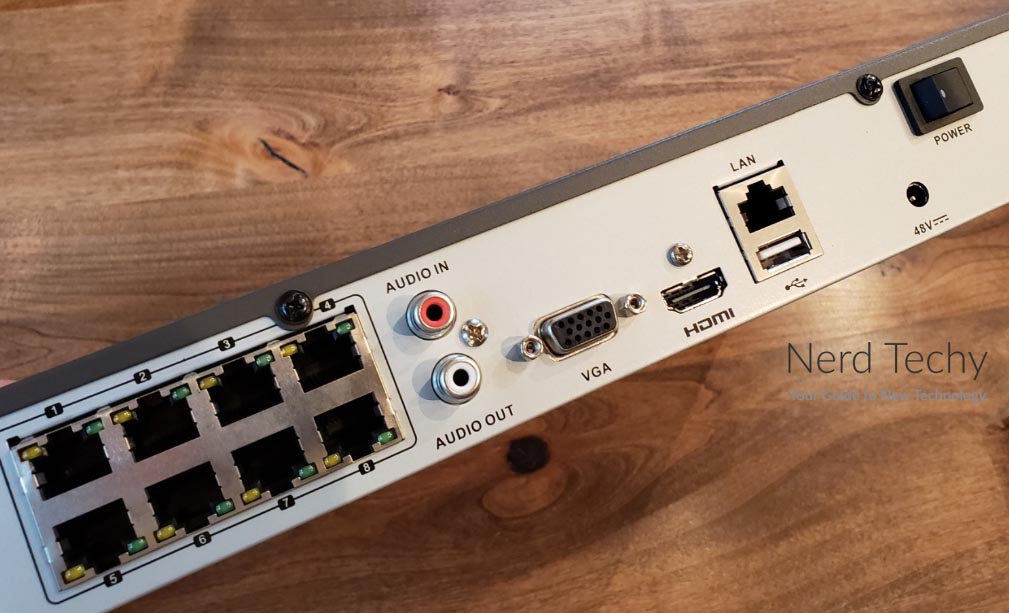 Although not required, an external monitor makes setting up much easier and streamlined. Additionally, it gives you a live view from wherever you have the NVR setup so there's minimal guesswork. Once you've physically plugged everything in, we highly recommend utilizing the free "ANNKE Vision" app. Install it on your smartphone or tablet and simply scan the QR code that's on the exterior of the NVR. It'll automatically pair your device to the camera system and give you full configuration from any location.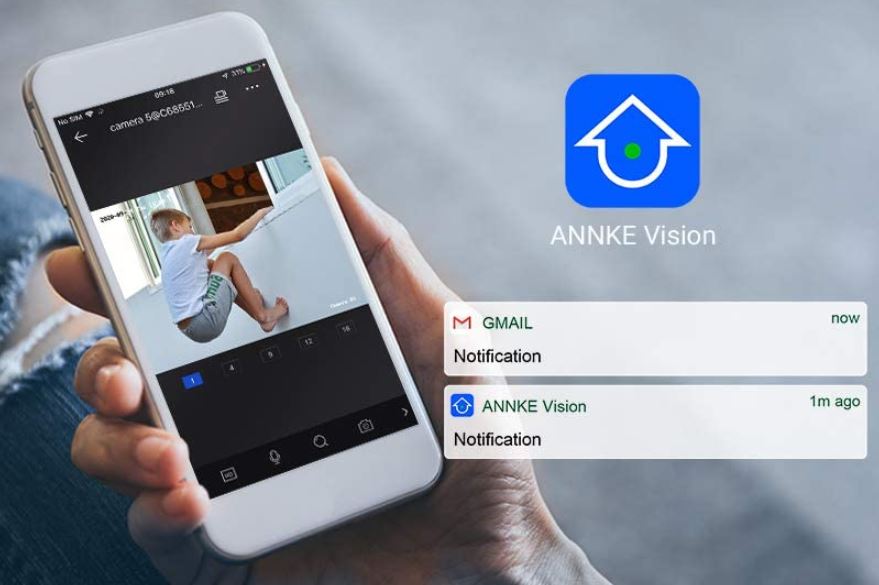 The ANNKE Vision app is simple to use and quite intuitive. It offers a wide range of options so you can manually adjust a multitude of settings such as motion detection, alerts/notifications, video quality and much more; right from your smartphone.
The NVR comes included with a 2 terabyte internal hard drive that offers several days worth of continuous storage for your 4k cameras. With the use of advanced H.265+ video compression with ONVIF compatibility, each video file takes up a surprisingly little amount of storage space. Best of all, the ONVIF compatibility gives you the ability to seamlessly use Blue Iris software for AI Object Classification.
In addition, you have the optional ability to add a micro SD card to each individual camera (256 GB max) for direct storage that's unrelated to the NVR. Best of all, audio and video is always recording; there's simply no down-time. Even if you lose your internet connection, you can rest assured knowing that your property is still under surveillance with high definition 24/7 live recording.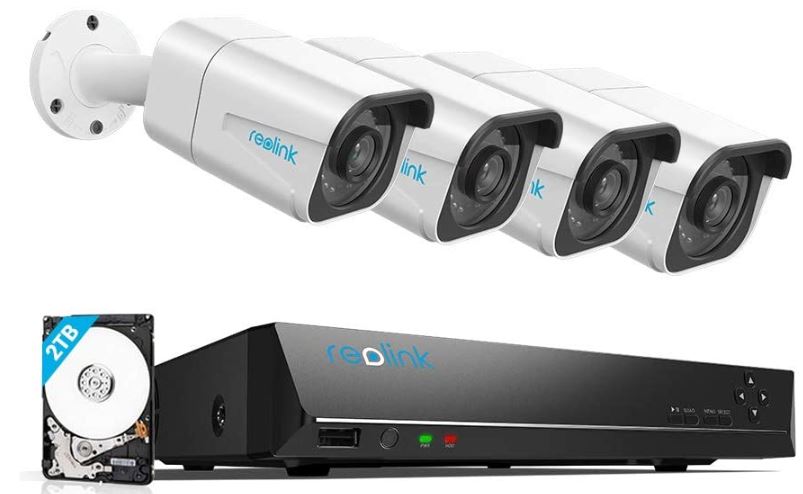 Reolink 4K PoE Security Camera System
Reolink is a well-known manufacturer of security camera systems. Indeed, we've reviewed several of their cameras in the past, including the Eco, the Go, and the Argus 2. Their 4K PoE Security Camera System is a set of four cameras that comes with a single control station. Each camera measures 7.4 inches long, and 2.4 inches square. They all weigh one pound, and installation hardware is included in the kit. Simply pre-drill your holes, then screw in the base plate and you're good to go.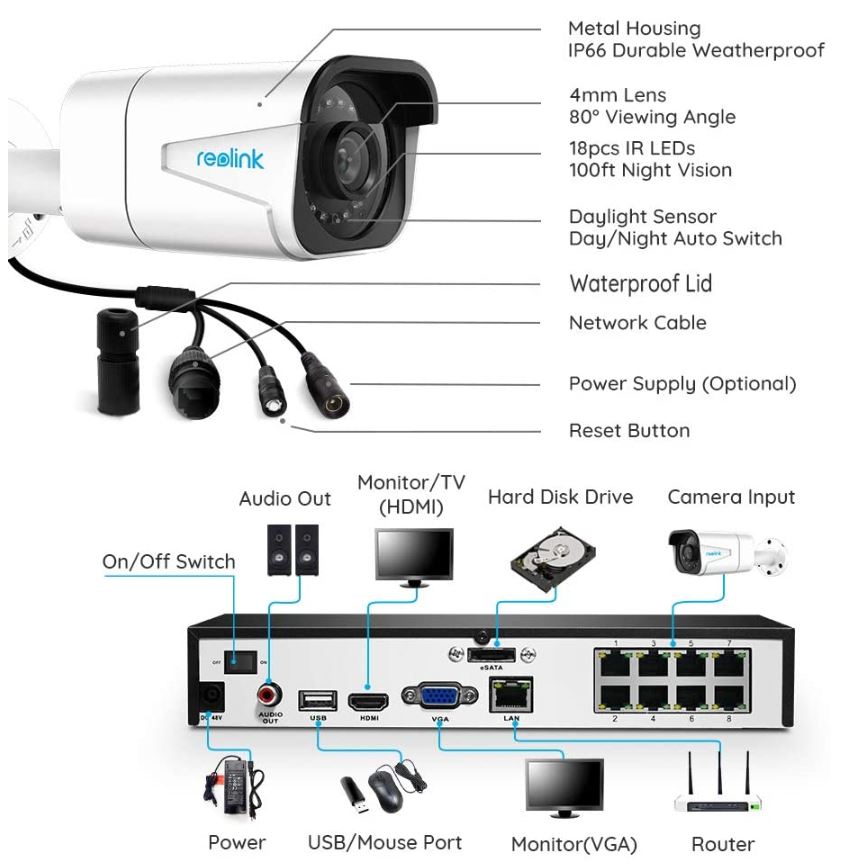 The cameras themselves have white aluminum cases, with a powder-coated finish that's both attractive and weather-resistant. These cameras are the opposite of "hidden". The lens is large and clearly visible, which provides an excellent deterrent effect. They're also weather-resistant, with a rating of IP66. This is sufficient for any weather conditions short of total submersion in water. The control station (NVR) is about the size of a DVD player, and has a sleek, modern look with a black finish. There's a USB port on the front for transferring any video, and a simple set of control buttons. That said, most of your controls will be operated through the app, which we'll talk about shortly.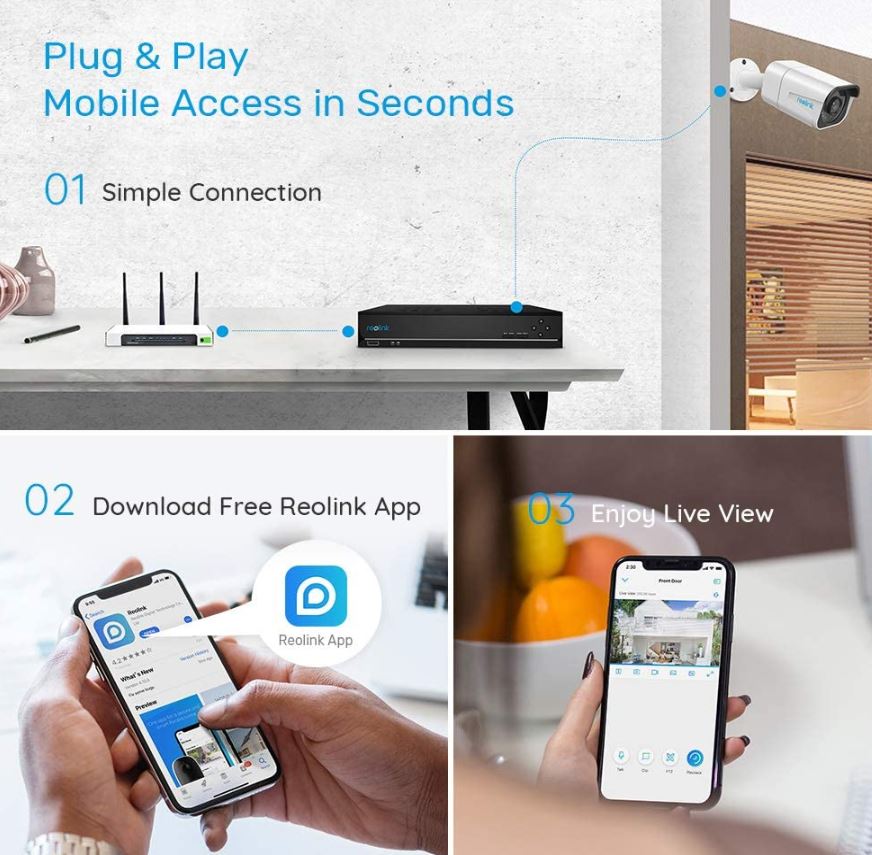 In addition to the cameras and the control unit, you also get a set of four 18-meter (about 60-foot) cables. This makes installation quick and painless. And if you need even more length, you can extend the cables to up to 330 feet. Not only that, but Reolink offers a 2-year warranty to protect your purchase. And with their 30-day, no-questions-asked money-back guarantee, you can send them back if you're not happy.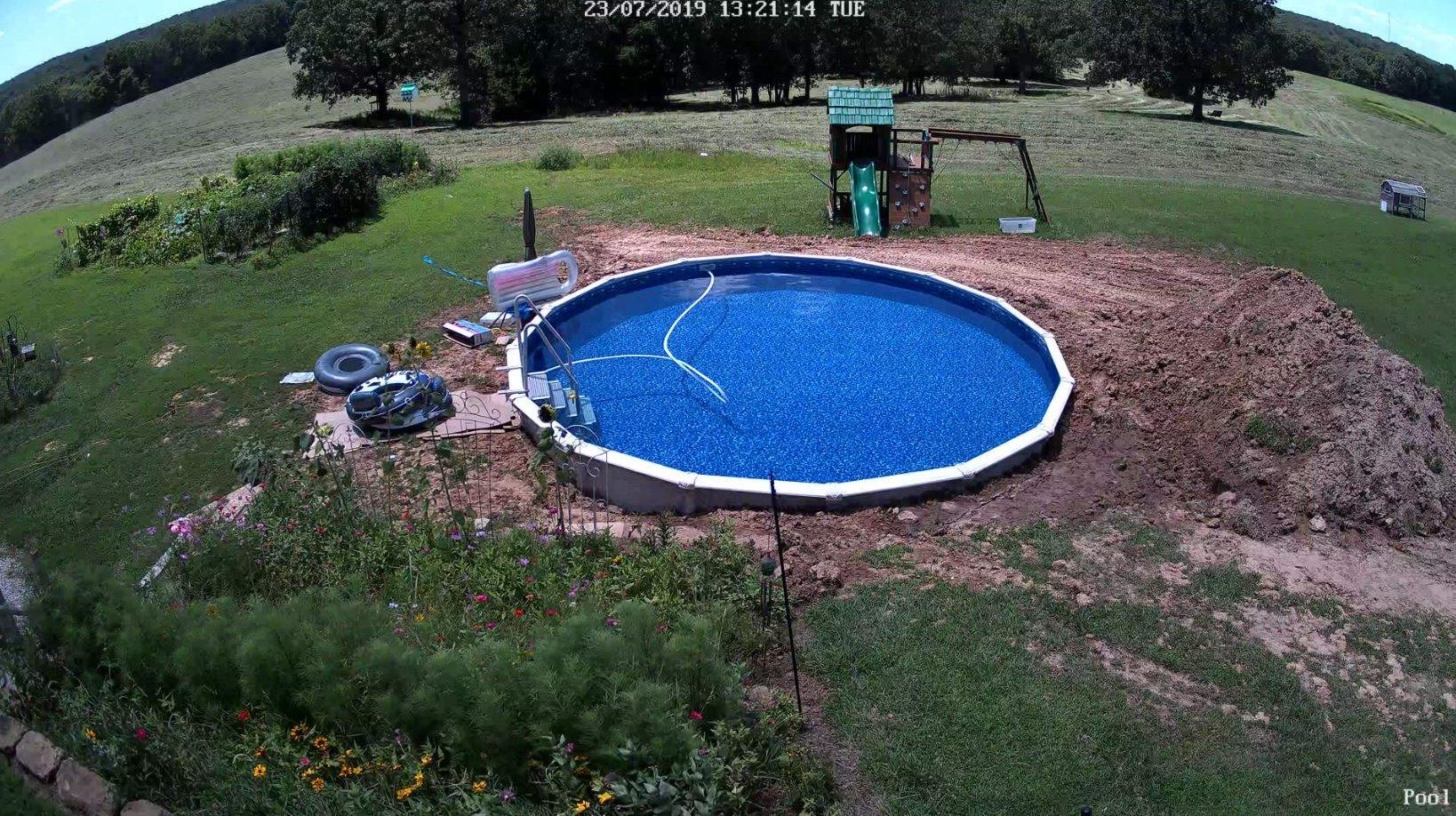 Video Quality
The Reolink 4K PoE Security Camera System lives up to its name with 4K Ultra HD video. This works out to a resolution of 3840 x 2160 pixels. As a result, you're looking at a very versatile camera. For interior use, under most circumstances, 4K is simply overkill. The police don't need to see a burglar's nose hairs to make an identification. But for outdoor use, 4K is an excellent feature. You can read license plates from a long distance, which can be a key piece of evidence.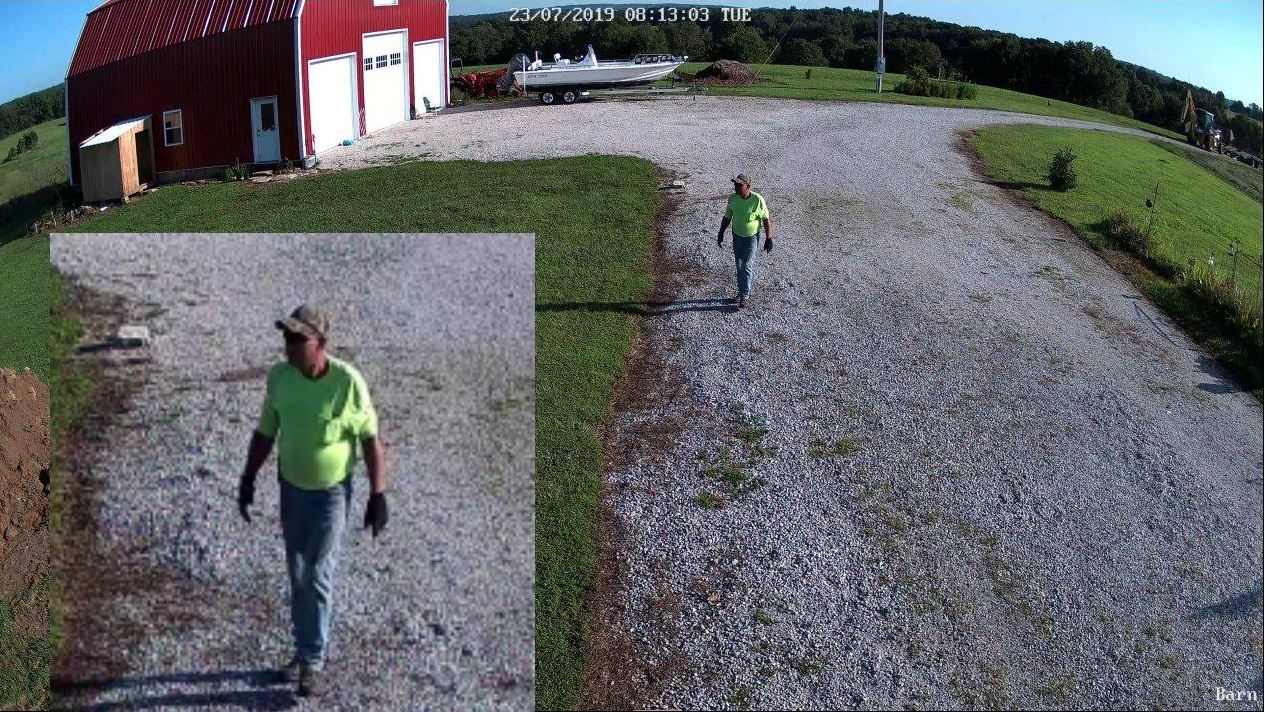 Even at night, you'll get plenty of visibility. Each camera sports an 18-light infrared LED ring with a range of 100 feet. You'll get plenty of visibility, with relatively good quality. The image is in black and white, not green, and it's crisp and sharp.
Connectivity & Storage
The primary way you engage with your Reolink camera is with the Reolink app. It's available for free on iOS and Android, and allows you to view your camera anytime, anywhere. As long as you have a WiFi or data connection, you can view your camera live. You can also play back older recordings, and switch between cameras.
The control unit provides continuous, 24/7 recording. It comes pre-installed with a 2TB internal HDD, which is sufficient for 20 days of storage. If you want additional storage, you can attach an external hard drive with a capacity of up to 4TB. This provides a maximum storage capacity of 60 days. Keep in mind that this is a total number. So if you're recording on all four cameras, you're looking at a maximum of 15 days on each camera.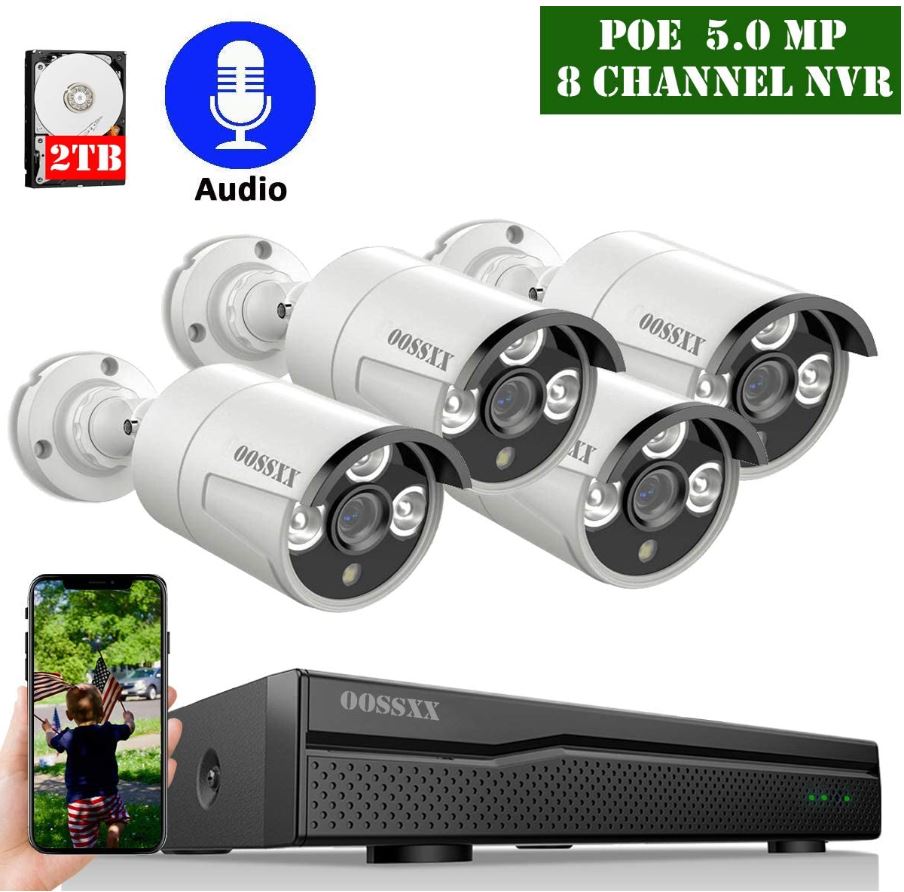 OOSSXX 4K POE Security Camera System
Like the ANNKE and Reolink system, the OOSSXX 4K POE Security Camera System is a 4-camera system complete with a control station. The cameras have a similar white aluminum housing, which makes the more durable than any plastic security camera. They have a cylindrical design, measuring 3 inches in diameter and just over 6 inches in length. The appearance is somewhat robotic, with a lens that looks a bit like an eye. It's surrounded by three infrared LEDs which assist with the night vision. And it's protected by a hood that prevents glare and keeps dust away.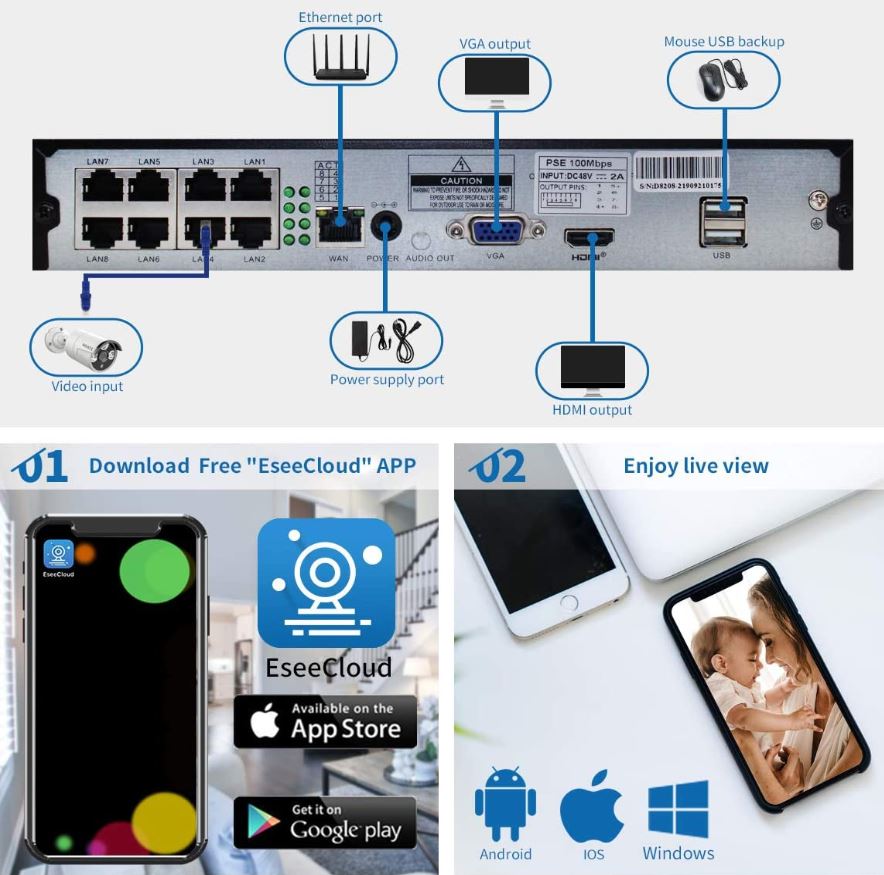 The cameras are IP67-resistant to water and dust. This means they can even withstand being blasted by a hose on the "jet" setting. All the mounting hardware is included with the kit, so there are no worries here. In addition, you get a set of 60-foot network cables for connectivity. This should be sufficient for installation in most locations. The control unit itself is compact, and it's relatively basic. There are no on-board controls. Everything is controlled through the app. In addition, you get a 1-year manufacturer's warranty that includes free parts replacement. You also get lifetime technical support in the event that there are any software or hardware issues.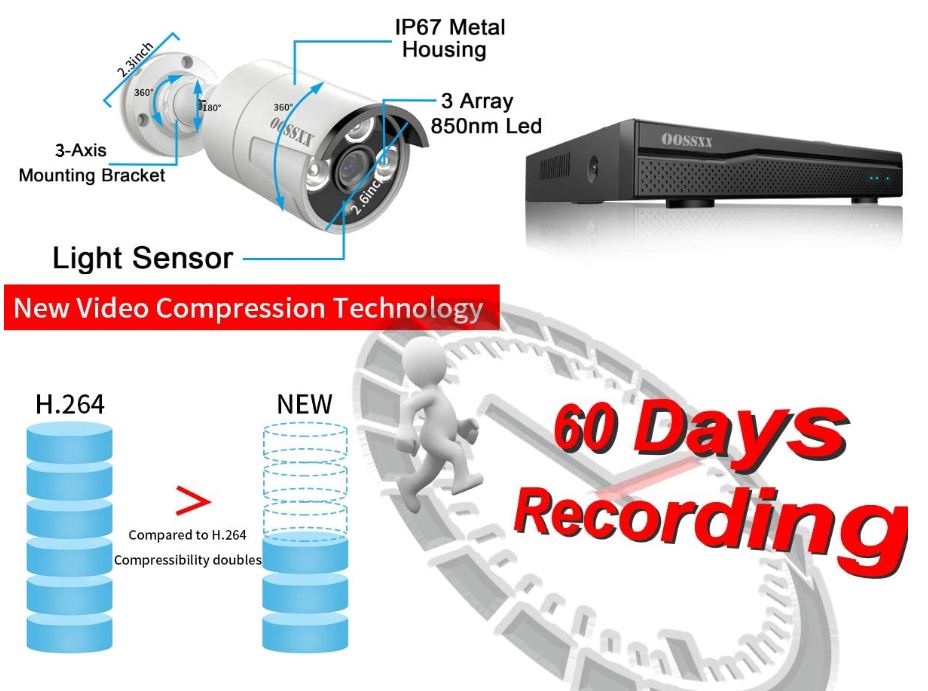 Video Quality
As with all the cameras on our list, the OOSSXX POE Security Camera System records video in 4K. You won't have any issues making out details, even at a relatively long distance. In addition, the cameras offer active infrared night vision. The video is in black and white, and is clearer than most night vision cameras. That said, it's not quite as crisp as the night vision on the Reolink camera.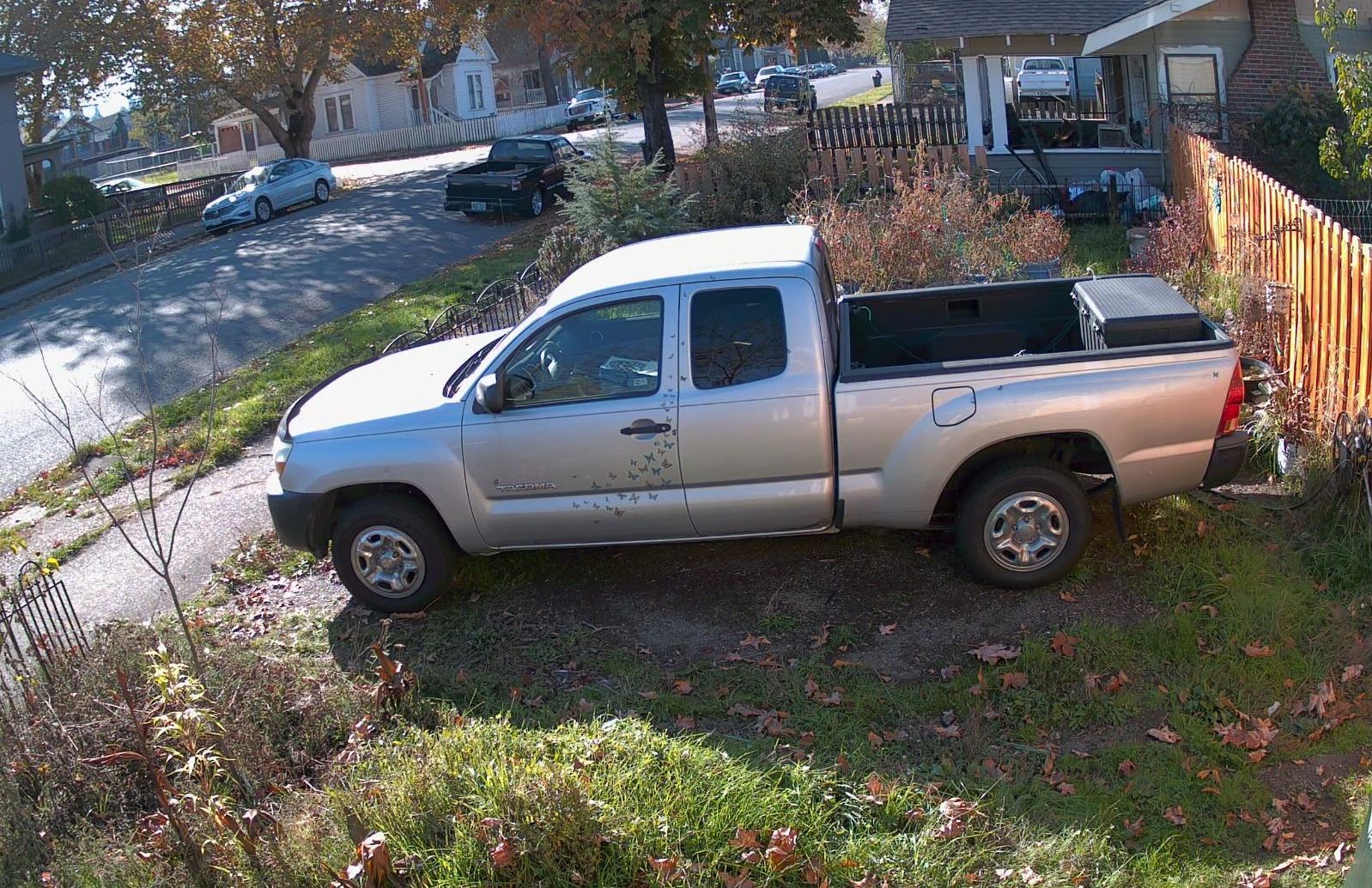 That said, you do get a built-in microphone in each camera. This allows you to capture audio as well as video in your surveillance recordings. That said, it's one-way only. You can hear the subject, but you won't be able to communicate with them.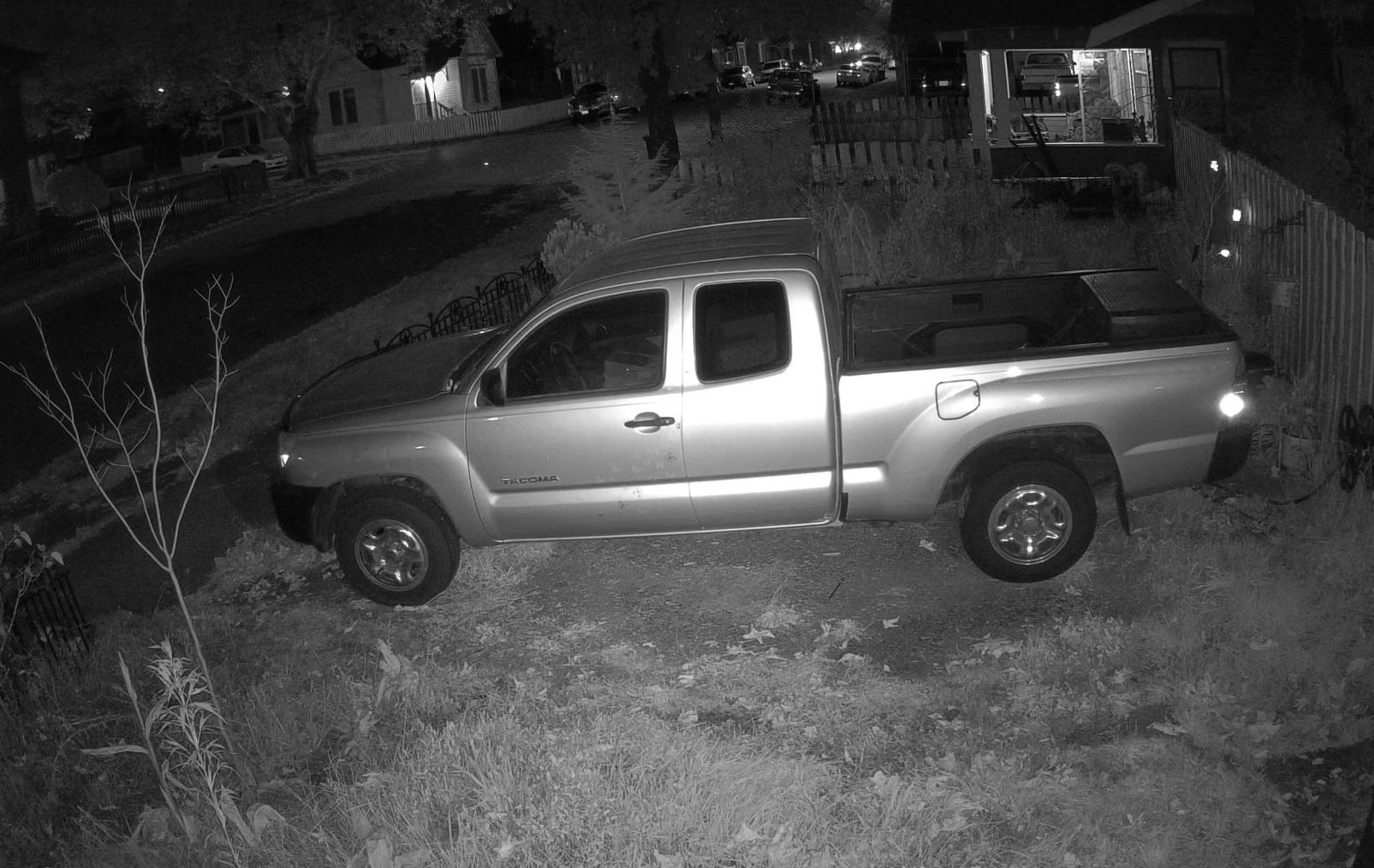 Connectivity & Storage
The OOSSXX 4K POE Security Camera System is controlled through OOSSXX's Eseecloud app. Download it from the Apple Store or Google Play, pair it with your system, and you're good to go. With the app, you can view live video anywhere you have an internet connection. And you can review older video with the need arises. Better yet, the app is equipped to deliver push notifications when the cameras pick up movement. You can receive immediate notification as soon as the cameras detect an intruder. Alternatively, you can receive notifications via email or turn them off altogether.
The OOSSXX control unit contains a 6TB internal HDD. This is sufficient to record up to 60 days of video. As before, this is a total for all four cameras. In other words, you're looking at 15 hours for each camera. That said, you can set the cameras either to continuous recording or motion-detector recording. So you can record a considerably longer timeframe if you restrict recording to motion detection. In addition, you can expand the system to eight cameras. If you need to cover a very large area, this is a useful feature.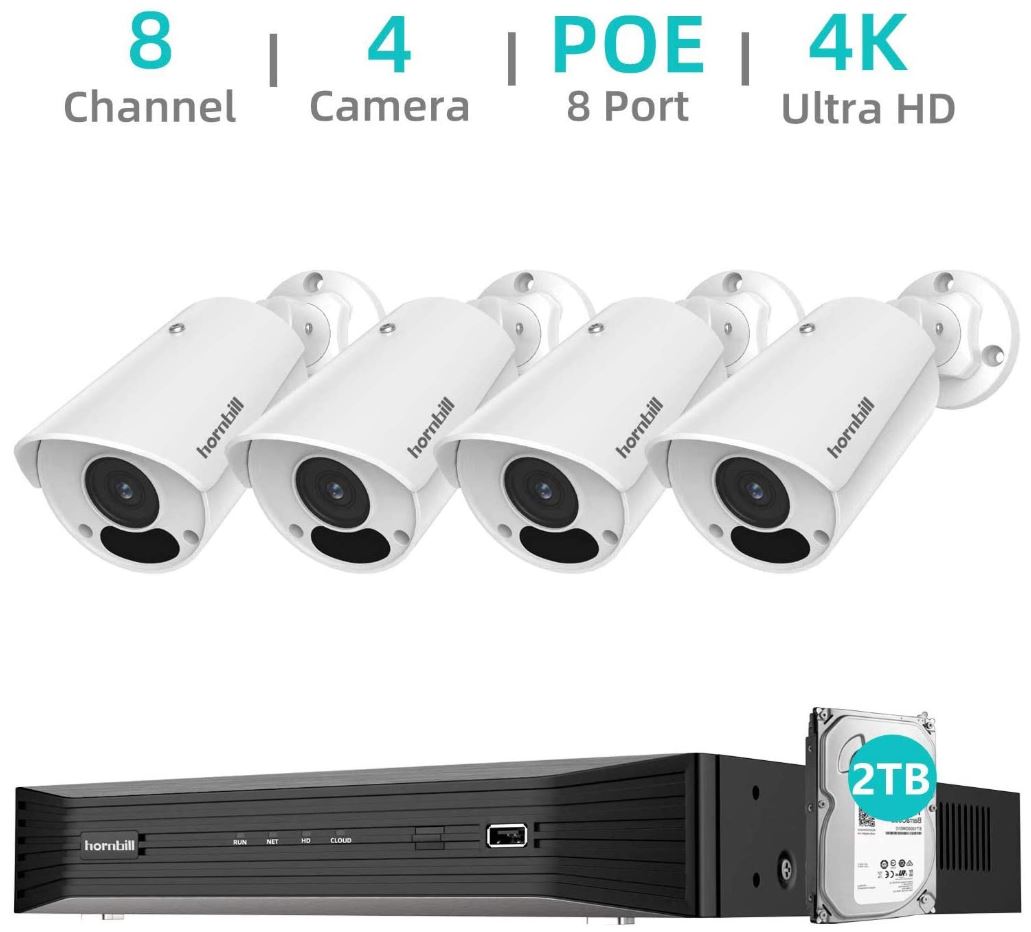 Hornbill 4K PoE Security Camera System
As with the last two camera sets, the Hornbill 4K PoE Security Camera System is a 4-camera kit. It can also be expanded to 8 cameras, which can be purchased separately. The control station is fairly robust, with plenty of connectivity. You can attach a monitor and a mouse for controls if you so desire. That said, most people simply control the system via Hornbill's app.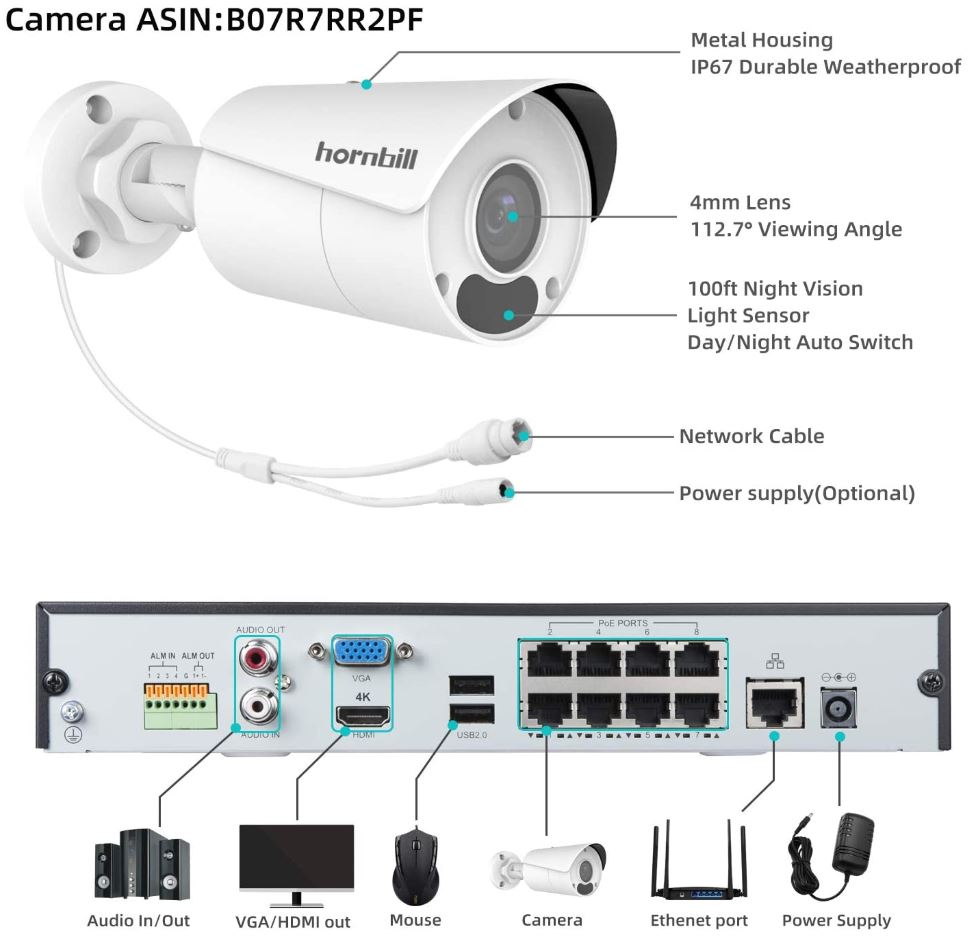 The cameras themselves are a bit more compact than the last two we looked at, with a conical shape. They still sport a durable aluminum housing, though. And they're IP67 water-resistant, so they can stand up to even the worst conditions. Each camera comes with a 60-foot cable, which can be extended up to 330 feet. So even if you need to monitor a large facility, your cameras will be able to reach. You also get a 2-year warranty, and a 60-day money-back guarantee.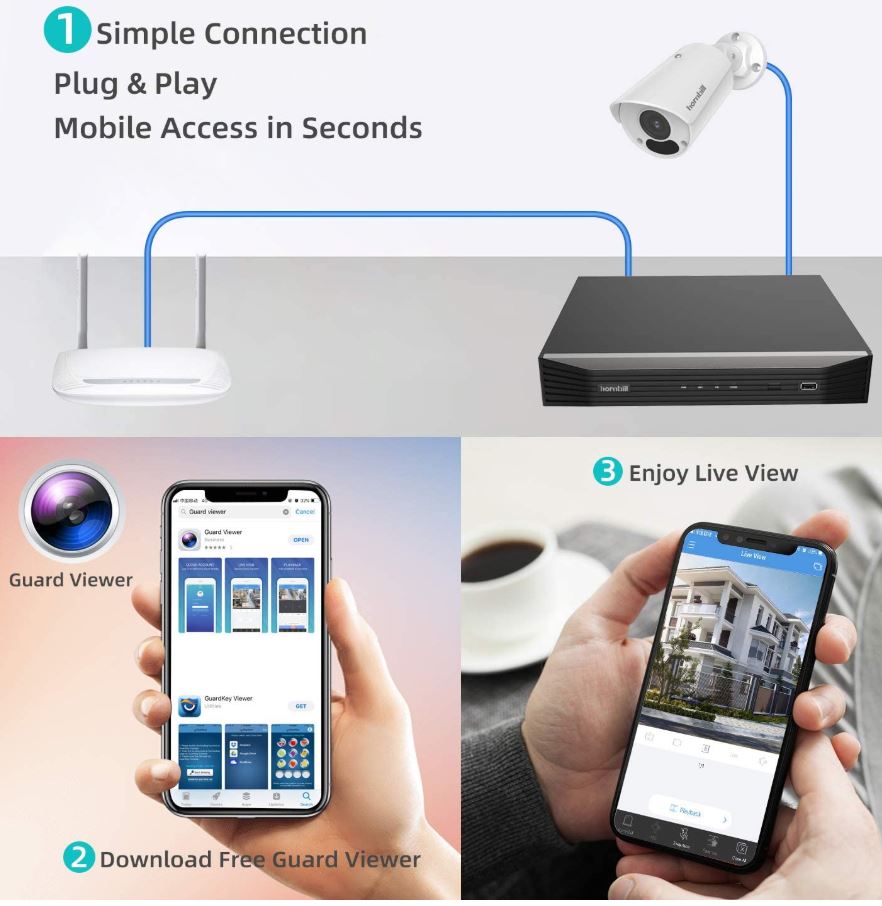 Video Quality
As the name implies, the Hornbill 4K PoE Security Camera System records in full 4K. The lenses have a wide-angle field of view that covers 153 degrees. You'll be able to monitor a wide area without the need to install extra cameras.
Keep in mind, though, that the wider the field of view, the less detail you'll be able to capture. Still, with 4K recording, this shouldn't be a serious concern. And with a 100-foot infrared night vision mode, you'll still be able to capture detail at night.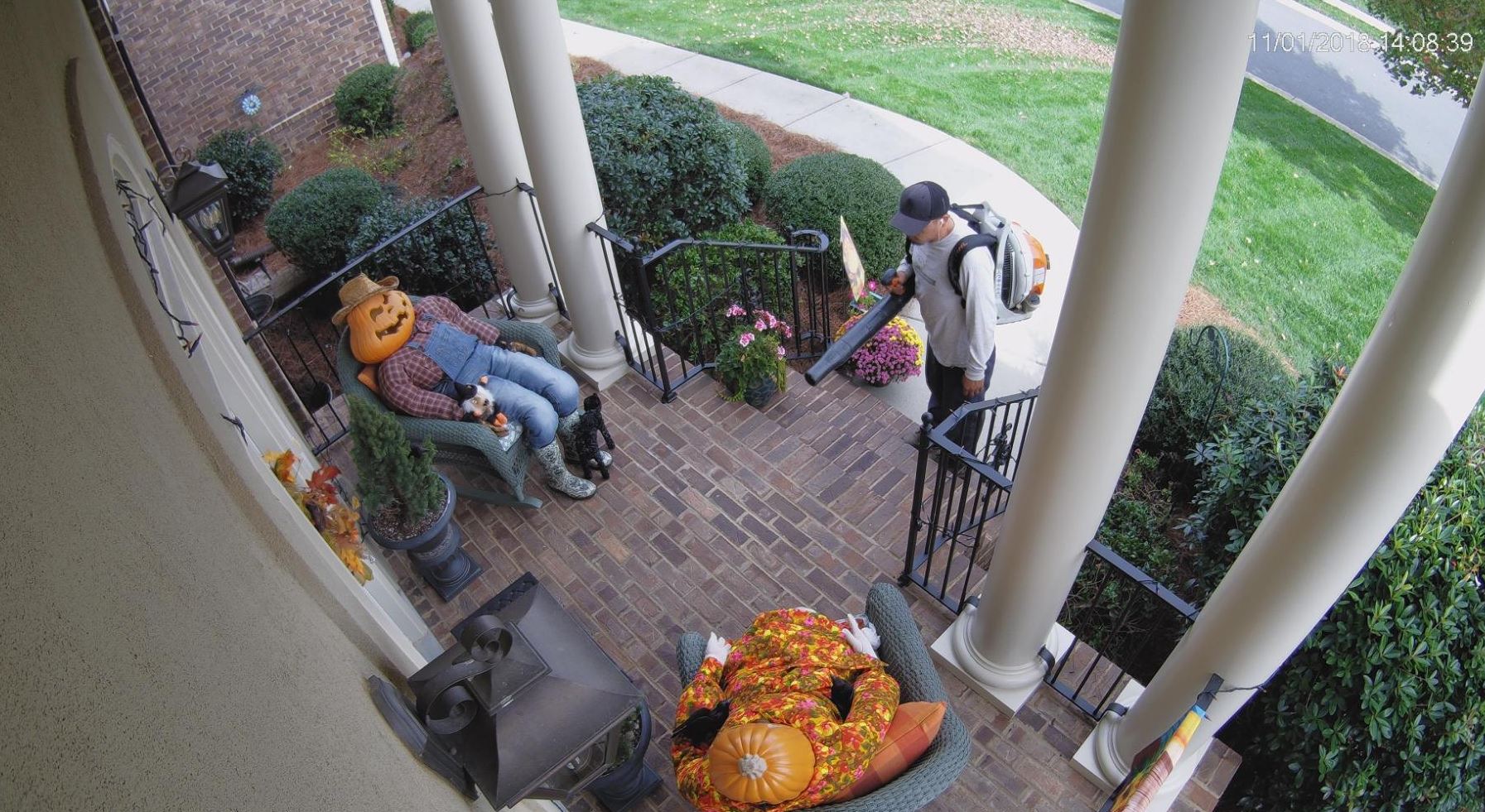 Connectivity & Storage
Like the Reolink and OOSSXX cameras, the Hornbill system has a free companion app. Download the Hornbill app from the Apple Store or the Play Store, and you can start viewing. Anywhere you have a data or WiFi connection, you can keep tabs on your home or your business.
The Hornbill security system comes installed with a 2TB hard drive. This is sufficient for 20 days of storage, or 5 days total for each camera. But what if you need even more capacity? In that case, you can upgrade the control unit with a new internal 3.5-inch HDD. This HDD can be up to 10TB, or up to 100 days of storage.
Final Verdict
As you can see, each of these security cameras brings a lot to the table. But which one is the best? Simply put, we believe the ANNKE H800 4K PoE Camera System offers the best all-around quality. The cameras are incredibly robust, durable and high-end when it comes to video and audio quality. With 4 cameras with expandability up to 8, you're getting a turn-key system that's easy to install and operated. Even with limited tech-related experience, any layman can easily get them up and running. Best of all, their app is the most intuitive out of the bunch and gives great flexibility for in-home or remote viewing.
The Reolink 4K PoE Security Camera System is a great choice for businesses. In addition to the cameras themselves, you also get a set of warning stickers to deter thieves. Most importantly, the night vision is simply superb. You won't need to worry about missing key details just because it's dark out.
Next, we reviewed the OOSSXX 4K POE Security Camera System. This camera system is a bit more full-featured in terms of functionality. You get push alerts for motion detection, so you'll never miss an important event. You can also expand the system with up to 8 total cameras. This allows you to cover a very large area. That said, the night vision isn't as good as the Reolink's.
The Hornbill 4K PoE Security Camera System is another excellent choice. You can expand it to up to 8 cameras, which is a great extra feature. You can also install a 10TB internal hard drive for massive amounts of storage. The warranty is also very robust, and the lens angle is relatively wide. That said, the wider camera angle leads to relatively less detail.
Note: At no extra cost to you, we may earn a commission for purchases using our links. Learn more.