Not long ago, security cameras were expensive and inconvenient. They cost a small fortune to install.
And to monitor them, you needed a big CRT TV and a VCR. For all that effort, you got some grainy black and white footage.
There was no remote monitoring, no night vision, and no motion detection. Unless you ran a business – or were very wealthy – it just wasn't worth the effort.
But modern technology has made security cameras accessible to everyone.
Today's cameras aren't just more affordable than they used to be. They also have way more to offer than their old-school counterparts.
You can expect night vision, remote monitoring, motion detection and other modern perks.
One of the most popular camera technologies is Power over Ethernet (PoE). PoE is exactly what it sounds like.
Specialized Ethernet cables are used to deliver power as well as a signal, simplifying installation. Furthermore, your cameras aren't transmitting data via WiFi. This makes them much harder for anyone to hack.
We're about to review three of the best 4K PoE security camera systems we could find. Since they record in 4K, you'll see far more detail than you would with other cameras.
But each of them has its own unique features to consider. To find out which one is the right fit for you, you'll have to take a closer look. Thankfully, we already did that. Here's everything you need to know.
Best Overall: Reolink 4K Security Camera System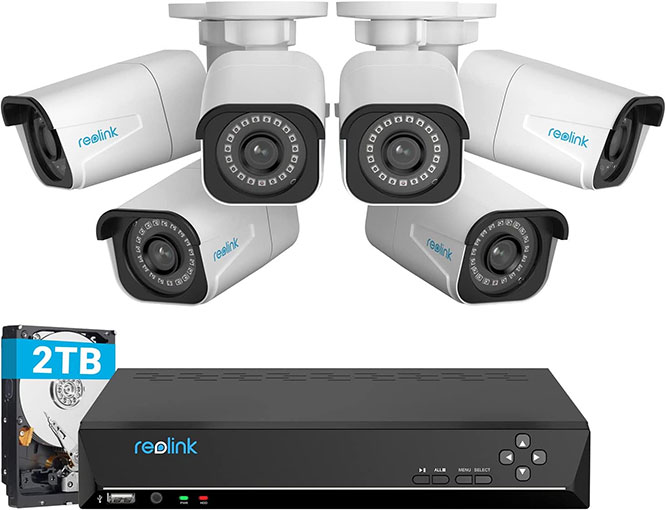 Key Features:
Includes six cameras.
Person and vehicle detection.
NVR with 2TB HDD.
LED lighting with 200-foot range.
2-year warranty.
The Reolink 4K Security Camera System isn't just a single camera. It's a six-pack of white rectangular cameras, with a weather-resistance rating of IP66. The first "6" means that they're 100% dust-proof. The second "6" means they can withstand a steady stream of water. Not only will rain pose no threat, but you can wash them down with a hose.
Each camera attaches to a bracket at the back, and the bracket arm can pivot in any direction. As a result, you can mount them just about anywhere. Attach them directly to a wall, or suspend them from an eave or a ceiling.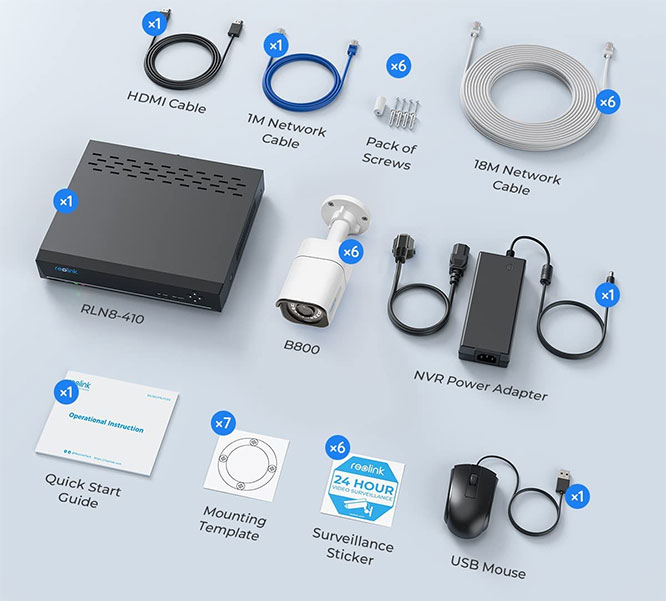 The resolution is full 4K Ultra HD. That's 3,840 x 2,160 pixels, or equivalent to an 8-megapixel still camera. The lenses have a relatively tight field of view, at only 87 degrees. That's a good thing or a bad thing depending on how you look at it.
On the plus side, the narrower field means you can see finer details within the viewing window. On the downside, any one camera will cover less real estate. It really comes down to what you need.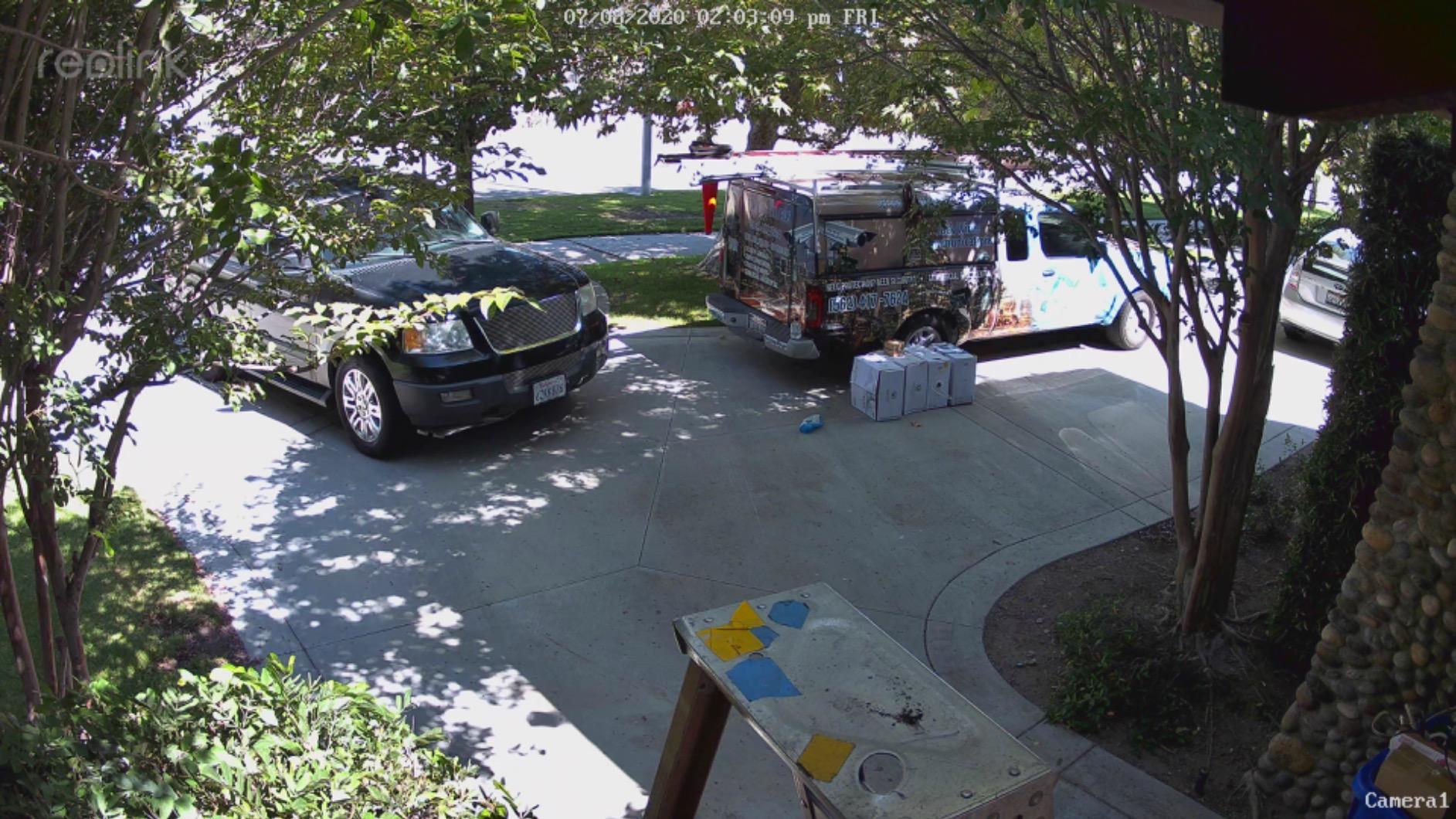 By day, you'll get brilliant color and crisp details. At night, the performance is more of a mixed bag, because there's no real night vision mode. Instead, visibility relies on a set of 18 LED diodes, arranged in a ring around the camera lens.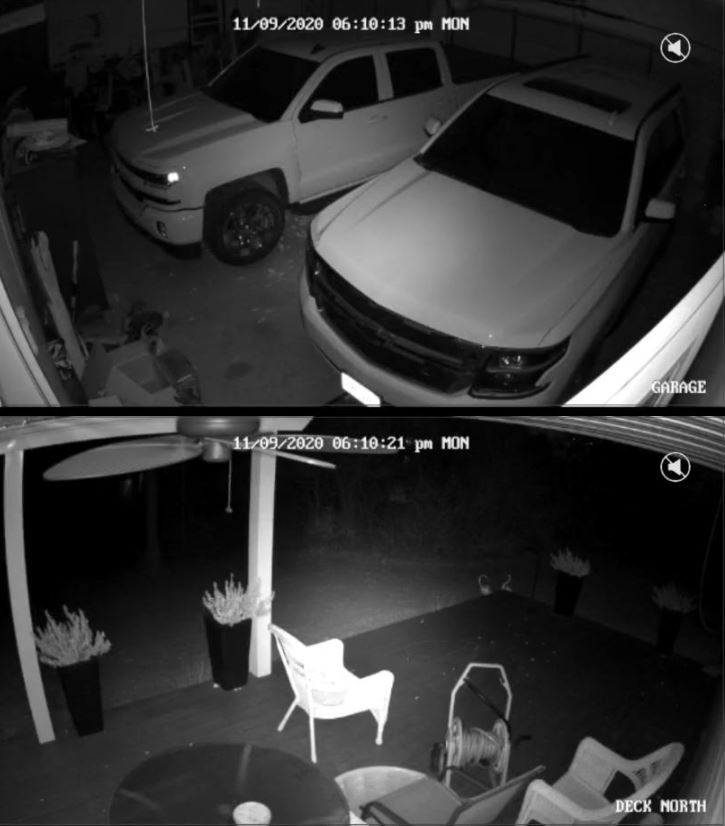 These illuminate objects up to 100 feet away, and provide all the detail you need. They also provide a measure of deterrence. Then again, they're also very bright, and might annoy your neighbors.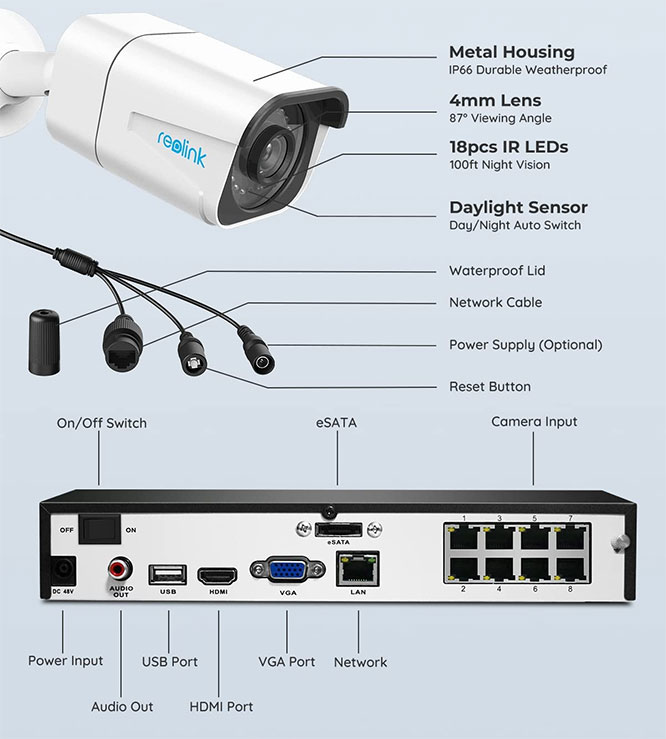 Along with the cameras, the kit includes a network video recorder (NVR) system. The NVR is a black box with Ethernet ports on the back to connect your cameras. Plug the NVR into your wall outlet and connect it to your router, and you're ready to go.
The kit comes with six 60-foot Ethernet cables, which will be enough for many applications. If you need to go further, you can; PoE will work out to a range of 300 feet. Just make sure the 300-foot cables you buy support PoE; not all Ethernet cables do.
Reolink backs their cameras and NVR with a two-year warranty. Beyond that, you can still take advantage of lifetime technical support. As of now, they're one of the biggest names in consumer security cameras.
In the past, we've reviewed many of their offerings, such as the Reolink Go PT Plus. The company is well-known for their quality. If we made a "best of" list for every category of security camera, they'd probably all include a Reolink camera.
Storage, Monitoring, and Extras
The Reolink 4K NVR comes pre-installed with a 2TB HDD. You can set the cameras up for 24/7 recording, or set them to motion-activated mode. Even in 24/7 mode, you'll have enough capacity for several days worth of video. If you need even more, you can upgrade with a new hard drive. The system supports up to a 6TB drive, which is more storage than you should ever need.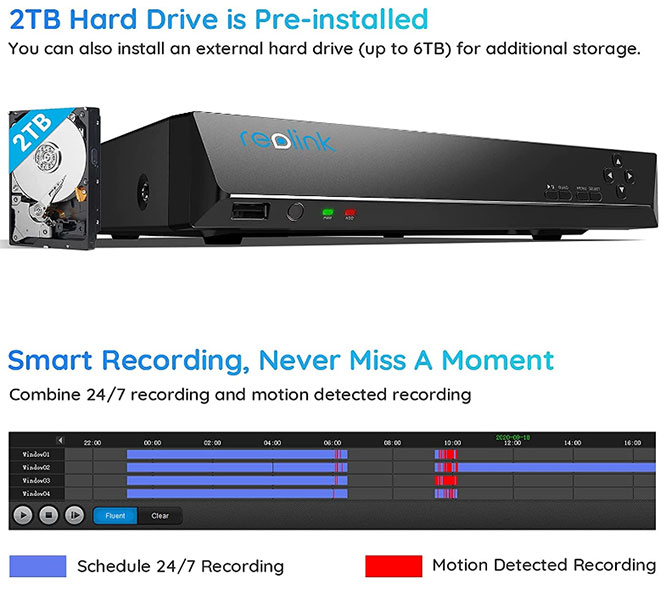 In motion-activated mode, the Reolink cameras are capable of distinguishing vehicles and people. Like most AI systems, it's not perfect. But it helps to cut down on false alarms. Your camera will be far less likely to go off because of a cat or a blowing tree branch.
To get the most out of the system, you'll need to download the Reolink app. It's free on Android and iOS, and it takes just a few minutes to set up. Once you've paired your phone with your NVR, you'll be able to remotely monitor your videos at any time. Otherwise, the only way to review your footage will be to hook up a monitor to the NVR box.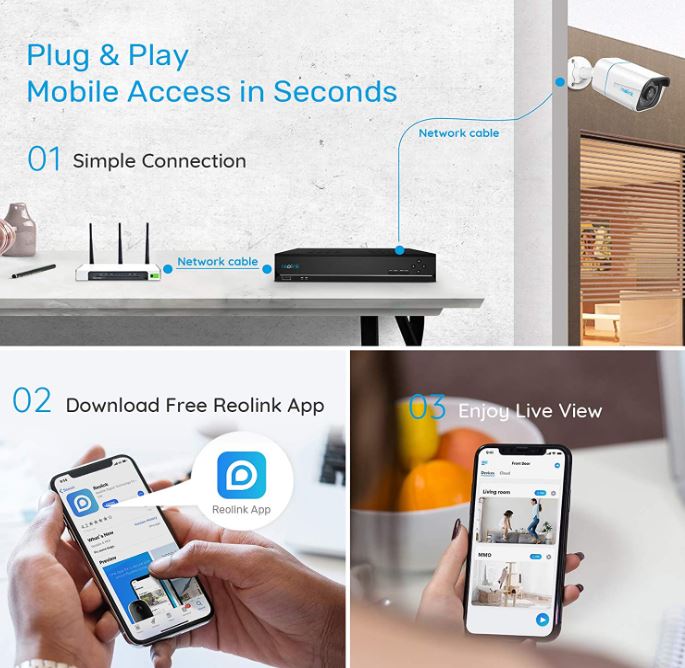 With the app, you can do more than merely review your footage. You can also get push alerts in real time. If you want, you can set these alerts to tell you whether a person or a vehicle triggered the camera. Regardless of your settings, you'll be able to keep tabs on your property from anywhere in the world. Overall, you can't really go wrong with the Reolink 4K Security Camera System.
What We Liked:
Expandable with 6TB additional storage.
Six camera kit for wide coverage.
Easy to set up and configure.
2-year warranty.
What We Didn't Like:
Best Runner-Up: Amcrest 4K Security Camera System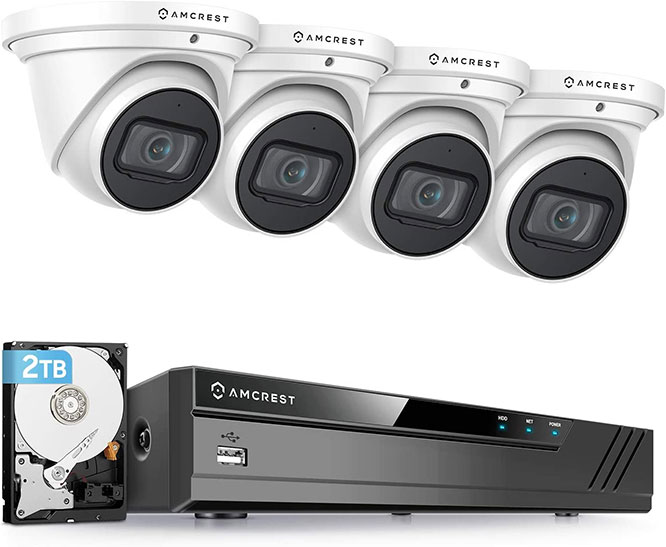 Key Features:
Includes four cameras.
Built-in microphones.
NVR with 2TB HDD.
Wide viewing angle.
One-year warranty.
The Amcrest 4K Security Camera System comes with four dome-style cameras. Each camera can be swiveled and tilted to aim in any direction.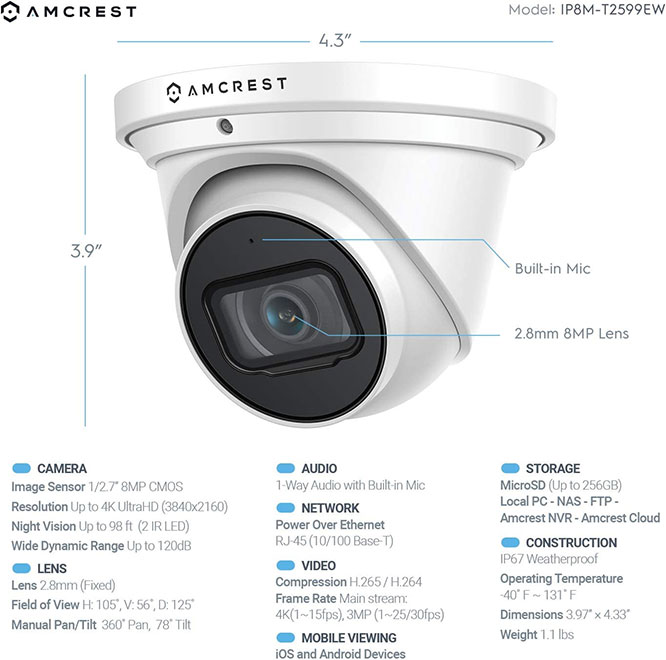 However, the design lends itself better to mounting on an eave or ceiling than it is on a wall. The cameras carry a weather-resistance rating of IP67, which is more than you'll ever need. Technically, you can even submerge them in water.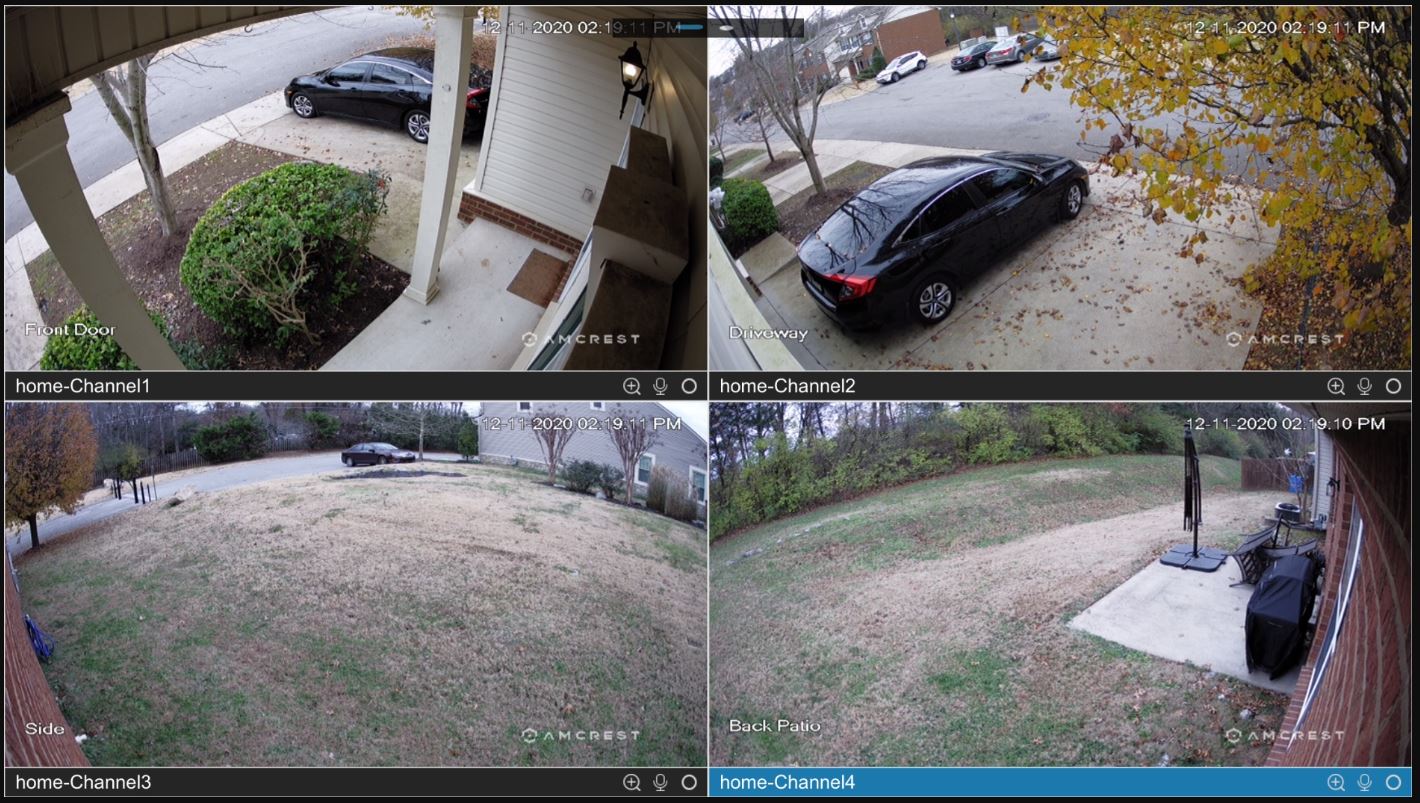 The 4K resolution is exceptionally crisp, and shows brilliant color by day or night. The night vision is technically low light vision, which means it requires starlight at a bare minimum. If it's a pitch black, overcast night in a rural area, you won't see anything. But under most conditions, you'll be able to see just fine at night.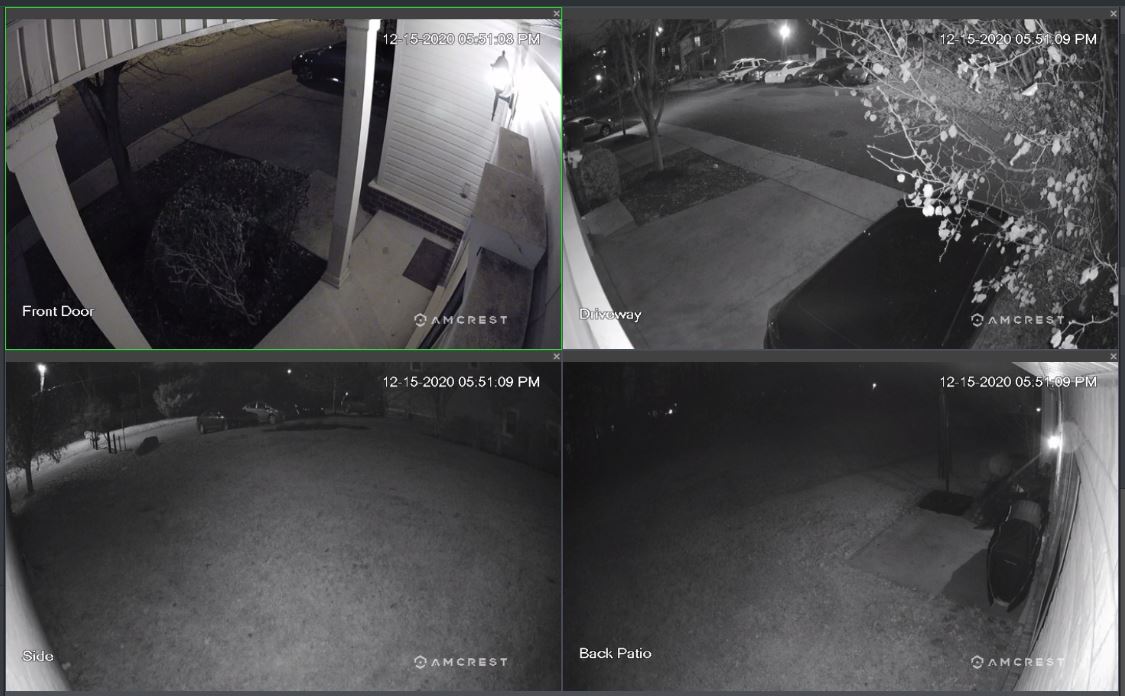 The viewing angle of 105 degrees is a smidge wider than average. Again, this is good or bad depending on what you need. You won't get quite the same amount of detail you'd get with a narrower angle. But you can cover a much wider area. The one true downside is the framerate of 15 FPS. This can make it harder to track fast-moving objects. Then again, it has no impact on your ability to identify faces or other important details.
The package includes an NVR box, along with four 60-foot PoE cables. It's worth noting that the NVR has eight PoE ports, and is expandable to eight cameras. So if you need more than four, you can grow your system as needed. The kit is backed by a one-year warranty, so you'll be protected if there are any defects.
Storage, Monitoring, and Extras
The Amcrest system comes pre-equipped with a 2TB hard drive, and can simultaneously record up to eight channels. If you end up using that many channels, 2TB of storage might not be enough. In that case, you can upgrade to a larger drive. The NVR will support up to 10TB of storage, which will be enough for pretty much anybody.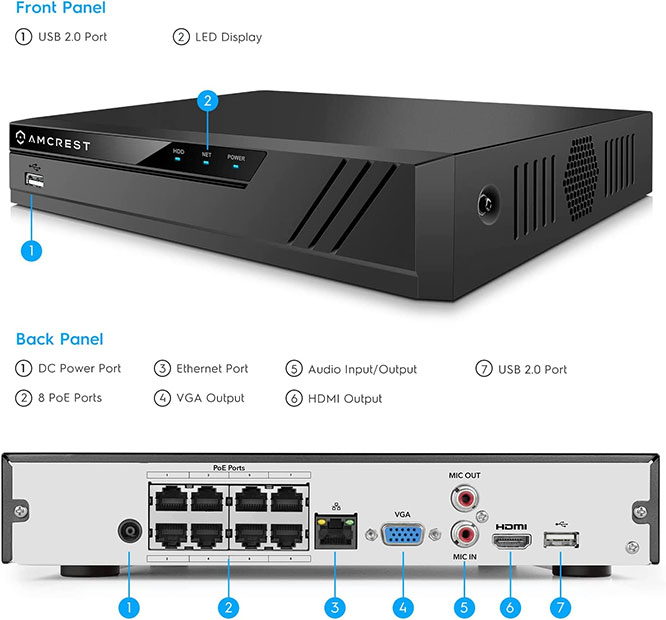 You can view the camera feed remotely via the smartphone app. The live feed will display at a normal speed of 30 frames per second. Alternatively, you can review your previously recorded footage from the NVR. It's worth noting that the footage will also include an audio track, thanks to a set of built-in microphones.
On the downside, the cameras themselves don't have any smart features. There's no motion-activated recording or human detection. You can use smart cameras if you want to. But then the system will only be able to support two cameras. Besides this, the Amcrest 4K Security Camera System is a great pick.
What We Liked:
Expandable to 8 cameras.
Expandable to 10TB storage.
Wide camera angle.
Supports AI cameras.
What We Didn't Like:
No built-in smart features.
Best Budget: Hiseeu 4K PoE Security Camera System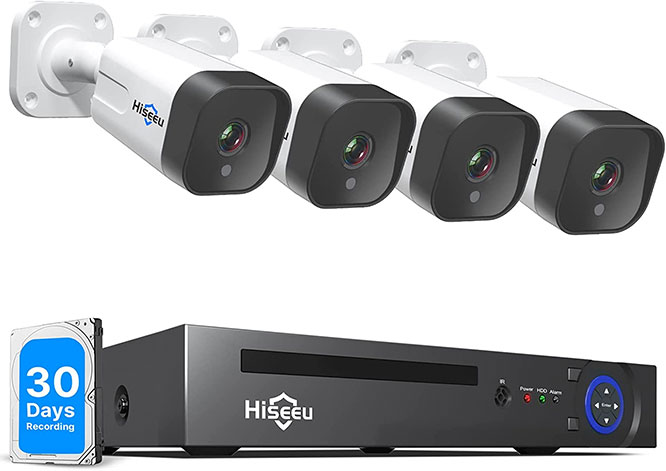 Key Features:
Includes four cameras.
NVR with 1TB HDD.
Two-way audio.
One-year warranty.
The Hiseeu 4K PoE Security Camera System also comes with a set of four cameras. However, they have a more traditional, rectangular shape, with a mounting bracket at the rear. As such, they're equally well-suited for mounting on ceilings and walls. And with an IP67 weather-resistance rating, rain isn't a concern.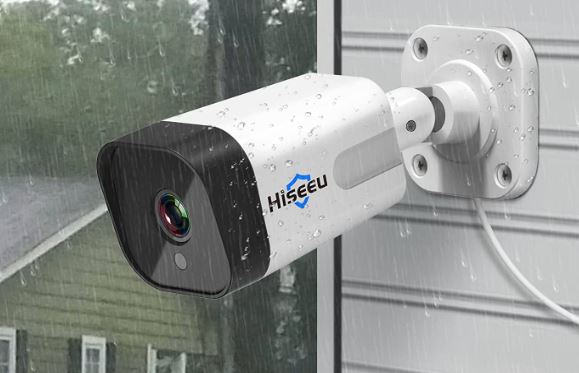 Video quality is good, with plenty of detail and crisp 4K resolution. Color clarity is brilliant by day. And while the night vision is only black and white, it relies on infrared. This means it will work even when there's zero visual light.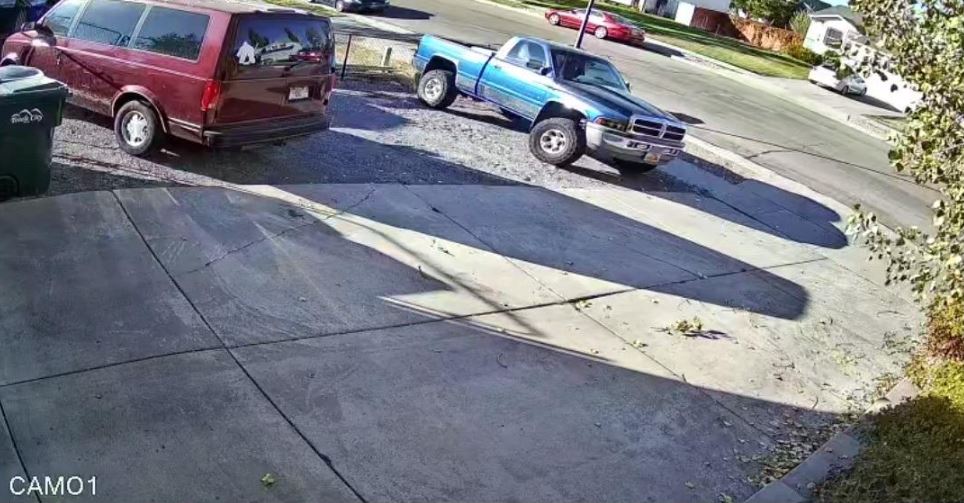 The black NVR box is easy to set up, with a full set of controls on the front panel. There are eight PoE ports on the back, so you can plug in an additional four cameras. In addition to that, you can use an 8-port PoE switch to expand the system to 16 total cameras. As it stands, you get four 60-foot PoE cables to get you started.
The Hiseeu system is backed with a 12-month warranty, as well as a 1-month free return window. If you don't like it, you can just ship it back.
Storage, Monitoring, and Extras
The Hiseeu NVR comes with only a 1TB hard drive. This is a bit disappointing if you want to save a lot of footage from multiple cameras. Thankfully, you can upgrade with a new hard drive, with a capacity of up to 6TB.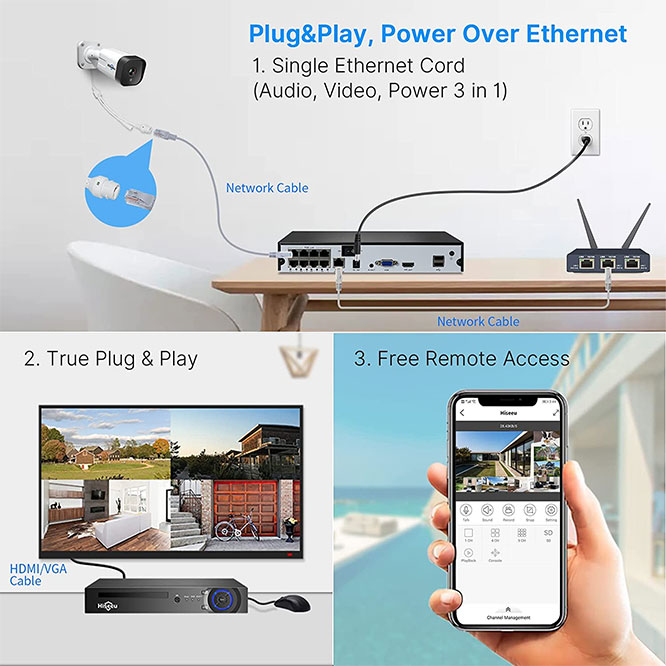 As with the other systems, this one comes with a smartphone app. Using the app, you can set the cameras to 24/7 recording. Alternatively, they can be set to automatically trigger a recording when a face is detected. It can pick up faces within about 20 feet, and send you a push alert.
With the app, you can also take advantage of two-way audio. You can say hi to guests when they arrive, or tell a delivery driver where to leave a package. If you're in need of a decent, simple setup at a great price, the Hiseeu 4K PoE Security Camera System is a perfect choice.
What We Liked:
Two-way audio communication.
Easy-to-use app.
Expandable to 16 cameras.
What We Didn't Like:
Only ships with a 1TB drive.
Final Verdict
As you can see, these are all great camera systems. But why would you choose one over another? Here's a quick overview of what we've learned.
We began by reviewing the Reolink 4K Security Camera System, and it's our top choice. This six-camera kit can cover a large property right out of the box, with no need for expansion. The NVR technology is reliable and the Reolink app is one of the most robust on the market. And with a two-year warranty, you can have some confidence that the system is going to last.
Next, we looked at the Amcrest 4K Security Camera System. This four-camera kit has beautiful night vision, and is expandable up to eight cameras. Expansion is the name of the game, since you can also upgrade the hard drive to 10TB. The only thing that held it back from being our number one choice was the lack of AI features.
The Hiseeu 4K PoE Security Camera System is the most affordable of the three. This kit offers highly detailed infrared night vision, as well as massive expandability. The out-of-the-box hard drive could stand to be a bit larger. Then again, the app is very robust, and even allows for two-way audio communication.