If you're concerned about your home's safety, installing a security camera seems like a no-brainer. This wasn't always the case. Old-school CCTV systems were expensive to buy and even more expensive to install. You needed a boxy CRT television to monitor them, and your recordings were on cumbersome VHS tapes.
You didn't even get remote monitoring. And even after going through all that trouble, you'd have some grainy black-and-white footage. As a result, ordinary people didn't install security cameras. CCTV systems remained the domain of commercial properties and the ultra-wealthy.
But a lot has changed in recent years. More advanced digital video technology has allowed for high-quality video capture. Cameras have gotten smaller and more affordable, and storage has gone from VHS tapes to SD cards.
At the same time, the internet has allowed manufacturers to provide remote monitoring capability. You can check in from your smartphone anytime, anywhere. This makes modern security cameras much more valuable to the average person. You're not just gathering footage to reference at a later date. You're getting a live view of your home, so you can take action in real time.
Reolink Go PT Plus
Today, we're going to review the Reolink Go PT Plus. This is a compact 2K camera that can be used in almost any application. It runs on a cellular network, so you don't need a WiFi or Bluetooth connection. It's also battery-powered, with an optional solar panel. This makes it a viable choice for off-grid use.
Of course, there are many more things that go into making a quality security camera. We'll start by going over the general design, as well as how it's installed. We'll look at your storage options, as well as how well the companion app works. In addition, we'll also discuss a few handy extra features that you get. After that, we'll have a more complete picture of what we're dealing with. Let's get started!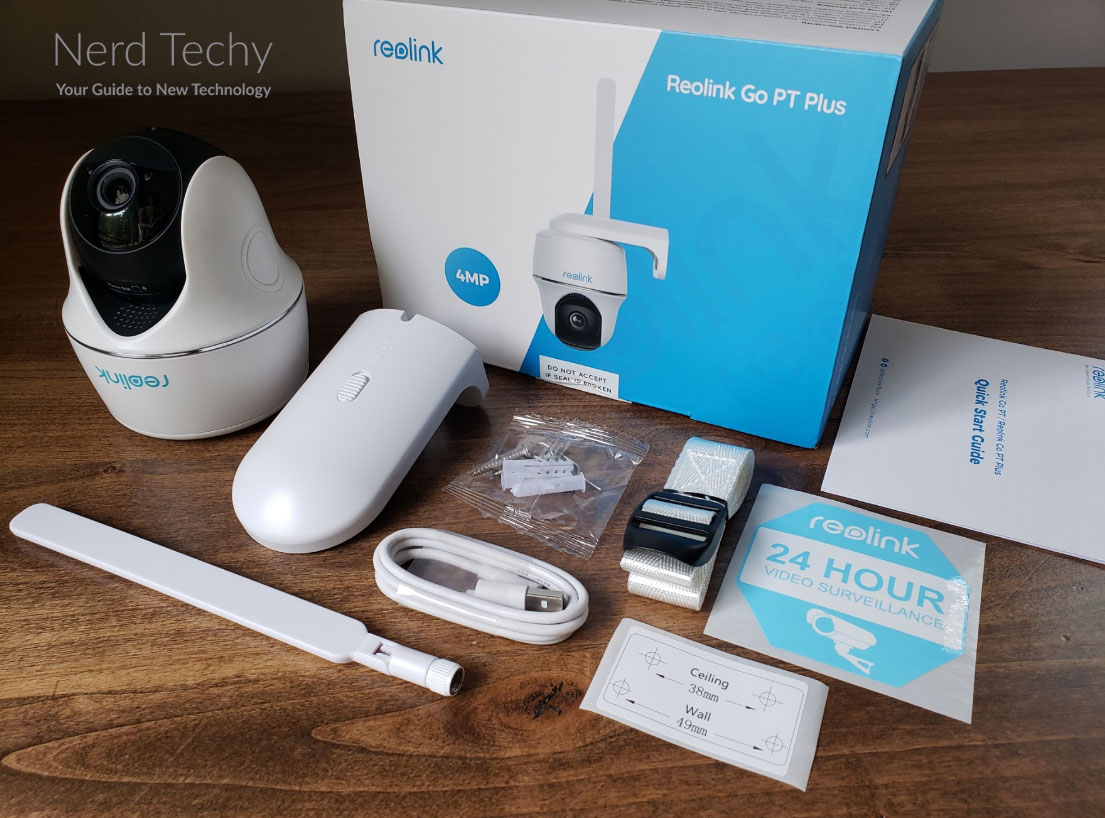 Overall Design
The Reolink Go PT Plus has an irregular shape. It has a circular cross section as viewed from the top. But it's wider near the top, and tapers down near the bottom. At its widest point, it has a diameter of 3.86 inches, which drops to 1.9 inches at the narrowest point. The total height is 4.4 inches, so it's fairly unobtrusive when it's mounted.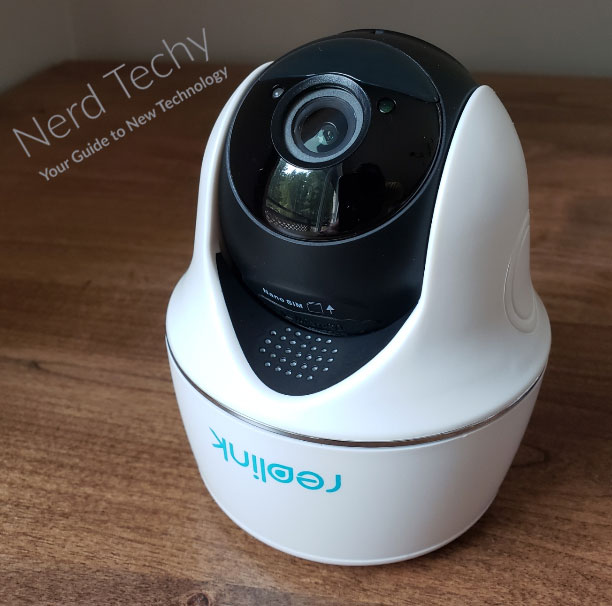 The housing is constructed from a white ABS plastic, which is tough and durable enough for outdoors. The matte finish is easy to keep clean, and won't collect a lot of dirt, even if you live in a dry area. The only splash of color is the word "Reolink" printed in blue just above the centerline. Beneath that, there's a silver ring running around the circumference.
There's a gap in the bottom center of the housing, where it's tapered down on both sides. This forked design allows it to support a spherical black lens housing, which sits in the center. The lens itself looks like a little robot eye, and is slightly visible through the housing. There are also a couple of infrared lights, which are invisible to the naked eye.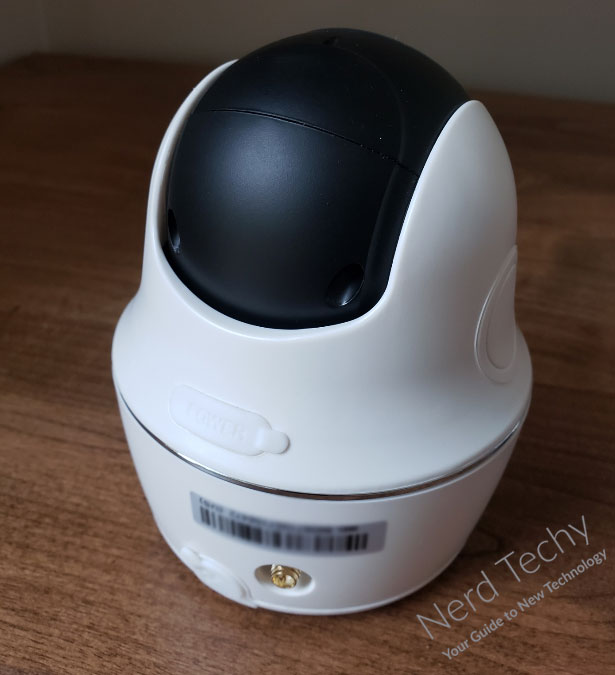 The camera hangs from a mounting bracket, and sticks out a few inches from your wall. The only other physical feature of note is a small antenna at the top left of the housing. This antenna can be tilted in any direction, in order to improve the wireless signal.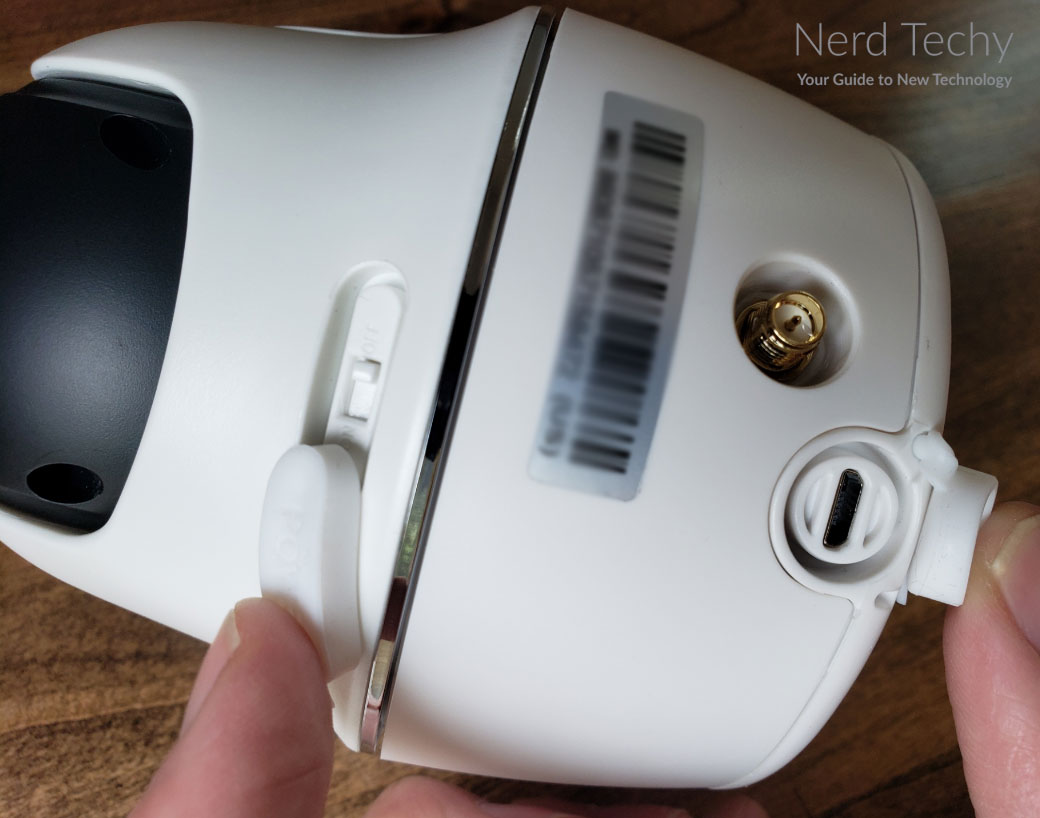 Installation
Installing the Reolink Go PT Plus is relatively straightforward. Once you decide where you want to mount it, the next step is to decide where to drill your holes. There's a little template included in the package, which you can use to draw out your drilling holes. Then drill your holes and insert your anchors.
The bracket attaches with only two screws, and has a wide design. It's made from the same material as the camera itself, with a chunky build that ensures plenty of durability. Attaching the camera is easy. There's a threaded stud on the bottom side of the bracket, and a threaded hole on top of the camera. Just screw it into place, and you're all set.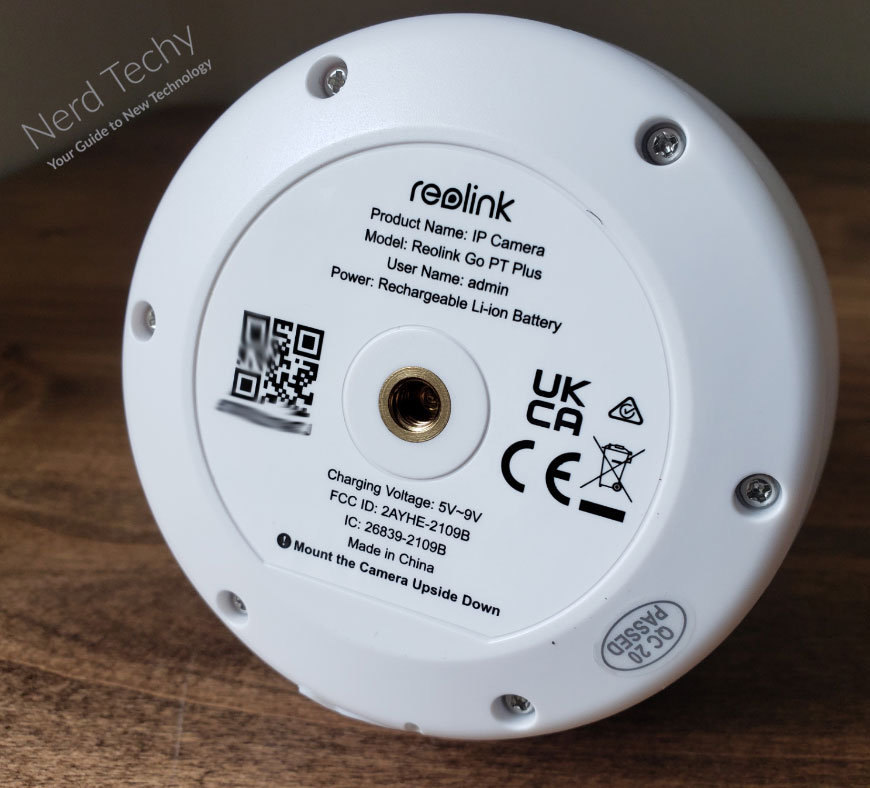 One major advantage of this camera is that there's no wiring required. It uses a wireless connection, so you don't need a data cable. Meanwhile, it's battery-powered, so there's no need to run a power cable. That said, there's a USB charging cable included in the package.
The camera itself is IP64-rated for weather resistance. The "6" refers to the dust resistance, and it's the maximum possible level. Once again, you're well set-up for dry areas. The "4" refers to the weather-resistance, and it's essentially splash-proof. It can withstand rain, but not submersion or a constant jet of water.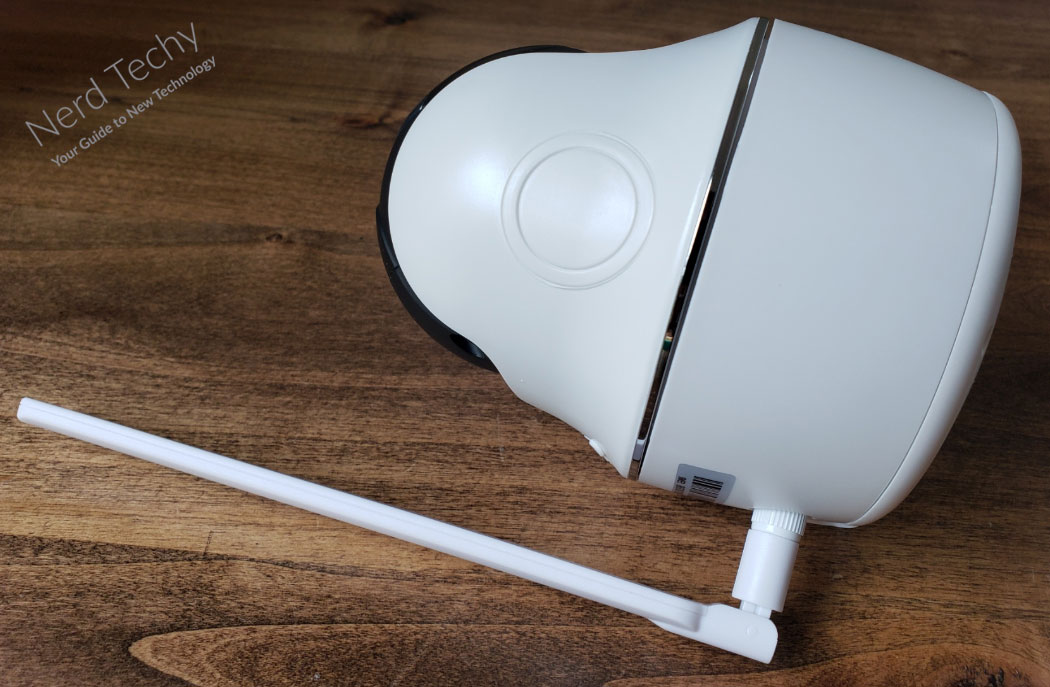 Reolink covers this camera with their standard 2-year customer warranty. If there are any failures due to a manufacturer's defect, you'll get a refund or a replacement.
Connectivity & Storage
This camera connects via a standard data connection. It supports 3G and 4G networks, so you can use it even in areas with older cell phone infrastructure. That said, you can't use WiFi or Bluetooth, even if those are available. You'll need to buy a sim card, and pay for a monthly data plan from your carrier of choice.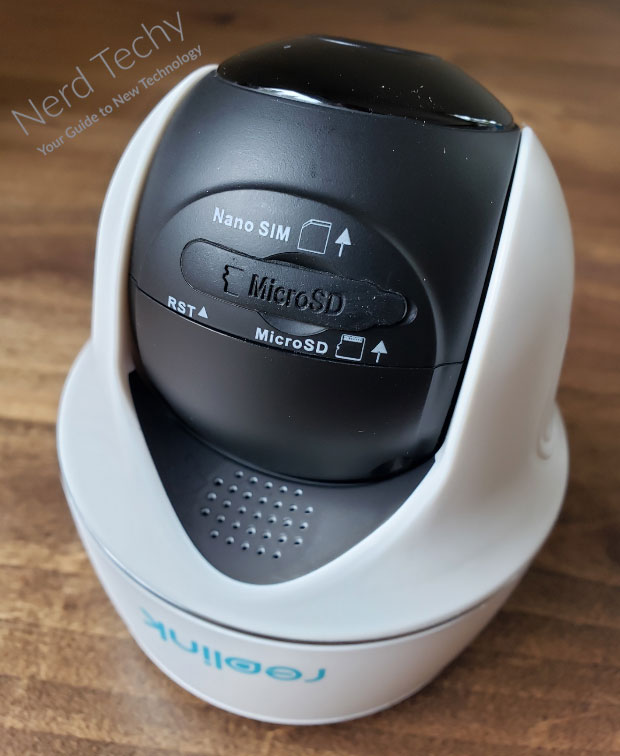 For storage, you have a couple of different options. The first is to use your own Micro SD card. This card inserts into a slot in the back of the lens housing, and can be up to 128GB. That's enough for several days' worth of continuous recording. When the card is full, the oldest footage will be overwritten on an ongoing basis.-5.jpg" alt="Reolink Go PT Plus" class="aligncenter" />
Alternatively, you can take advantage of a cloud storage option. Reolink actually offers a free plan now, where your videos are stored for seven days. They also have three tiers of a subscription plan, so you can get more and longer storage. This shouldn't be necessary for your home, but could be useful for commercial applications.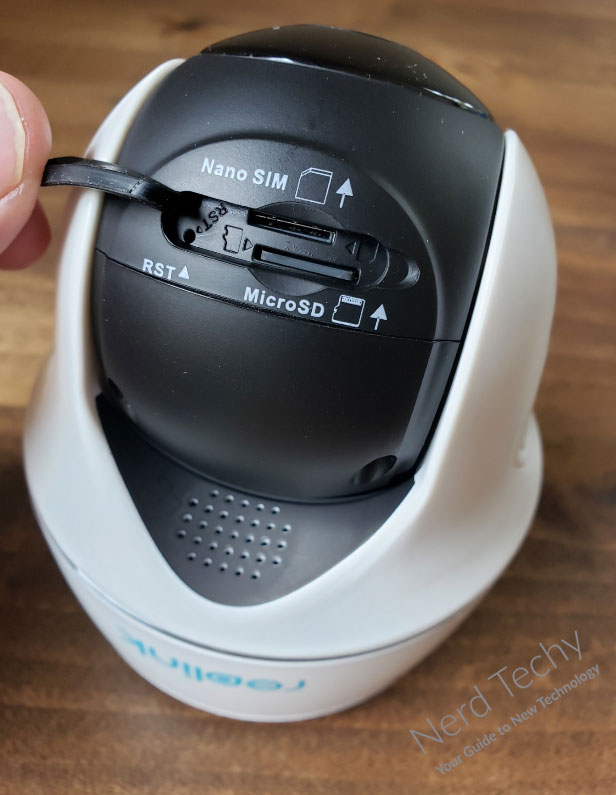 If you prefer a wired camera, Reolink offers many options. Take the Reolink RLC-1212A, for example. It's a PoE camera that wires right into your building. It also offers full-color night vision so you get great visibility at all hours. On the downside, the night vision relies on a bright, visible spotlight.
Power
We already mentioned that the Go PT Plus is battery-powered. The battery has a capacity of 6,000mAh, which is pretty robust for the compact size. How much life this works out to depends on how much you're using the camera. A lot also depends on the temperature, since cold weather shortens battery life.
This is only enough to record about 18 hours of footage under ideal circumstances. That's somewhat disappointing, and could be a deal-breaker for off-grid applications. Then again, the threaded mount makes it very easy to take down for charging.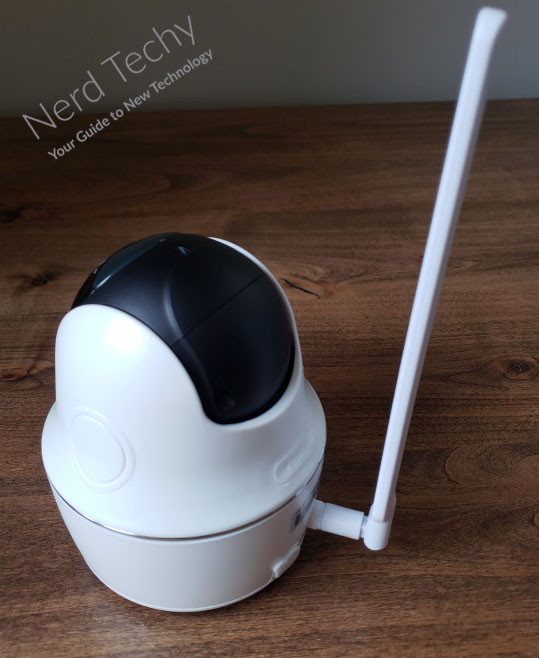 As an alternative, Reolink offers a solar panel, which is sold separately. It mounts on your wall next to the camera, and connects via USB. This is a far better solution if you don't want to have to mess with batteries and charging.
Or, you can choose a camera that's made for wired power right out of the box. If that's what you're looking for, consider the Reolink E1 Outdoor. It runs on DC or PoE power, depending on your preferences. It also has a 3x optical zoom function, although it's less than ideal for off-grid use.
Video Quality
At the end of the day, a camera is only as good as its video quality. The Go PT Plus captures your video in 2K, or 3,840 x 2,160 pixels. That's four times as many pixels as 1080p, so you can see plenty of details in your footage. It's not quite 4K, but it's high-quality footage no matter how you cut it.
Along with that, you get infrared night vision. The night vision is in greyscale, not color; but it's crisp and clear, not fuzzy like old-fashioned night vision. Your footage is just as clear at night as it is during the day, which makes your home even more secure. Better yet, because it's infrared, there's no visible light shining from the front of your camera.
The bottom half of the housing is motorized. As a result, it can pan 355 degrees. Unless you want to point it directly at the bracket, you'll be able to point it anywhere you like. It can also tilt up to 140 degrees. You can look anywhere from straight down to a slightly upward angle.
If you do need 4K footage, check out the Reolink Argus PT 2K. Despite the name, it records in 4K, and it has a similar design and function. Then again, you can only download your videos in 30-second clips.
Monitoring & Extras
This camera is monitored via a smartphone app, which is free to download and install. You can view your live feed from anywhere in the world, as well as watch your pre-recorded videos.
You can also take advantage of push alerts, as well as email alerts. These are triggered whenever the AI motion sensor detects a person or a vehicle. You can adjust the sensor range as needed to avoid false alarms, to a range of up to 33 feet.
In addition, you can take advantage of 2-way audio communication, and chat with whoever's at your door. If it turns out that there's an intruder, you can even press a button to set off a loud siren. This alone might cause them to give up their attempt.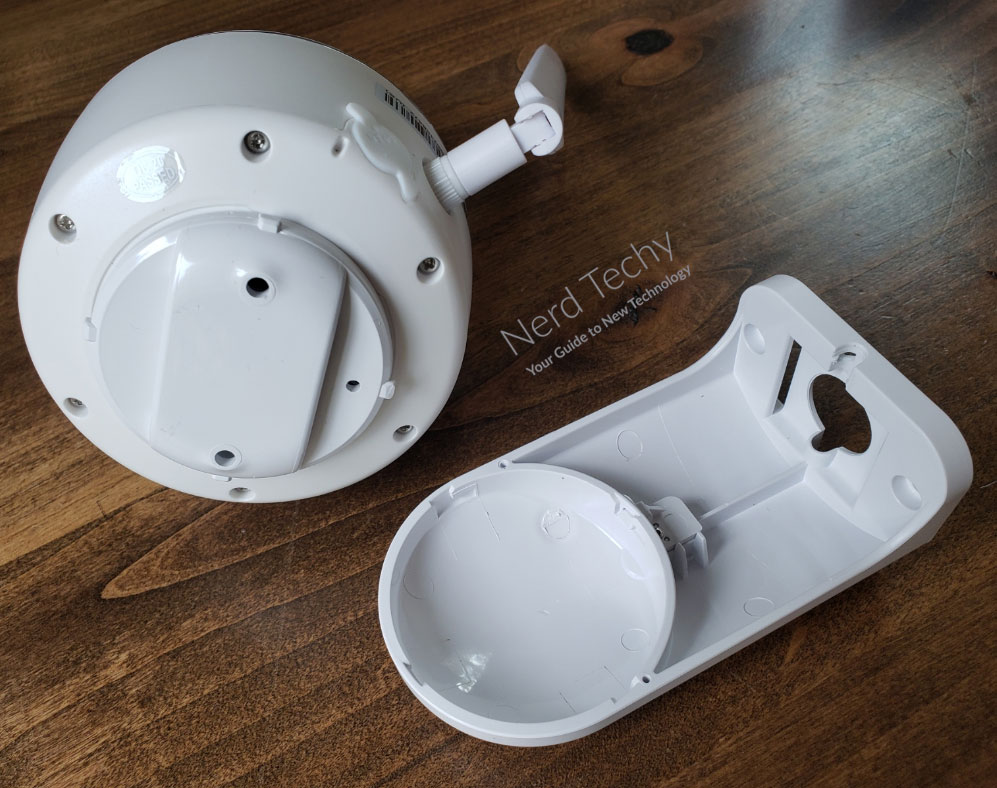 Final Verdict
The Reolink Go PT Plus is one of the more full-featured cameras on the market. If you're looking for a camera that runs on cellular data, it comes very well-equipped. The video quality is crisp and clear, even at night. It's easy to monitor, and the smartphone app has several powerful features. And with free cloud storage, you can access your videos any time you like.
Meet Derek, "TechGuru," a 34-year-old technology enthusiast with a deep passion for tech innovations. With extensive experience, he specializes in gaming hardware and software, and has expertise in gadgets, custom PCs, and audio.
Besides writing about tech and reviewing new products, Derek enjoys traveling, hiking, and photography. Committed to keeping up with the latest industry trends, he aims to guide readers in making informed tech decisions.