There's a definite pecking order when it comes to people's interest in technology. The more exciting or flashy something is, the more attention it's going to get. Think about what happens when a new iPhone or game console comes out.
Tech journalists and bloggers trip over each-other's feet to put out their next hot take. This makes perfect sense. These technologies are popular and exciting! Many people want to have the latest and greatest smartphone. And with the newest consoles, you can play all the current AAA games. So it makes sense that these devices would be at the top of the pecking order.
Somewhere near the bottom of this pecking order is the humble robot vacuum. It's not exactly the most exciting piece of technology. But at the same time, a good vacuum can save you tons of valuable time. That's time you can spend working, socializing, or enjoying your favorite hobby.
If you haven't looked for a robot vac lately, you're probably underestimating what the latest models can do. Early robot vacuums weren't exactly the smartest devices. They zig-zagged around the room at random, missed spots, and there were no mapping features.
They also had underpowered motors and couldn't handle tough messes. But modern robot vacs have more advanced motors with a higher suction capacity. They also have more advanced software and sensors. This allows them to move in a logical pattern, a feat older vacuums could only dream of.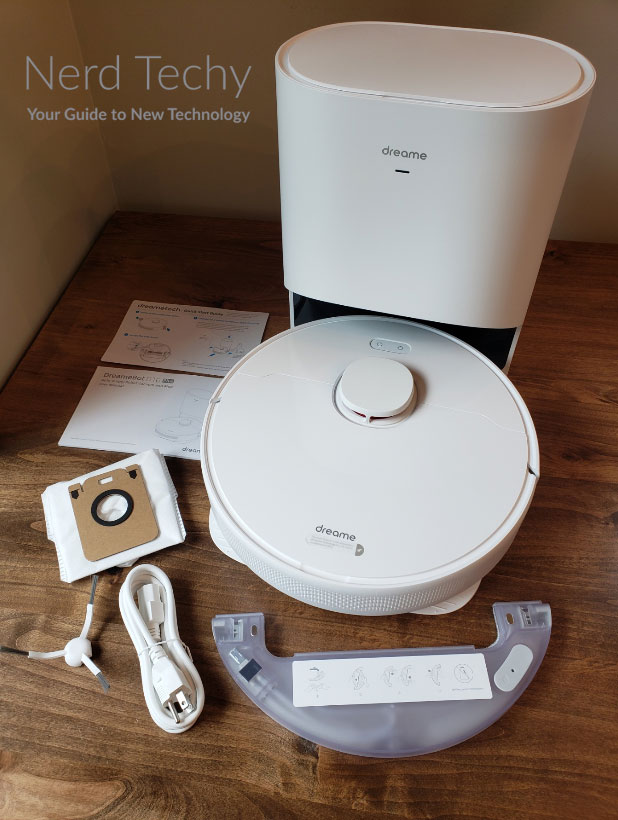 Dreametech DreameBot D10 Plus
We're about to review the Dreametech DreameBot D10 Plus. This is a robust robot vacuum with its own built-in mopping function. Better yet, it boasts a large base station with a separate dust bag. This allows for automatic emptying, which saves you even more time than an ordinary robot vacuum.
Of course, we'll have to think about more than that if we're going to make a proper judgement. We'll have to talk about the battery life, the mapping functions, and the smartphone app. We'll also need to discuss the physical design, setup, and how well the mop works. After we've gone over all these things, we'll have a clear picture of how the vacuum performs. Let's get started!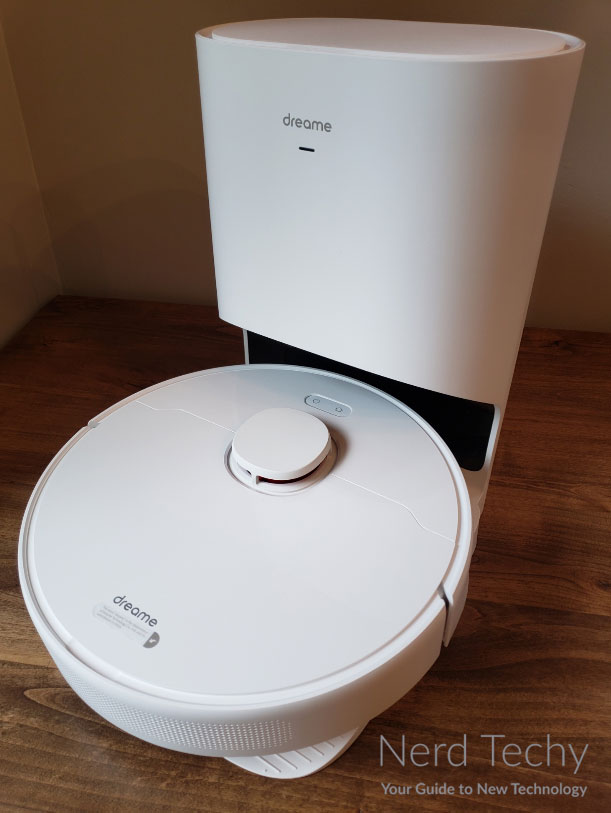 Overall Design
The Dreametech DreameBot D10 Plus has a circular shape like most robot vacuums. The housing is made from a tough white plastic, with a smooth glossy finish that's easy to keep clean. It has a diameter of 13 ¾ inches, about the size of a dinner plate. At 3.79 inches, it's around average for a robot vac. It won't fit under incredibly low furniture, but it gets under most things you can get an ordinary vacuum under.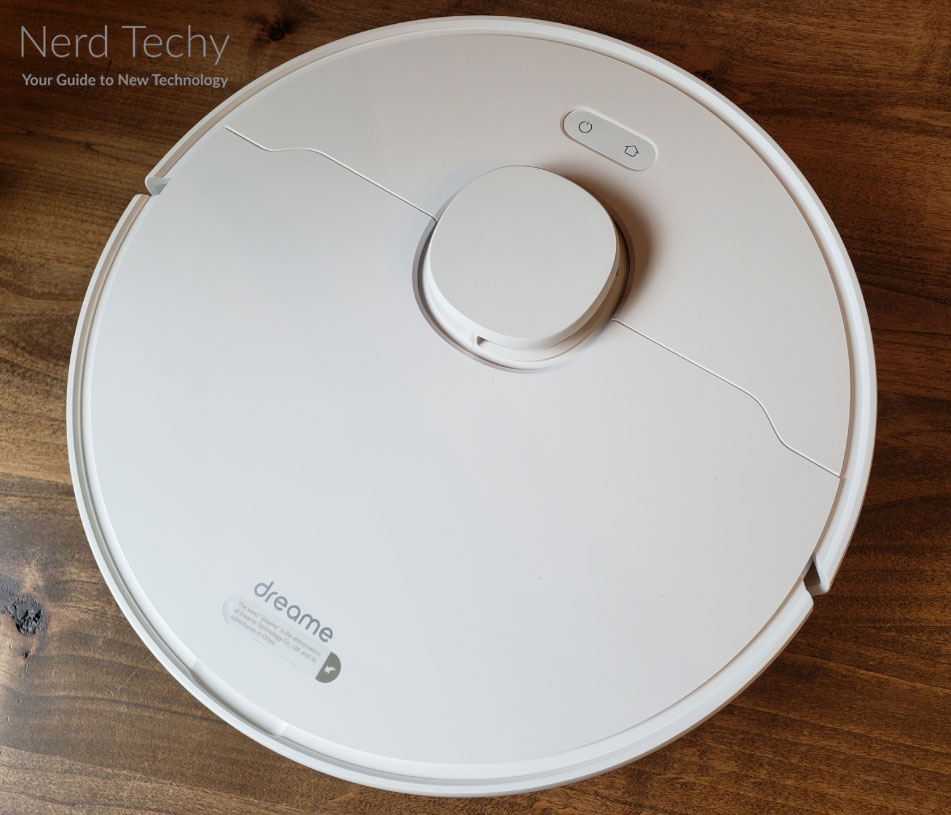 There's a little tower in the top center of the housing, which houses the LIDAR sensor. You'll see an additional sensor in the front of the housing, but it's just a small black rectangle. The back of the housing is vented, and it's where the vacuum exhaust blows out. There are no physical controls or buttons – all the operating functions are performed through the smartphone app.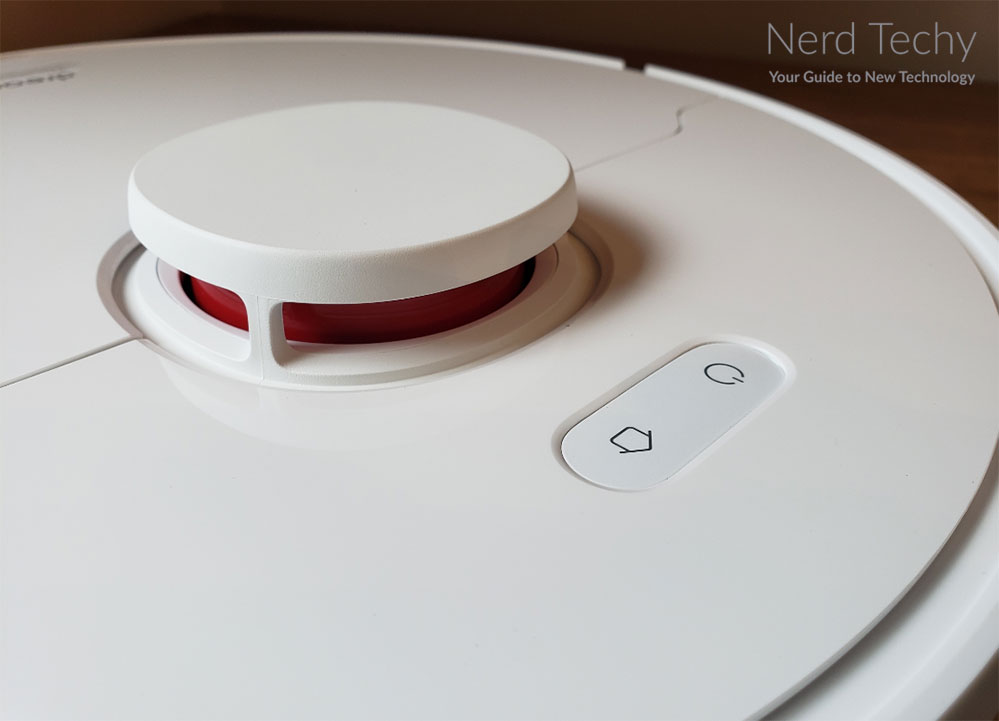 Along with the vacuum unit, you get a large charging base. This base consists of a wide, flat platform, with a tall oval cylinder towards the front. There's a cutout at the base of the cylinder, where the front end of the vacuum sits during charging.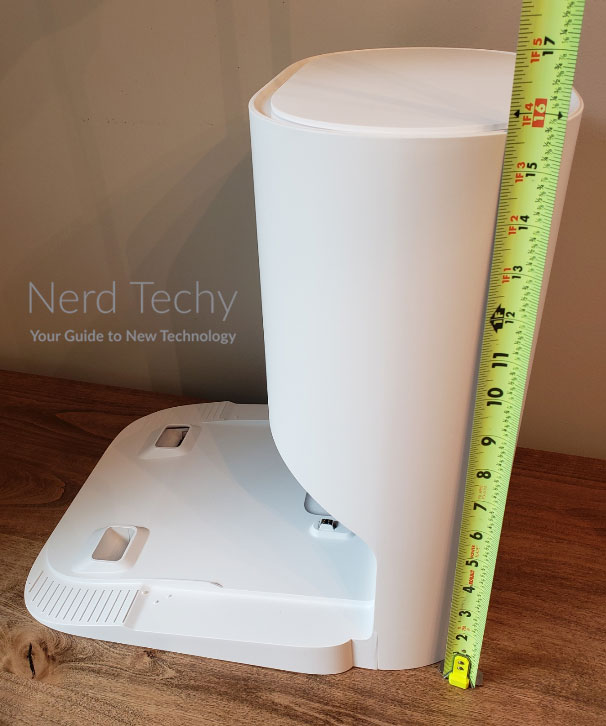 The oval tower itself measures 12 inches wide, almost as the vacuum, and it stands 16 inches high. It's entirely plain, without any notable visual features or functional parts. At the top, though, you'll be able to open the lid, which is hinged at the back. This allows you to access the dust bag and empty it when necessary.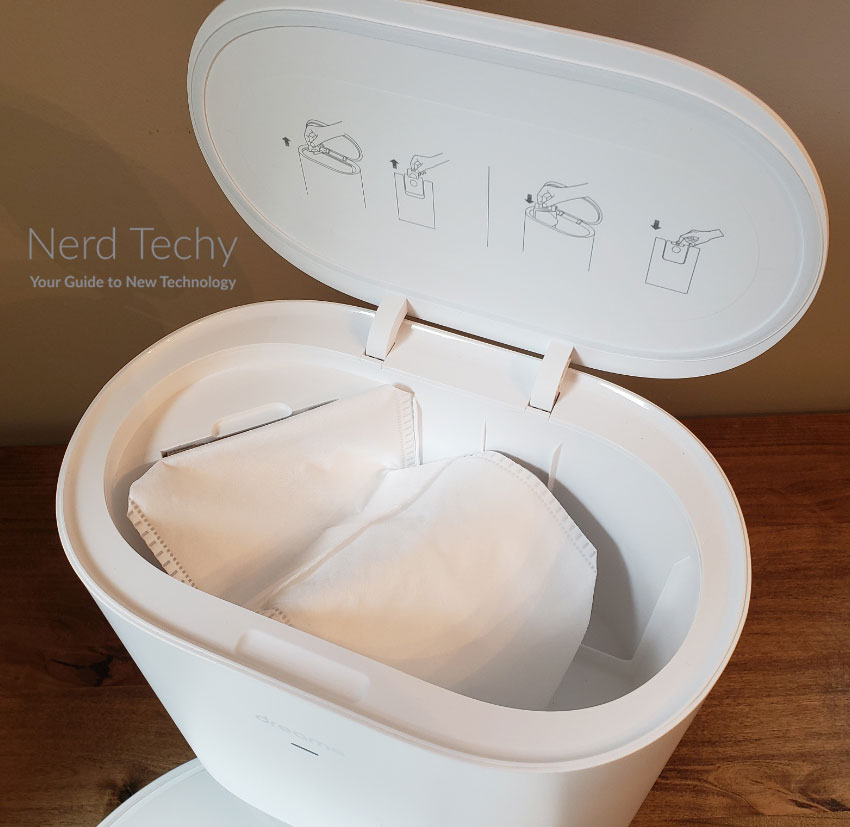 The kit includes everything else you need to get up and running. There's a dust hopper and water tank to go inside the vacuum. There's a microfiber mop pad for attaching to the bottom. You get two bags for the base, as well as a cleaning tool and an AC power cord.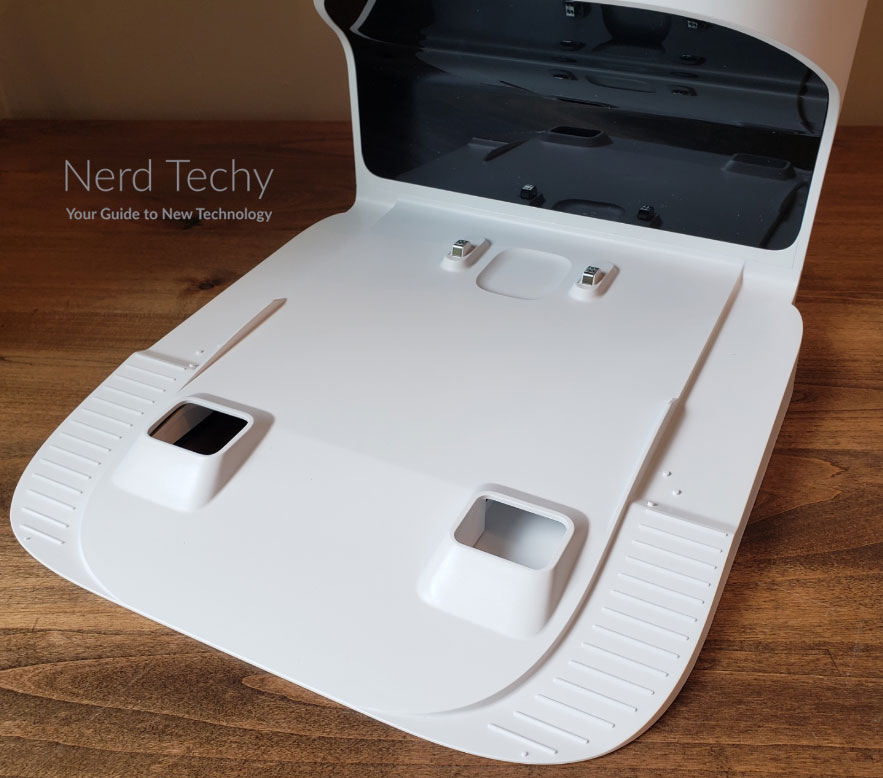 Drive and Brushes
When it comes to the physical design, all of the important bits are on the bottom side of the vacuum. The main roller brush is located smack in the center. It's nice and wide, and the multi-surface design is great for floors and carpets alike. It tends to tangle more than other roller types, but thankfully the cleaning tool makes short work of those tangles.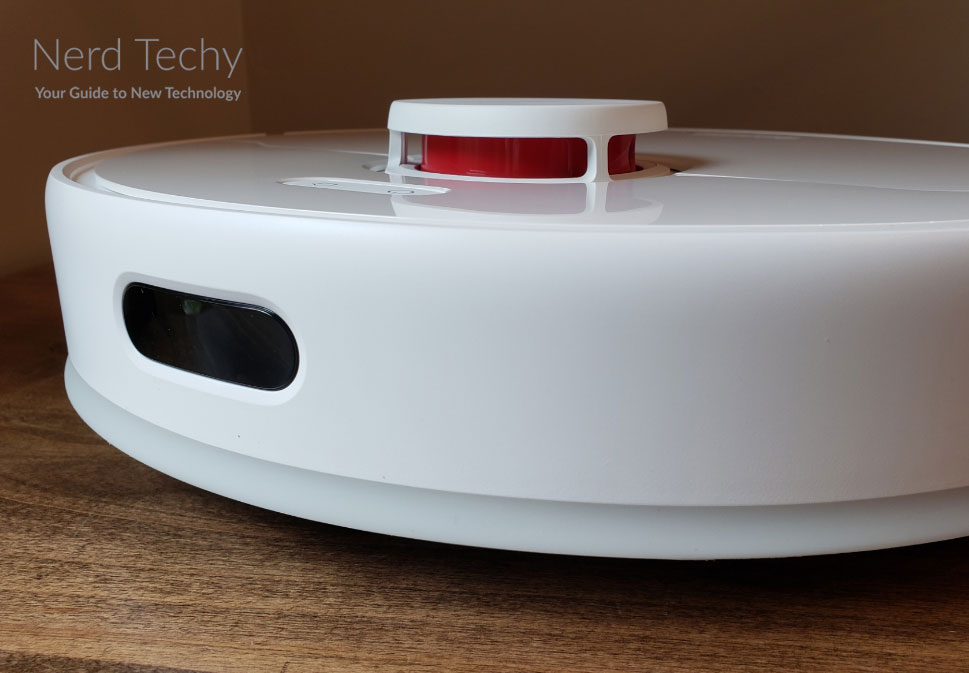 Towards the front right, you'll notice a secondary brush, which sweeps out to the side. This brush is designed to capture dust and debris from outside the vacuum's path. Essentially, it expands your effective cleaning width, at least on solid floors.
The back third or so of the D10 Plus is occupied by a hook and loop pad. This is where you attach the mopping pad when you're using the wet cleaning function. When you're not, the surface stays clear of your floor and doesn't damage or scratch anything.
The drive wheels are big and chunky, and made from a tough black plastic. They're located slightly behind the centerline of the housing, one to each side. They're large and capable enough to cross an 0.78-inch transition. Since most household transitions are 0.75-inch or less, you shouldn't have any issues with mobility.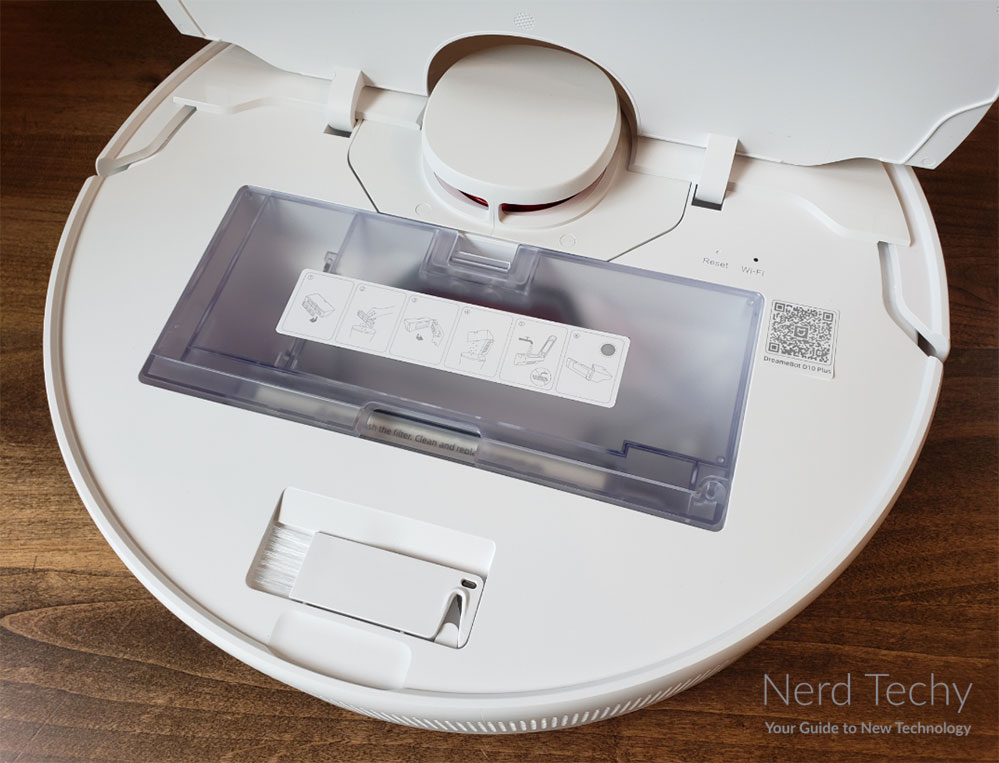 At the front of the housing, there's a much smaller wheel. This wheel is used to steer the vacuum, and is located in a swiveling sub-housing. It's motorized, so it can freely turn the vacuum in any direction.
Cleaning Performance
The Dreametech D10 Plus has four different suction levels, ranging as high as 4,000Pa. This is a little more than 50% stronger than a typical robot vac, and it can clean up most messes.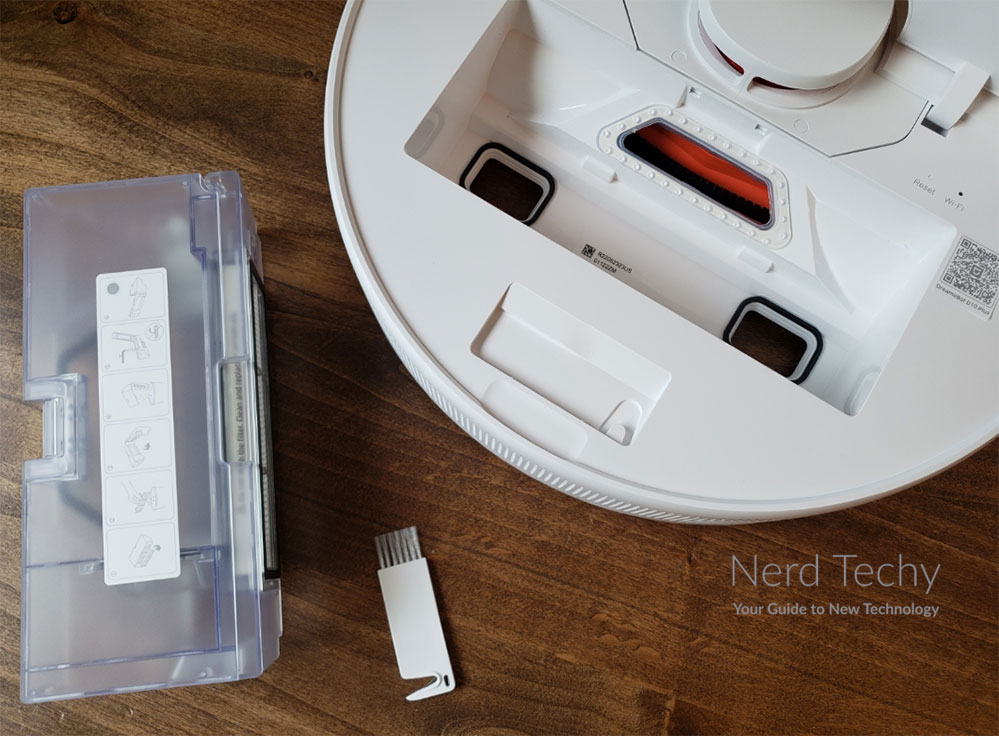 Meanwhile, it won't waste battery power when it doesn't have to. It will run on lower suction levels when possible, then ramp up when it hits carpet or lots of debris. Even at the highest level, it produces 65dB of volume. That's loud enough that you'll have to raise your voice to talk over it, but not absurdly loud.
The mopping function also has multiple modes, with three different spray levels. The 145ml water reservoir is somewhat anemic. But then again, the pad is only designed for light cleaning, not caked-on debris. You can use the vacuum mode or mopping mode by themselves, or use both of them simultaneously.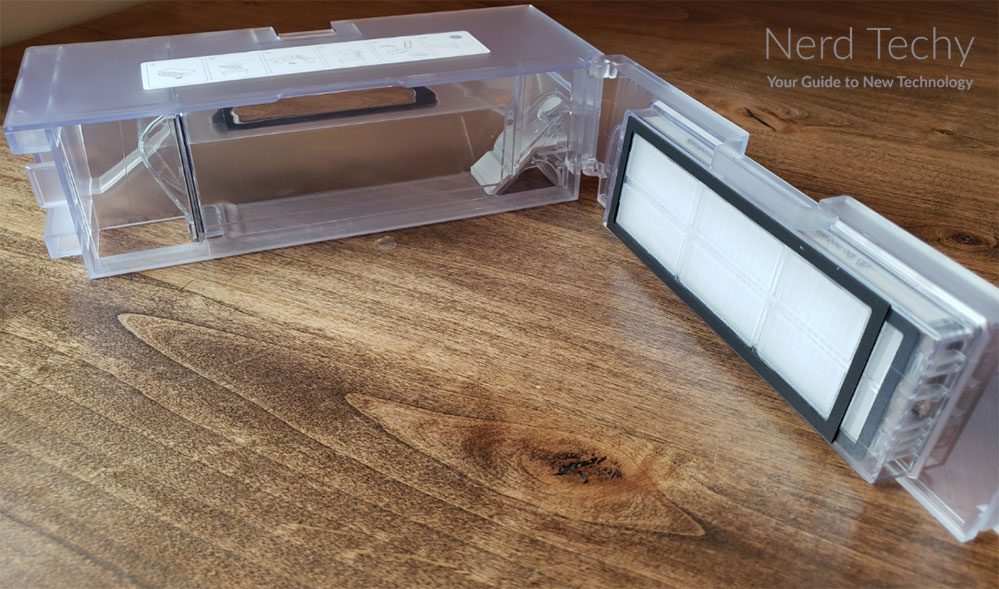 This is a pretty powerful robot vacuum, but robot vacs still lag behind larger vacuums in terms of raw power. If you need even more suction, consider the Dreame H11 Max. It's a battery-powered upright wet/dry vac that has around three times the power of the D10 Plus. Then again, it's not automatic.
Battery and Charging
The Dreametech D10 Plus has an internal 5,200mAh battery. That's a lot of charge, and it's enough to run for up to 150 minutes. This assumes that you're running on "standard" suction, which is the second setting.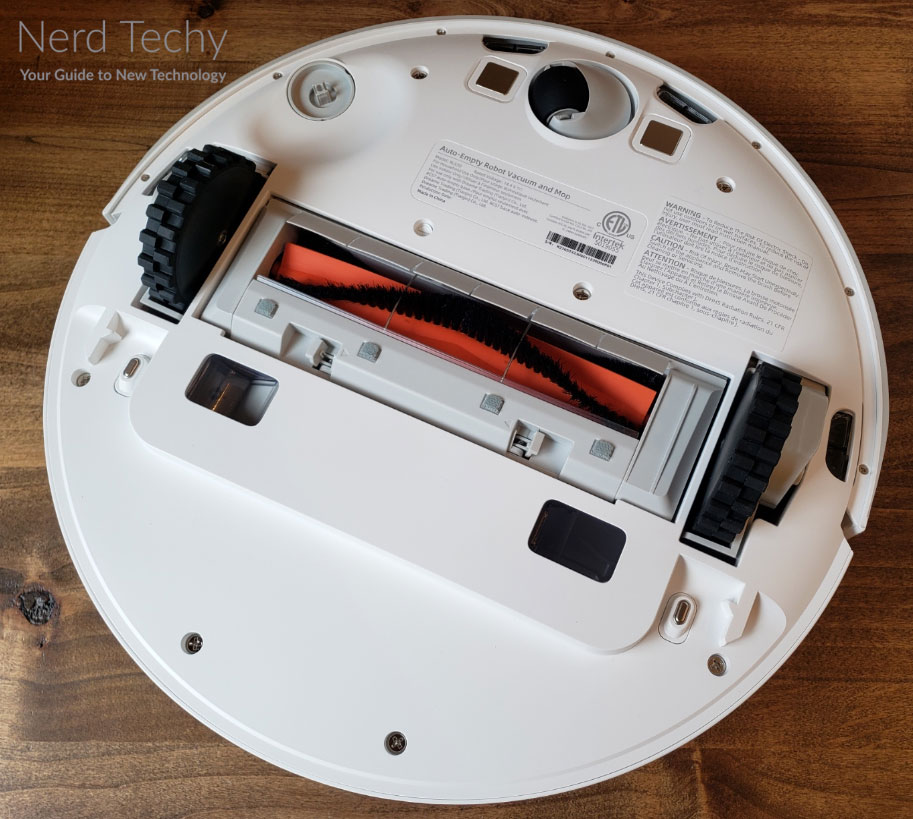 Your mileage may vary depending on how much suction you're using. Assuming standard operation, you can expect to cover around 2,900 square feet. Except for the largest homes, that's more than you'll ever need.
But let's say you need even more coverage. In that case, the Dreametech W10 is an excellent choice. It has similar suction, along with a far more powerful mopping function and a 3 ½-hour battery. That said, it's also very expensive.
Setup and Maintenance
When you first set up the D10 Plus, you'll need to pair it with your smartphone. This is initially done via Bluetooth, once you've downloaded the free companion app. Then you follow the wizard to connect it to WiFi. From there on out, you can access your vacuum controls anytime, anywhere.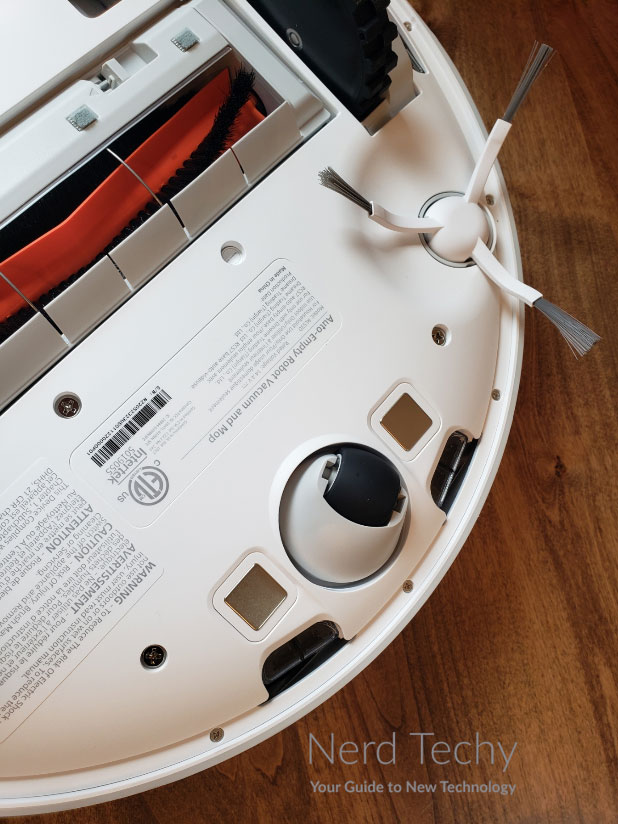 After you've paired the vacuum, it needs to map out your house. It will seem to be wandering randomly, but it's actually creating a map of your floor plan. After it's completed the map, it will perform efficient cleaning cycles with an ordinary cleaning pattern.
In addition to using the app, you'll also be able to pair your vacuum with Alexa or Google Assistant. You can use a number of voice commands to start and stop cleaning cycles, return to base, and other functions. You can even ask your voice assistant what room the vacuum is currently in.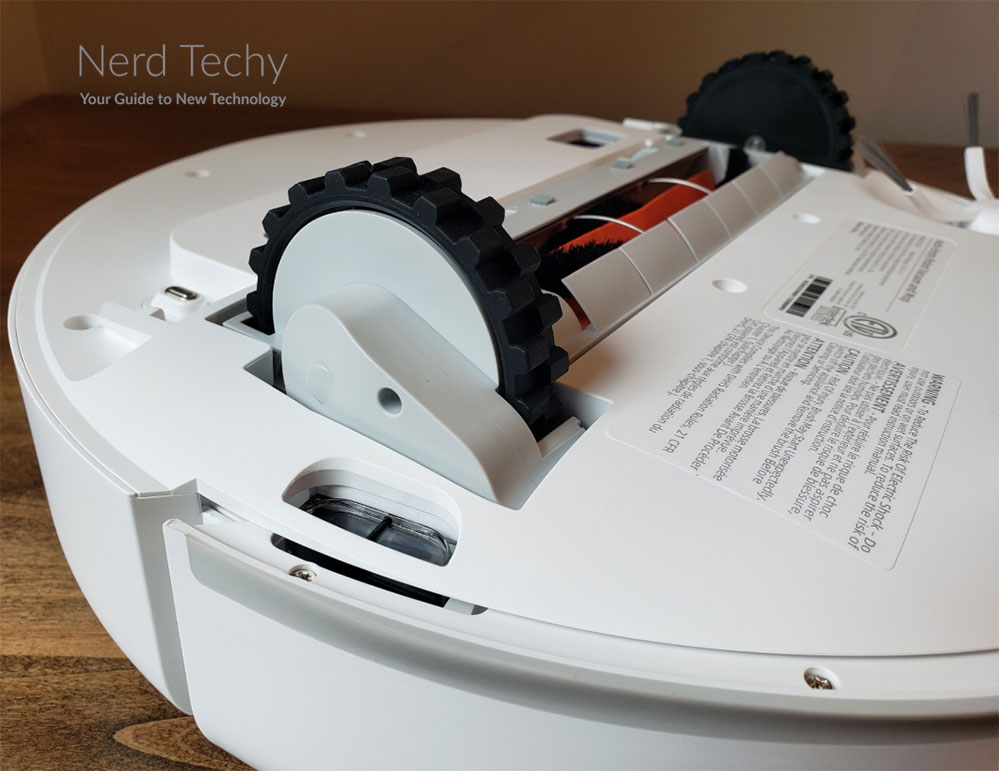 As for maintenance, there isn't much. The internal dust hopper has a capacity of 400mL, enough for a few cleanings. However, it empties into a large 2.5-liter dust bag in the base. This lets you go for around six weeks without ever having to touch the vacuum.
Everyday Use
Within the Dreametech app, you can do a lot more than just start and stop cleaning cycles. You can schedule cleaning cycles for individual rooms or for the entire house. You can set no-go zones for the vacuum to avoid, and even create virtual rooms. This way, you can even vacuum different rooms on different schedules.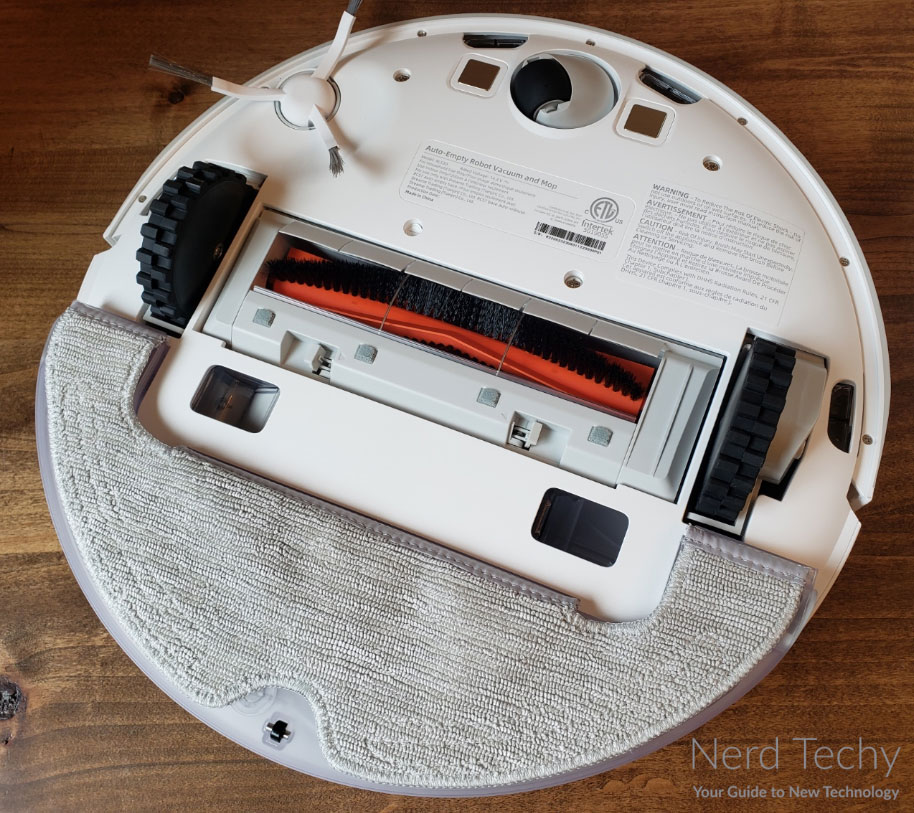 You can also set the mop spray level and suction level. The suction level can be locked manually if you so desire. Or, you can leave auto-detection on, and let the AI adjust the level as needed.
The app supports storage of up to three separate floor plans. For this to work, you need to make sure to switch maps within the app whenever you move the vacuum. Otherwise, it will get confused about which floor it's on and start glitching out.
Dreametech makes several robot vacuums, all with their own strengths and weaknesses. Take the Dreame Bot L10 Pro, for instance. It's similar in many respects, although it's not self-emptying. On the upside, it has a larger water reservoir and a much more powerful mopping function.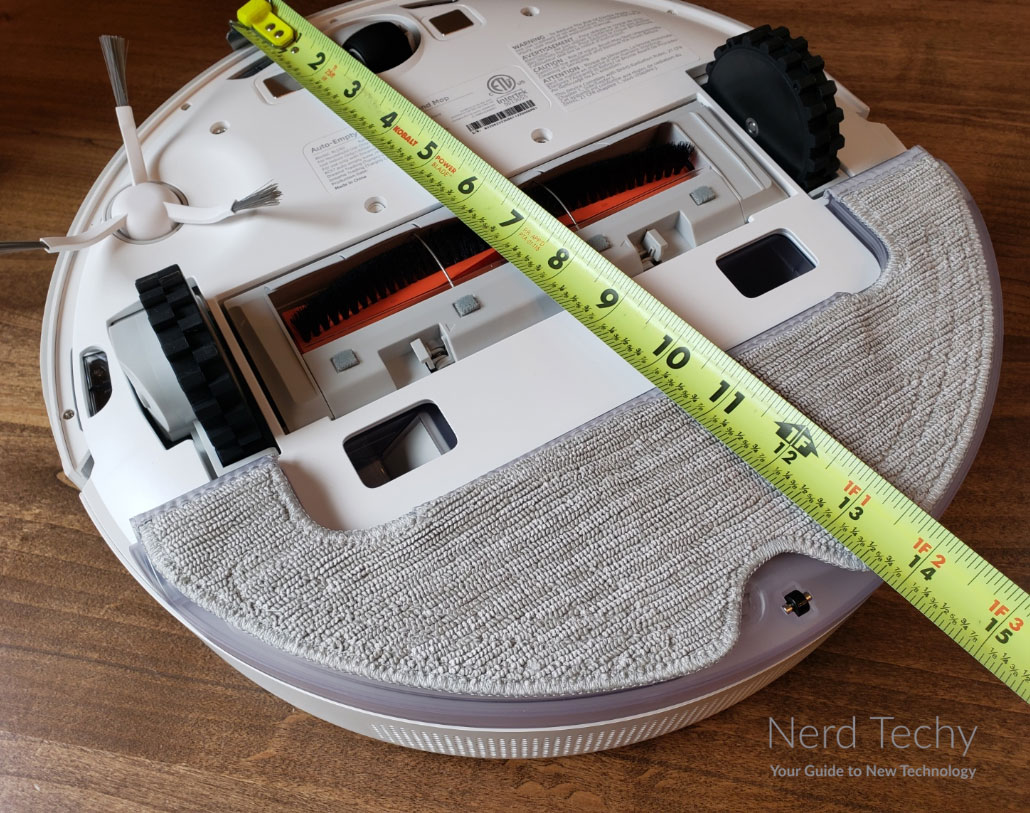 Final Verdict
The Dreametech DreameBot D10 Plus is a full-featured robot vacuum with a powerful motor. It has a very intelligent app, with all the smart features you could ask for. Combine that with a long-lasting battery, and you're looking at the complete package.