Technology has improved many aspects of our daily lives. But when most people think about the latest high-tech gadgets, they think about entertainment technology. Devices like the iPhone 13, Xbox Series X, and PlayStation 5 are virtually guaranteed to attract attention. They're the devices that keep us entertained, and help us stay in touch with friends and family. As a result, we tend to focus on them, to the exclusion of other devices. That's a shame, since technology has impacted a lot more than just entertainment. For example, there's the widely-touted Internet of Things (IoT), with connected devices from cameras to smoke detectors.
One area where technology has come a long way is vacuum cleaners. They're not flashy or exciting, but they're something we all have to use now and then. A good vacuum can save you time and effort, which frees you up to do other things. And thanks to advances in both batteries and motors, a powerful vacuum doesn't have to be huge. Nowadays, you can do a surprising amount of cleaning with a battery-powered upright vacuum. So if your old, wired upright is on its way out, now is the time to consider going wireless. But how do you know which wireless vacuums are worthwhile, and which ones to avoid? No worries. We're here to help you sort things out.
We're about to review the Dreame H11 Max. This is a battery-powered upright vacuum with a twist. To begin with, it's a wet/dry vac, so you can clean up a wider variety of messes. But it also has a built-in water reservoir, so it can function as a mop as well as a vacuum. Those features alone would make the H11 Max worth considering. But in order for it to be truly worthwhile, it also needs to be able to handle everyday cleaning. To find out whether or not this vacuum is up to the challenge, we needed to put it through its paces. Only after giving it a thorough evaluation will we be able to truly understand what we're looking at.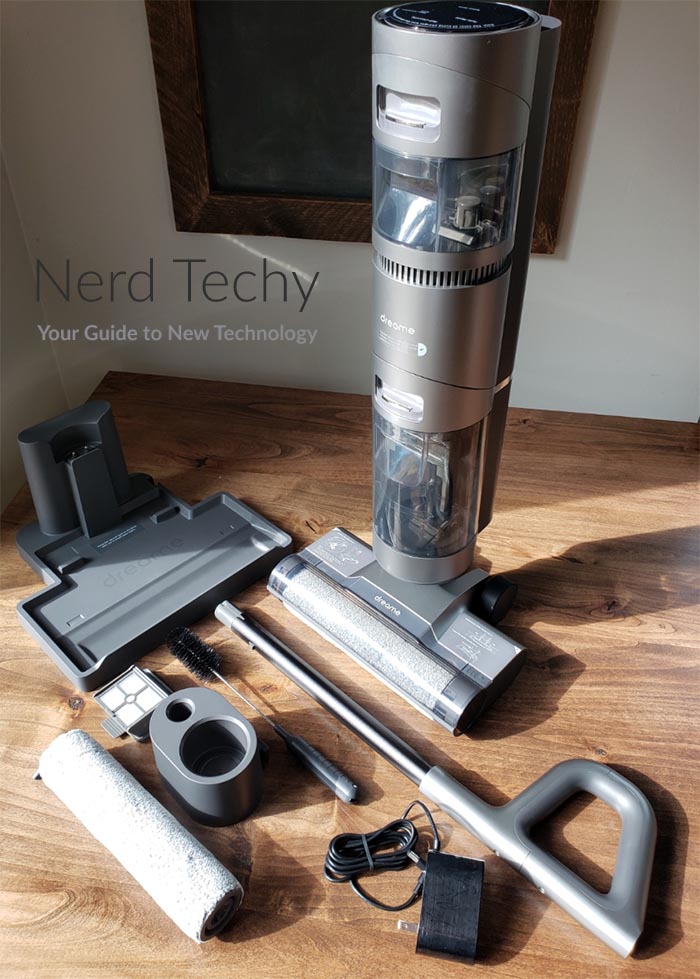 Design & Construction
The Dreame H11 Max is a robust vacuum, which looks more like a traditional upright than most battery-powered vacuums. The bulk of the housing consists of a large cylinder, with two transparent reservoirs built into it. The top is a 900ml water tank for clean water, used for the mopping function. The bottom is a 500ml dirty water tank, which also serves as a dust hopper. Both tanks are easy to remove, refill, and empty, and release with a simple latch. In-between the two, there's the main motor housing, which is enclosed in grey-brown plastic. At the top of the motor, you'll notice a ring of air slots, which provide plenty of ventilation.
This design is highly effective for cleaning floors, which is what the H11 Max is primarily built for. That said, it's heavier and bulkier than most rechargeable vacuums. This makes it a pain to use for vacuuming overhead. If you want a more versatile battery-operated vacuum, consider the DreameTech T30 instead. It's considerably more lightweight, and it comes with a number of attachments as well. This makes it easy to use for vacuuming in the car, overhead, or in other awkward locations. On the downside, it's only a standard dry vacuum, not a wet/dry vac.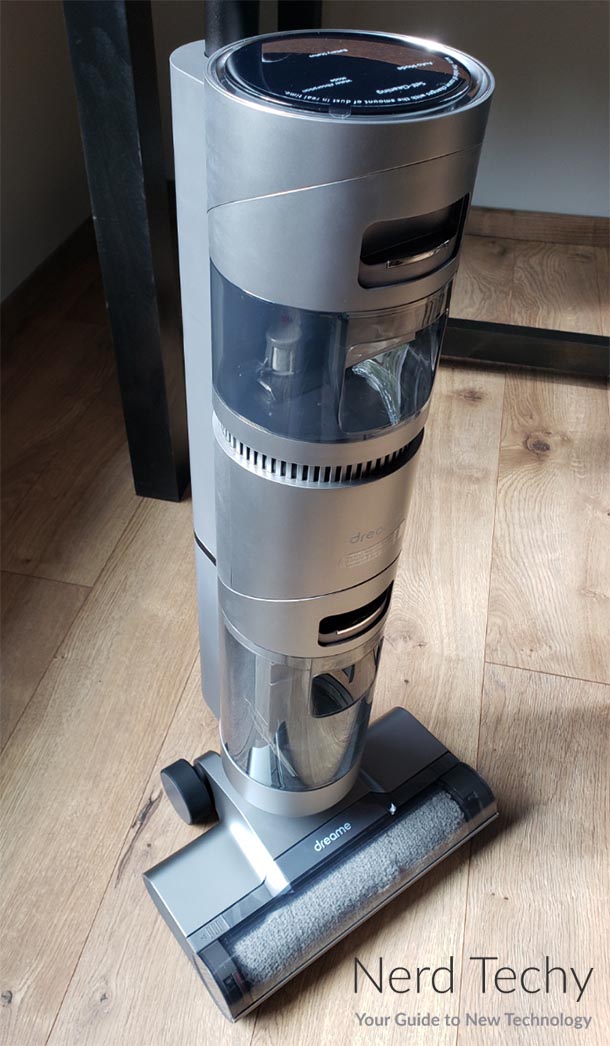 A handle protrudes from the top of the main housing, with a convenient grip for operating the vacuum. On the top face of the handle assembly, you'll notice an LCD display. This display has a battery readout, which shows you the percentage of life remaining. It indicates what mode you're using, so you know how much power you have. And beneath the main indicator, there are a series of other lights. These show you the water status, the dirt status, and even whether there are any clogs. All in all, it's a well put-together display panel, and it makes the vacuum easier to operate.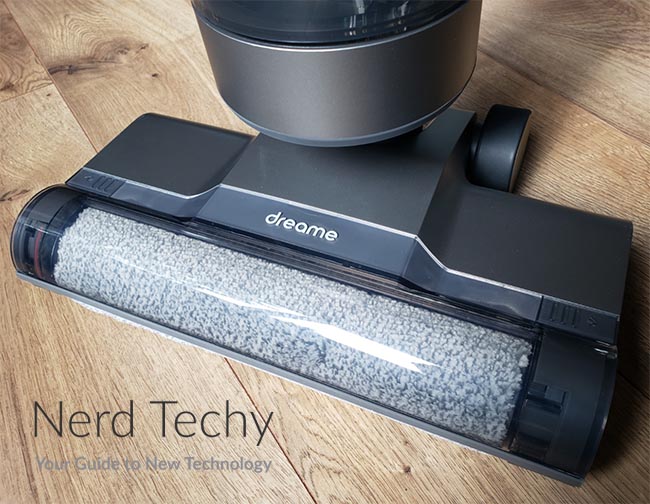 Along with the vacuum, you get a couple of accessories to help you get the most out of it. To begin with, there's a charging base. It's molded, so you can set the vacuum directly into a convenient socket. This base can be used both for charging and for cleaning – we'll talk about cleaning in a minute. The charging base should be positioned close to a power outlet, so it can be plugged in. Other than that, it's easy to position, and doesn't stick out too far from your wall. In addition, the kit includes a large cleaning brush. This is like a big bottle brush, and it's very useful for cleaning out the insides of the large reservoirs.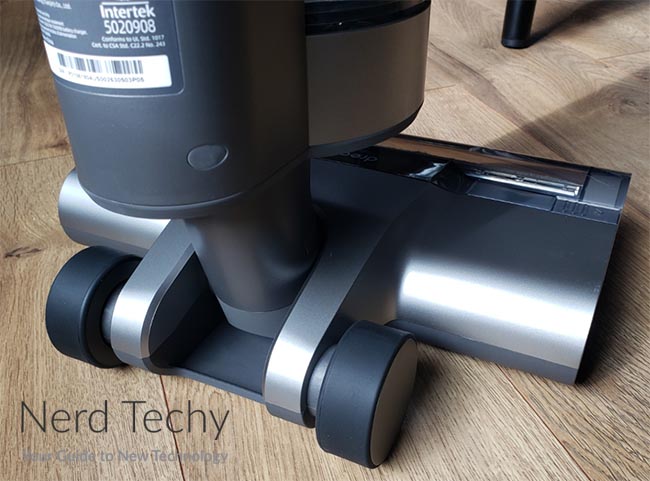 Cleaning & Accessories
As we mentioned at the outset, the main attraction of the H11 Max is its wet/dry function. Much like a shop vac, it can handle virtually any mess or spill. It can clean up water, milk, and even pancake batter without any serious trouble. Not only that, but the built-in water reservoir allows for some of the easiest mopping ever. Forget about simple wet and dry messes. This powerful machine can clean caked-on pasta sauce, and other goopy messes that a normal wet/dry vac can't handle. Whether you want to clean the kitchen floor or vacuum your carpet, you're looking at an excellent vacuum.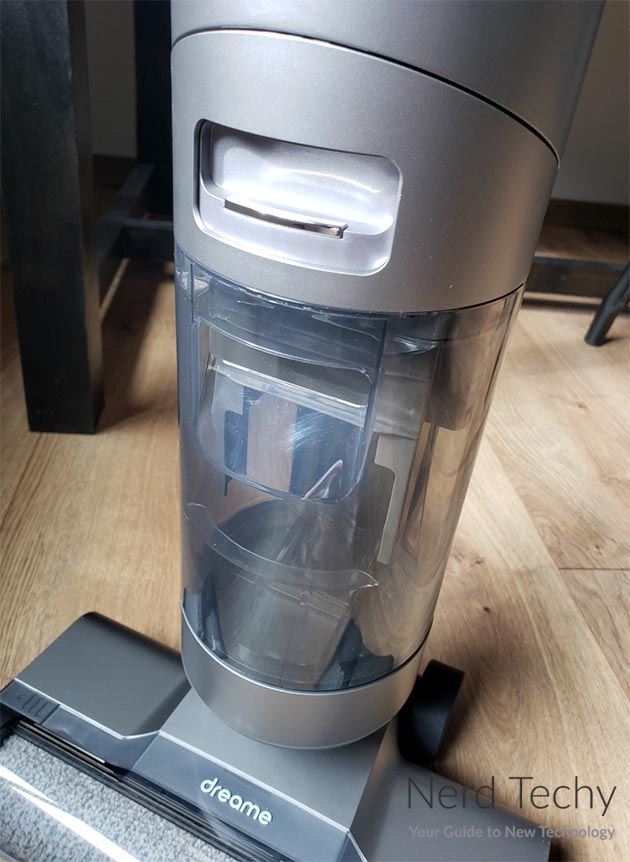 With all of that being said, you aren't actually getting "shop vac" levels of power. For that, you'll need a more powerful vacuum, like the DreameTech T10. The T10 provides an impressive 25,000 Pascals (Pa) of suction; almost twice as much as the average upright. But it's only a dry vacuum, so it won't help with any of your wet messes.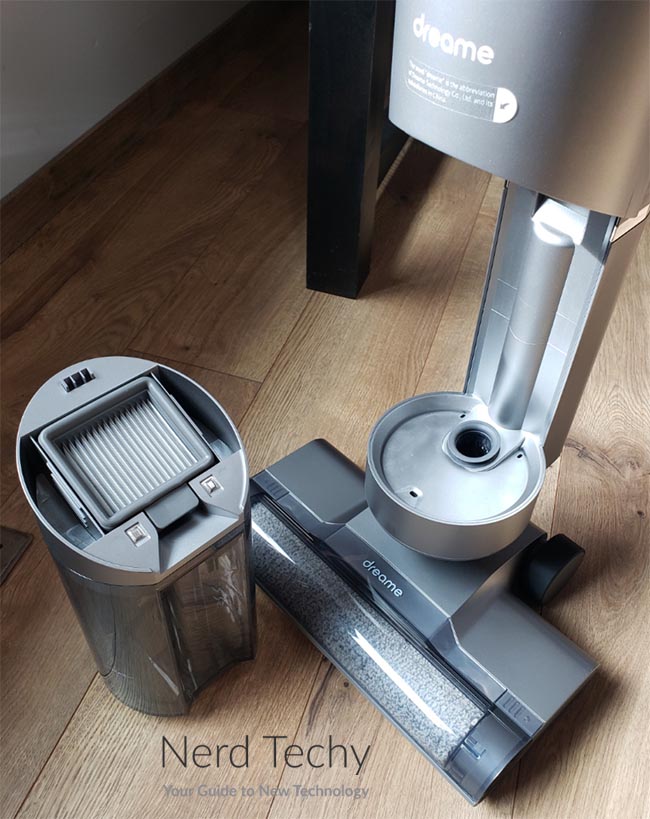 The main roller brush has short, soft bristles designed specifically for use in a wet/dry vacuum. They're not as long as the bristles on most vacuums, which might seem to create issues with penetration. However, the roller spins very fast, and maintains a firm pressure on your floor. It spins so fast that it actually pulls the vacuum forward, which is a bit unnerving at first. Point being, it's an aggressive enough roller to reach down into any carpet, although deep-pile carpets are not ideal. Meanwhile, the bristles are gentle enough even for glossy porcelain tiles.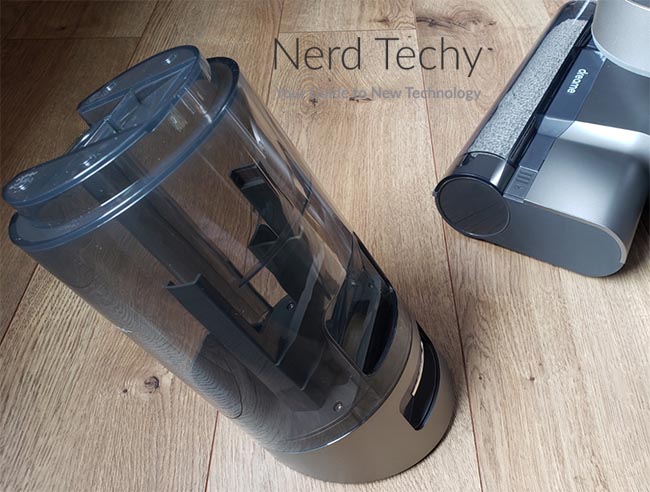 You can set the vacuum to two different cleaning modes – eco or max. Eco mode is suitable for ordinary cleaning, and helps you get the most out of your battery. Max mode is significantly more powerful, and is great for the toughest messes. On the downside, it drains your battery faster, so you don't want to use it all the time. For the best results, you can activate automatic dirt detection mode. In this mode, the vacuum will adjust its suction depending on how much dirt it's pulling up. In most areas, it will run on low power. But when it senses a very dirty floor, it will ramp up to full power.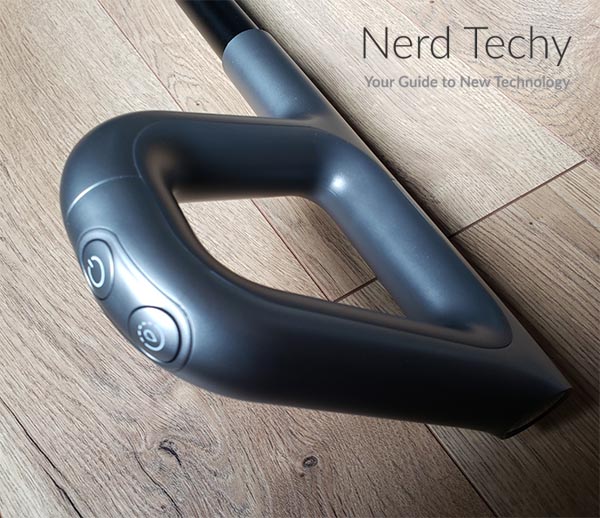 One disadvantage of this design is that the roller brush can sometimes get dirty. If you just got done cleaning grease off the kitchen floor, do you want to spread that all over your carpet? Thankfully, the H11 Max' designers thought of this. When the vacuum is placed in the base, you can push a button on the handle to run a cleaning cycle. Water will be released into a tray, and the brush will spin around in it while it sucks it up. This process can clean a soiled brush in just a few seconds.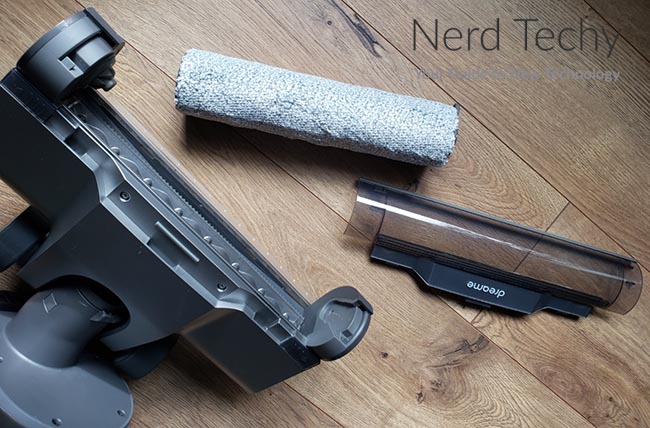 With all of that being said, this is an upright wet/dry vac. It does a great job, but it's not going to save you the trouble of vacuuming altogether. If that's what you need, take a look at the Dreame Bot Z10 Pro. It's a robot vacuum that also includes a mopping function. However, it's not nearly as powerful as the H11 Max.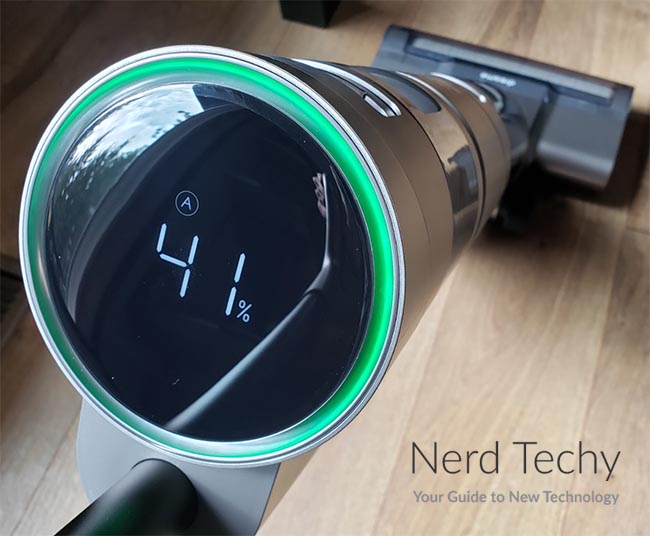 Battery & Filters
The H11 Max' maximum battery life depends largely on what mode it's in. In eco mode, it can run for up to 36 minutes, enough to clean 2,150 square feet. In max mode, your battery life will be a bit shorter. But even so, you're talking about enough performance to clean a large area of your home. When you're done cleaning, simply return the vacuum to its base and it will start recharging. In about three hours, you'll be able to fully charge a dead battery. And since you're probably not running the battery totally dead, your charge time will likely be faster. A replaceable battery would have been awesome, but that's not common on this type of vacuum.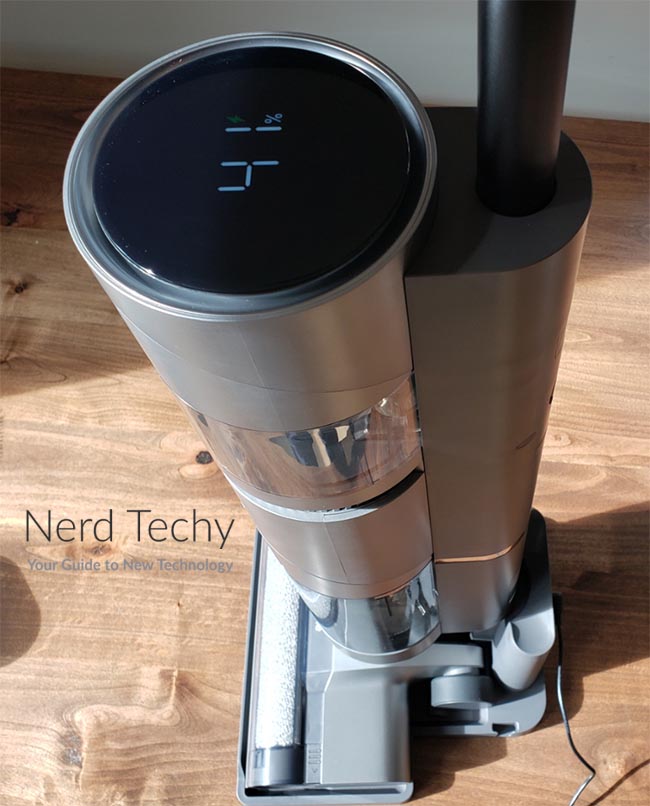 The filtration mechanism needs to be capable of working with both wet and dry messes. To begin with, there's a cyclone action that causes larger debris to drop out. Most liquids will fall out here as well, and pool up in the dirty water reservoir. Remaining air is sucked through a metal basket filter, which is both removable and washable. Finally, it passes through a washable box-shaped accordion filter. This filter doesn't need to be removed when you're wet vacuuming, and it's easy to replace. The only downside is that it's not an actual HEPA filter. It will clean out fine dust and other debris, but it's not going to catch pollen or mold spores.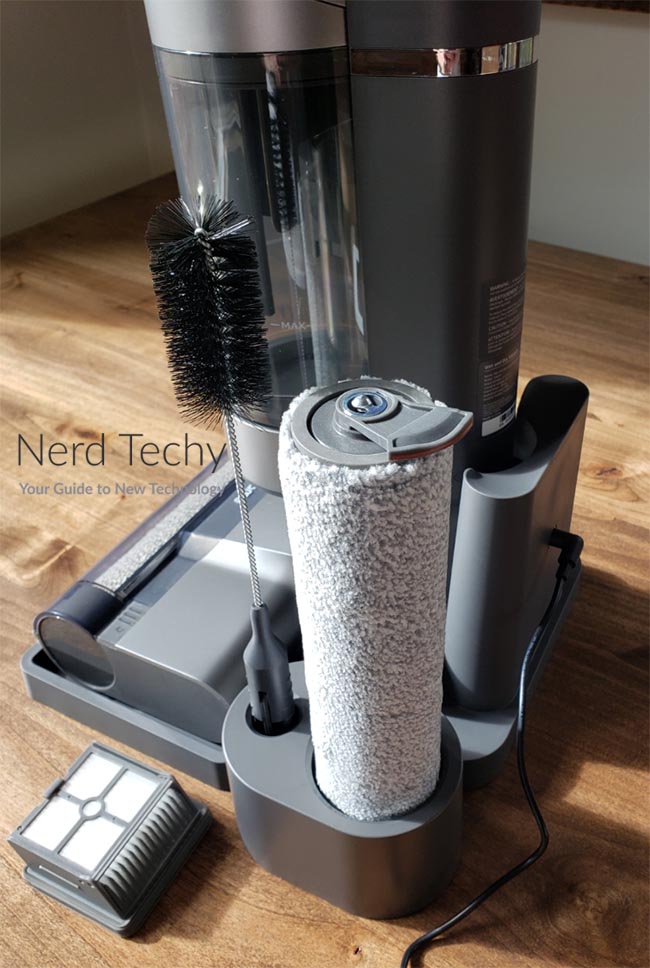 Final Verdict
In most respects, the Dreame H11 Max performs very well. To be fair, it can't be used for cleaning overhead, for upholstery, or for automotive cleaning. But as a straight-up floor cleaner, it's tough to beat. The wet/dry function is rare in a vacuum of this style, and the mopping function is almost unheard-of. So while you might not be able to handle every surface, you can handle every mess. The charging station is also well-designed, with a convenient cleaning function. And the battery lasts long enough for pretty much any everyday cleaning job.
Meet Derek, "TechGuru," a 34-year-old technology enthusiast with a deep passion for tech innovations. With extensive experience, he specializes in gaming hardware and software, and has expertise in gadgets, custom PCs, and audio.
Besides writing about tech and reviewing new products, Derek enjoys traveling, hiking, and photography. Committed to keeping up with the latest industry trends, he aims to guide readers in making informed tech decisions.