Pop quiz. What's the newest game console? If you're like most people, you'd guess either the PlayStation 5 or the Xbox Series X/S. And until a few weeks ago, you'd have been right. But on October 8th, 2021, Nintendo released the Switch OLED. This is an upgraded version of the Switch, with most of the same features. But it boasts a gorgeous OLED screen that's brighter and more vibrant than the original. If you spend a lot of time playing in handheld mode, you're going to love the improved display. And with the holidays right around the corner, the Switch OLED can also make a great gift.
That said, buying a new system comes with a handful of downsides. Most importantly, you need to buy all new accessories, to go with your new console. For the Switch in particular, a grip case is an essential accessory. After all, your Switch is an investment. The last thing you want is to drop it on the floor and break it. Not only that, but a grip case can provide beefier handholds, a kickstand, and other benefits. It's no exaggeration to say that without a good case, you're not getting the most from your Switch. But which cases are worthwhile, and which ones should you give a hard pass to?
We're about to review three of the best dockable Nintendo Switch OLED cases available online. To start, we'll be reviewing the FYOUNG Dockable Case. This is a durable, heavy case with a tempered glass screen protector and extra thumb stick caps. Second, we'll look at the FastSnail 3-in-1 Protective Case. This is a two-piece, snap-on cover with soft TPU grips. Finally, we'll examine the AKNES Dockable Case. This is a solid, 1-piece case with six game card slots in the back. But which one of these is the best of the bunch? We'll dig a little deeper into each of them, and wrap up with a final summary. Here's everything you need to know.
What's So Special About the Switch OLED?
Before we proceed, let's talk about the Switch OLED. Seeing as it's a brand new system, you may or may not be familiar with all of its features. So, what makes it different from the original Nintendo Switch? To begin with, the main difference is in the name. Instead of the original Switch's 6.2-inch LCD, the Switch OLED has a brighter, more vibrant 7-inch OLED. Despite this larger screen, though, the overall size isn't actually much larger. It's the same 4-inch height, and the same thickness of only 0.55 inches. The only difference is that the width is 9.5 inches instead of 9.4. The Switch OLED is also a touch heavier than the original, at 0.93 pounds instead of 0.88.
The result is that a Switch OLED is slightly too big for a standard Switch case. In other words, you're going to need a new case. That said, most Switch OLED cases will fit an original Switch, although there may be a little slop. For best results, if you have an original Switch, just use a dockable case made for the original.
In addition to the new screen, there are also a handful of other changes to the Switch OLED. Most notably, the storage capacity has been doubled from 32GB to 64GB. This means you can store more games on your hard drive, and rely less on your SD cards. The Switch OLED has a full-width kickstand that runs along the entire back. This is more secure and stable than the smaller kickstand on the base model Switch. The Switch OLED also has an upgraded docking station, with a LAN port that lets you ditch your WiFi network. So not only do you get a better screen on the road, you get blazing-fast multiplayer connections at home. The rest of the changes are relatively minor, such as redesigned volume and power buttons.
With all of that being said, the Switch OLED has more in common with the original than you might think. Most importantly, they have the same exact processor, so you get the same gaming performance. If a game will play on the Switch OLED, you can also play it on the original Switch. The battery life remains the same, at anywhere from 4 ½ to 9 hours depending on what you're doing. And while the screen is brighter and more vibrant, it has the same resolution of 720p.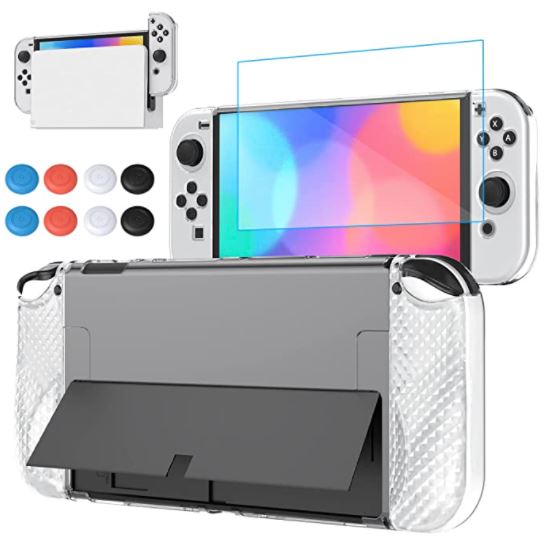 FYOUNG Dockable Case
FYOUNG is an experienced manufacturer of Nintendo Switch accessories. Among their other offerings, we've reviewed their Switch Lite charging dock. Since they generally do a good job, we decided to give the FYOUNG Dockable Case a closer look.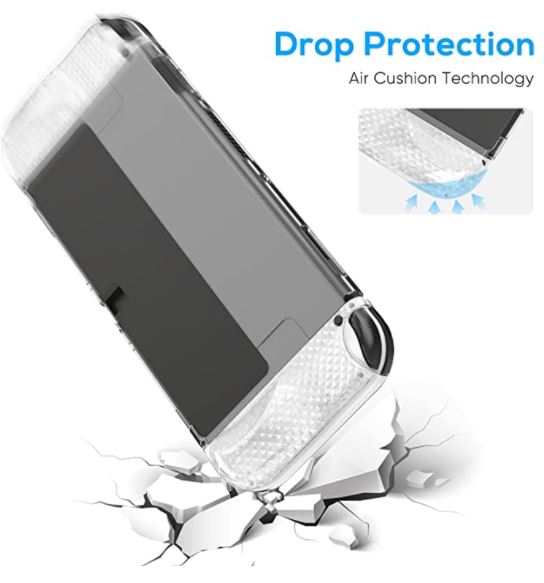 This case consists of four main components. To begin with, there's a clear PC plastic guard that covers most of the back of the Switch. It snaps onto the console, and is skeletonized at the bottom to allow the kickstand to pass through. The nice part about this design is that it's surprisingly durable, and protects your Switch from scratching.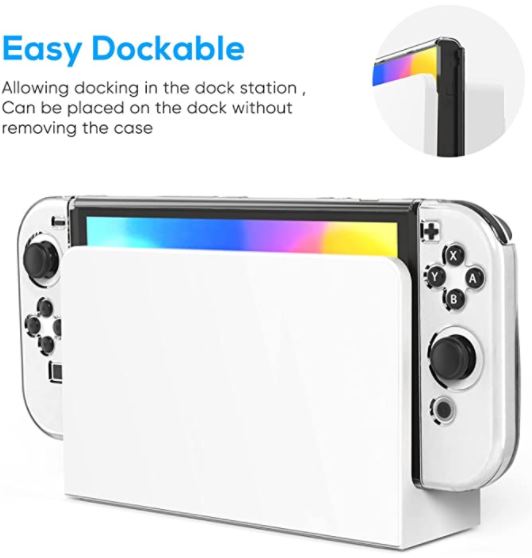 The next two components work together. They're the two curved grips that clip over your Joy-Cons. These are made of a similar durable material to the rest of the case, but it's a bit thicker. This is done for two reasons. For one thing, the middle of the case needs to be slim, so it will fit in your charging dock. On the Joy-Cons, you don't have to worry about that. For another thing, the Joy-Cons occupy the four corners of a fully-assembled Switch. These are the most vulnerable impact points, so it makes sense to protect them more heavily. There are cutouts in the Joy-Con covers, which allow you to easily press the release buttons.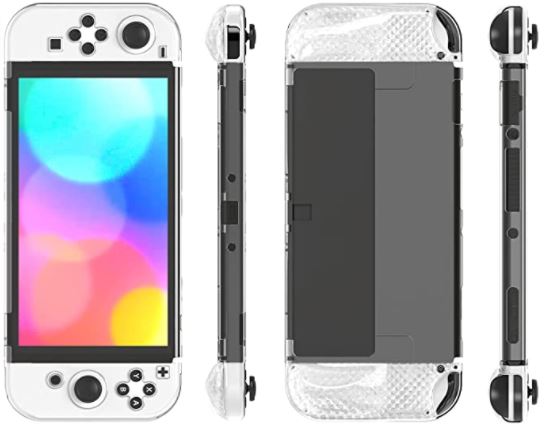 The fourth component of the FYOUNG case is a tempered glass screen protector. This glass is very difficult to scratch or crack. And even if it does get damaged, it might save your actual screen. Make sure to install it before you put the case on your Switch, though. Otherwise, you'll have to take the case back off to get the glass in place correctly.
In addition to the case, FYOUNG also includes four sets of thumbstick caps in the kit. Some gamers like these because they slightly increase the height of your sticks. As a result, you have finer control over what you're doing. And since the grip is a little rubbery, the caps are great for long gaming sessions. The four sets are black, white, red, and blue respectively. So you can choose the ideal color scheme to match your particular Switch.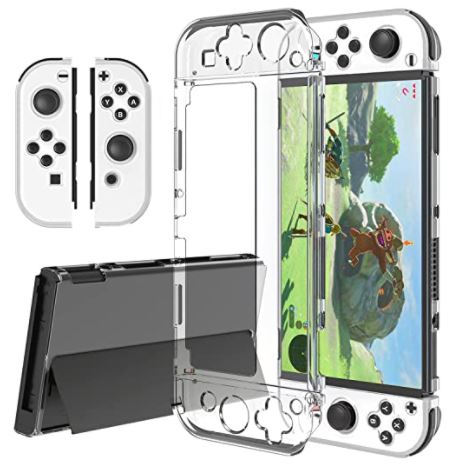 FastSnail 3-in-1 Protective Case
FastSnail is another respected manufacturer we've reviewed before. For example, their charging station for Joy-Cons and Pro Controllers works very well. So it made sense for us to take a closer look at the FastSnail 3-in-1 Protective Case.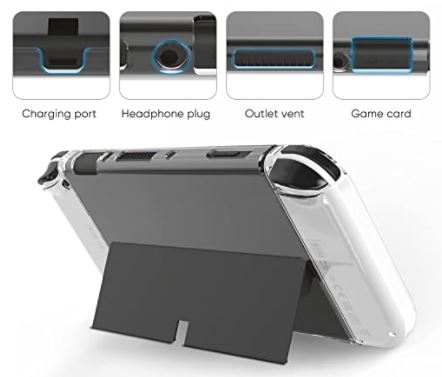 This case protects the body of your Switch OLED with a clear PC plastic housing. However, it doesn't just snap on the back. These are actually full front and back plates, which snap together at the top and bottom. Obviously, there are cutouts for the screen and kickstand, but there's a bit more protection here than on the FYOUNG.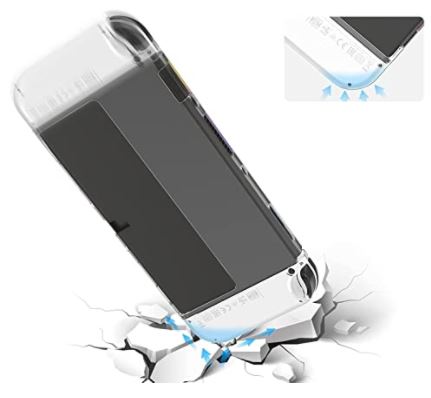 Despite this protective design, the Joy-Con grips are actually made from softer TPU instead of PC plastic. This makes them feel nice and rubbery, which gives you plenty of grip even when you're sweaty. The grip covers are engineered with holes, much like the ones on the FYOUNG cover. As a result, it's easy to remove the Joy-Cons when you want to dock your Switch. Even so, the TPU plastic is nice and thick at the corners, so impact-resistance isn't a concern.
FastSnail provides a 1-year manufacturer's warranty, so you're protected from any defects in the product. In addition, they also offer a 30-day, no-questions-asked return window. If there are any issues, you can simply send it back for a refund.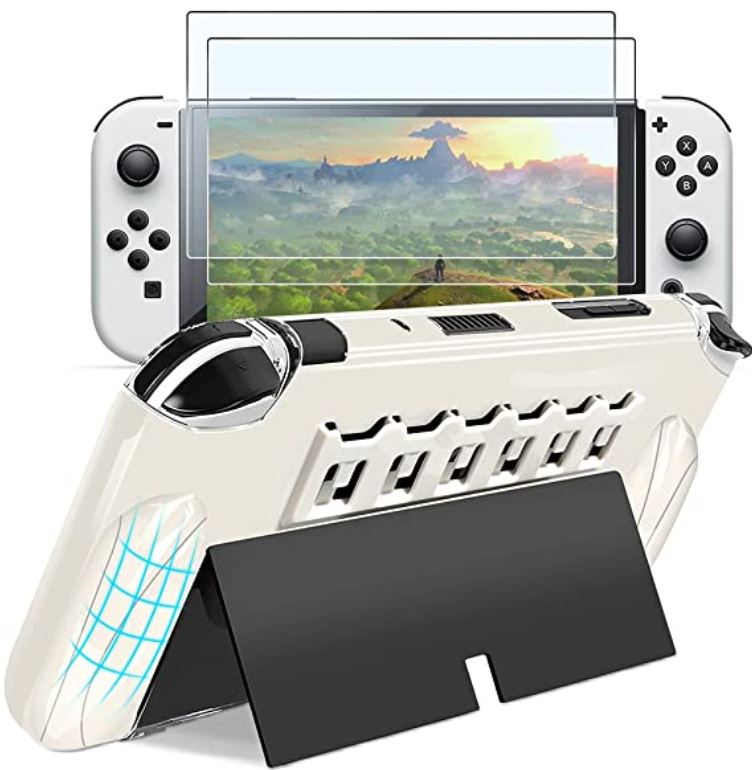 AKNES Dockable Case
The AKNES Dockable Case has the most unique design of the bunch. Unlike the others, this is a full, one-piece case, so you can't remove the Joy-Cons. That said, it's certainly the most protective of the bunch. You get plenty of protection around the edges and corners, and two tempered glass screen protectors. Even if one gets scratched or cracked, you'll already have a replacement ready to go.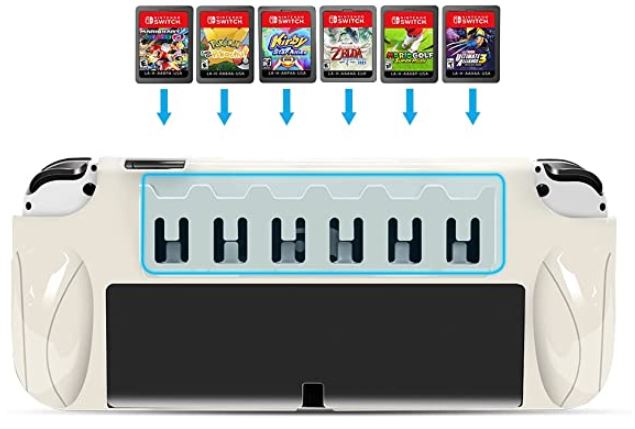 The design is also ergonomic. While you can't remove the Joy-Con grips, the case has a rounded back that's easy to hold on to. If that's not enough, you aren't limited only to a clear plastic. The AKNES case also comes in black, white, and grey. And like the other cases on our list, there's a cutout for your Switch's built-in kickstand.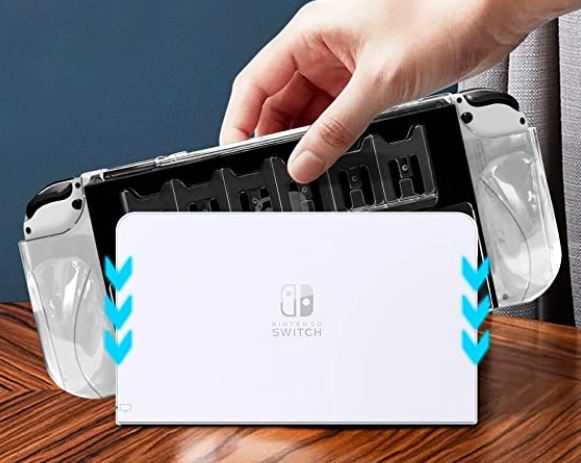 The biggest benefit of this case is that it's not just for housing your Switch. It also has six slots in the back, with space for six Micro SD cards. If you want to take several games with you at all times, you'll be well set up.
Final Verdict
So, which one of these dockable Switch OLED cases is the right choice for you? Let's recap what we've learned. We began by looking at the FYOUNG Dockable Case. This case provides the best value for your money. You get a full case, a screen protector, and four sets of bonus thumbstick caps. You also get an ergonomic, easy-to-use design that provides a reasonable degree of protection. Our only complaint is that the PC plastic grips are smooth, which is a bummer if you prefer soft grips.
The FastSnail 3-in-1 Protective Case has the best grips of the bunch. They're nice and rubbery, and aren't too much larger than the bare Joy-Cons themselves. In addition, the front-and-back case components provide good drop protection. That said, there's no screen protector, and hence no scratch protection.
The AKNES Dockable Case is probably the most protective of the three. Its one-piece design is more durable, and less prone to cracking. It also includes two screen protectors, as well as six game slots built into the back of the case. The only real downside is that it's a one-piece case, so you can't detach the Joy-Cons without removing it.