Nintendo has been making game consoles since the release of the original NES in 1983. That gives them almost 40 years of console manufacturing experience. To put it another way, Nintendo has been making consoles for almost as long as Sony and Microsoft combined. Considering this long track record, you could hardly blame them if they stood pat. After all, Sony's consoles have hardly changed at all with each generation. Sure, you can clearly see the difference between a PlayStation 4 and the original. But even so, the control schemes are nearly identical. You'd have to be a serious enthusiast to identify any differences whatsoever.
By comparison, anyone who's old enough to have played one can immediately identify a Nintendo 64 controller. The design may not have been the most elegant, but it's certainly unique. And who can forget the Wii? It smashed almost every sales record, thanks in large part to the motion-sensitive controls and family-friendly Wii Sports fun. Then, in 2017, they released the Switch as a hybrid console. You could use it in handheld mode, or drop it into the docking station for use as a traditional console. You can also attach the controllers to the Switch, use them individually, or attach them to a Joy-Con grip. This makes it perhaps the most versatile game system ever made.
That said, some Nintendo fans wanted a mobile-only version. To meet that demand, Nintendo released the Switch Lite. The Switch Lite is a smaller, handheld version of the Nintendo Switch that's designed for travel. Unfortunately, it won't dock, which can make charging a pain. Thankfully, the Switch Lite is popular enough that other manufacturers are creating accessories for it, including charging docks.
Today, we'll be reviewing the three best Nintendo Switch Lite charging docks on the market. First up, we'll examine the TNE Switch Lite Charger Stand. This is a wide, colorful stand that supports both the Switch Lite and the original Nintendo Switch.
Next, we'll look at the FYOUNG Portable Switch Lite Charging Dock. This is the most compact stand of all, with a fun, triangular design and five color options. Finally, we'll review the YCCTEAM Multi-Angle Compact Switch Lite Charging Stand. This full-featured stand supports both the Switch and Switch Lite, and sports four USB ports for accessories. Which one is the best of the bunch? Read on, and find out!
Advantages of the Nintendo Switch Lite
So, why would someone buy a Nintendo Switch Lite instead of an original Switch? After all, the Switch's best feature is the ability to play either handheld or on your TV. Why sacrifice that for a handheld-only game system? Here are a few reasons people have opted to use the Switch Lite instead of the original system.
To begin with, the Switch Lite's biggest advantage is in the name. With a profile of 8.2×3.6×0.6 inches, it's a bit smaller than the 9.4x4x0.6-inch original. It's also significantly lighter, tipping the scales at only 9.8 ounces instead of the original Switch's 14.1 ounces. Smaller size and less weight allow for more portability, both around the block and around the world. As a result, many frequent travelers have opted to own a Nintendo Switch Lite.
In the process of redesigning their machine, Nintendo left most of the controls the same. They retained the original's beloved thumb sticks and triggers, so the feel should be familiar to existing Switch players. However, they did make one major improvement: they replaced the directional buttons with a standard D-pad. The directional buttons have been the bane of many a fat-fingered gamer, and the D-pad is a welcome relief. On the other hand, some gamers prefer the precision of the old directional buttons. This is a matter of preference more than anything else.
During their redesign, Nintendo also made some improvements to battery efficiency. Admittedly, some of this is due to smaller size, but a lot is just better engineering. The difference is only about 30 minutes, so it's not terribly substantial. At least, it doesn't seem substantial until you need just a few more minutes worth of juice, and it's there.
The Switch Lite's other major benefit is the price. Now, the original Nintendo Switch is already reasonably-priced, well in line with the rest of the market. But if you're buying a handheld-only game system, you should be paying handheld-only prices. As a result, the Switch Lite costs only ⅔ as much as the original Switch. If you were never planning on playing on your TV anyway, that's money well saved.
Disadvantages of the Nintendo Switch Lite
As you can see, there are plenty of reasons to like the Nintendo Switch Lite. But along with that lower price tag, there are also some drawbacks you should be aware of. The first is one we've already discussed; you can't play in docked mode. Even with a charging stand, there's still no way to connect a Switch Lite to your TV. Moreover, the same applies to the controllers themselves. With the original Switch, you can use the Joy-Cons individually or attached to the unit or a Joy-Con grip. You could also upgrade to a pro controller for a chunkier feel. With the Switch Lite, the Joy-Cons are permanently attached to the unit.
On a similar note, the Switch Lite only allows you to play games that support handheld mode. Admittedly, this includes almost all of the Nintendo Switch library. The exceptions are Super Mario Party, 1-2-Switch, Fitness Boxing, Ring Fit Adventure, Nintendo Labo, and Just Dance. Well, technically you can. You'll just need an external controller and a stand. Even so, do you really want to play Just Dance while staring at a handheld-sized screen?
Speaking of the screen, that's the other downside of the Switch Lite. The screen measures only 5.5 inches in diagonal, instead of 6.2 inches. This is a necessity, due to the smaller size of the console itself. That said, the smaller screen still boasts the same 720p resolution, as well as rich, bright colors. In fact, the thinner screen bezels on the Switch Lite actually make the screen look bigger than it is. So, screen size is not a huge issue, but it's something you should still be aware of.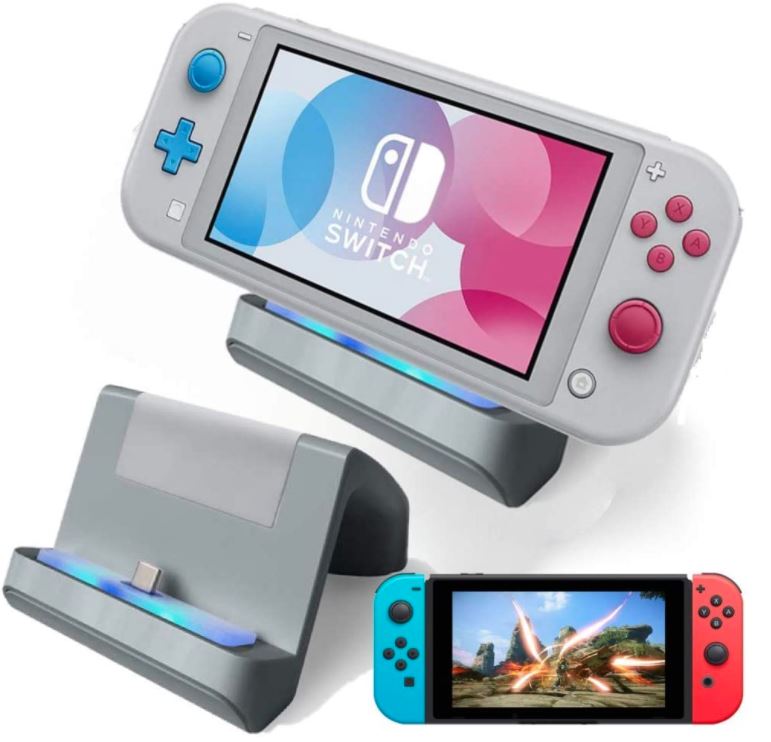 TNE Switch Lite Charger Stand
The TNE Switch Lite Charger Stand is a straightforward, rectangular stand for your Nintendo Switch Lite. It's constructed from ABS plastic, and has an arched design that forms a permanent kickstand. This is both a good thing and a bad thing. On the one hand, you don't have to worry about a delicate kickstand snapping off or accidentally closing. On the other hand, the stand is larger than you'd expect, which can be problematic when you're traveling. It's also not adjustable, although it already holds your screen at a comfortable viewing angle.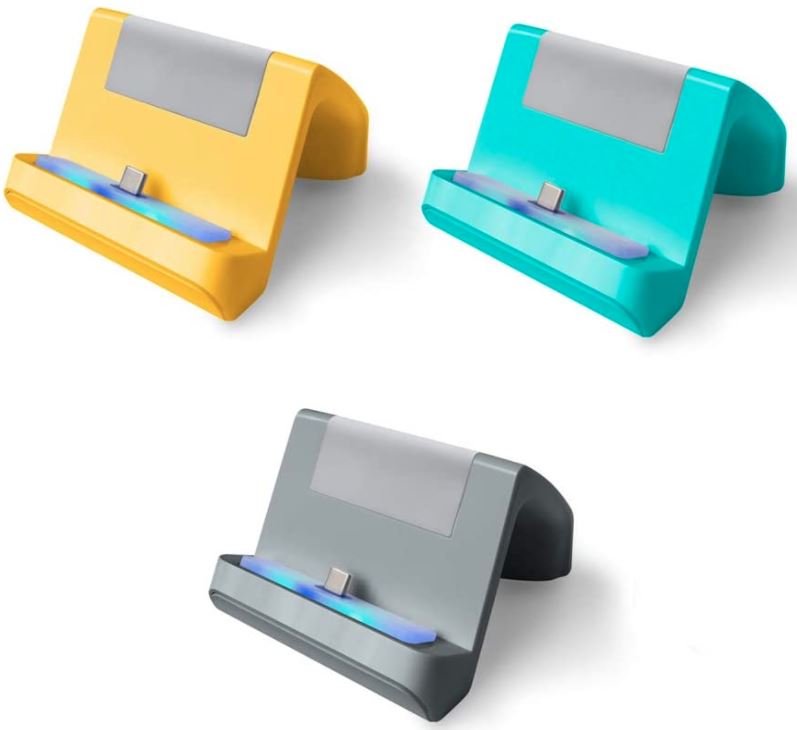 The TNE stand is easy on the eyes, with an easy-to-clean satin finish that's not a fingerprint magnet. In addition to the standard black, it comes in three additional colors to suit your personal style. Black, turquoise, and yellow options turn your stand into a fashion statement. Over the top of the arch, a grey rubber pad protects your game system from getting damaged. Along the bottom lip, your Switch is supported by a rubberized strip that sports built-in LED accent lights.
This stand doesn't include an AC charger, but it's designed to work with the original Switch or Switch Lite charger. Similarly, it will work with both the Switch and Switch Lite systems. If you're an owner of both, you now have a travel stand for both. TNE offers a full money back guarantee on their stand, so you can try it out risk-free. If you decide you don't like it, you can return it for a full refund.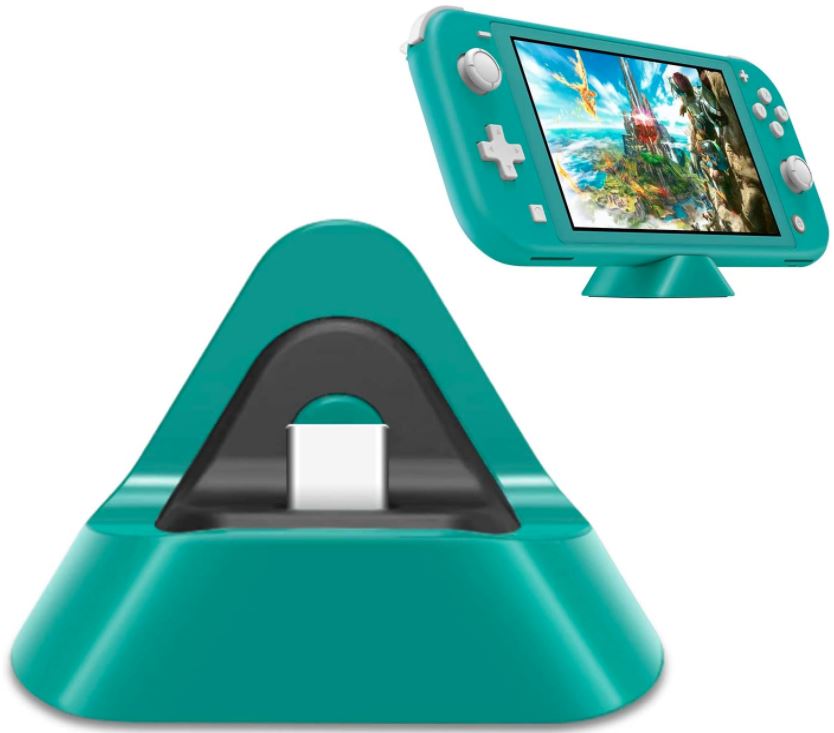 FYOUNG Portable Switch Lite Charging Dock
FYOUNG is known for their slick, stylish console accessories, including a Nintendo Switch headrest mount we really liked. Because of this experience, we were excited to see how their charging dock performed.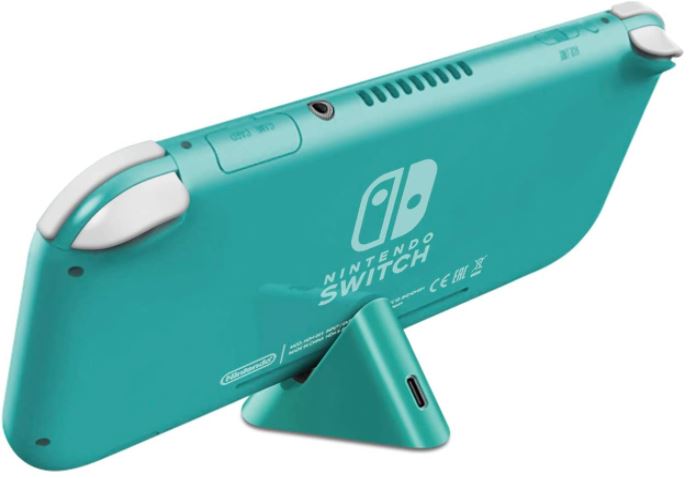 The FYOUNG Portable Switch Lite Charging Dock is the most compact option on our list. It's a small, three-sided pyramid that forms a simple, effective support for your system. It measures just over 2 inches to a side, and about an inch and a half tall. This makes it small enough for everyday transport, even in a relatively small bag or case. The base of the pyramid is rubberized, which keeps it from skidding or sliding around. There are enough color options to match any Nintendo Switch Lite console. It's available in grey, turquoise, yellow, coral, and light green.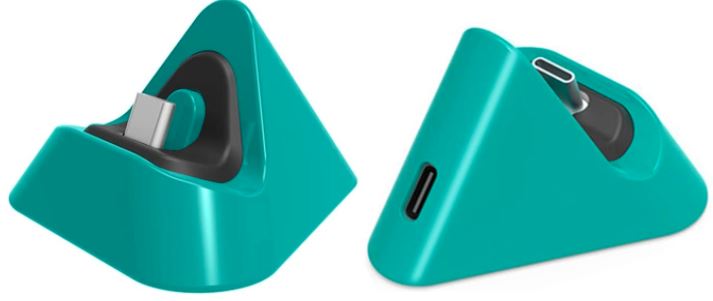 As with the TNE stand, you'll need to use your existing Switch Lite AC adapter to supply power. Unlike the TNE stand, the FYOUNG stand only supports the Switch Lite. It's too small and narrow to support an ordinary Nintendo Switch. One thing it does include is the same over-current and over-charging protection as the original dock. Assuming you're using the OEM charger, this won't provide any additional benefit to your Switch Lite. But it means that the dock itself won't burn out in the course of everyday use.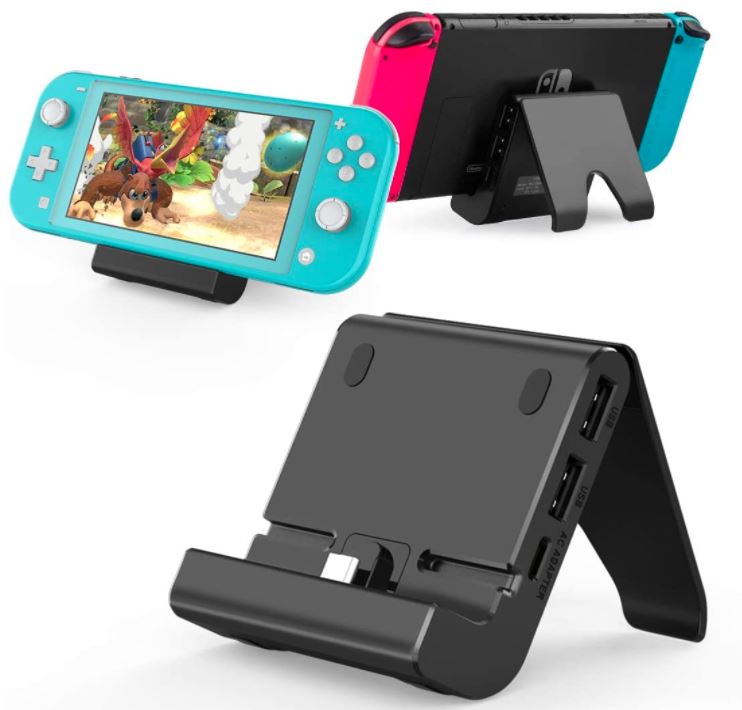 YCCTEAM Multi-Angle Compact Switch Lite Charging Stand
The last charging dock we looked at was the YCCTEAM Multi-Angle Compact Switch Lite Charging Stand. YCCTEAM is already known for producing quality chargers, so we had high expectations for their charging stand. At first glance, it's nothing special. It's a simple black rectangular frame, with a sturdy kickstand. Moreover, it's only available in black, so there are no exciting colors on offer. But when you look under the hood, it has a lot more to offer.

For one thing, the kickstand is actually adjustable. This allows for multiple viewing angles, between 20 and 90 degrees, so you can play on almost any surface. You can also collapse the kickstand completely for travel. Speaking of which, despite the large profile, the YCCTEAM charging dock is surprisingly portable. This is because it's relatively flat when collapsed, so it can be slipped easily into a luggage pocket.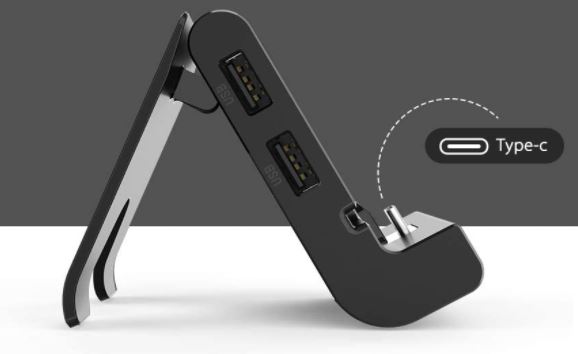 Like the TNE charging stand we started out with, the YCCTEAM stand is compatible with both versions of the Switch. Whether you're using the original or the Switch Lite, it's going to work just fine. Moreover, it sports four USB ports for attaching accessories. This makes it easy to attach external controllers, or plug in a Bluetooth adapter for a gaming headset. As with the other chargers on our list, you'll need to use the AC adapter that came with your console.
Final Verdict
Clearly, each of these three Nintendo Switch Lite charging docks has some significant benefits. Which one is the ideal choice for you? Let's go over what we've learned. We started out by looking at the TNE Switch Lite Charger Stand. This stand is fun and colorful, with a wide design that's very stable. It's also very well-padded, and supports the original Switch as well as the Switch Lite. If you own both systems, you'll now own a travel dock for both of them. On the downside, you won't be able to take advantage of the original Switch dock's USB ports.
The FYOUNG Portable Switch Lite Charging Dock is the best choice if you want the most compact option. Its tiny, pyramidal shape is perfect for throwing into a backpack or carry-on bag. It's also designed with curves to avoid scratching your system. Keep in mind, though, that this is a true Switch Lite dock, and won't work with the original Switch.
Last but not least, we looked at the YCCTEAM Multi-Angle Compact Switch Lite Charging Stand. This stand is big and beefy, with enough space to support both the original Switch and the Switch Lite. In fact, it was designed with four USB ports for connecting accessories. We would have liked to see more color options than plain black but, cosmetics aside, it's still a great choice.