Nintendo Switch users have long been able to wear a USB headset or pair of speakers. When compared to speakers, they provide an immersive gaming experience for a fraction of the price. But that still involves a cable, which can lead to tangling. It can also limit your options. Many higher-quality USB headsets require a powered USB port, rather than the Nintendo Switch's unpowered port.
With a Bluetooth adapter, you can eliminate the need for pesky wires. You can also up your quality, since you can use even the highest-quality Bluetooth headsets. But a top-notch headset won't do you much good without a quality Bluetooth adapter that's designed specifically for audio. To help you make the best choice, we've tracked down three of the best Nintendo Switch Bluetooth adapters that money can buy. Here are our top choices.
Bluetooth Adapter Types
So, what makes a Nintendo Switch Bluetooth adapter different from a generic Bluetooth adapter? There are three primary differences: the input, the firmware, and the form factor.
The input matters because not all Bluetooth adapters accept a USB Type-C connection to begin with. For example, many adapters use a 3.5mm aux plug. These adapters are ideal for cars, stereo systems, and even older PCs that don't have a Bluetooth card. Smaller adapters can even be useful on the Xbox One. However, they're not useful for the Nintendo Switch. This is because the Switch, along with the Sony PlayStation, uses a USB Type-C connection for audio.
Firmware is another important consideration. Many Bluetooth adapters are designed primarily for connectivity, not specifically for audio. A jack of all trades adapter can be a solid choice if you're looking to connect to many devices. But a Nintendo Switch Bluetooth adapter simply needs to connect to your headphones. As a result, a dedicated adapter for this purpose will maximize sound quality as much as possible.
Finally, the right form factor is essential. There are larger USB Bluetooth adapters available for laptops and PCs. However, even if they connect to USB Type-C – which they usually don't – they'd be too bulky for the Nintendo Switch controller. Do you really want to game with a giant antenna between your wrists? Dedicated Nintendo Switch controllers are designed to be compact, and hug tight to the bottom of the controller.
Setting Expectations
One thing we should clarify before we begin is what quality sound you can actually expect to get. Here, the Nintendo Switch is somewhat limited. The Switch does not support 7.1-channel simulated surround sound. As a result, most so-called "7.1-channel" Bluetooth headsets aren't going to actually provide you with 7.1-channel sound. The only exception is if you're using headsets that offer built-in simulated surround sound. So set your expectations accordingly before you judge your headphones' audio quality.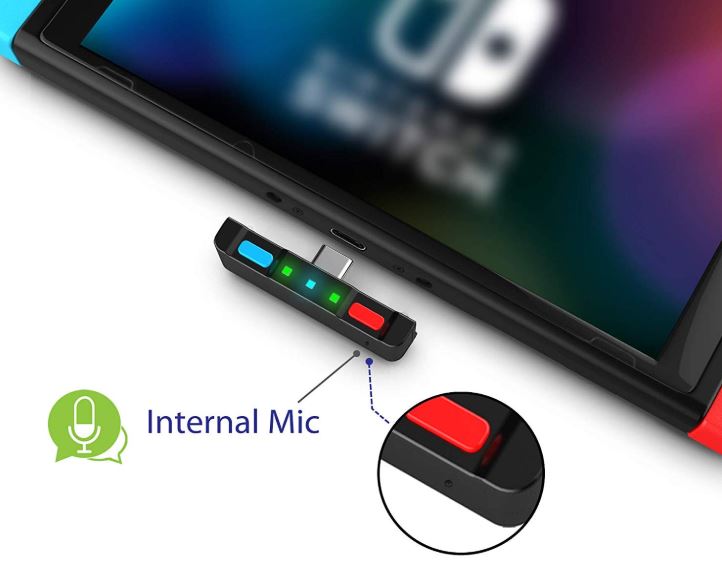 HomeSpot Bluetooth Transmitter for Nintendo Switch
The HomeSpot Bluetooth Transmitter for Nintendo Switch is a small, 0.16-ounce Bluetooth transmitter that connects to your Switch's USB Type-C port. It's only 1.89 inches wide and 0.35 inches high, but it packs a lot of information onto a small display surface. There are three LED indicators, along with a pair of buttons, which control the dual-channel connections. The HomeSpot is available in 9 different colors, which provides you with enough selection to match whatever color Switch you own.
Dual-channel means that two people can listen simultaneously. The Switch has put a big emphasis on social gaming. If you like playing with friends, it's nice to see a Bluetooth adapter that's designed for players to play together. Each of the buttons on the HomeSpot is designed to pair it on either Channel 1 or Channel 2. That way, there will be no confusion when you're pairing with which pair of headphones.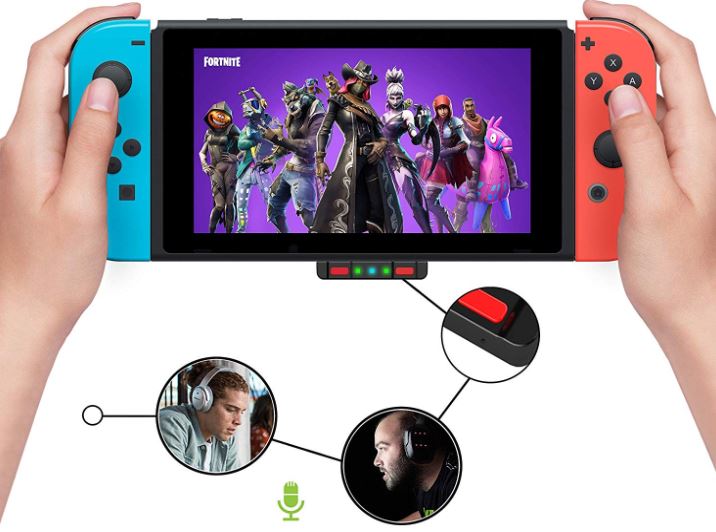 The left side button controls the Player 1 channel, and the left LED indicates the channel's status. A green light indicates a normal connection, while a flashing green light indicates that the channel is currently pairing. When the light is amber, the channel is connected, but the player has their microphone muted. The right side button and right side light do the same thing for the Player 2 channel. The center light indicates what type of codec you're currently using. If it's off or blue, you're using a standard codec. If it's amber, you're using the aptX Low Latency codec. The blue light indicates the standard aptX codec. Otherwise, the HomeSpot defaults to a standard SBC codec.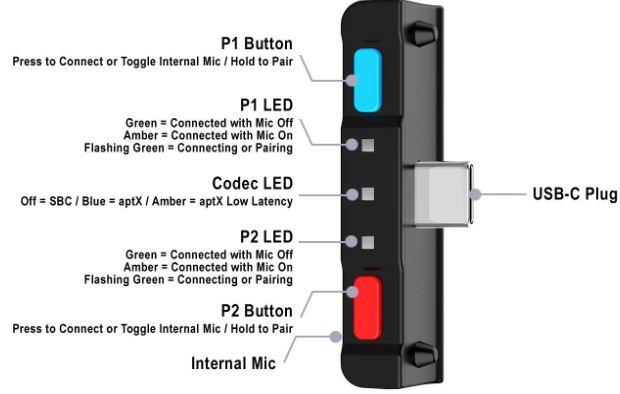 One thing we appreciated about the HomeSpot is that it has a built-in digital mic. This is fantastic for multiplayer games like Fortnite, PubG, CSGo, and Call of Duty. Obviously, the quality of the vocal mic isn't as good as most headsets. But it gives you a way to use your standard headphones for multiplayer gaming, whereas otherwise you might not have had a useful option.
The HomeSpot isn't just designed for portable operation. It also gives you the option of continuing to use your Bluetooth headphones while your Switch is in TV mode. It ships with a USB Type-C to Type-A adapter that's designed to plug into your Switch's TV mount. You also get a travel pouch, along with a user's manual to help you get started.
One thing to keep in mind is that the HomeSpot doesn't connect through most protective Switch casings. For most people, this isn't going to be a significant limitation. However, if you're using a case, there aren't many Bluetooth adapters that will work with your Switch.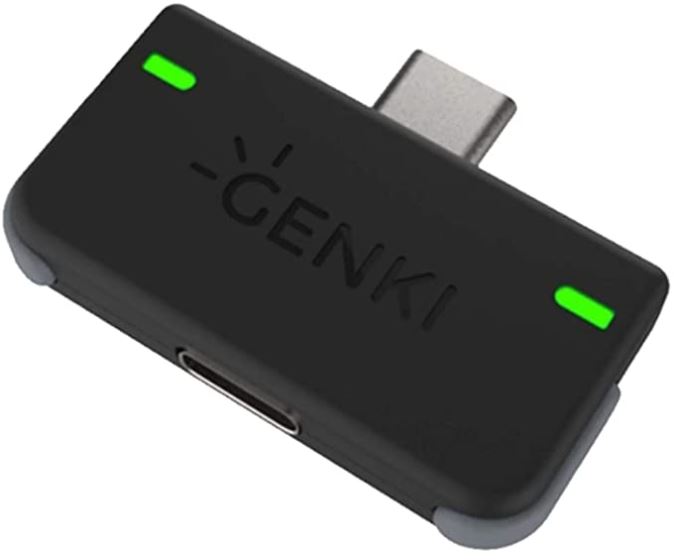 Genki Bluetooth Adapter
The first thing we noticed about the Genki adapter was its unique, charming design. It's painted to look like a controller for the original NES, albeit with a black and gray pattern. This is simply adorable, and it's something that will bring a smile to the face of any retro gamer. It's tiny, at only 2.8 inches wide and 0.7 inches high. However, it's heavy for the small size, weighing in at only 0.8 ounces. A small button on the left side is used to sync the Genki to your headphones or headset.
Dual-channel operation is available, so you and your friend can both connect your headphones. However, there are no LED indicators, so pairing two sets of headphones can be confusing. Here's how it works. First, you hold the pairing button down, and pair with Player 1's set of headphones. Once you've confirmed that it's paired, repeat the same process to pair the Player 2 headphones. That said, it can still get confusing when your friend goes home. If you've left the adapter running, re-pairing can get janky. Your best bet is to unplug the Genki after every use. This will clear all connections, so you'll have a fresh start when you plug it back in.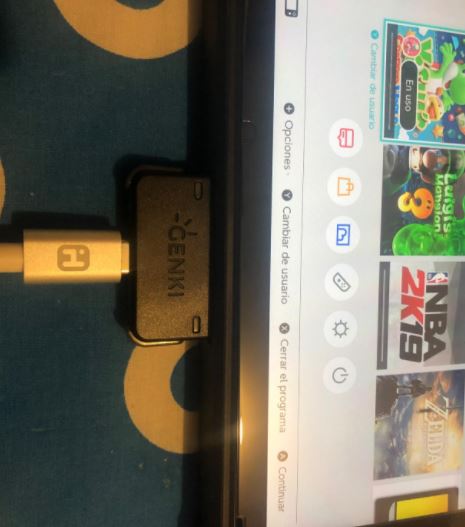 One thing the Genki doesn't have that the HomeSpot does is a built-in microphone. This was somewhat of a disappointment, since it limits your options for multiplayer gaming. On the other hand, this isn't that significant of a concern. After all, if you want a headset with a microphone, odds are good that you already own one.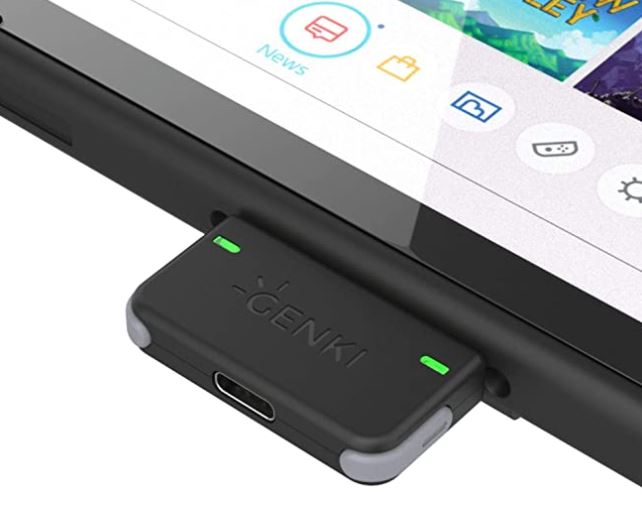 Latency is pretty good, although it will depend on what codec your headphones are using. If your headphones support the aptX Low Latency codec, you'll get about 40 milliseconds of latency. If they only support the original aptX codec, your latency will be about 60 milliseconds. 100 milliseconds is the standard benchmark for where audio latency becomes noticeable. As a result, you'll be just fine if your headphones support either of these codecs. If not, you'll be limited to the older SBC codec, which has a noticeable latency of about 200 milliseconds. This is right in line with what we saw on the HomeSpot.
The Genki also features a USB Type-C pass-through port. This allows you to use your Bluetooth headphones or headset even when your Switch is docked. As a result, you won't have to bother everyone else in the house just because your Switch is charging. As with the HomeSpot, you will not be able to use the Genki if your Switch has a protective case. There just won't be enough clearance for the USB Type-C plug to fully insert.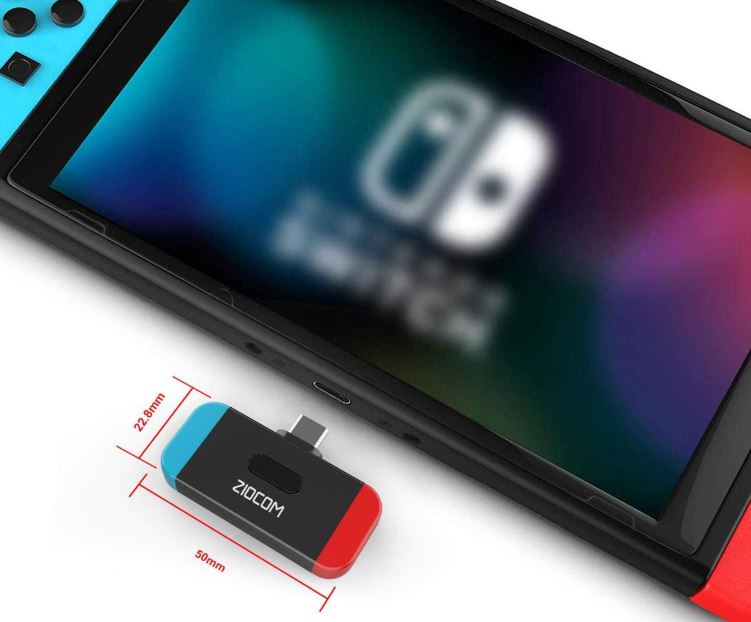 ZIOCOM Bluetooth Adapter
The ZIOCOM Bluetooth Adapter has a blue, black, and red tri-tone design. This matches the default coloring of the Switch, if not some of the alternative options. When plugged in, it looks like a miniature version of your controller is attached to the bottom. It measures 1.97 inches wide by 0.9 inches high, making it larger than our previous choices, but not by much. A black display on the center features built-in pairing buttons. A pair of LED lights are located between the buttons, to show when a connection is active.
Connectivity is easy. Like our first two selections, the ZIOCOM is designed to support dual-channel audio. This means that you and a friend can play together, and each of you has your own private channel. The button on the left of the ZIOCOM is used for connecting the Player 1 headset. The right button is for Player 2. Similarly, the left blue light and the right red light indicate an active connection for those respective players.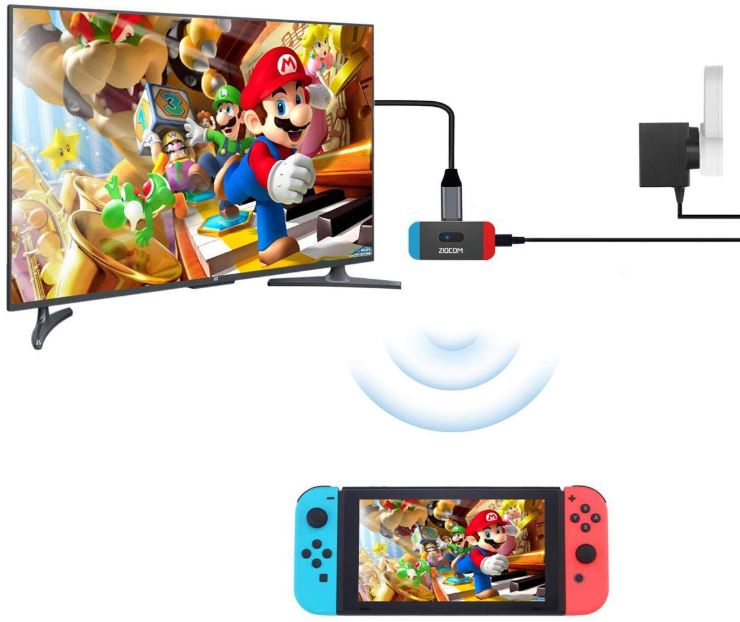 Much like the Genki, the ZIOCOM Bluetooth Adapter does not feature a built-in microphone. If you already own a headset, this isn't a concern; two-way audio is supported. But if you were counting on using your headphones for multiplayer gaming, you might want a mic on your adapter.
One standout feature of the ZIOCOM is the ability to connect to a Switch with a case. This is not a minor point. A lot of people like to use a protective case, and that's understandable. The Switch is a portable game system. And like anything portable, it's vulnerable to drops, bangs, and other sorts of damage. Players who are often on the go would do well to invest in a protective Switch case. Of course, you should also consider investing in a padded Switch travel case, to improve your protection. Either way, if you use a protective case for your switch, the ZIOCOM will keep you connected.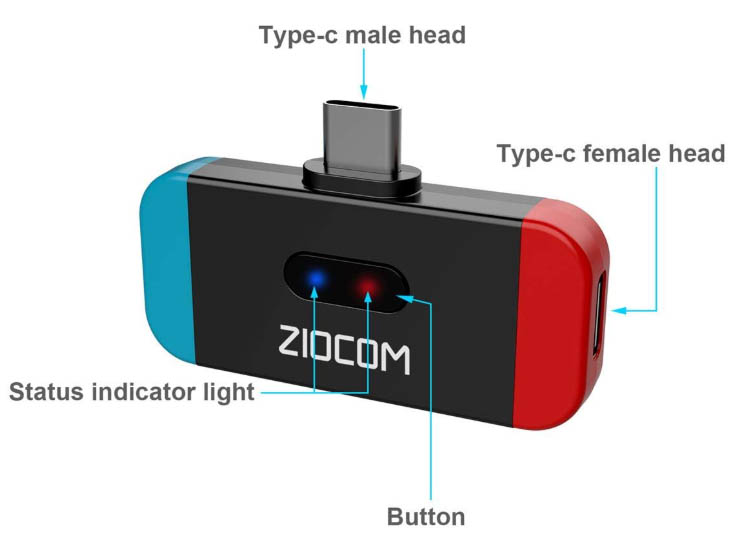 The ZIOCOM utilizes the latest Bluetooth 5.0 technology. It also offers low latency, similar to the first two Bluetooth adapters on our list. Assuming your headphones or headset support the aptX Low Latency protocol, you're all set. Even if they only support standard aptX, you'll be just fine. And if not, you've got a slower SBC connection to fall back on. Just don't blame the ZIOCOM for your slow connection in that case. You need a headphone upgrade.
Finally, the ZIOCOM has a USB Type-A pass-through port and a Type-A to Type-C adapter. This allows you to keep on using your headphones, even when your Switch is on the dock and charging.
Final Verdict
Choosing the best Nintendo Switch Bluetooth adapter was a challenge, not least because the options are all so similar. They all use the same codecs, and they all support dual-channel connections. That said, there are a few key considerations that helped us decide.
To begin with the Genki adapter has an attractive design. And there's a lot to like about it, including all the things we just mentioned. That said, there's not anything in particular that made it stand out. At the end of the day, looks aren't as important as function, and Genki didn't offer any extra functions.
The HomeSpot adapter is our top choice for most applications. This is primarily due to the display and the layout of the controls. It's easy to use, and you'll always know what devices are connected. What really put it over the top, though, was the built-in microphone. This is a significant improvement over many Nintendo Switch Bluetooth adapters.
Finally, the ZIOCOM adapter is our top choice if your Switch has a protective case. It's one of the few adapters on the market that has enough clearance to accommodate. And it also has a convenient display.
Meet Derek, "TechGuru," a 34-year-old technology enthusiast with a deep passion for tech innovations. With extensive experience, he specializes in gaming hardware and software, and has expertise in gadgets, custom PCs, and audio.
Besides writing about tech and reviewing new products, Derek enjoys traveling, hiking, and photography. Committed to keeping up with the latest industry trends, he aims to guide readers in making informed tech decisions.