These days, wireless earbuds are all the rage, and it can be easy to forget that they weren't always popular. In fact, when Apple announced that the iPhone 7 would be wireless-only, many people laughed. Everyone knew wireless audio was hollow and tinny! What was Apple CEO Tim Cook thinking?
As it turns out, Cook was making a gamble on a new technology called True Wireless Stereo (TWS). TWS allowed for higher audio quality over wireless earbuds, and formed the basis for Apple's AirPods. Cook's gamble paid off, and the iPhone 7 was a huge success, as were the AirPods. The AirPods were so successful, in fact, that other companies soon jumped on board. Nowadays, it's hard to find an electronics manufacturer that doesn't make wireless earbuds. This is both a good thing and a bad thing. On the upside, consumers get plenty of choices. On the downside, it can be tough to sort out the good from the bad.
Note: At no extra cost to you, we may earn a commission for purchases using our links. Learn more.
One way to get your hands on some reliable buds is to stick with a manufacturer you trust. SoundPEATS is a longstanding earbud manufacturer. In fact, many of their offerings are regular wired earbuds and over-the-ear cans. Basically, if it plays music, they make it. Today, we're going to review the SoundPEATS TrueFree 2 Wireless Earbuds. These are compact, in-ear buds with silicone wings for added security. But how well do they perform? We'll take a deep dive into the earbud design, battery life, sound quality, and more. Once we've looked at all the features, we'll be able to render our verdict. Let's begin!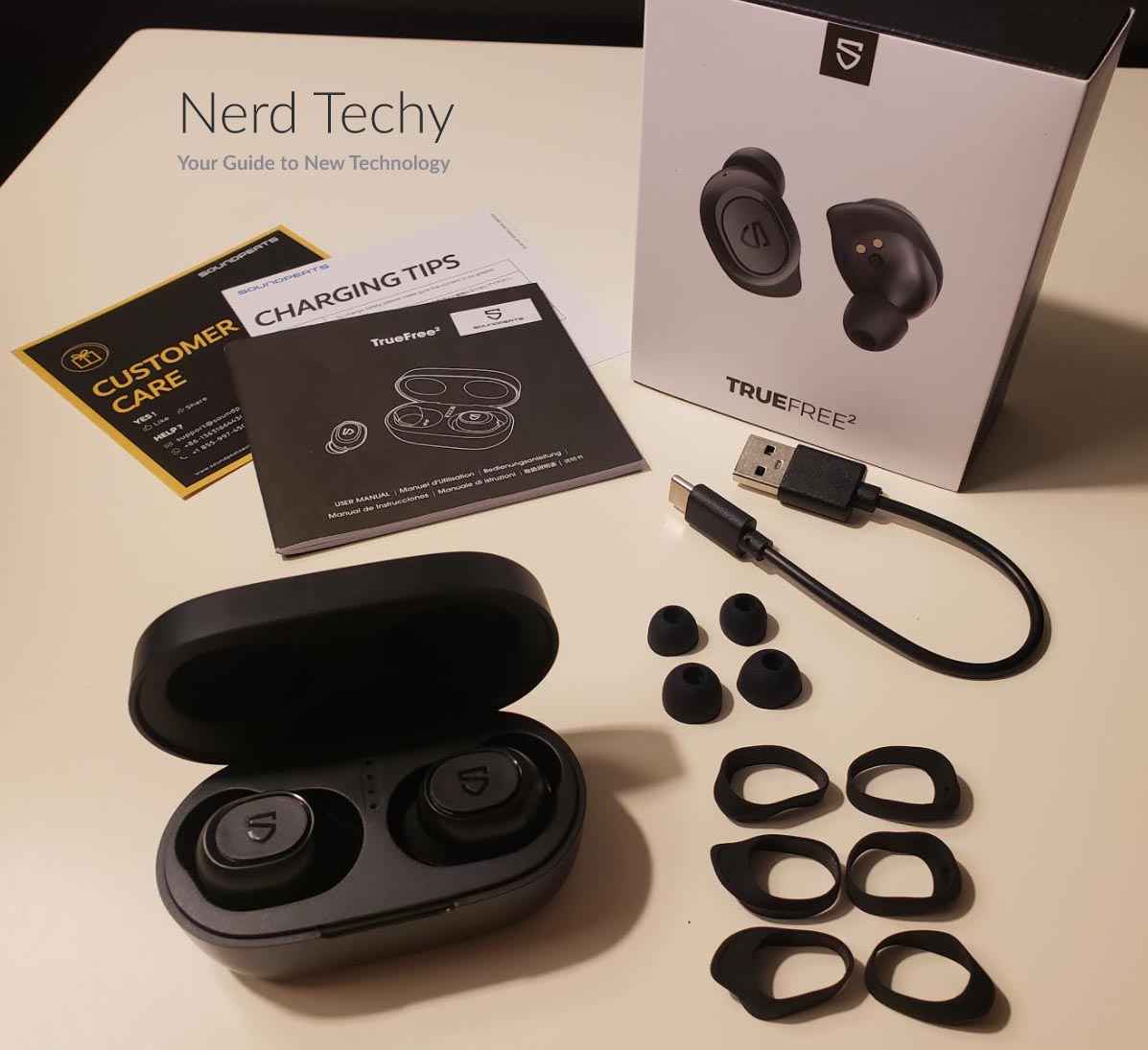 Design & Construction
The SoundPEATS TrueFree 2 wireless earbuds have a compact design that's made to sit flush inside of your ear. The shells are available in black or white ABS plastic, with a low-profile, oval shape. On the side of each bud, there's a silicone ear fin. These fins provide additional support inside of your ear. If you're running, jogging, or jumping, you'll notice that the buds remain very stable. Keep in mind that this depends as much on the fit of the ear tips as the fins. The tips are available in three different sizes, so swap them out if you're not comfortable. When properly fitted, they should fit snugly, but still be comfortable. They should also provide a reasonably good seal against outside noise.
If you prefer a more traditional earbud design, consider the SoundPEATS Truengine 3 SE. These buds have a more lightweight fit, without the ear fins. On the other hand, this comes with less noise isolation and security. It all depends on what kind of fit is most comfortable for you.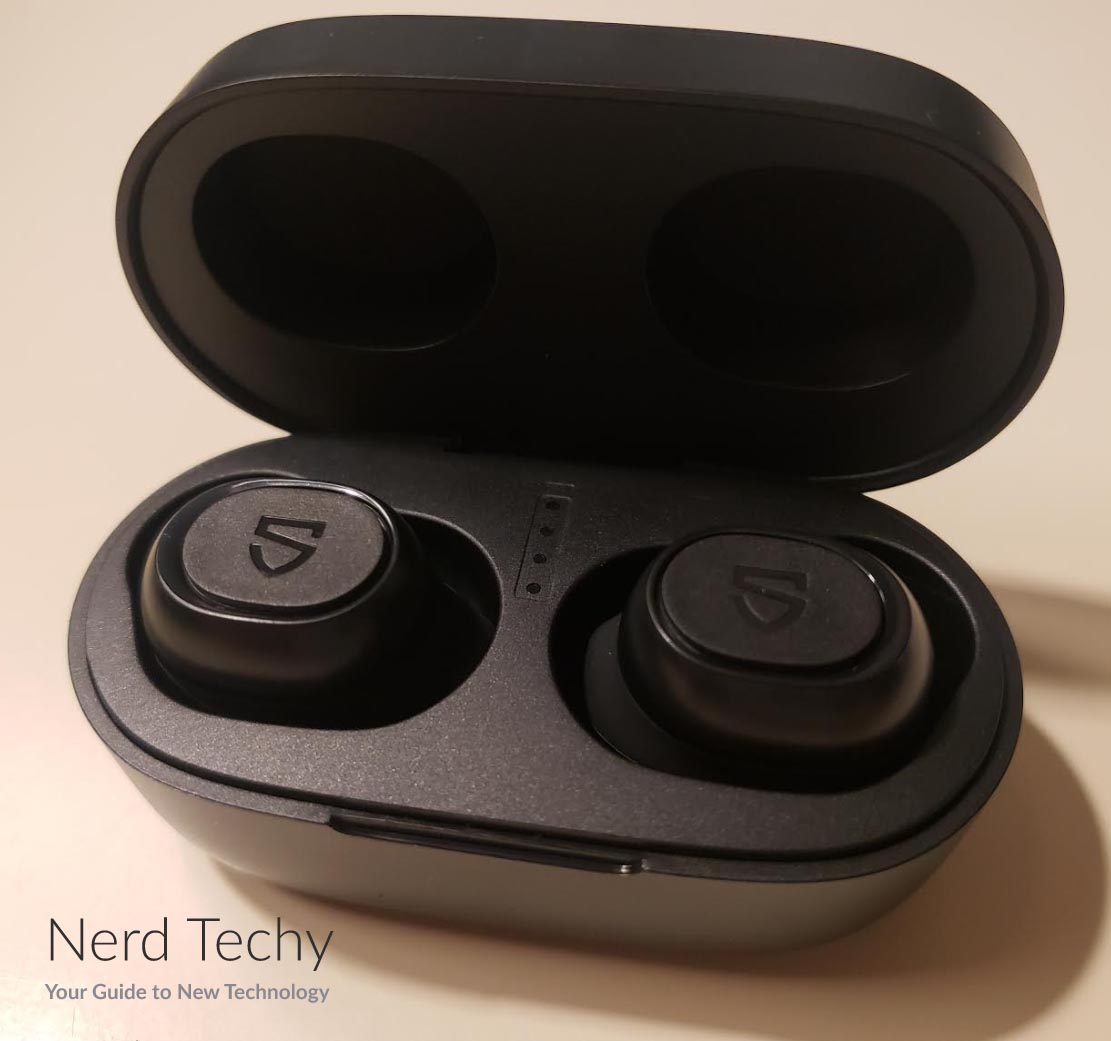 The TrueFree 2 earbuds have a water-resistance rating of IPX7. This is the second-highest water-resistance rating available, and the highest to have a set standard. It means the TrueFree 2 buds can withstand immersion at a depth of three meters for at least 30 minutes. Needless to say, wearing them during your post-workout shower will be a non-issue.
The backs of the earbuds sport matte SoundPEATS logos that function as control buttons. These are a bit different from your typical soft touch controls, and have their own benefits and drawbacks. On the one hand, you don't have to worry about accidentally tripping the buttons when you adjust your buds. This is especially useful at this time of year, when you're liable to be adjusting a hat or earmuffs. On the downside, the buttons are a bit stiff. If you have sensitive ears, it can feel like you're pressing down too hard. This can be particularly annoying when you have to double- or triple-click a button. At the end of the day, much like the ear fins, the clicky buttons can be a good or a bad thing. It depends on what you need.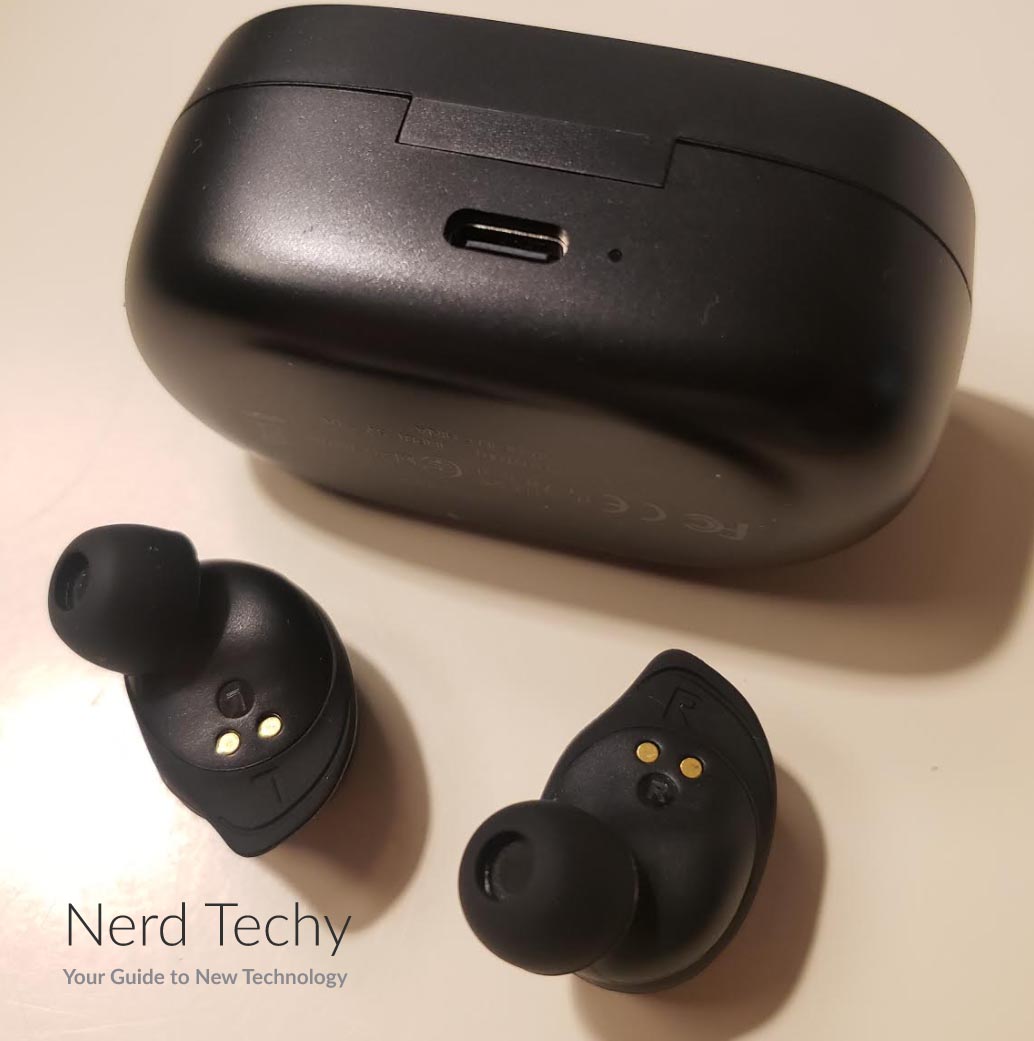 The charging case is constructed from a matte ABS plastic, which is easy to clean and doesn't attract fingerprints. It comes in black or white, to match the black or white earbuds respectively. Inside, the earbud charging wells are well-molded, and the buds snap easily into place with magnets. Once they're inserted, you can rest assured that they're charging. Between these two wells, there's a row of four LED lights, which lets you know the current battery status.
The case has an oval shape, without any sharp edges or corners. This makes it comfortable to carry in your pocket, since it's not going to jab you. The lid is spring-loaded, so it stays shut unless you pry on it. There's a small cutout under the front of the lid, so it's easy to do just that. Underneath the hinge on the back, you'll find the USB Type-C charging port. A Type-C charging cable is included with the kit, so you have everything you need to get started.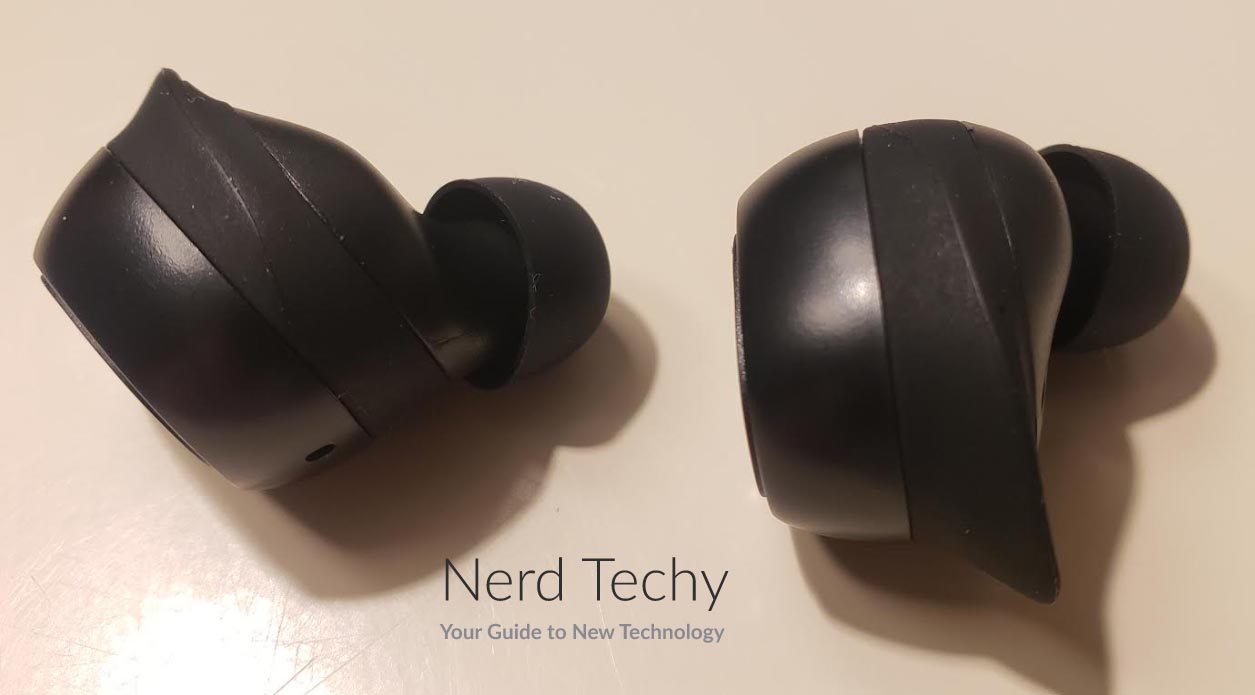 Battery & Connectivity
Of course, even the best earbuds don't do you much good without a functioning battery. The TrueFree 2 buds provide up to four hours per charge, which is a bit on the low side. Moreover, those numbers are based on manufacturer testing at partial volume. So if you like to crank up the volume, you can expect battery life to drop to as little as three hours. This isn't terrible. It's enough to get through your daily commute, a workout, or any combination of the above. You'll just want to stay topped off on a regular basis.
The charging case has enough battery life for an additional four charges. This will net you a total of about 15 to 20 hours, which is not impressive, but acceptable. With the USB Type-C cable, it takes about 90 minutes to top off the charging case. Similarly, a totally dead pair of earbuds will fully charge in about 90 minutes.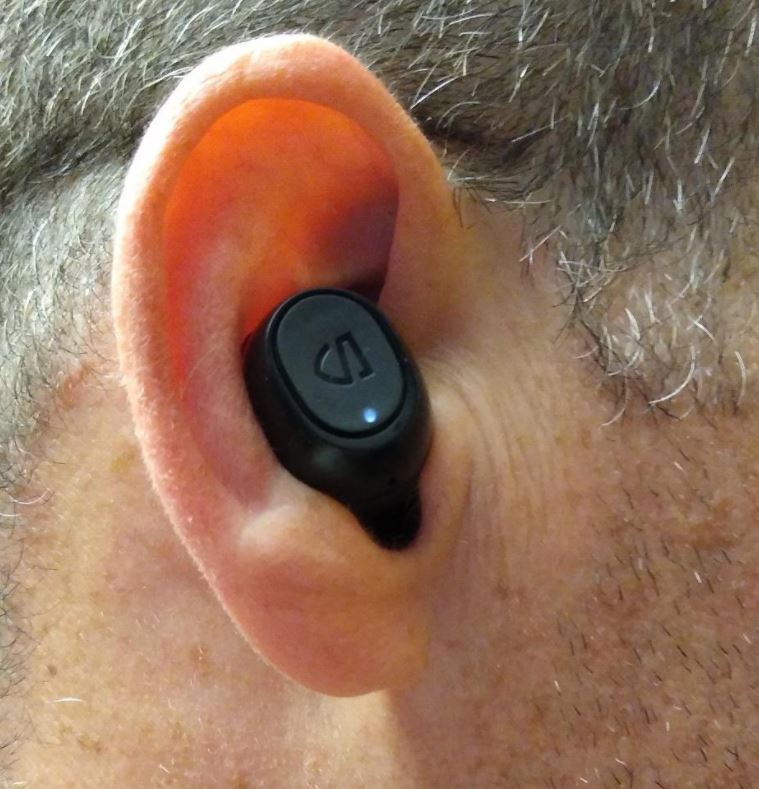 With all of that being said, it's understandable that you might want longer battery life. In that case, the SoundPEATS H1 Hybrid TWS Earbuds are an excellent choice. They provide up to six hours per charge, and 36 hours total, but they don't have any water-resistance rating.
The SoundPEATS TrueFree 2 wireless earbuds connect to your phone or MP3 player via Bluetooth 5.0. This is the current Bluetooth standard, and is a significant upgrade over older Bluetooth protocols. Most importantly, it allows for very low latency. So, unlike with previous Bluetooth buds, you can watch movies or play games without the audio being out of sync. In addition, Bluetooth 5.0 allows for a more stable signal, for fewer dropped calls or janky music. Finally, it allows for higher bitrates, so you can listen to high-definition audio on your wireless buds.
One other feature worth noting is that the TrueFree 2 buds can be paired either in mono or stereo mode. Moreover, either earbud can function as the "master," or primary earbud. This makes it easy to seamlessly switch between mono and stereo mode. Use a single earbud for phone calls, then instantly add the other for listening to music. The nice thing about single pairing is that it somewhat alleviates the TrueFree 2's limited battery life. By using a single bud, you effectively double your performance. Of course, this is only useful for hands-free calling or voice-only media, but it's still a nice touch.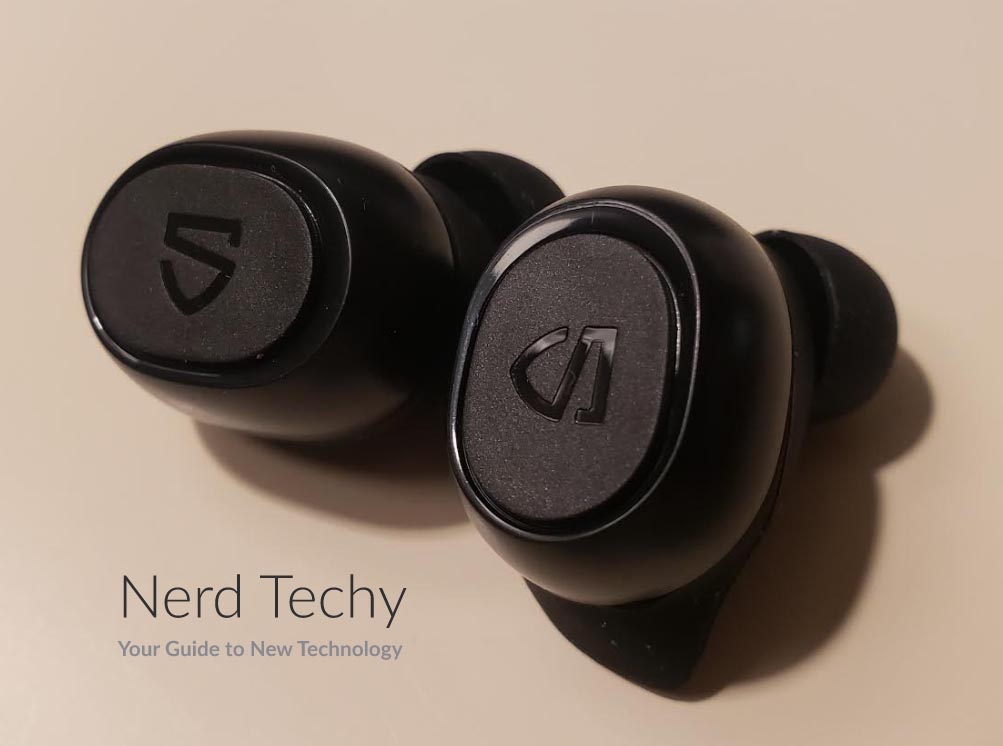 Audio Quality
Before we talk about audio quality, let's make sure we're comparing apples to apples. These are budget-priced earbuds, not AirPods, so you should adjust your expectations accordingly. That said, the 6mm bio-compound drivers are surprisingly effective. This is in large part due to the excellent noise isolation we mentioned earlier. Without any outside distractions, the smaller drivers just plain sound better.
To be fair, you won't get powerful, driving bass. There's just not enough power in this package. But you will get a nice, even EQ that sounds good with most genres of music. The soundstage is also surprisingly wide, compared to our expectations. All in all, SoundPEATS has done a nice job at building some good sounding earbuds at an affordable price.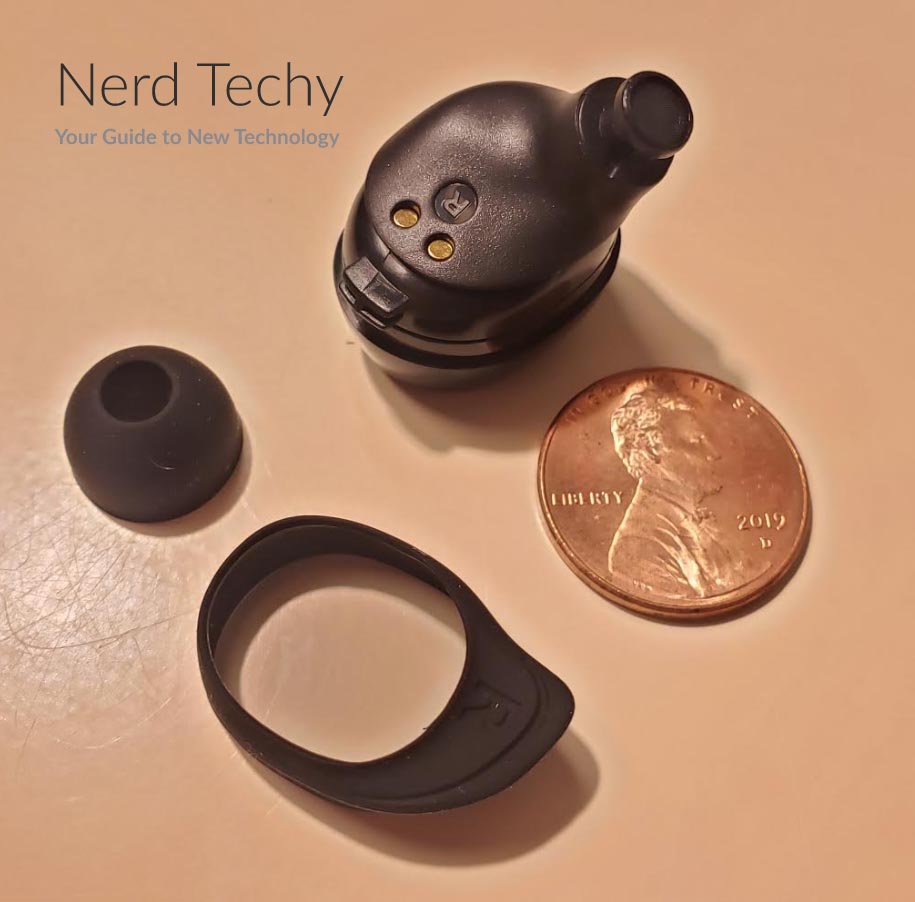 If you want better sound quality, you're going to need to spend more. But SoundPEATS still has plenty of offerings, including their Sonic Wireless Earbuds. They're a bit pricier than the TrueFree 2 buds, but the bass is significantly richer. If you want your music to have plenty of drive and punch, these buds will be much more your speed.
The mic quality on the TrueFree 2 buds is right in line with their audio quality. There aren't any bells and whistles, such as noise cancellation. If you're in a loud environment, you can expect to pick up some background noise. On the other hand, the mics themselves are good quality, and exceeded our expectations. As always, how well you hear the other person will depend more on their mic than anything else.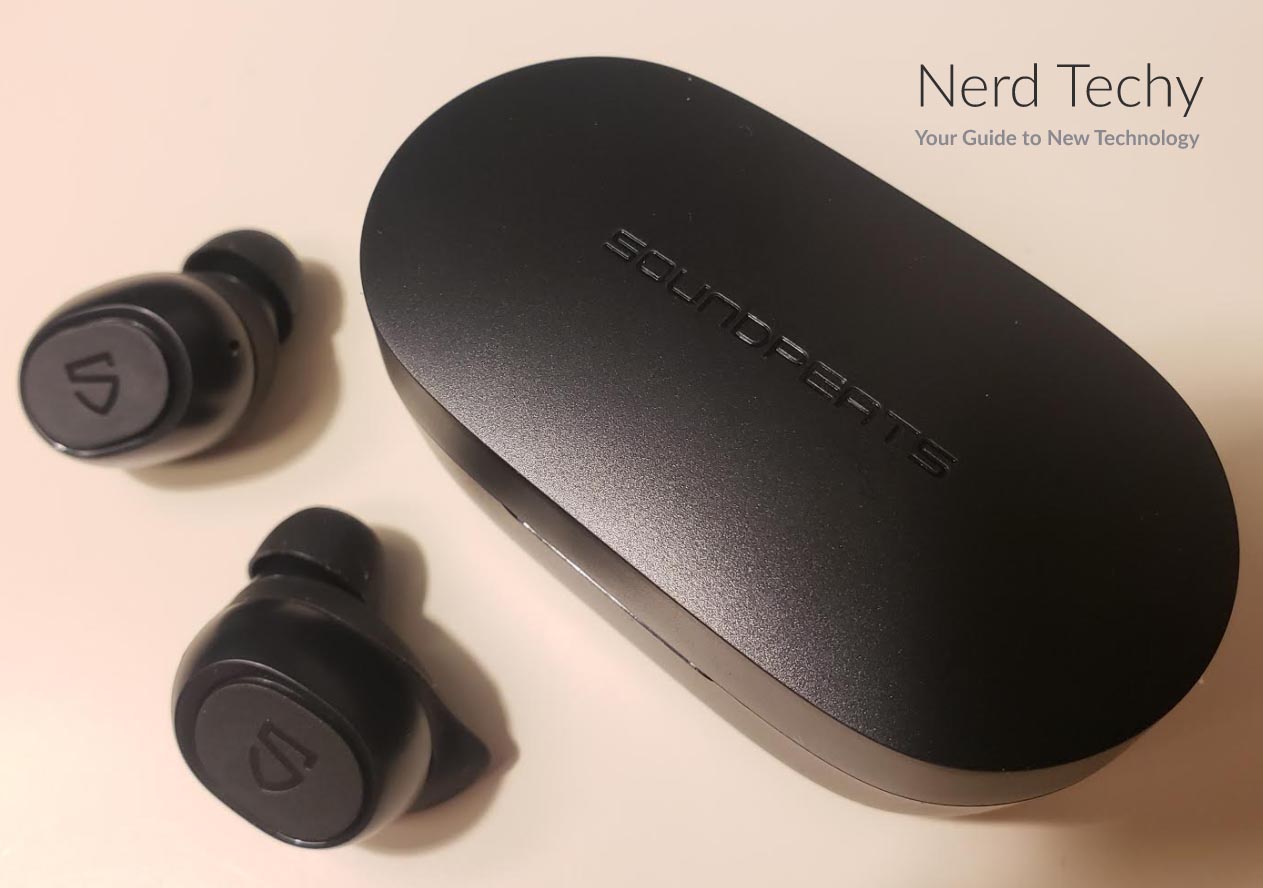 Final Verdict
As you can see, the SoundPEATS TrueFree 2 wireless earbuds are an excellent value for most people. Most notably, the sound quality is way better than you normally expect at this price. Again, these aren't Bose buds, they're a budget model. But the sound is rich and full, without an even EQ that works well for most music. Not only that, but the ability to pair in single or mono mode is a great extra touch. And since you can pair either earbud individually, switching between single and mono mode is easy.
To be fair, the TrueFree 2 buds are by no means perfect. Most notably, the battery life is on the short side, and might frustrate some users. Similarly, some people might find the clicky buttons uncomfortable to operate. This is a matter of personal taste, and if you don't have sensitive ears, you may appreciate the responsive design. The inner silicone ear fins are soft and comfortable, and provide a more secure fit than most compact buds. Finally, the main ear tips provide very good noise isolation, assuming you find the right fit. The TrueFree 2 earbuds are the complete package.
Please consider sharing:
Note: At no extra cost to you, we may earn a commission for purchases using our links. Learn more.