In one sense, finding a good set of wireless earbuds is easier than it used to be. A few years ago, it was straight-up impossible. There weren't many options on the market, and the ones that were available were low quality. This wasn't the manufacturers' fault. It was a limitation on the technology of the time. Before True Wireless Stereo, even a very well-engineered pair of buds would get a weak, low-bitrate signal. You could drop hundreds of dollars and still end up with thin, tinny sound. Worse yet, you were limited to mono.
But nowadays, we have the opposite problem. There are a ridiculous number of wireless earbuds available, on the order of tens of thousands of models. With that much variety to choose from, how do you know what's good? One way is to bite the bullet and order a pair of Apple AirPods. But like many apple products, while the AirPods are good, they're wildly overpriced. Another way is to choose a manufacturer with a good track record. SOUNDPEATS is one such manufacturer. In the past, we've reviewed their TrueWings, Truebuds, and TrueShift 2 wireless earbuds. All of these performed very well, especially considering the reasonable price point.
Note: At no extra cost to you, we may earn a commission for purchases using our links. Learn more.
Today, we'll be reviewing the SOUNDPEATS Truengine 3 SE. These are compact earbuds that are designed to punch well above their weight. But do they live up to SOUNDPEATS' sterling reputation? Or do they fall flat on their face? We'll look at all their features, from the physical design to the battery to the sound quality. Once we've covered all that, we'll be well equipped to make an assessment. Let's begin!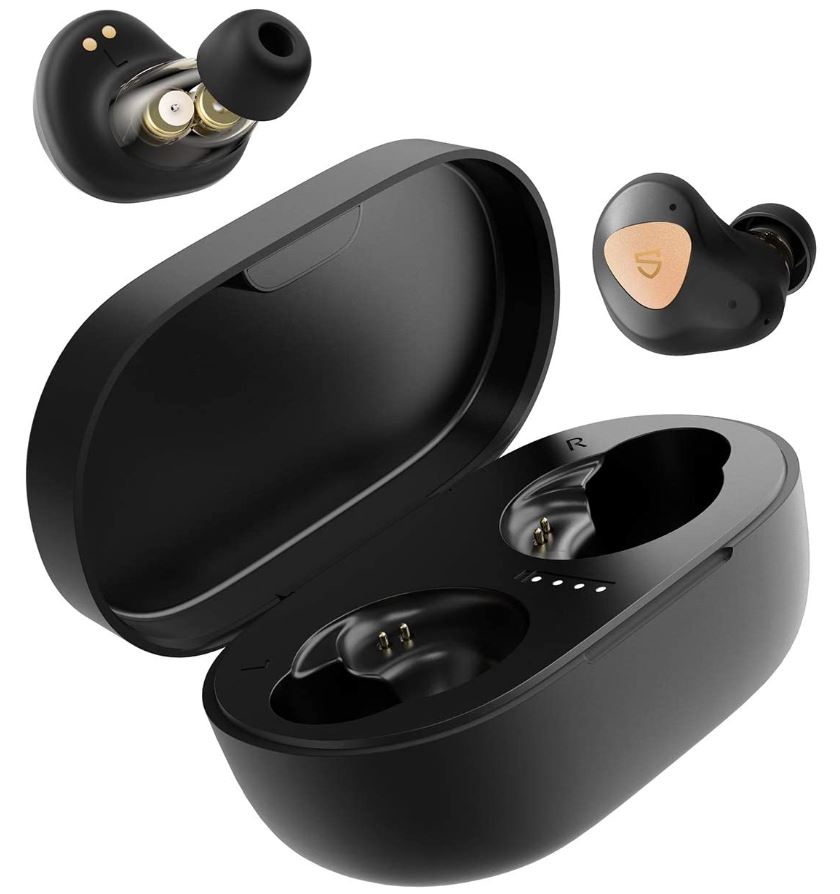 Overall Design
The SOUNDPEATS Truengine 3 SE earbuds have a compact, form-fitting design that's designed to seat neatly in your ears. This design sets them apart from AirPods-style buds, which have a more extended design. By their nature, they're relatively secure, but this will obviously depend on the size of your ear canals. To get the best fit, you may need to fool around with the ear tips. If your fit is initially too tight or too loose, try switching to one of the alternative sets included in the box. Spending a few minutes to get this right can save you a lot of frustration down the road.
The shells are mostly constructed from black ABS plastic, which has a matte finish. This finish doesn't show fingerprints, and is also easy to keep clean. On the back, there are a set of rose gold SOUNDPEATS logos. These logos add a splash of color, but they're not just there for show. They function as soft touch buttons, so you can answer calls, skip tracks, and perform other functions with ease. Moreover, the soft touch design is easy to operate. Because you don't have to press hard, you won't irritate your ears, even if you have very sensitive ear canals.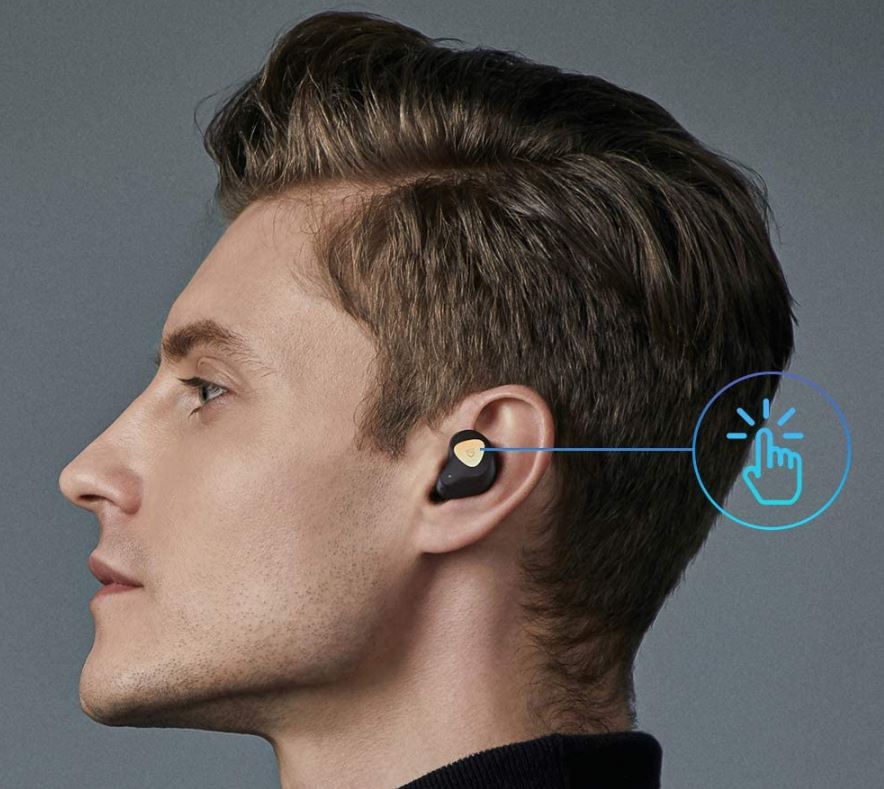 The Truengine 3 SE earbuds are also IPX5-rated for water-resistance. This means they're splash-proof and sweat-proof, but not truly waterproof. You can wear them during a sweaty workout without any issues. You can also wear them in the rain and not have to worry about them getting damaged. That said, you don't want to take them swimming or even wear them in the shower. When it's time to clean up after your workout, just put them in the case to charge for a few minutes.
The charging case has an oval shape, with all rounded edges. This makes it easy to carry in your pocket, since there are no sharp corners or edges to dig into your skin. To compliment this form factor, you also get a compact size. The case is only 1.03 inches wide, 0.84 inches deep, and 0.8 inches thick. Once again, this is compact enough to carry just about anywhere. And at only 3.2 ounces in weight, it's very lightweight. You can carry it in a backpack, purse, fanny pack, or laptop case without even knowing it's there.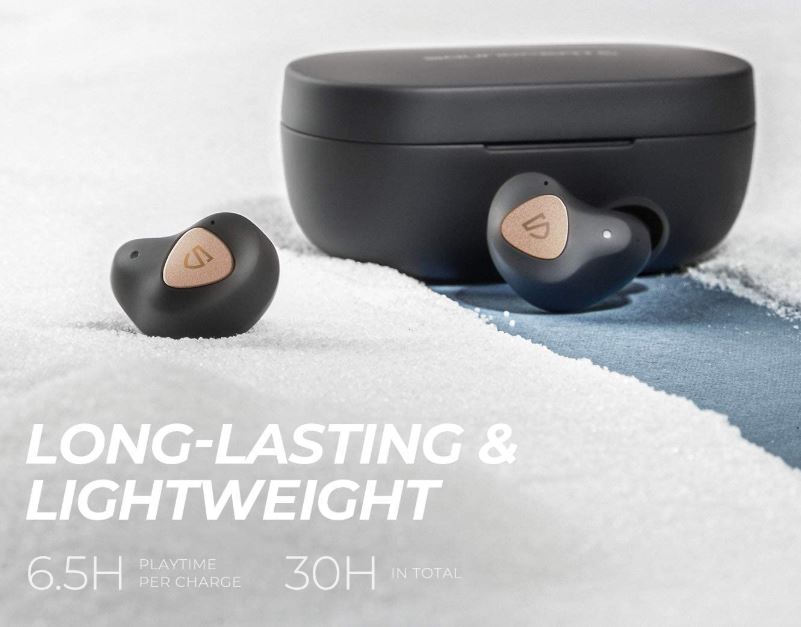 The Truengine 3 SE case has a clamshell-style design, with a spring-loaded lid. As a result, the lid won't come open by accident while you're carrying it in your pocket. But if you want to snap it open with one hand, a small cutout under the lid makes it easy. Inside, you'll find a pair of charging wells for the earbuds. These wells are molded, which makes it easy to insert the left and right buds without mixing them up. Provided the buds are properly seated, they'll automatically start charging as soon as they're inserted into the case. In between the earbud wells, there's a vertical row of four white LED lights. These lights illuminate when the buds are inserted, and indicate the current status of the case's battery.
On the back of the charging case, underneath the lid hinge, there's a USB Type-C charging port. One neat feature about the Truengine 3 SE is that the charging port has a small indicator light. This light lets you know when the case is powered, so you won't get any unpleasant surprises.
Finally, the earbuds and case come with a 12-month manufacturer's warranty. This SOUNDPEATS warranty protects you from any defects in parts or manufacturing. If your buds or case fail, just file a claim and you'll get a free replacement.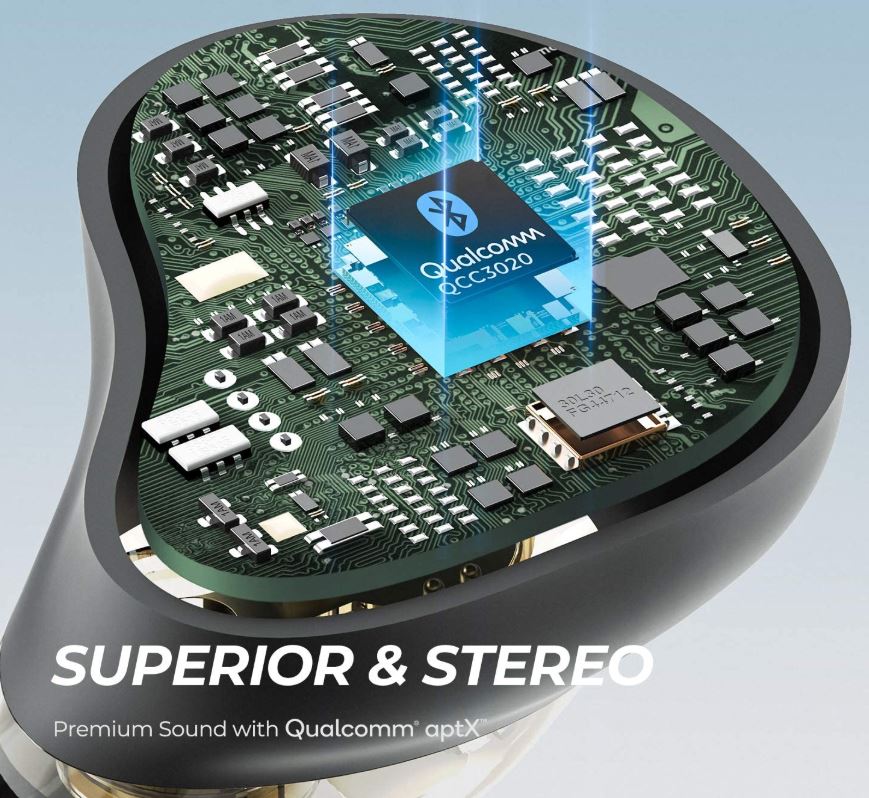 Battery & Connectivity
Clearly, the SOUNDPEATS Truengine 3 SE earbuds are well-constructed. But how well do they perform once they start running? Let's start by talking about battery life. On a full charge, the earbuds will last for up to 6.5 hours of playtime. This is long enough for most people to get through the day without the need to top off. However, if you do need to top off, the charging case provides an additional 23.5 hours of charge. This adds up to a total of 30 hours. For all practical purposes, you can take these earbuds on a weekend trip without the need to plug in.
That said, we should point out that these are manufacturer's ratings. In practice, they're based on playback at medium volume. If you want to crank up the volume, your performance will be somewhat less. Your audio bitrate can also affect the real-world performance. But even in the worst-case scenario, you're looking at a total of about 25 hours. All things considered, that's not bad. Moreover, the case is very easy to recharge. Just plug it into any USB Type-C port, and it will be fully powered in about 2 hours. So even when you do need to plug in, you don't need to spend all day powering back up.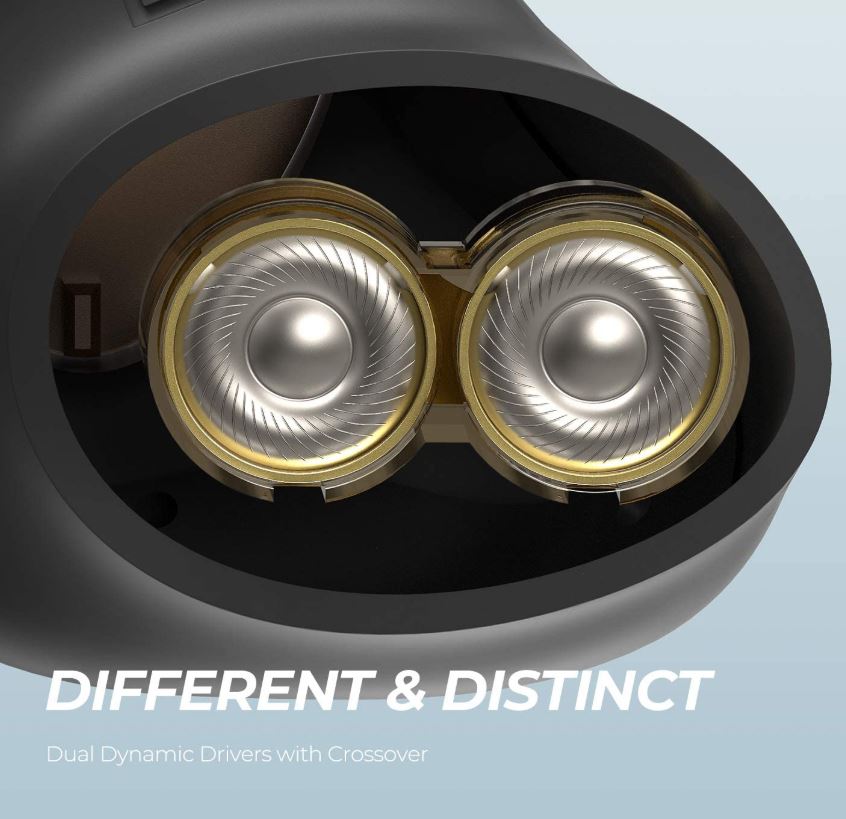 The Truengine 3 SE earbuds connect to your phone or MP3 player with the latest Bluetooth 5.0 protocol. This protocol provides some significant benefits when compared to other Bluetooth protocols. To begin with, you get virtually zero latency. In other words, if you're watching a movie or playing a game, the audio and video will be in sync. Secondly, Bluetooth 5.0 allows for higher-bitrate audio. You can listen to 312K MP3 files or even FLAC files without a noticeable loss in quality. Finally, you get a more stable connection. Phone calls remain stable, and you won't hear any skipping when you're listening to music.
Sound Quality
Of course, no pair of earbuds can truly be considered "good" if it doesn't offer good sound quality. The Truengine 3 SE buds utilize a pair of titanium-plated composite diaphragms to deliver excellent sound. To begin with, the treble is crisp, clean, and clear. You get plenty of shimmer on cymbals, and high synths also sound very good. Moving down to the mids, the sound quality is similarly good. Vocals are undistorted, which means vocal-heavy genres like rap and country are easy to listen to. The bass is solid and punchy, which surprised us given the size. Now we're talking about earbuds, not headphones, so you'll need to adjust your expectations. But even so, bass and drums are plenty clear. Metal drums thump and rumble, and a hip-hop bass line has plenty of punch for dancing.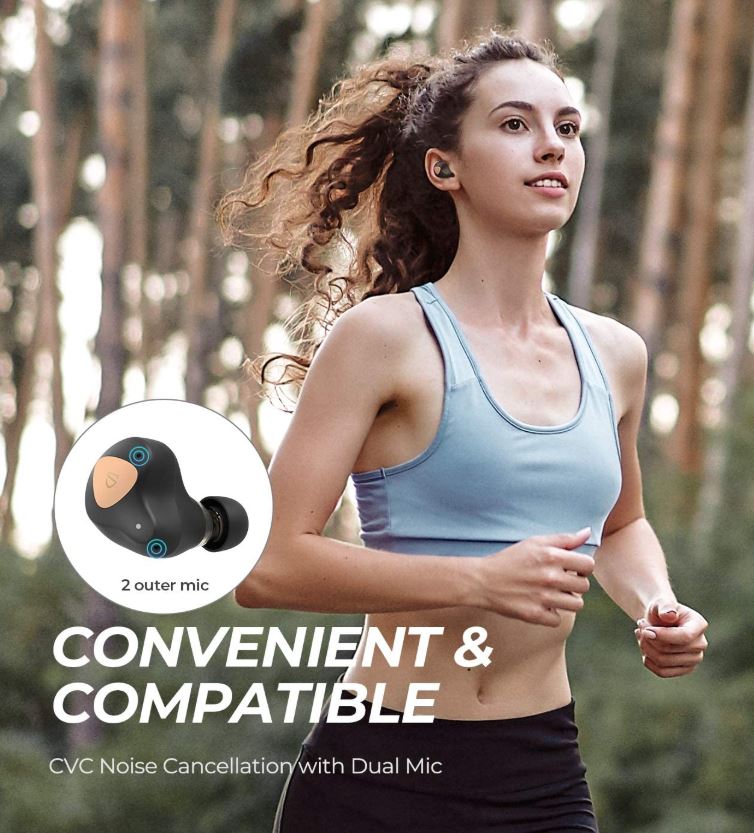 All of this comes with the aptX audio protocol. This is one of the most powerful protocols available, and also allows for minimal latency. Combined with Bluetooth 5.0, you're looking at some of the lowest-latency earbuds that money can buy. On the downside, the ear tips don't provide a lot of noise isolation. If you're by yourself or in a quiet environment, this really isn't an issue. But if you're in a crowded or noisy area, outside noise is going to leak in. Because of this, we highly recommend using Comply Foam Tips. They're made of a squishy foam material that conforms well to the contour of your inner ear, ultimately sealing out background noise.
When it comes to call quality, you're looking at a well-equipped set of buds. Each Truengine 3 SE earbud is equipped with dual mics, for a total of four. These mics utilize CVD 8.0 noise cancelling technology to block out background noise. Even if you're in a crowded airport or a windy park, the other person will hear you just fine. How well you hear them is going to depend on the quality of their mic and connection.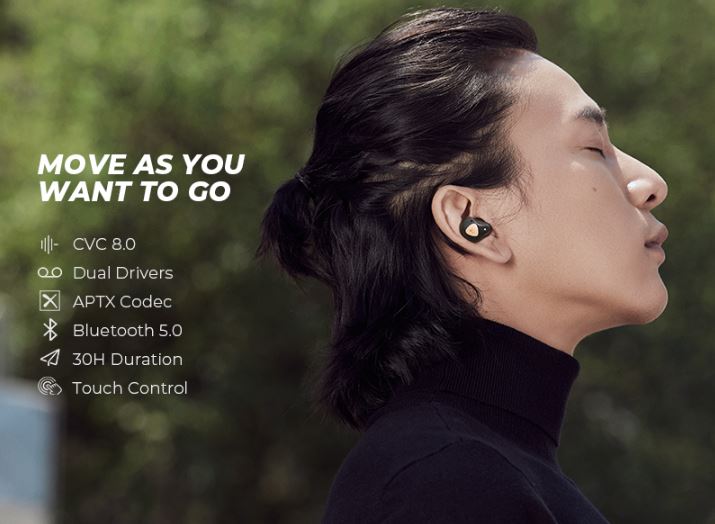 Final Verdict
So, how well do the SOUNDPEATS Truengine 3 SE earbuds compare to the competition? In most respects, they compare very well. To begin with, they have a secure, ergonomic fit. They won't fall out easily, and they sit comfortably in your ears when they've been properly fitted. They're also easy to transport. The case is compact and lightweight, and is also easy to use. And with an indicator light on the back, you'll always know when you're getting an active charge.
The only real downside to these buds is the poor noise isolation. (Get the Comply Foam Tips to fix that qualm). This makes them ill-suited for use in an environment with a lot of background noise. On the other hand, for any other situation, you're looking at a great pair of buds. The batteries are long-lasting, so you can keep on listening all day long. The sound quality is also top-tier, with plenty of separation between different frequencies. To tie things up, SOUNDPEATS has provided CVC 8.0 noise cancelling for excellent call quality.
Please consider sharing:
Note: At no extra cost to you, we may earn a commission for purchases using our links. Learn more.