Quick Analysis
Pros
Very comfortable, easy to wear.
Carry case also charges earbuds and your phone.
Charger holds 100 hours' worth of runtime.
Great sound fidelity.
No need for silicone/foam ear-tips.
Cons
No noise-cancelling.
Earbud battery life is somewhat disappointing.
Earbuds are becoming more and more common and important every day. Even if you can't work with your earbuds in, chances are you still listen to music at the gym, or even just when you want a little privacy. They're useful for hands-free calling, and the smaller design of earbuds makes them more portable than headphones.
But for such a common technology, there's still a huge range of quality and price when it comes to earbuds. Unfortunately, while there are some affordable gems out there, there are plenty of earbuds that aren't worth the price. Today, we're going to review the SOUNDPEATS Truebuds True Wireless Earbuds. SOUNDPEATS is a reliable manufacturer, and we've reviewed several of their earbuds in the past. These include the TrueShift2, the TrueWings, and the TruEngine SE. We've taken a close look at SOUNDPEATS Truebuds to see if this set lives up to the hype and the price. Let's see how they stack up!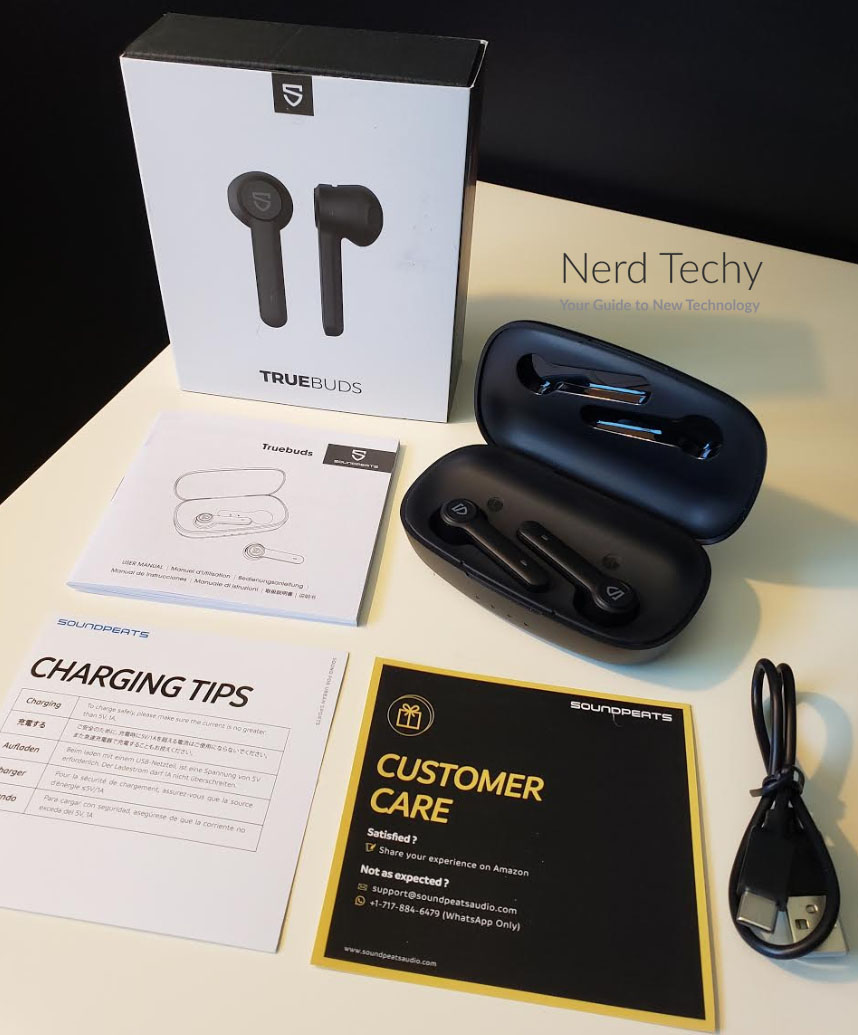 Overall Design
The SOUNDPEATS Truebuds True Wireless Earbuds come with several innovative design features. The earbuds themselves are comfortable for most people and don't cause soreness worn for a long time. They're also relatively secure. While they might not be perfect for running on a treadmill at the gym, you shouldn't have to worry about them falling out while walking around, or even doing some light weights training.
The longer profile on the Truebuds also helps prevent them from getting lost. They're large enough to be easy to spot, without sacrificing in-ear comfort. The earbuds also come with a mobile charging case. When they're in the case, they're getting more juice. Small LED lights on the earbuds indicate when they have a good connection to the battery, it's all wireless, so you always know that they're charging effectively.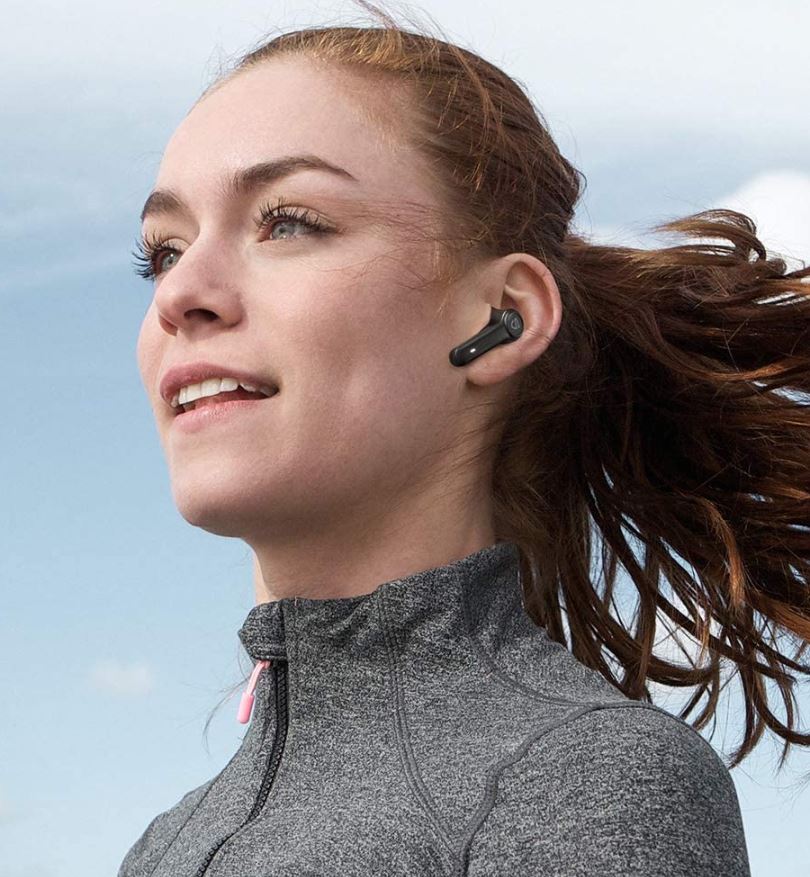 The case holds power equivalent to about 100 hours of runtime. It also offers a USB port so that your headphone charging bank can act as a phone charger in a pinch. That additional adaptability is a nice touch and makes the set as a whole much more functional.
The semi-in-ear design makes these earbuds more comfortable for anyone who doesn't like silicone tips. While the silicon tips on other earbuds can offer greater stability, they also cause soreness over time and can get slick in some circumstances. These earbuds sit gently in your ear, without the same hold, but also without the discomfort of other designs. Plus, you don't have to worry about losing the silicone tips.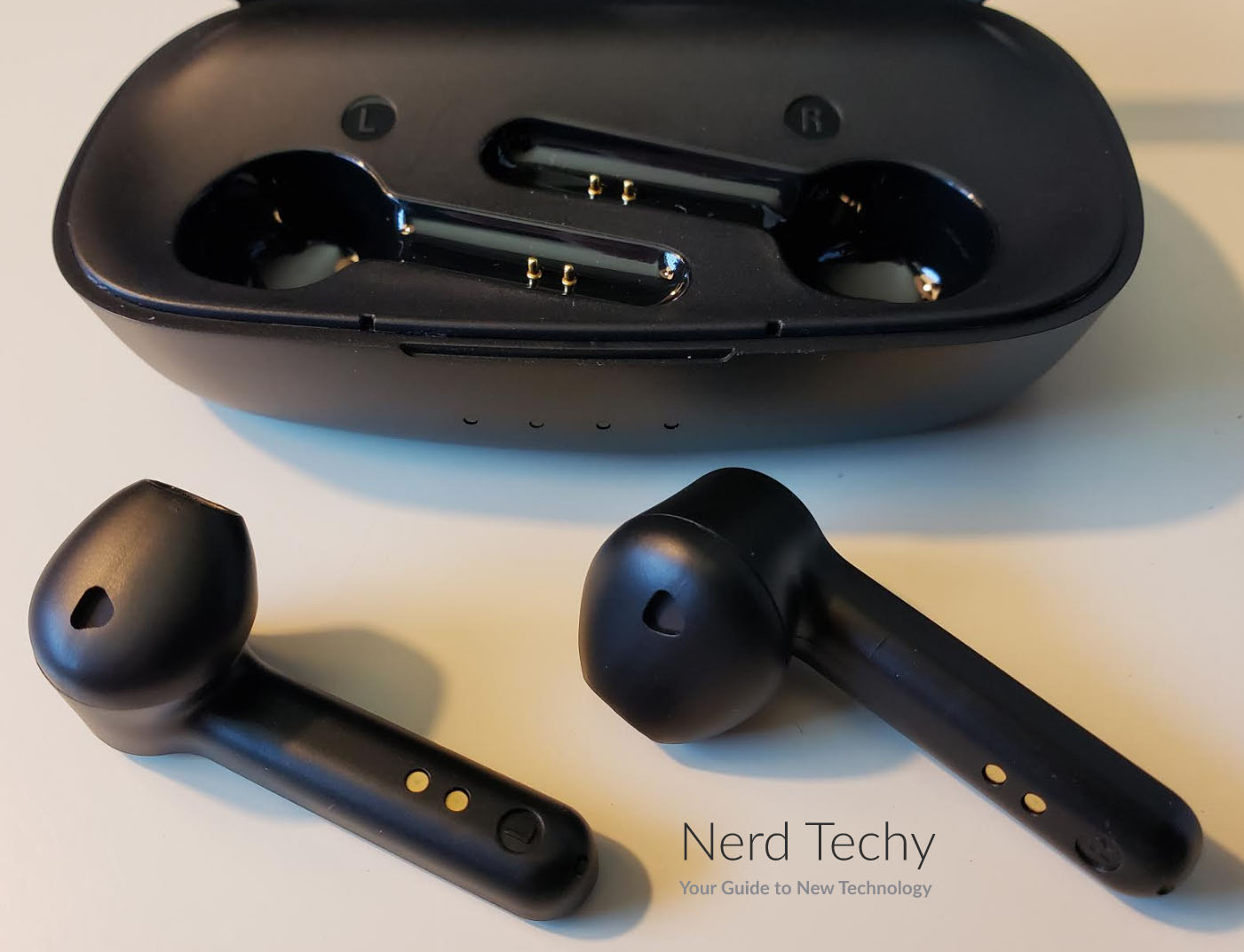 Another important advantage with the Truebuds is the ability to switch between mono and stereo modes, with both calls and media. If you need one ear free, just switch over to mono mode to enjoy your media without losing quality. The set isn't noise-canceling, which can be both an advantage and a disadvantage. Without noise canceling, you'll be able to hear more of the noises around you, which can be distracting. But with noise-canceling, you'll often have to deal with some sound distortion and lower quality.
We also appreciate that these headphones have fully integrated touch control. You can control the volume and pause playback with a single touch, no need to reach for your phone. That's perfect for busy office settings and anywhere you want to control without having to look at your phone to get it. Overall, the Truebuds offer a good, highly adaptable design. They're durable enough for normal use, though you probably don't want to wear them with lots of exercise or anywhere they're likely to fall out or get wet.
The additions of a charging case and touch control on the earbuds themselves make them significantly more functional. The small size of the carry case also makes them highly portable, great for air travel, and other situations where space is tight. The features that really would have put this pair over the top in terms of design would have been if they had size options, or if you could turn on a sound canceling setting. It also would have been nice to see longer playback per change on the earbuds themselves, but we'll talk about that more in the Runtime section.
In addition, the Truebuds are Bluetooth-enabled. They utilize the Bluetooth 5.0 protocol, which means that they're compatible with even the latest smartphone connections. The earbuds are protected by a 12-month warranty, more than long enough to make sure you like the set and to make sure there aren't any manufacturer defects.

Sound Quality
When it comes to earbuds, there are few things more important than the sound quality. Earbuds have long been plagued by a slightly tinny sound and bad bass. Bluetooth connections have also had problems with causing some static in the sound, further reducing sound quality. That's why audiophiles have preferred traditional headphones for so long. The larger design has space for better hardware, producing a higher quality of sound, whether you're listening to music, the news, or a call from your best friend.
But, as technology advances, manufacturers need less and less space for the equipment needed to produce high sound quality, and this set does well. The Truebuds' sound system is flexible and has a wide range with good fidelity. That's largely thanks to a 14.2mm large bio-compound diaphragm driver. The driver can maintain high melodies with the needed delicacy and crispness, without sacrificing deep bass thrumming.
When the full range of sound is called for, the Truebuds balance the different sound demands reasonably well. It's not as good as hearing the music live for yourself, but you won't notice significant quality differences between this pair and a similar pair of over-ear headphones.
Most impressive is the bass, which is a range difficult to produce in the small space of an earbud. This set does well enough and can bring you favorite clubbing dance songs to life just as well as more melodic country. The deep growling tones of heavy metal also sound very good. Sound quality does go down as the earbuds come loose, which can provide an additional warning before they fall out of your ear.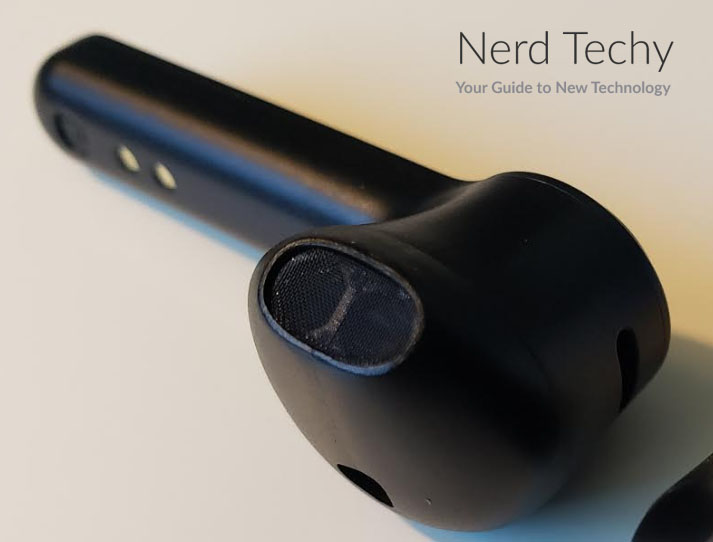 At the upper ends of volume control the sound does develop some static, but that's a common problem across almost all headphones. The good news is that these headphones don't seem to lose sound quality over time like many do. You'll have the full range of volume and sound quality for a long time, not just a month or two after purchase.
Durability
Durability is almost as important for a traveling set of earbuds as sound quality. After all, fantastic sound quality doesn't do you much good if the earbuds die the first time they're jostled a little. The Truebuds have a few advantages when it comes to durability.
The two most common points of failure on a typical pair of headphones are the wires and the over-head band. This set has neither. As a truly wireless set of earbuds, even for charging, you don't have any wires that can develop kinks and soft spots. Similarly, without the overhead band you don't have to worry about stressing the plastic or metal components, and no sudden snap when they give out. The batteries themselves are also reasonably durable. They don't seem to develop much of a memory, even after extended use and many charging sessions. That's good news for this style of earbud, where batteries have often been a point of weakness.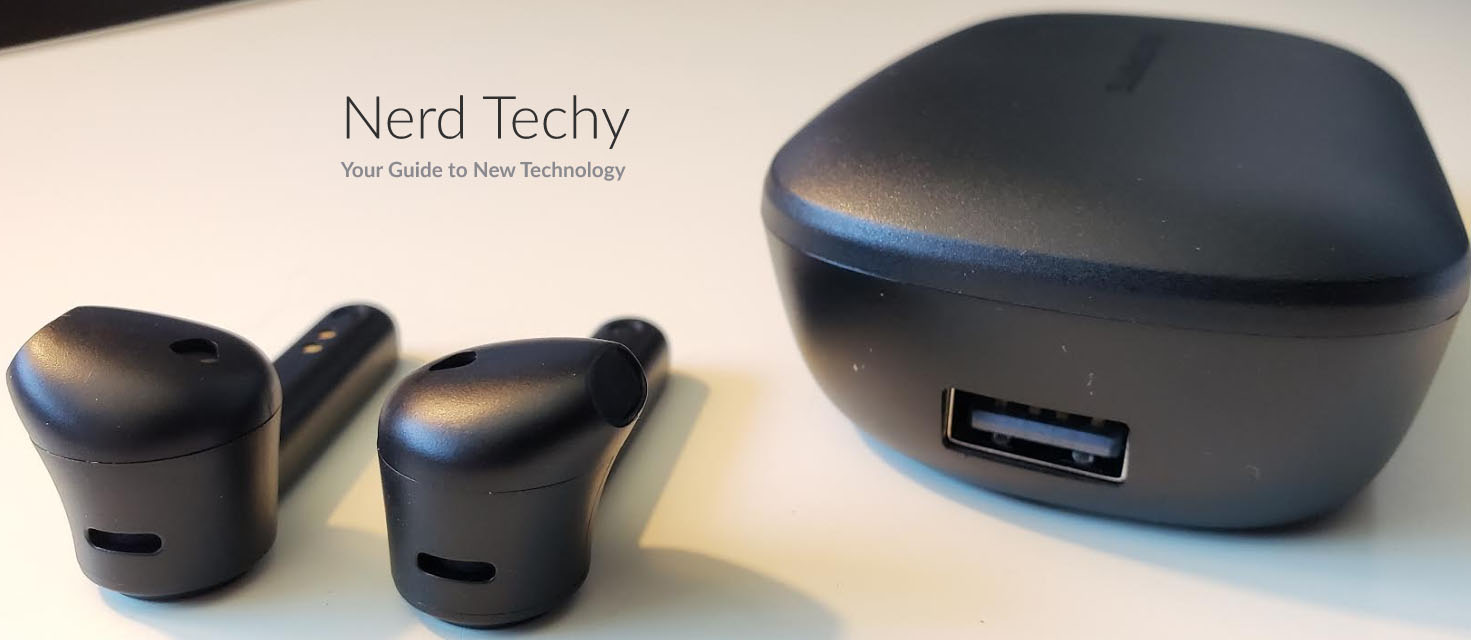 Unfortunately, the earbuds aren't rated for any kind of waterproofing. That doesn't mean that they won't survive getting a little wet in the rain, but you can't count on them coming back from falling in a puddle. They're also relatively vulnerable to crushing damage. If they fall out and are accidentally stepped on, or get caught in a treadmill, chances are they'll be at least somewhat damaged if not completely broken.
We can't dig on the Truebuds too much, however. Most earbuds share similar weaknesses, as do many headphones. So, while there are a few weaknesses to the design, overall, the Truebuds hold together surprisingly well.
Runtime
Runtime is another issue for wireless earbuds. Many audiophiles want a set of headphones that can keep up with their demands all day, which is where wired earbuds and headphones really stand out. But with battery-powered headphones there's a lot more space for that battery than in little earbuds.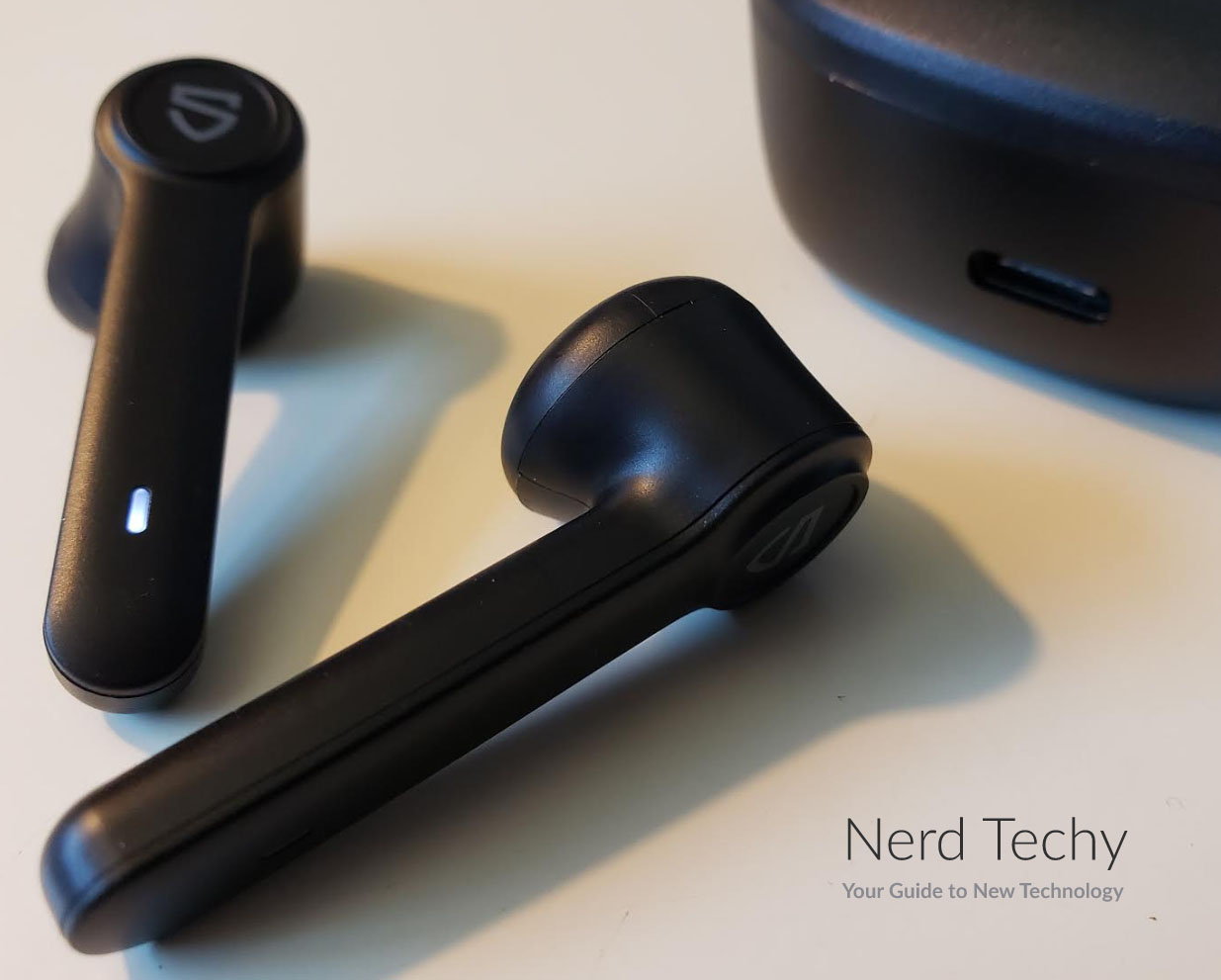 This is one of the places that the Truebuds have clearly made some compromises. It's not that they don't have a good runtime, they do, but it's not quite as impressive as some of the other specs on this set. The earbuds themselves have a runtime of about 2.5 hours on a single charge. That's assuming good conditions and reasonable use. The highest volume, or taking a lot of phone calls, can both lower the runtime on a single charge.
You get a decent amount of added runtime thanks to the travel case doubling as a charging station. It holds about 100 hours' worth of charge, which will give you plenty of charging time. The earbuds themselves charge relatively quickly. So if you do run out of charge, you can put them in the charger for a few minutes and continue. The battery power of the charger can also be used to charge your phone and other small accessories, but that will reduce your playtime. The lower overall runtime on the Truebuds means that they're less effective for all-day listeners and long travels. But they're just fine for workouts or commutes.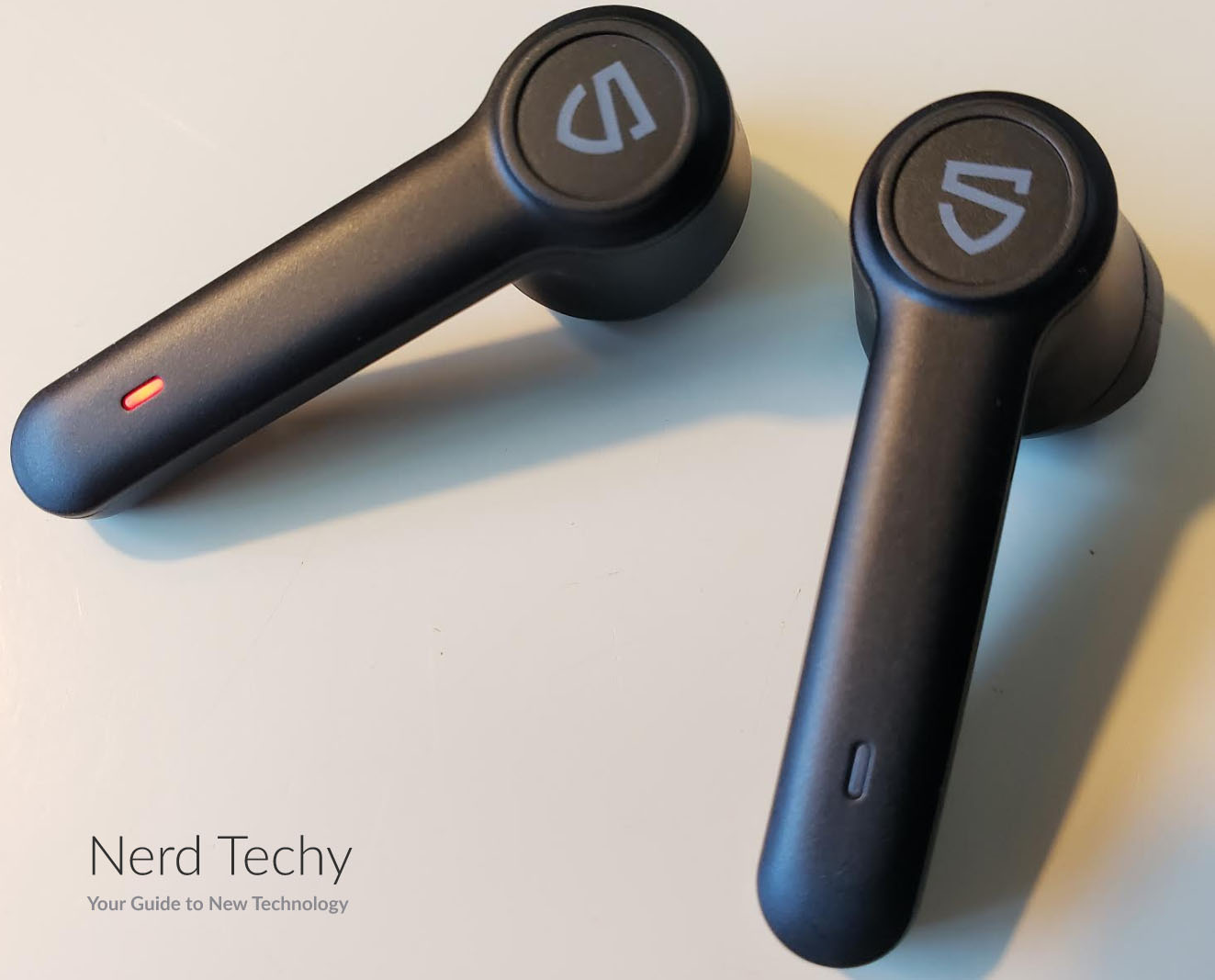 Final Verdict
Overall, the SOUNDPEATS Truebuds True Wireless Earbuds are a good investment. They're relatively affordable and offer higher quality audio than many other earbuds in the same price point. They have a decent battery life, both as individual earbuds and with the charger. They're better suited for people who are occasional listeners more than constant music listeners. They're also better for short flights and other travel, and not as good for longer trips.