Quick Analysis
Pros
Reliable, wire-free solar recharging.
Durable and weather-resistant.
Real-time notifications and alerts.
Able to filter-out animal shapes for more precise detection.
Cons
Only works with a smartphone.
Not compatible with 5 GHz WiFi.
While it's true that our society is safer than ever, it's also true that there are more reasons to get a good security system than ever. Whether you're concerned about package deliveries, want to keep an eye on your kids, or are more worried about intruders on your property, there are plenty of reasons to invest in a good security camera.
But not all cameras are created equal, and few are as easy to use as a wireless solar-powered camera. While this is certainly a convenient option, it's still worth thinking carefully about whether this is the right camera for you and your family. We've considered some of the most important features of the camera for this review. We'll talk about how it works, the pros and cons, and what makes this camera a good option overall.
This is truly a next-generation security camera, and we're excited to be moving in the direction of a more secure, and more convenient, appliance.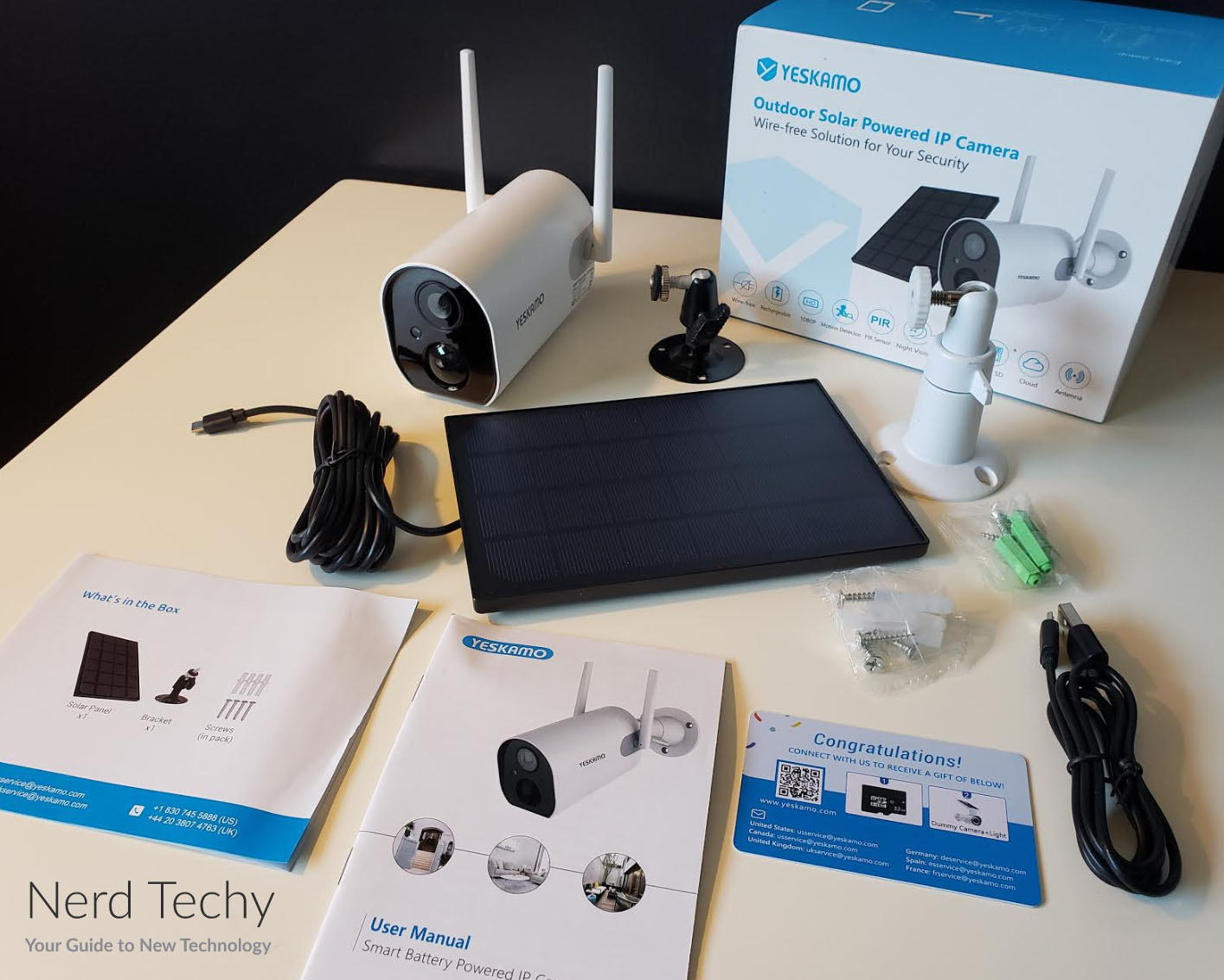 Overall Design
The biggest highlight of this design style is its convenience. The YESKAMO Solar Home Security Camera (20% off code: 20T3A3P6) is clearly meant to be a device that's easy to install, easy to use, and one that requires an absolute minimum of maintenance to keep working. It's designed to be completely wireless save for a connector between the solar panel and the camera itself. No Ethernet cords, no power cords, no internal system connections required. Additionally, it has the option of backing up to either an internal micro SD card, a cloud-based memory system, or both. We'll talk more about that later.
Installation is simple. You just find a solid surface to drill a few screws each for the camera and the solar system. The solar panel does need to be relatively close to the camera, but can be to the side or slightly higher on your house depending on what you want the camera to see, and where the best source of nearby sunlight can be found.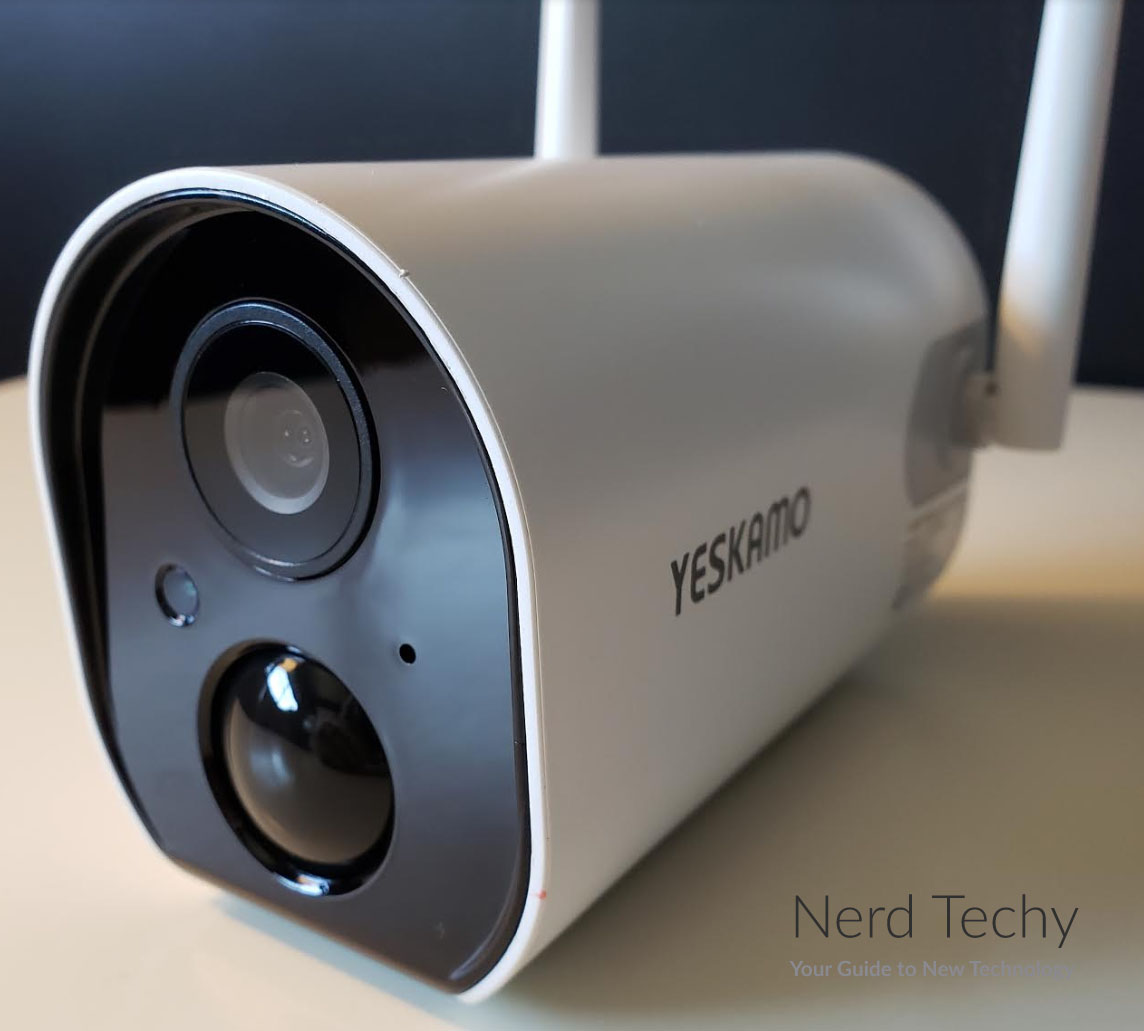 However, if your house is made primarily with brick or other stone masonry it can be more difficult to find a solid attachment point. There are masonry screws that will easily support your new camera and solar panel system, but they don't come with the system. Look for wooden siding that is at least a half-inch thick, or wooden beams for installation.
Use code "20T3A3P6" for 20% Off when you order YESKAMO Camera on Amazon.com
One of the more important aspects of any outdoor camera is its weather resistance. That's another area that this camera holds up relatively well. The whole electrical system is contained and largely waterproof. You won't need to worry about excess moisture making it past rubber seals and a throughout waterproof system. Both the camera and the solar panel are rated as having IP65 waterproofing.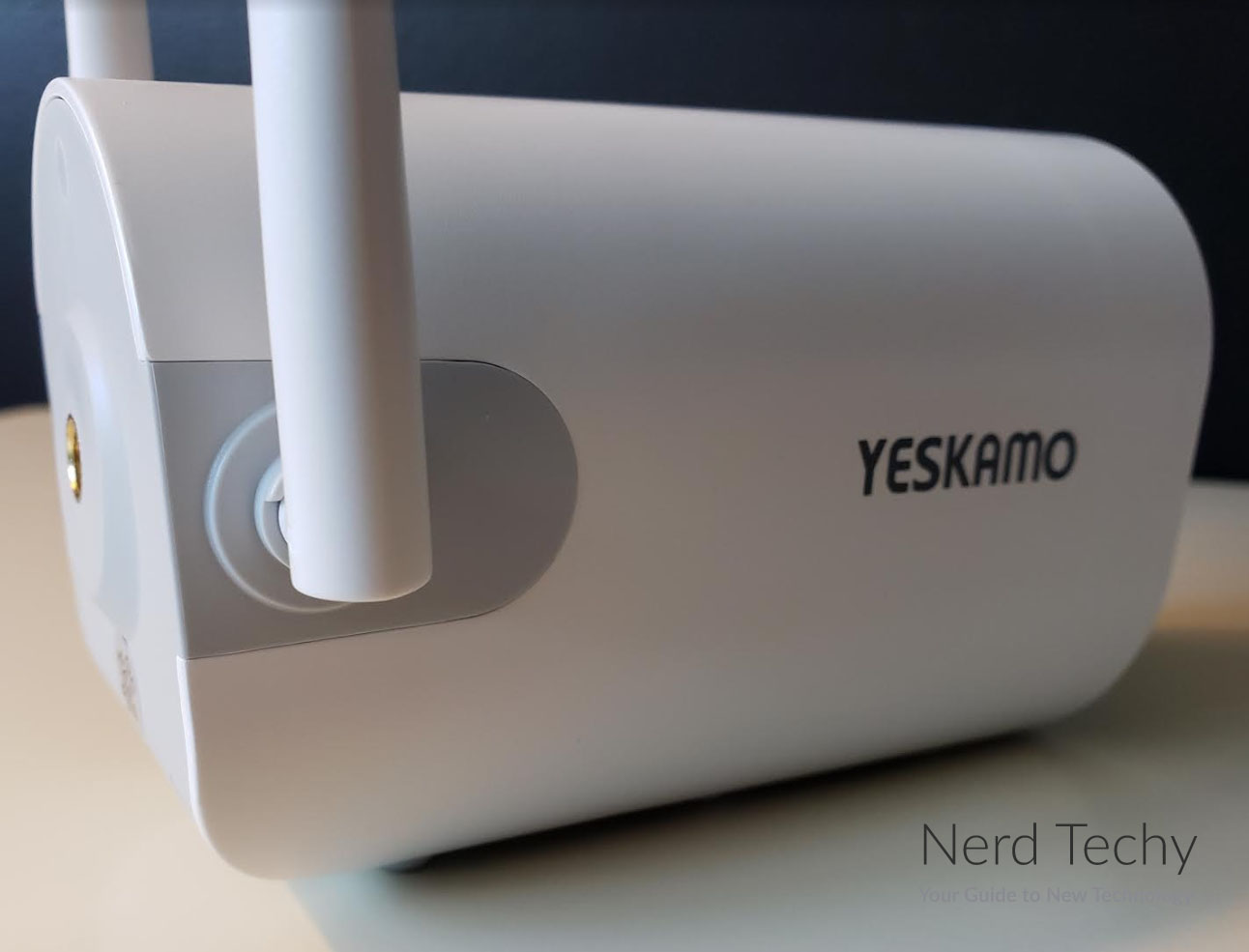 With other solar panels, a small battery can limit the overall utility of a camera. The good news is that, with an average of 10 activations a day, this camera only needs 4 days of good sunlight per month to be effective. That means that even the wettest and cloudiest areas can generally count on getting enough of a charge, month over month. However, the requirement of good sun exposure does somewhat limit where you can place this camera. The solar panel needs to have at least occasional good access to full sunlight, which means it can't be installed under tree cover, or on a section of your house that is in perpetual shade. Still, that doesn't significantly decrease the utility of these cameras.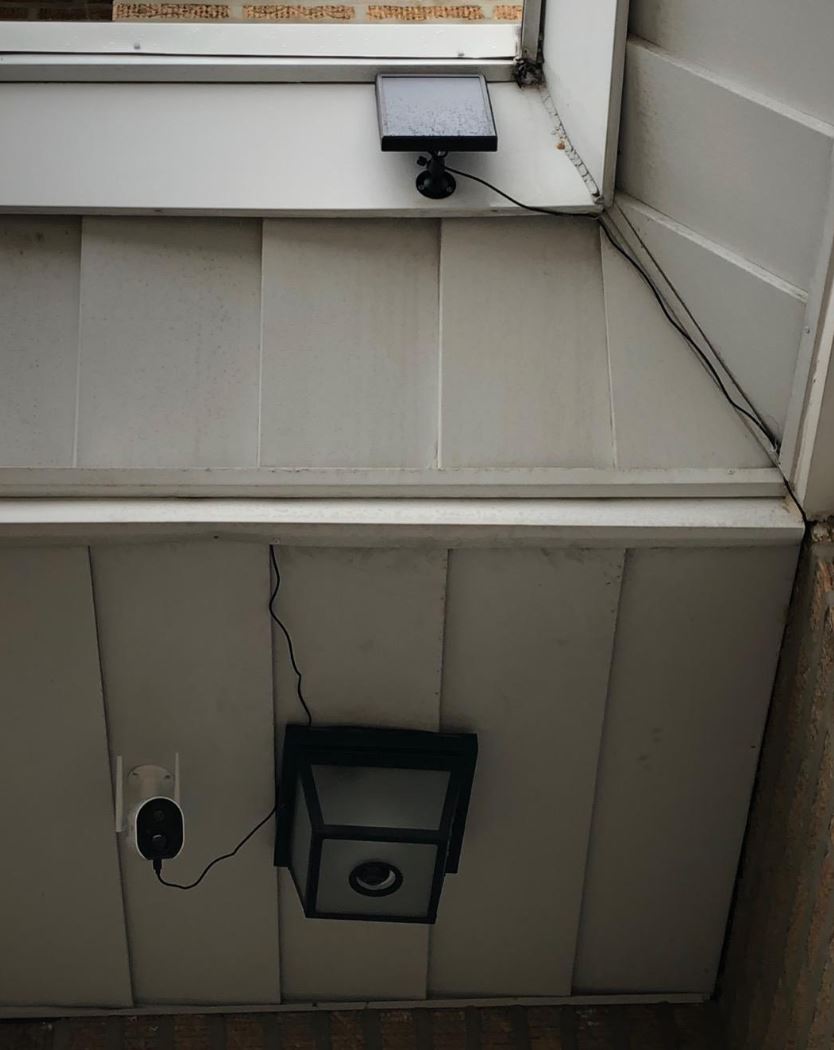 There are some connection limitations, however. The camera is designed to work with a phone app and does not communicate with any computer operating systems. So, if you're someone who habitually turns your phone off, or puts in on do not disturb, you risk missing important alerts. The camera is also only compatible with the 2.4 GHz WiFi signal from your modem. While there is little risk that newer modems will be released without he 2.4 signal band, which is the most congested wifi band and may be less responsive if you have a lot of smart home devices installed on your property. At the same time, the longer-range on the 2.4 GHz signal also makes it more likely that you'll have a strong connection out to the camera itself without having to move your modem or invest in a signal repeated/extender.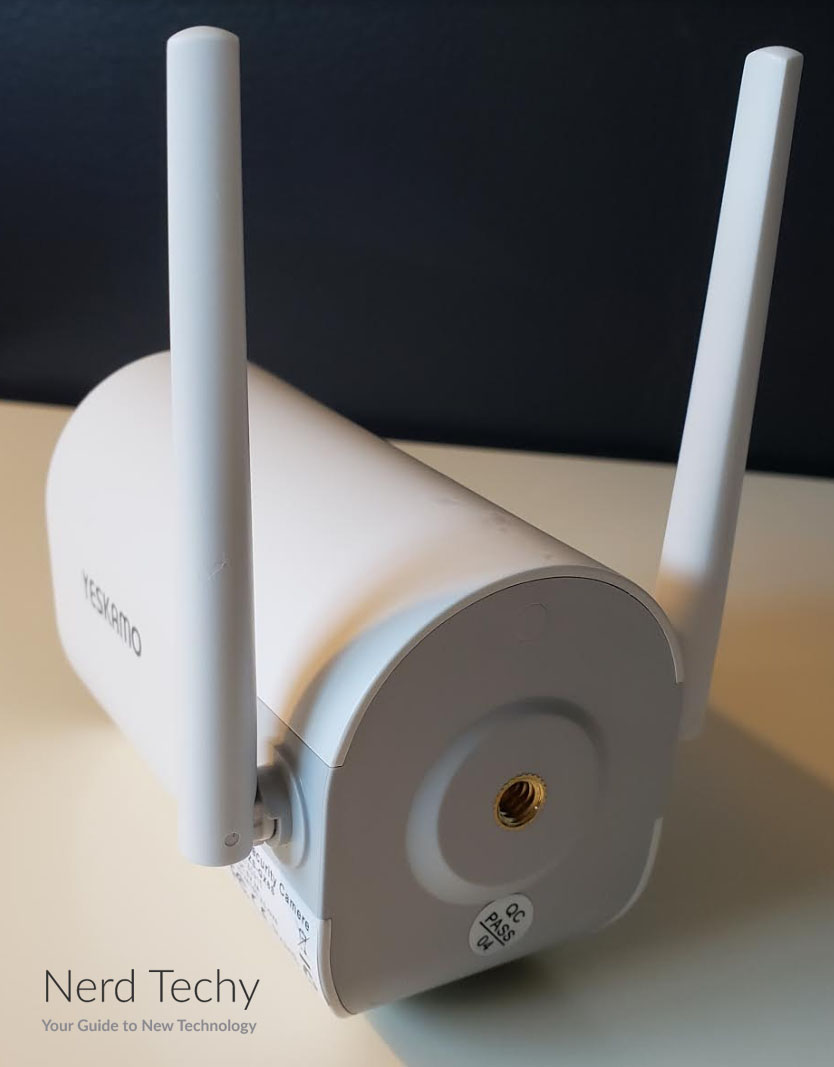 Video Quality
As with any security camera, the YESKAMO Solar Home Security Camera is only as good as the quality of the video and images it captures. A blurry video is unlikely to help you identify or stop a package thief, much less monitor when your kids come and go. The video quality needs to be both high and consistent to make your new home security camera. That means that it needs to perform in adverse conditions, and it needs to capture images reliably.
Like most battery-operated cameras, this model does not offer a continuous footage feed. Instead, it alerts when there is movement in its field of view, waking up and immediately beginning to take video or stills depending on the chosen settings. The camera has a relatively wide-view angle, about 100 degrees barring artificial obstructions from your home or lawn. The fast wake up time also makes it virtually impossible for the camera to miss important activity in its field of view. If you want to save some battery or cut down on storage usage and security phone alerts, you can also turn on an optional human-recognition software that prevents the camera from alerting to the neighborhood dogs or stray cats when they move into field of view.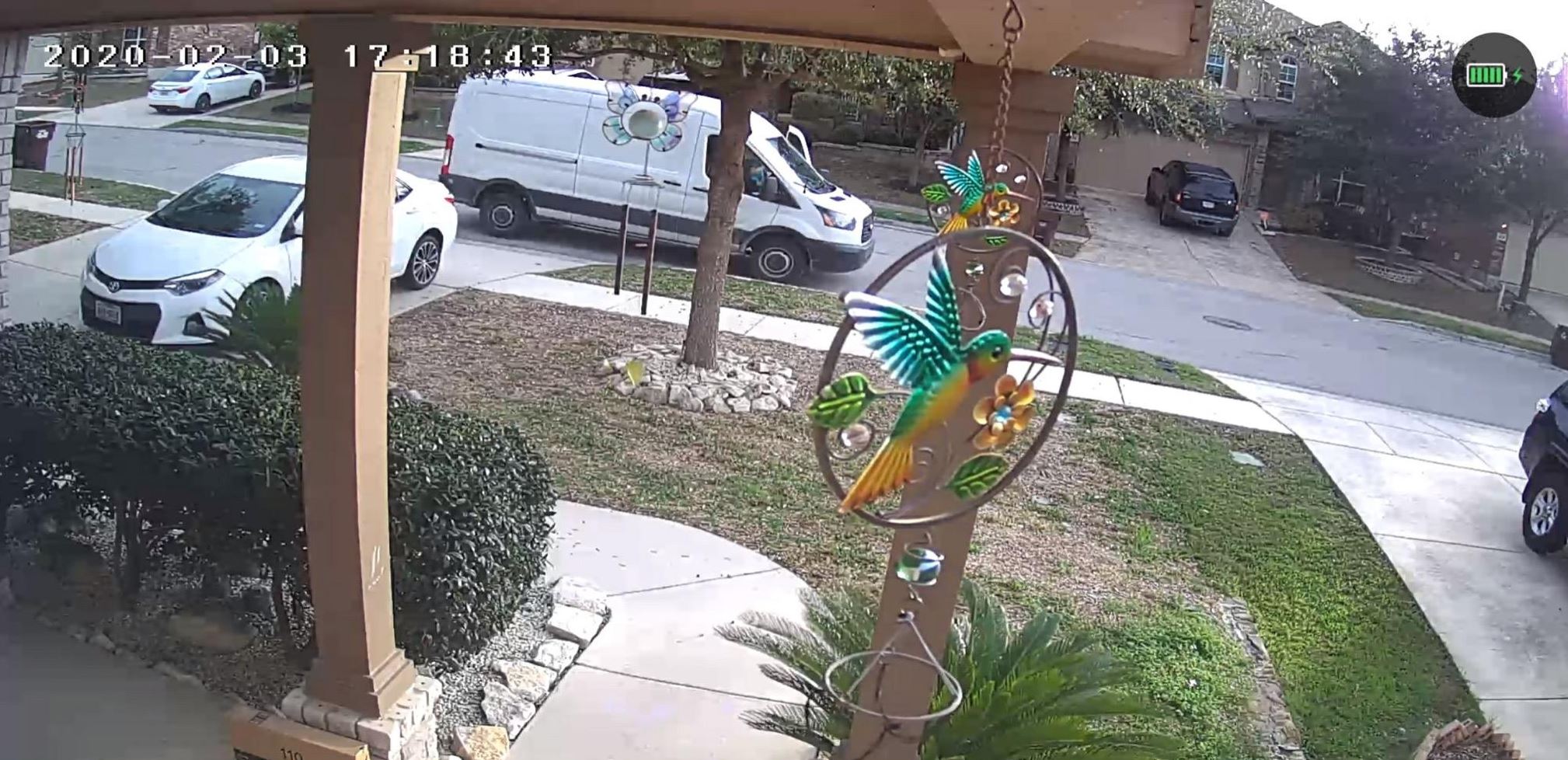 Provided minimum obstruction, the 1080 HD camera is also able to see through weather and other minor obstructions. The biggest problems with visibility usually occur if you get heavy snow buildup directly on the camera itself, or if the lens ices or frosts completely. All these weather conditions are rare and can usually be fixed just by wiping off the camera or lightly tapping it with the soft side of a broom.
The camera also has a functional night-sight setting that provides a grayscale image with similarly high resolution and clarity to its daytime function. That's perfect for catching people sneaking through your yard at night, figuring out when the raccoons are getting into your trash can, and seeing if anyone approaches your home or vehicle overnight.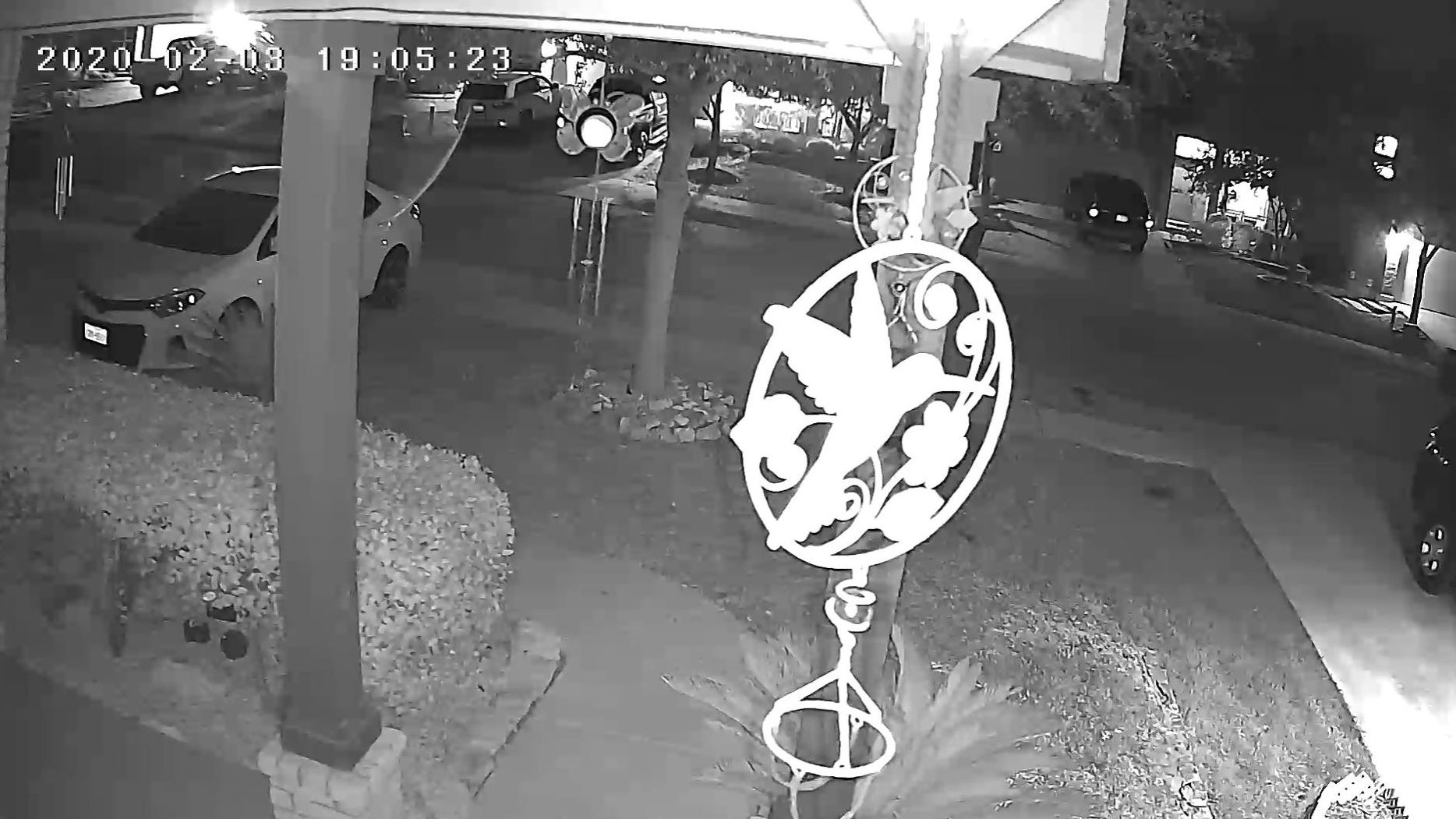 You have access to cloud storage for the images, which makes it easy to keep an image as needed. That means that these cameras can also be fantastic for capturing precious family moments when you and your children spend time outside. It also makes it easier to provide photographic or video evidence of suspicious behavior to the neighborhood watch, local law enforcement, and even your HOA. Have raccoons getting into your trash and causing trash fines with the HOA? Grab an image of the raccoons in your bins to explain the problem and possibly get rid of the fines.
SD storage is also available and relatively convenient. It's relatively easy to replace the storage card at need, and you can keep old micro SD cards to provide a digital record. However, it can be more difficult to pull images and videos off an SD than to pull the same information out of cloud storage.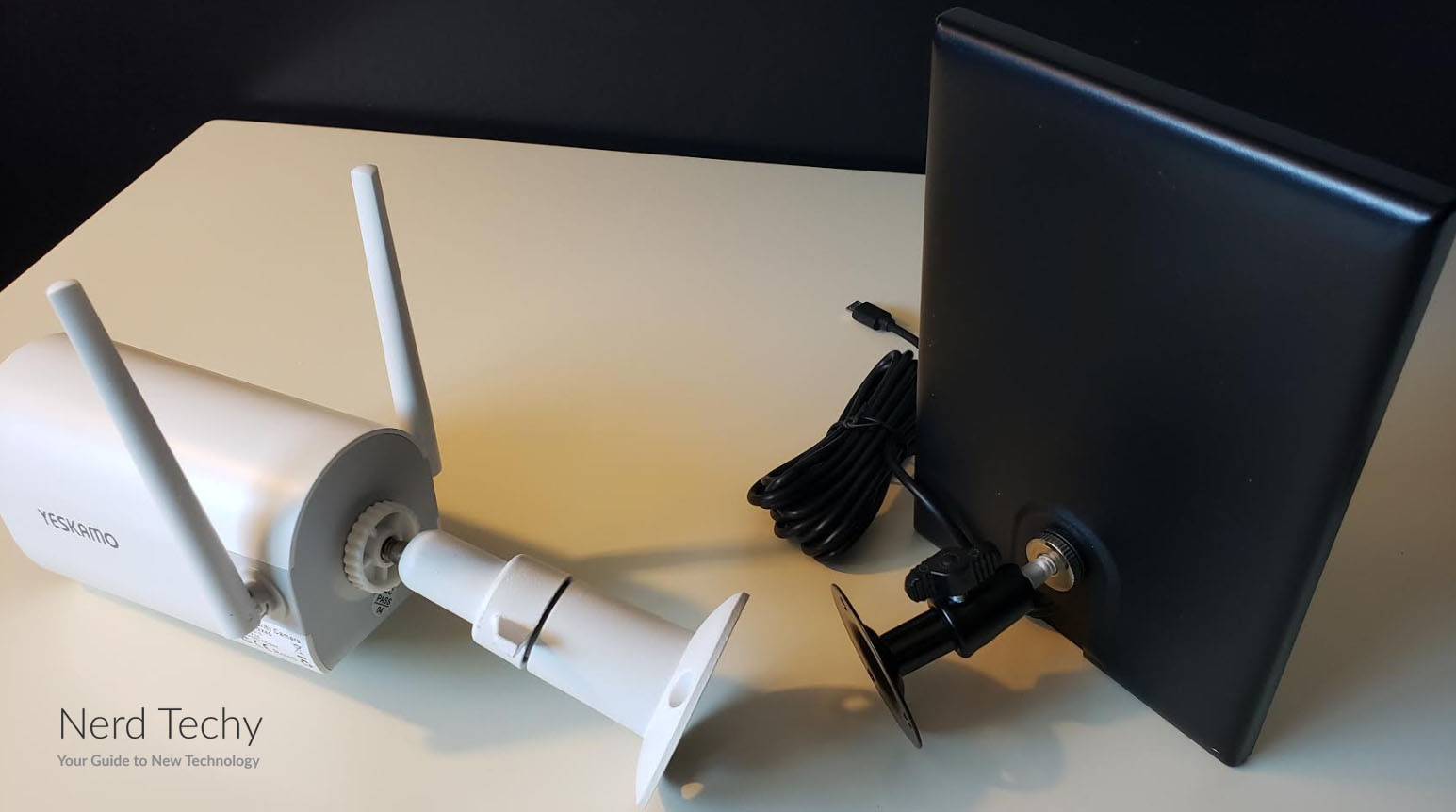 Convenience
One of the things many people don't consider when buying a new home security system is the convenience of that system. After all, you don't get much security from a gadget that requires so much of your attention that you end up leaving it off more other than not. Convenience is one of the most important aspects of any security system, and it's also one of the places that this camera tends to shine.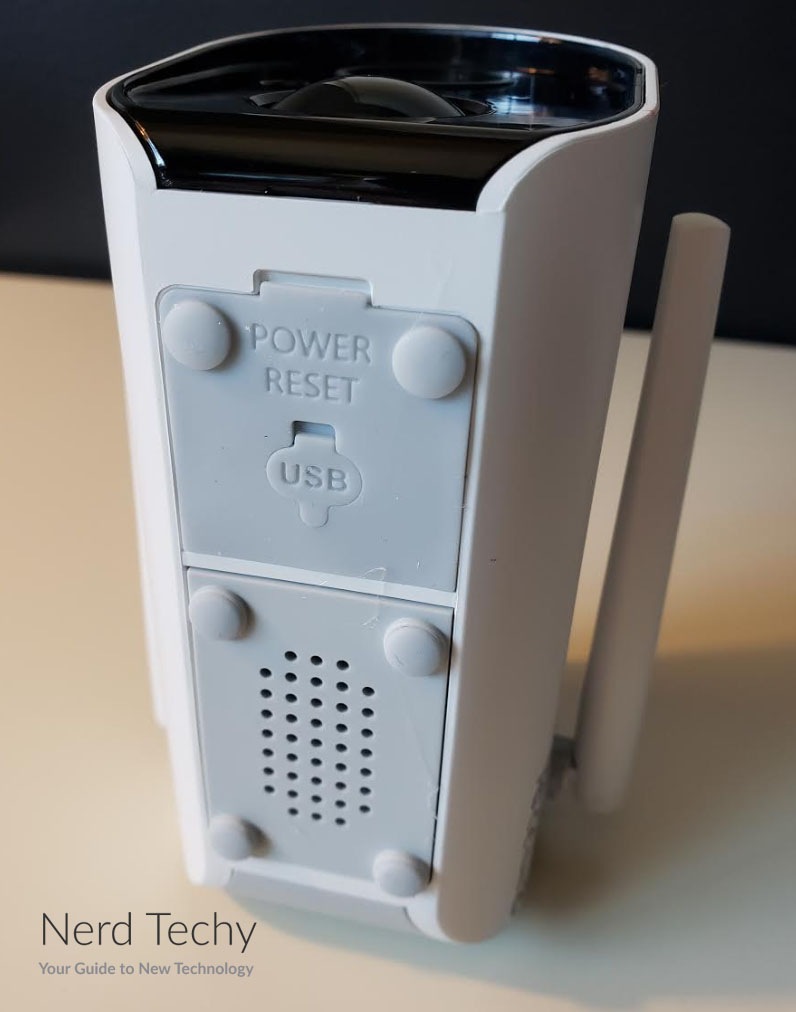 As a completely solar-powered and battery-operated camera, this camera doesn't require much in the way of maintenance. You might want to brush off the solar panel in the case that you get a lot of heavy snow all at once and the panel doesn't clear on its own within a few days. The camera similarly doesn't need maintenance except for occasionally getting brushed off to make sure it has a clear field of view. The most common maintenance you might need to do would be to replace the micro SD card in the case that you decide you don't want cloud storage of security videos and images.
Use code "20T3A3P6" for 20% Off when you order YESKAMO Camera on Amazon.com
You will have to get used to semi-regular security alerts on your phone, however. Even with settings to reduce alerts, like having the camera respond to human shapes but not animal shapes, there will be a reasonable number of alerts. The hope is that a quick alert will let you act fast in an emergency.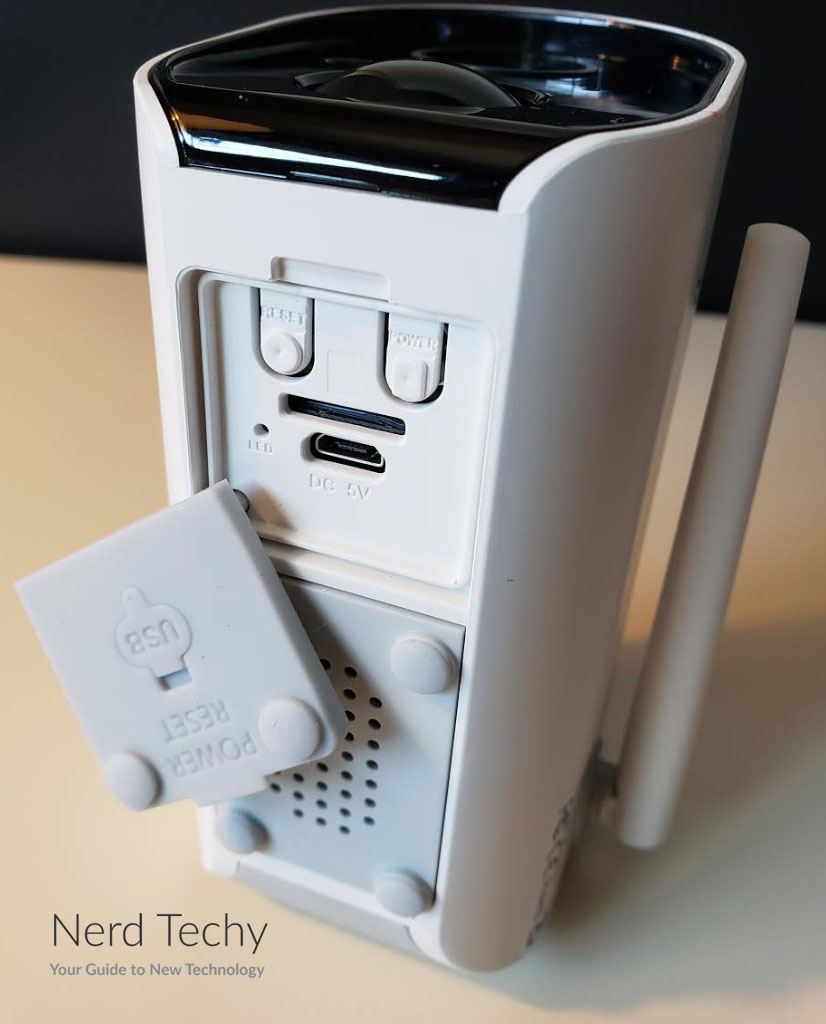 Security
In terms of added security, this camera has both advantages and disadvantages. The camera itself is relatively visible, which can both act as a deterrent, and make it an easier target for determined criminals. The biggest disadvantage of this system is that it only comes with a signal camera. However, you can buy additional cameras and connect them to your account on the security app that goes with them. The added flexibility of that system can also be an advantage though since you can use these cameras to supplement an existing security system. They can also be custom designed for your home, with the option of adding additional cameras over time until you have the complete coverage you need.
They make a solid option for day and night visibility and are a good choice for all-weather visibility as well. Ultimately, you are the only person who can decide if these cameras offer the kind of security your home needs.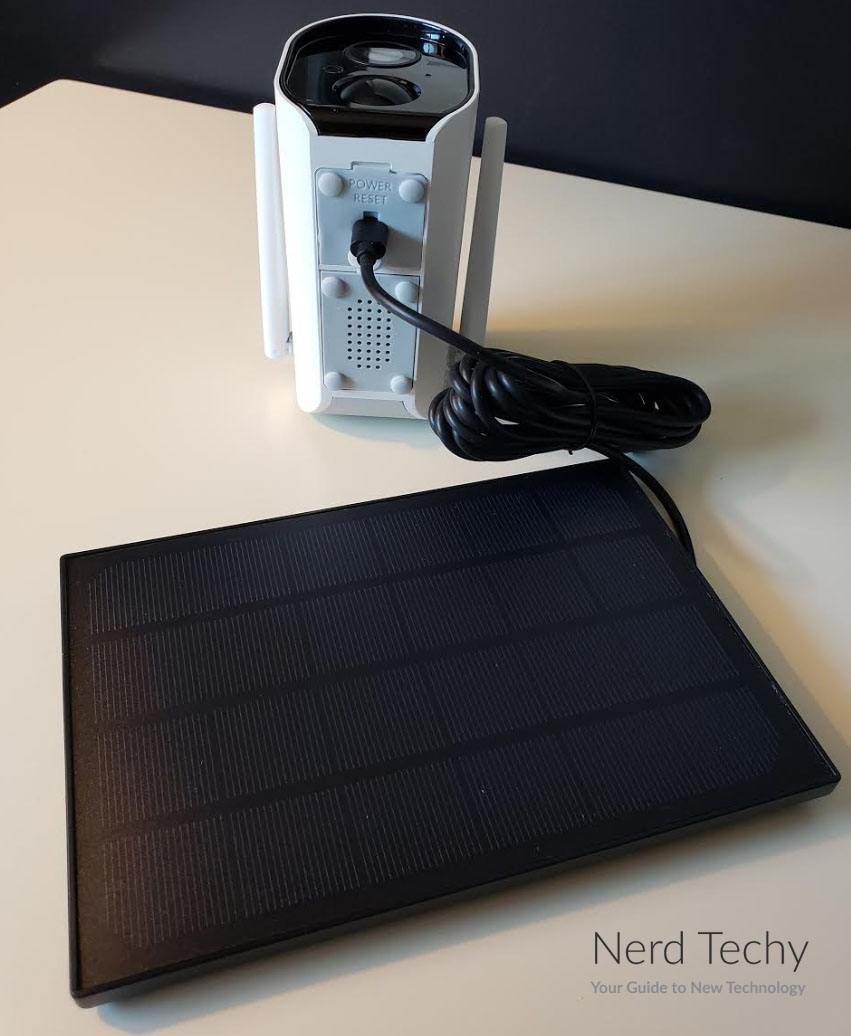 Final Verdict
Overall, we think that the YESKAMO Solar Home Security Camera (20% off code: 20T3A3P6) offers a good combination of strong design principles, added security, and convenience consider the price. They're reasonably easy to install and require very little ongoing maintenance once the camera is in place. It's also a simple process to re-locate your camera if need be.
The biggest downsides are that it cannot interface with a computer, requires a smartphone for configuration, and only works with somewhat outdated 2.4 GHz WiFi.
Still, even with those downsides, this camera is quite easy to use, durable and doesn't cause a lot of unnecessary inconveniences.