Nintendo has long been famous for their fun, innovative product designs. Their Nintendo 64 was a game changer, with a chunky, three-grip design. The trio of grips was confusing, since you couldn't actually use all the controls at once. But the chunky, swept-back design has remained a staple in the controller industry, including on the PlayStation and Xbox consoles. With the Nintendo Wii, they really stepped up their game. The Wii offered motion sensor control, an entire console generation before Microsoft released the Xbox Kinect.
The Nintendo Switch is based on yet another innovative concept. For years, game systems have either been a stationary console or a handheld unit. Nintendo decided to combine the two, and the Switch has become a smashing success. In mobile mode, you can either keep the Joy-Con controllers mounted on the Switch, or use the separate Joy-Con controller. But not everybody is a fan of that control scheme. For those folks, Nintendo released the Pro Controller, a more traditional controller that's compatible with the Switch.
Note: At no extra cost to you, we may earn a commission for purchases using our links. Learn more.
Not to be outdone, some third party manufacturers have started building controller mounts for the Switch. These mounts attach to your controller, and the Switch unit sits on top. So instead of mounting the Joy-Con controllers on your Switch, you're mounting your Switch on your controller. Sound unnecessary? At first glance, it is. But there's a significant advantage. By raising the Switch above your hand level, you don't have to look down so far and strain your neck.
We've reviewed several Switch accessories, including wall mounts, fast chargers, and replacement docks. Today, we're going to review two of the best Switch controller mounts on the market. Both of them are manufactured by Oivo, but there are some important differences between the two. First, we'll review the OIVO Switch Pro Controller Clip Mount. This is a sturdy, full-featured mount that clips directly onto the Nintendo Switch Pro Controller. Second, we'll look at the OIVO Joy-Con Grip Clip Mount. This mount has a similar bracket, but a different clip style that's designed for a standard Joy-Con controller. Let's take a closer look, and break down all their features!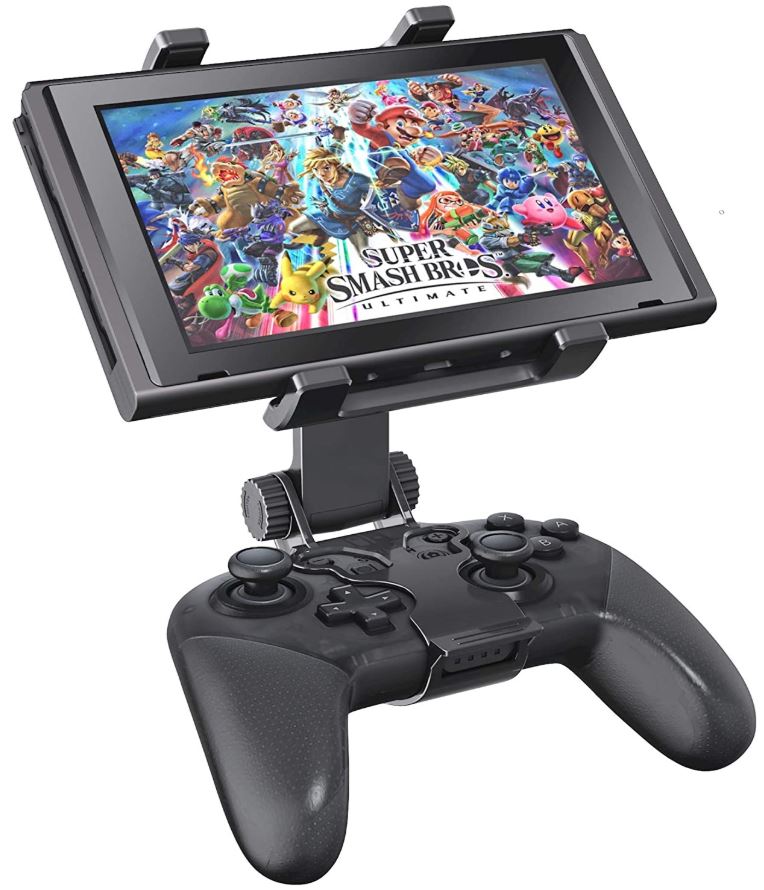 OIVO Switch Pro Controller Clip Mount
The OIVO Switch Pro Controller Clip Mount is a very lightweight mount, tipping the scales at only 5.3 ounces. This is a great benefit, since you won't have to worry about extra weight dragging you down. After all, you're already supporting both your controller and your Switch console. The lighter the mount, the more easily you'll get used to the added weight.
The clip mount is constructed from a matte black ABS plastic that's easy to keep clean. At the bottom, you'll find a simple clip that clamps onto your controller. It has an alligator-like design. One side wraps over the top of your controller and the other side wraps up from the bottom. In order to ensure that it doesn't let go and drop your Switch, the clip is very secure. As a result, it requires you to press down fairly hard in order to snap it shut. When it's closed, you'll hear an audible click that lets you know it's securely in place.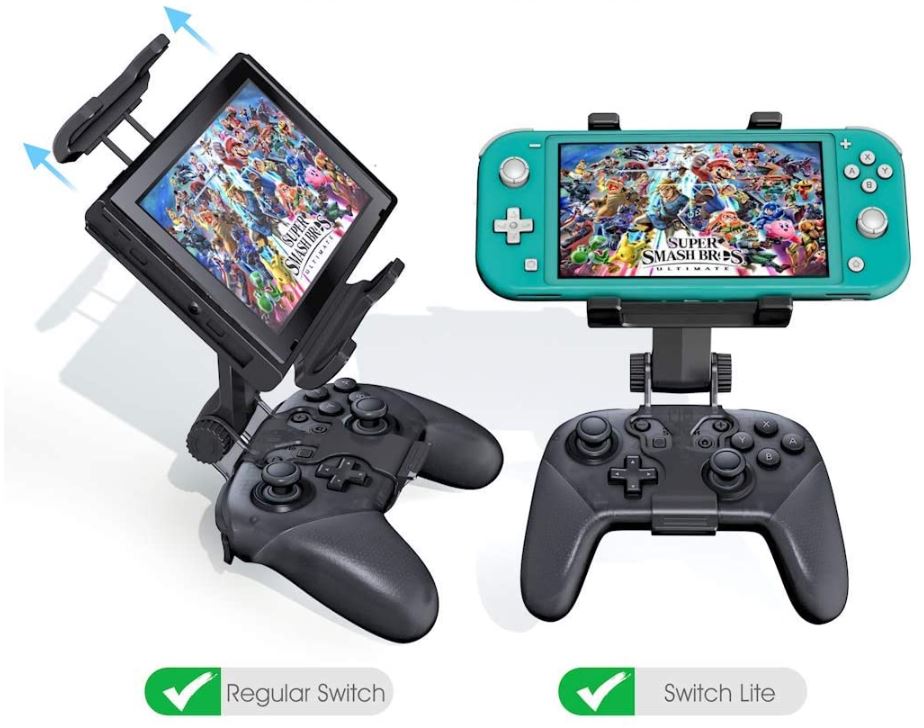 The controller bracket is equally secure. It has a set of two arms that clamp down on the top and bottom of your switch. These brackets each consist of two flanges, which are foam padded to ensure that they don't scratch your Switch. The design is spring loaded. You don't need to worry about any screws or other mechanical parts. Just pull on the top part of the clamp, lay down your Switch, and let it slide back into place.
The paired flanges have a dual purpose. On the top, the gap provides clearance for the Switch's cooling vents. On the bottom, the gap provides clearance for the Switch's charging cord. This is a dubious benefit, since the wire would get in the way of your controller. However, it makes it easy to quickly plug in if you're just getting up for a snack or a trip to the bathroom. You can also plug in the Switch controller while you're playing. The clip has a small hole that provides space for a USB plug.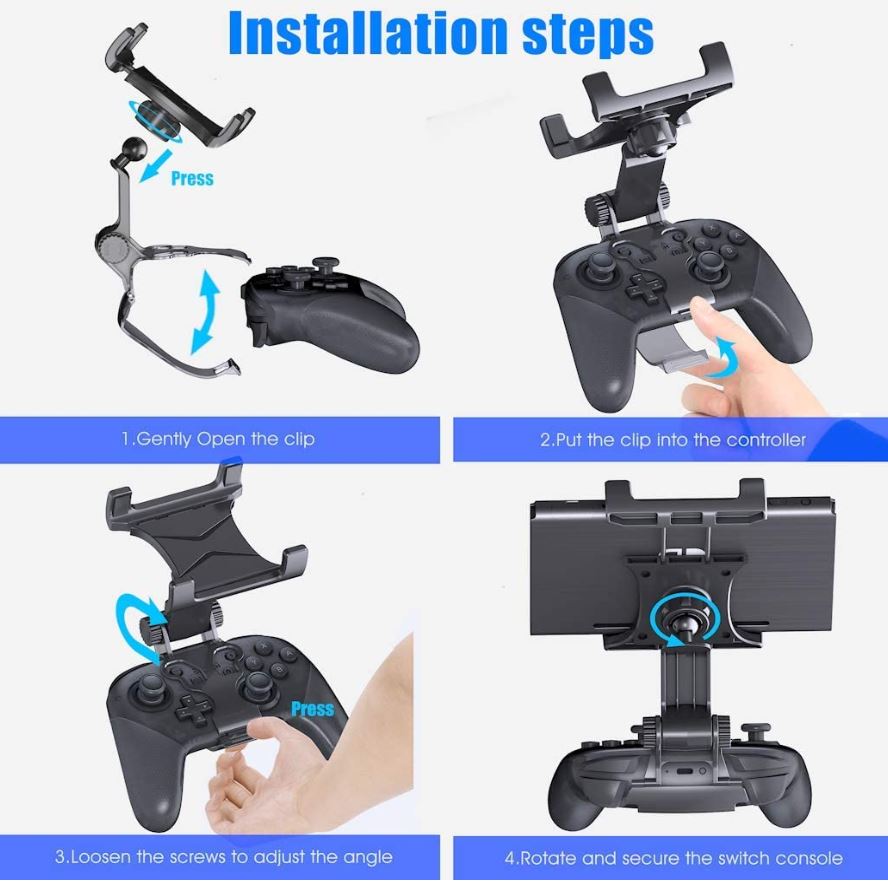 The Switch Pro Controller mounting bracket attaches to the clip via an adjustable arm. The arm has a hinge at its base, which can be tilted to any angle. This allows for excellent ergonomics, since you can get whatever screen angle you like. On the sides of the hinge, there are a pair of knobs. You can tighten or loosen these knobs as you like, in order to get the amount of tension you want. In addition, there's a big, fat knuckle on the top of the arm. This knuckle is where you attach to the back of the mounting bracket itself. The knuckle fits tightly into a spherical socket, ensuring that it won't float around while you're playing. As a result, it's best to attach the bracket before you insert your Switch, not after.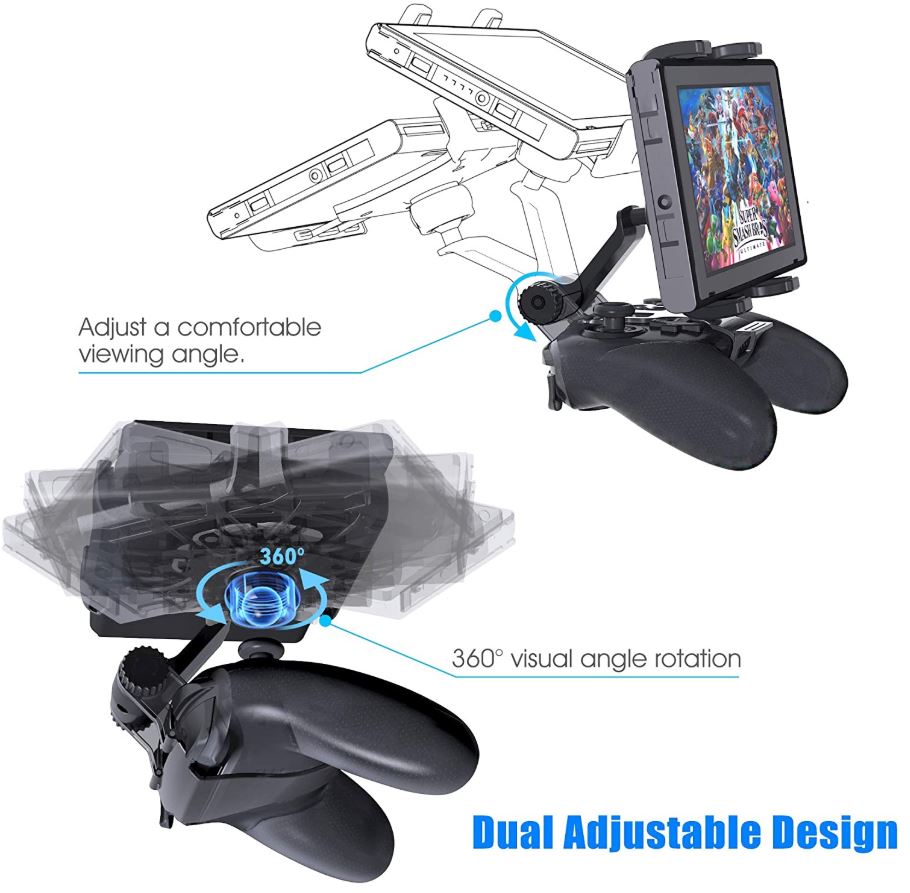 With a moderate amount of force, you can rotate the mounting bracket 360 degrees on the knuckle. At first, this might seem like an unnecessary feature, but it's actually quite useful. Not everybody sits perfectly upright with their back straight. You might be leaning on your side or sprawled out on the couch. In that case, your controller might not be perfectly aligned with your head. By rotating the Switch bracket, visibility becomes a non-issue. No matter what your position or posture, you'll be able to see the screen clearly.
Controller Compatibility and Extras
As we mentioned previously, the OIVO Switch Pro Controller Clip Mount is only compatible with the Pro Controller. The clip design is entirely the wrong shape for the Joy-Con controller, and won't work under any circumstances. That said, it will work with both the Switch and the Switch Lite. The spring-loaded mounting bracket is adjustable enough to work with both systems. We do have one minor quibble with the design. The clip crowds the center buttons, and can make them hard to press. This is especially true if you tend to use the side of your thumb. That said, given the Pro Controller's design, this is more or less unavoidable. And once you get used to it, it's really not that big of a deal.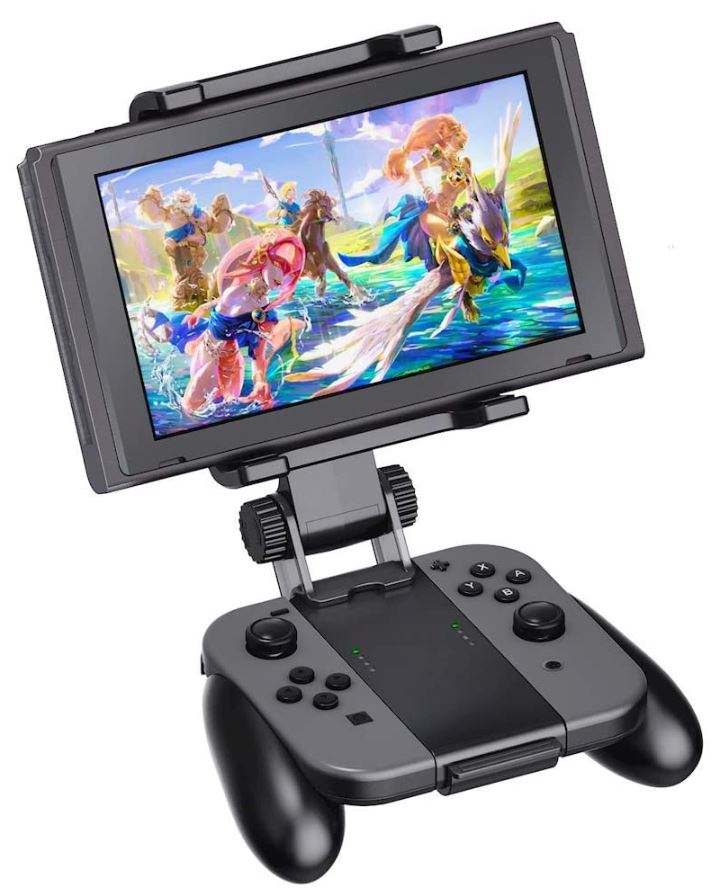 OIVO Joy-Con Grip Clip Mount
The OIVO Joy-Con Grip Clip Mount is a bit heavier than the Switch Pro Controller Clip Mount. It weighs 11.2 ounces, which might not seem like much of a difference. But when you're already holding a controller and a switch, that extra few ounces can add up. You may develop a few extra muscles in your wrists from using this clip mount.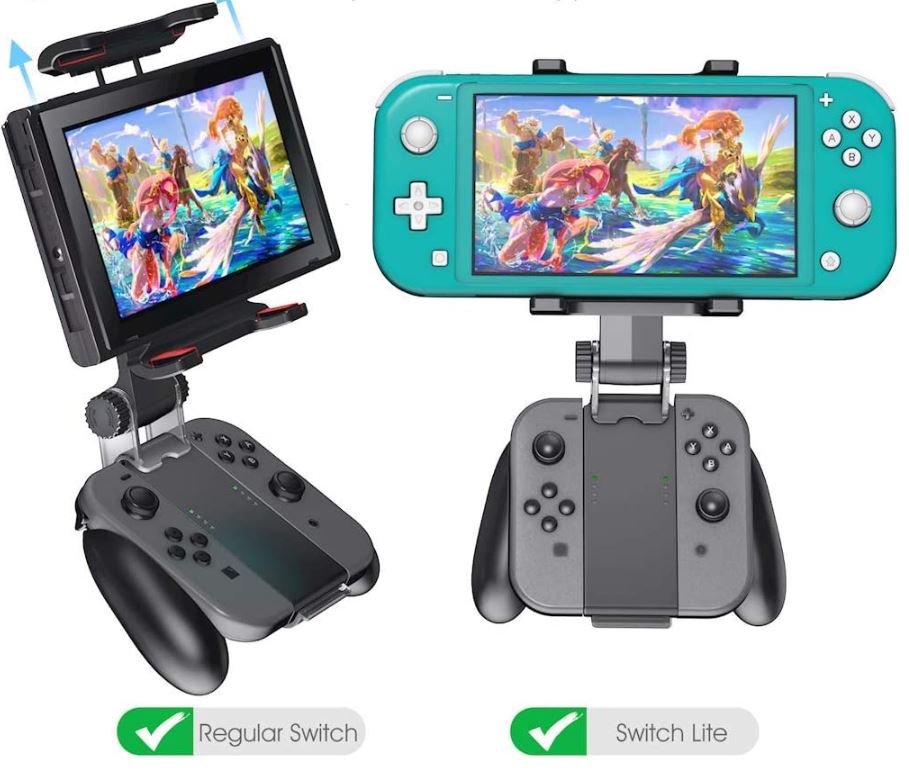 The clip attaches to your controller a bit differently than the last mount we looked at. Instead of an alligator-style clamp, it has a simple tension clip that latches onto the bottom of your controller. Because it doesn't wrap all the way around, and because it needs to support your Switch, it's very tight. As a result, it can be a pain to get your controller into the clip. You'll need to press down very hard. First, put the front of your controller into the front part of the bracket. Next, pull back on the front tab on the bracket. Then push down on the controller while holding the tab. Using this method, it shouldn't be too difficult.
The OIVO Joy-Con Grip Clip Mount's upper assembly is the same as the other mount's. It's literally identical, with the same padding, vent clearance, and spring-loaded operation. It can be tilted, and the tension can be adjusted. You can also rotate the screen 360 degrees.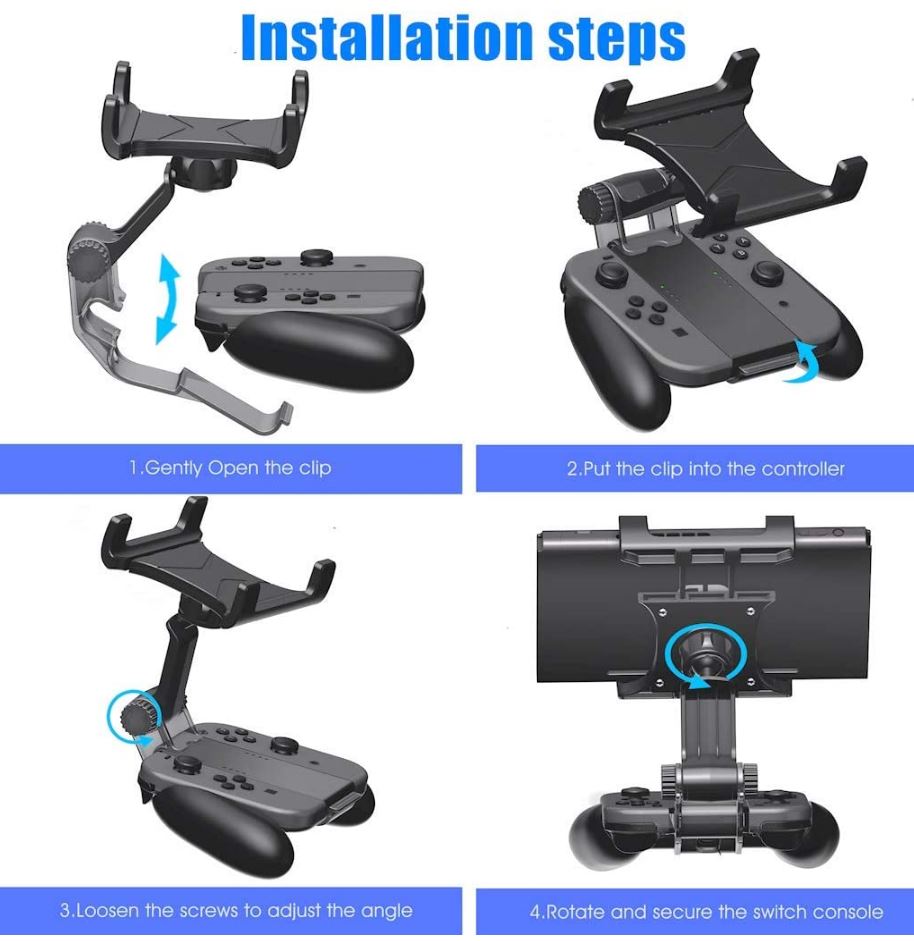 One thing we like about this upper assembly is just how sturdy it is. Some Switch controller mounts are little more than a thin plastic sheet. The OIVO mount is thick and durable. It has a two-part design, with a front and back portion of the shell secured by four metal screws. The spring-loaded upper arm is also very well constructed. It attaches with a pair of thick posts that won't snap the first time you put any pressure on them. In addition, the flanges at the top and bottom are nice and thick, without any flex or play. The foam padding is a soft, rubbery closed cell foam. It's tough enough to last for hundreds of uses before you see any noticeable wear.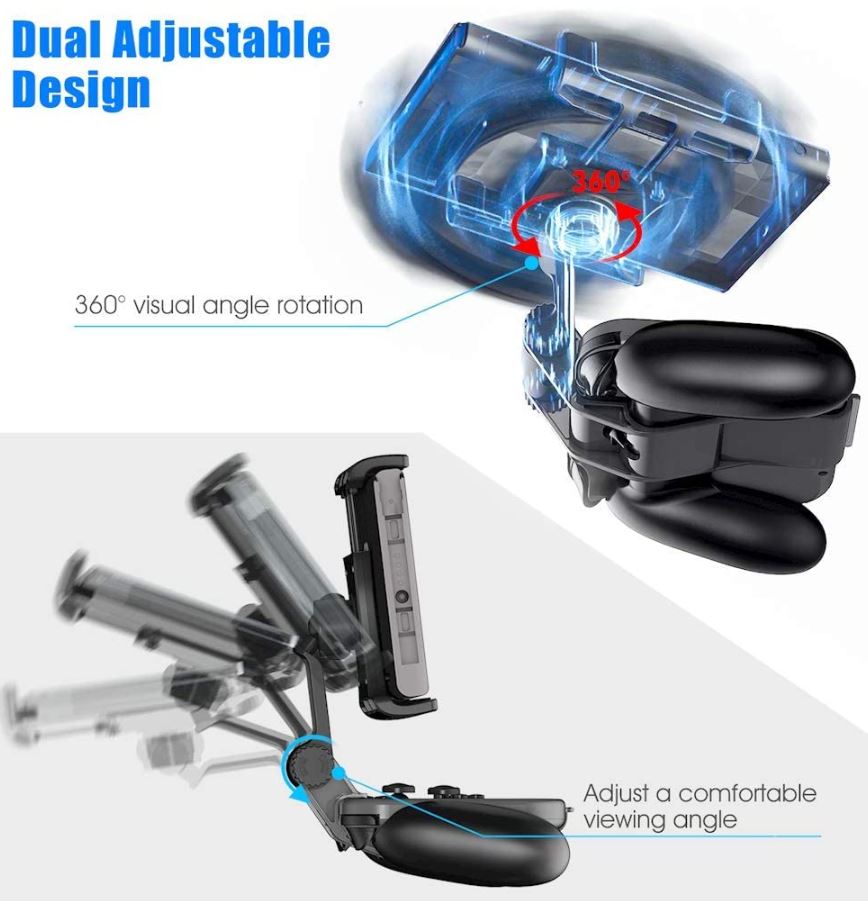 Controller Compatibility and Extras
The OIVO Joy-Con Clip Mount is designed for a standard Joy-Con controller, just as its name implies. It will not fit on a Switch Pro Controller. However, because it uses the same bracket as the Switch Pro Controller Clip Mount, it has similar compatibility. You can use it for the Switch or the Switch Lite, or even mount a tablet, provided it's the right size. In addition to the controller itself, you also get OIVO's three-year customer service. This isn't a warranty per-se, but it's better than no support whatsoever.
Final Verdict
So, how do these clip mounts compare? Usually, we'd be able to talk about different features, but in this case, the choice will be obvious. If you use a Switch Pro Controller, get the OIVO Switch Pro Controller Clip Mount. If you use a Joy-Con controller, get the OIVO Joy-Con Grip Clip Mount. Either way, you're not going to be disappointed with your decision.
The clips are very secure. Yes, they're tough to attach, but that just comes with the territory. Once they're attached, your Switch will be safe from drops and malfunctions. Furthermore, the adjustable design of the mounting arm is a great feature. You can adjust the angle to get exactly the ergonomics you want. And the 360-degree rotation is just the icing on the cake. No matter what position you prefer to game in, you won't have to tilt your head or bend your neck. Finally, the bracket itself is exceptionally well engineered. The quality of construction is thick and beefy, and is tough enough to last for years. Not only that, but the spring-loaded mechanism is strong and secure.
Please consider sharing:
Note: At no extra cost to you, we may earn a commission for purchases using our links. Learn more.