Nintendo is famous for their innovative game console designs. Sometimes, as with the N64 controller, this has gone awry. Other times, as with the Nintendo Wii, the design has been widely acclaimed. Nintendo's latest console, the Switch, has been one of their bigger successes. Indeed, it's sold more units than any other Nintendo console besides the Wii and Super Nintendo. The removable controllers are a well-known feature, since you can choose your own ergonomics. Moreover, you can play in any configuration you want. Take your Switch on the road and use it as a handheld console, or put it in the dock for full 1080p.
People love their Switch consoles, and we've reviewed several accessories, including wall mounts and replacement kickstands. Today, we'll be reviewing another type of accessory: Nintendo Switch fast chargers. First, we'll review the RAVPower 90W 2-Port USB-C Wall Charger (RP-PC128). This is a dual-port charger designed for charging two devices at once. Next, we'll look at the AUKEY 36W USB-C Fast Charger (PA-D2). This is a smaller dual charger designed for travel, with collapsible prongs. Finally, we'll review the YCCTEAM Switch Charger, which is a more traditional AC charger. Let's see how they stack up!
Nintendo Switch Power Requirements
If you're going to buy a replacement charger or secondary charger for your Switch, you need to understand the requirements. The Switch can't charge with just any old charger. Well, technically it can, but you won't be able to play and charge. In addition, you need more power to play with the docking station than to play without it.
To begin with, let's look at the Switch battery itself. In fact, it comes in two different variants. In all Switch units manufactured before August, 2019, you'll find a 3.7-volt, 3,600mAh battery. With this battery, you could play for anywhere from 2.5 to 6.5 hours, depending on the game and settings. Some players were unhappy with this battery, so Nintendo upgraded their console. Beginning in August, 2019, they started using a 4,310mAh battery, which lasts up to 9 hours. Charging this newer battery takes about three hours.
The Switch can be powered in two different ways. First off, you can charge it with the AC adapter that ships with the console. Secondly, you can charge it with the charging dock, which plugs into the AC adapter. The charging dock provides several benefits, primarily the ability to play on your TV in 1080p. Conversely, the AC adapter is ideal for travel. You can play your Switch in handheld mode while charging, or rely on the battery for more portability.
Here's where things get a little bit twitchy. The Switch itself only draws 18 watts of power, whether it's docked or un-docked. That said, the dock, as well as most replacement docks, will draw a total of 39 watts. This extra power is required for two things. First, it provides power to the Switch dock's other USB ports. Secondly, it supports the dock's ability to upscale from 720p to 1080p. In other words, if you just need a charger for handheld use, 18 watts will get the job done. On the other hand, if you want to power your Switch dock, you'll need a minimum of 39 watts. Now that that's out of the way, let's take a look at these chargers!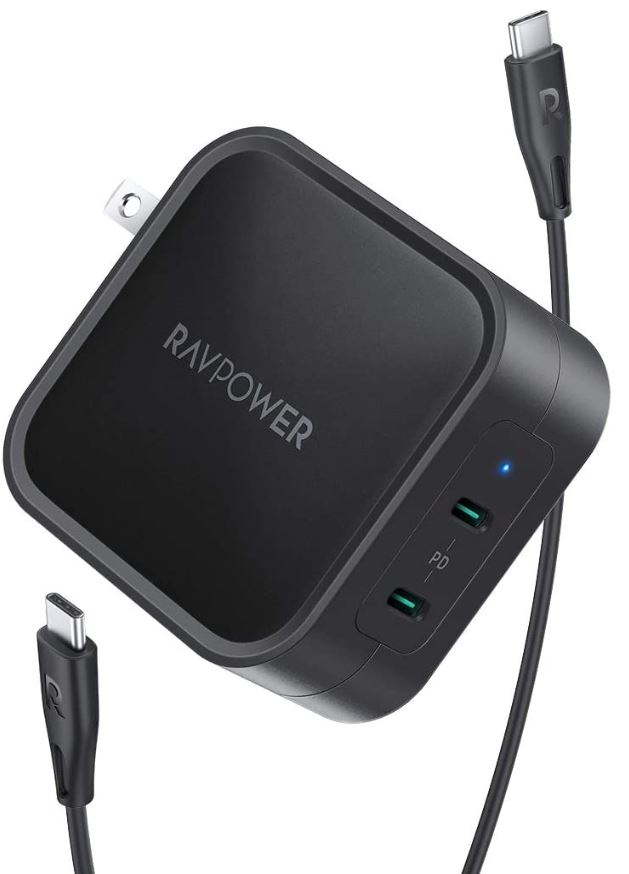 RAVPower 90W 2-Port USB-C Wall Charger (RP-PC128)
The RAVPower 90W 2-Port USB-C Wall Charger (RP-PC128) is similar to many other USB Type-C wall chargers. It measures 2.5 inches tall, 2.5 inches deep, and 1.2 inches wide, and weighs 6.4 ounces. This makes it more than small enough for travel, if a bit heavy for the size. That said, the prongs don't fold down, so you'll want to be careful while packing it. The shell is constructed from satin ABS plastic, and is available in black or white. On both sides, you'll see a grey RAVPower logo. The corners are rounded, so they're more durable and aren't likely to damage other devices.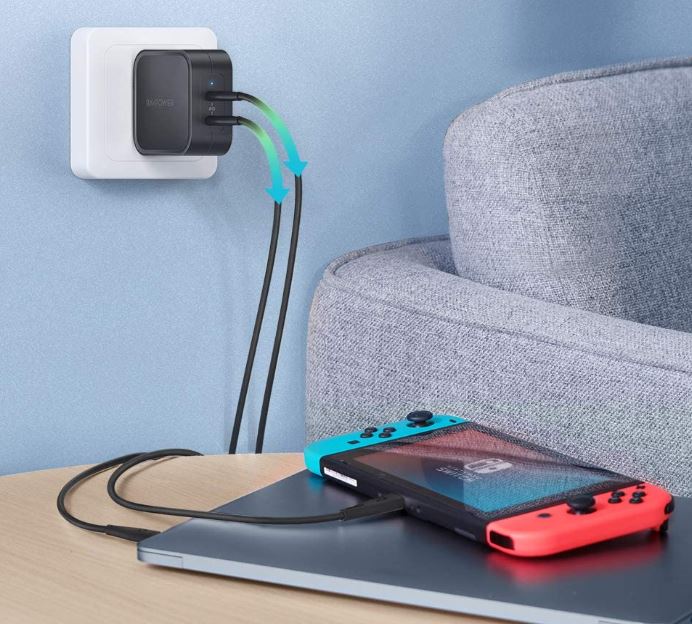 On the front of the charger, you'll find both of the USB Type-C PD ports. The ports sport green internal tabs, which add an attractive splash of color. Above, there's a small blue LED light. When the charger is in active use, this light will be illuminated. It's helpful, since you can ensure that the charger is working and all cables are properly connected. In addition to the charger itself, you get a single USB Type-C to Type-C cable. The cable itself is only 18 inches long. So for most practical purposes, you're going to need to procure your own cable to charge your Switch. Nonetheless, the shorter cable may still be useful for charging a smartphone or other device.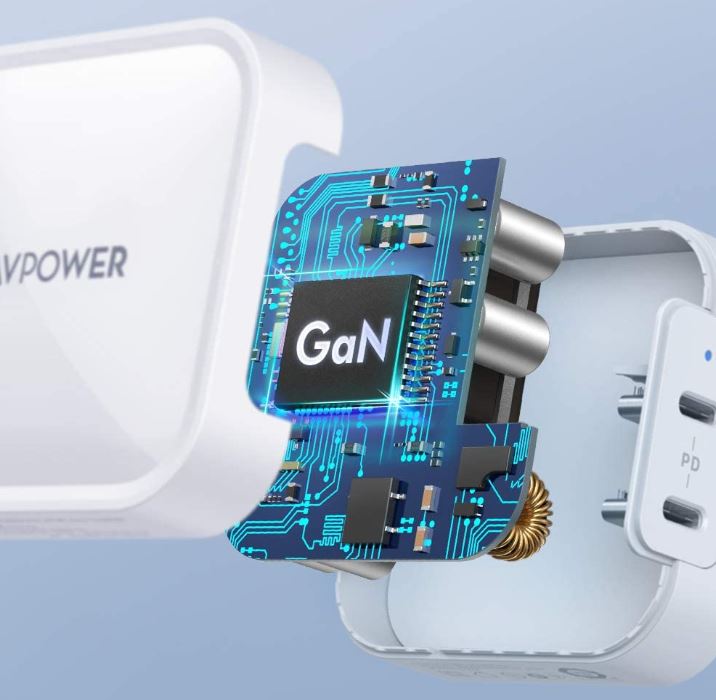 Power Delivery
The RAVPower RP-PC128 utilizes a Gallium Nitride (GaN) circuit board. GaN technology is the latest circuit board technology, and works much more efficiently than older materials. With its GaN circuit board, the efficiency is greater than 93 percent. This is impressive, when compared with the 80 percent efficiency of your typical wall charger. An internal Pi chip automatically regulates the flow of power through both USB Type-C ports. It ensures that both devices get the maximum amount of power available.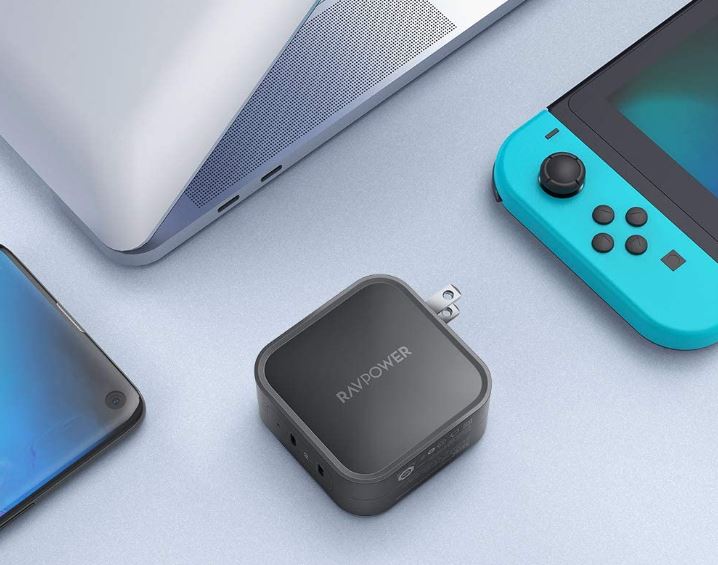 The charger has a maximum total output of 90 watts, and works with both PD and QC charging protocols. Keep in mind that you'll need a PD cable in order to charge your Switch. An ordinary USB Type-C cable isn't going to get the job done. When a single device is connected, you can get a full 90 watts from a single port. This is far more than you need for a Switch, but it's a great added value. You can even charge a MacBook Pro while you're using it. When two devices are connected, the power will automatically be divided between the two. But you can still use your Switch in docked mode while you're charging your smartphone.
In addition to plenty of charging power, the RAVPower RP-PC128 comes with a full suite of protection for your devices. It features overvoltage and short-circuit protection, which ensure that your Switch won't get damaged. Overcurrent protection serves a similar function. The charger itself is protected by an overheating circuit, which will shut everything down if it gets too hot.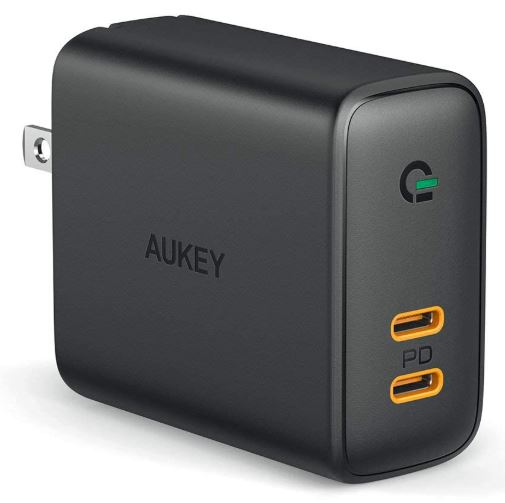 AUKEY 36W USB-C Fast Charger (PA-D2)
At first glance, the AUKEY 36W USB-C Fast Charger (PA-D2) is very similar to the charger we just looked at. That said, there are several important differences under the hood. Cosmetically, it's virtually identical, and even comes with the same two black and white color options. The case is also a similar size, at 2.36 inches tall, 2.52 inches deep, and 1.14 inches thick. At 4.1 ounces, it's fairly lightweight, light enough to carry in your pocket without any trouble. And the power prongs fold down for easy transport, so they won't get damaged in your pocket or bag.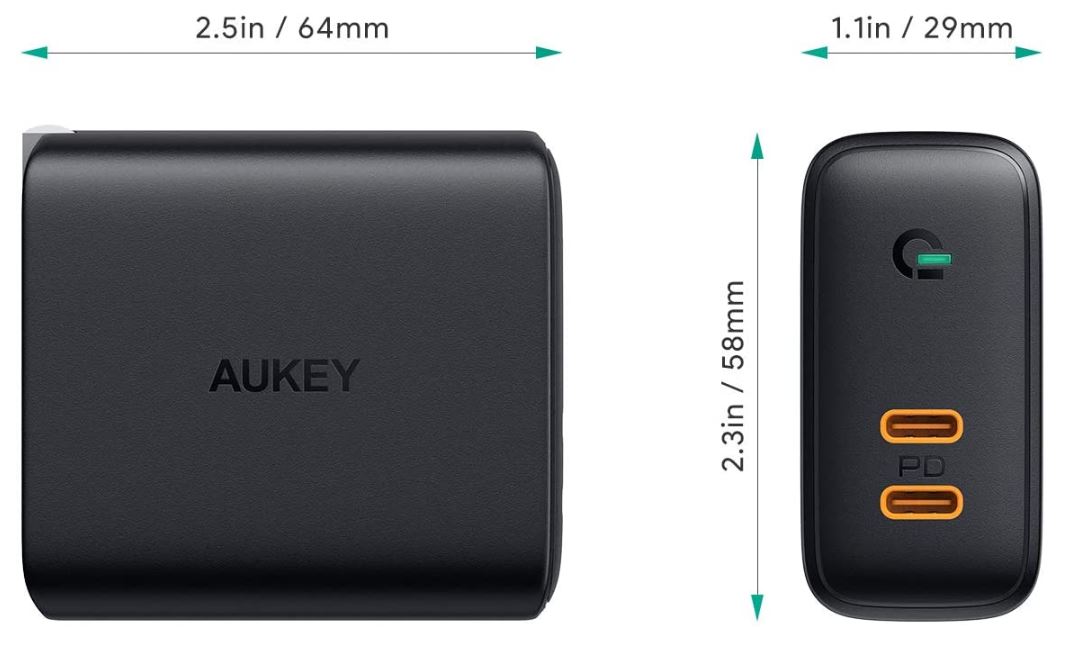 On the sides of the charger, you'll see an AUKEY logo engraved in the ABS plastic case. On the front, there are a pair of USB Type-C PD ports. They're both orange, which makes them attractive to look at. In addition, they're high-visibility. If you're fumbling around behind your entertainment center, they'll be easy to locate. Near the top of the case, there's a green LED indicator. This indicator works the same way as the light on the RAVPower charger we just looked at. When a device is actively charging, it will light up.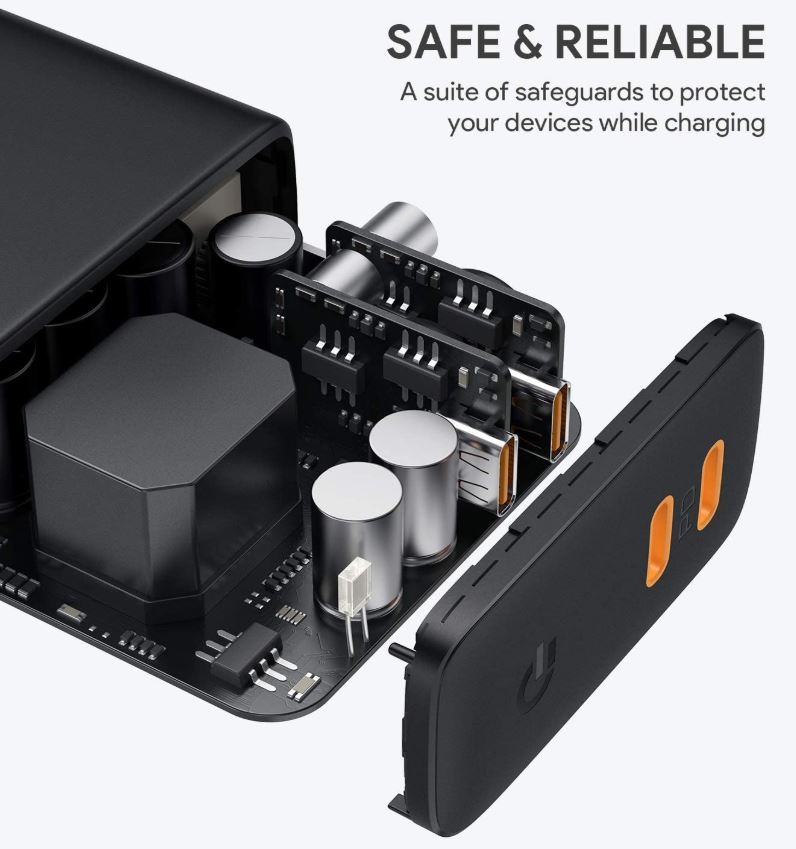 Power Delivery
The AUKEY PA-D2 is a bit of a lightweight compared to the last charger on our list. It provides a maximum of 30 watts of power in total, or a maximum of 18 watts through a single port. As a result, it's perfectly well suited for playing and charging your Switch in handheld mode. On the other hand, it won't provide enough juice for playing in docked mode. You'll need a more powerful charger for that purpose. That said, the folding prongs make it ideal for travel. If you want a charger you can take on the road, you've found an excellent choice. You can even charge your smartphone at the same time.
Like the RAVPower charger, the AUKEY PA-D2 comes with all the protection measures you expect from a modern charger. It protects against overcurrent and overcharging to keep your Switch safe. And it features overheating protection to keep the charger itself safe.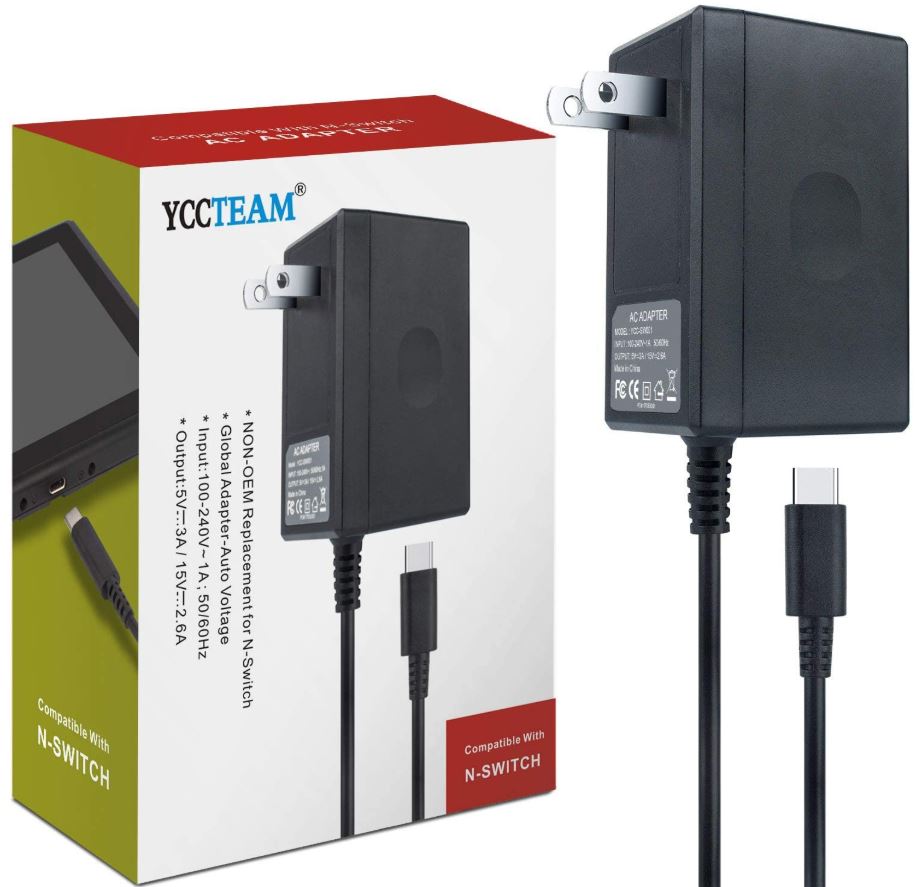 YCCTEAM Nintendo Switch Charger
The YCCTEAM Nintendo Switch Charger is a bit different from the last two options we looked at. Instead of a standard USB Type-C AC adapter, it's a dedicated AC charger. That said, it's also designed specifically for the Nintendo Switch. It's basically a non-OEM replacement for your Switch's original charger. It consists of an AC adapter that measures 1.97 inches wide, 2.76 inches deep, and 1.97 inches thick. Attached to the adapter is a 59-inch cable with a USB Type-C plug on the end. Take it out of the box, and you're ready to plug in and play. Best of all, the entire unit weighs only 1.76 ounces. So even if you want to use it for stationary use, it's easy to transport.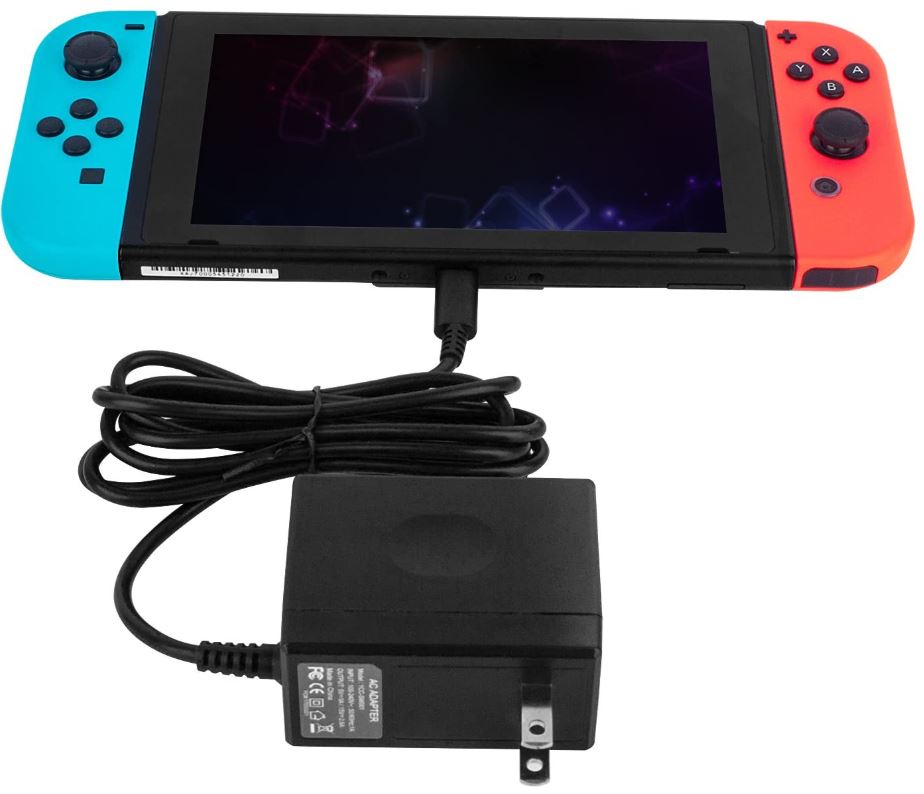 Power Delivery
The YCCTEAM Switch Charger is compatible with any standard voltage, from 100 to 240 volts. This makes it suitable for use anywhere in the world. Keep in mind, though, that the plugs are a standard North American configuration. If you live elsewhere in the world, you're going to need an adapter.
The output is exactly 39 watts, right in line with the needs of your Nintendo Switch dock. On the one hand, you'll have everything you need for gaming. On the other hand, there are no other PD ports. So you're not going to be able to charge your cell phone or laptop with this charger. That said, it's also perfect for the Nintendo Pro Controller. So you can certainly put it to multiple uses if you so desire.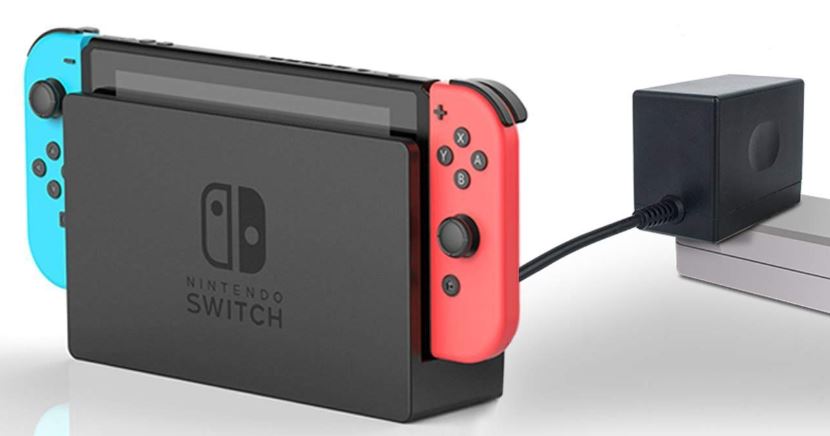 As with the last two chargers on our list, you get plenty of protection for your device and the charger. You get short circuit protection, overcurrent protection, and surge protection for your Switch. And the charger itself is protected with overheating protection.
Final Verdict
So, which one of these Nintendo Switch fast chargers is the best choice? As with most electronics, it's going to depend on what you're trying to do. Thankfully, each charger offers its own unique benefits.
To begin with, the RAVPower 90W 2-Port USB-C Wall Charger (RP-PC128) is your best choice if you're looking for the maximum amount of power. With a maximum of 90 watts, it's exceptionally versatile. You can use it for your MacBook, not just your Switch. And you can run your Switch in docked mode while still charging another device. That said, it's not ideal for travel, since the prongs don't fold down.
The AUKEY 36W USB-C Fast Charger (PA-D2) is a similar beast in terms of physical design. The one physical exception is the fact that the prongs fold down. This makes it a solid choice for travel. On the other hand, it's not suitable for operating your switch in docked mode. At 18 watts per port, it's only sufficient to run your Switch in handheld mode. However, you can still charge two devices at once. So if you're looking for a simple travel charger for your Switch and Smartphone, it's worth your investment.
Finally, we reviewed the YCCTEAM Nintendo Switch Charger. This was a very different charger from the first two. Instead of a simple USB Type-C charging block, it's a full-blown AC adapter. It's designed specifically for the Nintendo Switch, so it supplies exactly 39 watts. This makes it suitable as a replacement for your OEM power supply. It's also lightweight enough for travel. Keep in mind, though, that it's not going to charge more than one device.