For most console generations, your television was positioned inside an entertainment center. This meant you could simply put your console on one of the entertainment center shelves. But with newer flat-screen TVs, many people are starting to wall-mount their televisions. This means that entertainment centers are getting smaller, or even going away in some cases. So what do you do with your game console? One solution is to use some small shelves or a table. But if space is at a premium, you have another option: use a wall mount.
Of course, a wall Nintendo Switch mount comes with its own challenges. First, it needs to be easy to install, and it needs to install securely. Secondly, it needs to keep your device safe from drops and falls to prevent damage. Finally, it can't cover the cooling vents on the case of your Nintendo Switch.
Today, we'll be looking at three Nintendo Switch wall mounts that meet all of these criteria. First up, we'll check out the TotalMount. The TotalMount is a sturdy plastic mount that has a top-loaded design for easy insertion and removal. Next, we'll be looking at the HIDEit Switch. This is a slimmer, side-loaded mount that's designed to go behind your television. Finally, we'll check out the Monzlteck Wall Mount. This is a complete kit that's designed to support your Switch, your controller, and even your grips. At the end, we'll talk about why you might want to go with one particular option over another. Let's get to it!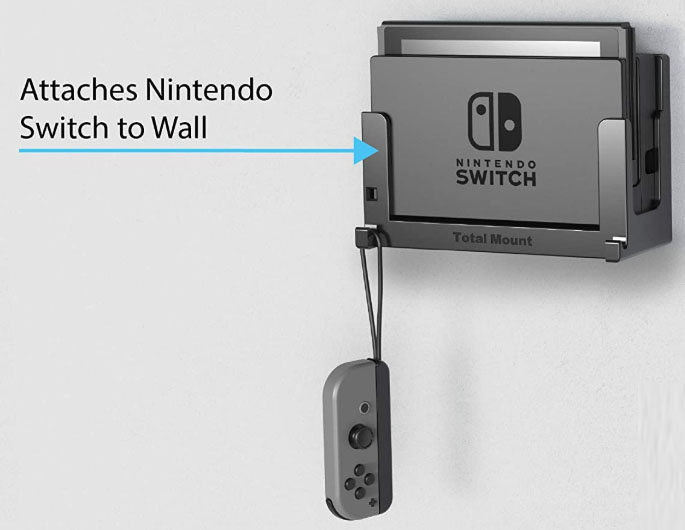 TotalMount
The TotalMount is constructed from high-strength injected plastic. Normally, we'd be concerned about trusting our Switch to a plastic mount. But the TotalMount is thick and rugged, with plenty of protection for your switch. It has a top-loaded design, with a frame that goes around all 4 corners of your Switch. This ensures that even if someone bumps into the mount, the Switch isn't going to get knocked out the side. The overall size is 7.1 inches in width, 4.7 inches in height, and 3.1 inches thick. The total weight is only 5.6 ounces, so it's easy to hold during installation.
The overall design is both effective and attractive. It's all black, with a satin finish that's easy to keep clean. On the bottom of the front, there's a glossy TotalMount logo that isn't distracting. The front and sides are mostly open, which allows for plenty of air flow. You don't have to worry about your Switch overheating and getting damaged.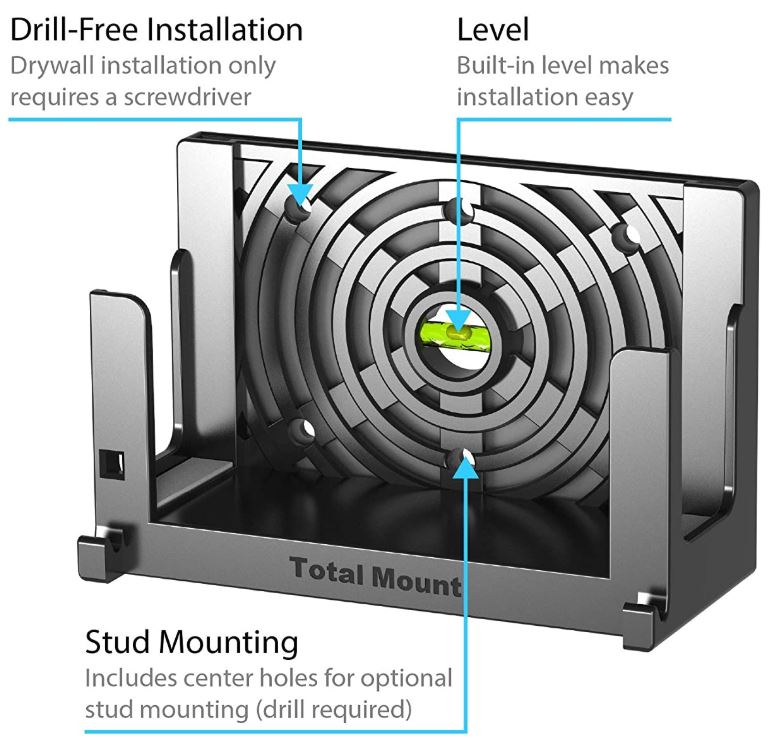 The back of the mount is where you'll find most of the genius of the TotalMount. Instead of being solid, it consists of a series of concentric rings, supported by an X-shaped support. This allows for additional air flow through the back of the frame. Smack dab in the middle, you'll see a built-in level, which makes installation a breeze. There are 4 holes in the back for drill-free drywall installation. There are also 2 center holes for stud mounting. Stud mounting is more secure, but it will require you to find a stud and use a drill.
Bonus Features
The TotalMount already does what it needs to do: supporting your Nintendo Switch. But what else does it offer? To begin with, it's not terribly thick. Depending on your TV setup, you might be able to mount it behind your TV. This won't be ideal under most circumstances, due to the top-loaded design. But for some people, it might be a possibility. In addition, there are a pair of hooks on the two front corners. These hooks allow you to hang your controllers when they're not in use. You won't be able to actually put the controllers into the frame. But you can hang them from the wrist straps, which is very convenient.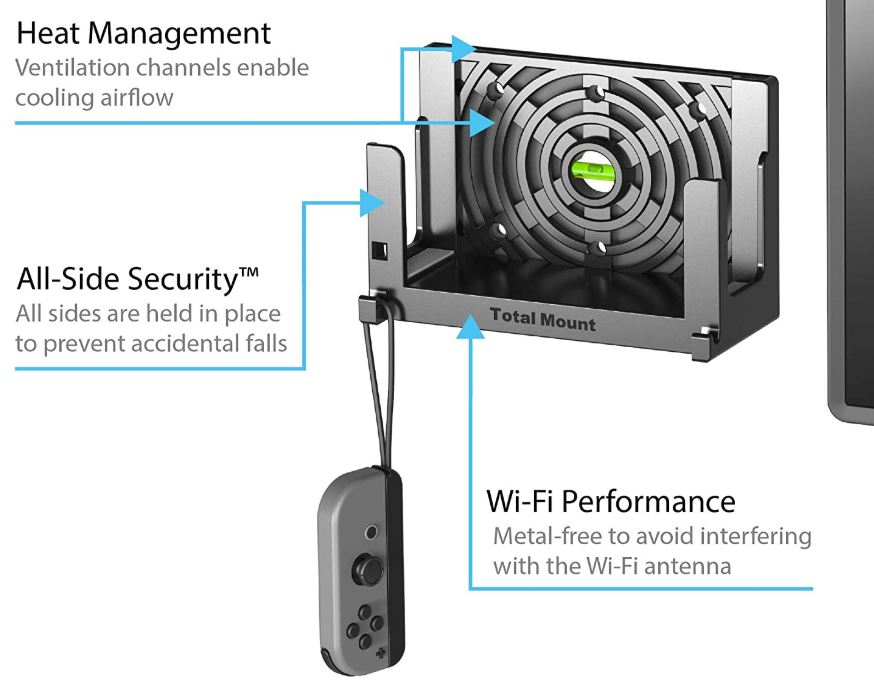 Many wall mounts have a metal frame. This has the advantage of being sturdier than plastic. However, it can obstruct your WiFi signal. Under most circumstances, it won't be completely blocked. But this can become an issue if the signal is relatively weak. For example, if your Wii is located in your basement man cave and your router is upstairs. In this case, a plastic mount can give you a bit of an edge. Without any metal to obstruct the signal, you won't have as many issues with a borderline signal.
Of course, at some point you're going to want to take advantage of your Switch's portability. When you're on the road, you may also want to use a headset for team chat. But the Switch doesn't have any native Bluetooth support. In that case, you might want to check out our list of the Best Nintendo Switch Bluetooth adapters.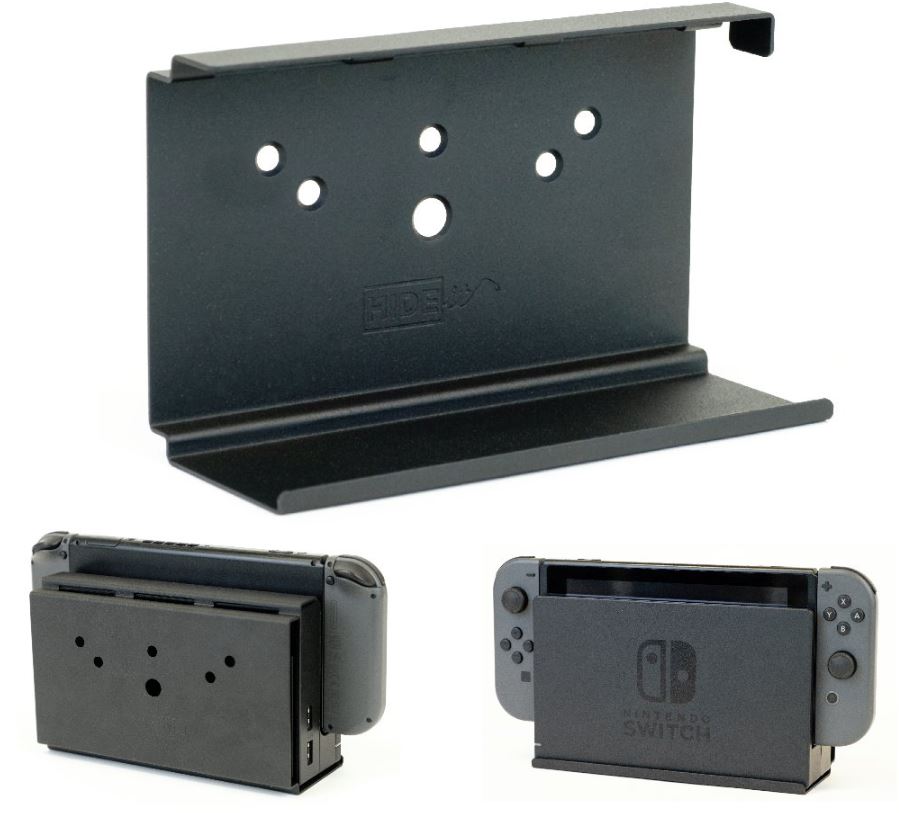 HIDEit Switch
The HIDEit Switch is a slimmer mount that has a side-loaded design. It measures 7 inches wide, 42 inches high, and 2.2 inches thick. To support this slimmer profile, it's constructed from metal instead of plastic. It weighs 1 pound, so it's about 3 times as heavy as the TotalMount. That said, it's still lightweight enough for easy installation.
The HIDEit Switch has a relatively Spartan design, and doesn't obstruct much of the Switch itself. The top restraint extends only partway over your dock. This is an ingenious design feature, since it leaves your Switch free to be removed. You can take your Switch on the go without having to slide the dock in and out of the mount. There's a small tab on the right side, which keeps your Switch from sliding out the right side. Slide it in from the left, and you're good to go. This lightweight design also allows for plenty of air flow. The sides of your dock are mostly exposed, so overheating shouldn't be a problem.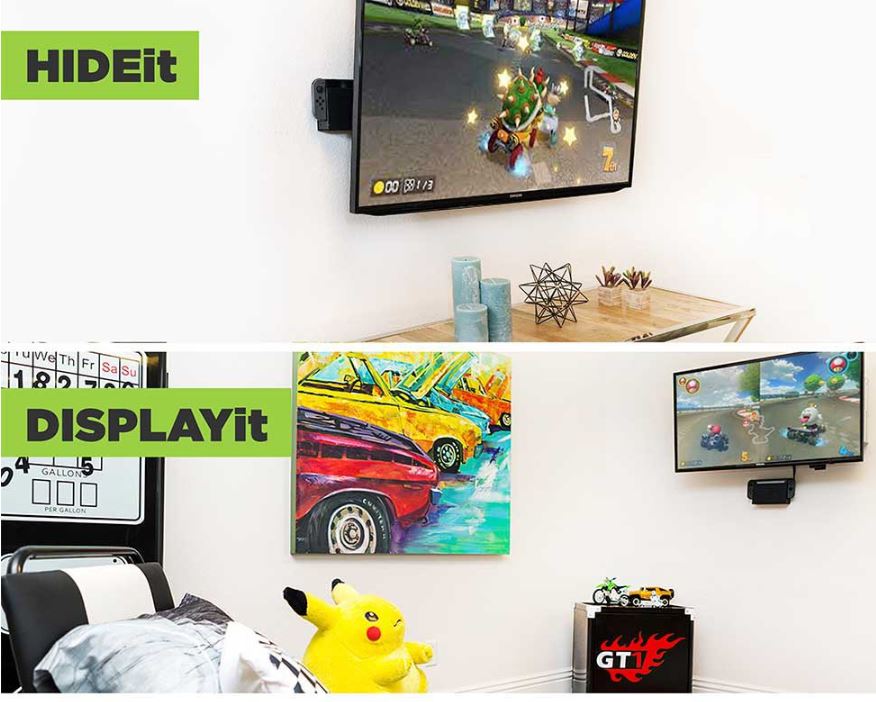 All mounting hardware is included in the kit. For the easiest installation, just use the four flathead drywall screws. The anchors are rated for 25 pounds each, so your mount will be able to survive an earthquake. If you want an even more secure mount, just use some heavier screws and mount the HIDEit to your stud. In addition, there's a set of M4 and M6 VESA screws, which we'll talk about more in the next section.
Bonus Features
Perhaps the HIDEit Switch's best feature is its exceptionally slim profile. At only 2.2 inches thick, it's small enough to fit behind just about any TV. Not only will you eliminate the need for an entertainment center, you'll also save all space. The side-loaded design makes this kind of installation particularly easy. You literally just have to reach around your TV to put the Switch in or take it out.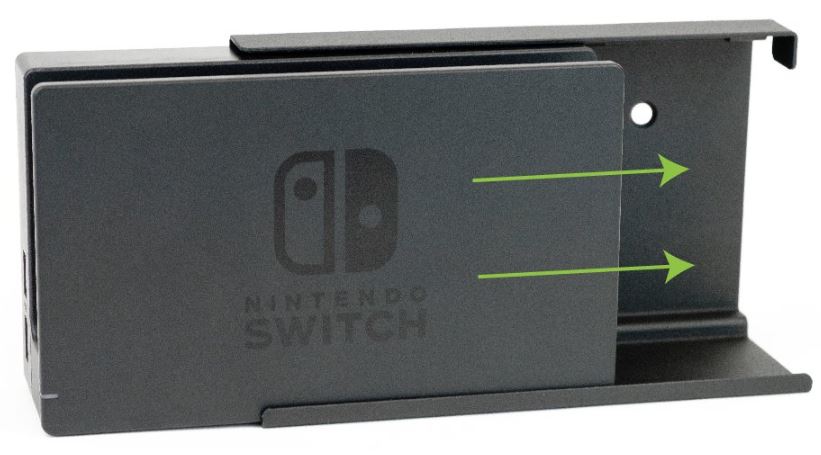 Even better, the HIDEit Switch can even be used with a TV that isn't wall mounted. Remember those VESA screws? They're compatible with the mounting holes on the back of most flat-screen TVs. This lets you work around space limitations on small tables or older TV carts.
We already talked about the fact that metal mounts can obstruct a weak WiFi signal. So what do you do if you're running into signal trouble? Yes, you could install a WiFi booster or a mesh router, but this can get expensive and complicated. If you're just trying to extend range to a single device, it might be easier just to use Ethernet. Unfortunately, the Switch doesn't have support for Ethernet out of the factory. Check out our review of the best Ethernet adapters for Nintendo Switch to find a simpler, cheaper solution.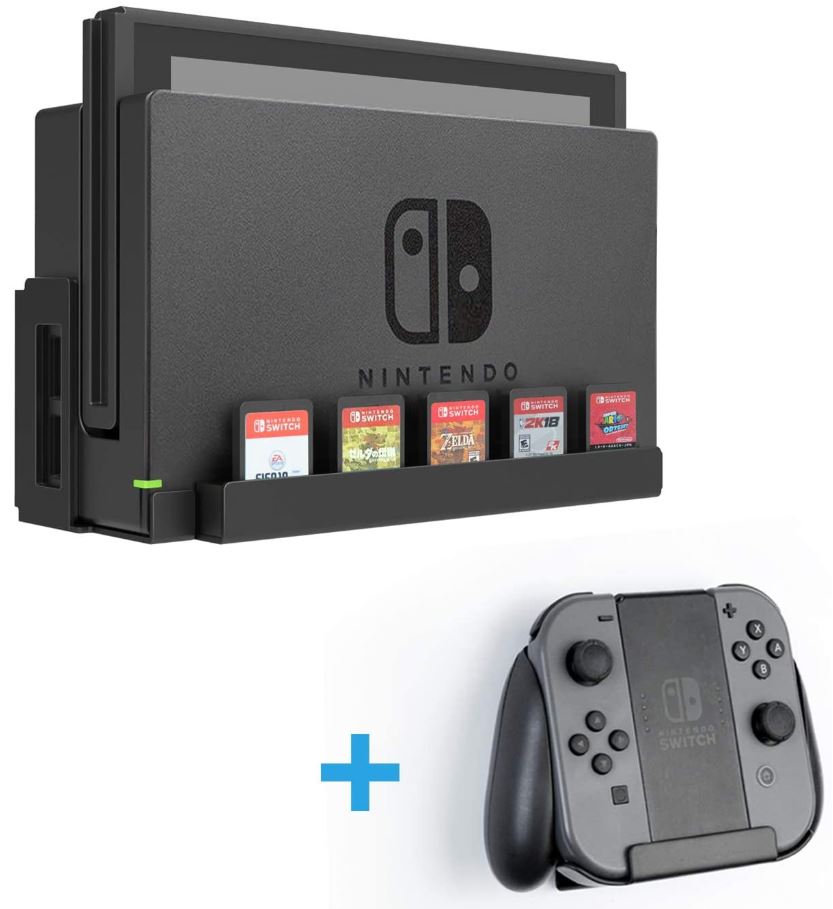 Monzlteck Wall Mount
The Monzlteck Wall Mount is perhaps the most comprehensive wall mount on our list. It's constructed from sturdy metal like the HIDEit, but it has a top-loaded design like the TotalMount. It measures 7.5 inches in width, 3.3 inches high, and 3.1 inches thick. It's also fairly beefy, tipping the scales at just under a pound. There's thin padding inside the supports, which ensures that your Switch dock won't get scratched when you insert it.
One advantage of the Montzlteck's thick design is that it offsets your Switch from the wall. This allows good air flow along the back of your Switch. And with the minimalist design of the side and front supports, there's plenty of air flow there, too. Installation is quick and painless. There are drywall screws and anchors included in the kit, so mounting should take just a few minutes. There's even a small level included, so all you'll need to get started is a screwdriver.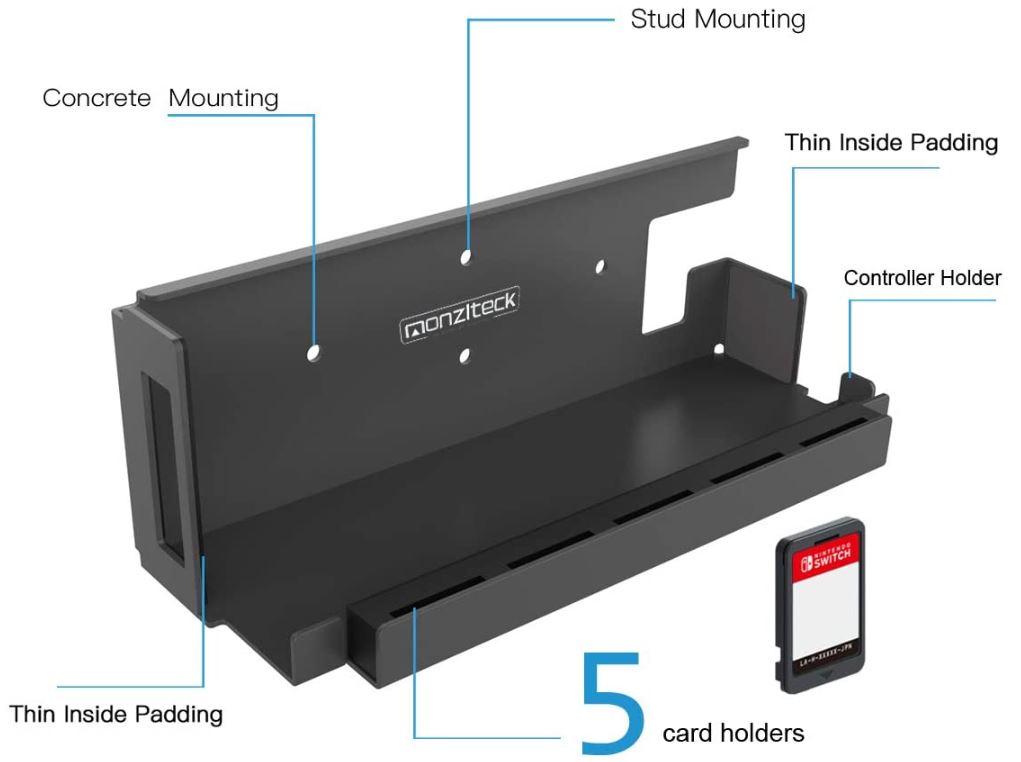 In addition to the mount itself, you also get a separate controller mount, and even a grip holder. Both of these are constructed from the same durable metal as the main Switch mount. The controller mount will support a complete JoyCon controller, with the grip and both sides attached. It includes a pair of screws for mounting. The grip holder won't support a full controller. However, it's designed just to hold the grip. Screw it into your wall, and you'll have a convenient place to store your grip while using the controllers separately.
Bonus Features
Montzlteck advertises their wall mount as being installable behind your TV. This is technically possible. However, at 3.1 inches thick, this won't be true for all setups. Depending on the exact style of your TV mount, your mileage may vary. Keep in mind, though, that the Montzlteck Wall Mount has a top-loading design. This can be awkward behind your TV. In practice, your best option is simply to use a little more wall space.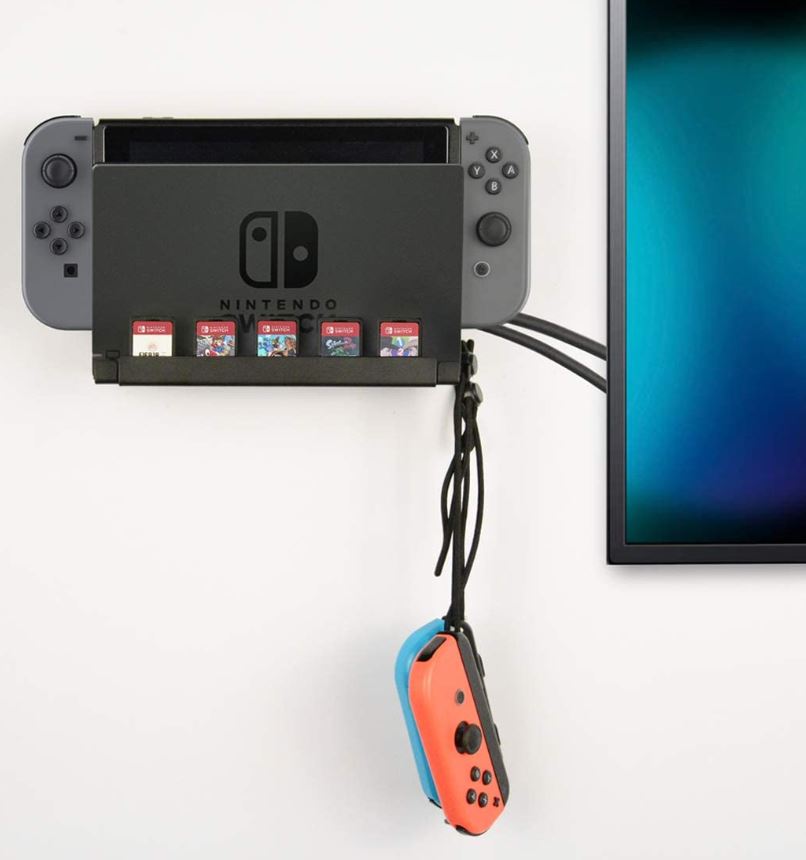 There's another good reason to install this wall mount on an exposed portion of your wall. It has 5 game card holders in the front of the frame. Considering the tiny size of Nintendo Switch games, they can be easy to lose and difficult to store conveniently. We're not saying the Monzlteck can support your entire game library. But you can keep your 5 most commonly-played game easy to access. There's also a controller hook on the right side of the frame. This allows you to hang additional controllers by their wrist straps. Combine that with the grip mount and controller mount, and you've got plenty of storage options.
As long as you're setting up a sweet wall mount for your Nintendo Switch, you might want some other upgrades. For instance, the Switch's kickstand is notoriously flimsy. If yours broke, or if you want a more sturdy option, this is a great time for a replacement. Check out our list of the best kickstand replacements for Nintendo Switch for some suggestions!
Final Verdict
So, which one of these Nintendo Switch wall mounts is your best option? In the end, it comes down to exactly what your needs are. To begin with, let's consider the TotalMount. It has a top-loading design, which isn't convenient as side-loading. However, it's a bit more secure. In general, a metal mount would be a better choice. But the plastic construction offers some advantages if your WiFi signal is weak. The addition of controller hooks is a nice added bonus.
The HIDEit Switch has a side-loading design, which is a bit more convenient to use. It's constructed from sturdy metal, and it's also slim enough to fit behind your TV. You can even mount it on the back of your TV if you so desire. The design is more or less without frills, but that's not necessarily a bad thing. Why make things complicated when simplicity will get the job done?
The Monzlteck Wall Mount has a similarly sturdy metal design, but it loads from the top. It also includes separate mounts for your controller and grip, and even holds five games. This makes it easy to keep your entire kit organized. In addition, it offsets your Switch from the wall. On the one hand, this makes it too thick to mount behind most wall mounted televisions. Oh the other hand, it provides exceptional cooling. If you're particularly concerned about your Switch's cooling, the Monzlteck is a great choice.