The Nintendo Switch is arguably the most innovative modern gaming system on the market. It also benefits from a plethora of excellent games, most of which are exclusive to the platform. It's no wonder that many of its most avid fans want the ability to stream their successes or play multiplayer. Gaming on the Switch is a great experience no matter what.
So it only makes sense to look for an excellent Ethernet adapter for a Nintendo Switch rather than settle for something mediocre. The ideal Nintendo Switch Ethernet adapter should be sized appropriately for the gaming platform. It'll also have some excellent features to make it stand out from the rest.
To that end, let's go through three top choices for the best Ethernet adapter for the Nintendo Switch. We'll compare them head-to-head at the end, so you'll know which is best for your needs. Let's get started!
TP-Link USB to Ethernet Adapter
The TP-Link USB to Ethernet Adapter isn't just excellent for use with a Nintendo Switch. It can connect any USB 3.0 device to the router, modem, or network switch you desire. Whatever you choose, you'll get gigabit Ethernet connectivity in seconds. It's a very small adapter, so it's perfect for taking with you on car trips or for storing with the rest of your Nintendo Switch gear. It can easily be packed into a bag with your games, for example.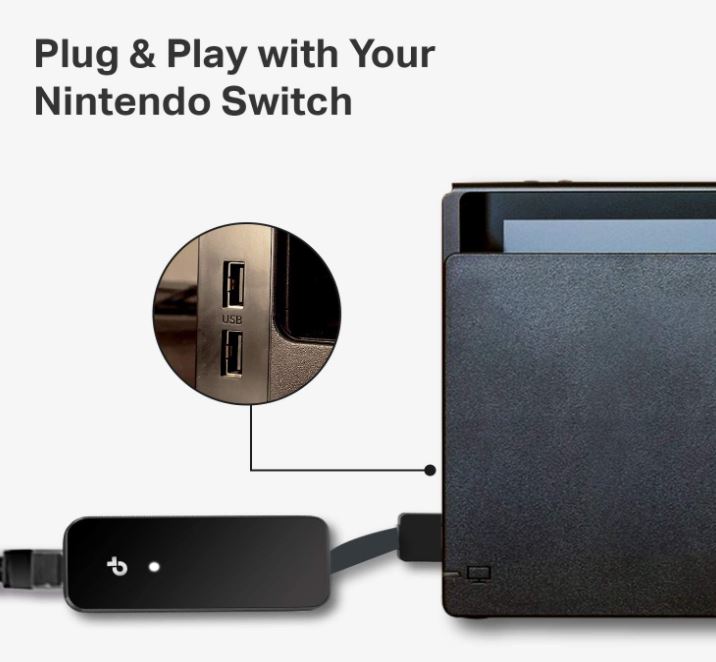 The adapter supports 10/100/1000 Ethernet connections with ease. It has quality that will let you download things to your switch faster than with a wireless connection. The stocky female end of the adapter is durable enough that it won't easily break down. The wire is a bit less protected, but it's still properly insulated.
The wire is as long as most other adapters' cables. But you'll need to place your switch right next to the other device. The wire isn't long enough to stretch for more than a couple of inches.
Features and Compatibility
This Ethernet adapter supports tons of features. Wake-on-LAN is just a single example. This feature provides you with Internet connectivity the moment the adapter detects the presence of a local area network.
It's also a very energy-efficient adapter. It's Green Ethernet rated, so those who are more environmentally conscious will appreciate this choice. Furthermore, this adapter supports specialized software that can reduce CPU loading. In other words, it'll facilitate faster download speeds. It's a great Ethernet adapter for all kinds of tasks beyond Nintendo Switch gaming.
As far as compatibility goes, this adapter doesn't hold any bad surprises. It's compatible with most modern Windows iterations. It can also work with Chrome OS so long as you have the latest updates. It does not work with Windows RT or Android operating systems, however. Keep this in mind if you have a device with those OS types. Still, most Nintendo Switch needs should be workable with the available compatible OS types.
UGREEN USB Network Adapter
The UGREEN USB Network Adapter is setting a new standard for energy efficiency for these types of components. It connects flawlessly to any Ethernet port on modern devices, including Nintendo Switches. It can also add a standard RJ45 port to your Switch. This functionality will enable you to easily transfer files, as well as stream your games in HD. It'll be a great additional accessory for serious Switch gamers as a result.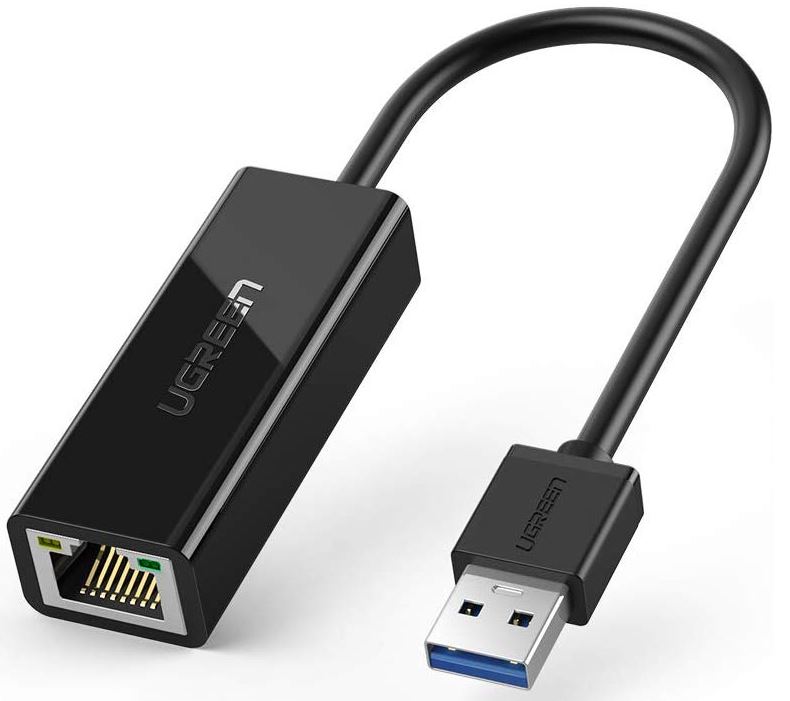 This adapter brings a lot of speed to the table. It's capable of providing 5 Gb per second Ethernet speed with full 10/100/1000 Mbps Ethernet performance. This is significantly faster than most wireless connections unless you have a super expensive Wi-Fi adapter. Even then, wired connections are generally better for stability and download consistency.
It's about the same size as our last pick with a blocky female end and a narrow wire connecting to the male end. The wire is a bit longer than the TP-Link adapter, though. It'll be easier to use this adapter with devices that are farther away from your Nintendo Switch. Increased flexibility is always nice. The wire's durability is also quite acceptable, especially given the asking price.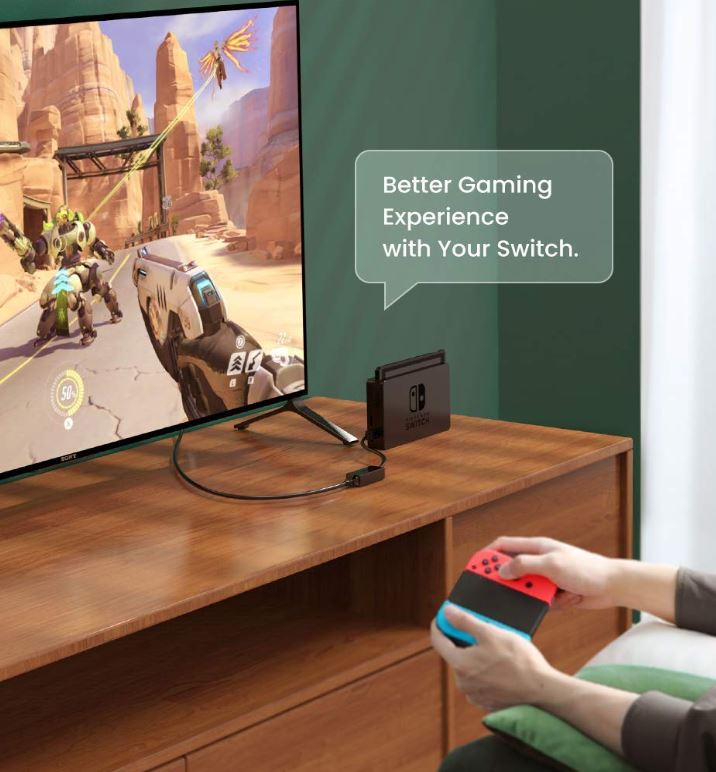 Features and Compatibility
Once using this adapter for the first time, you'll immediately notice the Link and Activity LEDs situated on the adapter. These LEDs are located on the female end of the adapter, with a yellow and green light on either side. The yellow light will flash to show downloads in progress. The green light flashes to show constant activity. Both give you clear indications as to the status of your current download. It's a great additional feature that helps you to know when things are slowing down or speeding up.
We mentioned before that this adapter was very energy efficient. It's compatible with many energy-efficient Ethernet software types. This is great for pairing with a Switch that already is plugged into a crowded outlet.
It's compatible with most modern Windows operating systems, plus several older operating systems like Vista or XP. These don't matter so much for Nintendo Switch gaming, but it's nice to have. It'll also work with many Mac operating systems and Chrome OS. Like our last choice, it unfortunately doesn't support Windows RT and Android.
HORI Nintendo Switch Wired Internet LAN Adapter
The HORI Nintendo Switch Wired Internet LAN Adapter is a staple choice for Switch owners. It's licensed from Nintendo itself and is the official Ethernet adapter for the Switch gaming platform. If you're not certain about what type of adapter to use, choose this one. It's guaranteed to work with your Switch thanks to its design.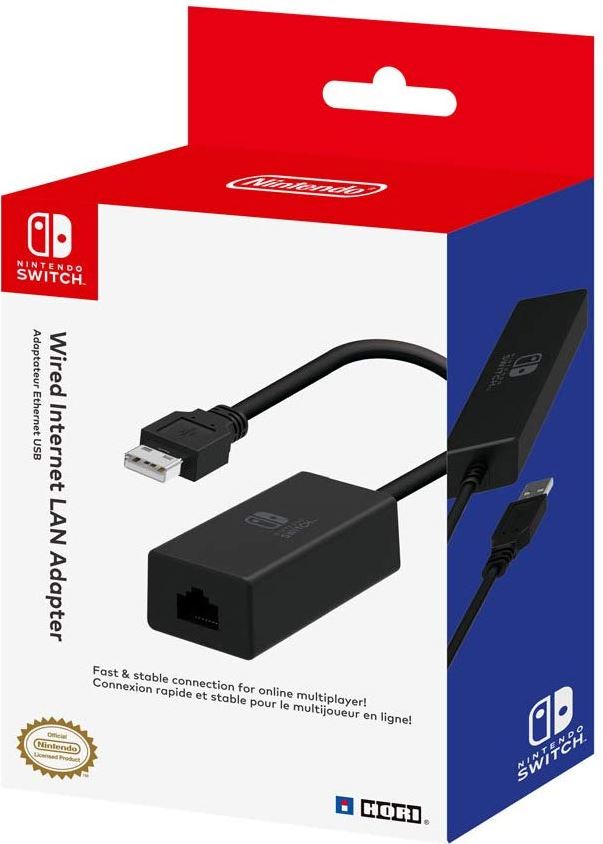 It's specifically constructed to fit perfectly into the Nintendo Switch Dock. This snug connection will ensure proper download consistency. It provides a steady wired Internet connection straight to your Switch controller's dock. This facilitates lightning-fast streaming and download speeds up to 1 Gbps. It's an ideal choice for online multiplayer with your Nintendo Switch, as a result.
The female end of the adapter is exceptionally durable and sturdy. It's a bit larger than many other adapters', but we think it provides peace of mind. It's also still small enough to easily take with you or throw it into a case with your other Switch gear.
The cable measures 7.5 inches in length. This is significantly longer than many other adapters on the market. The cable is also pretty sturdy and sufficiently insulated. It doesn't bend or kink very easily, which is great for those whose cables end up getting broken or torn when they're not in use!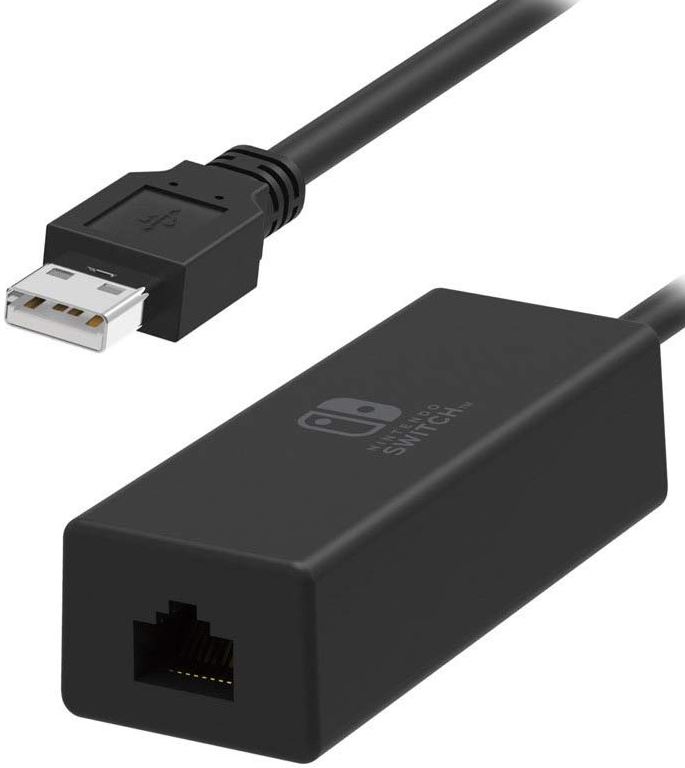 Features and Compatibility
Being a proprietary Nintendo product, this adapter is a little less compatible with more operating systems than other adapters. It can, in theory, work with other operating systems. But its internal design makes this less of a certainty. It's meant first and foremost to be used with the Nintendo Switch system. This is distinct from our other pics, which are general use ethernet adapters that happen to function with the Switch.
The adapter supports 10/100/1000 ethernet quality, just like our other choices. This isn't surprising given that it is Nintendo's chosen pick for wired ethernet adapters. It's also energy-efficiency supporting. Available standards include IEEE802.3ab, 2.3u, and 2.3. In other words, it can be just as energy efficient as the other two choices in this guide.
All in all, this adapter comes with a higher than average asking price but guaranteed connectivity with your Nintendo Switch. It's a good option if you already have a general ethernet adapter for your computer.
Final Verdict
As far as general use Ethernet adapters go, the TP-Link USB to Ethernet Adapter is difficult to beat. Its phenomenal wired connectivity and durable design make this a solid choice not just for Nintendo Switches but for connecting any device to a network. It's also environmentally friendly compared to other Ethernet adapters. Most important is its Wake-on-LAN functionality, which is something you don't see in most other picks.
Meanwhile, the UGREEN USB Network Adapter is another energy-efficient choice. It can work quite capably as an Ethernet adapter for the Nintendo Switch and other devices. It stands out largely because of the indicator LEDs located on the end of the female side of the adapter. These LEDs can provide critical information about the state of your data transfer. It's a nice, techy touch to an otherwise bland-looking choice. It also delivers the same high-quality Internet downloading speed as the other two choices.
Finally, the HORI Nintendo Switch Wired Internet LAN Adapter will be a favorite by many purely because it is the adapter built by Nintendo themselves. It's also the one with the longest connecting cable. This makes it a great choice for flexibility between your Switch and the router. Ultimately, the higher asking price will turn away a few but many people will do well to consider this choice. You'll know for certain that it's designed to work with the Nintendo Switch right out of the box.