With the upcoming release of Microsoft Flight Simulator 2020, the flight simulator community is stoked. People are updating their PCs, setting aside money for DLC, and, yes, buying new flight controllers. Now, we should acknowledge that it's entirely possible to play a flight simulator with your mouse and keyboard. But that lacks the immersive experience you'll get from using genuine controls. If this doesn't matter to you, go ahead and save money by using your mouse and keyboard. But if you want to be fully immersed in the "simulation" aspect of a flight simulator, you need proper controls.
Over time, we've reviewed a number of flight simulator accessories. Depending on what you're flying and how much you want to spend, you might want any number of parts. But today, we're going to be focusing specifically on yokes. We'll review three of the best flight simulator yokes on the market, starting with the throttle quadrants. Because of this, we were eager to try out their Honeycomb Alpha Flight Simulator Yoke.
This is a big, beefy yoke that sports a stainless steel shaft and dual mounting clamps. Second on our list is the CH Products Eclipse Yoke. This yoke is a bit more compact, but ships with a powerful software package for customization. Last but not least, we'll review the G Saitek Pro Flight Radio Panel. That experience shows in the design of their Logitech G Pro Flight Yoke System. This yoke features a built-in USB hub and stopwatch, and includes a throttle quadrant. Which one is the best? Let's dig deeper, and see what we learn.
Yoke, Throttle Quadrant, Rudder Pedals – The Essentials
So, you're going to build your own virtual cockpit. Congratulations! You can look forward to enjoying your flight simulator on a whole new level. But the large number of products on the market can be baffling. You can buy everything from flight instruments to radios to rudder pedals. All of these components can make your flight simulator more immersive. That said, some are more important than others. What should you buy first?
If you ask pilots with real flight experience, they'll tell you to start with a yoke, throttle quadrant, and pedals. The reason for this is that all three of these components are part of the physical experience of flying. Everything else can be replicated on your monitor. For example, a real-world radio control box is cool, and adds a new element of immersion. You get to flip a physical switch! But how often are you going to use that switch, compared to turning or adjusting your throttle? Simple display elements, such as an altimeter, can come last. You don't actually interact with them at all, so they can stay on your monitor.
Now, if you want to get really fancy, you can buy literally everything. Then you can mount your ultra widescreen curved monitor above the instruments, like a real windshield. But for most people, that dream will take months or years to build, one piece at a time. If you're just starting out, begin with the essentials: a yoke, a throttle quadrant, and rudder pedals. Here's why each one is uniquely important.
Why Use a Yoke?
Simply put, a yoke is the most commonly-used flight instrument in aviation. It's used on pretty much every aircraft, with the exception of combat aircraft, Airbus jets, and helicopters. For most planes, it's going to give you the most realistic experience. More than that, though, it's the single control you use more often than any other. This is especially true if you prefer to forego the autopilot and fly hands-on. It's just so much more natural – and more fun – with a yoke than it is with a mouse and keyboard.
Why Use a Throttle Quadrant?
Next to steering, the next most commonly-used aircraft function is adjusting the throttle. Unless you're flying a very small aircraft, a throttle quadrant is what you would use for this purpose. A quadrant also simplifies operation for two and four-engine aircraft. You don't have to fumble around with your mouse to adjust the correct engine or group of engines. Just reach out, grab the levers you need, and make your adjustments. Better yet, many throttle quadrants include a speed brake and a flaps lever. This greatly simplifies takeoffs and landings, as well as further improving immersion.
Why Use Rudder Pedals?
The third essential component for a flight simulator cockpit is a set of rudder pedals. This component is often forgotten because it's "out of sight, out of mind". But once you use a set of physical pedals, you're never going to want to go back. The difference is noticeable before you leave the ground, as soon as you start taxiing. The pedals adjust the nose wheel and rudder, just as they would on a real airliner. This makes taxiing smooth and effortless.
Once you get airborne, the difference is less noticeable. But when you need to make a yaw adjustments, it's much more immersive to use your pedals. Another, less commonly-used advantage of rudder pedals is for military simulators. If you're performing an engine out procedure, you'll find that a pair of pedals makes recovery much simpler.
The biggest benefit of pedals, though, is during landing. As Tom Petty said, "coming down is the hardest thing". You're working all your controls to keep the aircraft lined up during your approach. If you're pushing yourself, you may be battling a crosswind. A set of pedals allows you to use your feet to make yaw adjustments during landing. This is one less thing your hands will be worried about as you bring your passengers to their final destination.
Why a Yoke and Not a Stick?
So, why would you want to start out with a yoke? Why not a control stick? The short answer is that a yoke is more versatile. Yokes are typically used on smaller aircraft, such as Cessenas. They're also used on most larger jets, with the exception of Airbus jets. In other words, they're going to fly the most planes for the largest number of players. For instance, there's not a single combat aircraft in Microsoft Flight Simulator.
That said, there are some reasons you might want to start with a control stick. One reason is if you're an Airbus enthusiast. In that case, you'll get the most realistic experience with Airbus sidestick rather than a yoke. The same applies for combat flight simulators. Be careful about those, though. If you want to get way off into the weeds, you can get replica control sticks for most aircraft models. This can get expensive in a hurry. On the other hand, it's nice to have the option if that's what you're into.
Should you always start with a yoke instead of a stick? For most people, the answer is going to be yes. But you should think about the types of planes you want to fly. If it turns out that a control stick is better for you, then that's what you should use.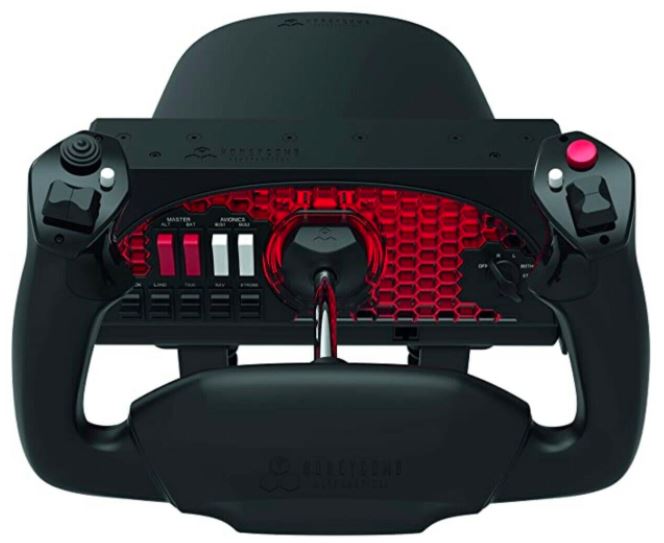 Honeycomb Alpha Flight Simulator Yoke
Honeycomb is a popular and established manufacturer of flight simulator accessories. In the past, we've reviewed – and enjoyed – their flight controls and throttle quadrants. Because of this, we were eager to try out their Alpha Flight Simulator Yoke.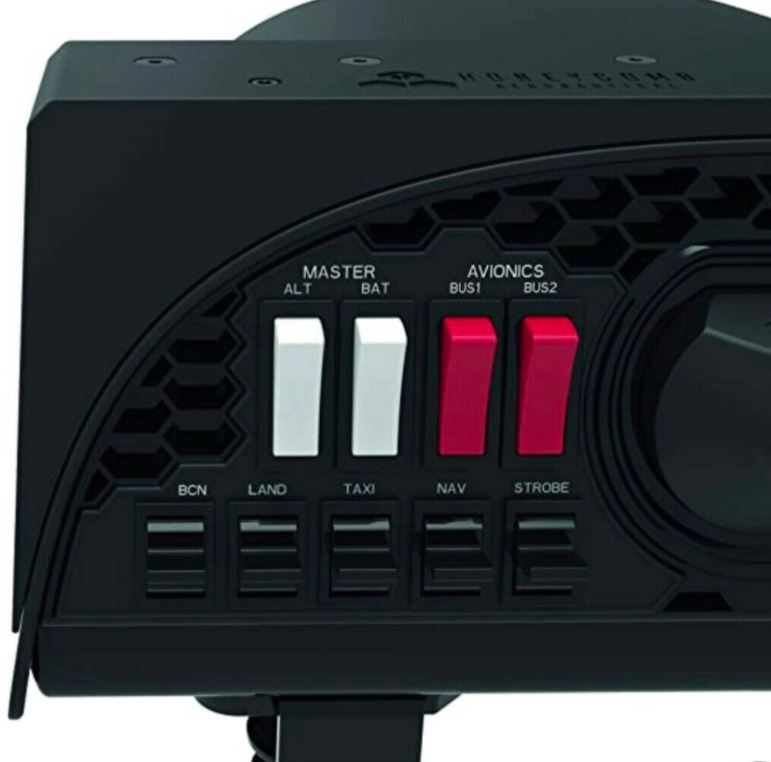 This Honeycomb yoke has a full 180 degrees of rotation for total control over your aircraft. The yoke has a self-centering mechanism, but there's no center detent. Movement is smooth through the yoke's full range of motion, with dual liner ball bearings and a sturdy steel shaft. The bulk of the unit is housed in plastic, but it's a sturdy molded plastic that doesn't crack easily. Underneath, a pair of dual clamps attach the yoke to your desk or table. Because there are two clamps, the yoke rocks less and is more stable. Honeycomb even includes a 3M Micro-Suction pad you can use if the clamps are too small for your desk.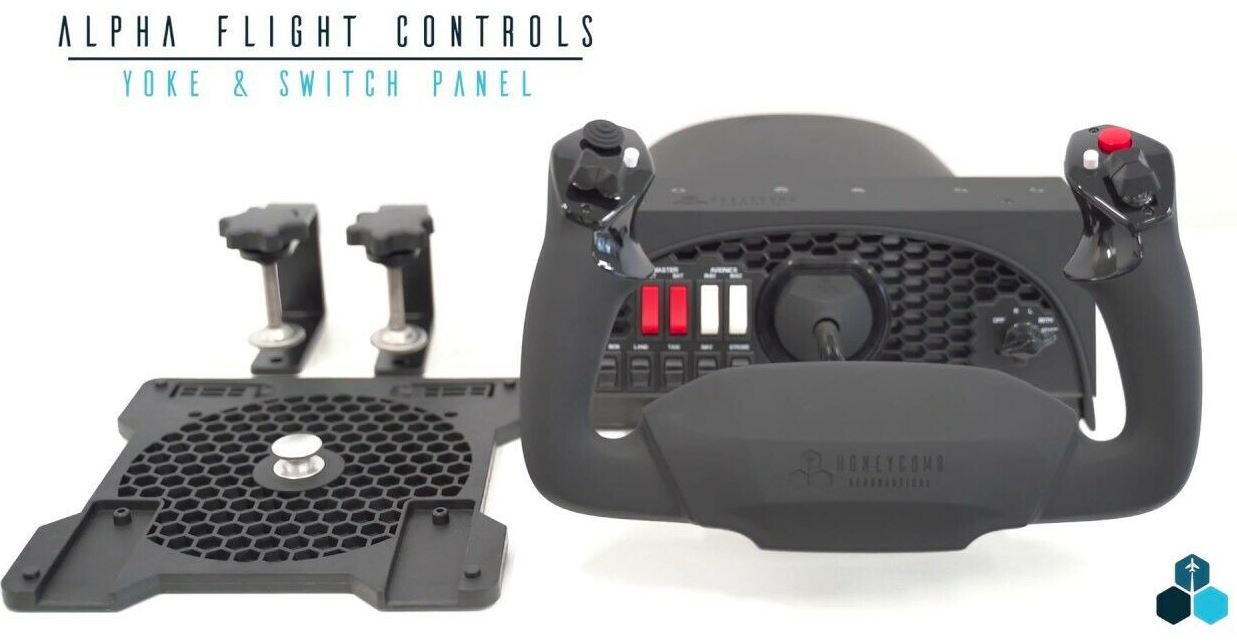 The controls are divided between the left and right grips. On the left, you'll find an 8-way hat switch, a Push to Talk button, and a pair of rocker switches. On the right, there's another pair of rocker switches, along with a large and small button. On the front console, you'll find a five-position ignition switch, as well as master, avionics, alternator, and light switches.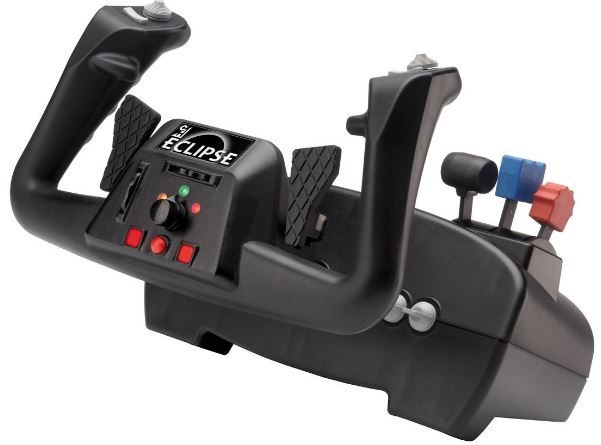 CH Products Eclipse Yoke
The CH Products Eclipse Yoke is more compact than the Honeycomb yoke. It's also more lightweight, with more plastic used in the construction. Mounting is easy, with a pair of plastic clamps included in the kit. The rods on the clamps are steel, so you get the strength of metal without scratching your desk or table.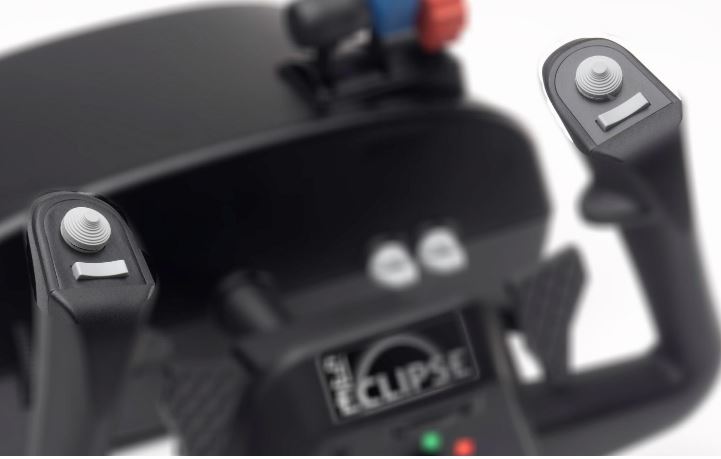 This yoke features more controls than perhaps any other yoke on the market. To begin with, you have four switches to control elevators, fuel mixture, rudder movement, and propeller pitch. These switches are located on the right side, just beneath a set of three levers. The first lever controls ailerons, while the second and third are throttle controls for a two-engine aircraft. Each grip is equipped with an 8-way hat switch and a rocker switch. An ignition control and push to talk button are located on the front of the yoke. A pair of programmable paddles inside of each grip completes the package.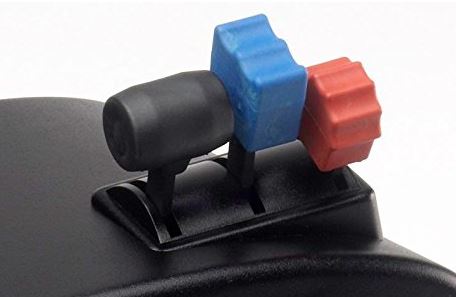 Along with all this, you get CH Products' Control Manager software. This software allows you to choose between over 240 controls. Inside, you can create custom profiles for different games and aircraft. You also get a two-year manufacturer's warranty, one of the best in the industry.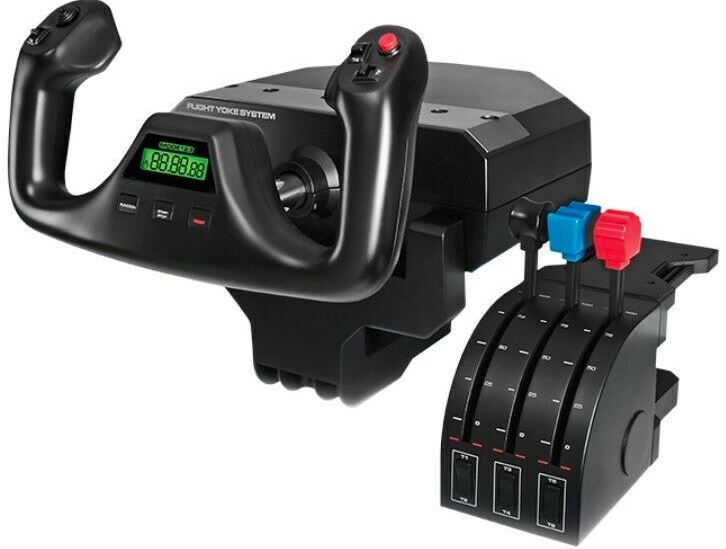 Logitech G Pro Flight Yoke System
Logitech is better known for smaller accessories such as gaming mice. However, they do have some experience with simulator accessories, such as their G Pro Flight Yoke System. It's not the most full-featured flight yoke on the market by any means. But it's well-engineered, complete with a steel shaft for durability. A simple, 2-position clamp secures the yoke and included throttle quadrant without any issues.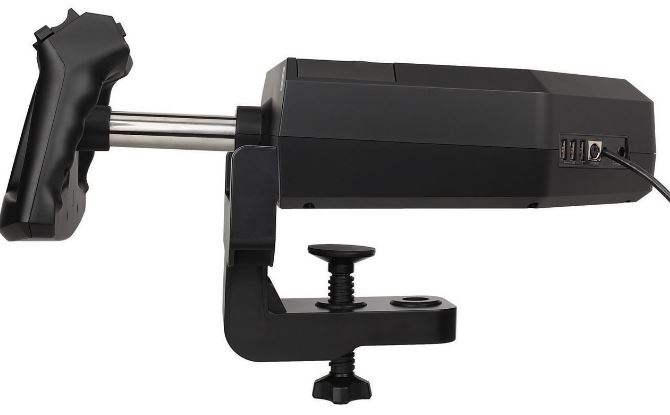 The left grip sports an 8-way hat and a two-way switch. On the right, you'll find two additional switches as well as a button. Three additional buttons on the front of the yoke are housed underneath a built-in stopwatch display. On the top of the yoke, there are three USB ports which function as a hub. You can use these to connect other Logitech hardware such as multi-panels, flight switch panels, and more. To help you complete your kit, Logitech includes a basic three-lever throttle quadrant in the package.
Final Verdict
So, which one of these flight simulator yokes is the best? As is so often the case, it depends on what you're looking for. To begin with, we reviewed the Honeycomb Alpha Flight Simulator Yoke. This yoke doesn't offer as many control functions as some of the others. However, it's very ergonomic and sturdy. It also has a dual-mount design that keeps it very stable during operation. If you want size and stability most of all, this is your best option.
Second, we looked at the CH Products Eclipse Yoke. This yoke is a bit smaller than the Honeycomb, and has more plastic parts than metal. That said, the large number of controls, especially the paddles, make it easy to perform almost any function. But the best feature of all was the Control Manager programming software for customizing your controls. The CH Products yoke is ideal if you play more than one flight simulator on a regular basis.
Finally, we reviewed the Logitech G Pro Flight Yoke System. This yoke uses more plastic than the last two, although it does feature a steel rod to prevent breakage. But the Logitech's best feature is the built-in USB hub and compatibility with other Logitech parts. Even if your PC doesn't have a ton of available USB ports, it's not a problem. You can run a whole Logitech cockpit right through their flight yoke. They even include a throttle quadrant in the kit to get you started. Admittedly, the quality of construction isn't as good as our last two options. But if you're trying to build a complete, compatible cockpit, the Logitech yoke is an excellent choice.