Whether you're a seasoned flight sim veteran or a novice looking to take your virtual piloting skills to new heights, the right rudder pedals can make all the difference. But which to choose? There are a lot of options out there, so we saved you the hassle by researching and compiling the best of the best. Here's a rundown of the top picks featured in our handy guide:
We'll dig into each of these selections to give you a comprehensive idea of what they offer. Whether you prioritize precision, customization, build quality, or cost-effectiveness, there's a rudder pedal set here to fit your needs.
Best Overall: Logitech G PRO Flight Rudder Pedals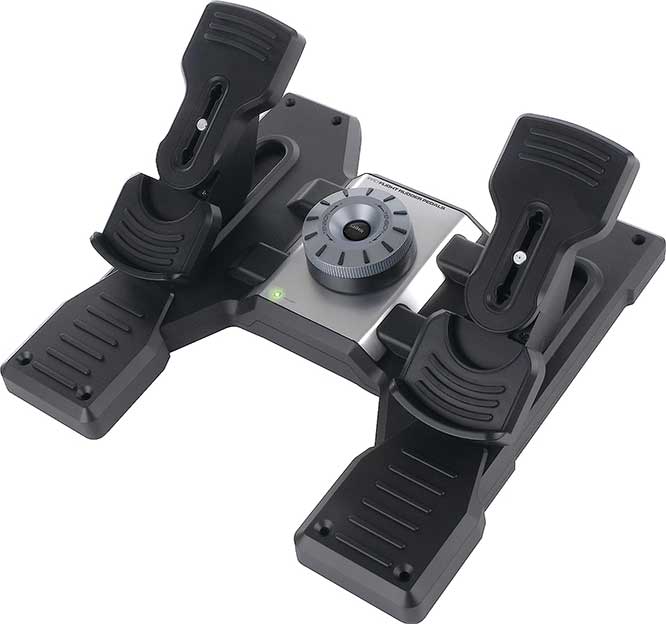 Key features:
Self-centering pedals with adjustable damping
Precise rudder and braking control
Partial metal construction for durability
Saitek Smart Technology for customization
If you're looking for a realistic addition to your flight simulator setup, the Logitech G PRO Flight Rudder Pedals deliver the goods. Sporting self-centering pedals with adjustable damping, this device offers a precision control experience that's akin to handling an actual aircraft. You'll love the responsive rudder and braking control, allowing for tailored resistance to suit your unique flying style. The unit is designed with adjustable footrests that can accommodate a broad range of sizes.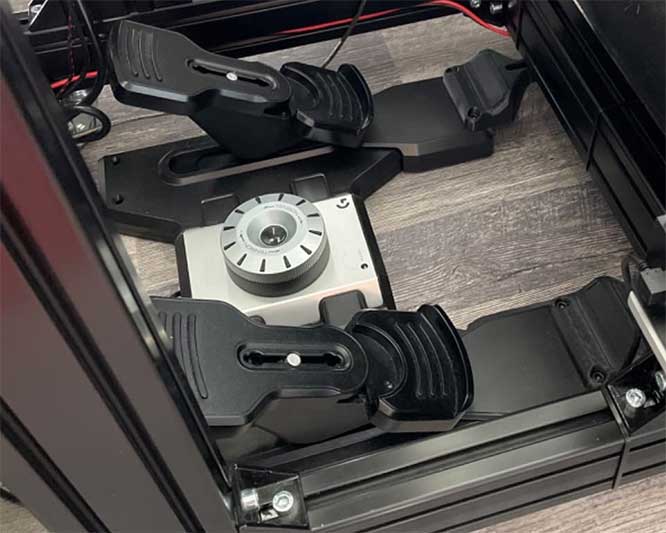 No worries about slippage, either – they're constructed with non-slip materials to ensure your virtual flight remains uninterrupted. Let's not forget the solid partial metal construction that gives it long-term durability. Compatibility is another strong point. Connecting via USB 2.0, it seamlessly integrates with Windows systems ranging from XP to Windows 10.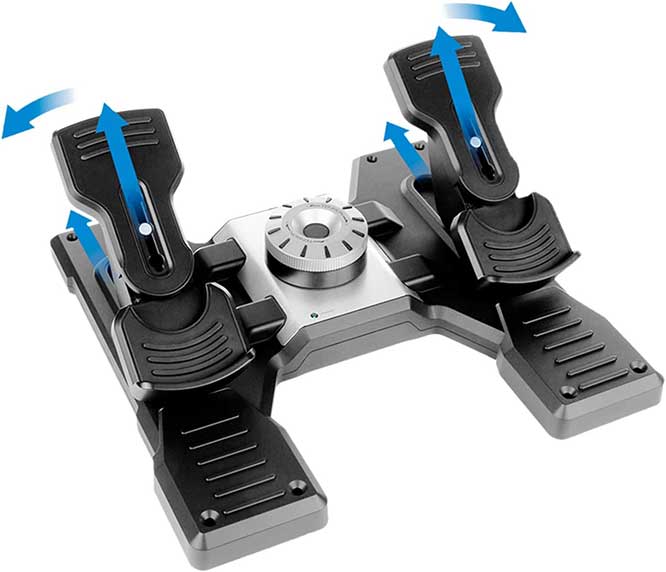 Moreover, the Saitek Smart Technology programming software enables gamers to customize their controls, enhancing the immersion of both flight and space sims. As for its physical size, it measures a comfortable 1.8 meters in cable length, striking a nice balance between flexibility and space efficiency. Despite these advantages, one may need to creatively anchor it down due to it requiring a bit of force during use. Additionally, the spring inside can be a tad bouncy even at lower tension settings.
What we liked:
Adjustable footrests accommodate all sizes
Compatible with wide range of Windows systems
Customizable controls enhance gaming immersion
Durable partial metal construction
What we didn't like:
Needs anchoring due to applied force
Spring can be overly bouncy
Best Runner-Up: Turtle Beach VelocityOne Universal Rudder Pedals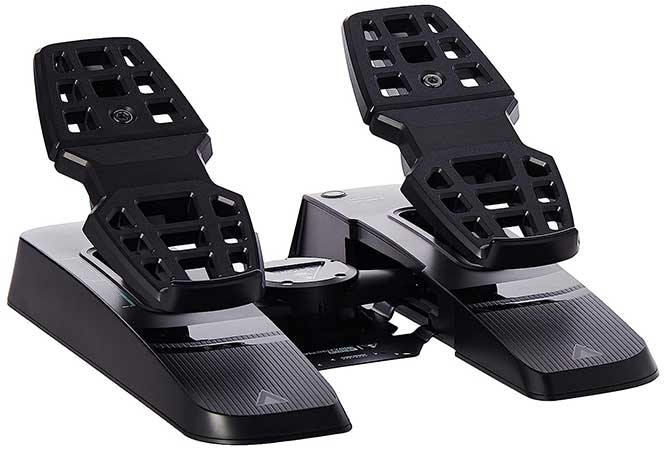 Key features:
Smooth axis and swappable springs
Pedals with adjustable width
Differential brakes for precise control
Non-contact HallEffect sensors
When you're in the pilot's seat, nothing beats the precision and realism brought by the Turtle Beach VelocityOne Universal Rudder Pedals. With a sturdy design measuring 15.2 x 19.26 x 8.79 inches and weighing in at 13.33 pounds, this one is built to impress and built to last. The pedals offer an ultra-smooth rudder axis, complete with swappable springs for customizable resistance. We tested them out on a variety of flight simulators, and the results were extraordinary. The movements were smooth, and the accuracy impeccable, adding a level of realism you'd expect in a real aircraft.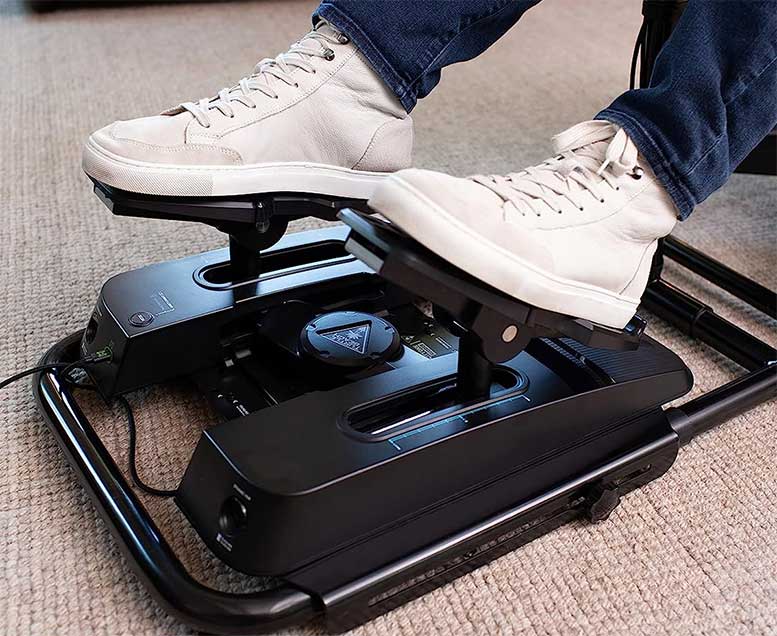 The adjustable pedal width is a thoughtful touch that caters to all kinds of users and aircrafts. There are also two swappable pedal sets of to match your preferred flight setup, whether that's a single-engine prop plane or a multi-jet airliner. We were impressed by the HallEffect sensors on all axes, which provide high-resolution 10-bit axis data. This allows for precise, maintenance-free operation over time. And, despite the impressive amount of tech, setup was a breeze.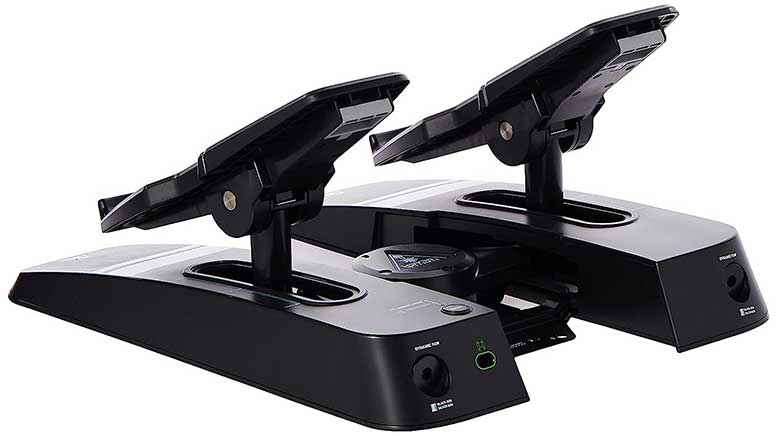 The system is easily configurable, and the built-in screen was more than just a novelty, providing essential information on-the-fly. The differential brakes were a standout, allowing us to achieve precise runway control and steer with confidence. Stability was never an issue, either. The solid metal base and rubber pads ensured the pedals stayed put on a variety of surfaces during our tests. While no product is perfect, the VelocityOne Pedals stood out for their features, functionality, and overall ease of use.
What we liked:
High precision and adjustable control
Solid build with stable base
Compatible with PC and Xbox
Convenient, informative built-in screen
What we didn't like:
Not standalone for Xbox
Trim wheel sensitivity issues
Best High-End: Thrustmaster TPR Pedals Worldwide Version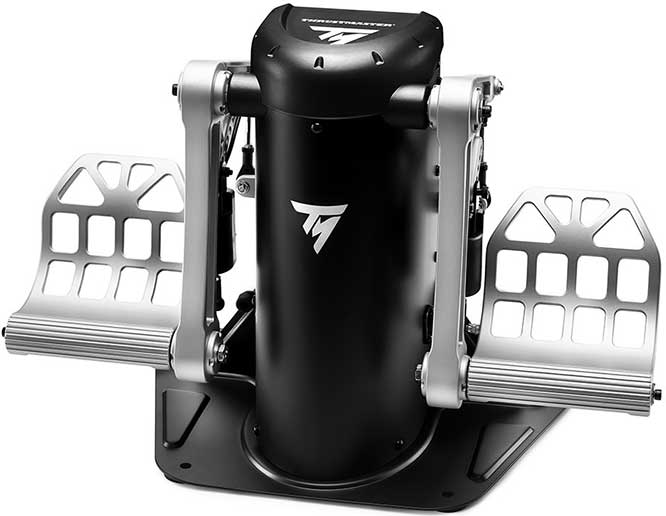 Key features:
Thrustmaster PENDUL_R Technology
H.E.A.R.T. HallEffect Accurate Technology
Adjustable spring resistance
Robust and hefty design
Thrustmaster is a name that's been in the game for over 30 years. One could argue that it's synonymous with flight sims. They've had some hits, and they've had some misses. Thankfully, the TPR Pedals Worldwide Version stand out in the realm of flight simulator peripherals. Delivering high-end performance, it's a perfect blend of precision, durability, and customization. It utilizes the unique PENDUL_R technology, which is a suspended mechanism that promises exceptionally smooth and fluid movements.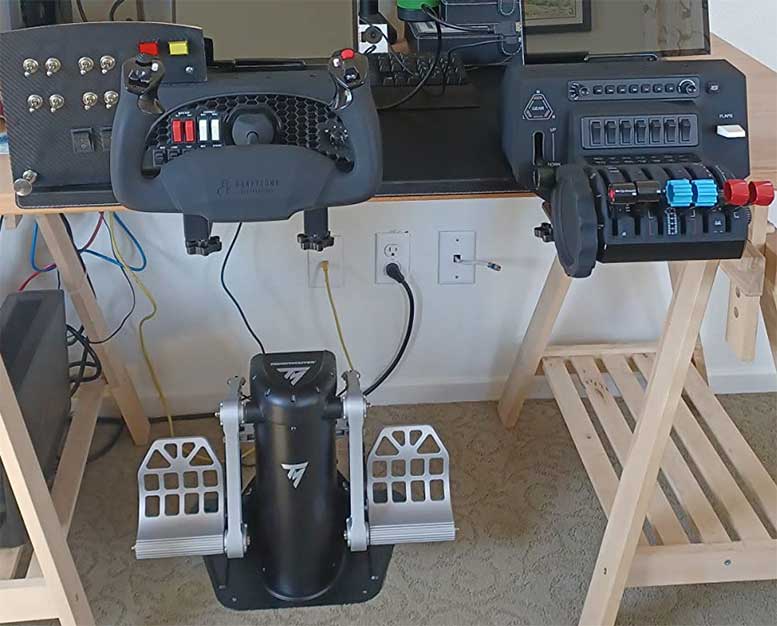 Pairing this with its H.E.A.R.T. HallEffect Accurate technology guarantees ultra-precise, frictionless action that remains consistent over time. Flight sim enthusiasts would appreciate the realistic experience that it brings, striking a resemblance to a real-world plane's pedal layout. It comes with customization options too. The spring positions can be adjusted to fit your preferences, tailoring the resistance to your liking. The difference HallEffect technology makes cannot be discounted. It's lightyears ahead of conventional analog tech, delivering a smooth, seamless experience while ensuring incredible longevity.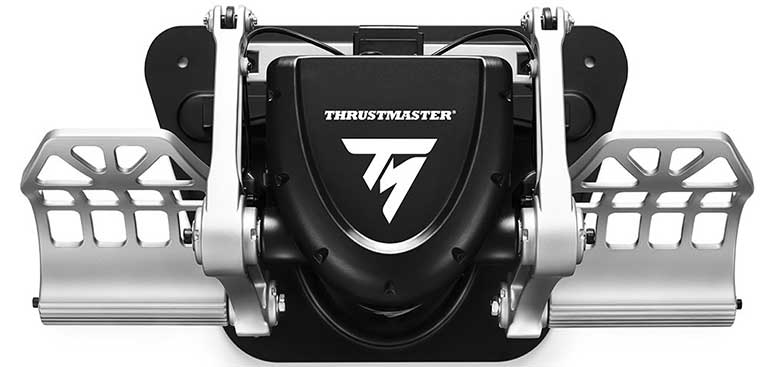 Its hefty weight of 20.2 pounds and sizable dimensions of 18.8 x 18 x 14.1 inches means it's steady, reliable, and immovable during intense flight sessions. However, as impressive as the TPR is, it's not without drawbacks. Calibration can be a challenge, making it a bit too sensitive for some. Additionally, the pedal distance might not suit everyone due to the center housing design. Depending on the game/sim you're playing, you may have middling results with Thrustmaster's TPR Pedals.
What we liked:
Smooth and fluid movement
Precision-oriented design
Adjustable resistance
High build quality
What we didn't like:
Calibration difficulties
Pedal distance may be uncomfortable
Best Budget: Thrustmaster TFRP Rudders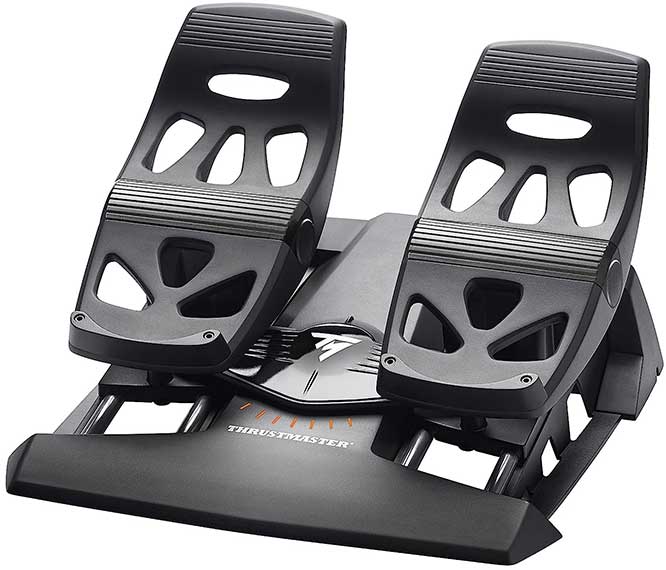 Key features:
S.M.A.R.T slide rails system
Versatile ergonomic design
Self-centering rudder axis
Compatible with PC and consoles
If the Thrustmaster TPR is a bit out of your price range, there's the TFRP Rudders. This rudder system is a versatile addition to any flight simulator setup. Its innovative design stands out, being the first rudder to feature the S.M.A.R.T (Sliding Motion Advanced Rail Track) system. This system, composed of four industrial-grade aluminum slide rails, ensures a perfectly smooth sliding motion, which we found highly precise during our tests. In terms of ergonomic design, this unit shines.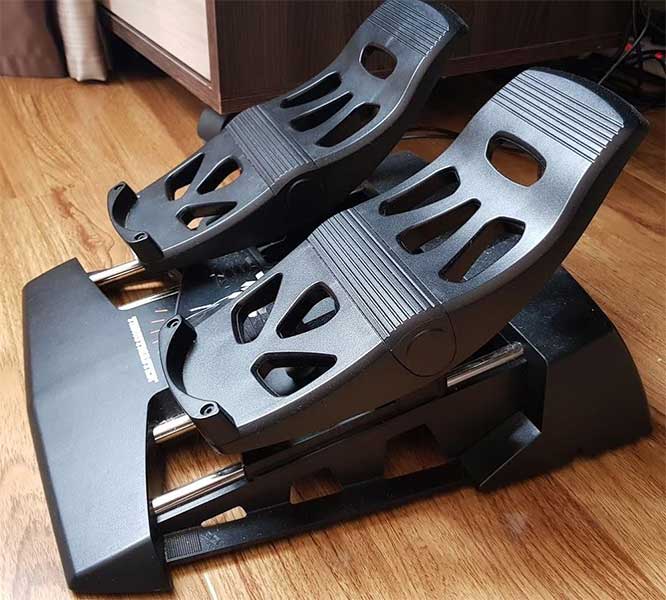 The rudder allows for a wide range of foot placements, depending on the user's preference. You can either rest your entire foot on the pedal or simply rest the ball of your foot mid-pedal. In both cases, the controls remained highly responsive. During our test flights, we appreciated the self-centering rudder axis, providing a nice balance between smoothness and resistance. It allowed for precise maneuvers, adding a touch of realism to the flight experience.
Furthermore, it is robust and stable, thanks to its large base and inclined design. For an extra bit of versatility, it's compatible with PC and several consoles and connects directly to the Thrustmaster Flight Hotas 4 joystick. Its dimensions are 5.24 x 0.31 x 1.65 inches, and it weighs 4.88 pounds, making it compact and comfortable for long hours of gaming. HallEffect technology is noticeably absent in the TFRP, but that's completely understandable, given the price point.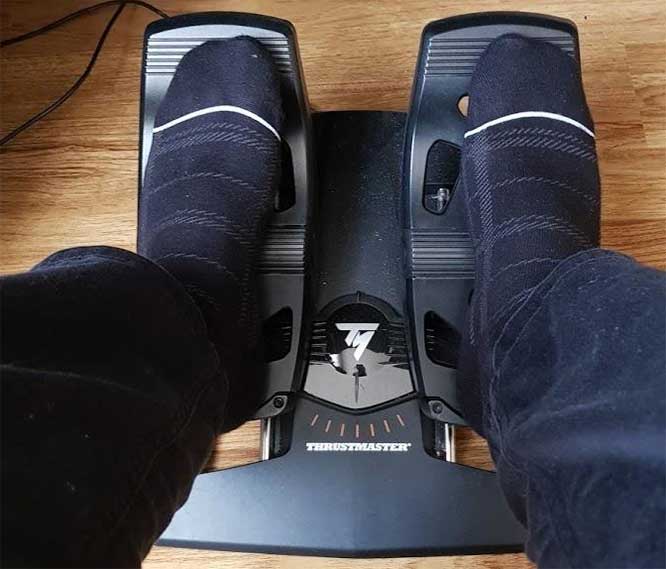 Yet due to that fact, you might experience drift – something HallEffect tech essentially does away with. As long as you understand what you're getting into – the lower quality, the lack of certain features, and the possibility of drift – Thrustmaster's TFRP is a fine substitute for its more expensive sibling, the TPR. Aside from some calibration quirks, you'll find this one to work well with a variety of software.
What we liked:
Highly precise control
Comfortable for long use
Good value for price
Robust and stable
What we didn't like:
Some drift present
Initial calibration needed
Best Alternative: CH Products Pro Flight Simulator Pedals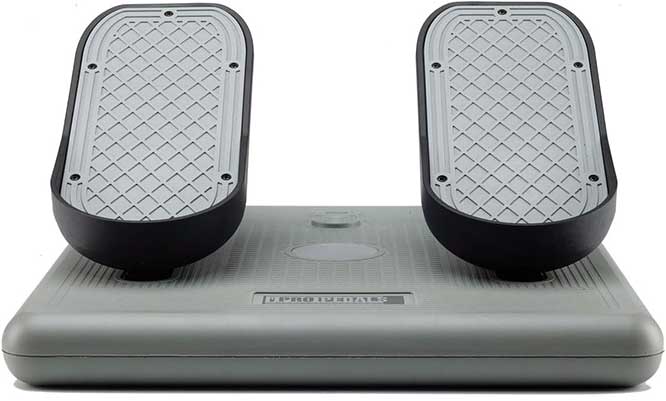 Key features:
3 axes of control
Realistic heel-toe brake control
Lockable rudder axis
Plug and play installation
Let's get the elephant in the room out of the way first – these pedals are nearly 20 years old. While that might be seen as a setback, we think it's a testament to their longevity and reliability. CH Products' Pro Flight Simulator Pedals have no problem taking your flight simulator experience to new heights. With three axes of control, this set mimics the exact movements of real aircraft pedals. It offers you X and Y axes for left and right toe brake control and a self-centering Z axis for rudder control.
Although all is not perfect, these pedals feel realistic, with a pressure-sensitive heel-toe motion offering differential braking. Moreover, they can lock into an automotive gas and brake setup for racing games, showcasing their versatility. One aspect that you'll immediately notice is the robust construction. Crafted in the United States, these pedals are almost indestructible, thanks to their military-grade plastic and solid construction. You won't be replacing them anytime soon.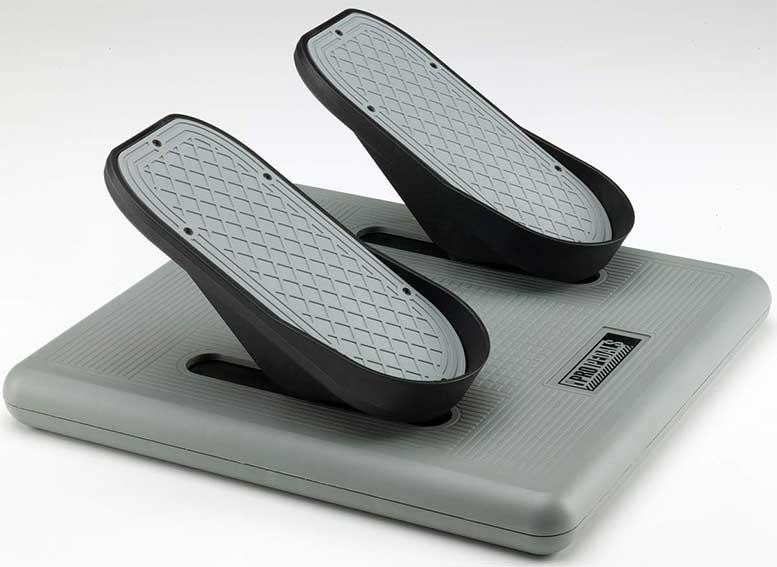 Now for the complaints. We sometimes feel like the pedals are too close together. Depending on the game, this can put a dent in prolonged usage. However, this factor is largely subjective and depends on individual comfort preferences. The pedals are compatible with both PC and Mac, and the plug-and-play driverless USB installation is a breeze.
Moreover, the advanced CH Control Manager software allows for highly customizable control over your flight simulation setup, from programming macros to assigning buttons, making the gaming experience even more immersive and tailored to your needs. The dimensions are comfortably compact, and the form factor is lightweight enough to move around yet sturdy enough not to slide during intense gaming sessions.
What we liked:
Highly customizable controls
Sturdy, durable construction
Compatible with PC and Mac
Excellent for both flying and racing games
What we didn't like:
Pedals too close together
Learning curve with control manager software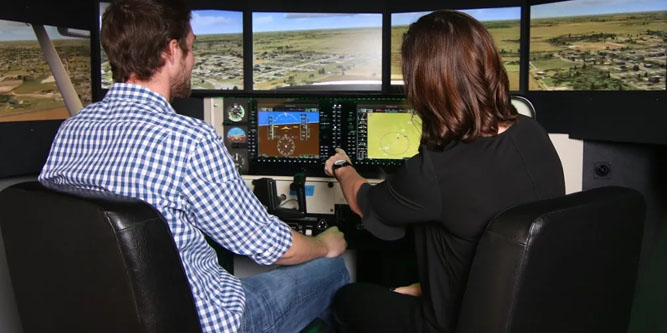 Rudder Pedals for Flight Simulators FAQs
What are rudder pedals used for in a flight simulator?
Rudder pedals are a crucial part of a flight simulator setup. They allow the pilot to control the aircraft's yaw and brakes, providing a more immersive and realistic flying experience.
Can I use rudder pedals with any flight simulator software?
Most rudder pedals are compatible with popular flight simulator software like Microsoft Flight Simulator, X-Plane, and Prepar3D. However, it's always a good idea to check compatibility before purchasing.
Is it worth investing in high-end rudder pedals?
This largely depends on your usage and budget. High-end rudder pedals usually offer more precision, better build quality, and more features, enhancing the realism of your flight sim experience. However, there are also budget-friendly options that provide good performance for their price.
Final Verdict
After rigorous testing and detailed analysis, our top pick for the best rudder pedals goes to the Logitech G PRO Flight Rudder Pedals. They deliver an optimal blend of precision, customization, and durability, making them a worthwhile investment for any flight sim enthusiast. If budget is a concern, the Thrustmaster TFRP Rudder provides great value. It offers an impressive blend of innovation, precision, and ergonomic design at a reasonable price.
For those willing to invest more in their flight sim experience, the Thrustmaster TPR Pedals Worldwide Version is an excellent high-end option. Its unique PENDUL_R technology ensures smooth and fluid movements, mimicking the experience of real aircraft pedals. Ultimately, the best rudder pedals are those that provide the perfect balance between realism, precision, durability, and price to match your individual preferences and requirements.