When it comes to running a Plex Media Server, a powerful and reliable Mini PC can work wonders. The compact nature of these devices makes them perfect for setting up in limited space, while their performance capabilities can handle the demanding tasks required by a Plex server. Today, we're going to be looking at some of the best Mini PCs on the market for running a Plex Media Server. Here's a quick peek at what we chose:
In the following sections, we'll take a more in-depth look at these Mini PCs, exploring their features, strengths, and weaknesses. Each one has been put to the test and evaluated based on performance, features, and value for money to help you make the most informed decision possible.
Beelink SER5 Mini PC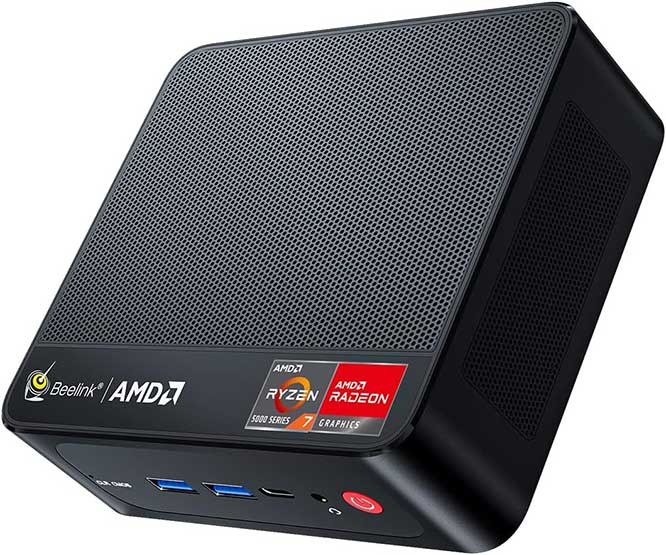 Key features:
Ryzen 7 AMD 5800H Processor
16GB DDR4 RAM, 500GB SSD
4K Video Playback Support
WiFi 6 and Bluetooth 5.2
If you're searching for a powerful, compact PC that can smoothly run your Plex media server, the Beelink SER5 Mini PC is a worthy contender. Sporting a sturdy Ryzen 7 AMD 5800H processor, this tiny dynamo shows off a surprising level of performance for its size – a mere 8.94 x 5.43 x 2.4 inches and a feather-light weight of 2.29 pounds. During our testing phase, it handled a multitasking workflow with aplomb.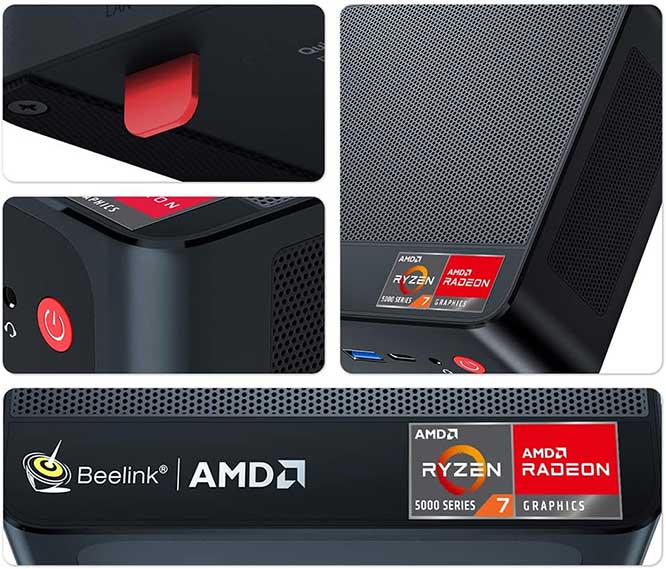 We ran a regular video call and several web-based programs simultaneously, and the SER5 didn't miss a beat. Although it might not have the graphics muscle for high-level gaming, its 8-core 2000 MHz Radeon Graphics offers support for 4K FPS video playback, making it a perfect fit for media streaming. One of the biggest strengths is the massive storage capabilities, perfect for storing large media libraries.
It comes with a built-in 16GB of DDR4 RAM and a 500GB NVMe SSD, both of which are expandable – the RAM up to 64GB and the SSD up to 2TB. Thanks to its WiFi 6 and Bluetooth 5.2 capabilities, connectivity was smooth and speedy during our tests, making it easy to browse, stream, and transfer files. Another advantage is the plethora of ports available, including three USB 3.2 Gen2, an HDMI port, a DP port, and more. Setup was a breeze with the inclusion of a wall-mounted bracket.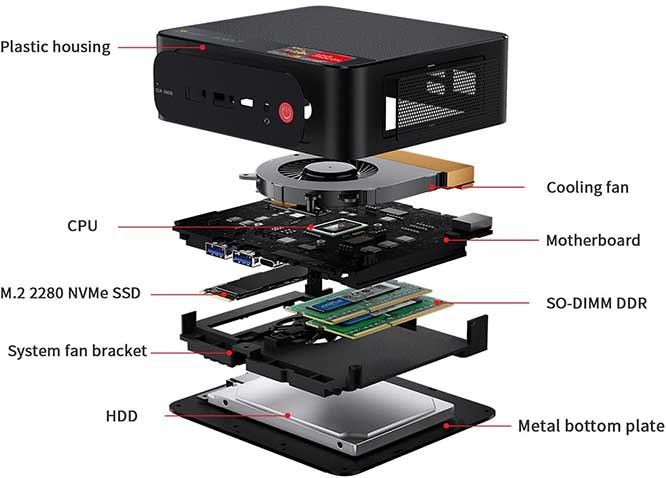 It allows the mini PC to be installed behind a monitor, freeing up desk space. However, if you're planning to use this device remotely, be prepared to purchase an HDMI dummy dongle to ensure screen emulation. As impressive as this PC is, it's not without a couple of shortcomings. The built-in 16GB RAM might not cut it for more intensive tasks like video editing or gaming. Moreover, the initial setup can require additional peripherals, like a wired USB keyboard. But it is a very nice option as a mini PC for emulation.
What we liked:
High multitasking capabilities
Massive, expandable storage
Plenty of connectivity options
Compact and lightweight
What we didn't like:
Initial RAM might be limited for some users
Initial setup may require extra peripherals
MeLE Quieter2Q Fanless Mini PC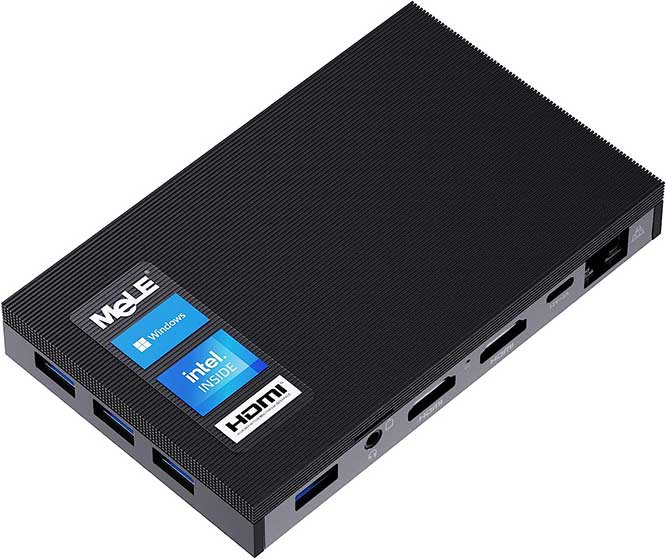 Key features:
Quad-core Intel Celeron J4125 processor
8GB RAM and 128GB eMMC storage
Fanless cooling design
Dual HDMI 4K@60 FPS video output
The MeLE Quieter2Q Fanless Mini PC is a petite yet robust machine, perfect for use as a Plex Media Server. With dimensions of 6.5 x 4.2 x 2.5 inches and weighing a mere 8 ounces, this PC is both space-saving and portable. The unit is powered by a quad-core Intel Celeron J4125 processor that ranges from 2GHz to 2.7GHz. With its 8GB of LPDDR4 RAM, you can look forward to smooth media streaming and multitasking.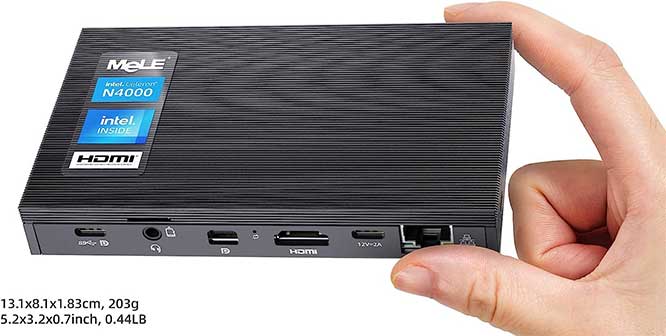 The onboard 128GB eMMC storage is ample for a media server, but if more space is needed, there's a Micro SD card slot for expansion up to 1TB or an internal M.2 SSD slot that can go up to 4TB. Windows 11 Pro is pre-installed, and it also supports Linux Ubuntu, making it versatile for various setups. Moreover, it comes with an unlocked BIOS, enabling users to fine-tune the machine according to their needs.
Performance aside, what sets this mini PC apart is its fanless cooling design. It employs passive cooling technology, which not only prevents overheating but also makes the unit completely silent, ideal for a home theater setup. On the connectivity front, it doesn't disappoint. It offers dual-band WiFi, Gigabit Ethernet, dual HDMI ports supporting 4K@60 FPS HD videos, four USB 3.0 ports, and Bluetooth 4.2.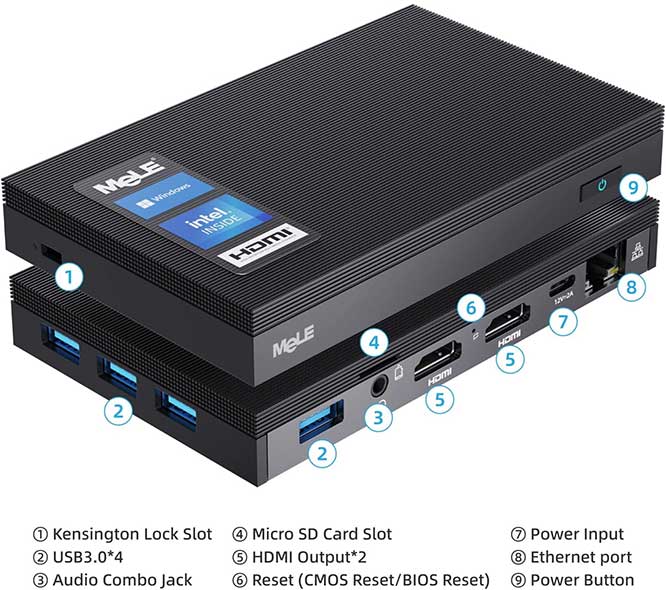 This allows for stable, high-speed connections and dual-screen outputs, enhancing the streaming experience. In testing, we used it as a backup PC and Plex server, running it 24/7 with multiple devices connected. It handled the load impeccably, ensuring smooth streaming to all connected devices.
What we liked:
Compact and silent
Wide array of connectivity options
Unlocked BIOS for fine-tuning
Supports storage expansion
What we didn't like:
Gets quite hot under heavy load
RAM not upgradable
KAMRUI AK1 PRO Mini PC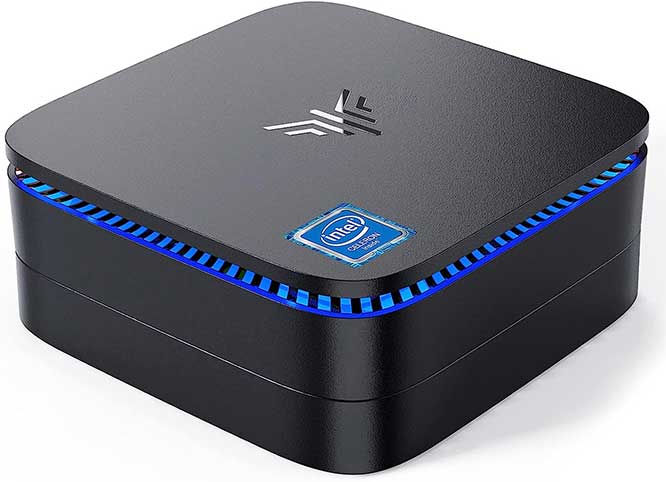 Key features:
Compact and lightweight design
Expandable storage bay
Pre-installed Windows 11 Pro
Supports 4K UHD at 60Hz
The KAMRUI AK1 PRO is a compact yet powerful mini PC, measuring a mere 5.04 x 5.04 x 2.05 inches and weighing just 13.7 ounces. This tiny titan is easy to tuck away behind a monitor or TV, thanks to its nifty VESA mount. Inside, the AK1 PRO punches above its weight with an Intel Celeron N5105 processor, paired with a robust 12GB RAM and a zippy 256GB M.2 2280 solid-state drive.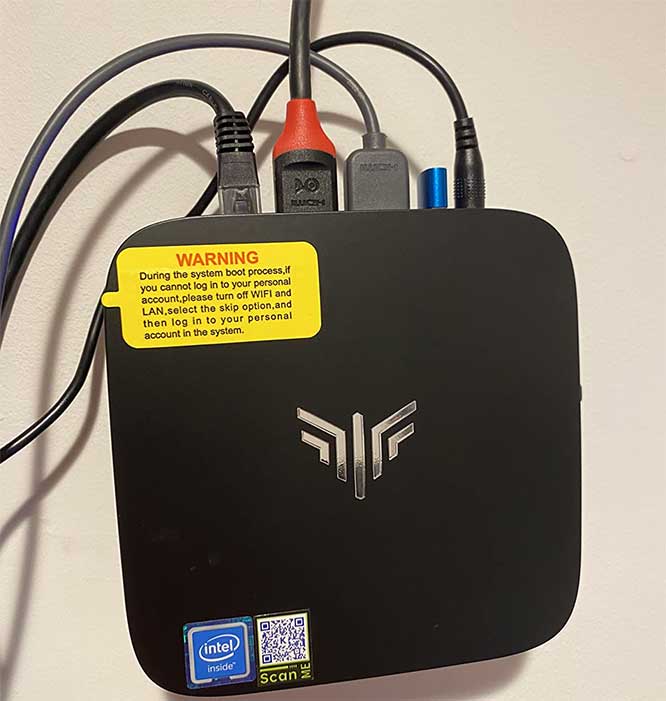 These specs translated into smooth, lag-free performance during our test, handling multiple applications and tasks without breaking a sweat. One standout feature is its intelligent design. The AK1 PRO features an empty expansion bay, providing the option to beef up storage with a 2.5-inch SSD or HDD, up to 2TB. It's a game changer for users looking to store large multimedia libraries.
We found the pre-installed Windows 11 Pro a bonus, with the mini PC springing to life out of the box, ready for action. For those keen on visual content, the AK1 PRO doesn't disappoint. Its Intel UHD Graphics 800 MHz supports 4K UHD at 60Hz, making it ideal for movie nights and binge-watching sessions. Despite its size, the AK1 PRO bristles with connectivity options, including two USB 2.0 and two USB 3.0 ports, two HDMI 2.0 ports, and a Gigabit Ethernet port.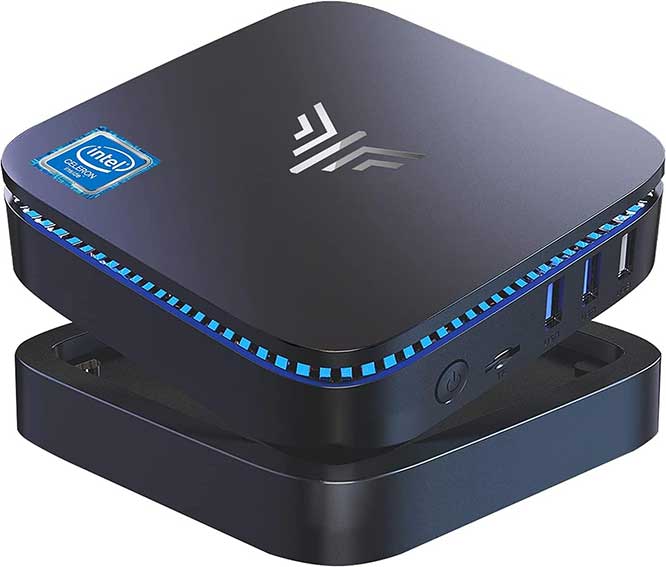 Coupled with dual-band WiFi and a generous array of interfaces, this mini PC is well-equipped for a variety of uses. However, while the AK1 PRO offers impressive performance for its size, it's not built to replace a high-end desktop. Those looking for a beefy workstation might find its capabilities limiting. Still, as a compact, feature-rich unit, it excels, making it an excellent choice for a Plex Media Server or a secondary PC.
What we liked:
Smooth, lag-free performance
Robust connectivity options
Ready to use out of the box
Dual HDMI ports
What we didn't like:
16GB limits functionality
Limited to basic workstation tasks
MINISFORUM NAB5 Mini PC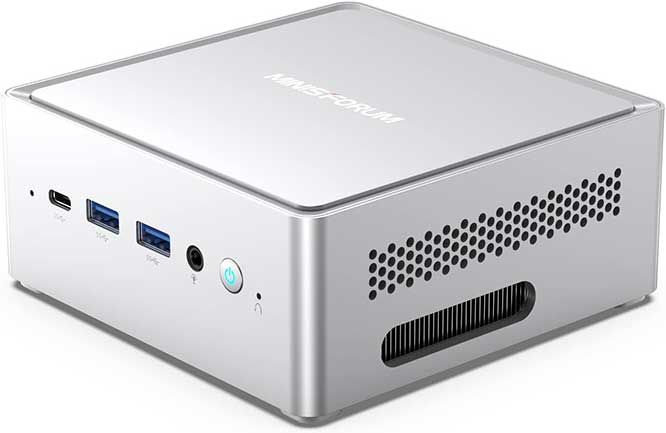 Key features:
Intel Core i5-12450H processor
4K quad screen output
Large and expandable capacity
2.5G RJ45 port connectivity
For our final pick, MINISFORUM's NAB5 Mini PC is a compact yet robust machine designed for intensive tasks. Don't let the size fool you; it's equipped with a powerful Intel Core i5-12450H Processor. That means you're getting 8 cores and 12 threads for up to 4.4GHz – all backed by Intel UHD Graphics. This combo drives stellar internet and office application performances. It's ideal for digital signage, multimedia, and home theater use. It breezed through our testing, handling a wide variety of tasks effortlessly.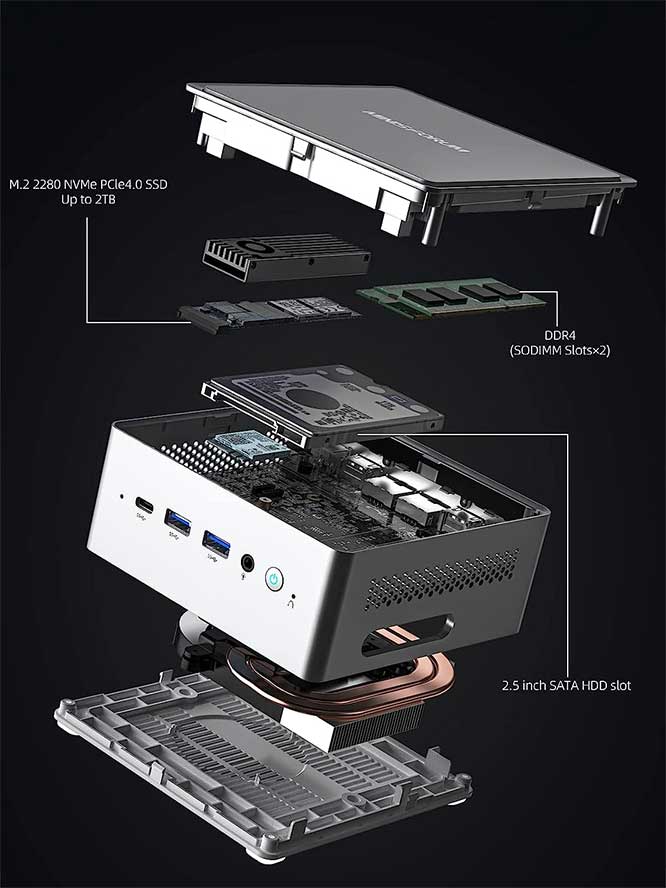 Sporting a 4K quad screen output feature, the NAB5 Mini PC can connect to four ultra HD screens simultaneously, increasing work efficiency by expanding multiple workspaces. Think of it as a command center for your media, business applications, or video conferences. One of the highlights is its large and expandable capacity. It comes loaded with DDR4 32GB memory, but you can expand it up to 64GB. There's also an M.2 2280 512GB PCIe 4.0 SSD storage that can be expanded up to 2TB.
Performance-wise, we tested it with various high-demand applications and media files. The read/write speeds were impressive, about four times faster than standard SATA SSDs. Its connectivity options were equally impressive, with a 2.5G RJ45 Port providing speedy data transfer. Plus, it's compact and lightweight, measuring 7.48 x 6.3 x 4.41 inches and weighing in at 3.67 pounds. It's a smart buy for small spaces or travel.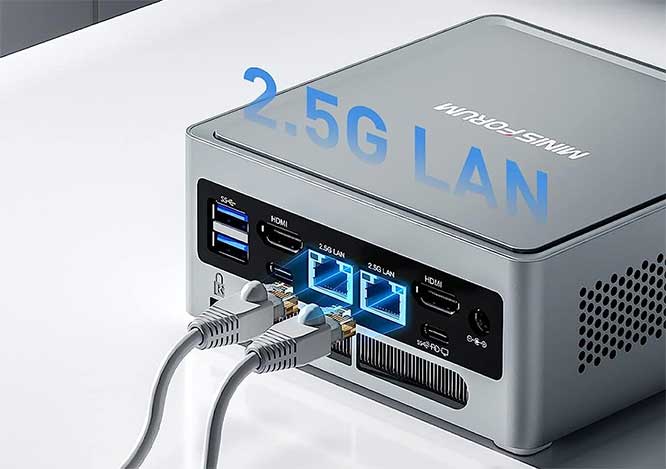 All that said, the NAB5 Mini PC had an inconsistent power-on issue in our tests. It didn't always turn on when expected, requiring us to unplug the power cord and plug it back in. Thankfully, this issue was neither frequent nor consistent. And despite it, the compact design, versatile functionality, and robust performance make it a strong contender for the best Mini PC for Plex Media Server use.
What we liked:
Powerful and efficient performance
Excellent internet and office application handling
Compact and lightweight design
Multiple high-speed connectivity options
What we didn't like:
Power on issue
Fan noise may increase with adjustments
Mini PC for Plex Media Server FAQs
What is a Plex Media Server?
A Plex Media Server is a software application developed by Plex, Inc. that allows you to store and organize your digital media files (like music, photos, and videos) on a central server. Once your media is stored on the Plex server, it can be accessed and streamed on various devices like your TV, smartphone, tablet, or another computer. This essentially turns your device into a personal Netflix-like service, with all of your media content easily accessible from one central location.
Why use a Mini PC for Plex Media Server?
Mini PCs are ideal for running a Plex Media Server for a number of reasons. First, they're compact and can easily fit in any living room or home office setup, even if space is limited. Second, they are generally energy-efficient, which is a major advantage if you plan to run your server 24/7. Finally, many Mini PCs come with powerful processors and a considerable amount of RAM and storage, making them capable of handling the demands of a Plex server, such as simultaneous streaming to multiple devices.
Can any Mini PC run a Plex Media Server?
While it's technically possible for any Mini PC to run a Plex Media Server, performance will largely depend on the specs of the PC. For a smooth and responsive Plex experience, you'll need a Mini PC with a fairly powerful processor, enough RAM (4GB minimum, but ideally more), and ample storage space to accommodate your media library. Also, some Mini PCs may offer better connectivity options, which is a big plus when you're streaming media to multiple devices.
How much RAM do I need for a Plex Media Server?
The answer to this question depends on various factors, including the size of your media library, the quality of your media files, and the number of simultaneous streams. As a general rule of thumb, Plex recommends a minimum of 4GB for the server. However, if you have a large media library or plan on streaming high-quality content (like 4K) to multiple devices simultaneously, you may benefit from 8GB or even 16GB of RAM.
Final Verdict
After a comprehensive review, each Mini PC demonstrated its strengths and why it deserves a spot on this list. The Beelink SER5, with its powerful AMD Ryzen 7 5800H Processor and ample storage, offers excellent multitasking capabilities for heavier media libraries. The MeLE Quieter2Q stood out for its silent operation, thanks to its fanless cooling design and flexibility with its unlocked BIOS.
The KAMRUI AK1 PRO delivered a solid performance and showed off its intelligent design with an expandable storage bay, making it a versatile choice for media enthusiasts. Lastly, the MINISFORUM NAB5 excelled in internet and office application handling with its powerful processor, and its 4K Quad Screen Output feature increases work efficiency, making it a standout choice for Plex Media Server use. Each contender featured in this guide stands tall in a sea of competition. As such, you can trust that you're investing in a quality Mini PC for Plex Media Servers.