LEDs are inexpensive, powerful, and versatile. Compared to traditional bulbs, they take almost no electricity to operate.
They're often RGB compatible, giving you a customizable and cool aesthetic that's hard to otherwise achieve. And that's just the tip of the iceberg of reasons why LEDs are seeing implementation in everything from commercial housing to computer cases.
Cool aesthetic isn't everything LEDs and to offer. They've also got plenty of practical applications, like helping illuminate under counters and other hard-to-see places.
Whatever unique application you have in mind, there's a set of flexible LED light strips out there suited to the task. But you have to know what you're getting into. There's no two ways about it; some LEDs aren't built well. Plenty of cheap LED chips exist, and it's not always obvious the ways in which they're poorly designed.
1. Govee Permanent Outdoor RGBIC LED Light Strips
The Govee Permanent Outdoor RGBIC LED Light Strips are a high-end option that's the perfect choice for those looking for the overall best.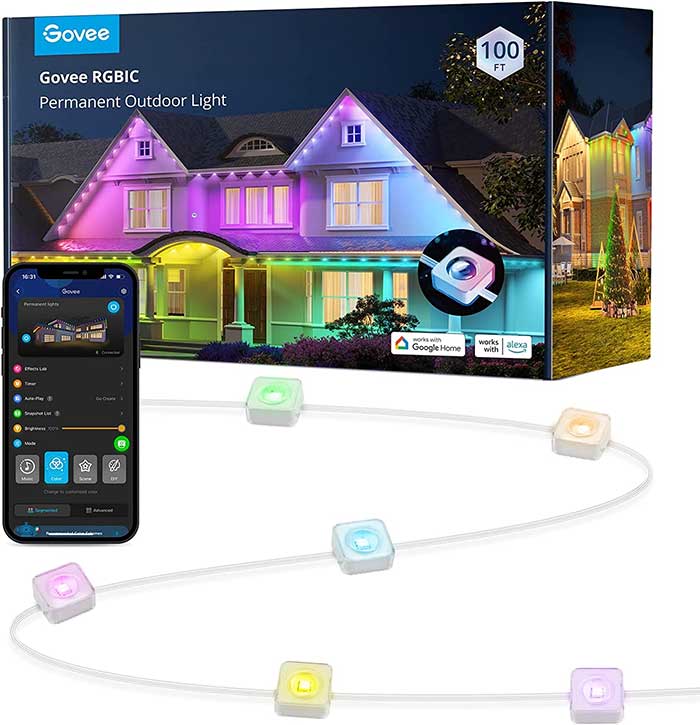 Solid in 100 ft. strands, they're perfect for just about any outdoor location. Unlike others, these can be left-installed for years to come without any worry in regards to reliability. Best of all, the inclusion of RGBIC LED chips means the most availability in terms or color and overall vibrancy.
Built with durability in-mind, they're completely IP67 waterproof, comprised of a unique anti-UV material that can withstand the elements with ease. Even the control box and power adapter is IP65 rated, meaning that all components are capable of lasting several years to come. In fact, the working temperature range is from -4 all the way up to 140 degrees Fahrenheit. And with a 50,000 hour lifespan, they're suitable for constant use without any maintenance.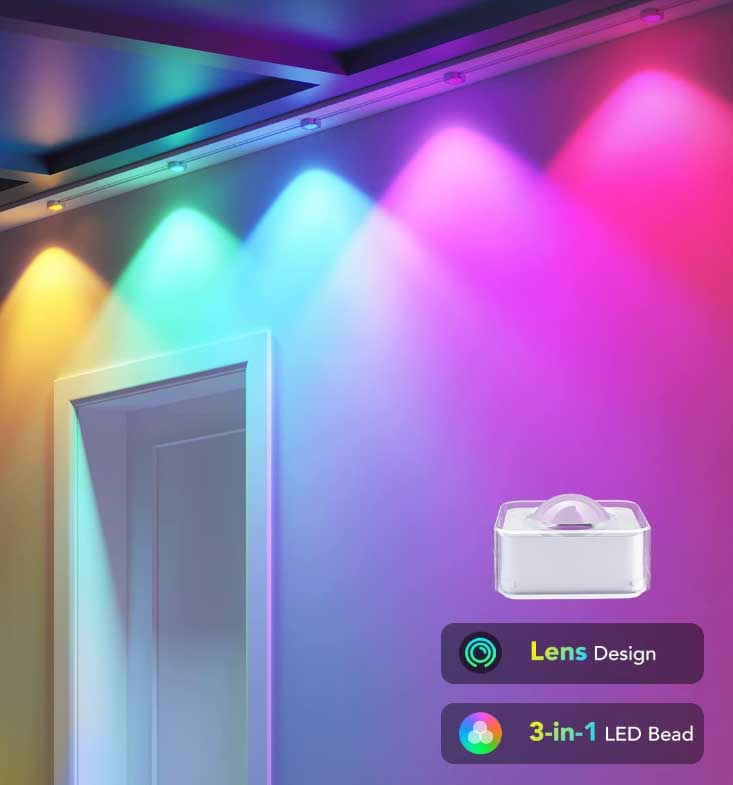 Unlike other outdoor LED strips, the Govee boast a very-unique lens design that each houses 3 beads in one lens. The result is more brightness with a large coverage area on exterior walls. At 26 lumens each, they're the brightest, most vibrant option; perfect for those who prioritize color and clarity. For best effects, place them 2-4 inches away from the wall, under your eaves or above your porch. As a result, the beam provides a washing depth that's greater than 16 inches. In other words, you can see visible color from further distances, giving your house a nice "pop" of color where it needs it most.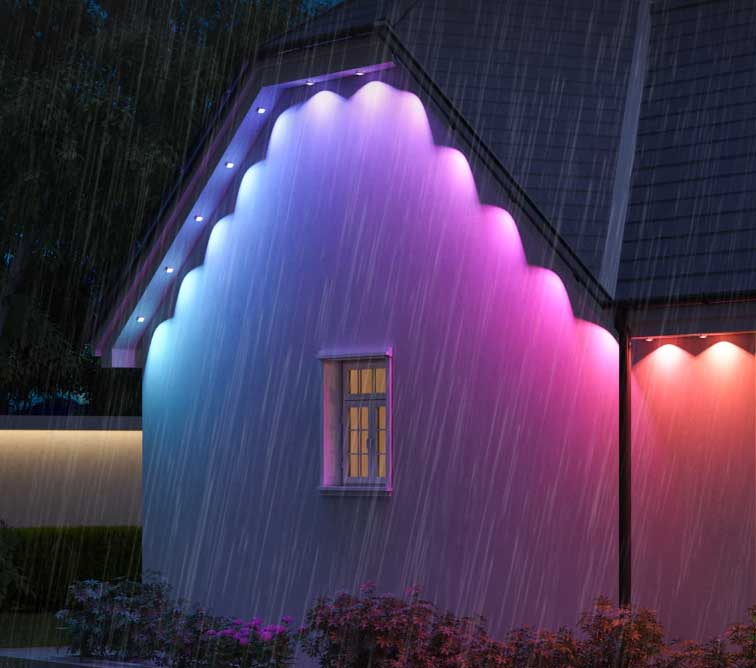 Ease of Use and Installation
The Govee Permanent Outdoor Light Strips are incredibly easy to install. With the provided VHB glue and clips, you can have each light up in as few as 8 seconds. But if you need to extend the lights, the total length should not exceed 159.4ft or 48.6m. However, you can splice through waterproof joints every 16.4ft and easily install them at almost any length you desire.
Best of all, they're very simple to use with the Govee Home App. It opens up a whole new realm of possibilities. With it, you can control the colors for each light independently and set a timer to light up your house at night. Plus, you can even pair the lights with Alexa and Google Assistant for voice control. You're even able to create and save your favorite lighting scenes to quickly bring the exterior of your house to life with the perfect lighting. Thankfully, the app works well and runs smoothly on both iOS and Android devices.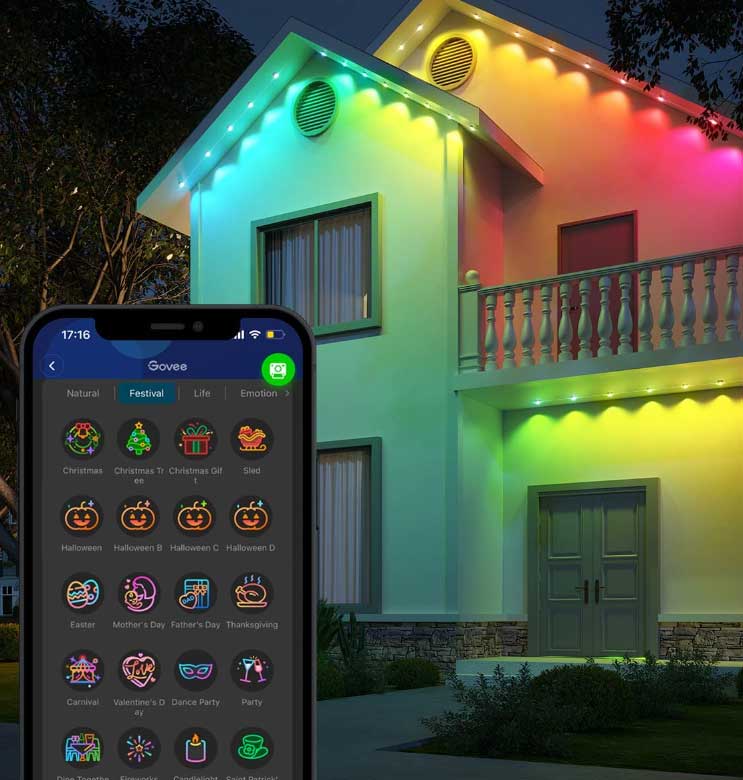 The app unlocks the ability to choose from 72 different scene modes and up to 16 million different color options. We recommend keeping them installed year-round. This way, you can open up the app, select current festive colors and save your settings for instant celebratory decoration. Whether it's a birthday party, Halloween, Easter or Christmas, the Govee have a color combination that's sure to suit anyone's taste.
Other Considerations
The Govee RGBIC is the most expensive option current on the market. But for good reason. The quality of components, overall design, app-connectivity and unique 3-in-1 bead design makes them an ideal choice for anyone looking for the top of the line option. They're the brightest, most vibrant and best choice, in our opinion.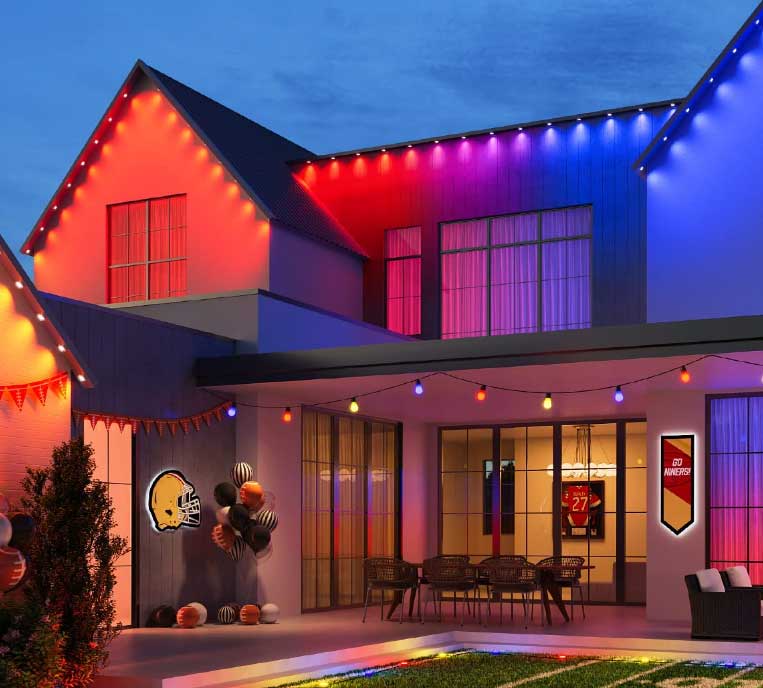 The inclusion of RGBIC chips make them ideal for those that want to harness the 16 million color options to their full effect. Simply put, the light output is unmatched in both brightness, color and all-around lighting evenness. The light they provide is smooth, flicker-free and steps up from anything cheaper in comparison.
While you can't extend them beyond 159 feet, this likely won't be an issue for most real-world scenarios. And if you really want to extend them to a longer length, simply buy two or three strands and plug-in each one individually. No big deal!
2. Novostella Lasting Rainbow Waterproof Smart LED Strip Lights
The Novostella Lasting Rainbow Smart LED Strip Lights are available in two different lengths; 52.5 feet or 105 feet.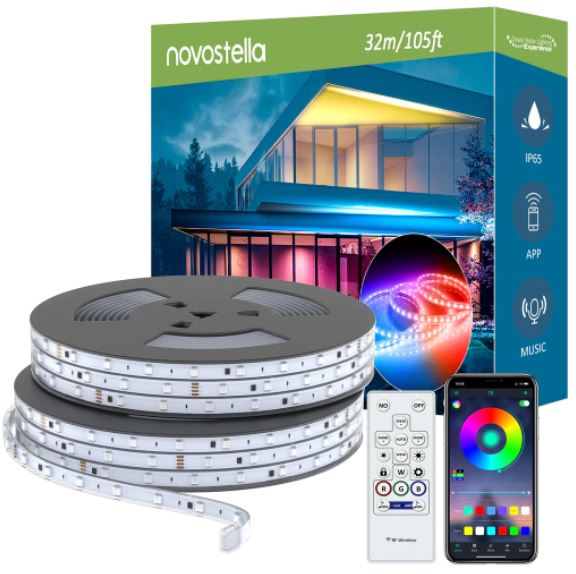 These are of the RGBIC variety, which is a vast improvement over standard RGB strip lights. In general, each diode is capable of emitting multiple colors simultaneously, giving them the ability to blend colors with a smooth and clean transition. In addition, every single component, including the power supply, is completely IP65 waterproof. That said, their long length and durability make them an excellent option for outdoor use.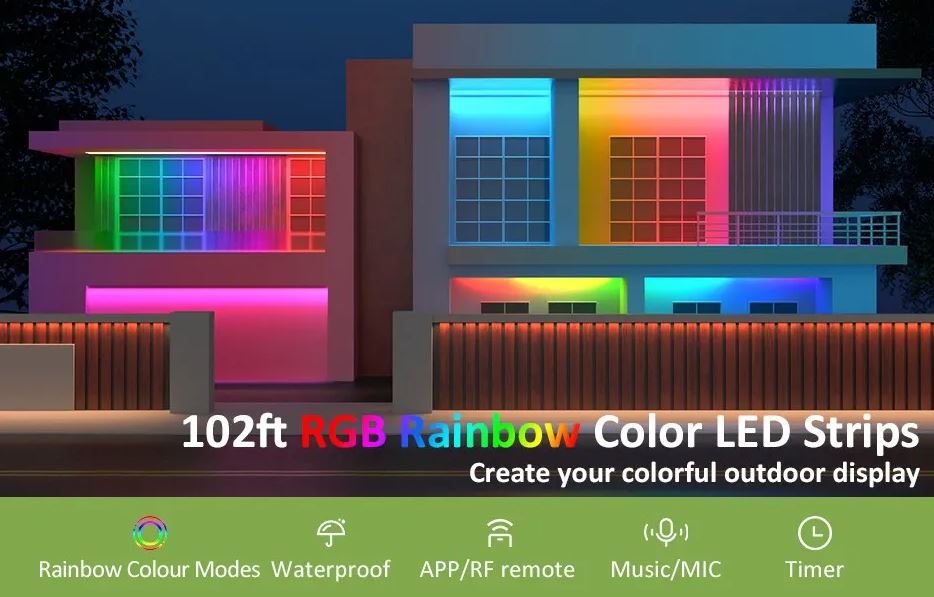 The 105 foot version contains a whopping 1120 individual LEDs. There's roughly half in the 52.5 foot strip that's also available. Surprisingly, the amount of energy they consume is quite minimal for the length and amount of brightness they emit. Notably, it only pulls up to 42 watts when plugged-in. With a lifespan rating of 50,000 hours, they're made for a lifetime of enjoyment and even have an ETL safety certification. Simply put, they're very efficient, well-made and also designed with several "smart" features.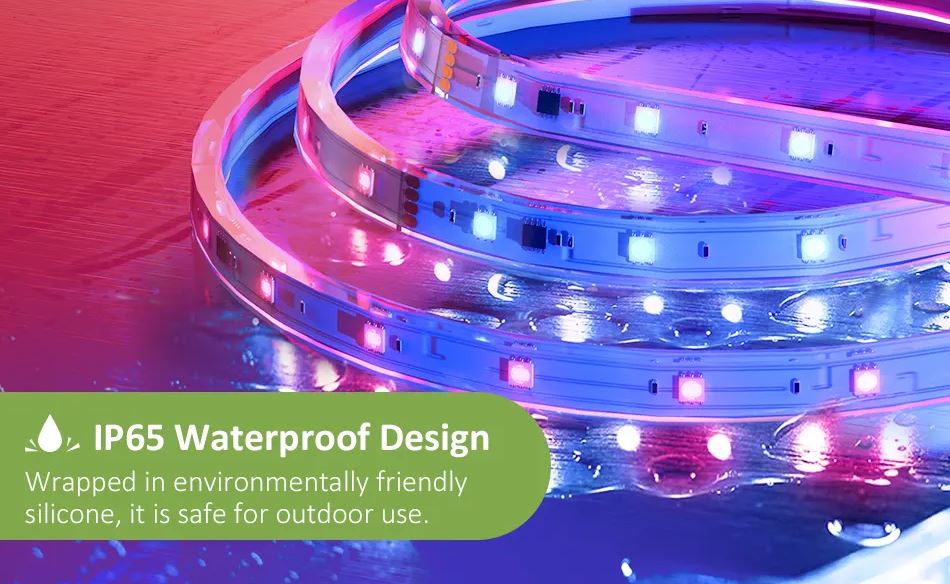 Ease of Use and Installation
Unlike other options we've testes, the Novostella LED strips use a unique blend of RGBIC chips. The use of these chips create a color-chasing effect that's very mesmerizing. It emits a rainbow of colors while a section races through the strip to alter and morph the colors. While all of the effects are adjustable through the included remote or downloadable smart app, this dazzling effect is definitely a head-turner.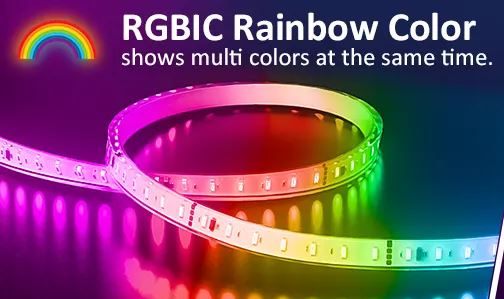 Speaking of, the app opens up a whole realm of possibilities. It lets you fine-tune the strip lights so they can work in a wide range of scenarios. In fact, there's even a built-in microphone that allows music to be synced to the precise lighting effects. Additionally, the app lets you set schedules, add unique effects and adjust the speed or brightness so it suits specific environments better.
Installation is very easy. Thankfully, Novostella includes a complete set of accessories for installation. There's a set of buckles/pins, cable ties and glue that make setup fairly easy. While the backside isn't adhesive, it's probably for the best since the stickiness likely wouldn't last long outdoors.
Regardless, you're able to stick them to virtually any surface by using a buckle/pin every few feet. While you can't extend them beyond their set lengths, you can shorten them and seal-up the cut-end with the provided glue. This will assure a water-tight seal so they don't malfunction if exposed to any moisture.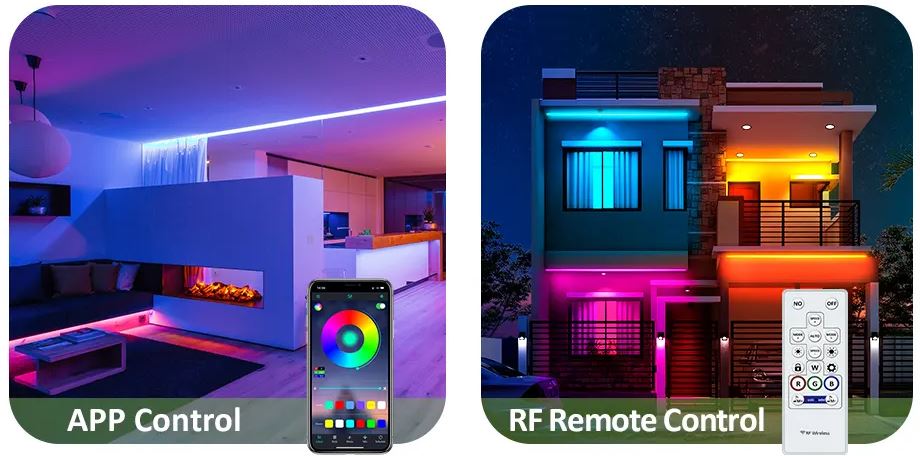 Other Considerations
Although the Novostella LED strips are a bit more expensive than some other options, they're not as much as the Govee. We feel that they're nearly the best in terms of design and overall lighting effects, especially for the price. The RGBIC chips really set them apart, as does the app-connectivity. With one glance, you'll notice more vibrancy and richer colors than similar strip lights in the same category.
We really like how they're completely sealed for water; from head to toe. Notably, all of the connectors and even the power supply are completely water-tight. While they're not rated for full submersion, they're resistant to all kinds of weather. In addition, the app is very easy to use and configure to your exact specifications.
3. Sunnest Waterproof Flexible LED Strip Light Kit
The Sunnest flexible LED strip light kit includes two 16.4 foot reels, totaling 32.8 feet lf LED strips. Each strip contains 300 LEDs, providing enough illumination for everything short of task lighting.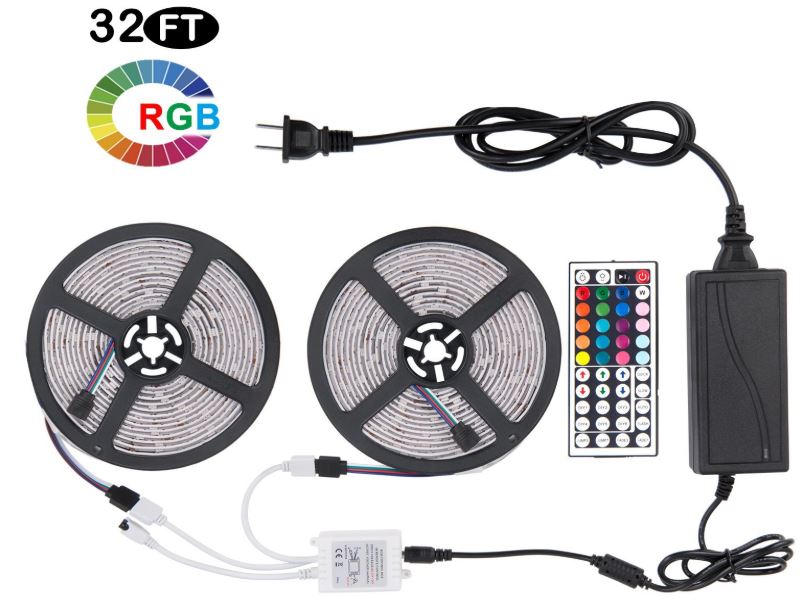 Power consumption is about what you'd expect from a kit of this size, taking 120 watts to fully power both strips. From color to strip length, these strips are fully customizable. And their highly flexible design makes them easy to install even in tight spaces, like within a vehicle or PC case.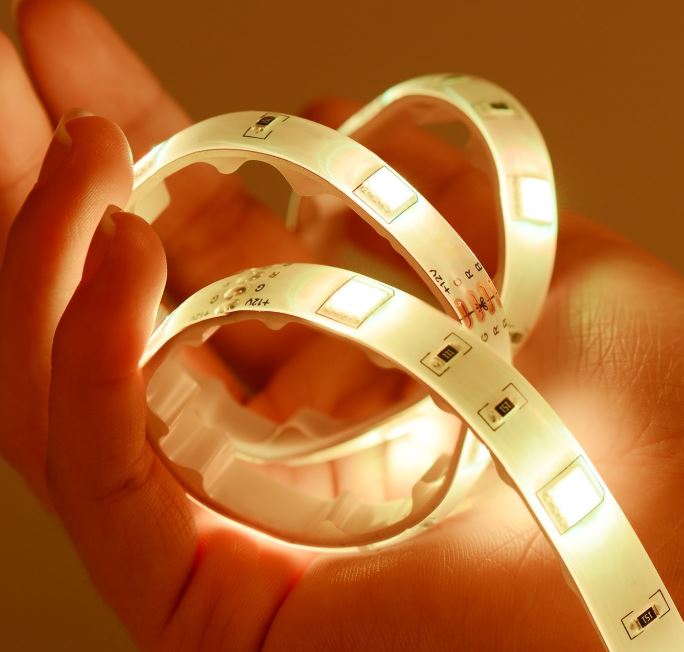 Ease of Use and Installation
These strips can be sliced every 3 LEDs for a fully flexible install, provided only that you're ready to start wiring a few connections together. Installation is as simple as sticking to a surface. And Sunnest strips are IP65 waterproof, making them perfectly suitable for use outdoor use. But the IP65 rating doesn't mean these strips are necessarily going to hold up to submersion, so don't plan on putting in your pool or aquarium. Furthermore, the included power adapter and 44-key IR remote aren't waterproof, so plan accordingly.
On the remote, you'll find 20 preprogrammed color options which can be viewed through 8 play modes. The play modes are more or less what you'd expect, including strobing, flash patterns, and so forth. You can also toggle between 8 brightness levels, for a relatively wide degree of control over the visual presentation, and electric use of your setup.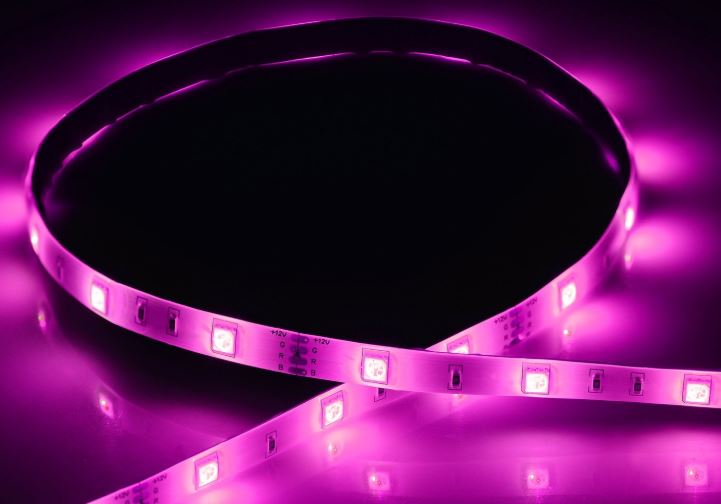 Other Considerations
But the remote's range is relatively limited, sitting at only 23-feet. And since it's an IR remote, you'll need direct line of sight between the remote and the sensor to make adjustments. The remote might be best compared to an old TV remote because it's essentially the same technology. Thankfully, the remote uses very little battery power, so you won't find yourself dealing with batteries very often.
Sunnest strips are great for decoration or practical lighting, and they've got highly effective heat disputation. The otherwise standard 12V LED strips are paired with a thermally conductive adhesive, which enhances safety along with ease of use.
4. Daybetter LED Strip Light
Rather than breaking into two separate strips, Daybetter's LED strips are 600 LEDs rolled into one lengthy 32.8-feet of strips.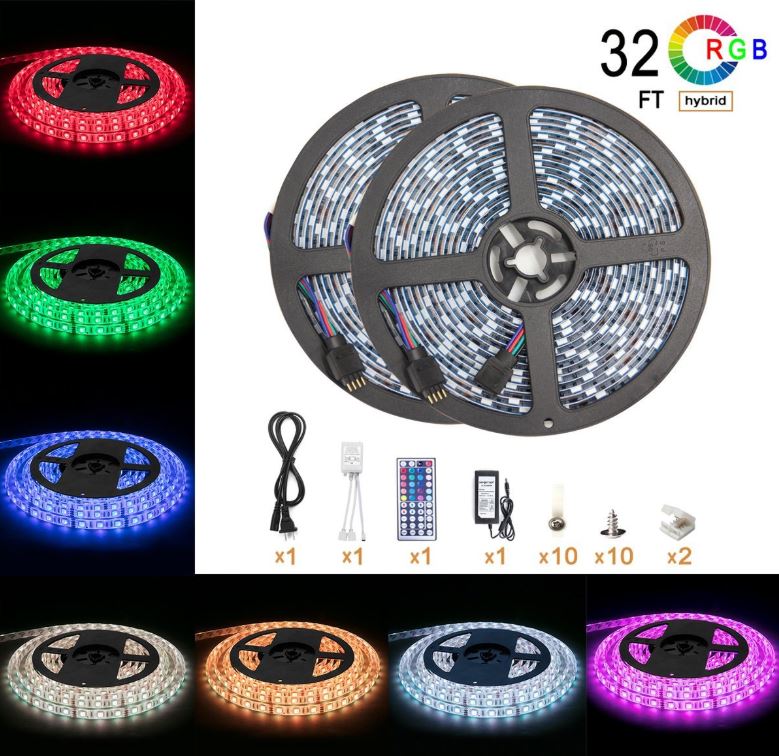 Within the strip you'll find color changing RGB LEDs, and which are noticeably brighter than most strips in this range. As with Sunnest strips, these Daybetter LED lights enjoy IP65 waterproof protection, making them good for setting up outdoors.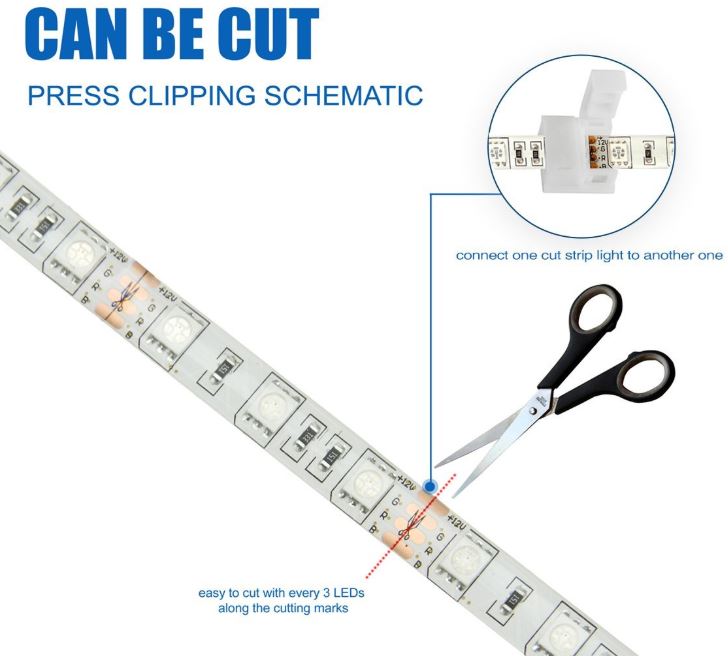 Ease of Use and Installation
Much of what you'll find about these strips is on the higher end of what should be considered standard. These LEDs offer a 50,000-hour lifespan, which is optimal for people concerned about maintenance. Each LED is cut-able and linkable with the standard 3-LED strip distance. And you can control most aspects of the presentation with the included 44 key IR remote.
The remote is well designed with the colors printed directly on its face, making it easy to use. The Daybetter kit also supports 20 color configurations and 8 light patterns through the remote. Color patterns include slow, flash, quick, audio, 3-color shifting or fading, and 7-color shifting or fading.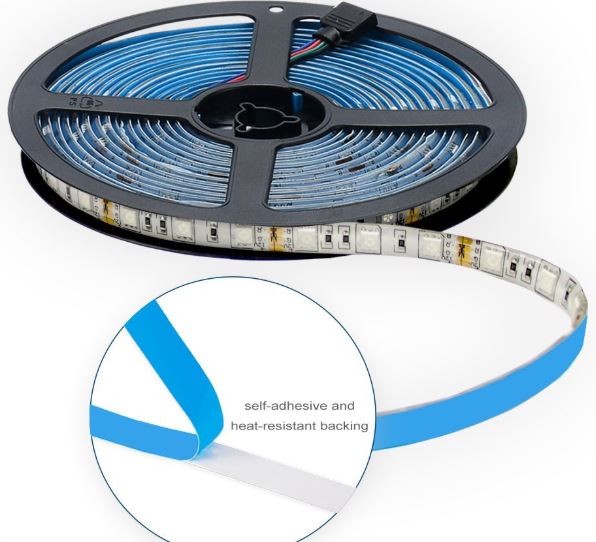 Other Considerations
Getting started is hardly any more difficult than plugging in the included 12V power supply. The installation of these strips is largely easy, thanks to their adhesive backing. And this kit also includes a handful of screws and card clamps that can the used for installation
It's worth noting that the 32.8-feet strip is delivered on a single roll. That can be mildly convenient or inconvenient, depending on the size of the project you have in mind. The included instructions aren't very good, so you'll want to know what you're doing, be willing to look elsewhere for instruction, or be ready to struggle through the setup on your own.
5. Lighting EVER Flexible LED Light Strip
Much of the Lighting EVER Flexible LED kit is ordinary. It includes a single 16.4-foot strip of RGB LEDs, composed of 300 individual LEDs. That works out to about 18 LEDs per foot, which is about average for LED light strips.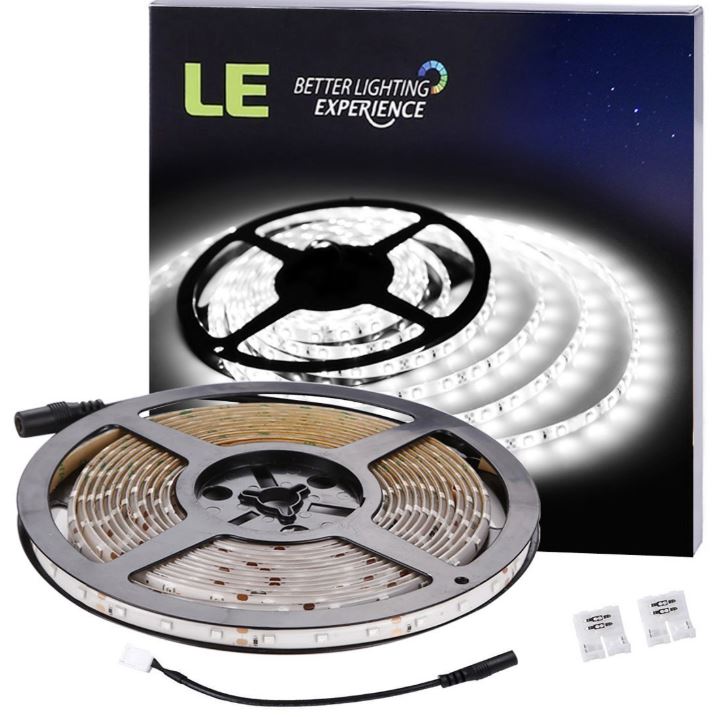 Power consumption is ordinary as well, with a typical 12V construction. But what makes these strips stand out are their use of 6000K daylight white LEDs, providing the brilliant white light that warmer-colored strips can't provide.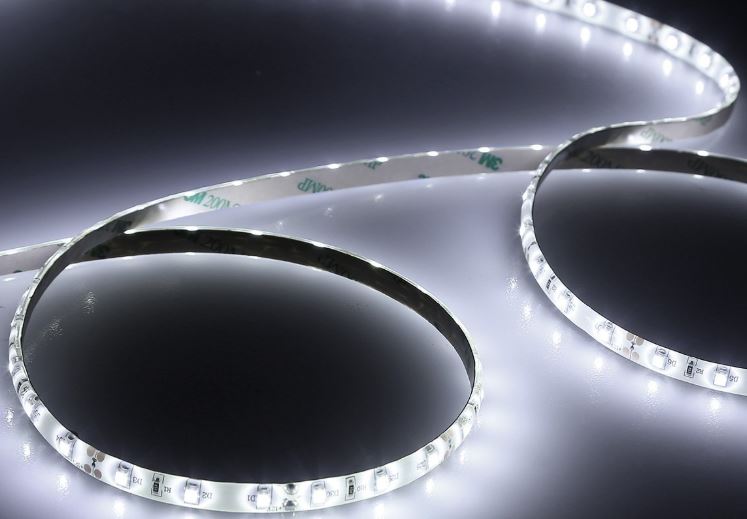 Ease of Use and Installation
Color temperature aside, Lighting EVER Flexible strips are highly flexible, making them great for designing around bendable and angled patterns. Each strip is built to be fully IP65 waterproof, ready to handle the elements wherever you might apply them. Making things even simpler, the self-adhesive back for installation, allowing the process to be safe and easy. And the strips can be cut every 3 LEDs, like most flexible LED light strips.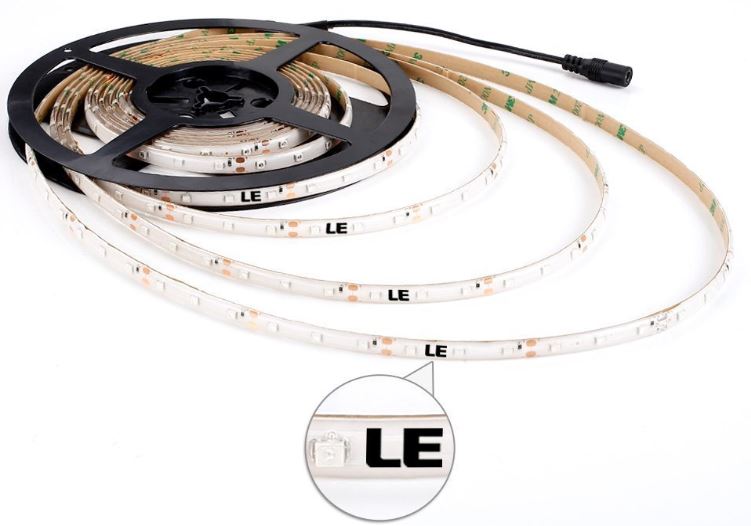 Other Considerations
You may notice the Lighting EVER Flexible LED kit is incredibly cheap. Part of the reason why is because no power adapter is included in this kit. That makes this setup an excellent value for anyone who doesn't need a power adapter, or only needs extra lights to add to an existing configuration. But even for people who don't have a power adapter, Lighting EVER has an adapter that can be purchased separately.
Choosing a Waterproof LED Light Strip
You'll want to begin by asking some basic questions. What is it you want to light? Where is the installation taking place? Do you want dim controls, remotes? Do you need any special coloring? What kind of materials are you lighting up? Even the presence of other lights in the area may affect your decision.
Lumens is a measure of how bright something seems to our eyes. For choosing the brightness of a strip, lumens and watts cannot be used interchangeably, but they do tend to correlate well. When possible, pay attention to lumens over watts. Lumens allow you to make comparisons from one strip to another. And you always need to contextualize that information. Lumens per foot? Per reel? Be sure you know precisely what's being measured.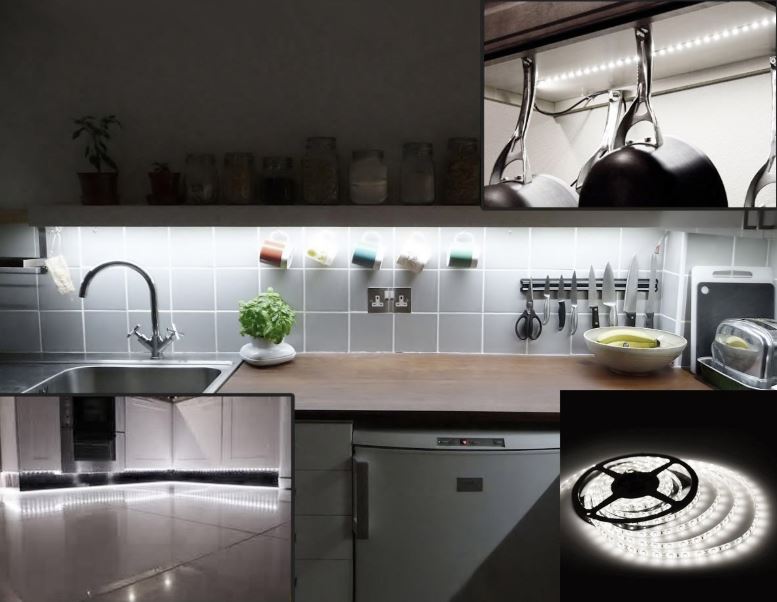 Brightness
But frankly, few manufacturers bother to provide information about lumens, so you'll be hard-pressed to find real comparisons. For people doing projects that require exceptionally bright lighting, you'll have to take some extra steps.
In most cases, you'll end up relying on wattage and anecdotal user reviews to help you learn more about brightness. When in doubt, it's best to go brighter than you need because you can always run your equipment a little dimmer. Operating slightly under full power may even increase the lifespan of your bulbs.
Because most LED manufacturers aren't going to provide figures for the amount of lumens produced by their strips, it's not necessary to learn the specific lumen ranges for different types of application. As a good baseline of comparison, typical LED strips offer somewhere in the area of 300 lumens.
That's great for accents, mood lighting, cabinet safety lighting, and essentially anything short of fully lighting an entire room. If you intend on using your flexible LED light strips as industrial lighting or task lighting, you'll want to pay extra attention to lumen output. Others may need not be concerned.
Color Temperature
If you plan on using white light, you're going to have to think about color temperature. The color temperature of light is measured in Kelvin. It's covers the range of cool orange-whites used in most homes to the sterile whites you find in hospitals. The correct choice depends entirely on the mood and atmosphere you're trying to establish. For a board meeting where everyone should be alert, bright daylight 6,500K is generally optimal. For lighting a bedroom or relaxing evening atmosphere, a warmer 3,000K would be suitable.
Look specifically at the size of the strip relative to the number of LEDs on the strip. That gives you a foot per LED ratio, letting you know about the density of the light. Power consumption for all LEDs is relatively low, but that doesn't mean you can ignore it. Look for wattage per foot. You may look at a reel that says 20-watts, only to discover they meant per foot of cord. It's easy to get tricked by overlooking small details.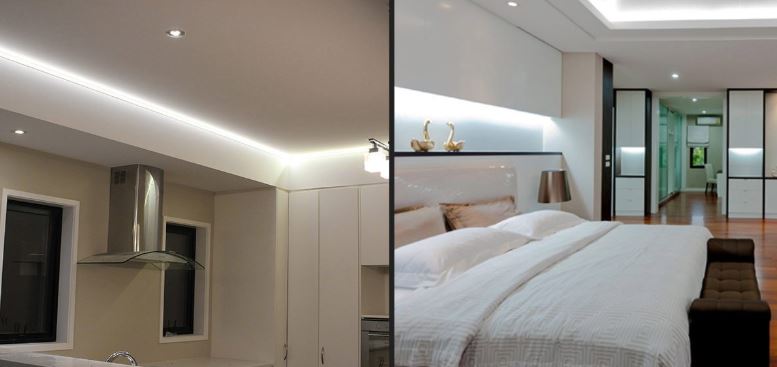 Installation
When it comes to installation, think carefully about how you intend to mount or setup the strips. Often it's as simple as removing adhesive backing on the strips, and slapping them on a surface you've wiped down. But sometimes you may encounter more difficult installation requiring screwing or wiring strips, and for that you'll want to know if instructions are present. You'll also want to pay attention to the length of the strips, the voltage requirements, the general flexibility of the strips. Often times LED kits include installation screws and other extras, keep an eye out for those.
Quality of Build
LEDs have the capability of lasting for years of steady use. But it depends on the quality of the build. Heat kills LEDs. Thermal management is the difference between getting 50,000 hours or 10,000 hours of your LED. And much of thermal management is achieved on the level of the LED chip itself, not solely on the heatsinks which surround it. In other words, the quality of the manufacturing matters. That's hard to rate in an objective sense without getting deep into engineering, but it's something usually well-reflected in user reviews.
Waterproofing is another essential. Whether you plan on doing an outdoor installation or not, you don't want to lose your strips or face some type of disaster over a minor spill. Basic waterproofing adds virtually nothing to the cost of LED strips. While it's easy to find generous waterproofing along the LED portion of the strip, it's less likely you'll encounter waterproofing around power boxes and related connectors. Anyone doing an outdoor installation of their flexible LED light strip will want to think about adding additional protection.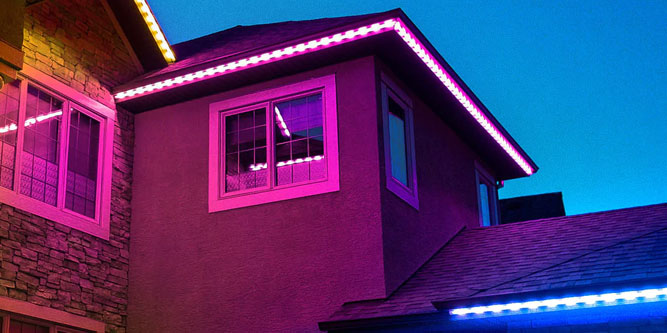 Choosing Between 5 Best Outdoor LED Light Strips
Ultimately, the Govee Permanent Outdoor RGBIC LED Light Strips are our favorite pick. While they are the most expensive option in this article, they're incredibly durable and provide the best lighting effects in terms of brightness and color vibrancy. The 3-in-1 unique bead lamp design allows them to shine bright and colorful, viewable from the furthest distance possible. Best of all, the app is wonderful. It's very user-friendly and offers a massive assortment of customization from any smartphone or tablet.
Next up, the Novostella RGBIC LED Strip Lights are our second favorite pick. Although they're the second most expensive option on our list, the color and lighting effects are hard to beat for the price when it comes to their "wow factor". That said, the app connectivity works great and they're incredible length and fully waterproof build quality makes them ideal for any outdoor environment.
Moving on, Sunnest Waterproof Flexible LED strips have enough colors and play modes to for most people to find what they want. They're especially good at thermal dissipation, making these the perfect choice for people who are extra safety-minded, or otherwise have a reason to be worried about heat.
Daybetter LED strips are exceptionally bright and long-lasting. The options color patterns are extensive, and the LEDs themselves are distinctly high quality. The quality of the LEDs alone warrants Daybetter a spot amongst this list, their construction has an excellent price to performance ratio. You get all the essential features with none of the fluff, making these the strips for bargain seekers.
Finally, Lighting EVER Flexible strips are good for people who have a power adapter already, or are adding on to an existing LED kit. If you're looking for daylight whites around 6000K, you have even more reason to pick these strips. They're particularly flexible strips, and ideal for people who are using angled, bendy patterns with their LED designs.
Meet Derek, "TechGuru," a 34-year-old technology enthusiast with a deep passion for tech innovations. With extensive experience, he specializes in gaming hardware and software, and has expertise in gadgets, custom PCs, and audio.
Besides writing about tech and reviewing new products, Derek enjoys traveling, hiking, and photography. Committed to keeping up with the latest industry trends, he aims to guide readers in making informed tech decisions.