Are you tired of struggling with uncomfortable earbuds during your workouts? Do you want a high-quality audio experience while still being aware of your surroundings? If so, the OneOdio OpenRock Pro might just be the solution you've been looking for.
Designed specifically for workouts and physical activities, these earbuds offer an open-ear design and adjustable ear hooks for a comfortable and secure fit. They also have a water-resistance rating, making them durable for any type of weather.
But what about the sound quality? Well, they feature OpenRock TubeBass technology, Qualcomm chip, and aptX Audio Decoding Technology, providing a high-quality audio experience with clear vocals and deeper bass.
And with up to 46 hours of listening time and a quick 5-minute charge for an extra 60 minutes of playtime, you won't have to worry about dropping out mid-workout.
As many of us are fitness enthusiasts, we understand the importance of having reliable buds that meet your needs. That's why we're excited to share our review of the earbuds with you. So, let's dive in and see how these can enhance your workouts and daily life.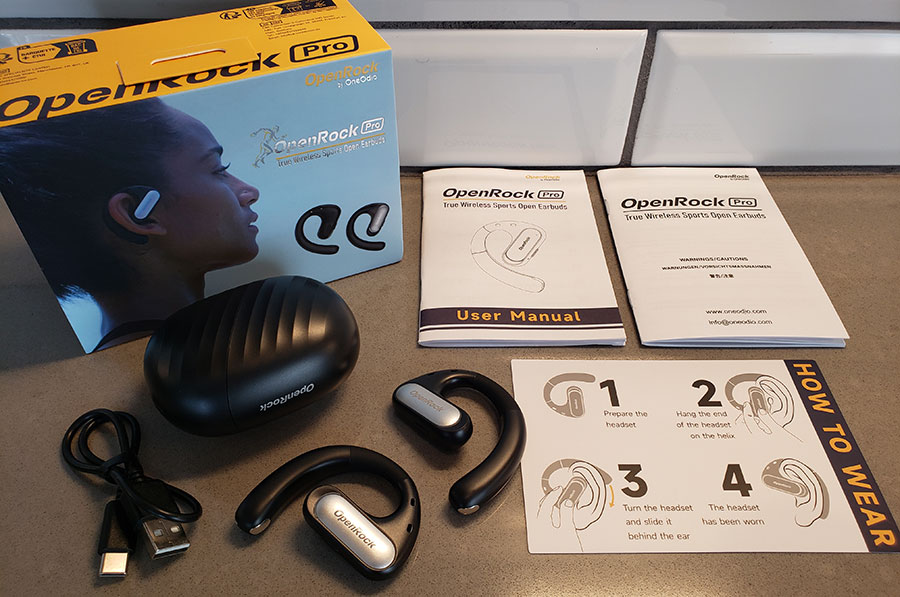 Design and Comfort
One of the standout features is their open-ear design and adjustable ear hooks. This unique design allows for a comfortable and secure fit, perfect for exercising and so much more.
They sit outside the ear canal, allowing air to flow freely and preventing that feeling of pressure and discomfort that can come with traditional earbuds.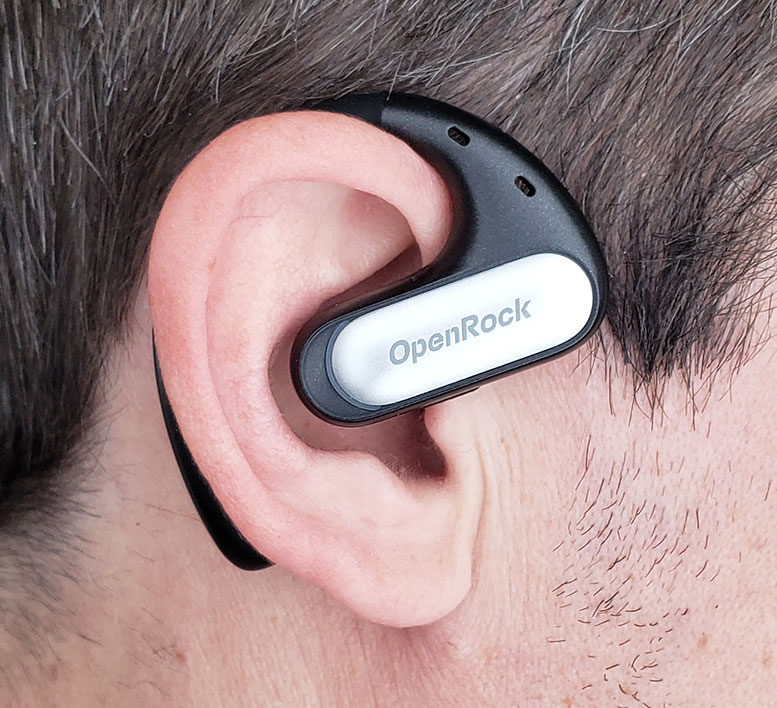 In addition, the adjustable ear hooks allow you to find the perfect fit for your ears. They can be somewhat shaped to fit the contours of your ears. This not only ensures a comfortable fit but also keeps them secure during even the most intense workouts.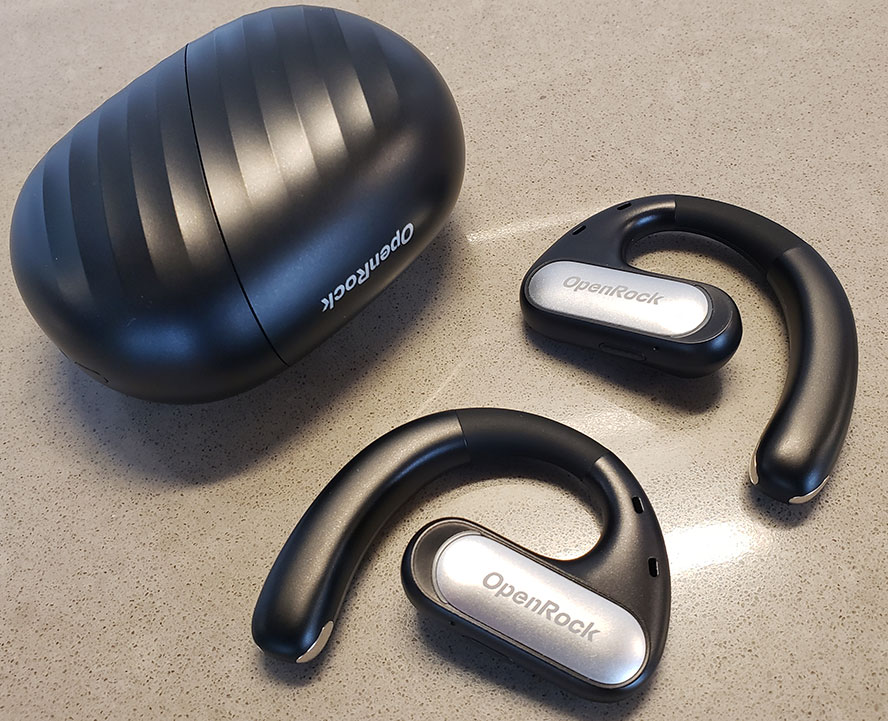 They also have an IPX5 water-resistance rating, making them resistant to sweat and water. This feature is particularly useful for those who enjoy outdoor workouts or live in humid climates. Best of all, their secure fit keeps them in place, even during intense workouts.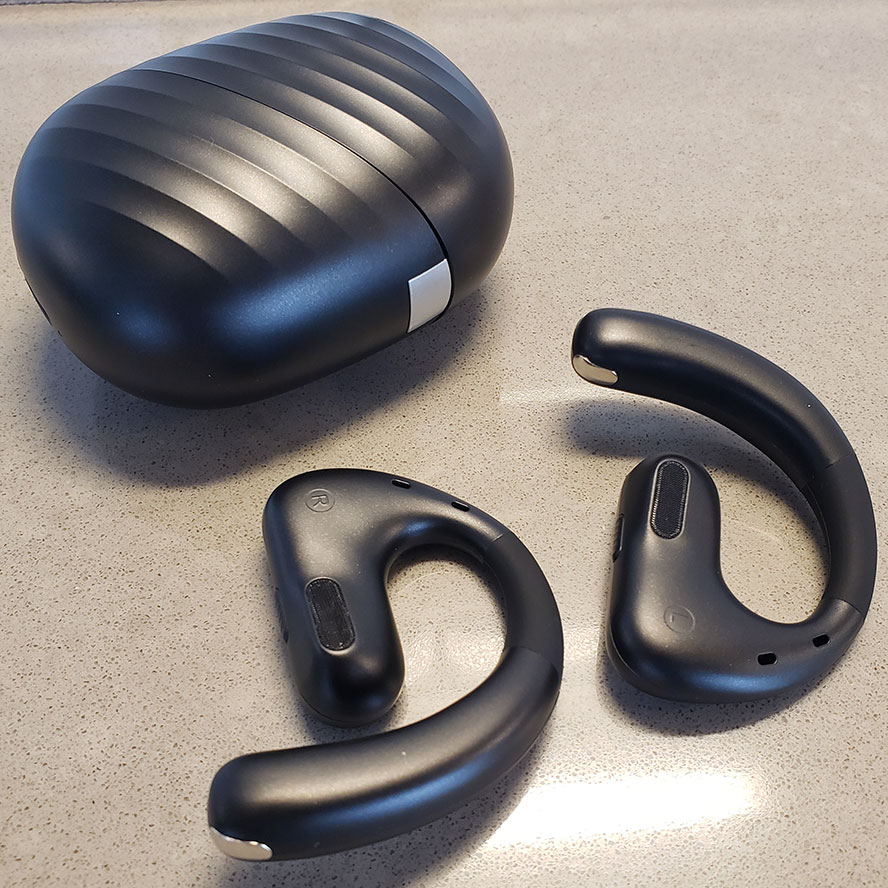 They're not perfect—you can't expect them to fit perfectly in everyone's ears. But they provide one of the best fits around. On top of that, their water-resistant rating ensures they can withstand any environmental elements. The open-ear design is a remarkable feature that allows for an alluringly natural listening experience without blocking out essential outside sounds.
But design and comfort aren't the only factors that make a good pair of buds. Sound quality is equally important, so let's take a closer look at how they perform in this area.
Sound Quality
When it comes to earbuds, sound quality is crucial. Thanks to OpenRock TubeBass technology, it enhances the bass and rhythm of music, making it more powerful and motivating. The low frequencies are deeper and more developed, while vocals and intricate sounds are clearer and more pronounced.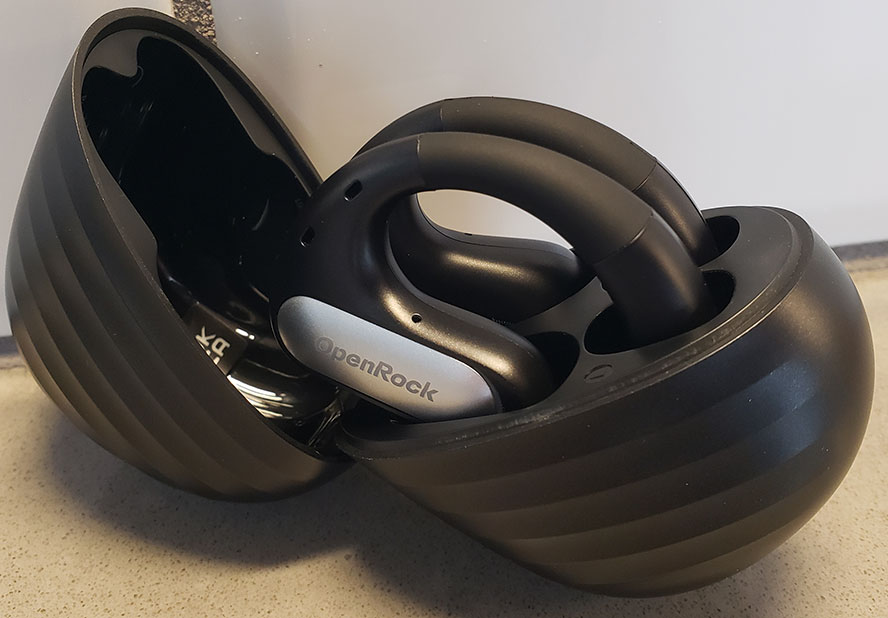 This technology is ideal for working out and a slew of other activities, as it provides a high-quality audio experience that can keep you motivated and energized. The clarity of the vocals and instruments also makes it easier to enjoy your favorite songs without any distractions or distortions.
The buds also feature a Qualcomm chip and aptX Audio Decoding Technology. These work together to reduce distortion and provide a more accurate sound experience. The result is a high-quality audio experience that comes pretty close to what the artist intended.
One area where they particularly shine is in their ability to balance outside noise with the music. The open-ear design allows for outside sounds to reach your ear, keeping you aware of your surroundings while still enjoying your music. They're perfect for outdoor activities such as running, cycling, and hiking, where being aware of your surroundings is essential for safety.
The audio quality here is simply superb. Its unique combination of features, such as Qualcomm chip and aptX Audio Decoding Technology, plus their OpenRock TubeBass technology that boosts sound performance make them perfect for any activity—indoors or outdoors!

Furthermore, with its adjustable noise cancellation feature, you can still hear what's going on around you while enjoying your music safely. It's worth mentioning that you don't get complete noise cancellation. If that's an absolute must-have for you, then these may not be a good fit.
Battery Life
The battery life is impressive, as well, offering up to 46 hours of listening time on a single charge. This is more than enough for most workouts and even longer activities such as marathons. The buds also have a quick 5-minute charge feature, which provides an additional 60 minutes of playtime.
The long battery life is due to their low power consumption and energy-saving features. For example, they automatically turn off after 10 minutes of inactivity, conserving battery life. In addition, the charging case can fully charge up to four times before needing to be recharged.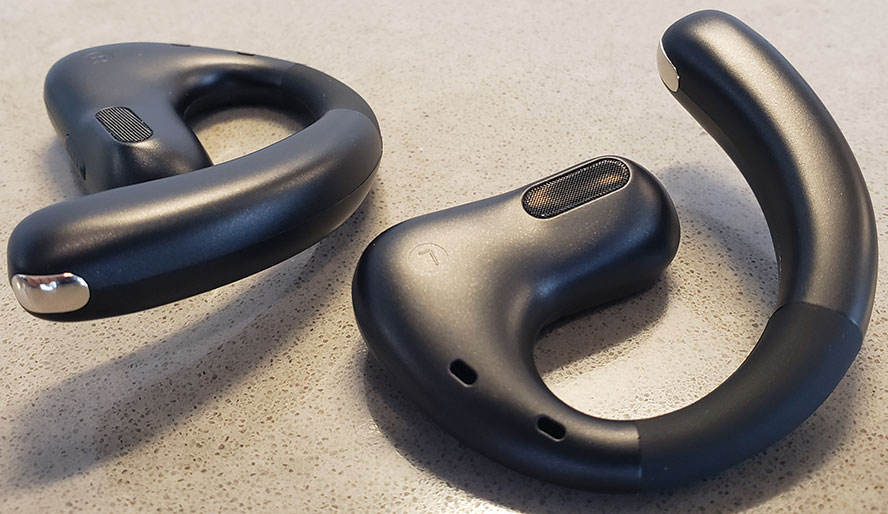 Indeed, the battery life is a huge plus, as it eliminates the need to constantly recharge your buds during your daily routine or workout sessions. With up to 46 hours of listening time, you can enjoy your music without any interruptions or distractions.
It's worth noting that the battery life may vary depending on usage and volume levels. However, even with regular use, they provide a long-lasting battery life that's hard to beat.
To truly evaluate the battery life of them, we put them to the test during several workout sessions. During our testing, we found that they provided a long-lasting battery life that exceeded our expectations.

During a two-hour workout session, they remained charged and ready to use even after several days of regular use. We also found that the quick 5-minute charge feature was incredibly useful, providing an additional hour of playtime when we needed it most.
The low power consumption and energy-saving features of the earbuds were also evident during our testing. We appreciated the fact that they automatically turned off after 10 minutes of inactivity, which helped to conserve battery life and ensure that they were always charged and ready to go.
They have undeniable, remarkable battery life. Whether you are heading to the gym or just need them for daily use, they don't let you down with their long-lasting charge capacity. If that wasn't enough of a bonus already, the quick 5-minute charging feature is an added benefit and time saver!
Plus, thanks to its energy-saving components, these earbuds will always be ready when needed by conserving their power accordingly—meaning no more helplessly waiting around while it charges up again before resuming your listening session.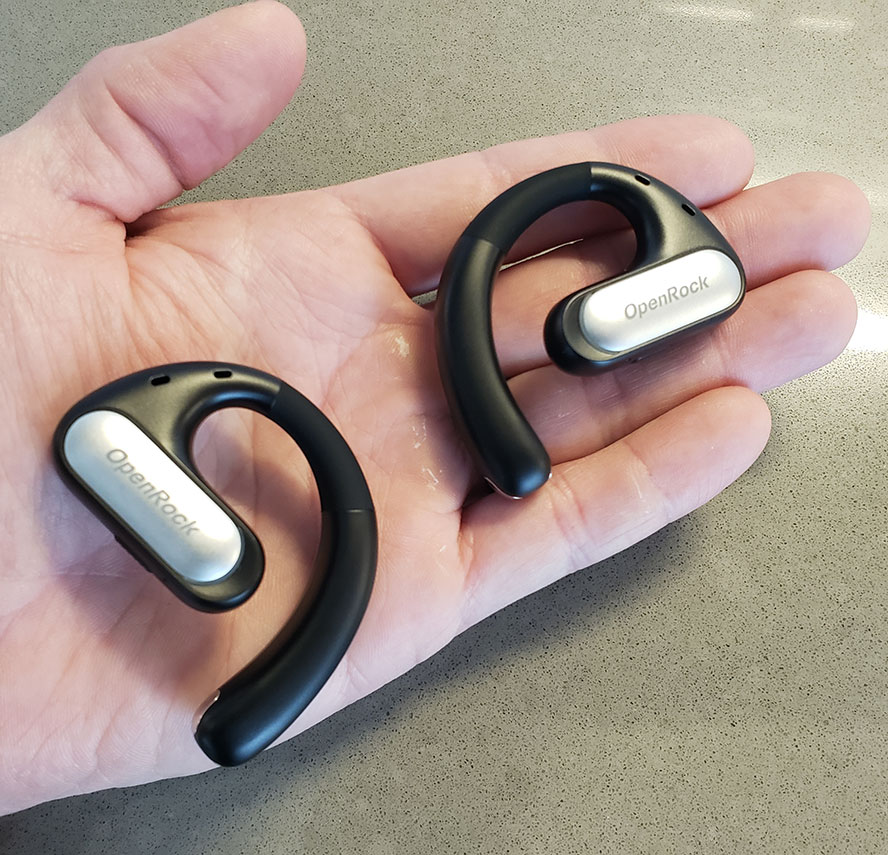 Innovative Air Conduction Technology
One of the most remarkable features is the innovative air conduction technology. This allows for a more natural listening experience by letting ambient sounds mix with your music. This is particularly useful for outdoor enthusiasts who need to stay aware of their surroundings, like runners, cyclists, and hikers.
They strike a perfect balance between high-quality audio and situational awareness, ensuring you can enjoy your favorite tunes while staying safe and connected to the world around you.
Seamless Connectivity and Compatibility
Get ready for seamless connectivity with Bluetooth 5.2. This ensures a stable and fast connection with your devices, providing a smooth and uninterrupted listening experience. The earbuds are compatible with a wide range of devices, including smartphones, tablets, and laptops, making it easy for you to switch between different devices as needed.
The buds also support voice assistants, such as Siri and Google Assistant, making it easy for you to control your music, make calls, and access information without needing to touch your device. Gone are the clunky control of buds from years past. You'll find these to provide a highly accessible experience no matter what you need them for. Whether it's for taking calls throughout the day or listening to your favorite tunes while getting your workout in, the OpenRock Pro deliver.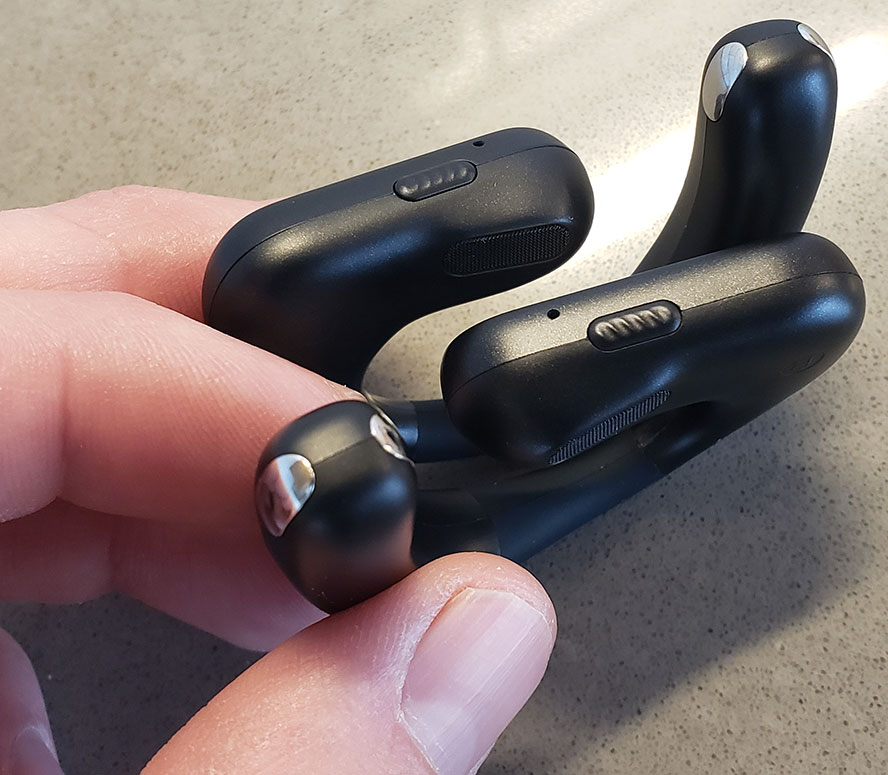 Optimized for Workout Performance
These buds have been designed with workout enthusiasts in mind. They feature a lightweight and ergonomic design that won't weigh you down during intense exercise sessions. The open-ear design ensures that your ears remain cool and comfortable, even during the most demanding workouts.
Moreover, the earbuds come with a built-in pedometer that tracks your steps, distance, and calories burned. This feature is perfect for fitness enthusiasts who want to monitor their progress during workouts without having to rely on a separate fitness tracker. The pedometer data can be easily accessed through the companion app, which is available for both iOS and Android devices.
Effortless Hands-free Calling
It's easier than ever to stay connected while on the move. The built-in dual noise-canceling microphones offer crystal-clear call quality, ensuring that your voice is heard clearly even in noisy environments. The earbuds also support hands-free calling, allowing you to answer, reject, or end calls with a simple tap or swipe on the earbuds' touch controls.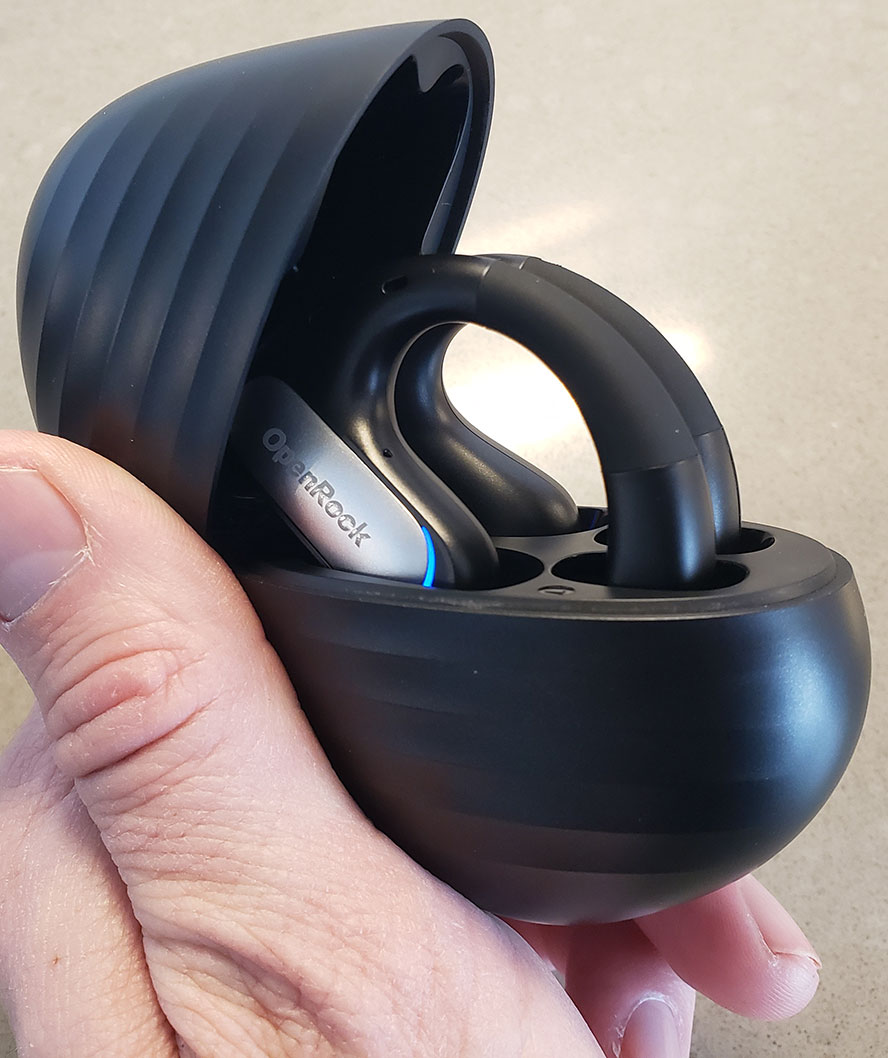 Environmentally Friendly and Durable Charging Case
The OneOdio OpenRock Pro earbuds come with a stylish and durable charging case, which is made from eco-friendly materials. The case not only protects your earbuds but also provides an additional four full charges, ensuring that your earbuds are always ready for your next workout session. The charging case has a USB-C port, which allows for fast and convenient charging. It does seem to be a bit bulky, but it's really not a big deal for most.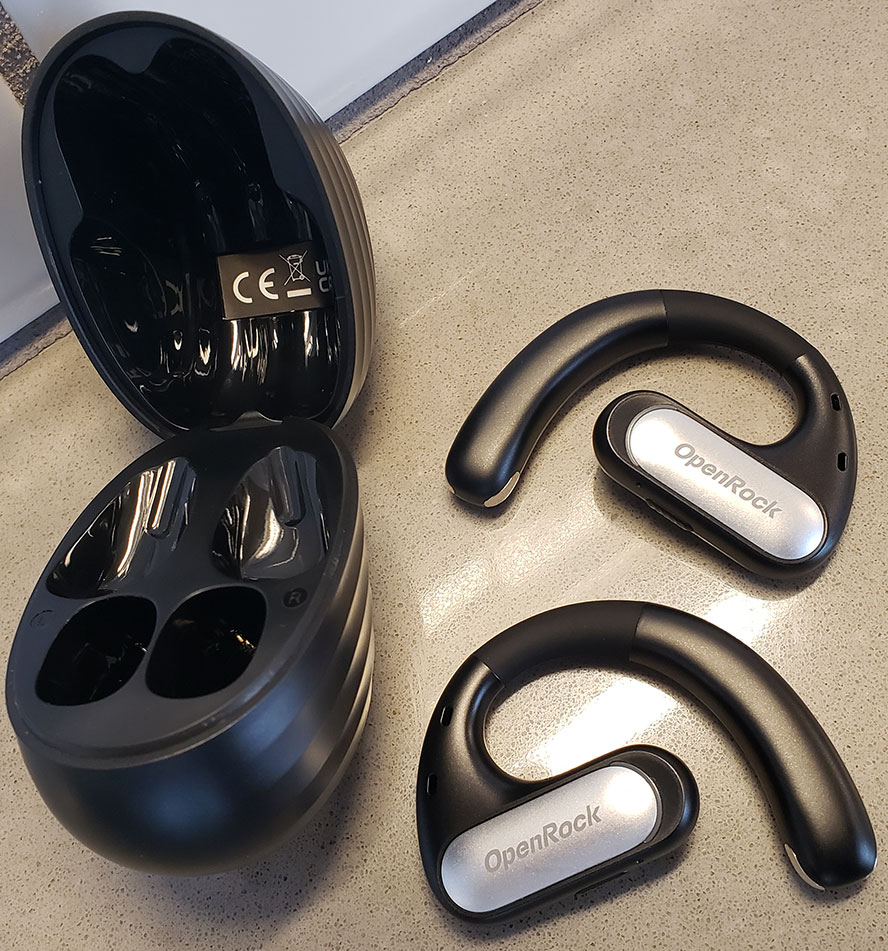 User Experience
In addition to design, comfort, sound quality, and battery life, user experience is also an important factor when it comes to this set. There's an excellent user experience here, too, with features such as dual noise-canceling microphones and easy-to-use controls.
The dual noise-canceling microphones are particularly useful for making calls on the go. They eliminate environmental sound, ensuring that your voice comes through clearly and without any distractions. This feature is especially useful in busy shared spaces or while in transit, where background noise can be a problem.
The controls are also easy to use, with intuitive touch controls that allow you to adjust the volume, skip tracks, and take calls with a simple tap or swipe. We found that the controls were responsive and easy to use, even during intense workouts where manual dexterity can be a challenge.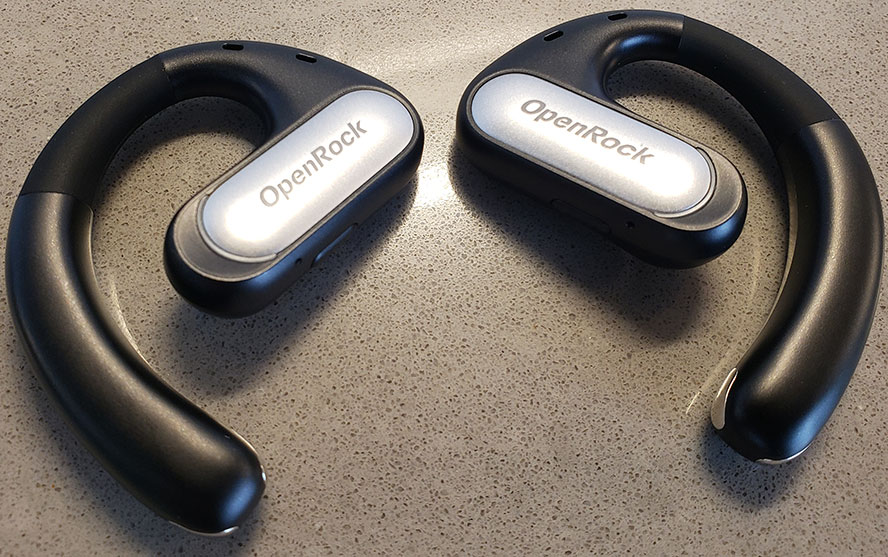 That said, they can be a bit too responsive at times. We discovered throughout our testing that sometimes they would accidentally pause when we tried to adjust the volume or skip tracks. This issue is minor, however, and it didn't detract from our overall user experience. But if you're someone who prefers more tactile buttons, this could be an issue.
Finally, we appreciated the style and aesthetics that OneOdio went with. They have a sleek and tech-inspired design that looks cool and fashionable during workouts and daily use. This set features a dark silver and black color scheme, which gives them a modern and sophisticated look.
All in all, OpenRock Pro makes for an incredible user experience. Dual noise-canceling microphones and intuitive control options give you a simplified listening session, while their eye-catching design adds some stylish flair to your workout routine. So if you're looking for high-quality sound that's complemented by enjoyable features, these are the perfect choice!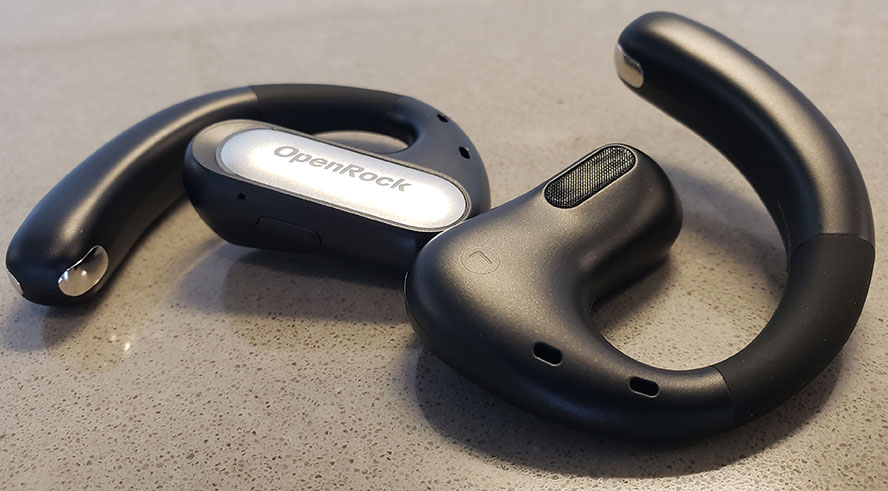 Final Verdict
It's pretty hard to compete with earbuds this impressive. The OpenRock Pro from OneOdio offer an incredible user experience, with dual noise-canceling microphones, intuitive control options, a sleek and attractive design, and long battery life. Perhaps best of all, they fit like a glove and offer stellar comfort in most cases.
They definitely get our approval, and we're confident that you'll enjoy the high-quality sound and enjoyable features that these have to offer. If you've been holding out for some premium buds for your workouts and outdoor activities, then the OneOdio OpenRock Pro is a smart investment.
Meet Derek, "TechGuru," a 34-year-old technology enthusiast with a deep passion for tech innovations. With extensive experience, he specializes in gaming hardware and software, and has expertise in gadgets, custom PCs, and audio.
Besides writing about tech and reviewing new products, Derek enjoys traveling, hiking, and photography. Committed to keeping up with the latest industry trends, he aims to guide readers in making informed tech decisions.