KM7 PLUS
Pros
Fast and efficient performance.
4K HDR support for stunning visuals.
Wide range of apps and content.
Very compact and sleek design.
Cons
Remote control might feel basic for some users.
Limited onboard storage.
In today's fast-paced world, having a reliable and feature-rich TV box is essential for an optimal home entertainment experience. The MECOOL KM7 PLUS TV Box aims to elevate your viewing pleasure with its powerful performance, extensive content options, and seamless integration with popular streaming platforms.
Today, we'll be exploring the design, performance, key features, and additional aspects of the KM7 PLUS to help you determine if this device is the perfect addition to your entertainment setup. From its Android 11.0 Google TV system and Amlogic S905Y4 Quad-Core processor to its built-in Chromecast and Google Assistant integration, it promises to deliver a versatile and engaging experience for those seeking a one-stop entertainment hub. Is it the ultimate TV box you've been waiting for? Only one way to find out.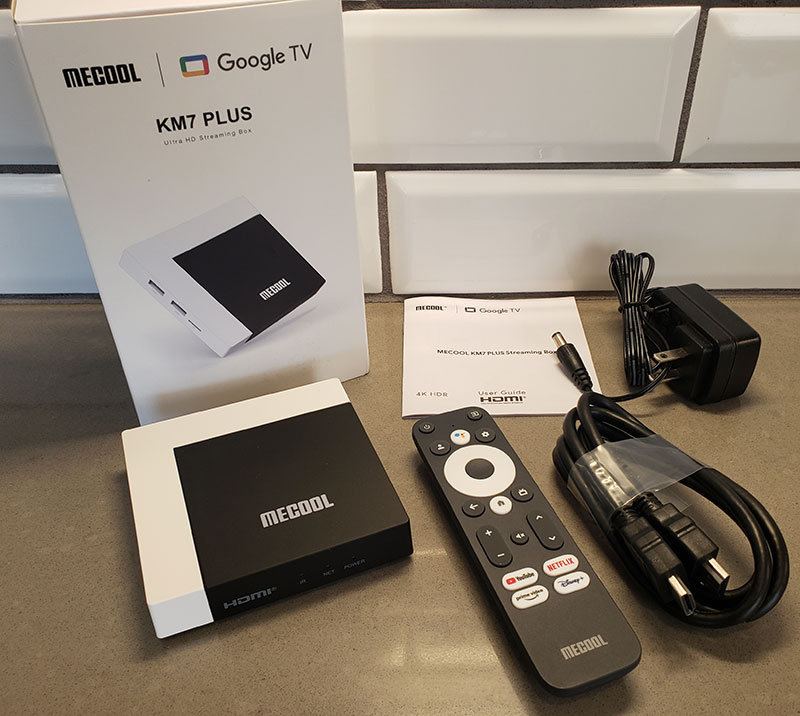 Design: Sleek and Compact for Seamless Integration
The tiny box sports a sleek and compact design that easily integrates into any home entertainment setup. Its minimalist appearance ensures it will complement a variety of TV and audio equipment styles, while its small footprint allows it to fit unobtrusively in most living spaces. This unassuming design ensures that the device doesn't distract from the main attraction: the content you're streaming on your TV.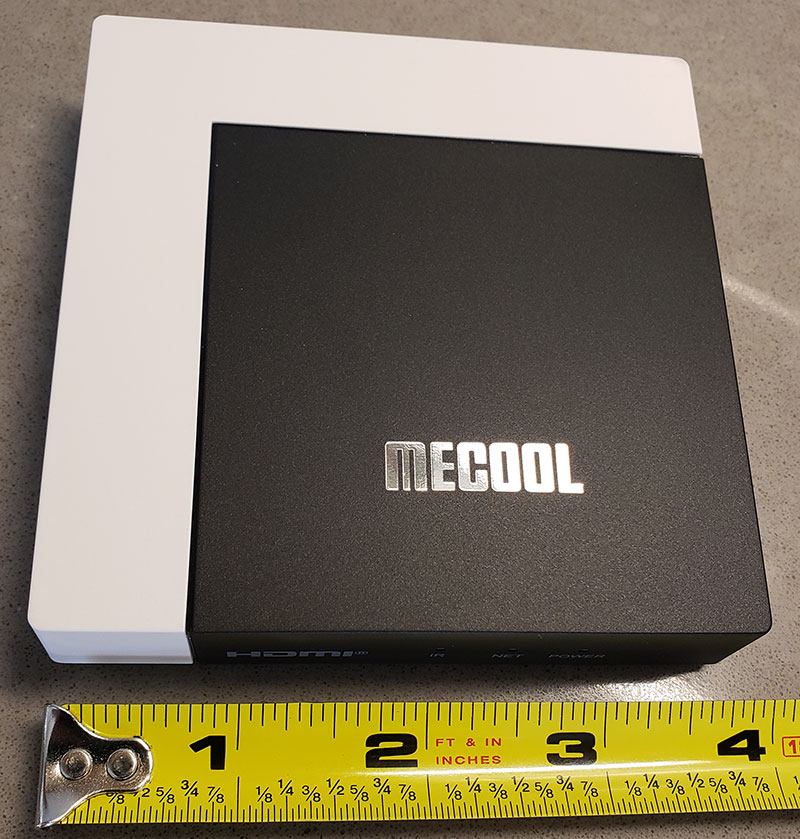 Measuring at just 4.13 x 4.13 x 0.94 inches and weighing a mere 0.42 pounds, the KM7 PLUS is easy to position and move around as needed. The device is encased in a durable black plastic housing, which provides ample protection against everyday wear and tear. The smooth matte finish adds a touch of sophistication, while the subtle "MECOOL" logo on the top surface gives it a recognizable identity without being overly conspicuous.

On the two of the rear panels, you'll find all necessary ports and connections for seamless integration with their existing home theater setup. We do a deep dive into all of these, so be sure to keep reading to learn what's included here and what you can do with them.

Overall, the design is well crafted to provide a visually appealing and functional device that easily fits into any home. Its sleek and compact form factor ensures seamless integration and versatility, while its sturdy build guarantees durability for long-lasting performance.
Key Features: A Comprehensive Entertainment Hub
The KM7 PLUS is packed with features designed to deliver a comprehensive and engaging entertainment experience. From its powerful hardware to its extensive content library, the device offers a versatile solution for those seeking a one-stop entertainment hub.
Android 11.0 Google TV System: Enhanced Interface and Navigation
Android 11.0 Google TV provides an enhanced interface that simplifies content browsing and navigation. Compared to its predecessor, Android TV, Google TV offers a more polished design and additional features that make it even more user-friendly.
The platform's clean layout allows you to easily browse through all of the various subscriptions without needing to switch between apps. This streamlined experience ensures that you can quickly find and enjoy their favorite content.

Amlogic S905Y4 Quad-Core Processor: Power and Performance
The Amlogic S905Y4 A35 processor with AV1 HDR support ensures that the KM7 PLUS delivers a powerful and seamless performance. This advanced chipset guarantees fast loading times, minimal buffering, and smooth 4K streaming. The processor's capabilities make the device suitable not only for streaming content but also for running various apps and games with ease.
Pre-Certified Netflix & Prime Video: Access to High-Quality Content
Having pre-certification for both Netflix and Prime Video means that you can effortlessly access a wealth of high-quality 4K content from these popular streaming platforms. This certification ensures compatibility with Netflix's huge library. You can also take advantage of Prime Video's diverse content catalog, which includes movies, TV series, and exclusive Amazon Originals.
Thousands of Apps and Content Options: A Versatile Entertainment Hub
The built-in Google Play Store gives access to a vast array of apps and content options, including popular streaming services like YouTube, Prime Video, Netflix, Disney+, and many others. This extensive selection ensures that users have a diverse range of entertainment choices at their fingertips – literally, they're all available directly from the remote. From award-winning originals and live news and sports to classic favorites and family entertainment, the KM7 PLUS offers a comprehensive and engaging entertainment experience for everyone.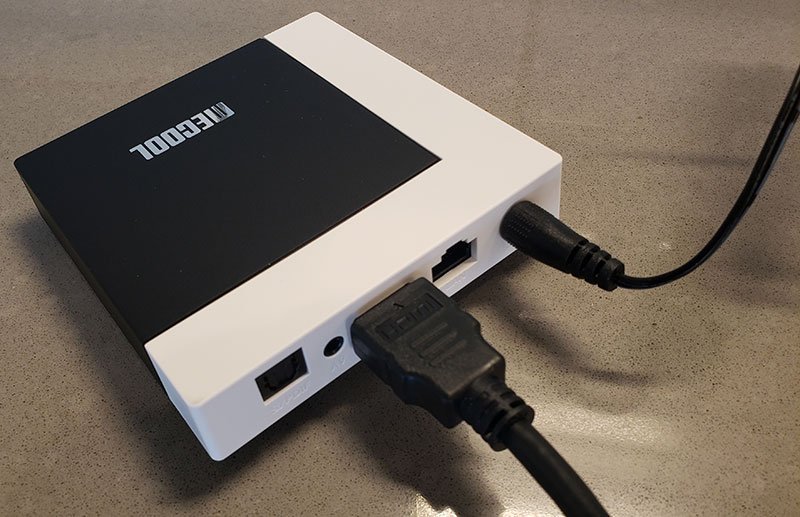 4K HDR Support: Stunning Visuals and Immersive Experience
Equipped with the latest 4K HDR technology and capable of delivering fast 60FPS 4K processing, the device allows you to enjoy videos in sharp detail when playing High Dynamic Range content. The deep colors and intense clarity result in a highly immersive and realistic viewing experience. And the support for 4K HDR media ensures that users can make the most of their favorite content.
Chromecast Built-in: Effortless Content Sharing
With Chromecast, users can easily cast their favorite entertainment apps – such as streaming movies or TV shows – from their favorite device or TV. This feature enables you to share content from various devices quickly and conveniently.
Google Assistant Integration: Convenience at Your Fingertips
It's also equipped with Google Assistant, allowing users to quickly access entertainment, get answers, and control devices around their home using voice commands. By pressing the MIC button on the included remote, you can take advantage of Google Assistant. This integration ensures that users can easily control their home entertainment setup and readily access content.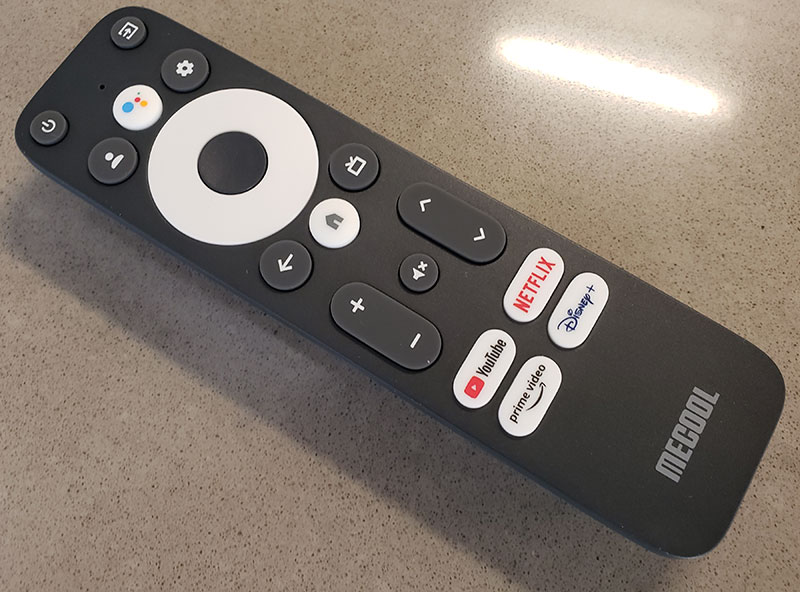 Performance: Smooth and Immersive Streaming Experience
The KM7 PLUS excels in providing seamless streaming and impressive responsiveness. The device's powerful processing capabilities ensure that even high-resolution content is played without lag or stuttering, maintaining an immersive viewing experience.
The TV Box's optimized software ensures that users can efficiently manage multiple apps, switch between different streaming platforms, and access their favorite content with ease. The performance is further enhanced by its robust thermal management. This prevents overheating and ensures that the device operates at optimal levels even during extended usage periods.
Moreover, it features a user-friendly interface that allows easy navigation through the vast content library, access various streaming platforms, and personalize their experience according to their preferences.
Many also appreciate the TV Box's fast boot-up time and responsive remote control. Turning it on and getting to the home screen takes literally 2 seconds.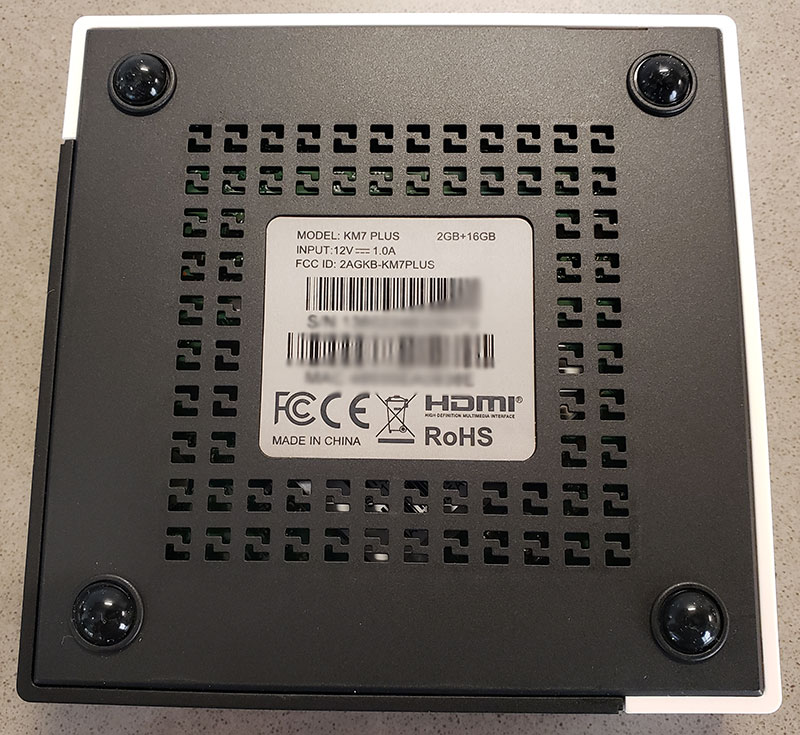 Ease of Setup and User Experience
Setup is a breeze, thanks to the intuitive design and user-friendly interface. To get started, all you need to do is connect it to your television using the included HDMI cable, plug in the power adapter, and follow the on-screen instructions.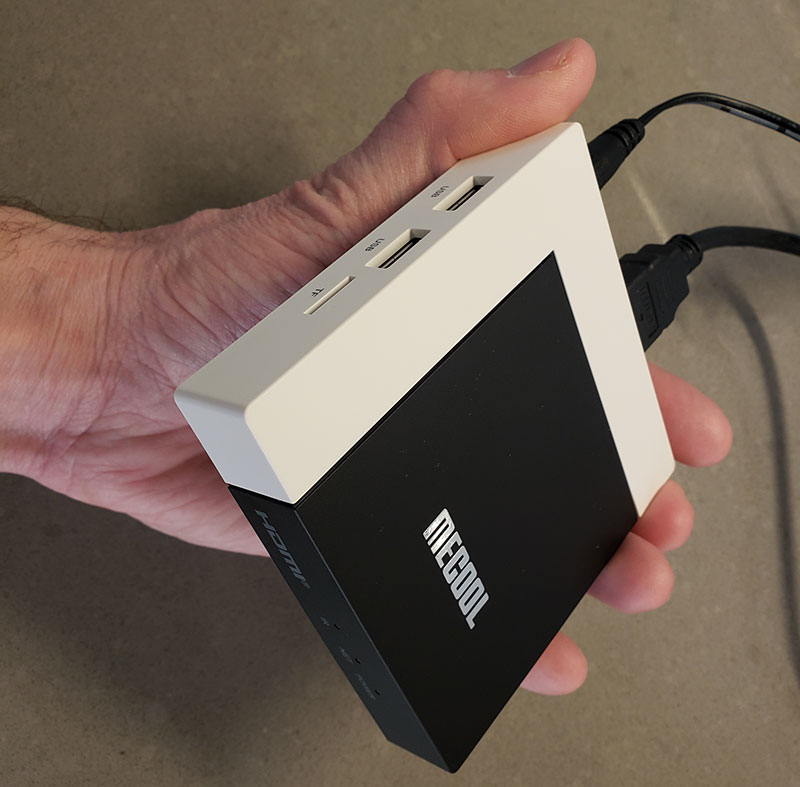 The setup process is simple and straightforward, allowing even those with limited technical knowledge to have their device up and running in no time.
One of the standout features is its personalized recommendations. Based on your viewing habits, Google TV offers curated content suggestions, making it easy to discover new movies, shows, and channels that align with your interests. This feature eliminates the need to spend time searching for something to watch, allowing you to dive right into your preferred content.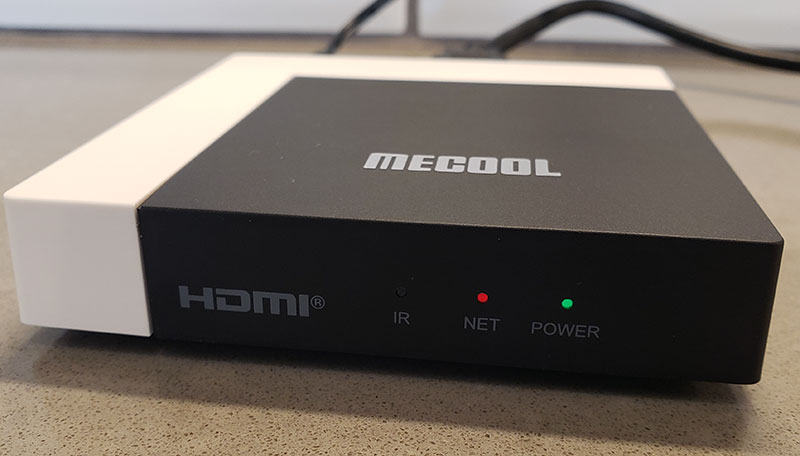 The inclusion of Google Assistant takes the experience to another level. With voice control, you can quickly access content, control playback, and even manage smart home devices using simple voice commands. This hands-free control enhances the experience and adds a layer of convenience that many will appreciate.
Google Assistant is a well-oiled machine at this point, so you shouldn't have many, if any, issues getting it to recognize your commands. It worked flawlessly in our testing, making it easy to get around and call up media. It's a welcome addition that belongs on all modern units like this one. So it's good to see it was included.
The KM7 PLUS supports wide range of apps, providing access to various streaming platforms, games, and productivity tools. With the Google Play Store integrated, you can easily download and install your favorite apps within no time.
From our experience, it offers a hassle-free setup process and an exceptional user experience. Everything works as well as it is advertised.
Ports and Connectivity Options
As promised, let's go over the ports and connectivity options. Designed to ensure compatibility with a wide range of devices, users can create a seamless and customized entertainment setup. As tiny as this box is, there's quite a bit here to sink your teeth into.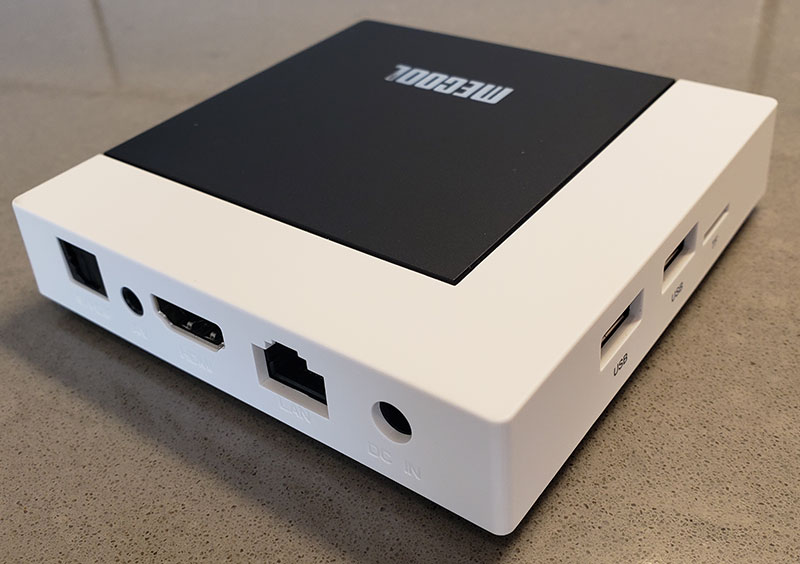 HDMI Port: The HDMI port enables high-quality audio and video transmission, allowing a connection to basically any television or monitor. This connection supports 4K video playback, which is the gold-standard for high definition.
USB Ports: The included USB ports allows for direct connection with external storage devices, such as flash drives or hard drives. This makes it easy to access a wide range of multimedia files, including movies, music, and photos.
Ethernet Port: For a wired internet connection, the KM7 PLUS features an Ethernet port. This option is especially useful for those with limited WiFi coverage or those who want to ensure optimal streaming performance without interruptions.
Power Port: The power port is where the included power adapter connects to supply the necessary power for the device to function.
TF Card Reader: With this, users can expand the device's 2GB storage capacity and access additional media content. This versatile port makes it simple to view photos, watch videos, or listen to music stored on a TF card, directly on the TV.
AV: This analog port is particularly useful for those who have equipment – DVD players, speakers, VCRs, gaming consoles, etc. – that may not support HDMI or other digital connections.
S/PDIF: The optical out port that allows you to connect an external soundbar with one cable. Perfect for providing the highest sound definition possible.
In addition to the physical ports, the KM7 PLUS also supports wireless connectivity, including 2.4/5 GHz WiFi and Bluetooth. The WiFi connection allows for the easiest and most streamlined connection method. Bluetooth connectivity enables pairing with compatible audio devices, such as speakers or headphones.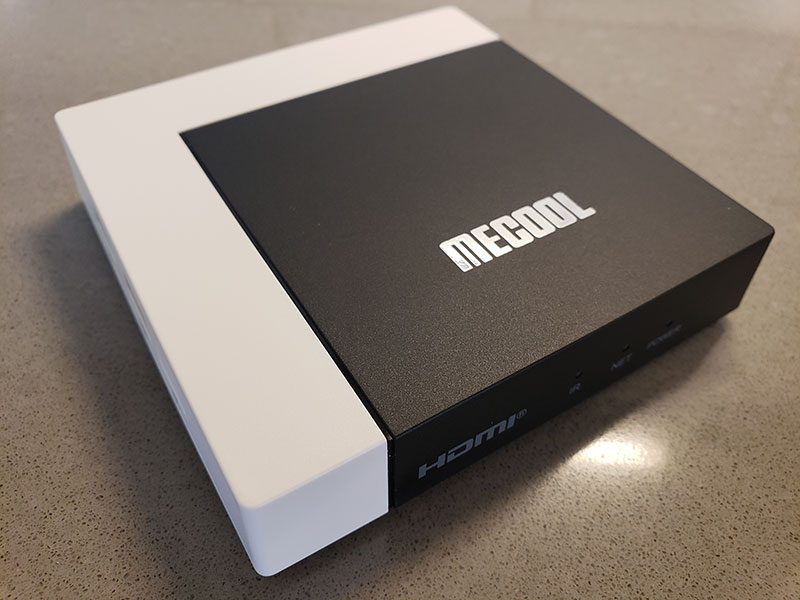 Final Verdict
The MECOOL KM7 PLUS TV Box proves to be a formidable addition to the world of streaming devices, offering an all-encompassing entertainment experience for users. It boasts powerful hardware, plenty of connectivity options, a user-friendly interface, and built-in integration. It's a comprehensive and feature-rich streaming solution that caters to the diverse entertainment needs of users.
Meet Derek, "TechGuru," a 34-year-old technology enthusiast with a deep passion for tech innovations. With extensive experience, he specializes in gaming hardware and software, and has expertise in gadgets, custom PCs, and audio.
Besides writing about tech and reviewing new products, Derek enjoys traveling, hiking, and photography. Committed to keeping up with the latest industry trends, he aims to guide readers in making informed tech decisions.